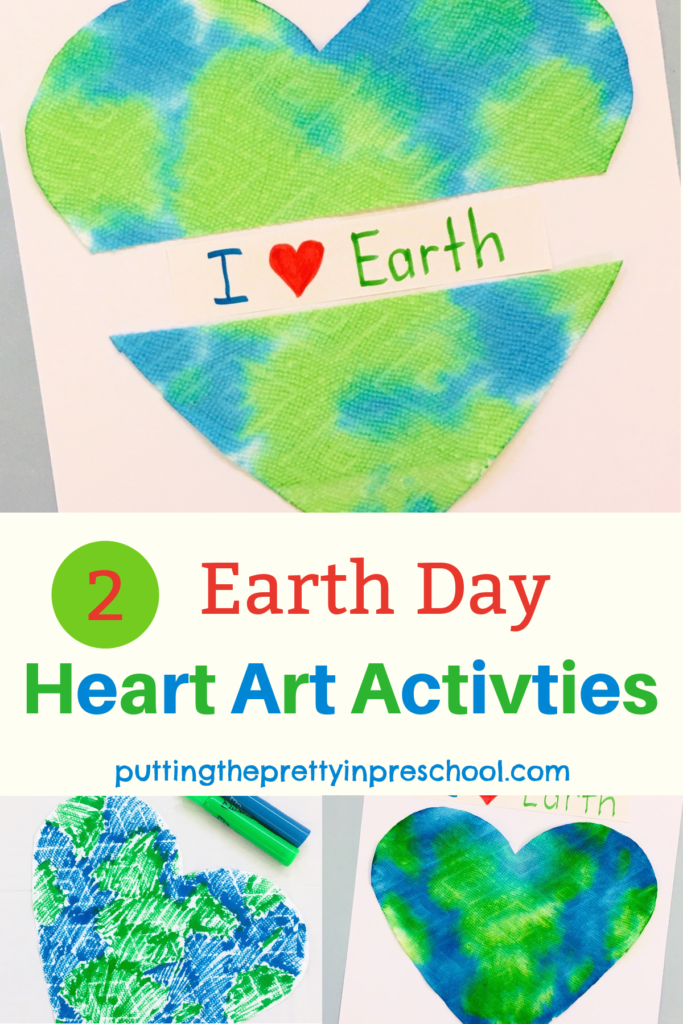 _______
Here are two Earth Day heart art activities children of every age will love, love, love to do. As with most of my activities, they use easy-to-find supplies and are inexpensive to make. And best of all, they are open-ended process art projects where every child can succeed, and each result is beautiful.
_______
Follow me on Pinterest for more early learning ideas.
_______
Supplies To Collect
Gather the following supplies for the earthy art activities:
white paper towel roll
water-based markers
green and blue food coloring or liquid watercolors
paint pots or baby food jars
white cardstock paper
scissors
pencils
eyedroppers or pipettes
spray bottle with water
glue sticks
glue gun
plastic tablecloth
_______
Eyedropper Heart Earth Art
Trace and cut out large hearts from paper towel sheets. It works out well for the center of the hearts to overlap the tear portion of the towels.
_______
Mix a few drops of blue food coloring in small jars or paint pots filled with water. Do the same with green.
Set out one paper towel heart and pot of green and blue food coloring on a covered table for each participant, along with eye droppers or pipettes.
Invite participants to drop colored water all over their hearts. They'll enjoy the way this technique spreads color over the towels.
After having dried, help each child tear the painted paper towel shapes on the tear line.
Have everyone write the words "I Love Earth" on a cardstock strip. A drawn red heart can be substituted for the word "Love."
Then invite them to glue their top and bottom heart sections with the word strip positioned in the middle to a cardstock sheet of paper slightly bigger than the heart and word design.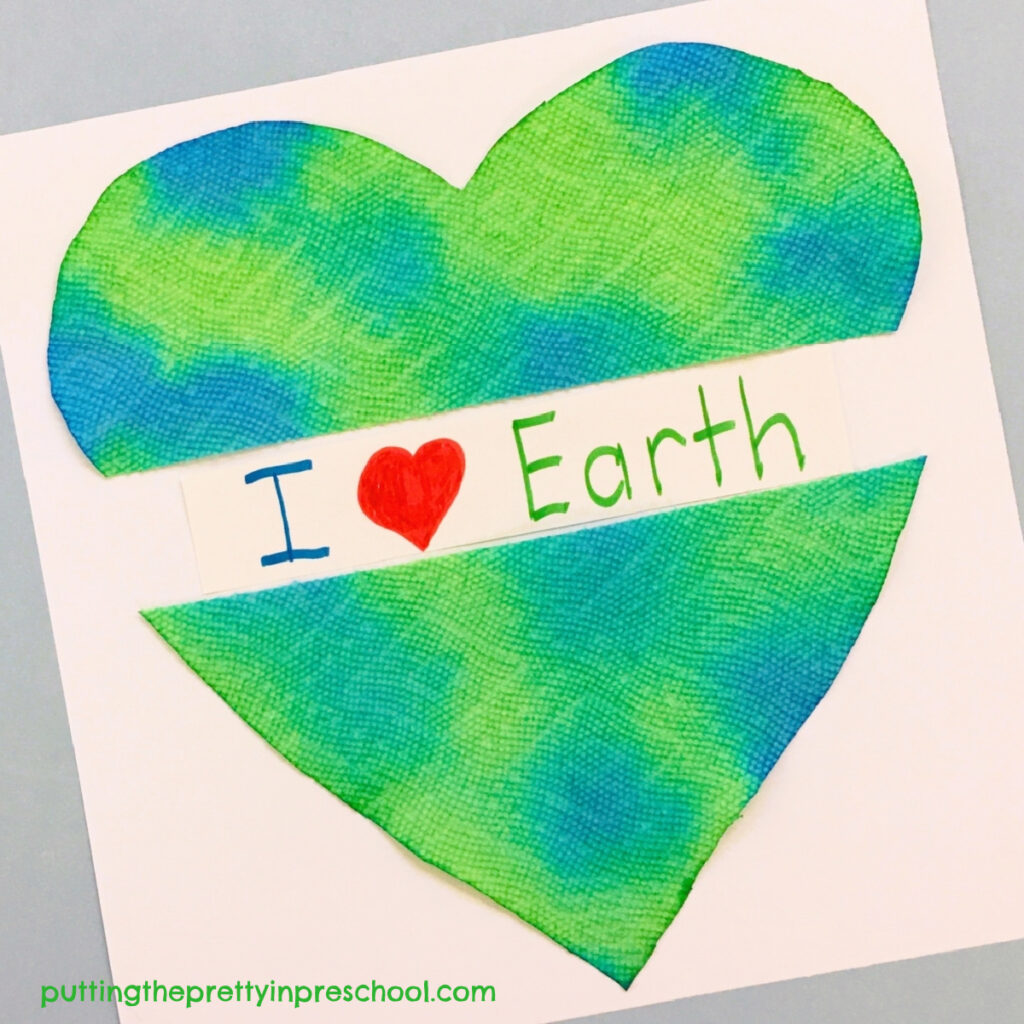 _______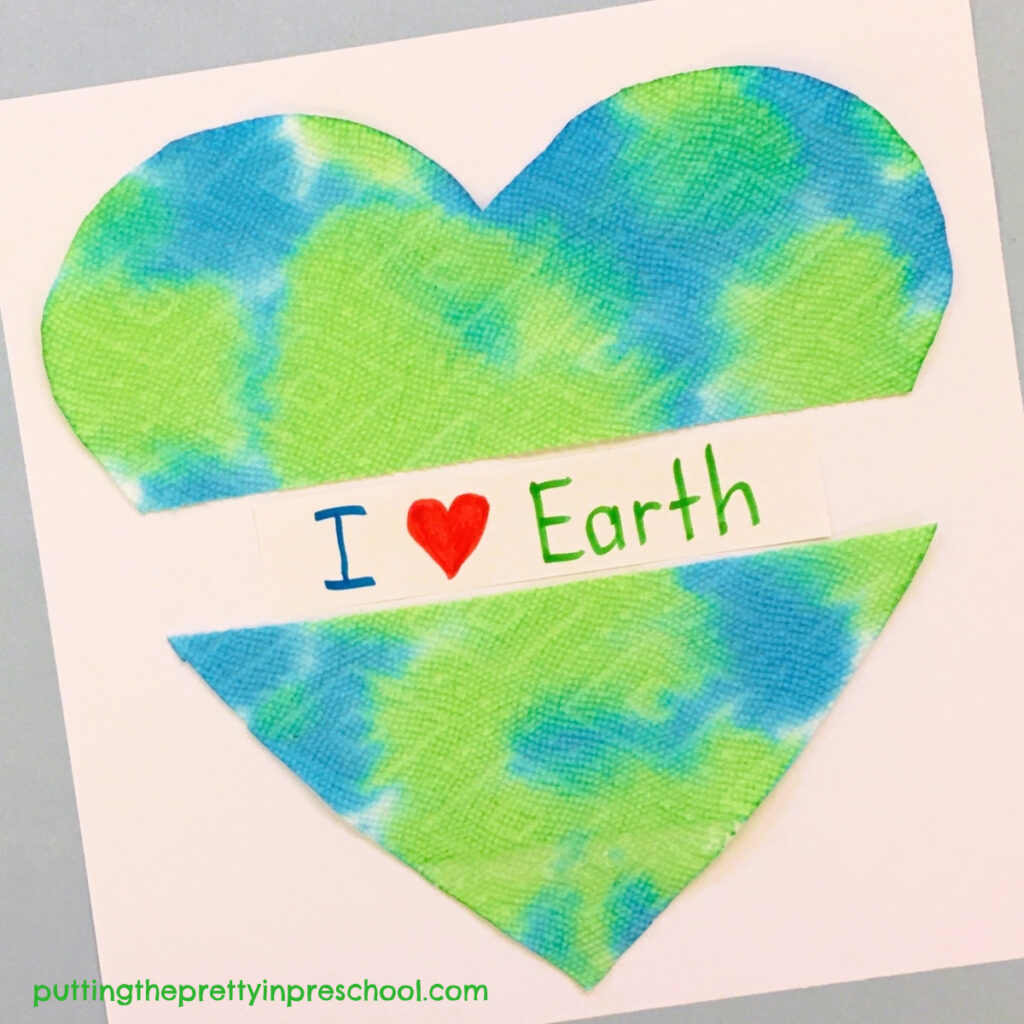 _______
Alternately, the hearts can stay as one unsplit shape, and the cardstock strip words can be glued above each heart on the paper.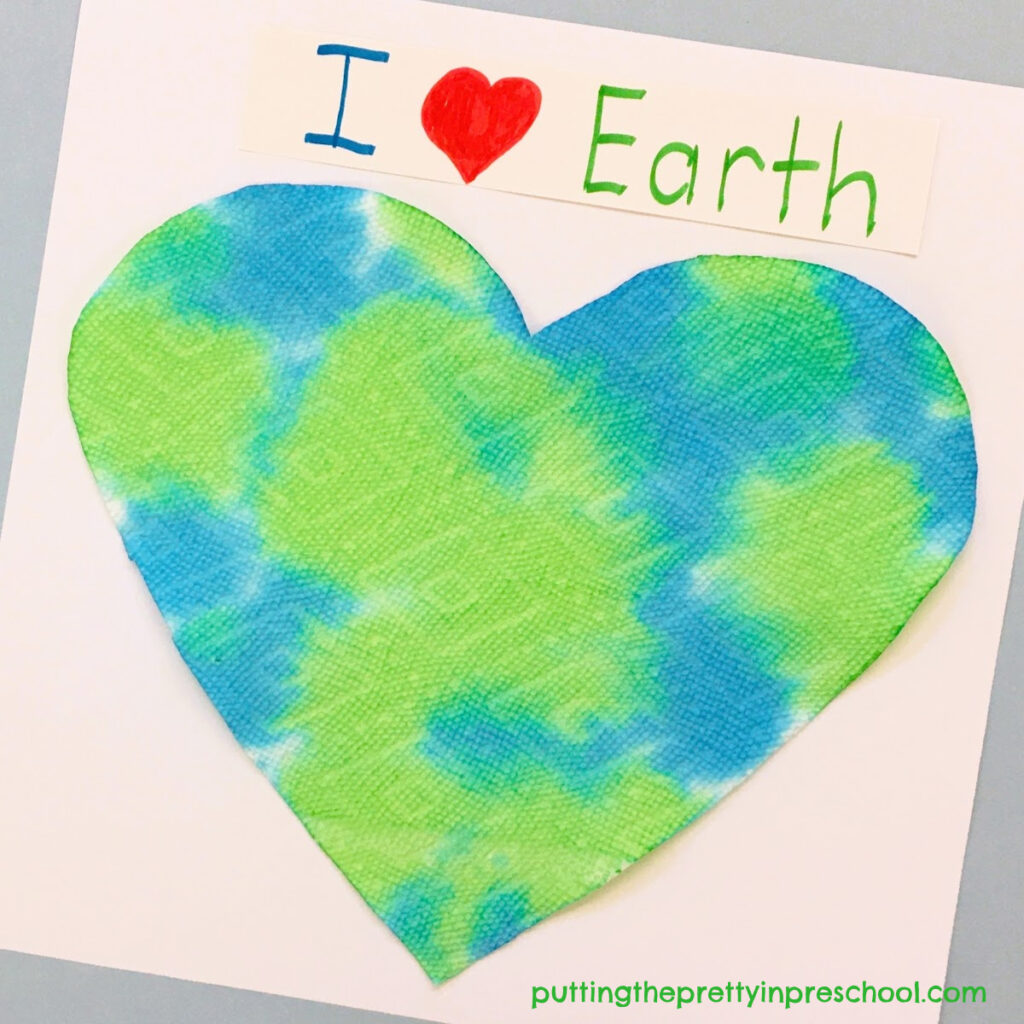 _______
Sprayed Marker Heart Earth Art
Use the same-sized paper towel hearts for this second art project.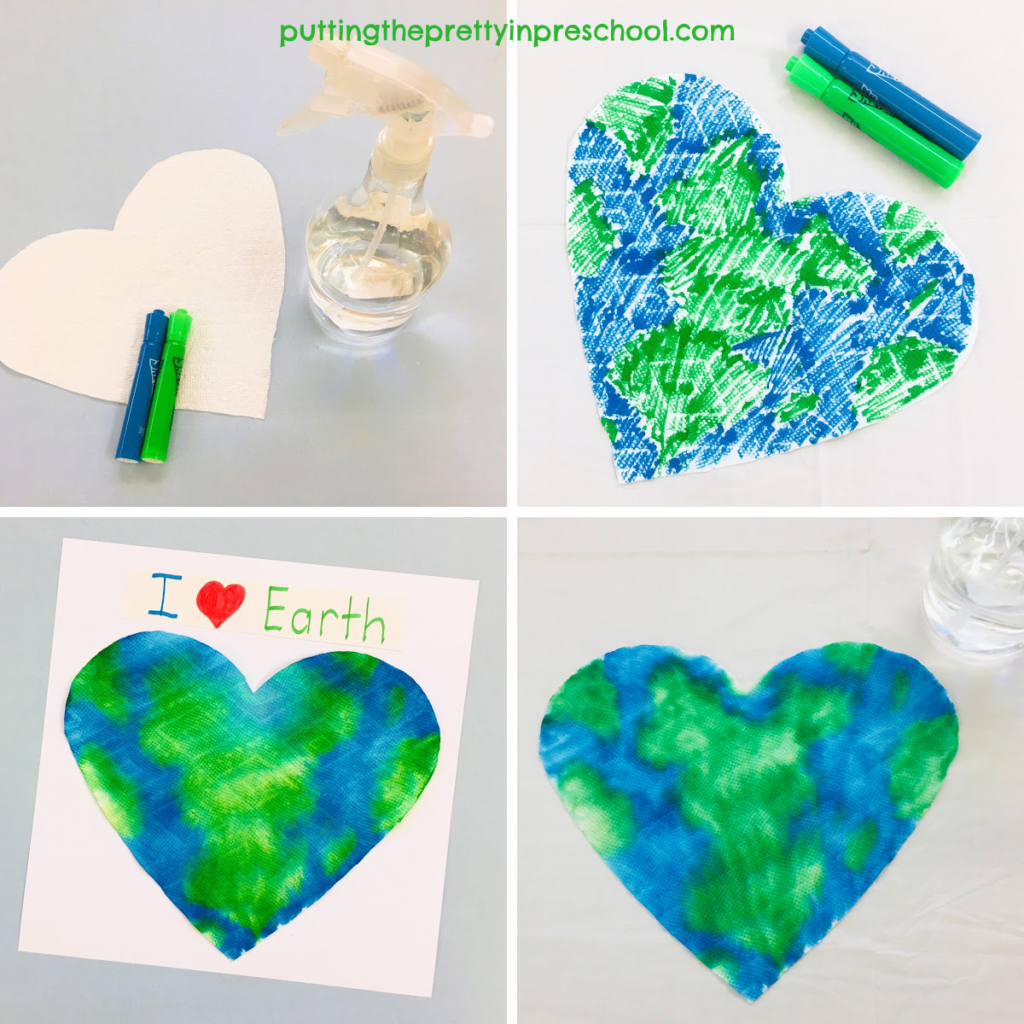 _______
Set out a heart and a green and blue water-based marker for each participant on a covered table. Have everyone color most or all of their hearts in patches of green and blue.
Fill a spray bottle with water.
Have participants take turns spraying their hearts with just enough water to wet their designs thoroughly. This is the part everyone will most likely love the most.
Or each child can use a pipette to drop water on their projects, also very satisfying.
Let the decorated, water-applied hearts dry.
Finish the project in one of the same two ways as with the first art activity.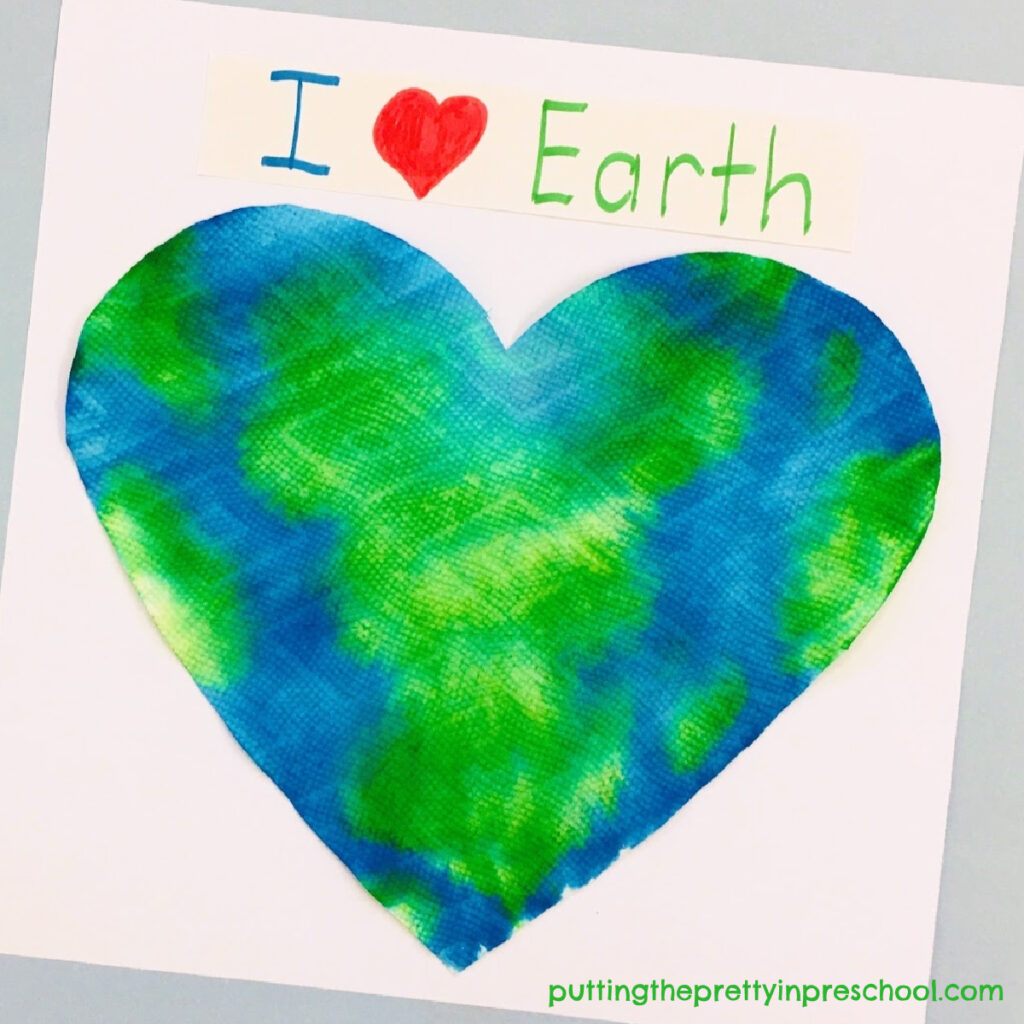 _______
Related: Coffee Filter Sunflower Craft
_______
Pick one or both of these Earth Day Heart Art projects to make and display for April 22 or to do any time of the year!
_______
_______
You may also like:
_______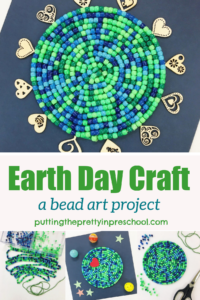 _______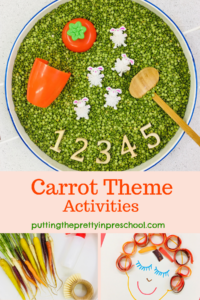 _______
Beet Science And Sensory Activities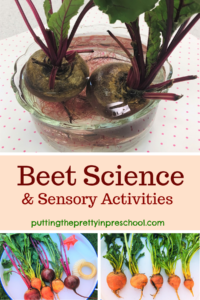 _______
Don't forget to share this post on Pinterest or your favorite social media channel. Sharing is caring!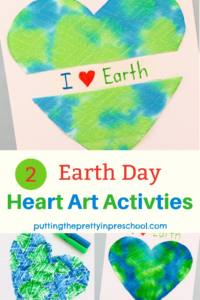 _______
© Annette Kaminsky April 2, 2022
_______
Follow me on social media for more ideas: