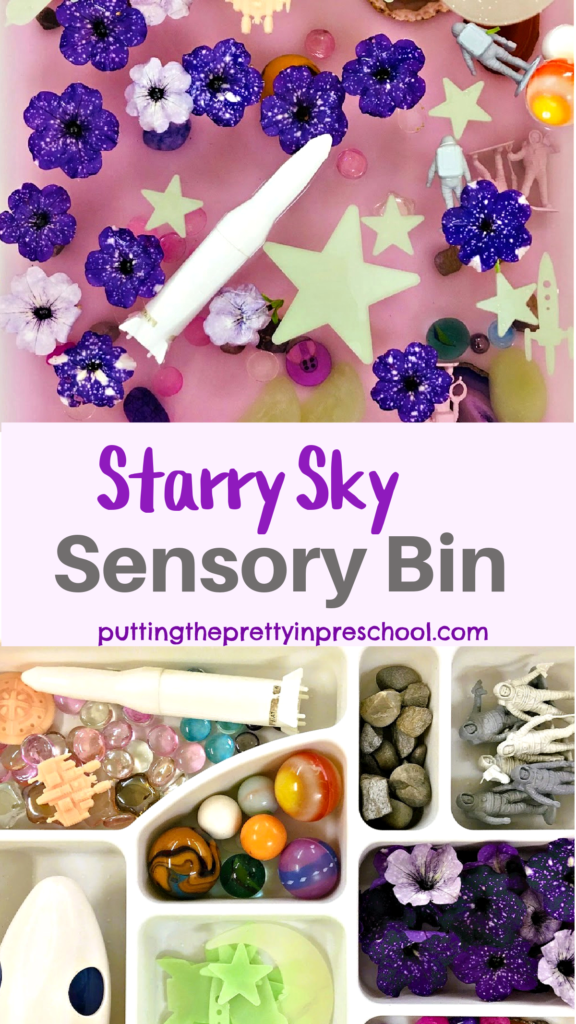 _______
Just as vegetables that come in a variety of colors are always a happy find, so are interestingly colored flowers. These award-winning, starry sky petunias are a new discovery for me, and they caught my attention at a hardware store! Their varying color patterns and space-themed name make them perfect for a starry sky sensory bin.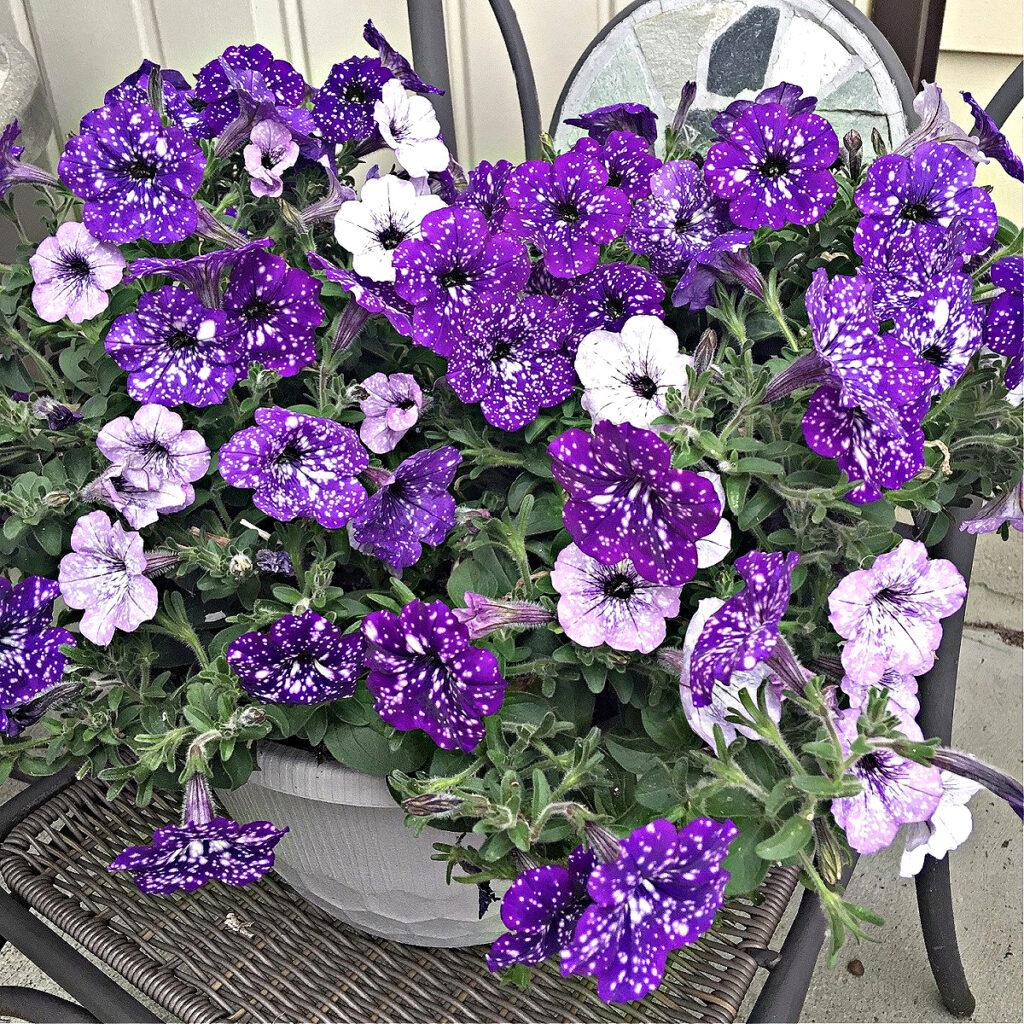 _______
Starry Sky Petunias were introduced about eight years ago, and their spectacular speckled white and purple flowers are a reminder of the cosmos. Each individual flower varies in shade of color and placement of white dots and splotches. The super pretty petunia plant is also named Night Sky Petunia and Galaxy Petunia.
_______
Follow me on Pinterest for more early learning ideas.
_______
Supplies To Collect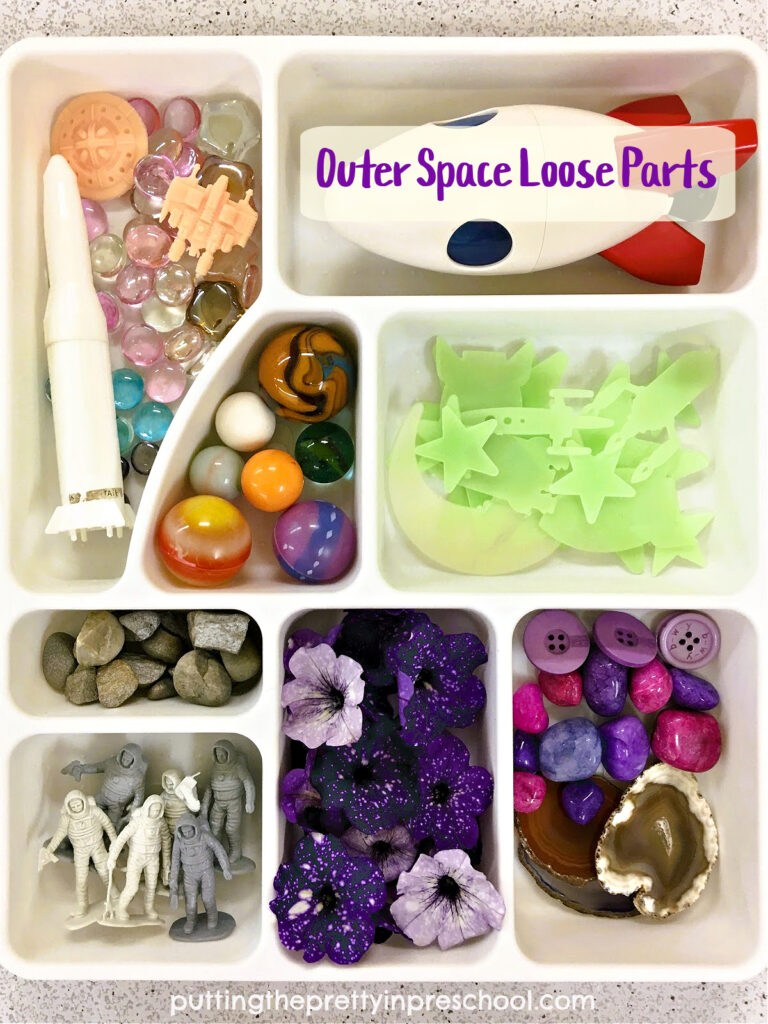 _______
This flower-inspired starry sky sensory bin contains the following loose part supplies:
starry sky petunia flowers
astronaut figurines
toy planets
glow in the dark moon and stars
toy spaceships in varying designs
pink and purple buttons
large and small marbles
purple and pink tumbled stones
turquoise, pink, and purple acrylic gems
silver spray painted rocks
agate slices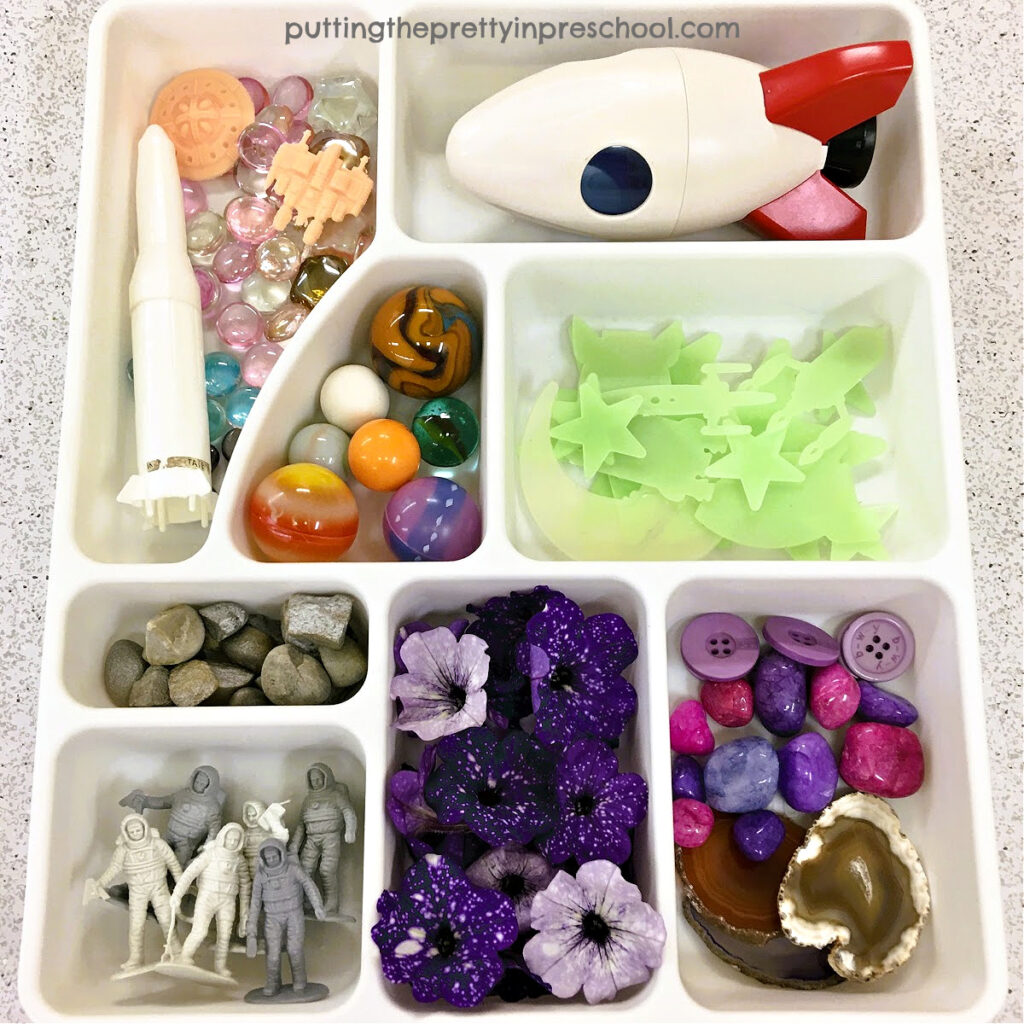 _______
The Starry Sky Sensory Bin
The supplies in the starry sky sensory bin are offered in two different containers.
This first bin for the sensory play loose parts is a food bus tub. It is super user-friendly and can be set up anywhere. Two or three little learners can play in the tub at the same time.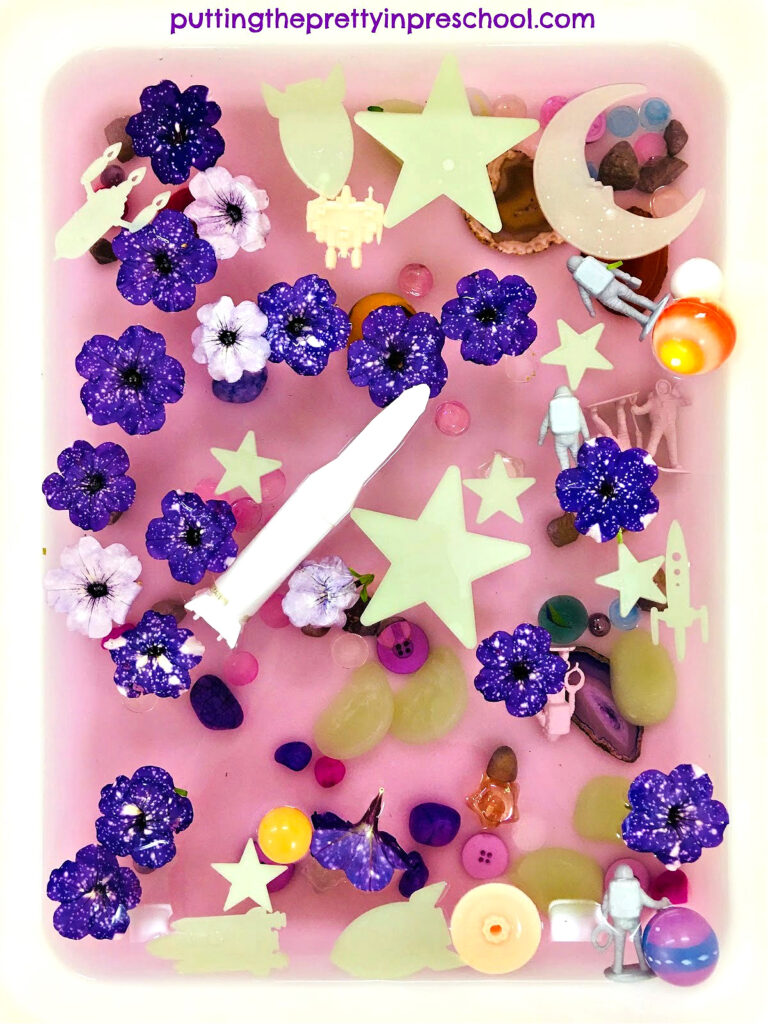 _______
Water with a little fluorescent purple food coloring added is the base for the bin. Breathtaking, other-worldly Starry Sky Petunias are the "stars" of the sensory play invitation.
Space-themed toys such as astronaut figurines, spaceships in varying sizes, glow-in-the-dark moon and stars, and toy planets complement the petunias.
Marbles in varying sizes are space rocks or pretend planets.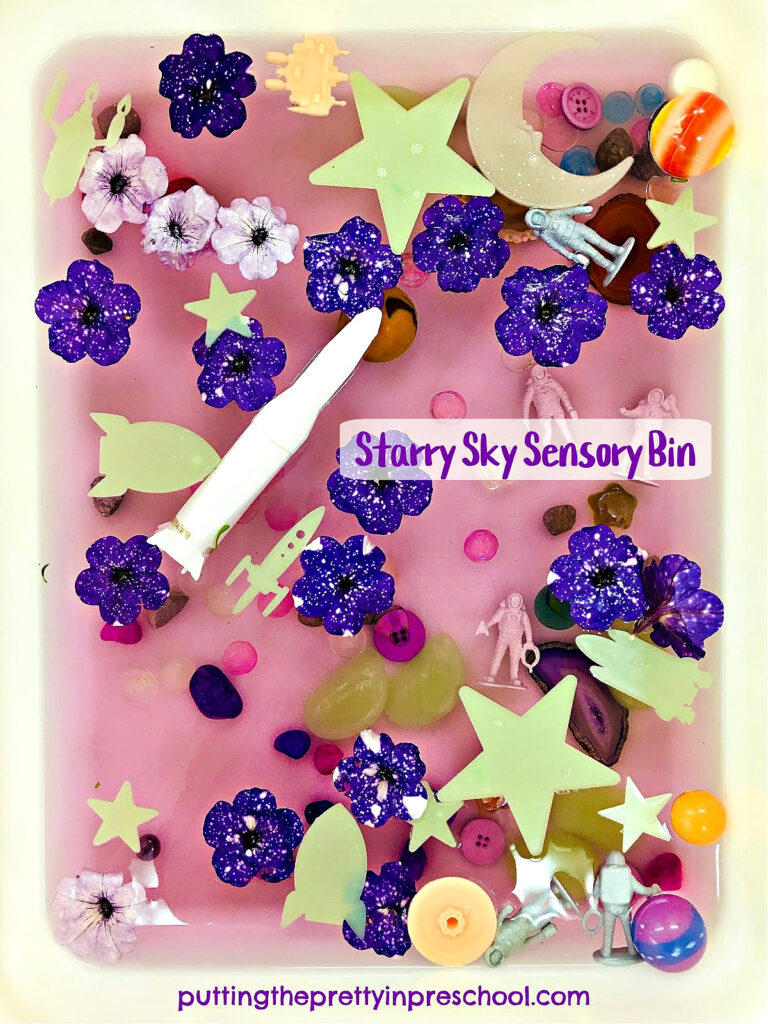 _______
Loose parts such as silver spray-painted rocks, agate slices, pink and purple tumbled stones, and acrylic gems add beauty to the bin.
Complementary-colored buttons are a welcome addition to any sensory bin.
This next water-based bin is a round, edged serving tray. It can also be offered anywhere and is suitable for one or two little ones to use at a time. The water level is a little lower, allowing for a large toy spaceship to stand upright in the bin.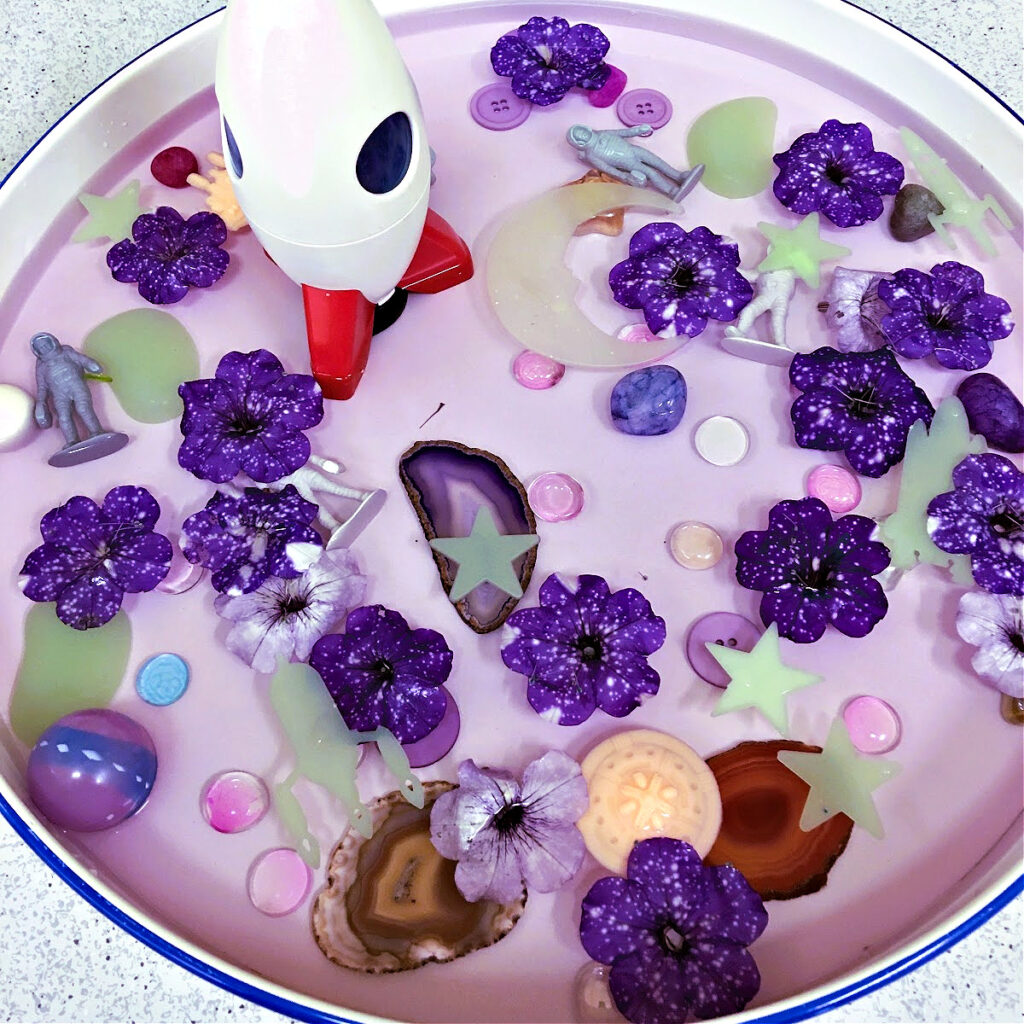 _______
Petunia flowers in any color provide beautiful, cascading blooms all growing season long. Solid pink, purple, or white petunia flowers would also work wonderfully in this starry sky sensory bin.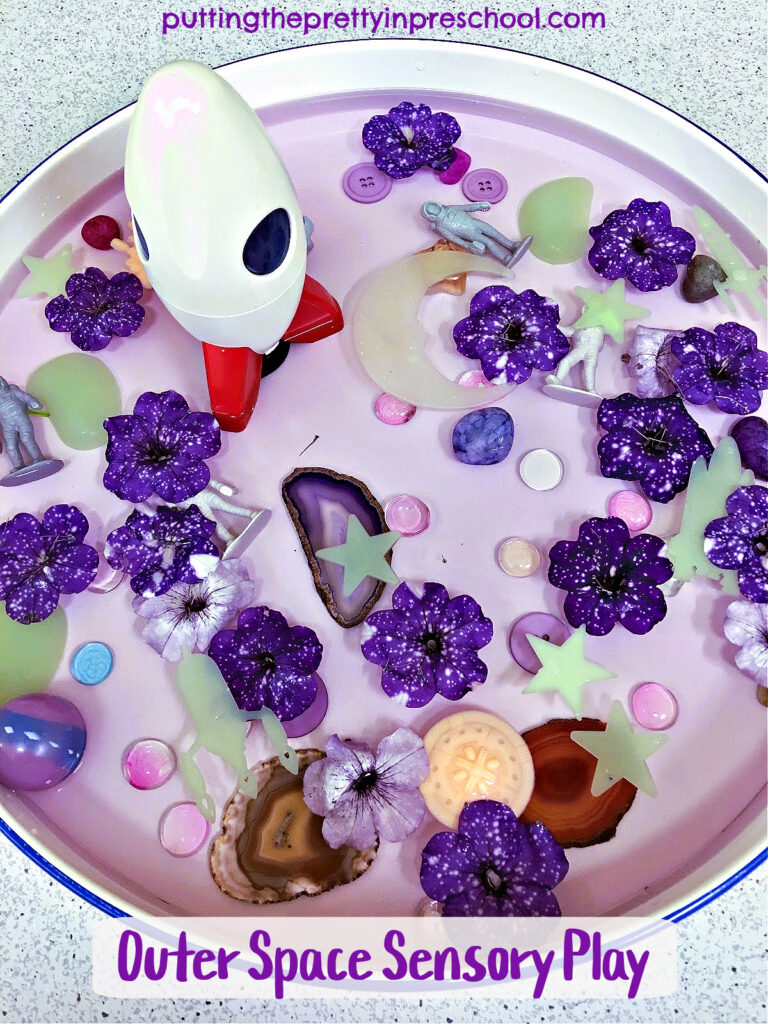 _______
[Read more…]

about Starry Sky Sensory Bin