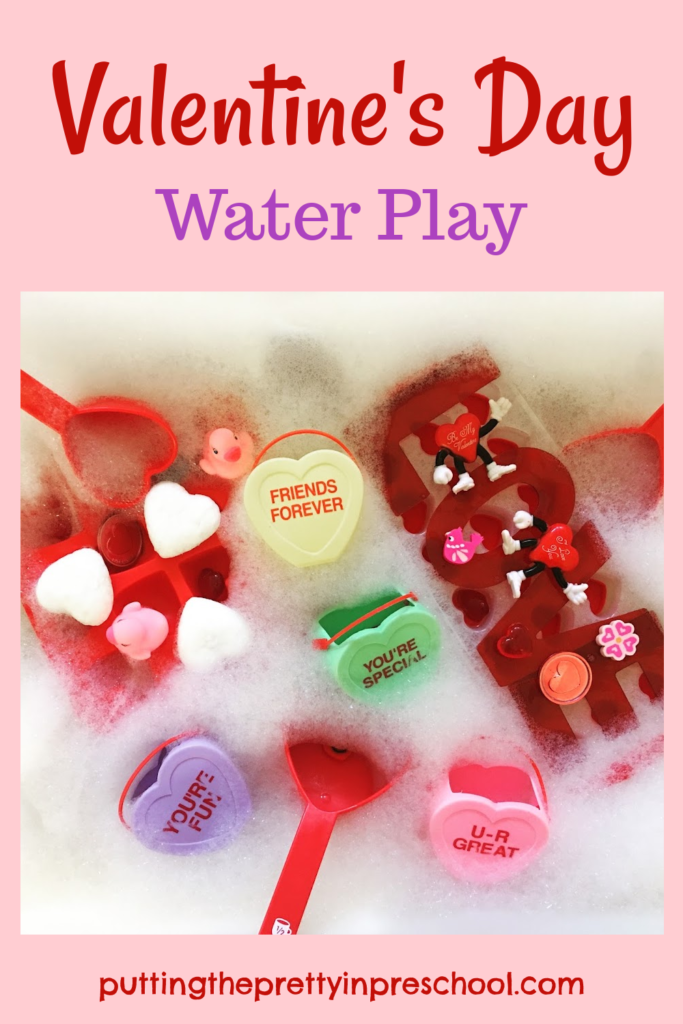 _______
A Valentine's Day water play activity is quick and easy to set up, and supplies are low cost. The activity helps create a festive ambiance on a party day or any day!
The weeks leading up to Valentine's Day are a good time to visit stores to collect Valentine-themed supplies for all kinds of learning opportunities, including water play. No store is off-limits for gathering hands-on materials.
________
Supplies To Collect
Here's a list of supplies that work well in a Valentine-themed water table or tub. Pick the ones you have handy, or can easily and economically find in a store.
alphabet letters that spell the word "LOVE"
heart ice cube trays
red and pink buttons
heart-shaped gems
bendy heart people
red and pink ducklings
valentine erasers
pink and red rainbow erasers
styrofoam hearts
cut striped red and white straws
red coins
wiggly eye rings
heart-shaped measuring cups
treat baskets and boxes
_______
The Valentine's Day Water Play Activity
Add warm water to a large water table for group sharing, or set out a small white washtub with water for each child. Throw in Valentine's Day loose parts that you have available.
The tub below has clear water, and the colors and shapes of the supplies can be easily seen and admired in the white bin.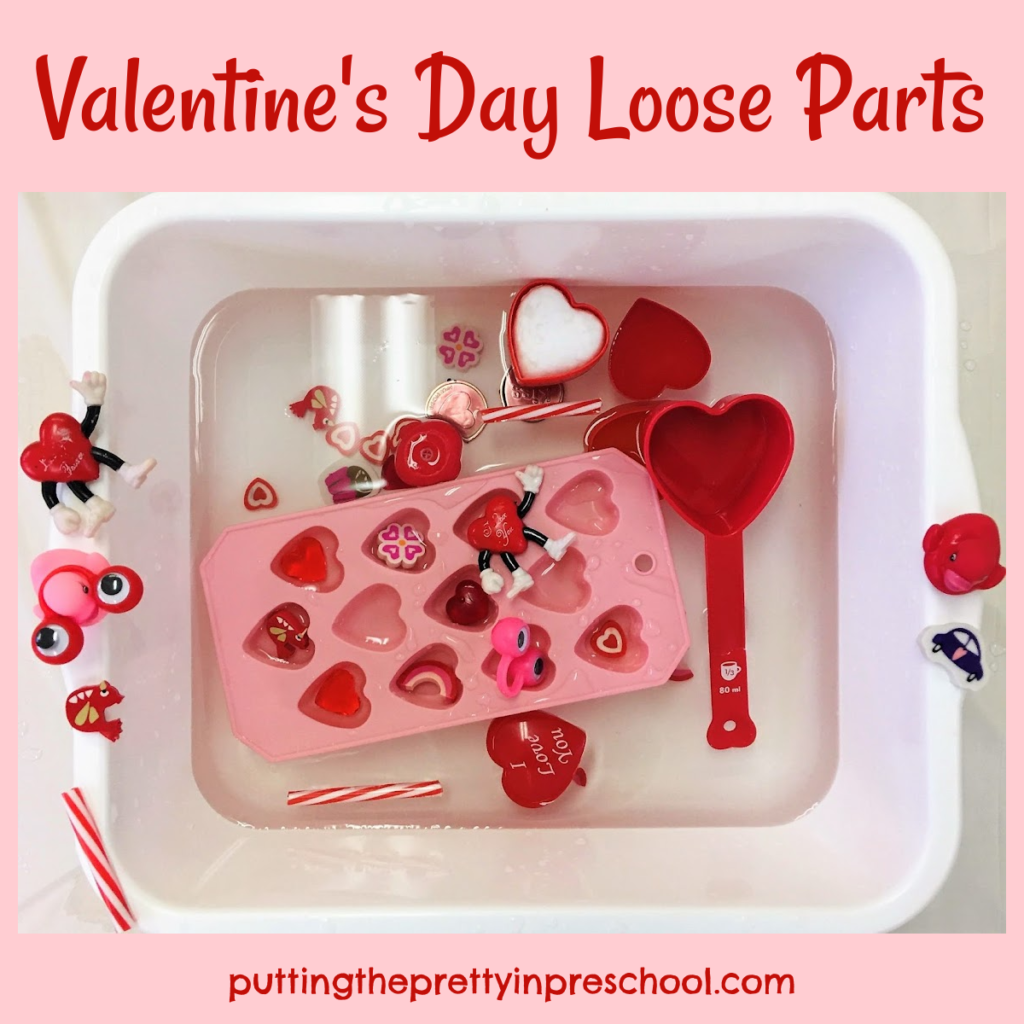 _______
After a little while, you could add red food coloring to the water to extend interest.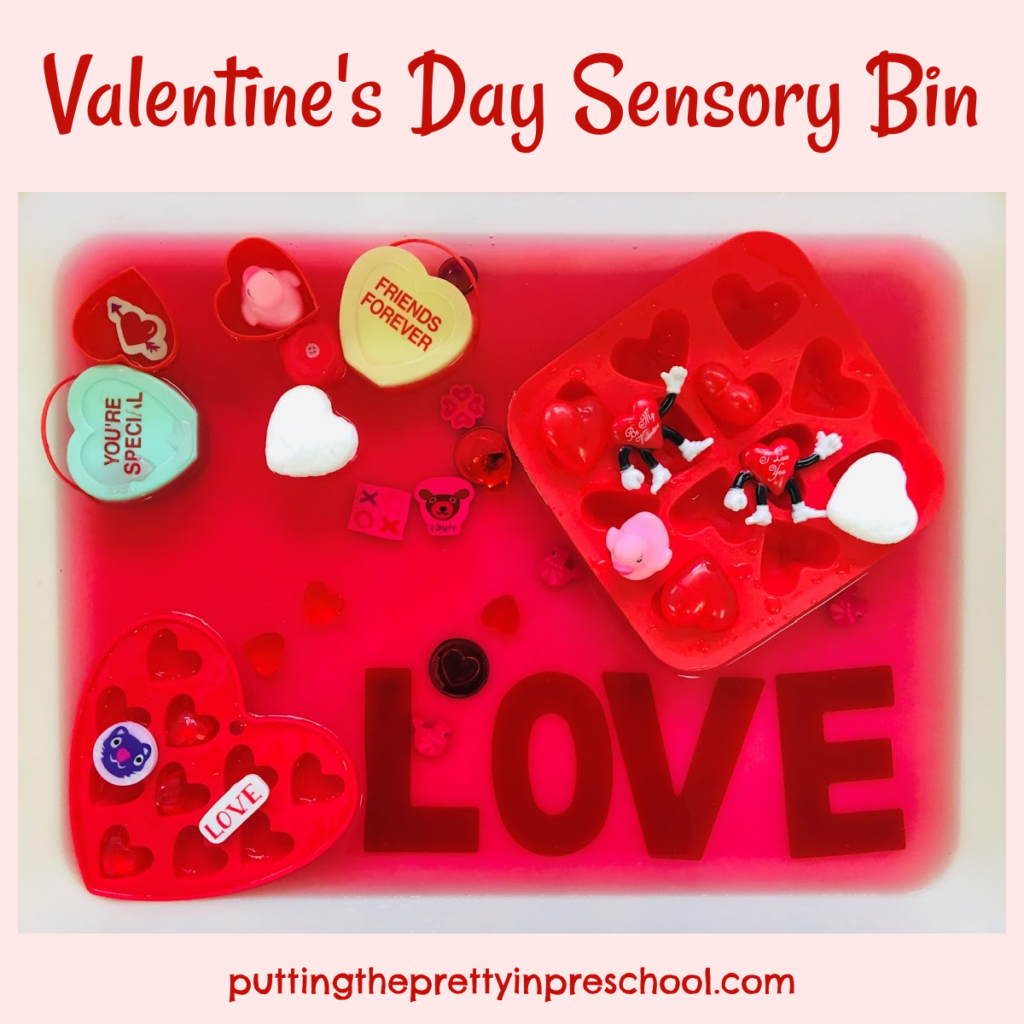 _______
Or you could add dish detergent to create bubbles, so fitting for Valentine's Day activity.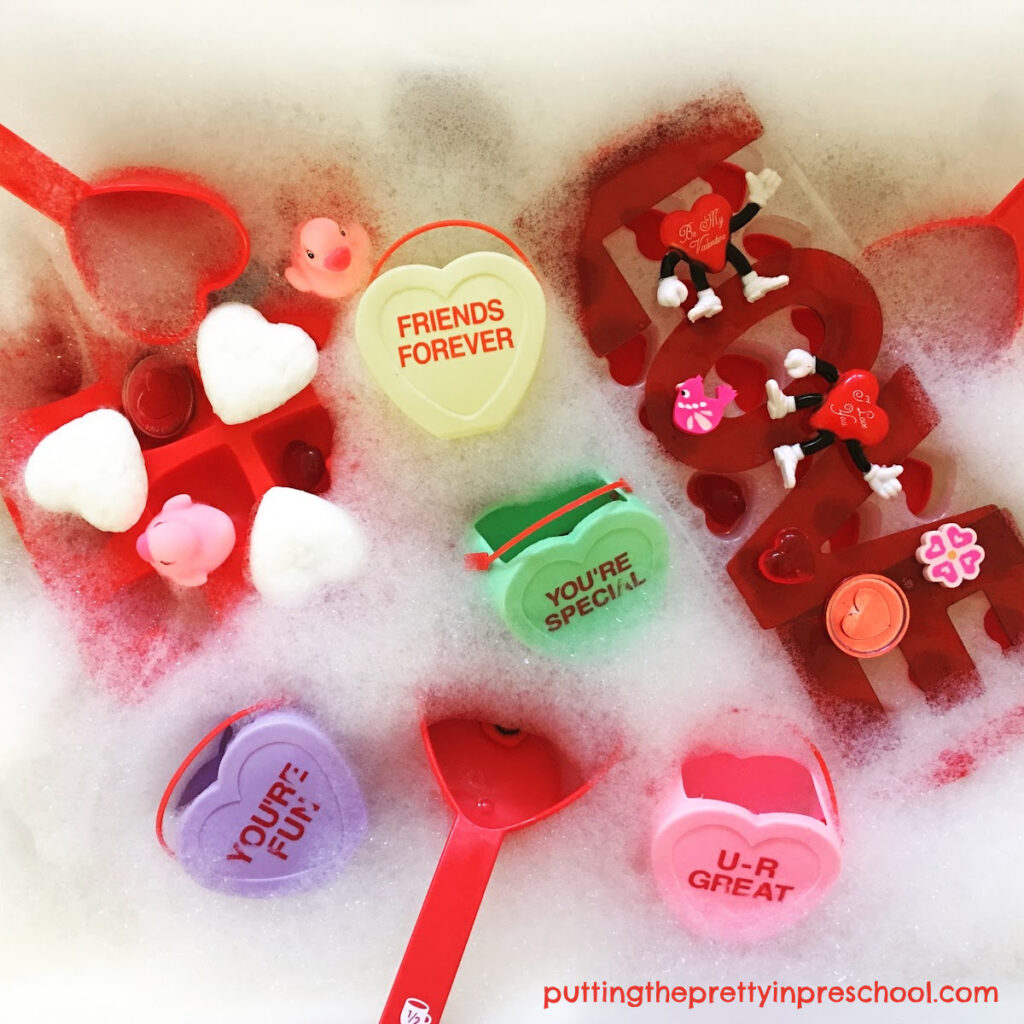 _______
Benefits Of Water Play
Here are some benefits of this water play activity:
sorting shapes (math – set making; language development – color recognition)
counting shapes (math – counting)
comparing shapes to those of other children (language development; paying attention to detail)
filling and emptying treat boxes (eye-hand coordination; math/language development – empty/full)
noticing how some shapes stick to others (science)
recognizing letters of the alphabet (language development – letter recognition)
discovering beautiful themed items (creativity)
Water play is an embraced activity any day. For another time, the Valentine-themed supplies could be included in a rice or chickpea sensory tub.
Can you think of supplies to add to my list? Share in a comment below.
_______
Related: St. Patrick's Day Sensory Tub
_______
You may also like: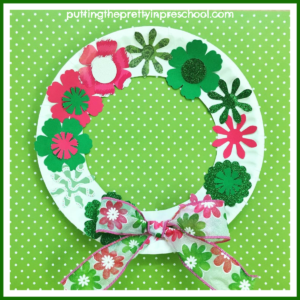 _______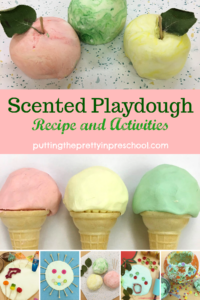 _______
Fall Scissor Skills Activities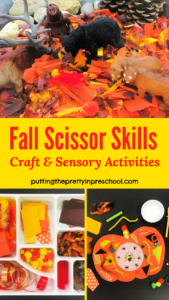 _______
Don't forget to share this post on Pinterest or your favorite social media channel. Sharing is caring!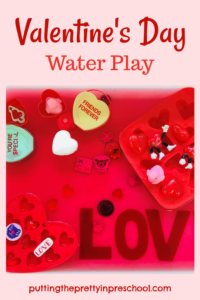 _______
© Annette Kaminsky February 7, 2022
_______
Follow me on social media for more ideas: