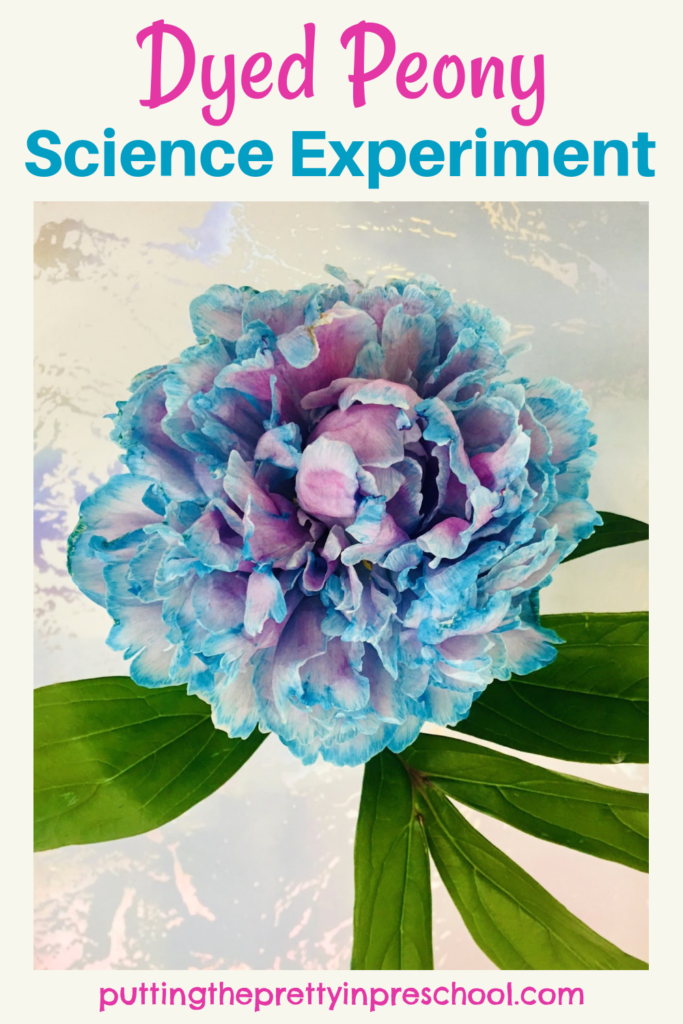 _______
Peony plants have large, bold flowers that grow profusely during the blossoming season. It's always sad to see them go so I try to snap a few pictures before they drop off.
Don't get scared off by the ants in this picture I took! Ants eat peony nectar and help keep peonies safe by attacking bud-eating insects.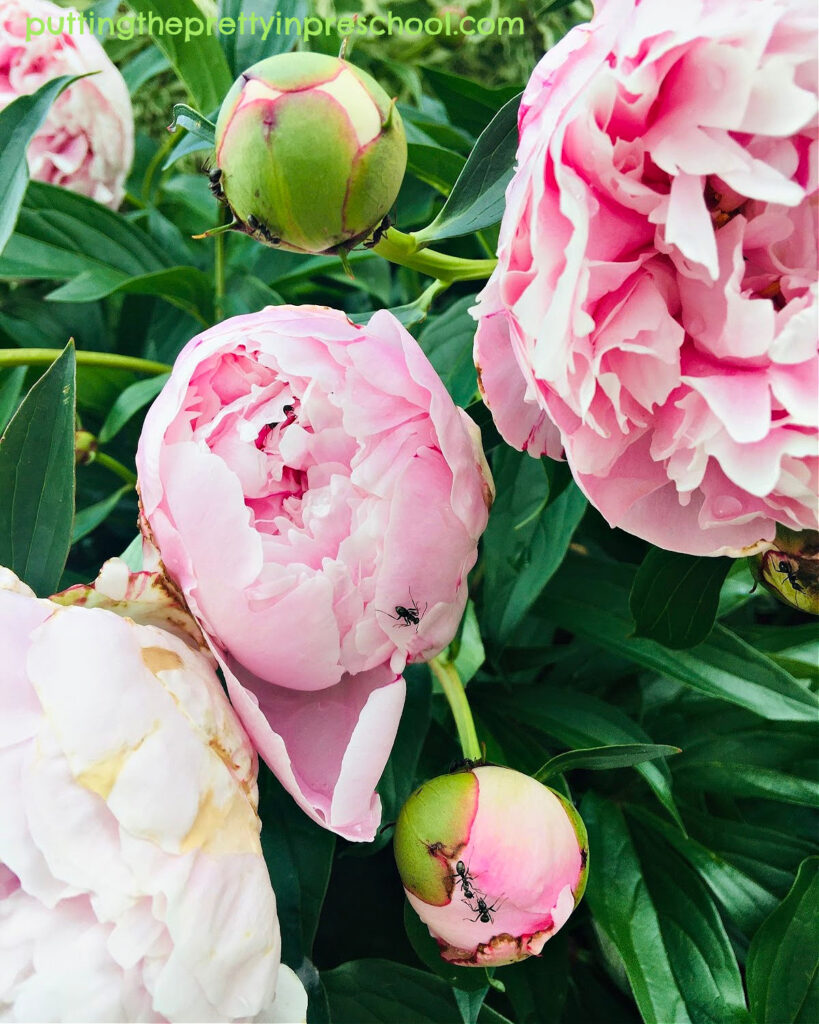 _______
After taking a peony and thrifted vintage teacup photo, I realized that a saved flower in a jar of water would provide the perfect opportunity for a dyed peony science experiment. Peony flowers have a dense cluster of petals, similar to carnations, so I wondered if the experiment would turn out as well. It worked wonderfully, so I highly recommend giving it a try.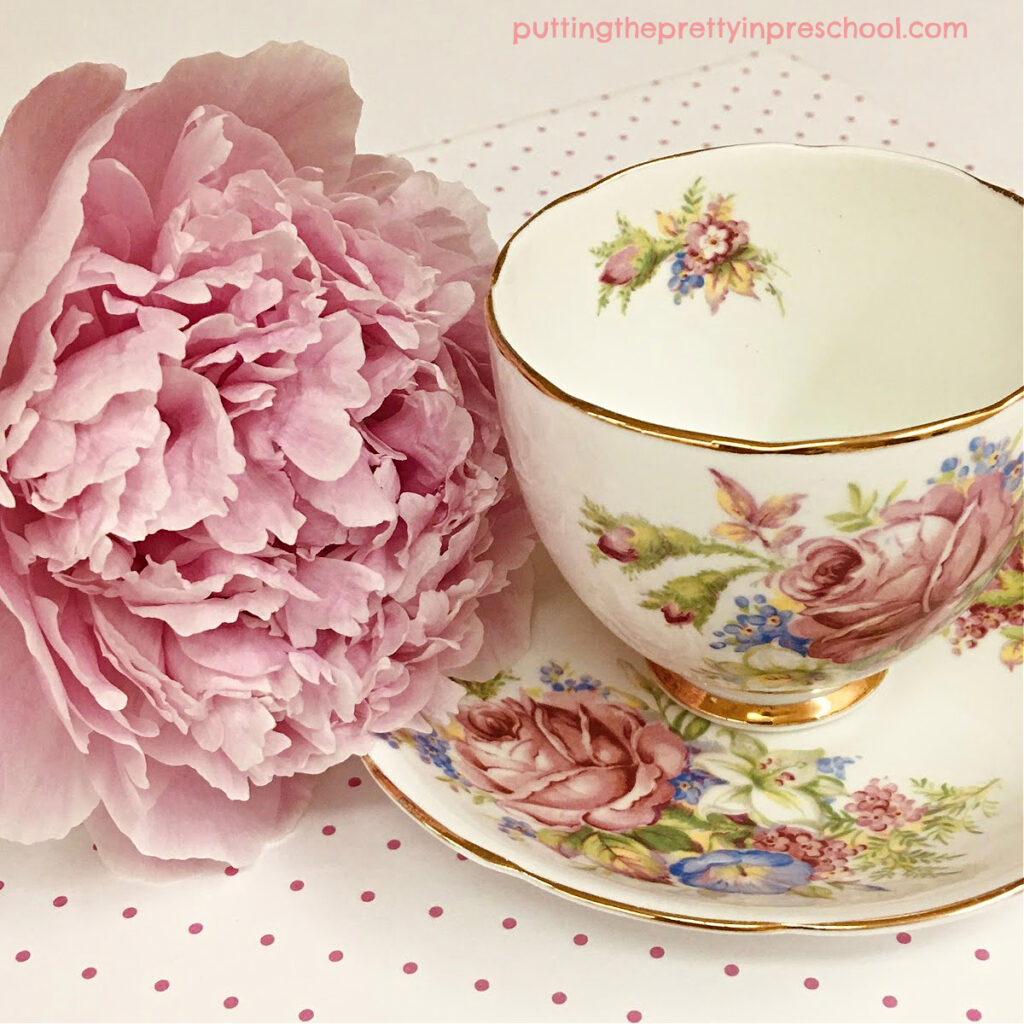 _______
Follow me on Pinterest for more learning ideas.
_______
Supplies To Collect
All you need is a few supplies to perform this oh-so-easy, nature science experiment. Gather the following:
peony flower stem with leaves
clear jar or vase with water
neon blue food coloring
spoon
_______
The Dyed Peony Science Experiment
To perform this simple science experiment, fill a small, clear jar at least half full of water.
Add 10 or more drops of neon blue food coloring and stir it in. I use a blue hue, but any color of food coloring would work nicely.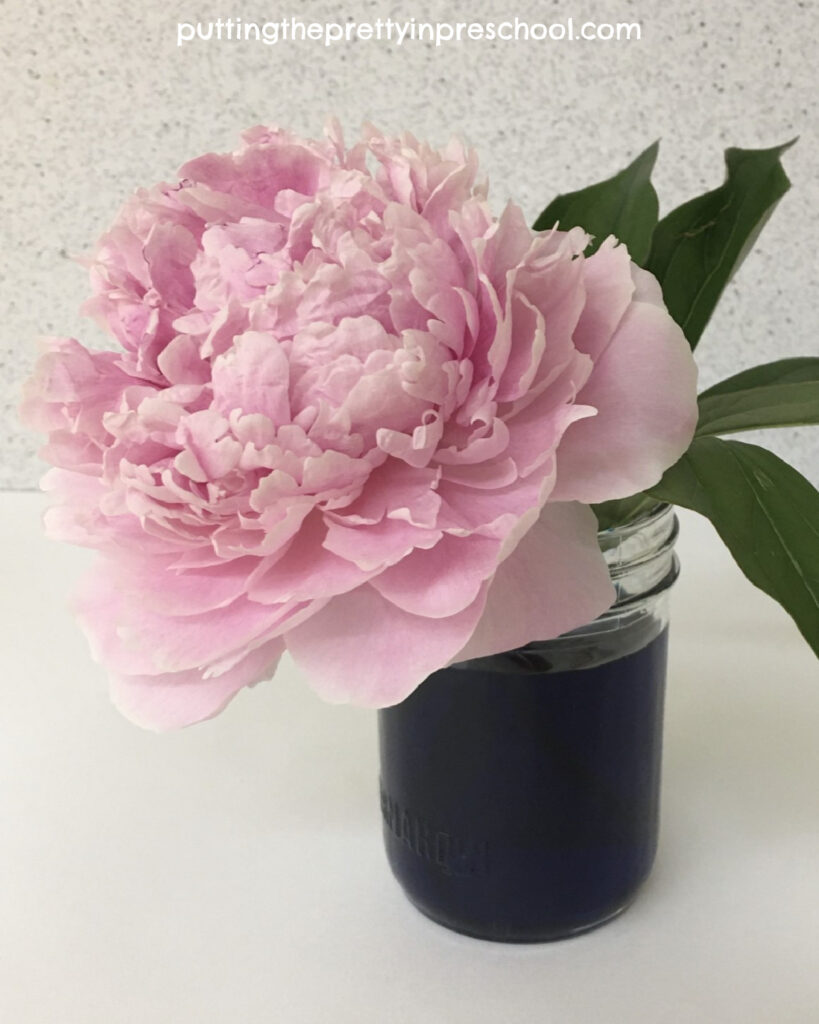 _______
Set the sprig in the colored water overnight and observe it the next day. You'll notice that the edges of the peony flower petals have turned blue.
Check the plant once a day after that to spot more color changes.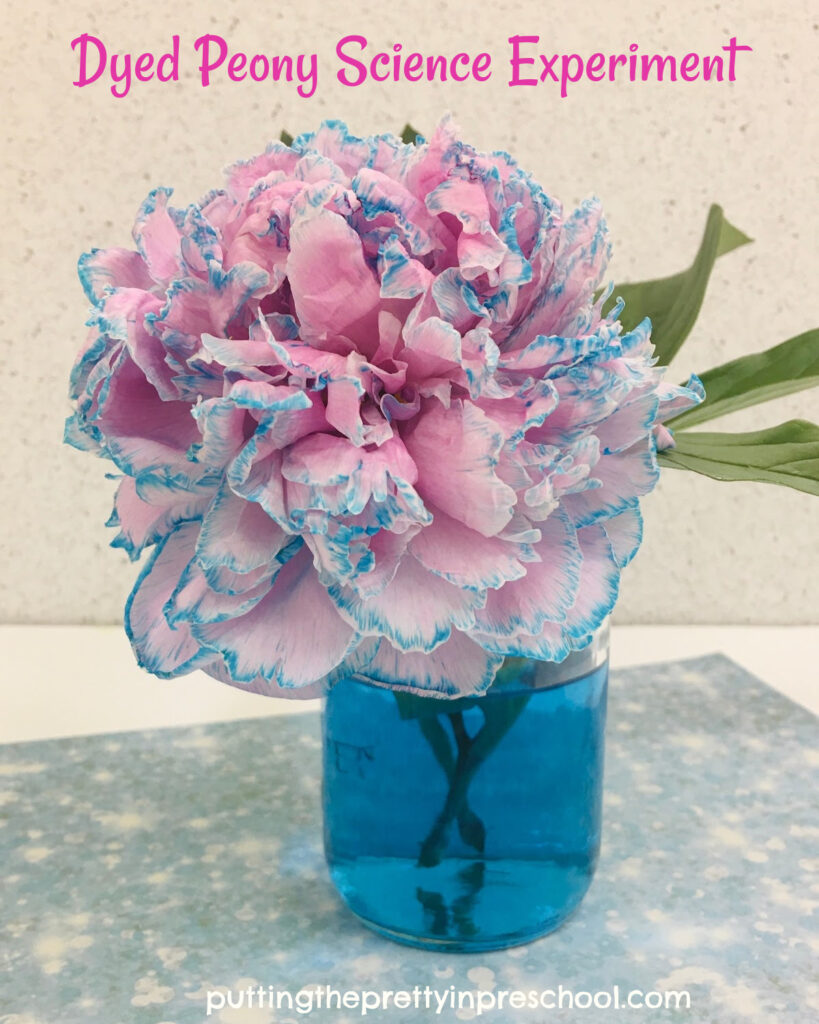 _______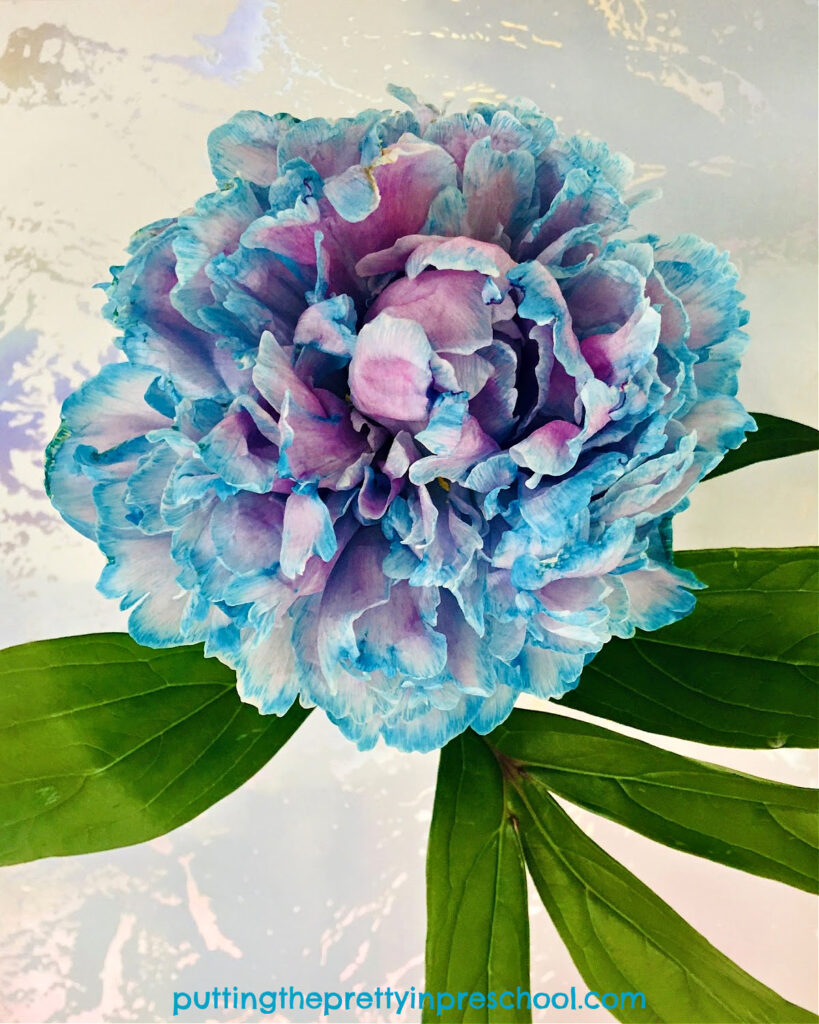 _______
Tell your little charges that coloring the water blue helps us see how water travels up the stem of a plant into the flower leaves and petals.
Note: The leaves and stems of my peony plant are dark, so it is difficult to see water travel up them. Choosing a plant with lighter leaves would show water travel through these plant parts better.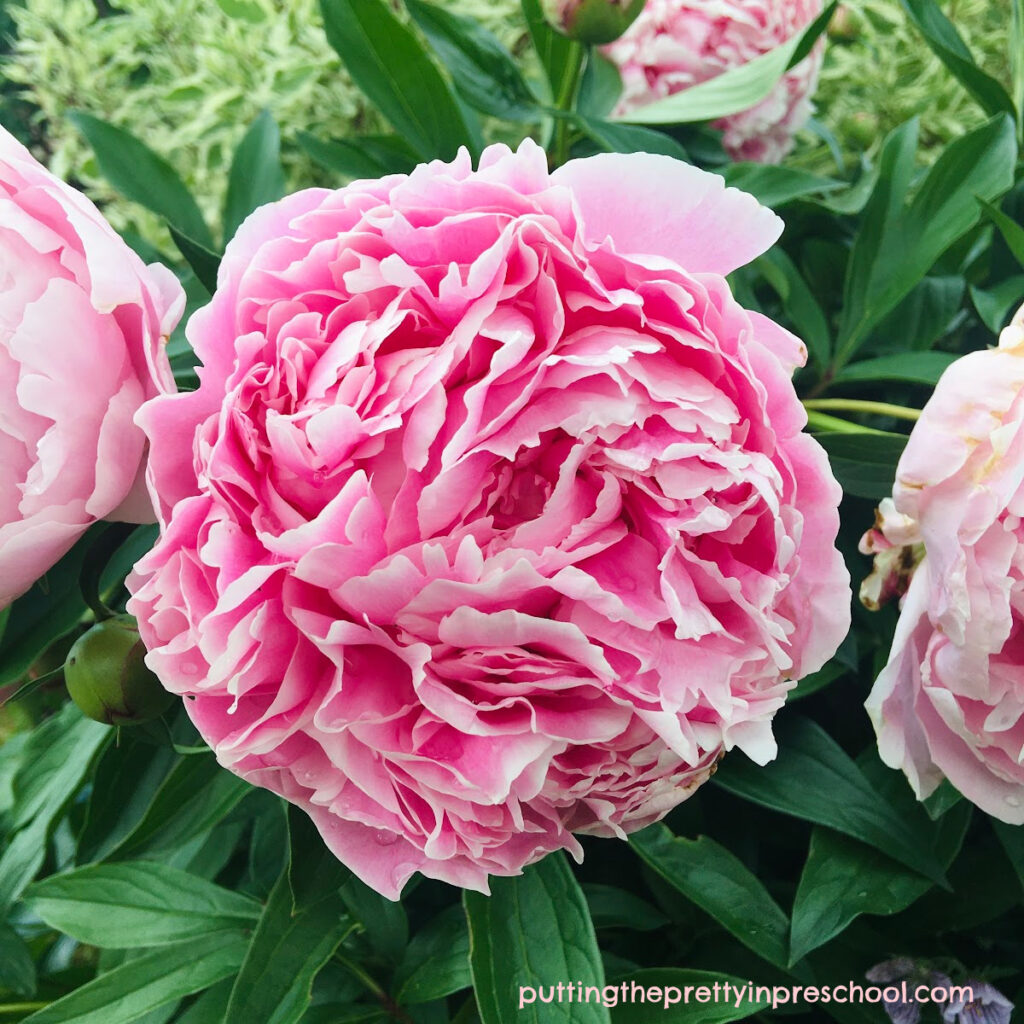 _______
The Importance of Water For Plants
Along with light, air, and good soil, water is super important to a plant's growth and survival:
Plants are made of mostly water, and it helps them stay firm.
Plants cool down by releasing water from their stems and leaves. This helps them regulate their temperature.
Water carries important nutrients that help plants grow.
Sunlight, carbon dioxide from the air, and water are necessary for photosynthesis, which is how the leaves of plants create energy to survive.
_______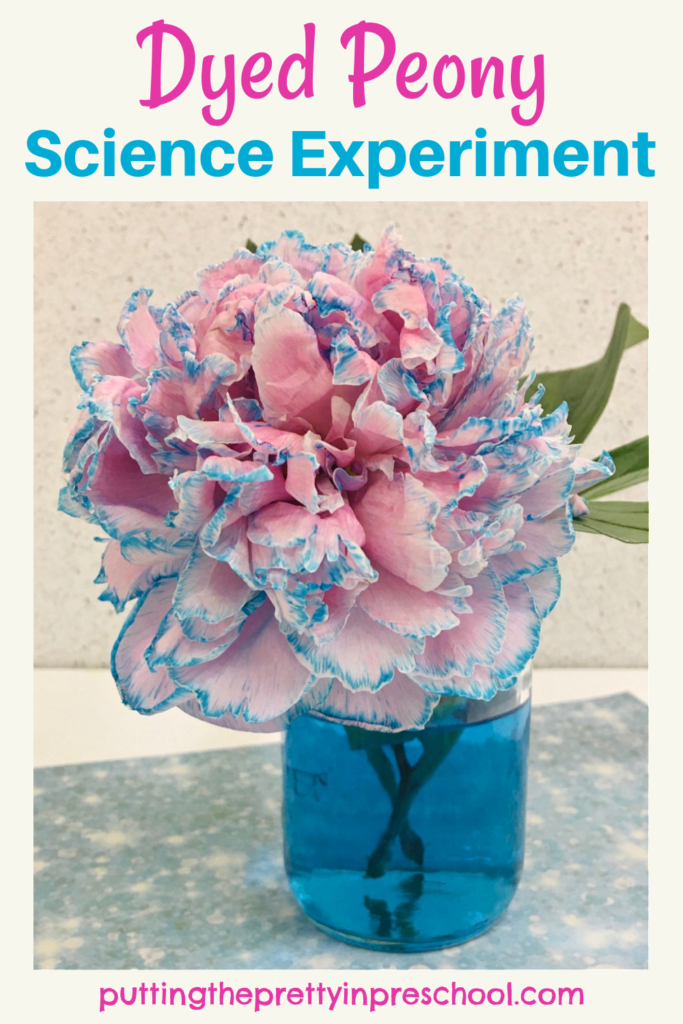 _______
If you have an abundance of peonies, why not try this dyed peony science experiment with a variety of food coloring hues? Or you could perform it with carnations, which are easy to find and economical to buy.
Related:
_______
[Read more…]

about Dyed Peony Science Experiment