_______
In a whole range of egg colors with expressive faces drawn on, this floating egg science experiment includes a dose of art and drama. The experiment is simple to do and promises to be a huge hit with your little learners.
_______
Supplies To Collect
The supplies for this dramatic science experiment are easy to procure, as you probably already have them in your home. Gather the following:
eggs
salt
pitcher of water
egg carton
two 500 ml glass jars
tablespoons
egg dipper
store-bought egg dying kit
black permanent felt pen
_______
Follow me on Pinterest for more early learning ideas.
_______
Performing The Floating Egg Science Experiment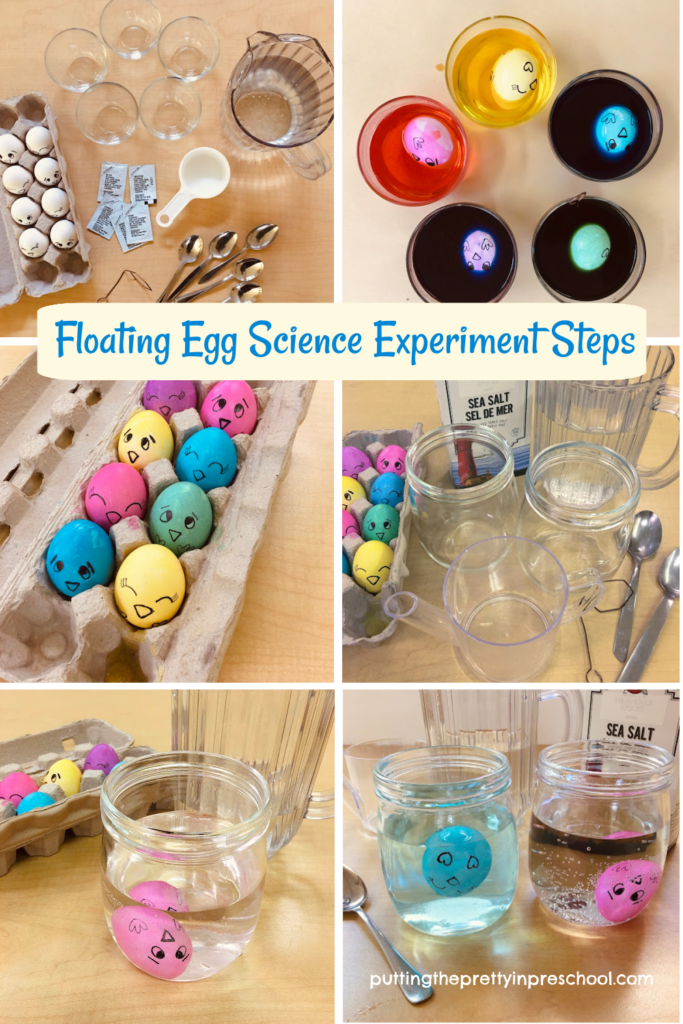 _______
With a permanent felt pen, carefully draw chick feet and a worried face on one side of the eggs selected for the experiment. Draw feet and a happy face on the other side of each egg.
Note: Crayons can be used instead to decorate the eggs.
Then dye the eggs in different colors. I use color tablets from a store-bought kit for the eggs, but you could use a home recipe.
Carefully drop the color-dyed eggs back in the egg carton, using an egg dipper if available. Let the eggs dry.
Pour 1½ cups water into two jars.
Add 3 tablespoons salt to one jar, and stir it into the liquid. Add no salt to the other.
Pick a decorated egg to gently drop into the unsalted jar of water. Observe if it floats or sinks. Then scoop the egg out of the liquid and have participants pick the feeling the "chick egg" might be experiencing: (worried, scared.)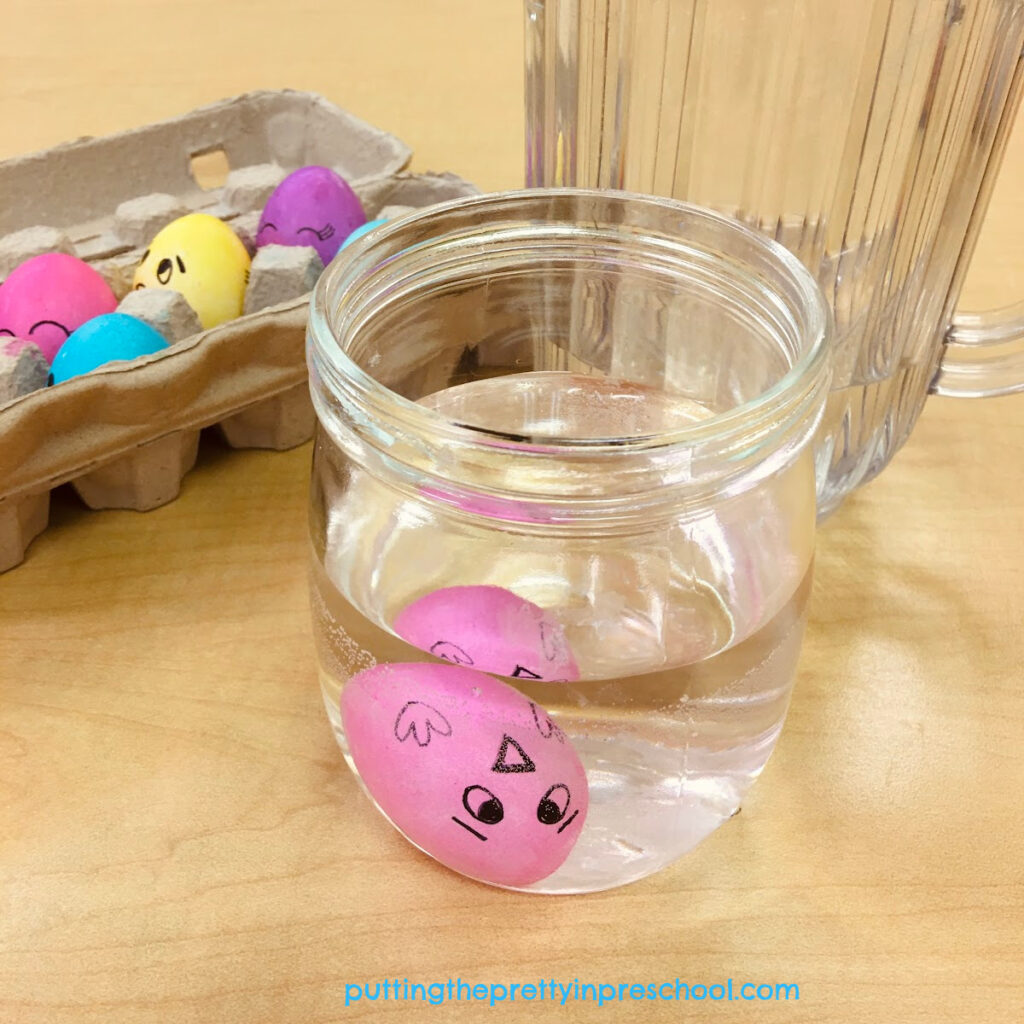 _______
Carefully drop the same egg into the saltwater jar. Observe if the egg now floats or sinks again. Have participants pick the feeling the "chick egg" is probably experiencing: (relief, happiness.)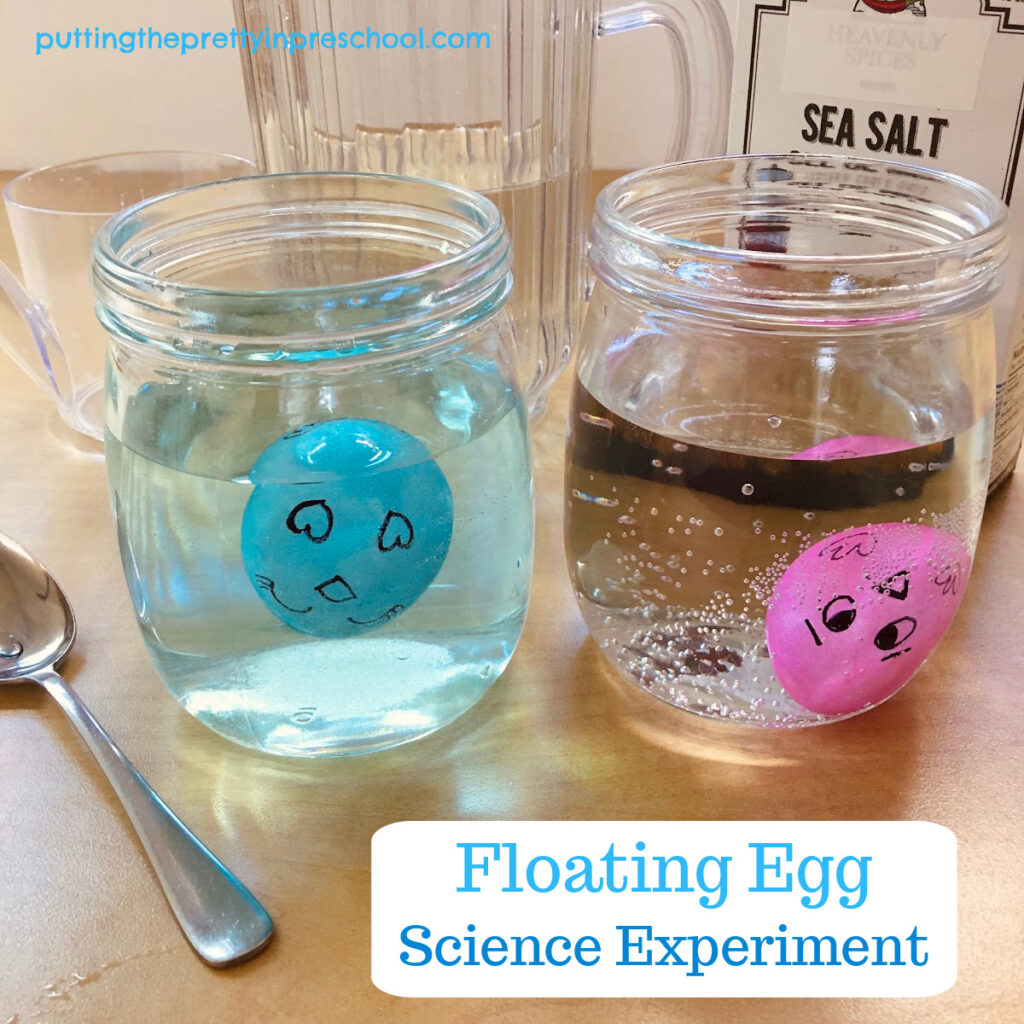 _______
Try this science experiment with other colored eggs. Participants may enjoy picking an egg in their favorite color to drop in the jars.
_______
Related: Reptile Egg Science Experiment
_______
The Science Behind This Experiment
An egg is denser than water, so it sinks. But when salt is added to water, it increases the density of the liquid. When enough salt is added, a raw egg will float.
_______
Floating Egg Experiment Extensions
This floating egg experiment could be extended by:
using large and small-sized eggs, and recording how much salt needs to be added to a jar for each one to float.
dying the eggs in different methods.
reading a picture book about feelings before or after performing the experiment.
_______
[Read more…]

about Floating Egg Science Experiment