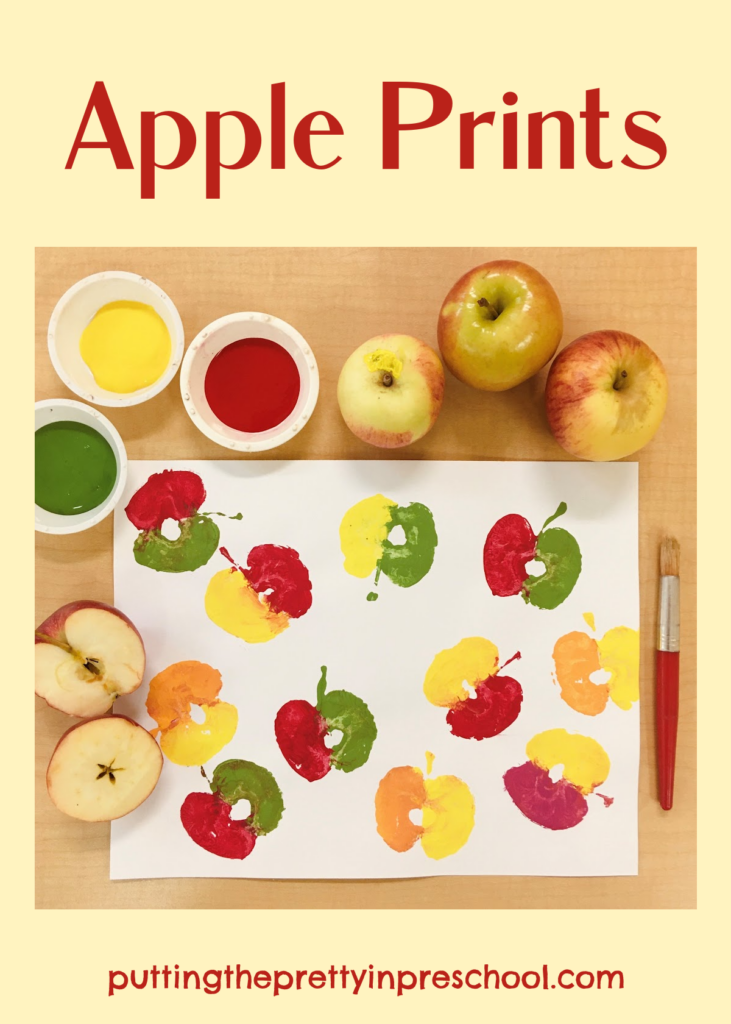 _______
Apples are so plentiful in fall and come in many sizes and colors. Besides enjoying the crunchy, juicy fruits in pies, squares, and drinks, set aside some for apple print activities.
To start off, show early learners a selection of apples in contrasting colors. A green Granny Smith, a yellow golden delicious, and a red royal gala apple make good fruits to set out and discuss. They are also easy to find in stores.
Little learners would be excited to taste the apples. Cut some into chunks and invite children to taste apples in all three colors.
Follow me on Pinterest for more early learning ideas.
Pick an inexpensive apple to use for the craft. I picked a smaller-sized apple on sale at a local produce store. Cut some apples in half from top to bottom, and slice others horizontally. Have early learners notice the seeds, and count them. Highlight the star shape in the horizontally cut apples.
Then invite children to use the apples for printmaking.
_______
Supplies To Collect
green, red, and yellow tempera paints
12-inch x 18-inch sturdy art paper
small plates or trays
paintbrushes
apple halves
_______
Making Apple Prints
Pour a little red, green, and yellow paint in small flat dessert dishes or disposable plates. Add a little yellow to the green paint to lighten and brighten the color.
Allow little ones to dip apples into the paints, and make prints on the paper.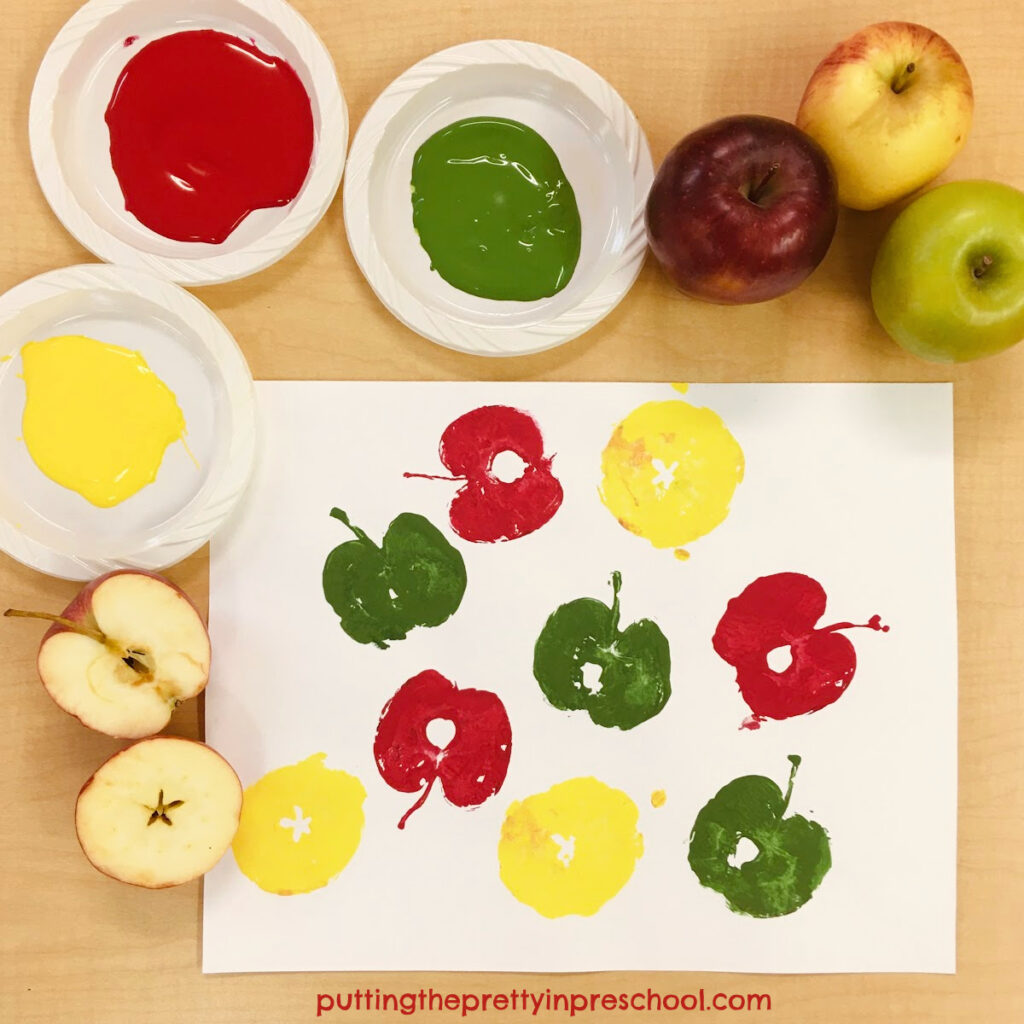 _______
Another way to do this activity is to have early learners paint the apple halves instead, and then press them on the paper. It is easier to control the amount of paint on the apples this way.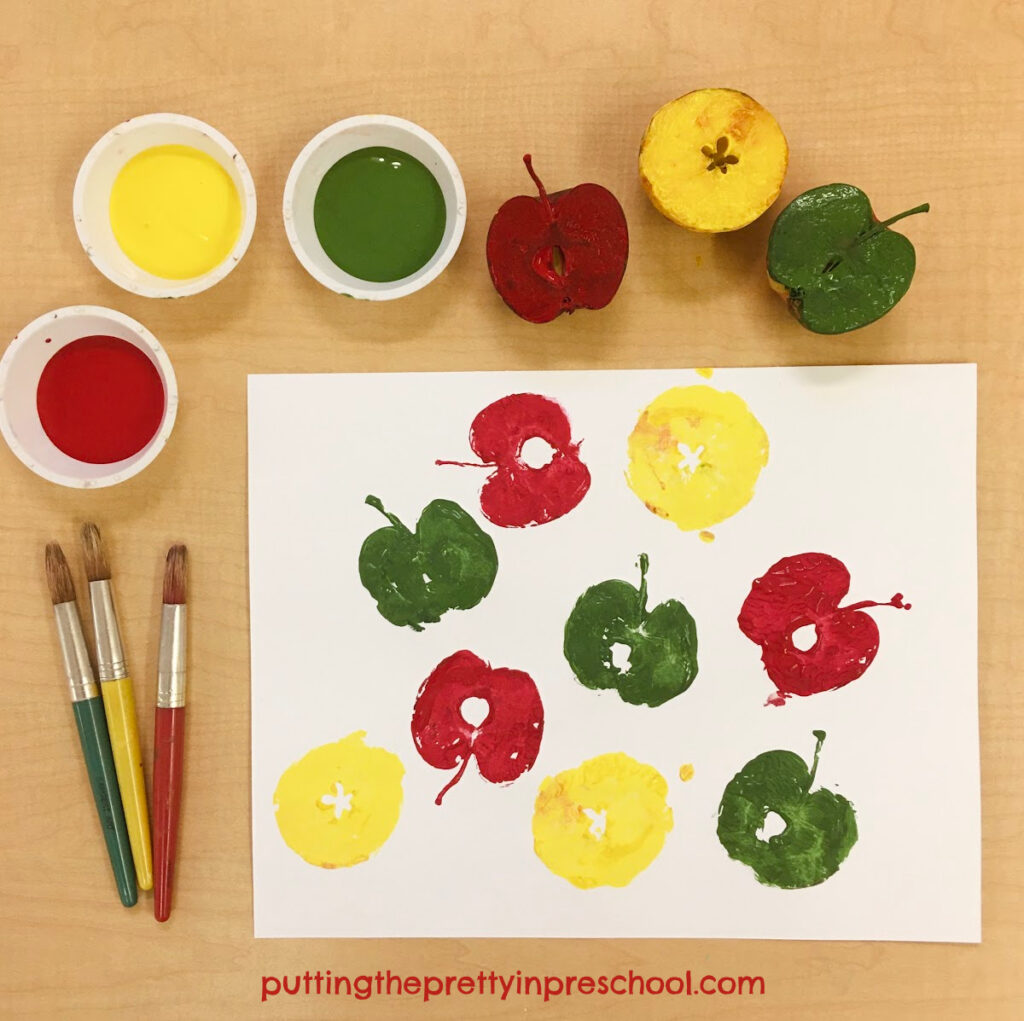 _______
Tip: After each painting experience, apple pieces can be rinsed and used again by another child.
_______
More Apple Print Activities
Apples often come in two different colors, like red and green, or yellow and red. To extend the painting experience, invite children to paint each apple half in a different color, and make prints with them.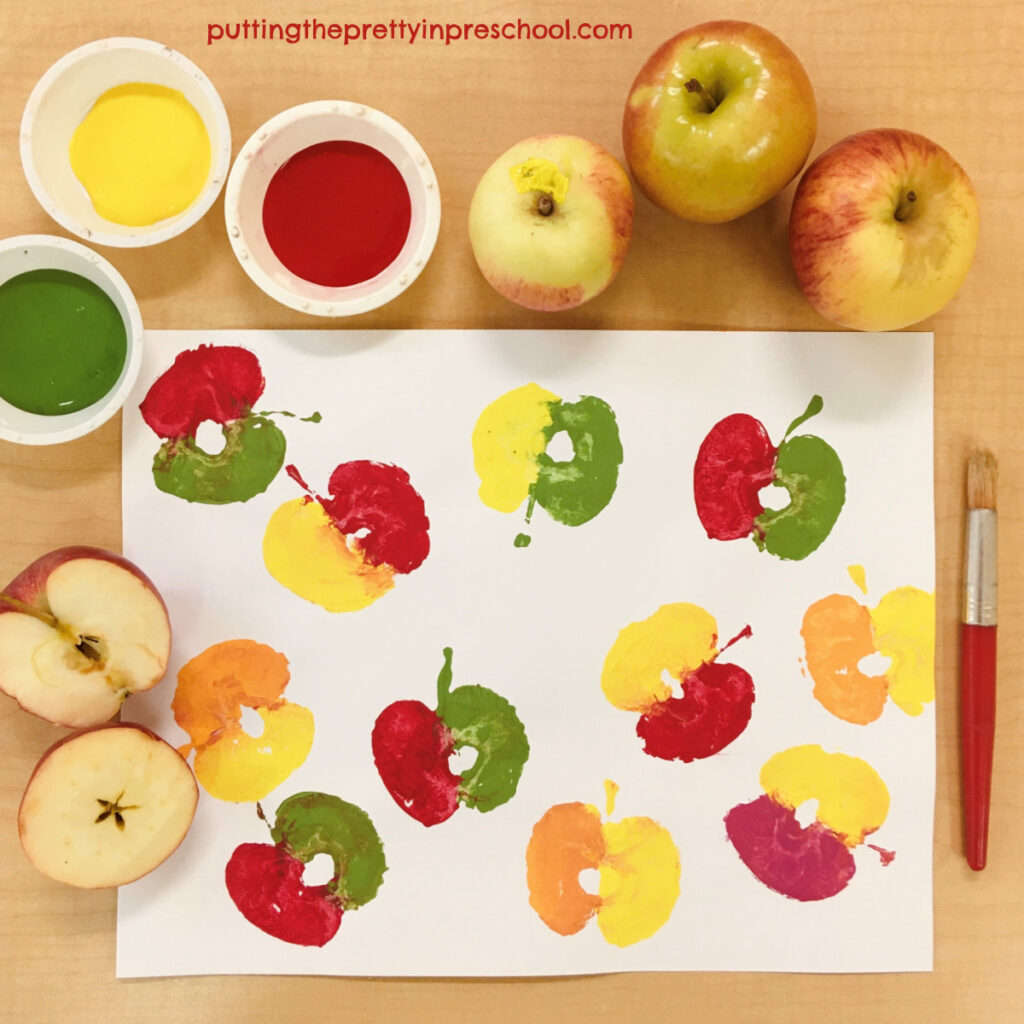 _______
Thin the paints. Invite little learners to make prints on sections of paper towel roll. The absorbency and texture of the towels give the prints a unique look.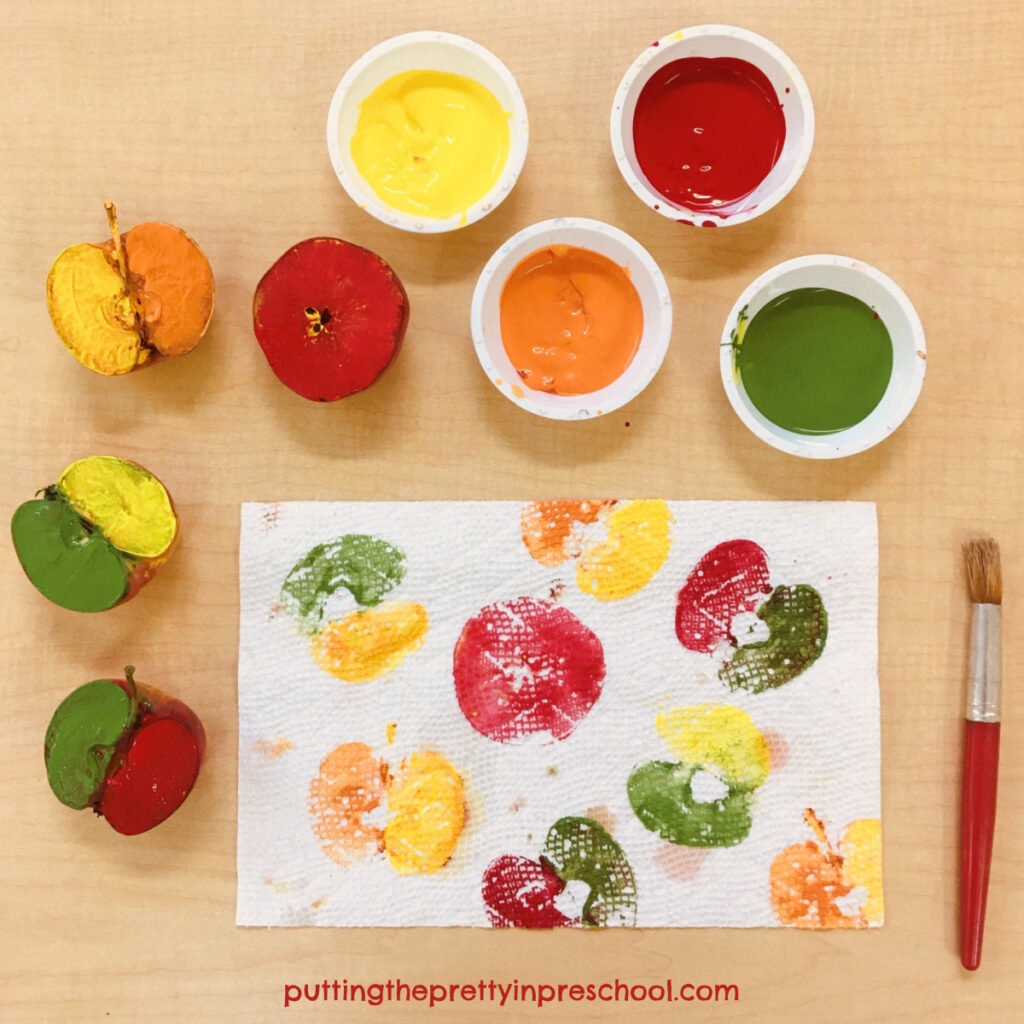 _______
Instead of using apple halves, set out apple slices for the children to use. They work well too!
_______
After the paintings are dry, cut out a few prints to use in fingerplays and counting activities.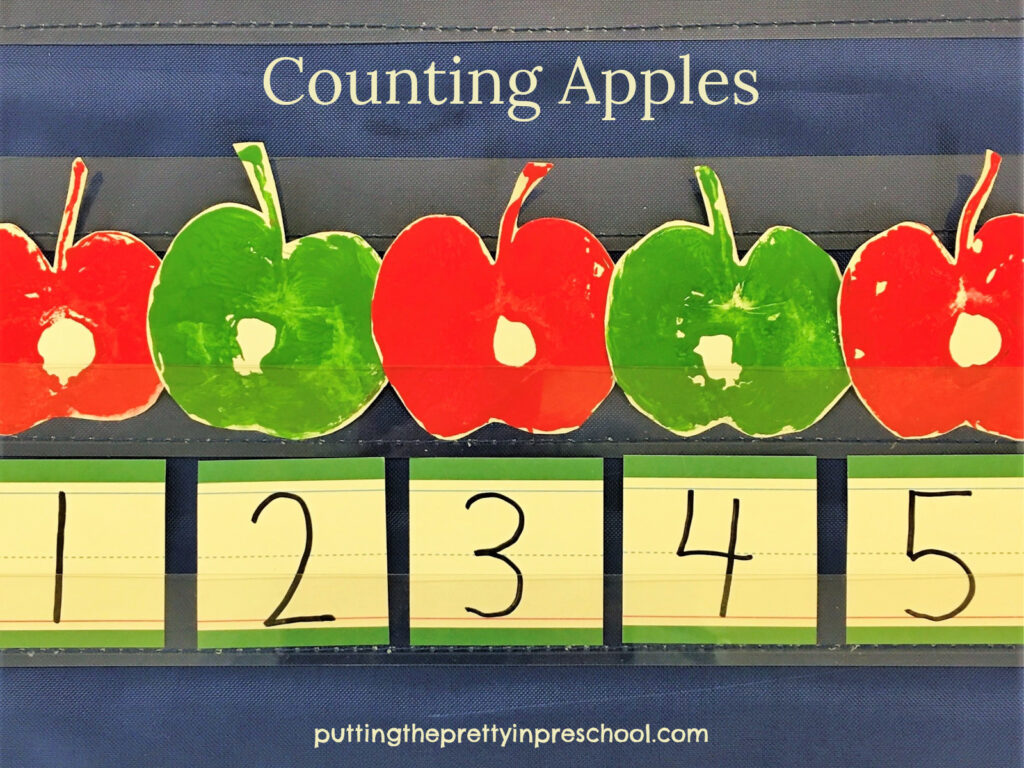 _______
And the apple prints would make great additions to an apple tree or a wreath craft.
_______
[Read more…]

about Apple Print Activities