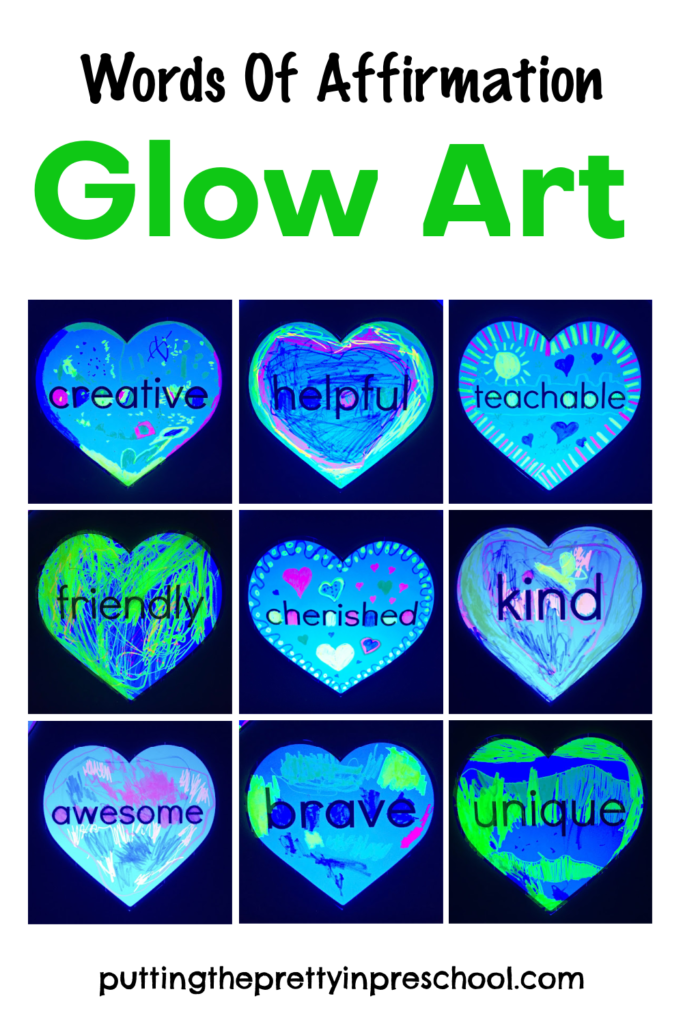 _______
Words are powerful, and they can be super uplifting to early learners. At the beginning of the school year, supportive, self-esteem-building words help students get off to a good start. A creative and oh-so-easy way to introduce them is by inviting little learners to use highlighters to color around positive ones printed in heart shapes. Afterward, the fancied-up words can be viewed and discussed in a "Glow Art Words Of Affirmation" language and science activity.
_______
Follow me on Pinterest for more early learning ideas.
_______
Supplies To Collect
For this confidence-boosting glow art activity, gather the following supplies:
chisel-tipped highlighters in a variety of colors
white cardstock paper
black felt marker
scissors
tape
portable black light fluorescent tube and holder
small coffee table
_______
Glow Word Art
First, draw heart shapes on white cardstock paper with a black felt marker, and add a word of affirmation to each one. Or design the project digitally. The words chosen for my art project are:
creative
friendly
kind
brave
helpful
teachable
awesome
unique
cherished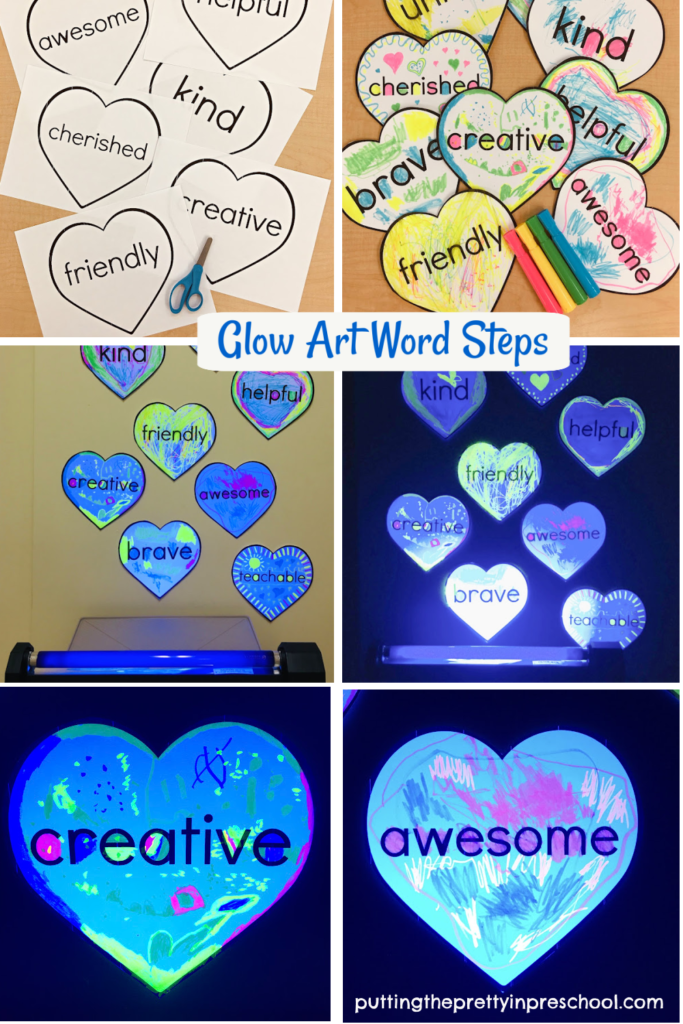 _______
Next, invite little learners to decorate a word heart with highlighter markers, and then cut their hearts out. Leaving some parts of the designs uncolored is fine, as white will glow too.
Note: Highlighter ink is a tiny bit toxic, but using it is not considered a health risk. If your little charges are prone to sticking things in their mouths and/or coloring on themselves, it is advisable to choose another art medium for this activity.
When decorated, tape the embellished hearts to a wall in a room that can be made totally dark.
Afterward, place a fluorescent tube black light on a small table next to the art wall, and turn it on.
Then invite everyone to the room to view the art with all lights on. Discuss how the words apply to your little learners.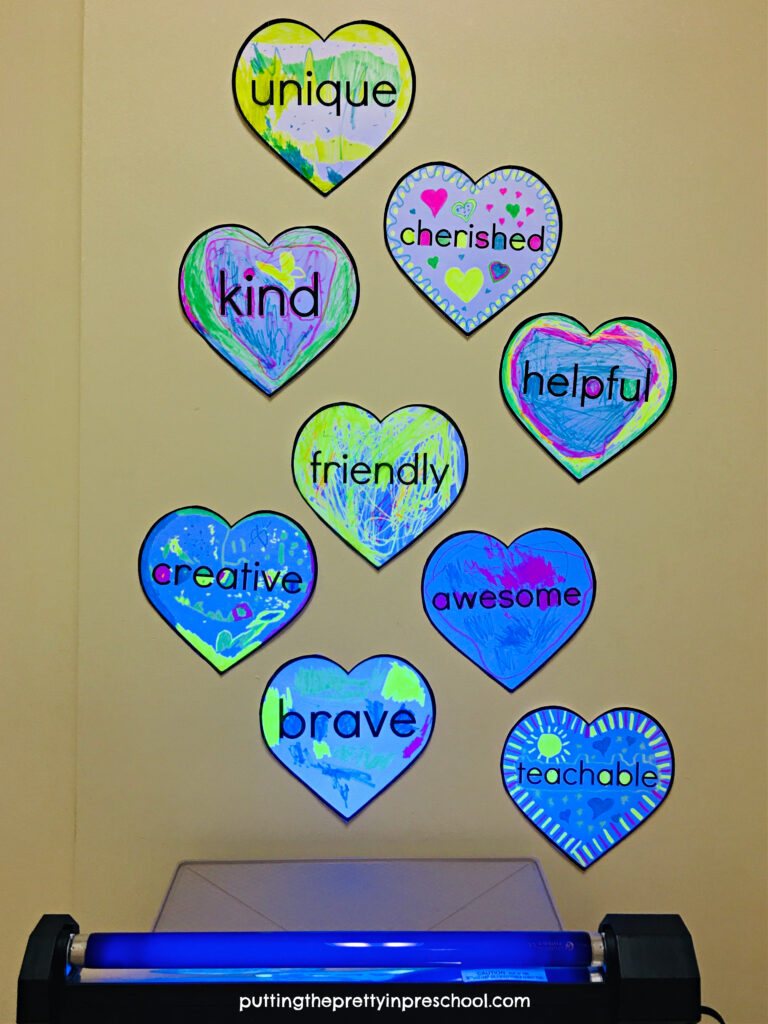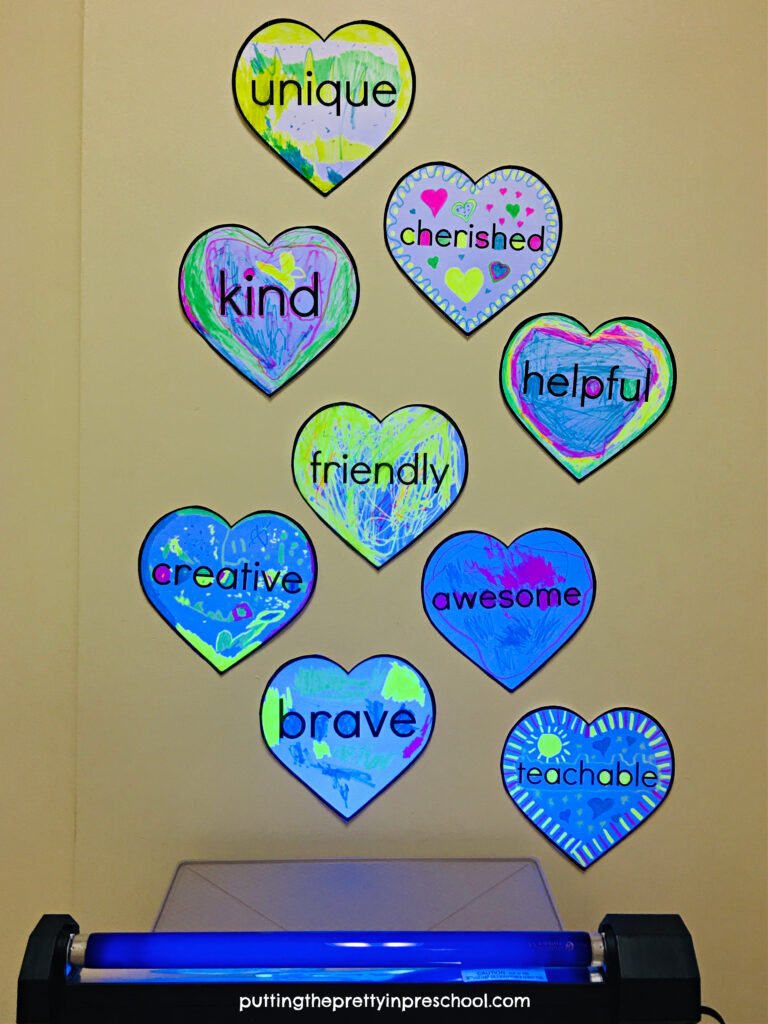 _______
Lastly, make the room dark and leave just the black light on. Students will be wowed by the glowing, worded hearts.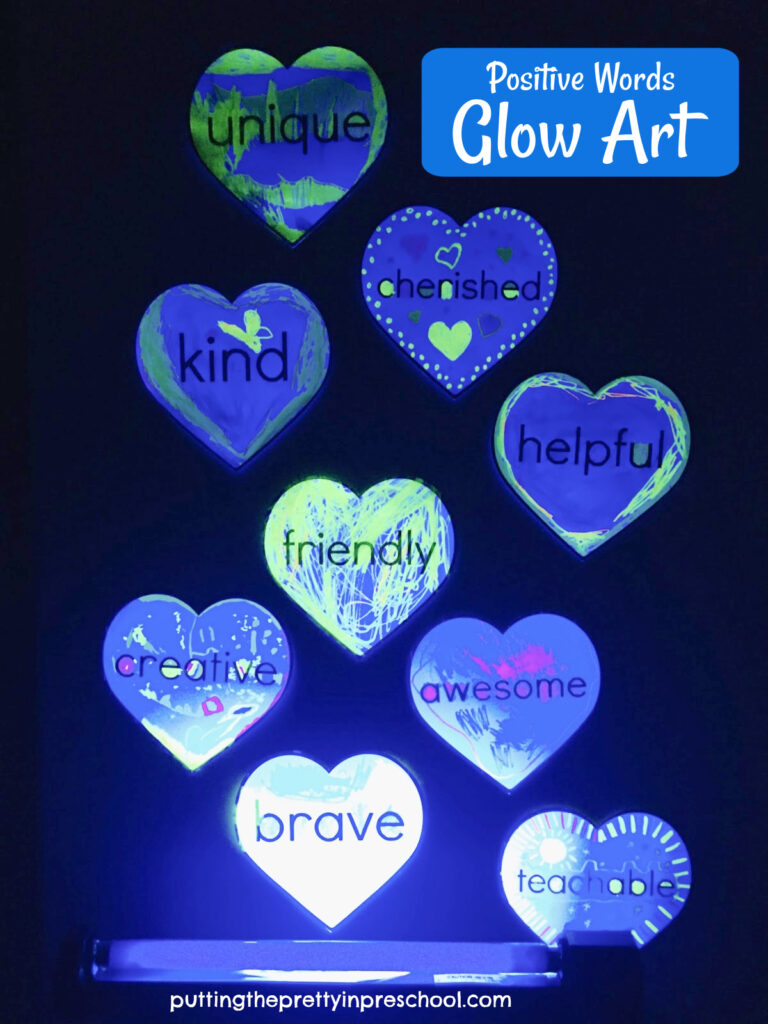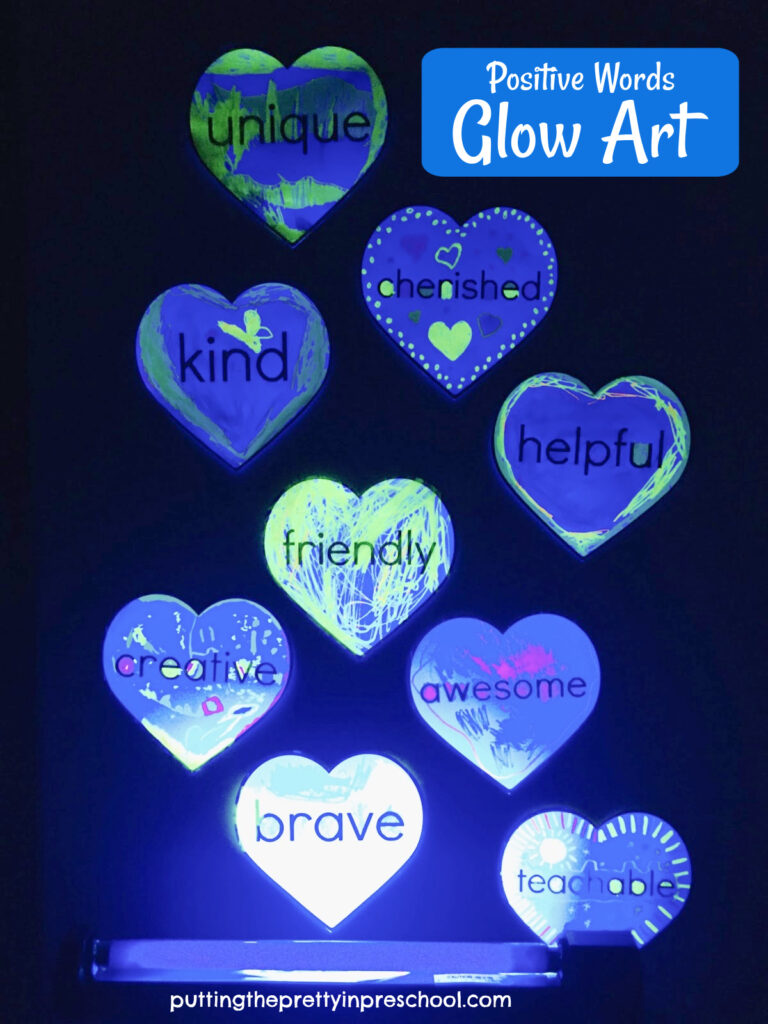 _______
Safety Tip: Tell children that they should only be near a black light for a short period of time. Prolonged exposure may lead to eye and skin damage.
_______
Discussing The Glow Art Words Of Affirmation
Here are some ideas for discussing decorated word hearts with the children:
Assure early learners that they are brave in coming to school and meeting new friends.
Affirm the specialness of each child by saying they are "unique, awesome, and cherished."
Compliment students for being creative and teachable.
Highlight that being "friendly, helpful, and kind" are ways to work as a team and get along with each other.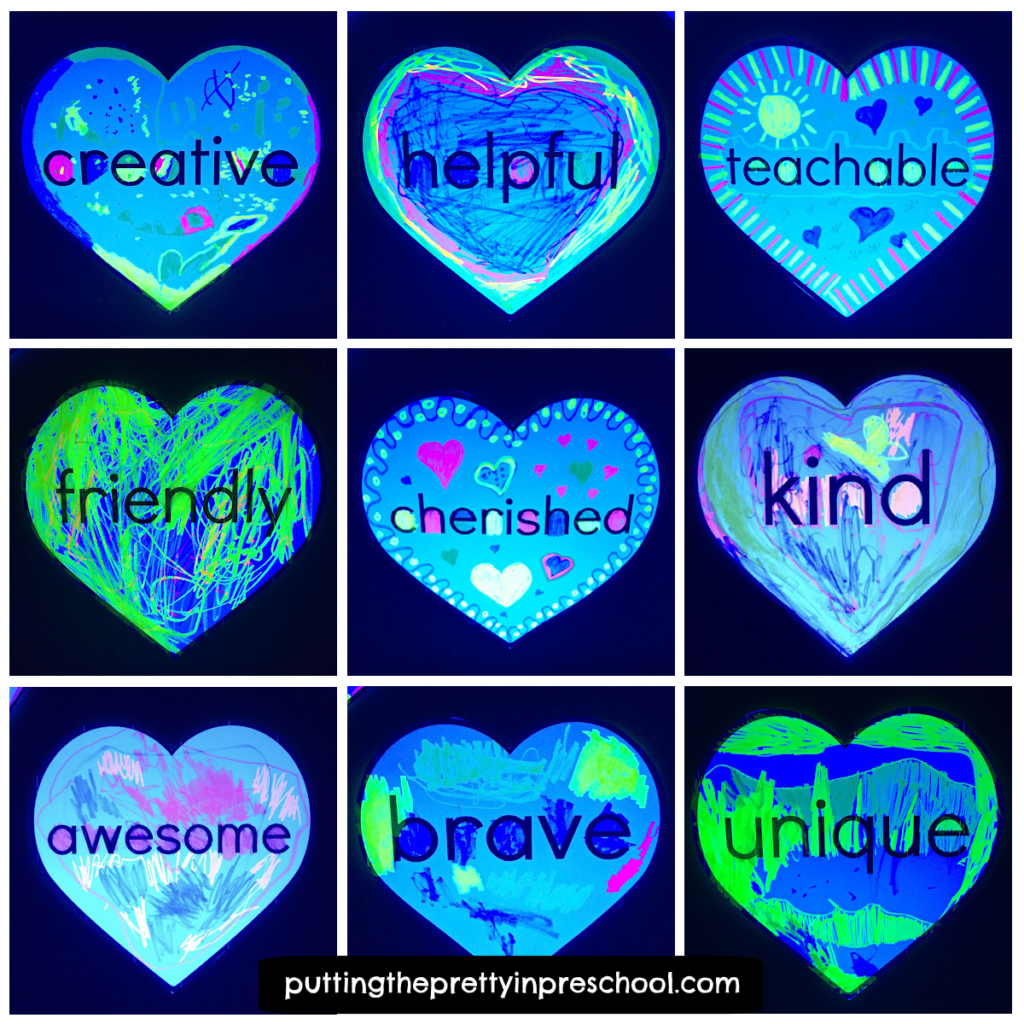 _______
The Science Behind Black Light
Black lights are designed to block out visible light and emit invisible, ultraviolet (UV-A) light. They illuminate natural and man-made materials that contain phosphors. Phosphors convert the energy in UV radiation to visible light by re-emitting it at a different wavelength, one that our eyes can see.
The dyes from highlighter pens contain phosphors. When highlighter art is positioned in a dark room near a black light, it glows.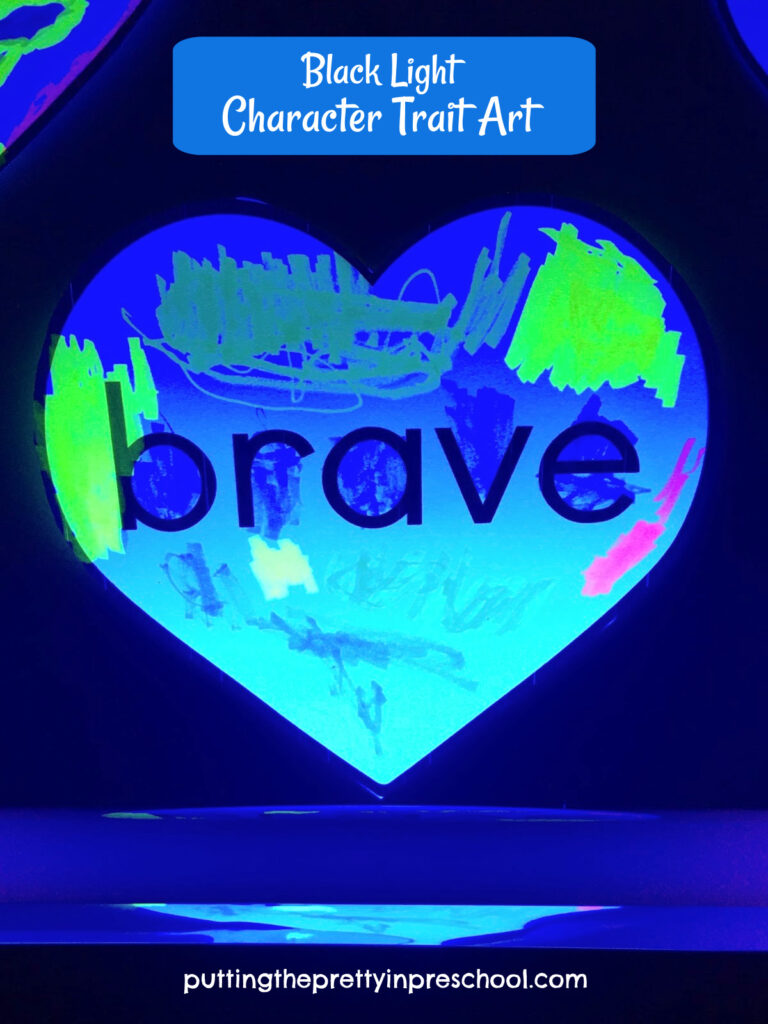 _______
Glowing Names
Instead of focussing on words of affirmation, invite your little learners to color around their names with highlighters. This is also a terrific beginning of the year activity. And it works well at the end of the school term to remind children that they have been valued members of the class.
_______
Related: Scented Moon Playdough
_______
[Read more…]

about Glow Art Words Of Affirmation