_______
Children love using loose parts in pretend play centers and sensory trays, and they make playful playdough accessories. I also enjoy featuring them in treasure blocks, and these skeleton treasure blocks are among my favorites.
_______
Supplies In the Treasure Blocks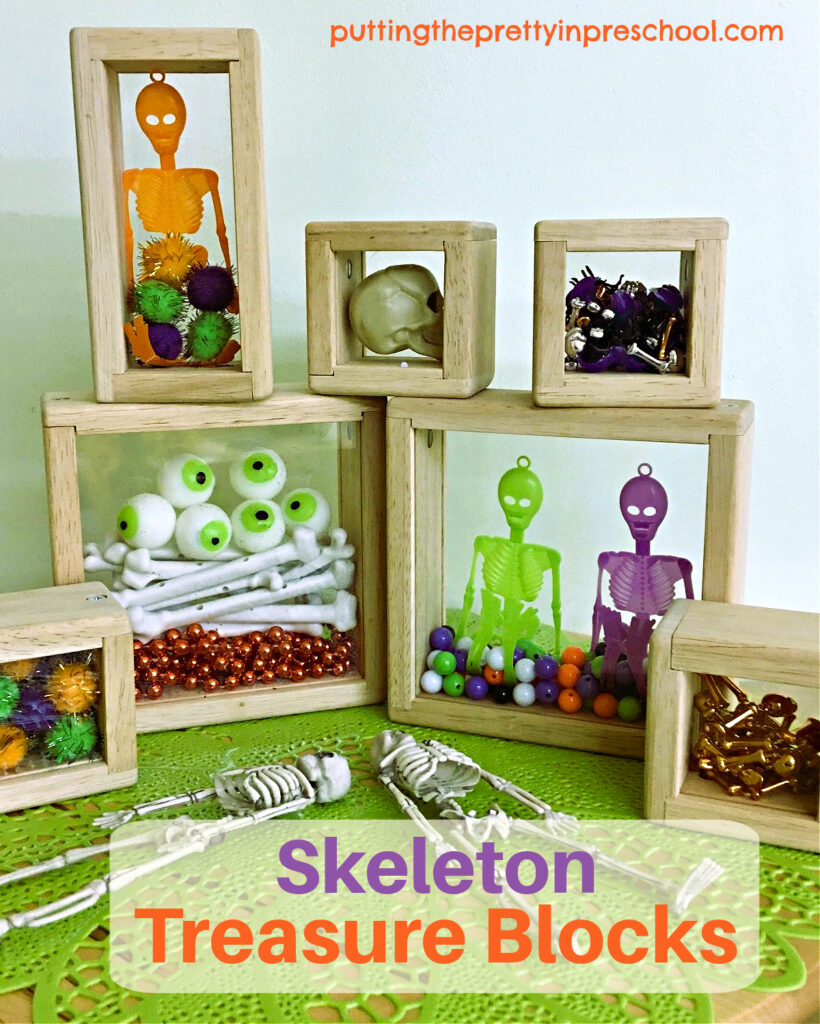 _______
The following supplies are featured in the skeleton treasure blocks:
wooden treasure blocks with two clear panels
skeleton figurines
skeleton and bone metallic necklace pieces
green, orange, and purple pompoms
orange bead necklace
white, green, orange, purple, and black beads
skull treat holder
squishy eyeballs
toy bones
_______
Follow me on Pinterest for more early learning ideas.
_______
The Skeleton Treasure Blocks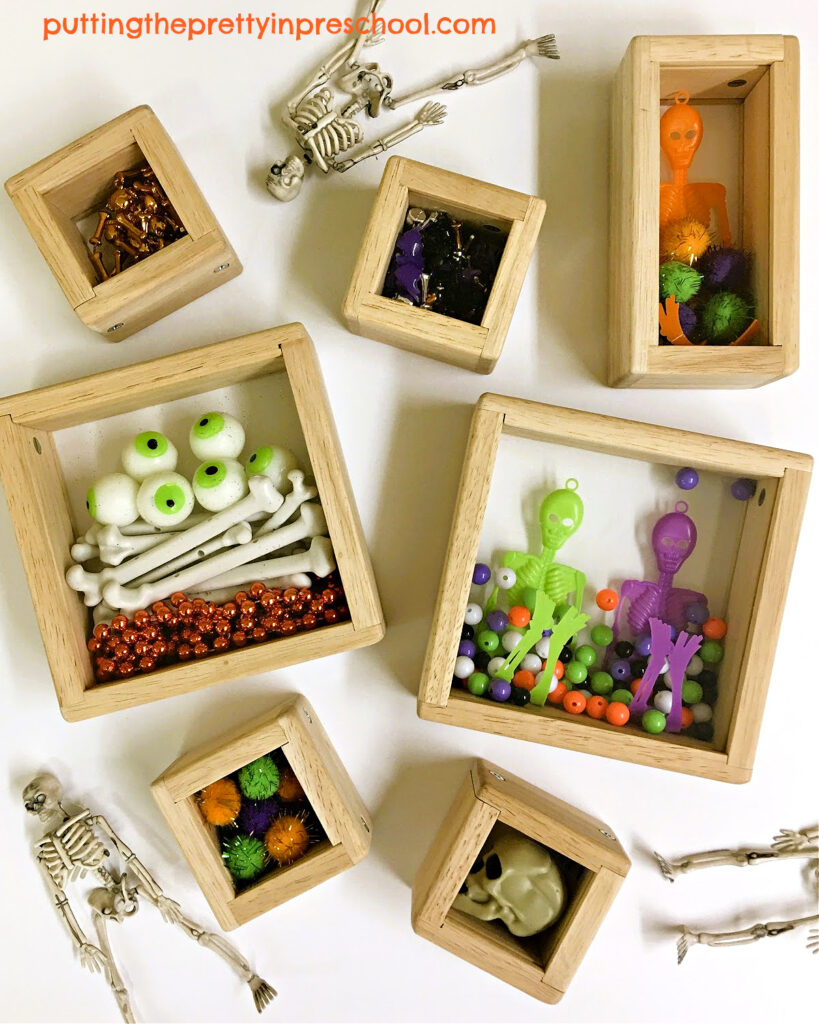 _______
Treasure blocks are fillable wooden blocks with two clear or transparent panels. They are perfect for holding natural and found objects and sensory loose parts. They can be used in many different ways, and I highly recommend having a set or two in your collection of educational supplies.
Bendable skeleton figurines in purple, green, and orange, are the highlight of my skeleton blocks. They are featured in a large square sensory block, and in the rectangular block. The neon skeletons set the color scheme for most of the rest of the supplies.
Bright, sparkly green, orange, and purple pompoms are included in the orange skeleton block and also have a moment of their own in a small square block.
_______
Similarly colored small beads accent the block with two skeletons.
Skull and bone necklaces that are cut apart make tiny, exquisite loose parts for a second small square block.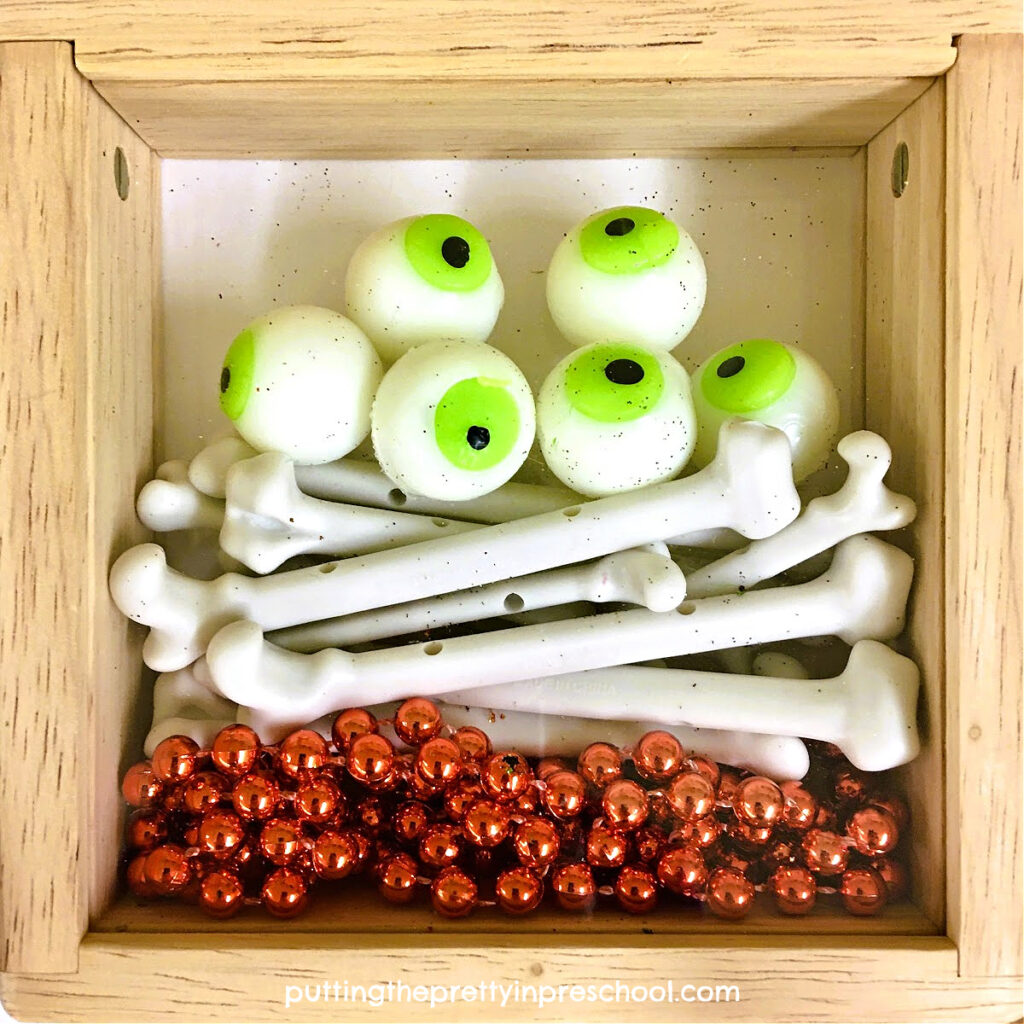 _______
Strips cut from a metallic orange bead necklace provide the sensory base for the second large square block. Bones are featured on the middle layer, and white squishy eyeballs are layered on top.
Individual beads cut from the orange bead necklace are also featured in the third small square treasure block.
A small skull treat holder fits perfectly inside the last square block.
_______
Other Skeleton Activities
Skeleton and Eyeball Waterplay
_______
[Read more…]

about Skeleton Treasure Blocks