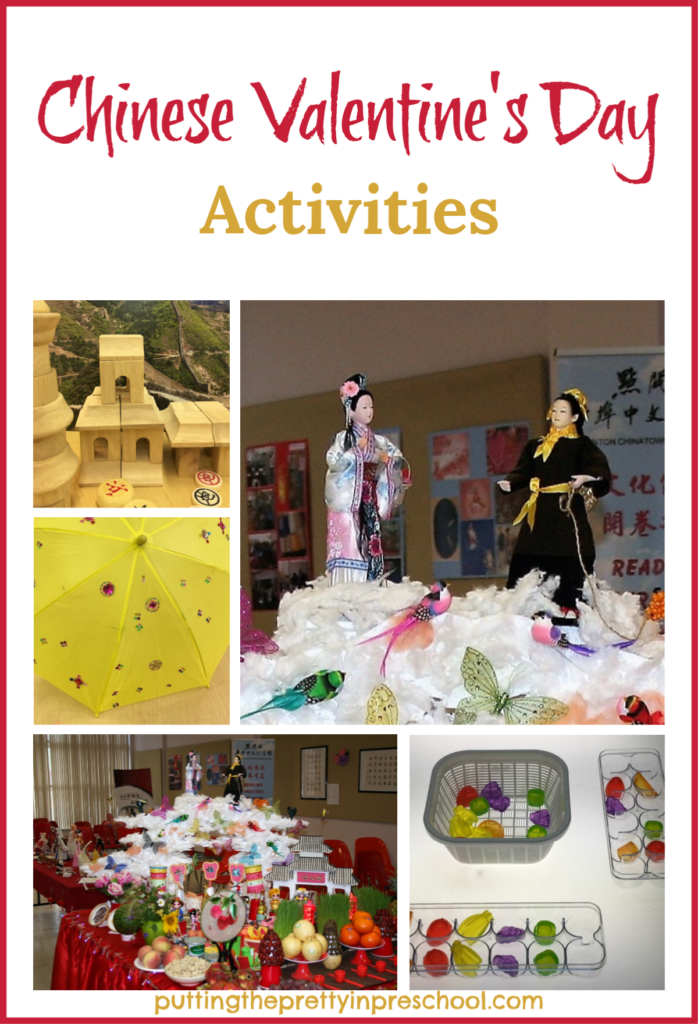 _______
On the weekend of August 25 and 26, 2017, Chinese Valentine's Day was celebrated at the Edmonton Chinatown Multicultural Center, located in downtown Edmonton.  This traditional Valentine's Day celebration dates back to the 1800s in China and is celebrated on the 7th day of the 7th lunar month, in late August.
_______
The Legend Of Zhi Nu And Niu Lang
The celebration is based on a story of a Chinese heavenly being named Zhi Nu, the seventh daughter of The Queen of Heaven, and a mortal cow herder named Niu Lang.  Zhi Nu comes down to earth and admires how hardworking Niu Lang is.  They marry and have two children, a boy and a girl.  Zhi Nu is a skilled weaver and Niu Lang continues to work in the fields.
The Queen of Heaven soon notices that Zhi Nu is missing, and commands the army to bring her back up to heaven.  Niu Lang and the children try to follow, but the Queen of Heaven creates a silver river (called the Milky Way) to keep them apart.  Afterward, Niu Lang and his children live on the star Altair, and Zhi Nu lives on the star Vega.  They are extremely sad to be parted from one another.  A flock of magpies notices and decide to help by creating a bridge over the Milky Way with their bodies.  This allows Zhi Nu and Nui Lang to spend time together.  The Queen of Heaven sees how happy they are to be reunited, and decides that Zhi Nu and Nui Lang can meet once a year on the seventh day of the seventh lunar month.
_______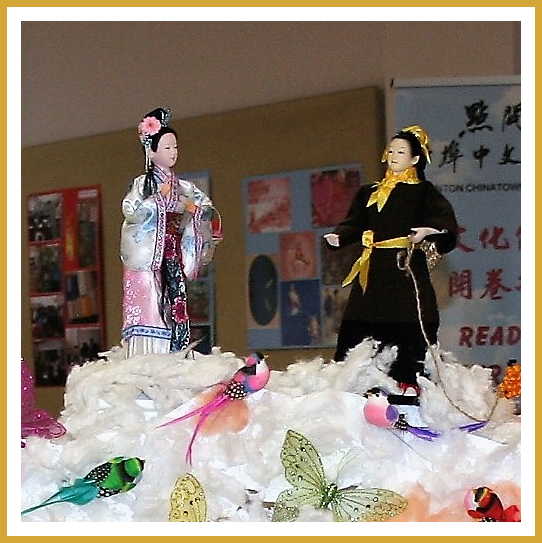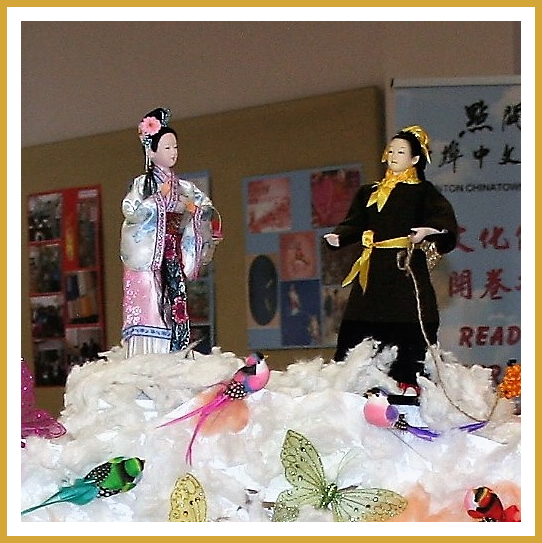 _______
Chinese Festival Resources
This story is based on a selection found in the book Celebrating Chinese Festivals, a Collection of Holiday Tales, Poems, and Activities by Sanmu Tang.  There are a few different versions of the story and they vary slightly.
For more history, facts, and ideas about Chinese Valentine's Day view the post by chinahighlights.com: "How To Celebrate Chinese Valentine's Day."
_______
My Visit To The Chinese Valentine's Day Weekend Celebration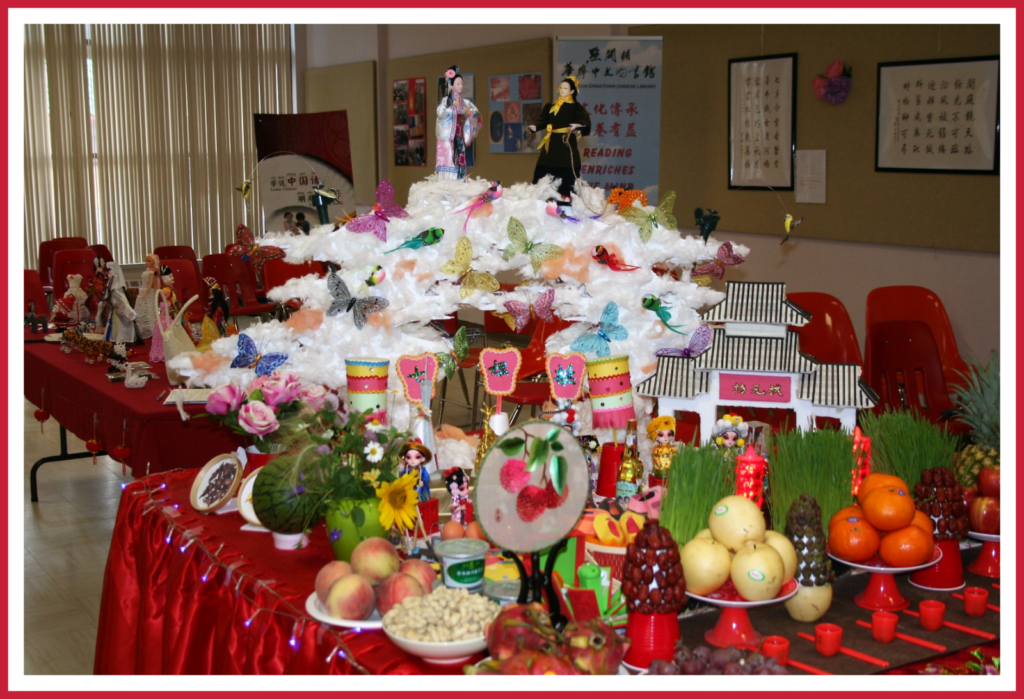 _______
My visit to the cultural center was on Sunday afternoon, August 27.  I saw an elaborate display showing figures and objects that had meaning to the story of Zhi Nu and Niu Lang.  When the tale was shared with me, I was impressed with values such as being hardworking (in fieldwork), being skilled and creative (in weaving), and showing loyalty (to family).  The inclusion of astronomy, art, and great character traits made this a rich story.
The afternoon event saw a mingling of seniors, parents, and children. Children were invited to decorate an umbrella and a fan. Intricate beadwork completed by seniors was on display. Everyone was served refreshments.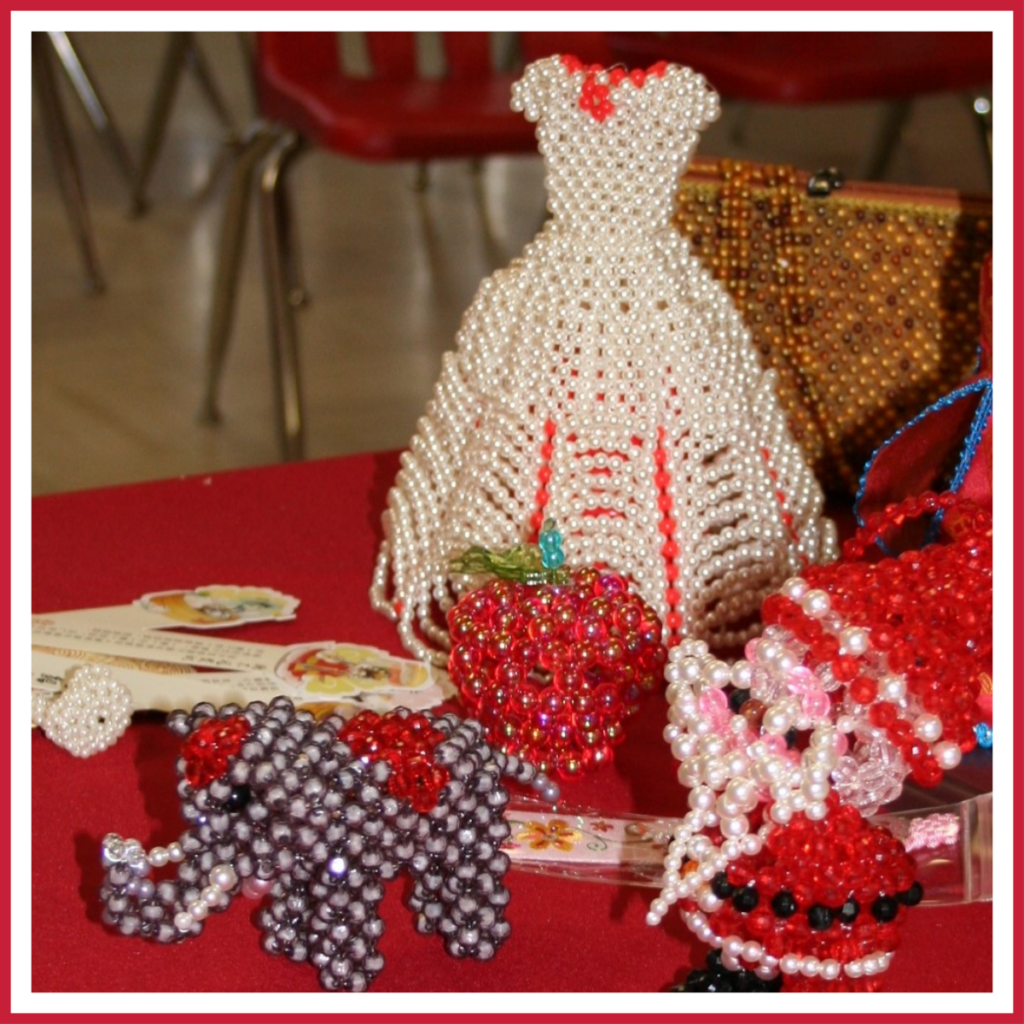 _______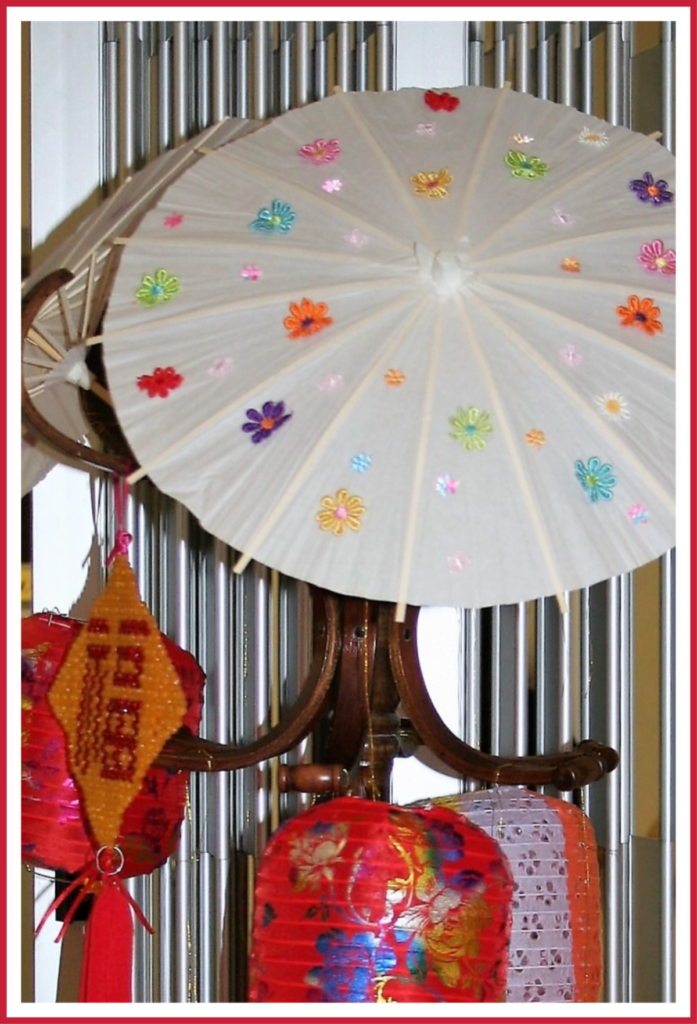 _______
Activities Inspired By Chinese Valentine's Day
Umbrella Decorating
Purchase an economical umbrella and sticker gems and jewel rhinestones. Invite early learners to decorate the umbrella. The stickers may need to be secured with hot glue later so they stay on longer.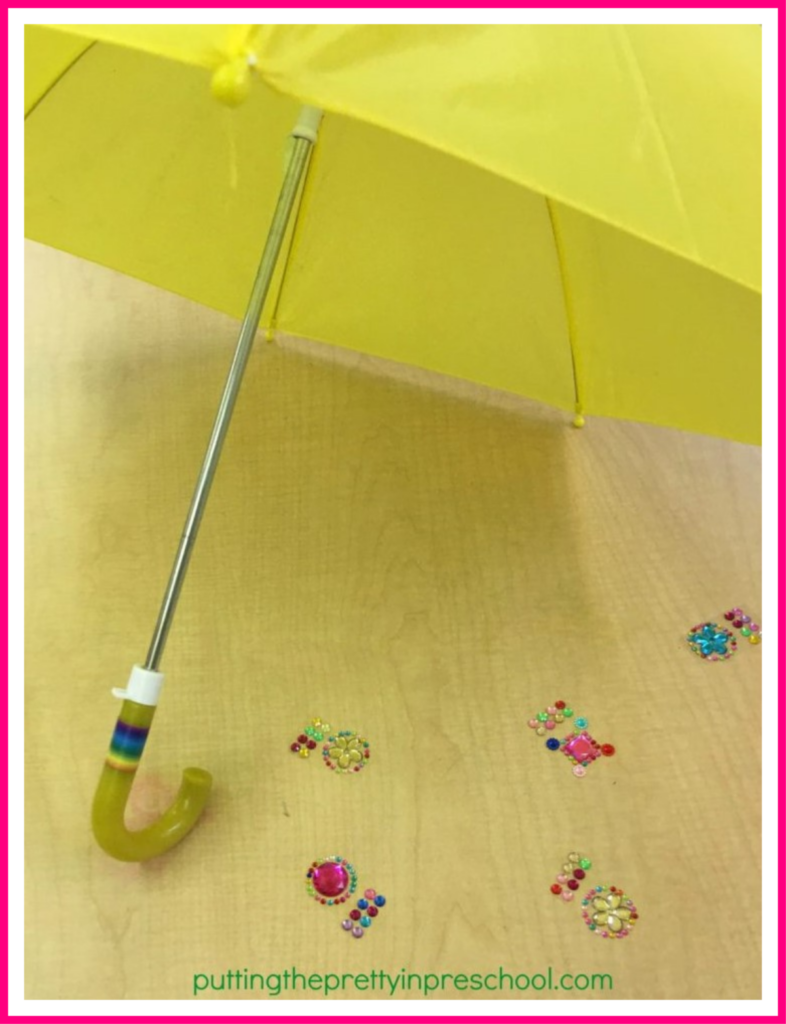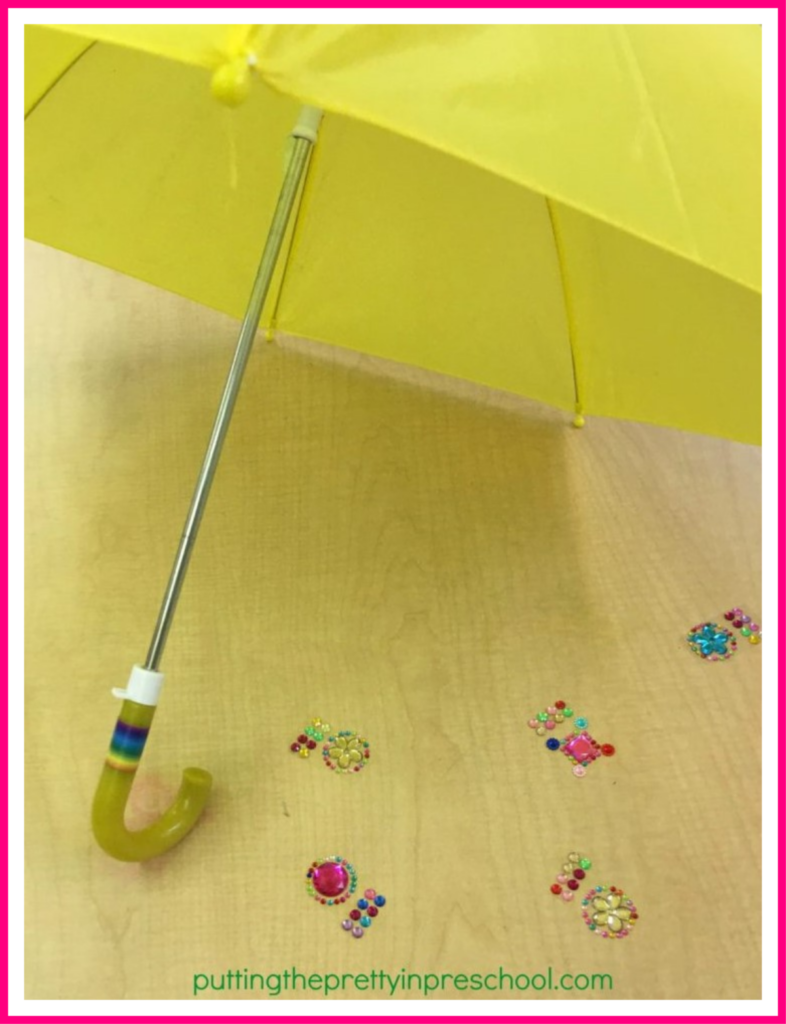 _______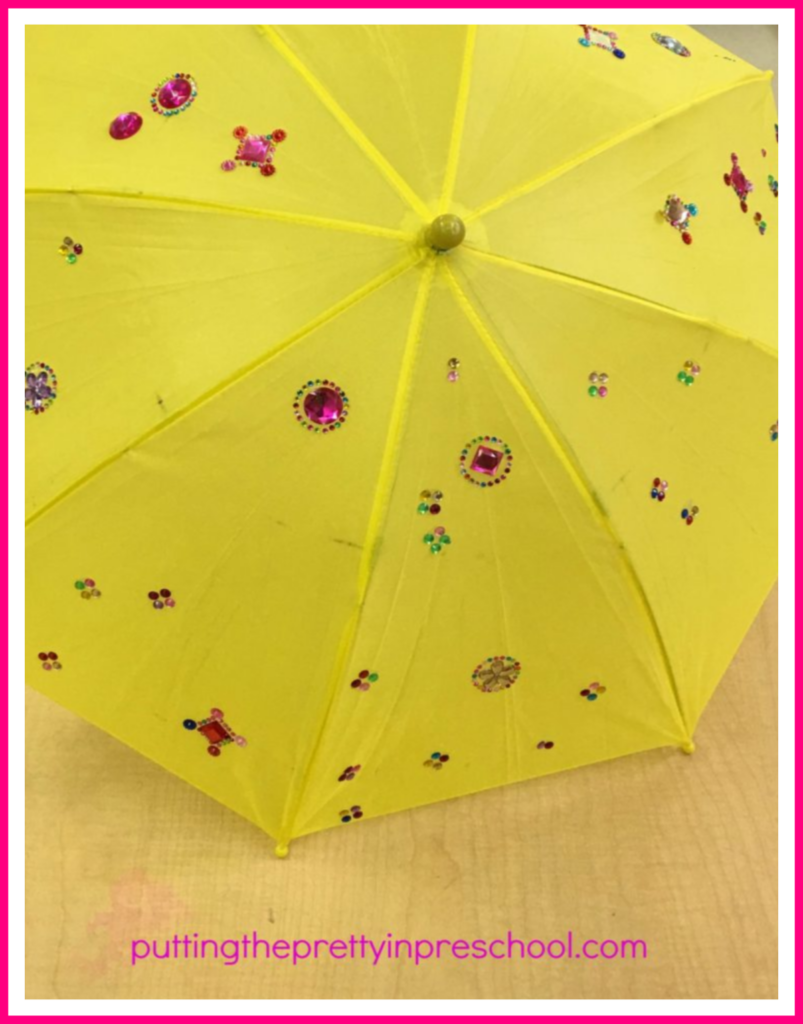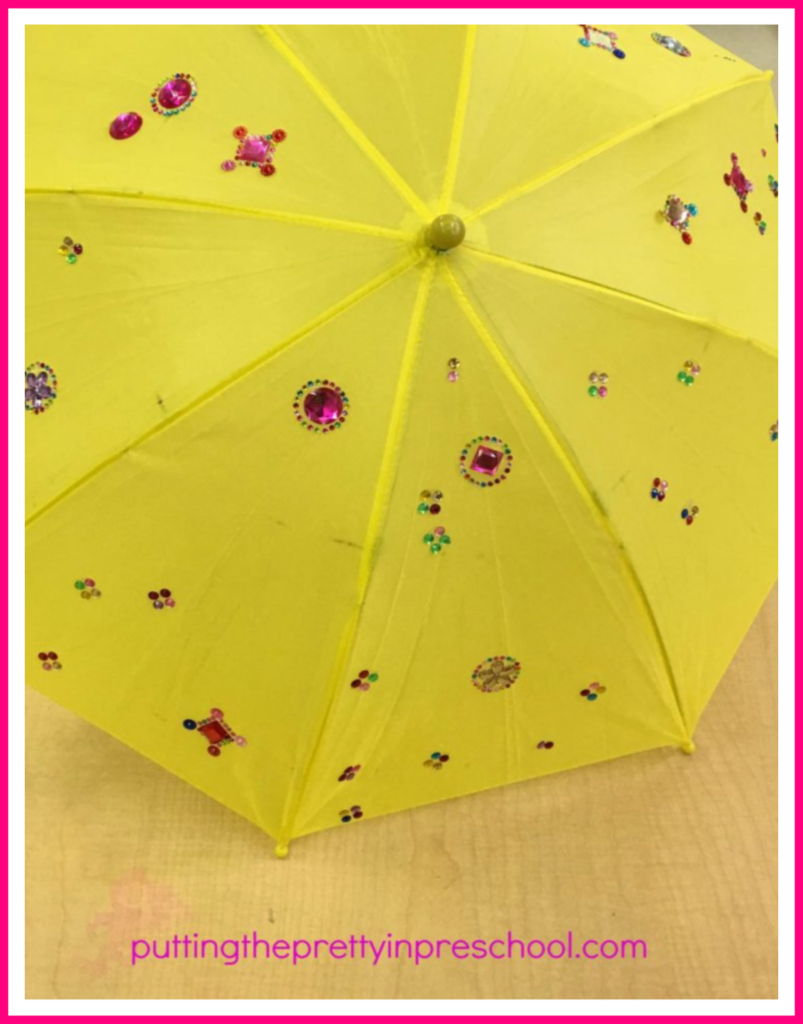 _______
Oriental Block Play
Offer preschoolers Oriental blocks and game pieces. The play center can include a Great Wall of China picture backdrop.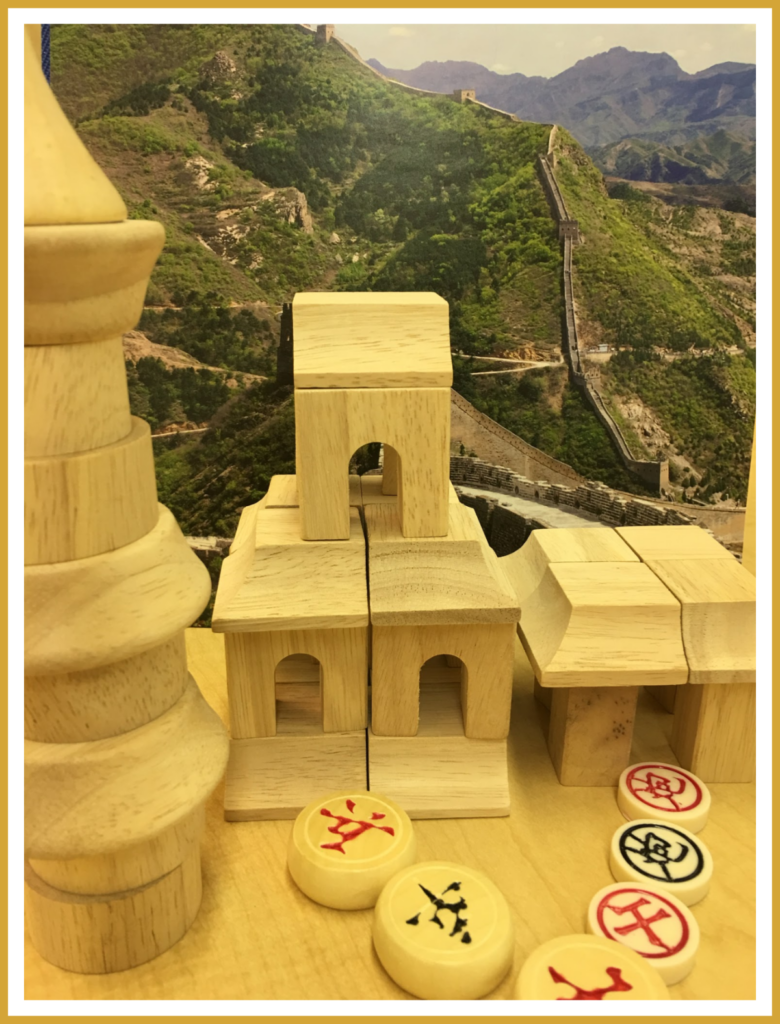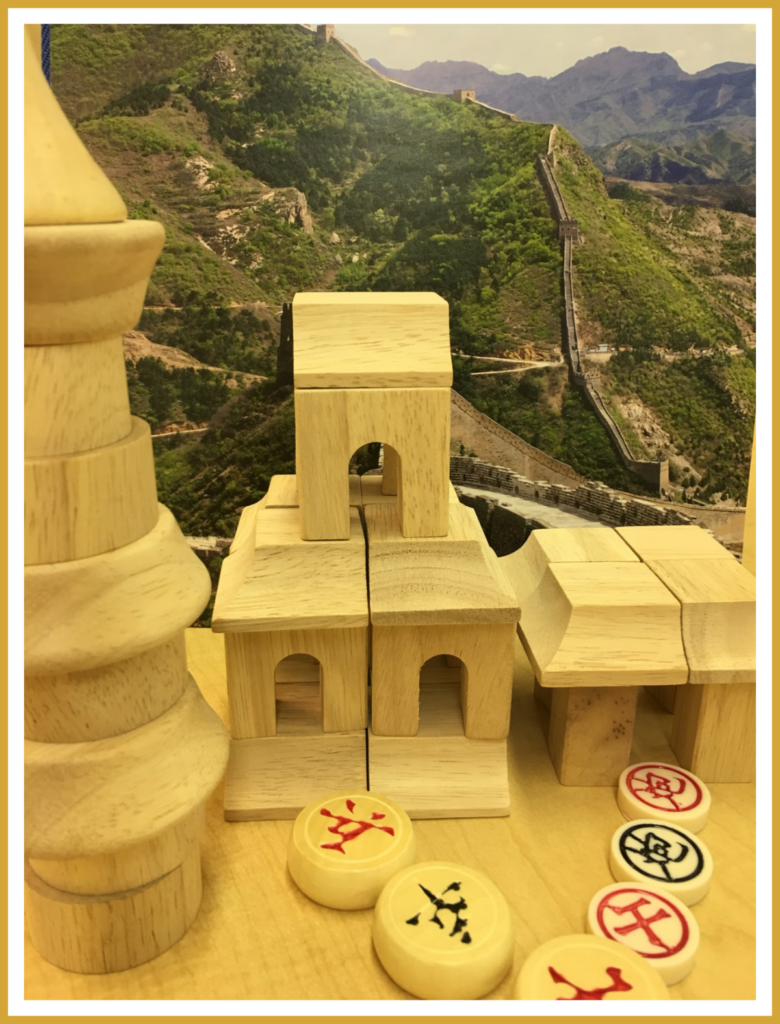 _______
Fruit Matching And Sorting
Set out transparent ice cube fruit shapes and sorting trays on a light table for children to organize. Clear egg cartons are the trays used here.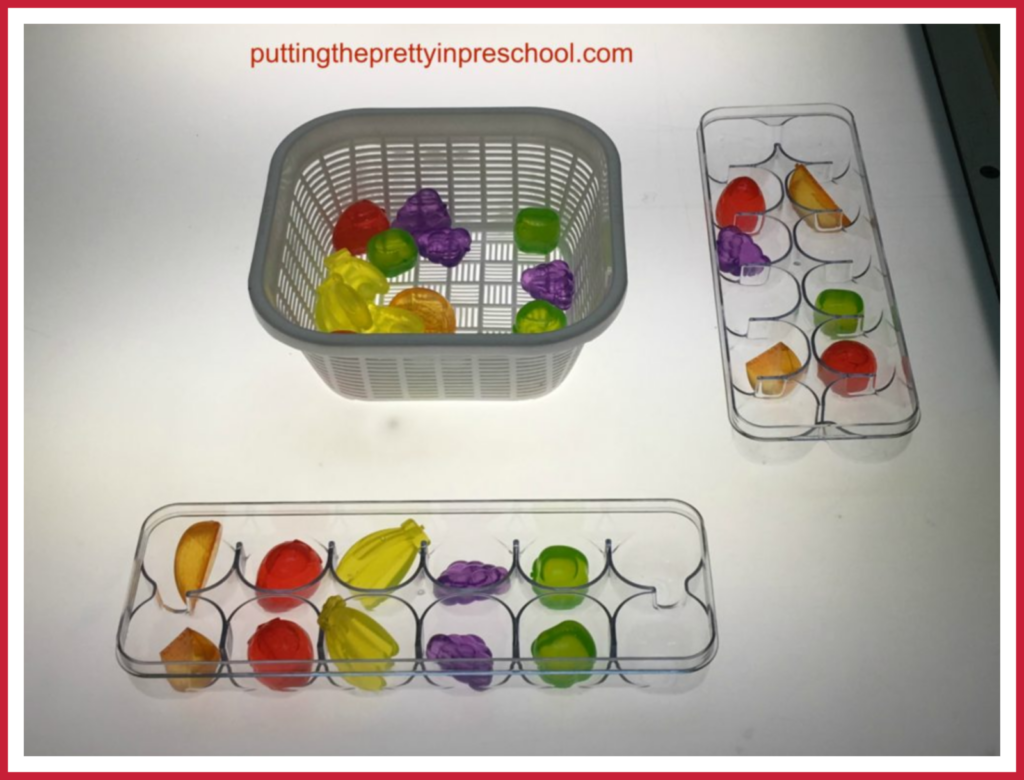 _______
In addition to being part of a Chinese Valentine's Day Celebration, the Legend Of Zhi Nu and Niu Lang and these activities can be included in a Chinese multicultural theme.
_______
_______
You may also like: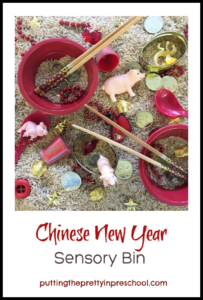 _______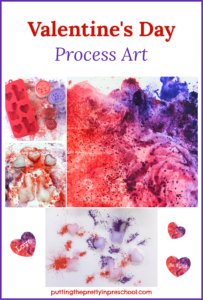 _______
Don't forget to share this post on Pinterest or your favorite Social Media channel. Sharing is caring!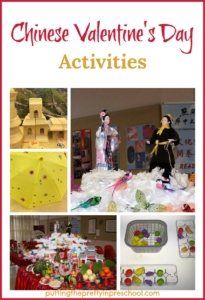 _______
© Annette Kaminsky February 2, 2020
_______
Follow me on social media for more ideas: