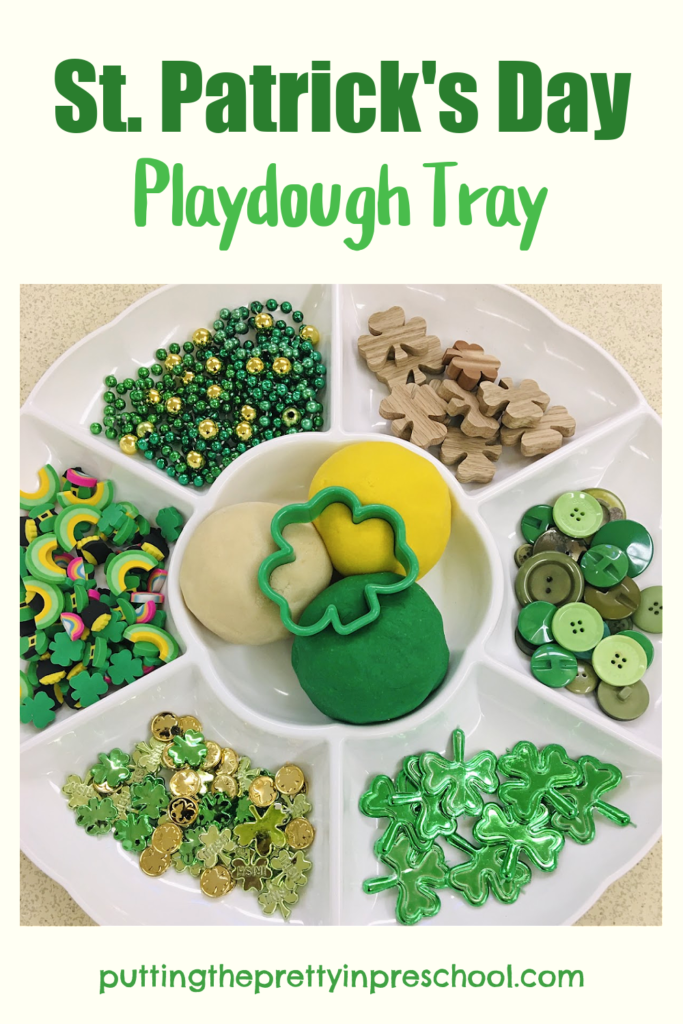 _______
It's nice to have a new clump of playdough for every theme, and this recipe is my pick for St. Patrick's Day. It is an easy-to-make, no-cook playdough that keeps well. In this post, the dough is showcased in a St. Patrick's Day playdough tray.
_______
Follow me on Pinterest for more early learning ideas.
________
St. Patrick's Day Playdough Recipe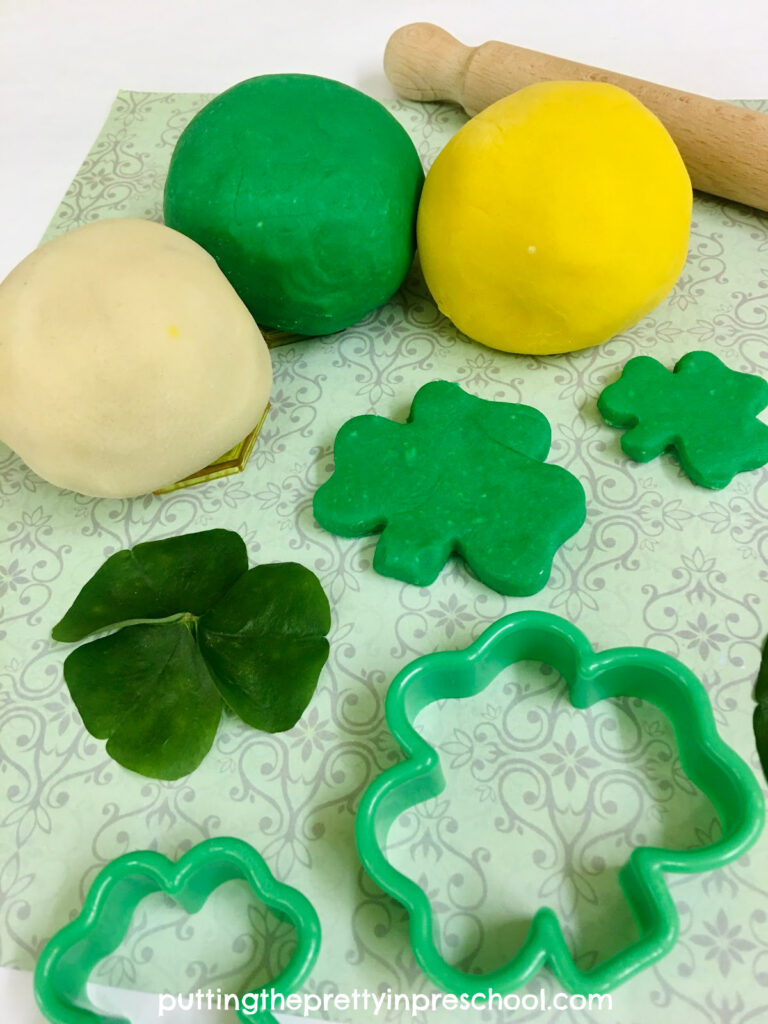 _______
The white playdough in this post is a fantastic homemade no-cook variety. I discovered the recipe for it on The Artful Parent website. The green and yellow playdough varieties featured are a result of minor tweaks to the recipe.
For the deep green playdough, gather the following ingredients:
1 cup flour
1/2 cup salt
1 tablespoon cream of tartar
1 tablespoon oil
1/2 teaspoon green gel food color
1/4 teaspoon glycerin (optional)
1 cup boiling water
In a large metal bowl, measure the dry ingredients and mix them together.
Make a well in the center and add the oil, gel food color, and glycerin.
Boil water in a kettle and immediately add the liquid to the dry ingredients.
Stir the mixture well until all the ingredients are combined.
Let it sit for a bit until it firms up into a dough.
If the mixture is still a bit goopy after you have given it a few minutes to thicken, add a little more flour and stir again.
When cooled, knead the dough into a smooth ball and place it in a sealed bag.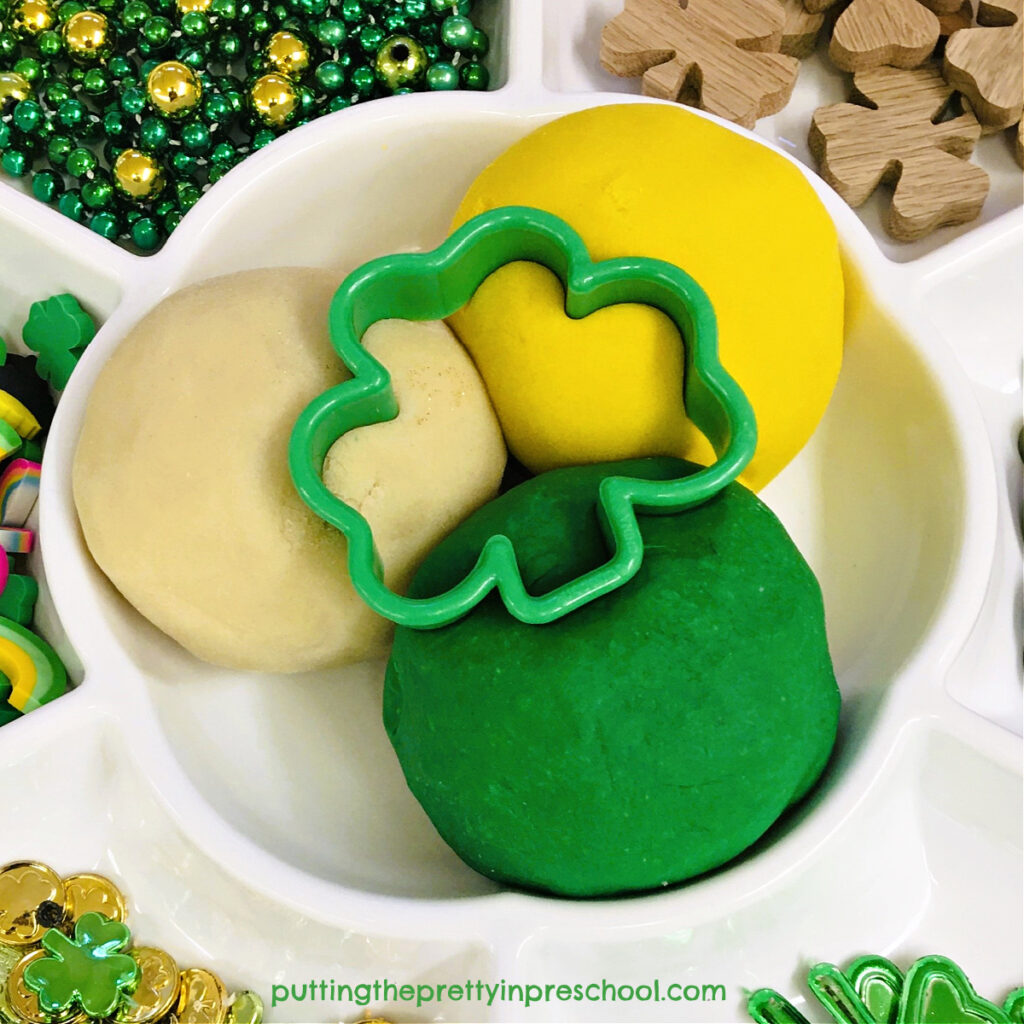 _______
To make the vivid yellow playdough, substitute yellow gel color for the green.
Glycerin is optional in the recipe but adds a little shine to the playdough.
Note: I've made the plain white no-cook playdough recipe several times, and never had to add more flour. But adding a little more flour at the end worked well for me this time when including gel food color in the recipe.
_______
The St. Patrick's Day Playdough Tray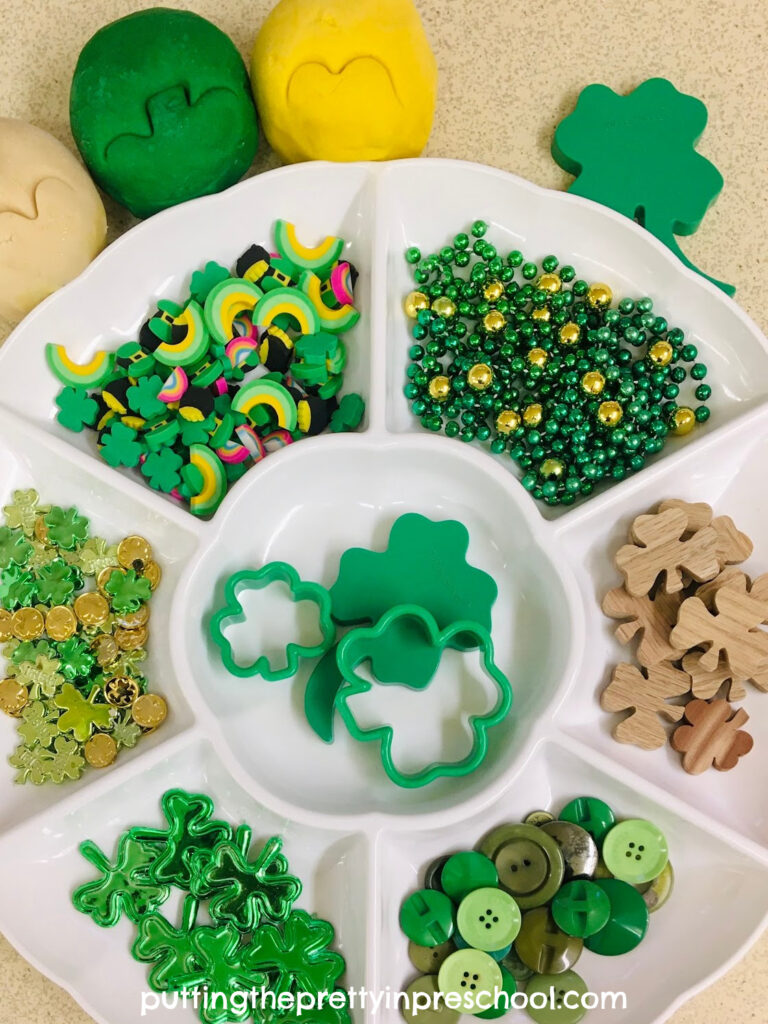 _______
Collected for this fun playdough invitation are:
rainbow, shamrock, and leprechaun hat erasers
green buttons
metallic and wooden shamrocks
small shamrocks and gold coins
gold beads
green necklace garland
shamrock cookie cutters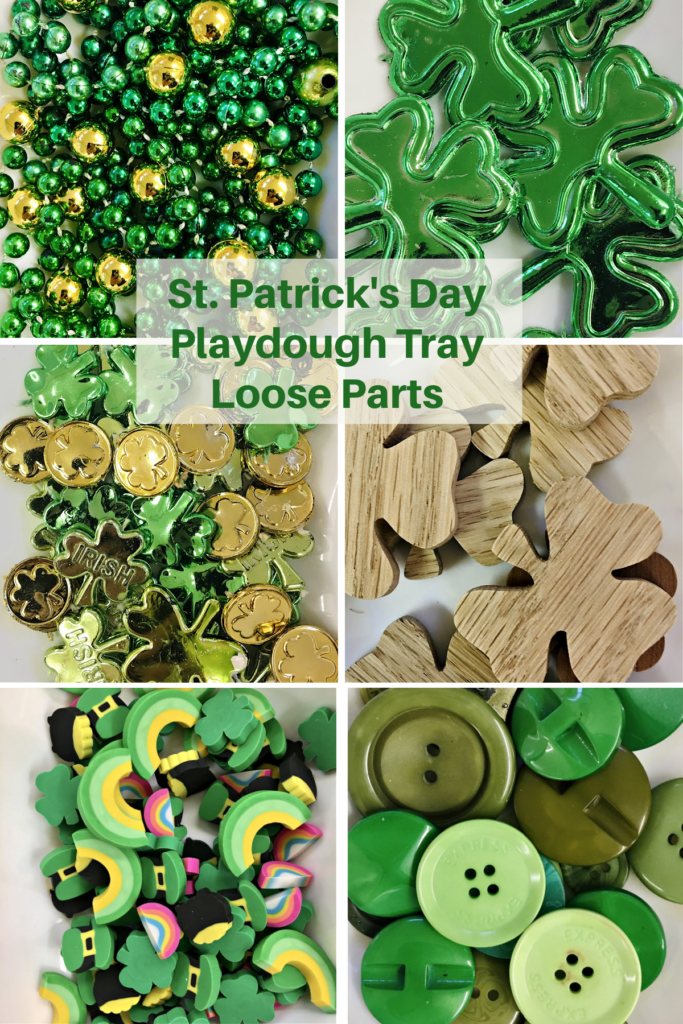 _______
All the shiny loose parts, from the large shamrocks to the tiny coins, are cut from St. Patrick's Day necklaces.
Themed erasers are always a great addition to a playdough tray, as are a variety of buttons.
Setting the playdough and loose parts on a party tray is an eye-appealing way to offer the St. Patrick's Day playdough invitation.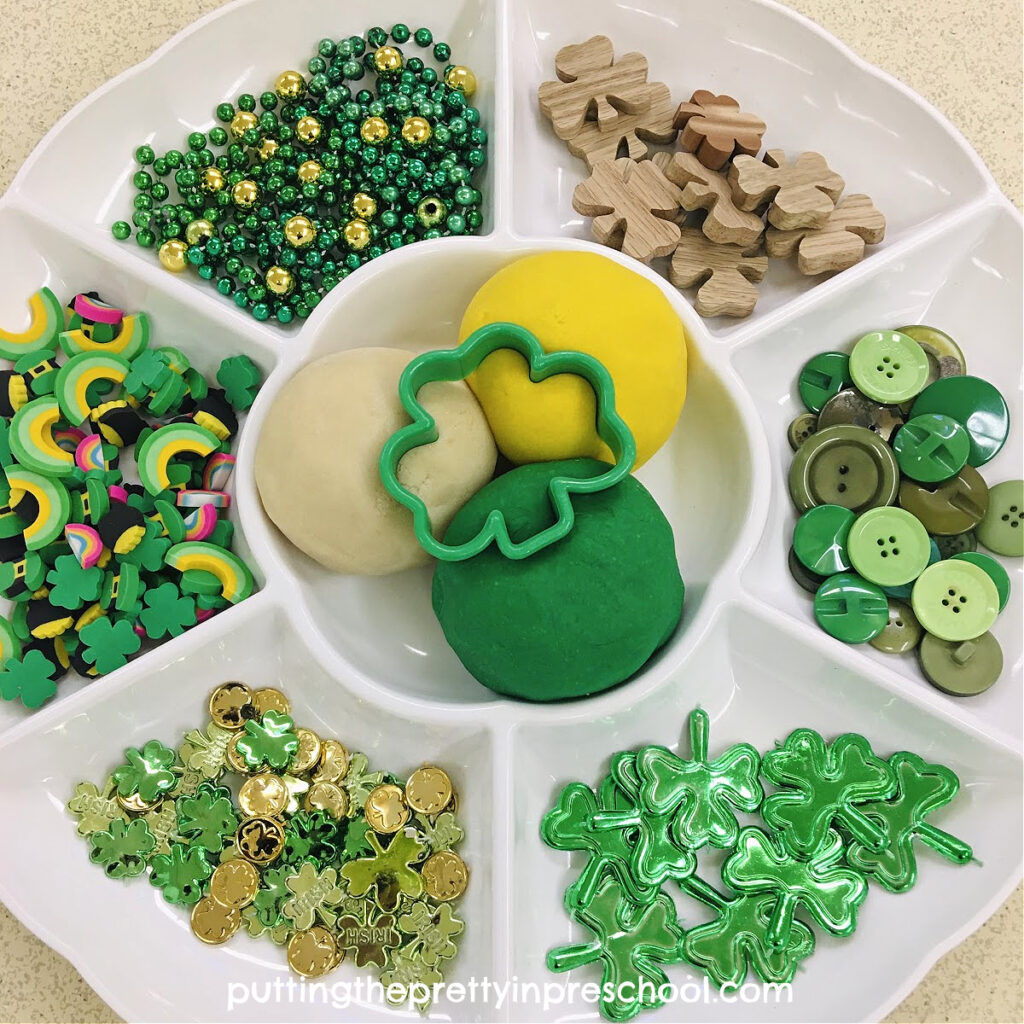 _______
If you have a shamrock plant available, snip off a few leaves to add to each participant's playdough experience.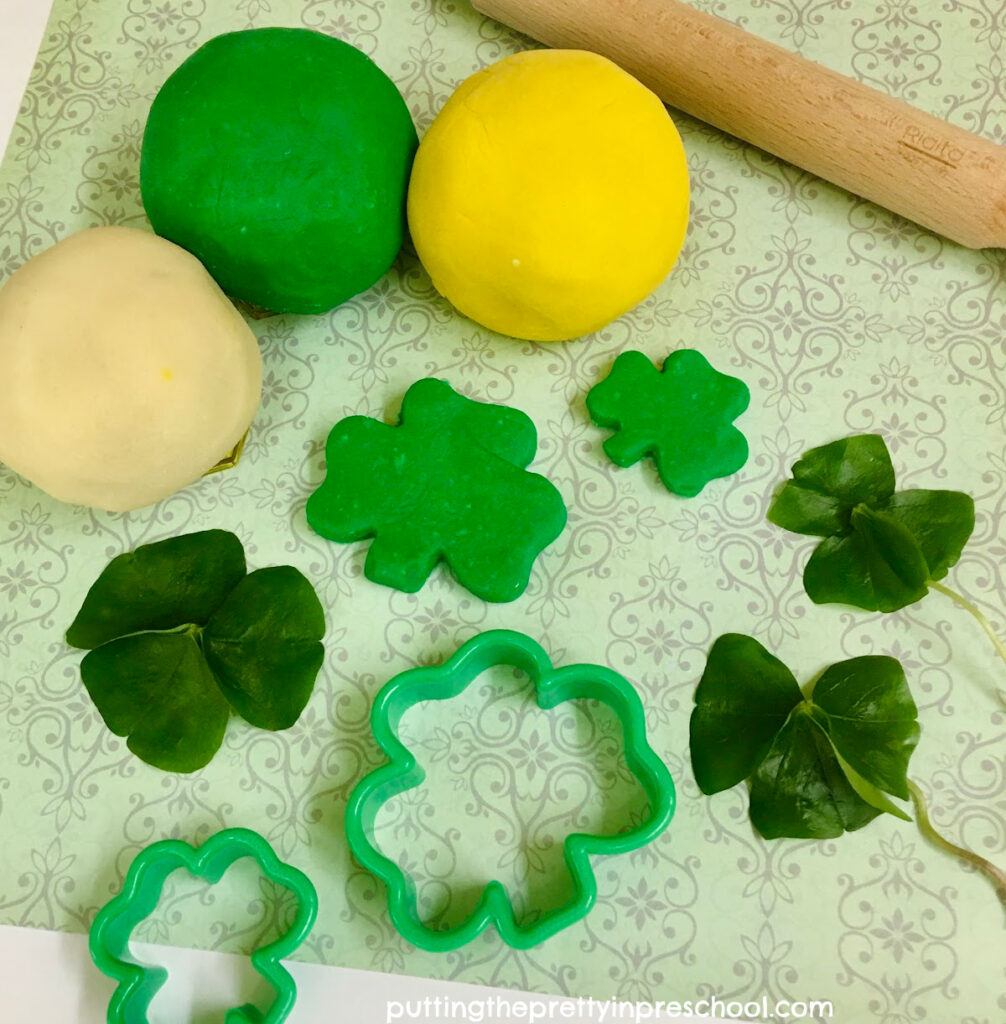 _______
More St. Patrick's Day Activities
Scissor Skill Shamrock Collage
St. Patrick's Day Painted Shamrock
Crayon Resist Watercolor Shamrock
St. Patrick's Day Woodland Sensory Bin
St. Patrick's Day Treasure Blocks
St. Patrick's Day Light Table Tray
Shamrock Dissolving Candy Experiment
_______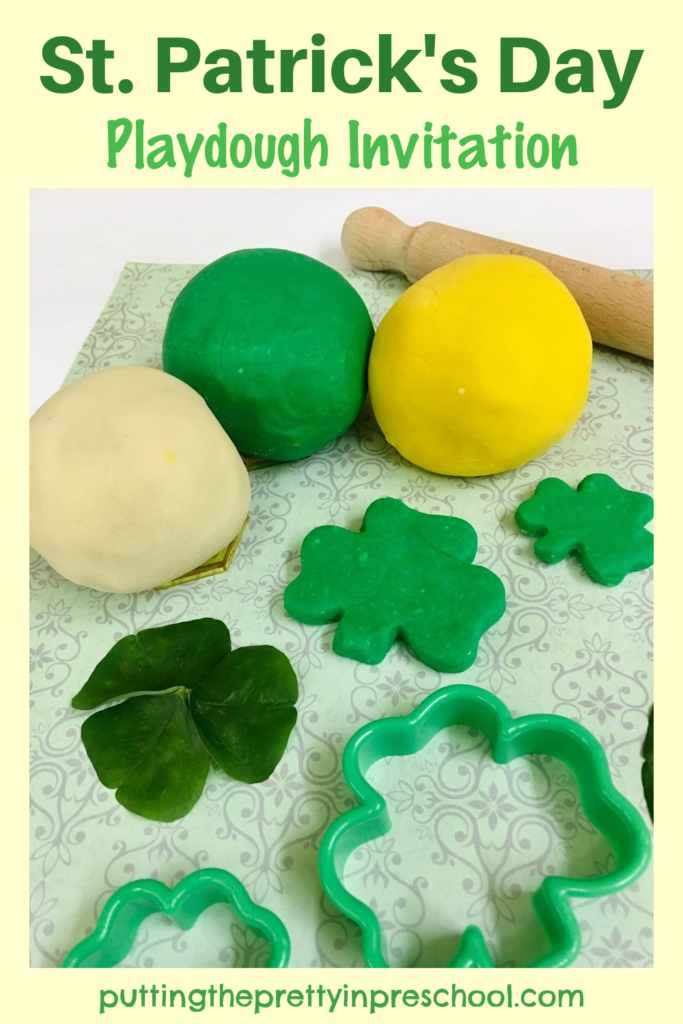 _______
[Read more…]

about St. Patrick's Day Playdough Tray