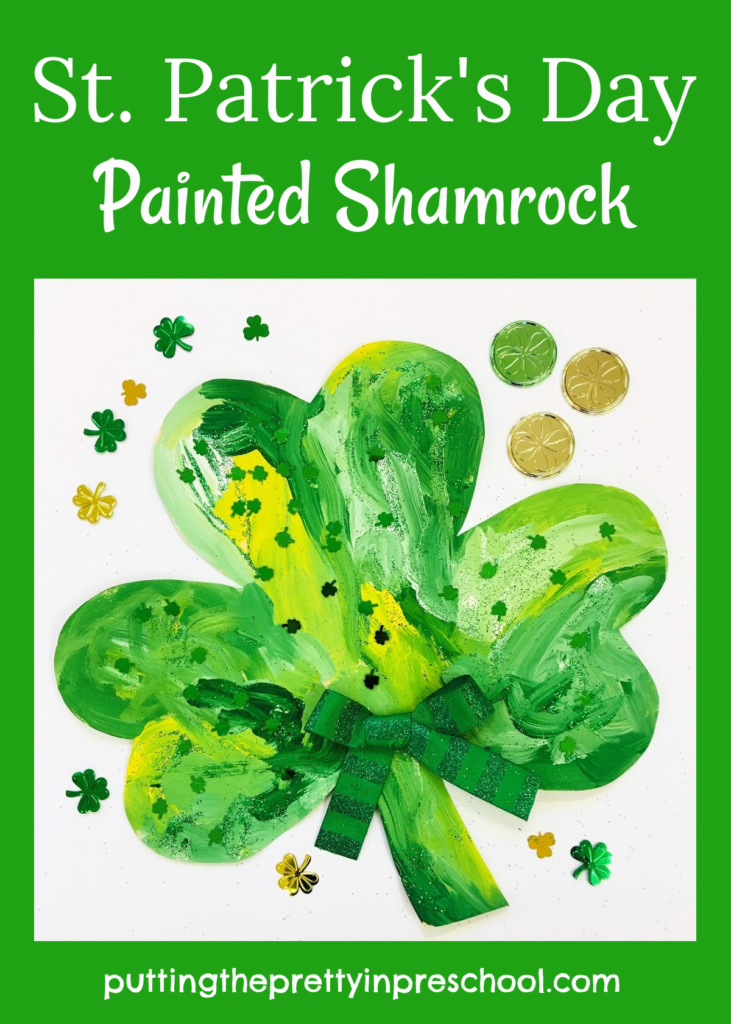 _______
Follow me on Pinterest for more ideas.
_______
This painted shamrock art activity has a whole lotta green and plenty of glitter and shine. It is a paint mixing exercise with a finished product that looks lovely displayed. As is the shamrock collage craft, it is inspired by the lush greens of the Irish countryside.
_______
Supplies To Collect
green, yellow, and white tempera paint
large sheet of sturdy paper
egg carton or paint palette
paintbrush
paper towel square
shamrock confetti
green glitter
green ribbon
scissors
glue gun
shamrock template
_______
Painted Shamrock Art
Cut a shamrock from a large sheet of sturdy paper. Shown below is manila paper.
Pour dark green, medium green, yellow, and white tempera paint into an artist palette or used egg carton. This color scheme works well whether your little learner keeps the colors separate or does a lot of blending.
_______
Invite your early learner to paint the shamrock, using green, yellow, and white hues. A paper towel works well to dab excess paint from the brush before switching to a new color. This is a helpful tip from Patty Palmer's book "Draw, Paint, Sparkle."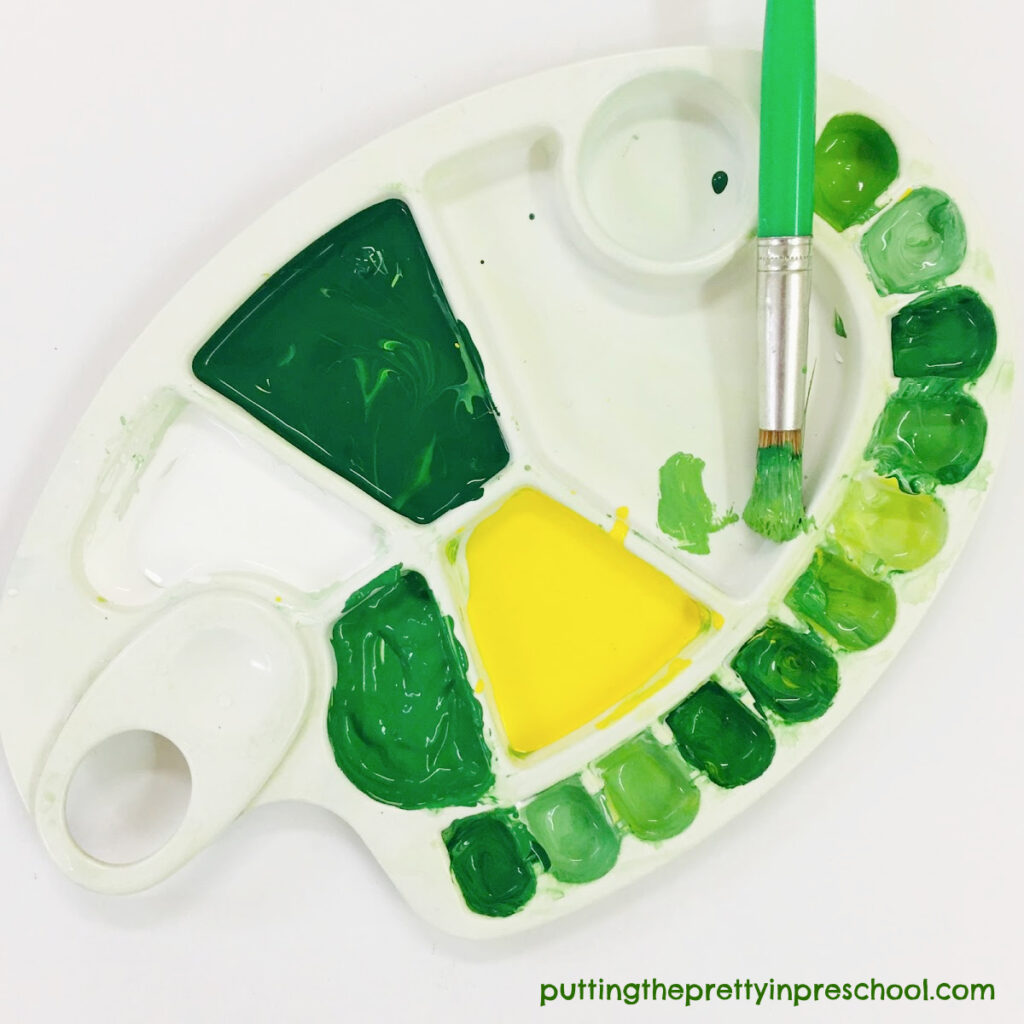 _______
Next, have your little one sprinkle on metallic shamrocks and green glitter while the paint is still wet.
When the shamrock art is dry, spray on unscented hairspray from an aerosol can to help the glitter and shamrock confetti stay on.
Fashion a bow from ribbon and use a glue gun to attach it to the shamrock.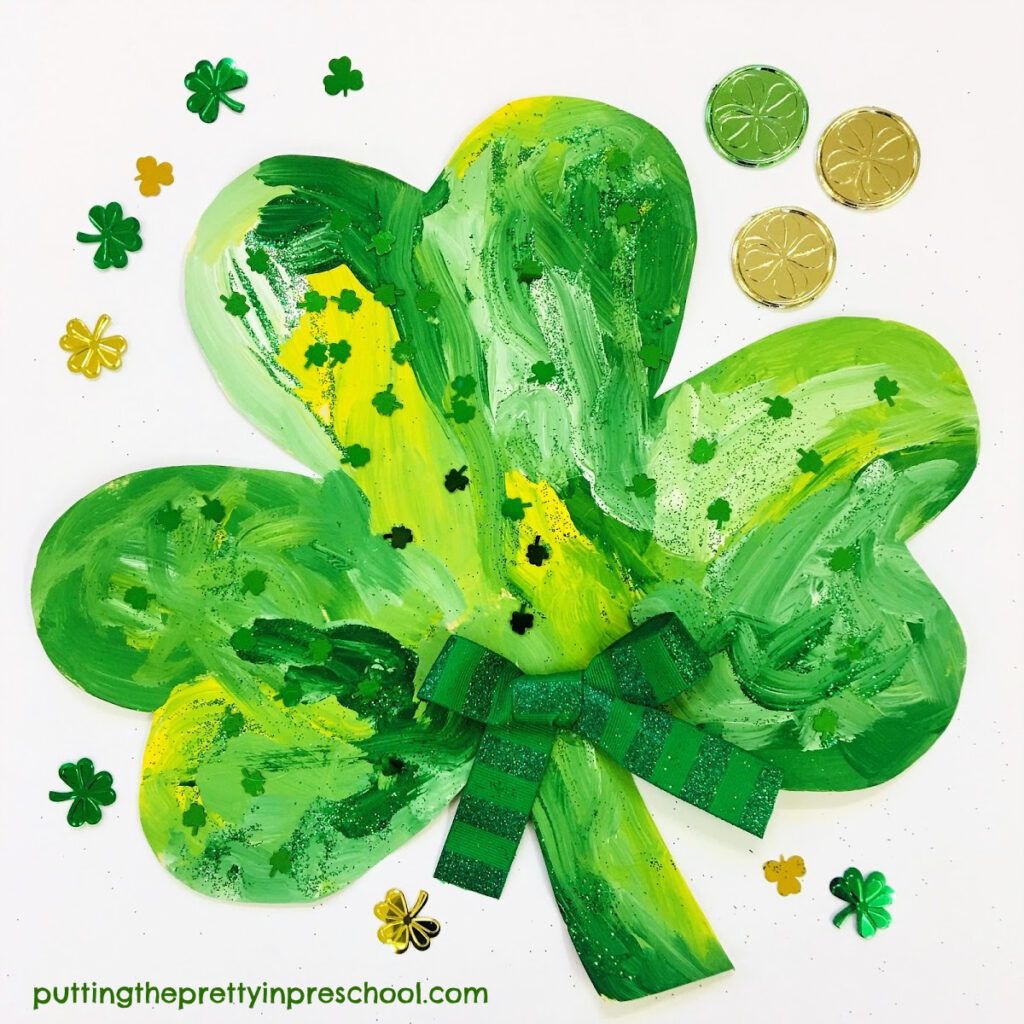 _______
Discussing shamrock shapes, using beautiful finishing touches, seeing how white added to darker green makes different shades, and noticing how yellow lightens and brightens green are some learning possibilities for this craft.
If done just before St. Patrick's Day, this painted shamrock art project can be displayed for the festivities.
_______
_______
You may also like:
Artist Inspired Paint Mixing Project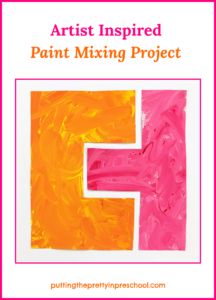 _______
St. Patrick's Day Treasure Blocks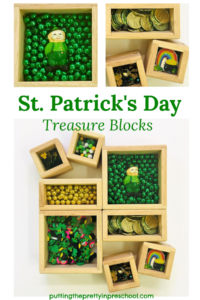 _______
Don't forget to share this post on Pinterest or your favorite social media channel. Sharing is caring!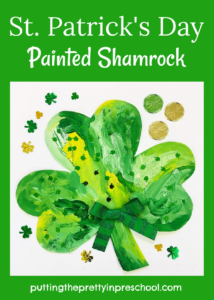 _______
© Annette Kaminsky       March 2021
_______
Follow me on social media for more ideas: