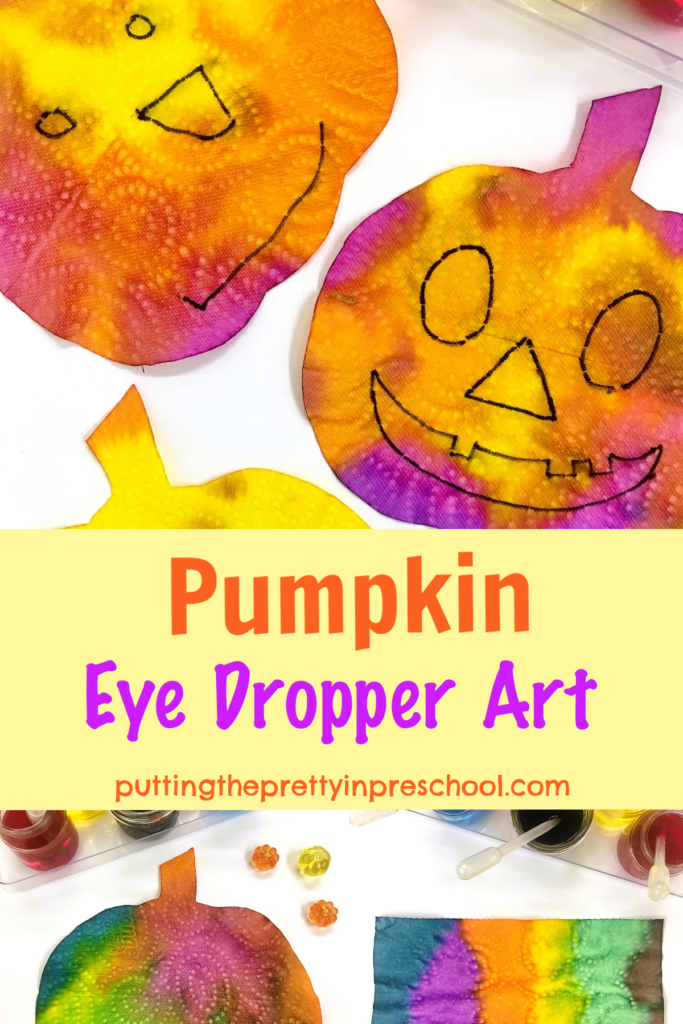 _______
This eye dropper pumpkin art project is super easy to set up and loads of fun to do. Participants will want to make a few watercolor-painted pumpkins, so you will end up with a bunch of pumpkin art to display at home or in the classroom.
_______
Follow me on Pinterest for more early learning activities.
_______
Supplies To Collect
Gather the following supplies for this no-fuss pumpkin art project:
liquid watercolors
eye droppers or pipettes
paint pots
non-permanent black marker
permanent black marker
paper towel roll
pumpkin template
scissors and pencil
newspaper or waterproof tablecloth
_______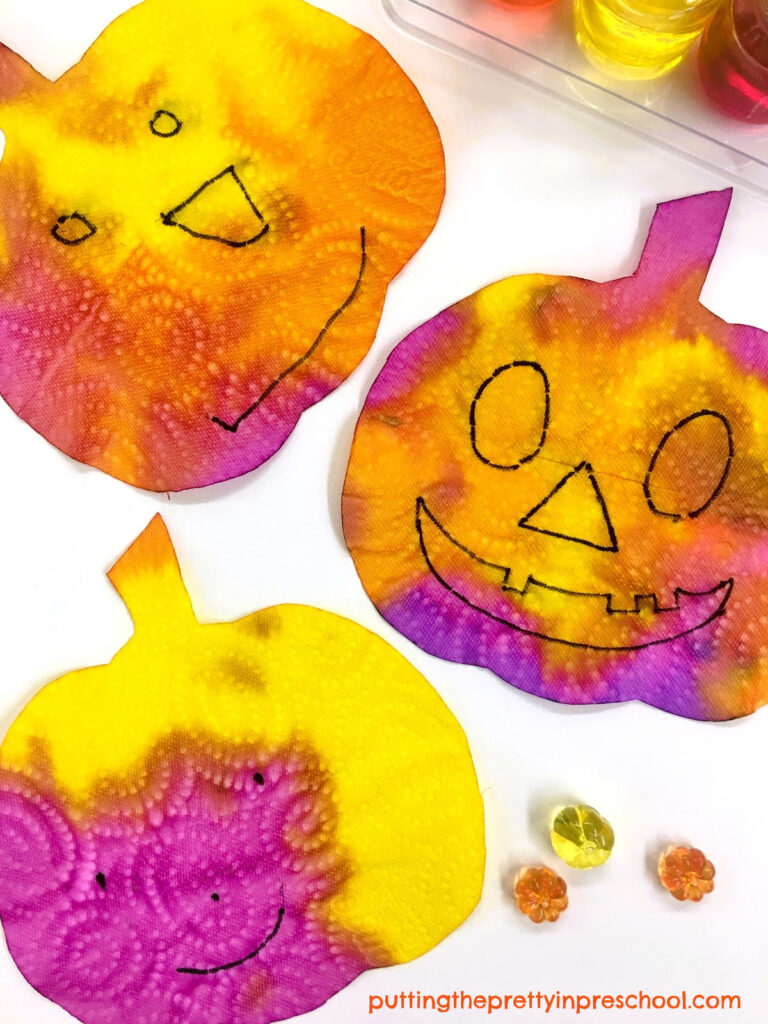 _______
Eye Dropper Pumpkin Art Preparation
Preparation for this eye dropper pumpkin art project is super quick. Start by tracing pumpkins onto one or two sheets of paper towel. Choosing a thick paper towel brand is recommended.
Next, mix liquid food colors and water into paint pots, and add an eye dropper or pipette to each one. In this project, my colors of choice are orange, yellow, and magenta, as they go nicely together.
Afterward, cover an art table with newspaper or a waterproof tablecloth.
Then set up art stations with liquid watercolor pots, eye droppers or pipettes, and paper towel pumpkins.
_______
The Eye Dropper Pumpkin Art
To create the gorgeous eye dropper art, invite your little learners to draw a mouth, nose, and eyes on a paper towel pumpkin using a black permanent marker.
Then direct your little charges to use the eye droppers or pipettes to squirt all three colors on their pumpkins. In no time the large fruits will be covered in brilliant hues.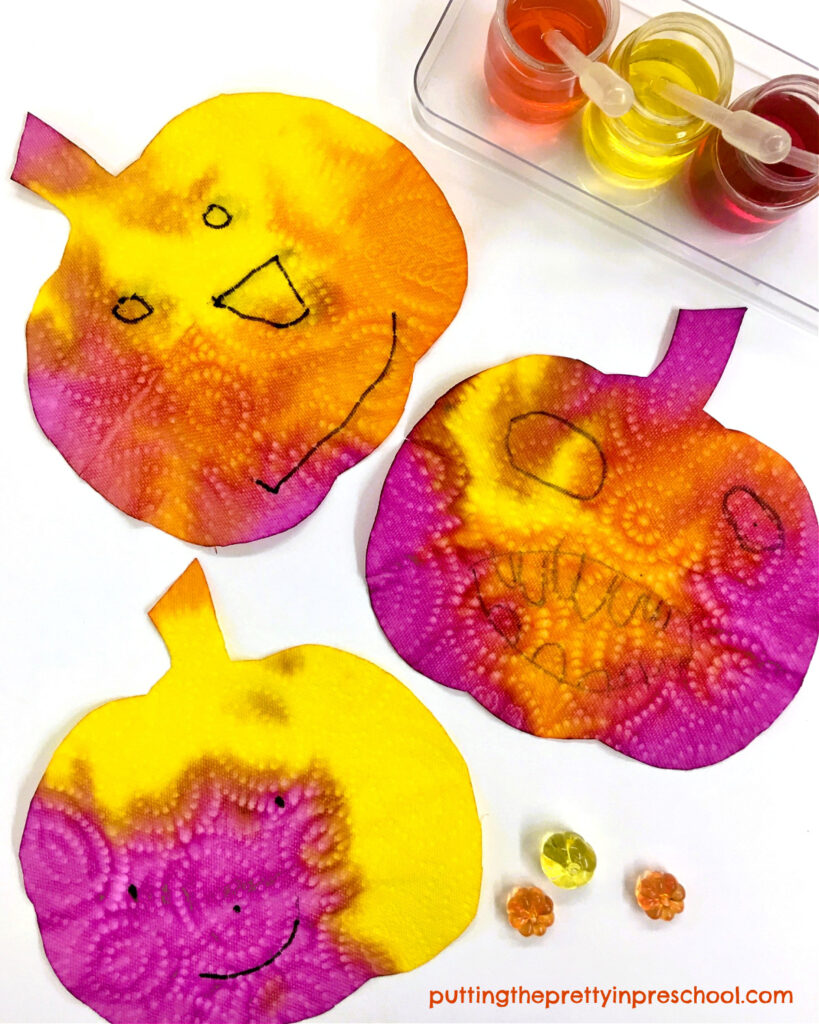 _______
Let the arty pumpkins dry in the spot they were created or move them to a new place to do so. The painted pumpkins will likely be very wet, but by the end of the day, they will be totally dry.
_______
Eye Dropper Scary Pumpkin
If children use a non-permanent black marker to draw a face on their pumpkin before wetting it with liquid watercolors, the marker color will bleed during the art process. The pumpkins will have an ominous, scary look.
_______
Rainbow Pumpkin Art
You can choose to skip having your little artists draw a face on the paper towel pumpkin and get them right to work squirting liquid food colors on it. Adding a few more watercolor hues makes creating a rainbow pumpkin possible.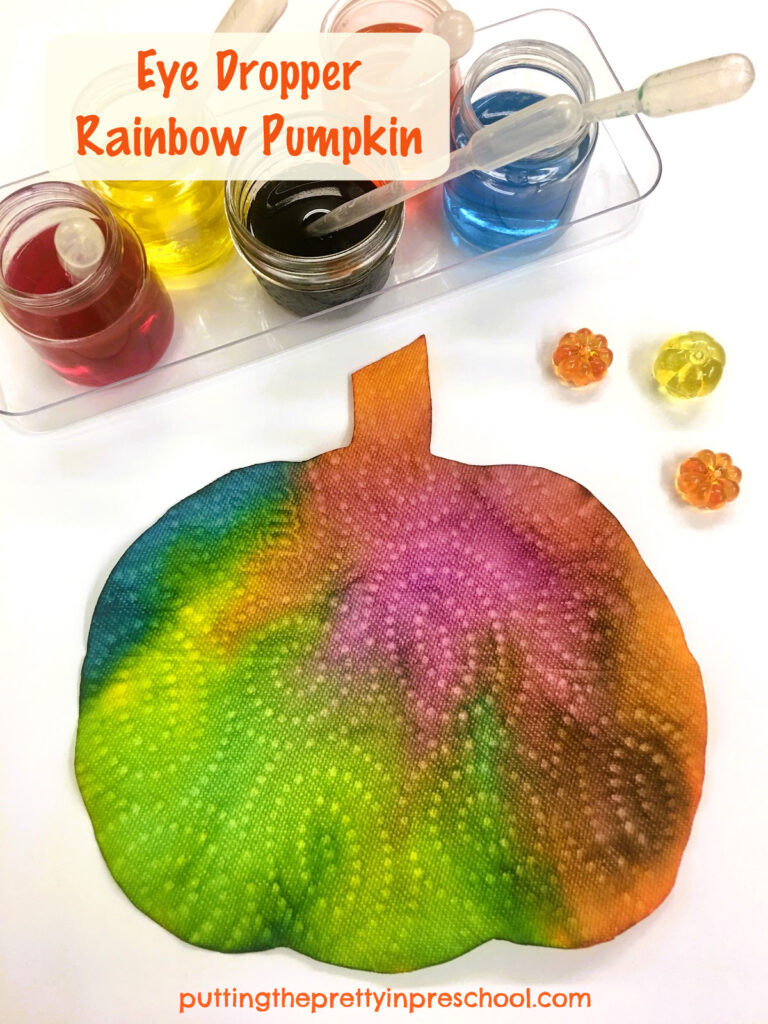 _______
Paper Towel Rainbow Art
If you run out of paper towel pumpkins for your eager art session participants, allow them to spread watercolors directly on rectangular or square sections of a disposable towel roll. They'll be happy to use these as a canvas to continue exploring this watercolor painting technique.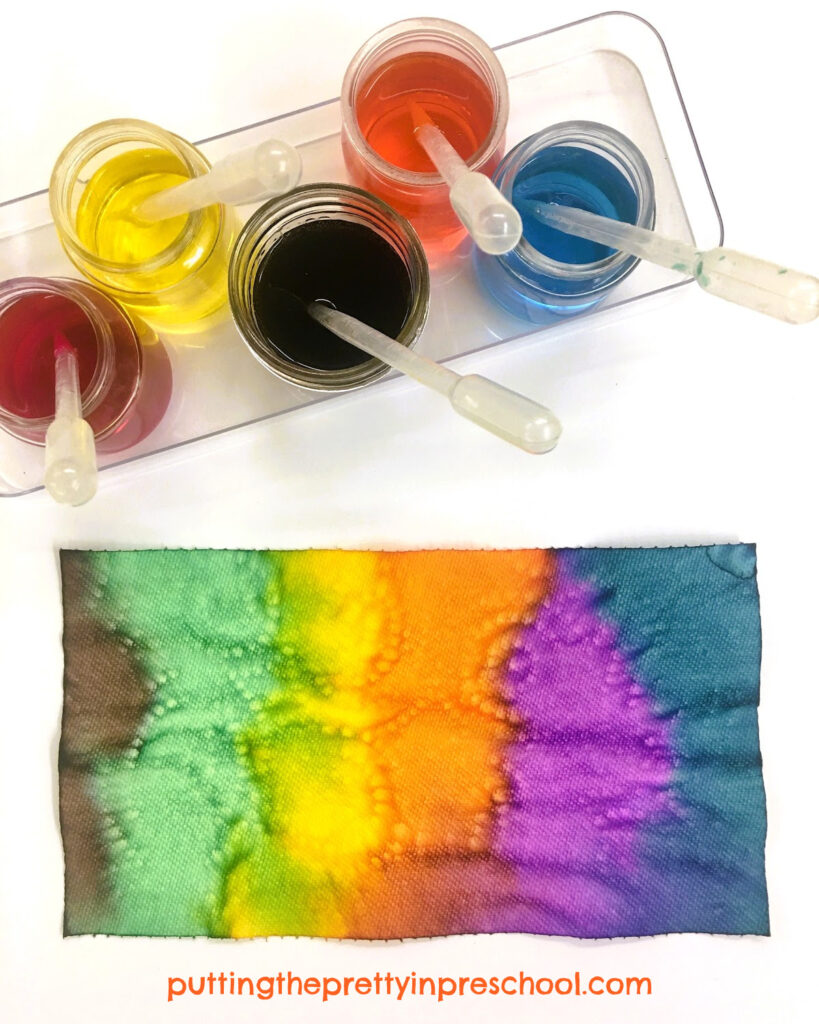 _______
More Pumpkin Activities
Pumpkin Tablescape Pretend Play
_______
[Read more…]

about Eye Dropper Pumpkin Art