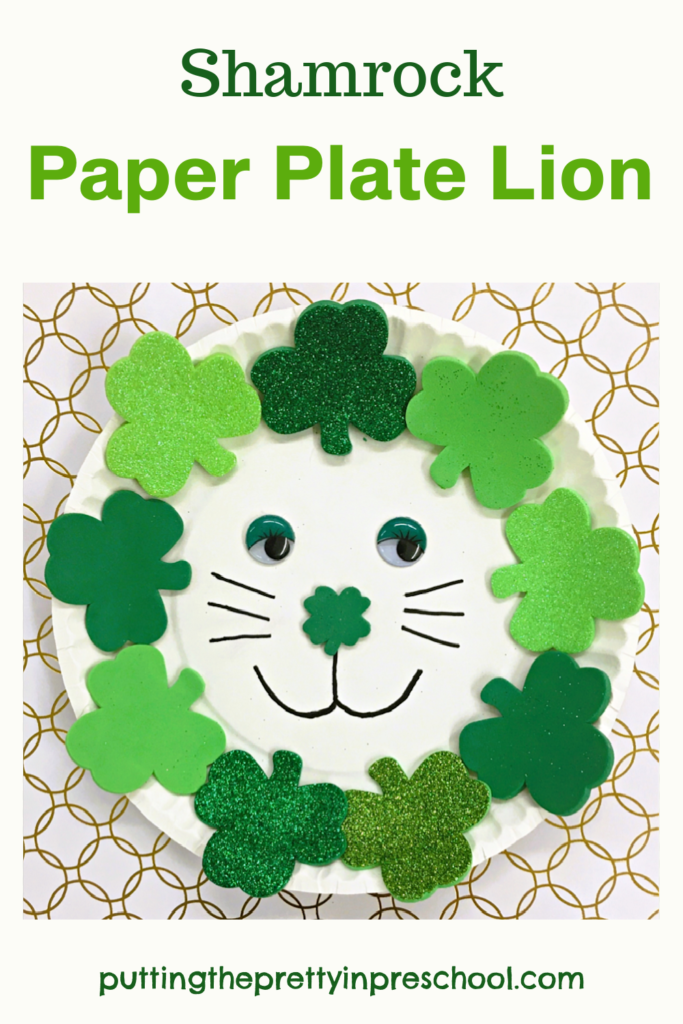 _______
Today while completing a St. Patrick's Day wreath craft a child held the circular frame to his face and said "lion mask." Right then and there the idea for this adorable shamrock paper plate lion was formed. After all, shamrocks are perfect lion mane material!
_______
Follow me on Pinterest for more early learning ideas.
_______
Supplies To Collect
There are just a few supplies to gather for this roarsome craft:
white paper plate
wiggly eyes
black felt pen
white glue
glue paddle
large sticker shamrocks
_______
Making The Shamrock Paper Plate Lion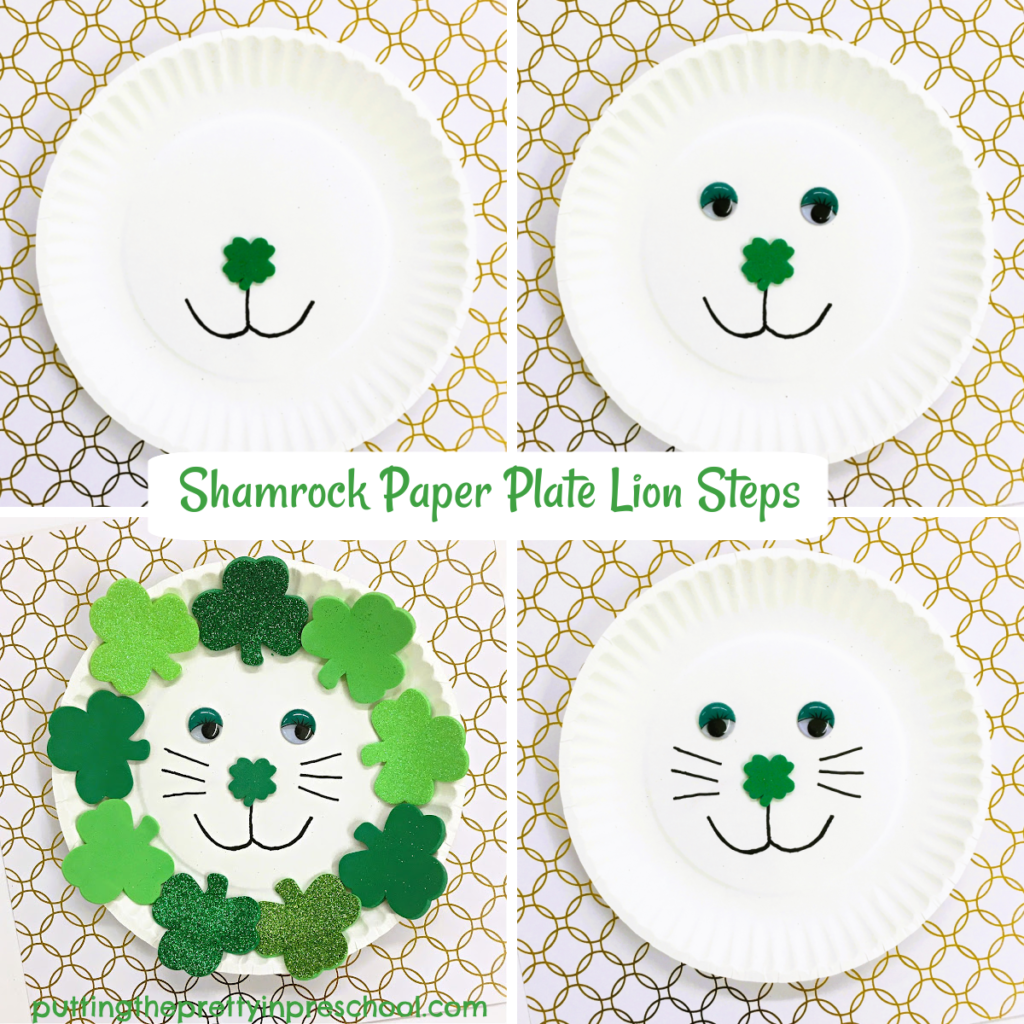 _______
First, draw a lion's mouth on a paper plate with a black felt pen.
Next, add a small shamrock sticker nose.
Then glue on two wiggly eyes.
Afterward, draw on whiskers.
Lastly, add a mane using shamrock stickers.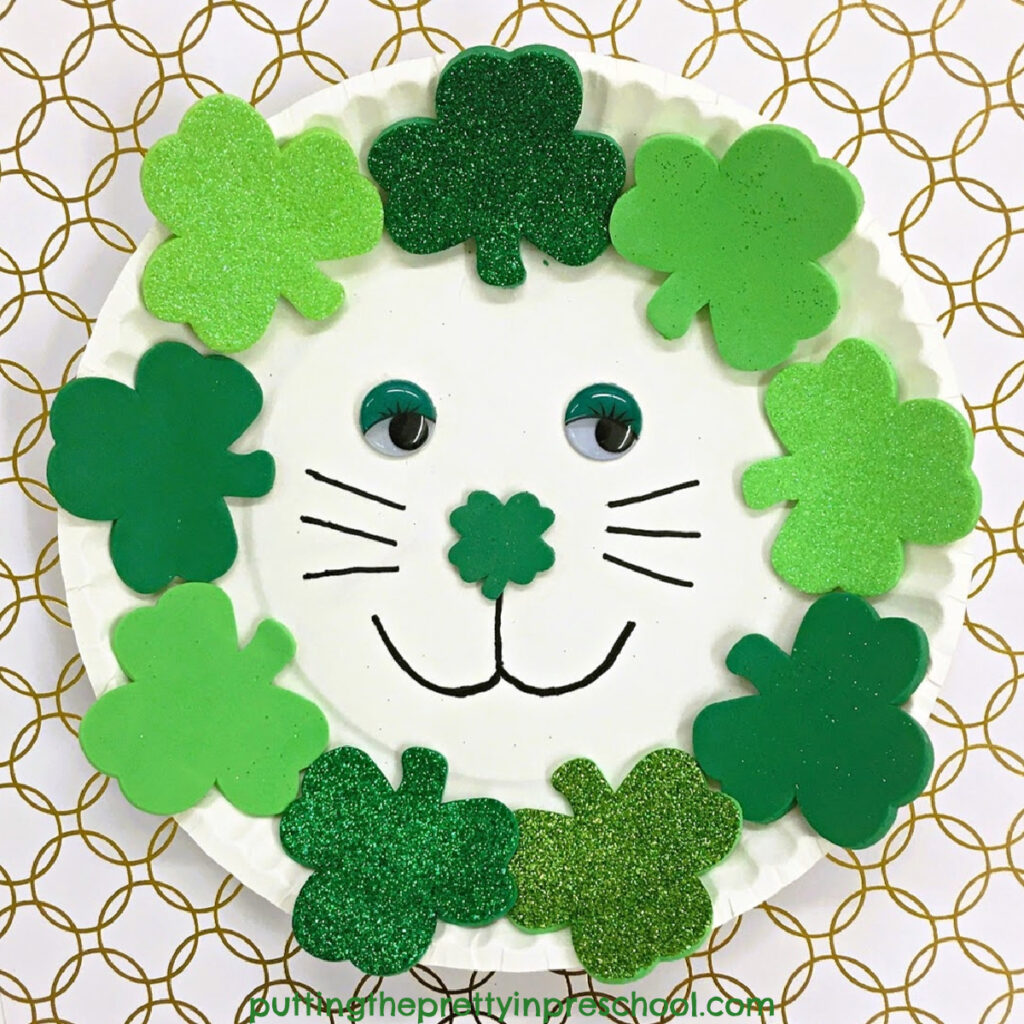 _______
Note: Paper cut shamrocks can be used if it is difficult to find the sticker variety. And yellow and orange shamrocks would make good substitutes for green ones.
_______
Lion Craft Variation
Instead of using wiggly eyes, cut out oval eyes to turn this craft into a St. Patrick's Day lion puppet. Add a chopstick or drinking straw handle for the finishing touch.
_______
10 Lion Facts
After the craft is completed, share a few lion facts with participants:
Lions live together in groups called prides.
Most lions live in grasslands and savannahs in Africa.
These powerful animals can run fast, jump far, and see very well.
Only male lions have manes, which grow darker with age.
Female lions do most of the hunting. They work as a team to catch their prey.
Lions hunt large animals such as zebras, wildebeests, antelopes, and buffaloes. They will also eat smaller prey like mice, birds, hares, lizards and tortoises.
The loud roar of a lion can be heard miles away.
Lion cubs are tiny and weigh about 3 pounds.
Lions are a symbol of strength, courage, fierceness, and power.
For more interesting lion facts, view the blogpost Lion Facts by factanimal.com.
_______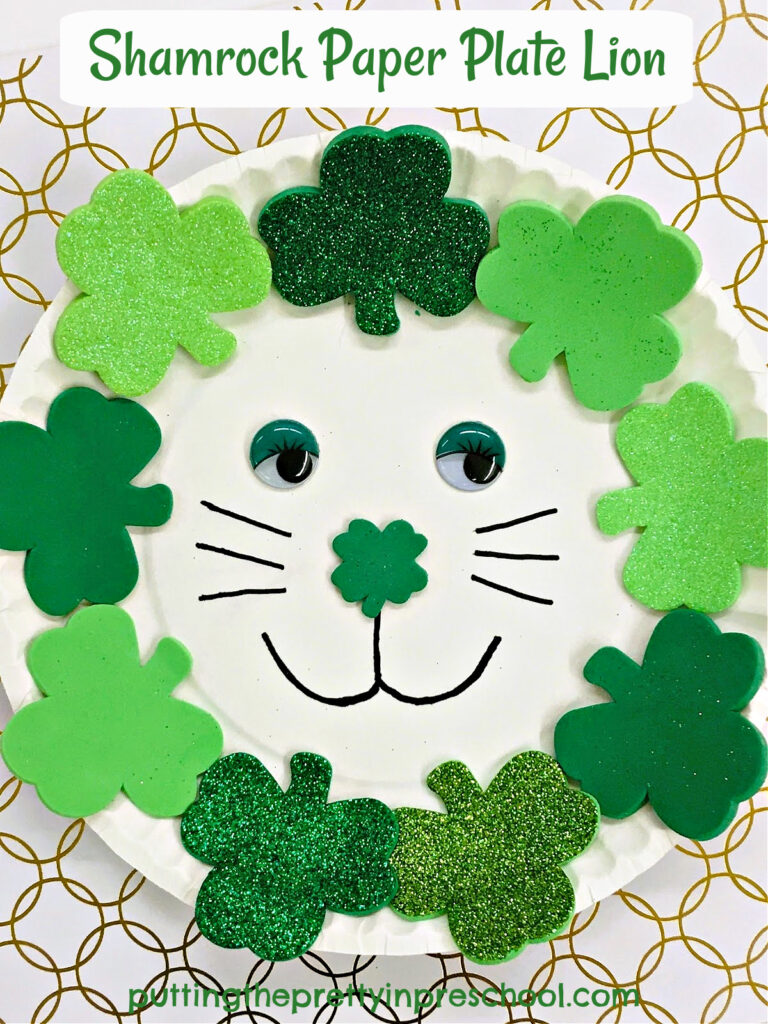 _______
If you are on the prowl for a simple, unique St. Patrick's Day craft for your early learners to make, this shamrock paper plate lion is the one for you. Why not give it a try?
_______
Related: St. Patrick's Day Sheep Craft
_______
_______
You may also like: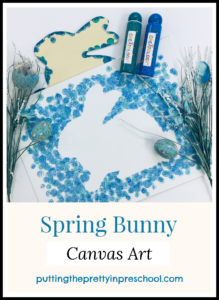 _______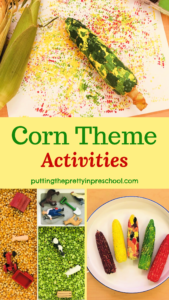 _______
Don't forget to share this post on Pinterest or your favorite social media channel. Sharing is caring!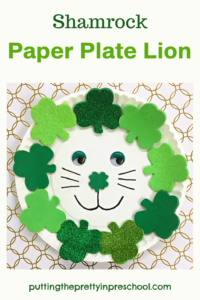 _______
© Annette Kaminsky March 14, 2022
_______
Follow me on social media for more ideas: