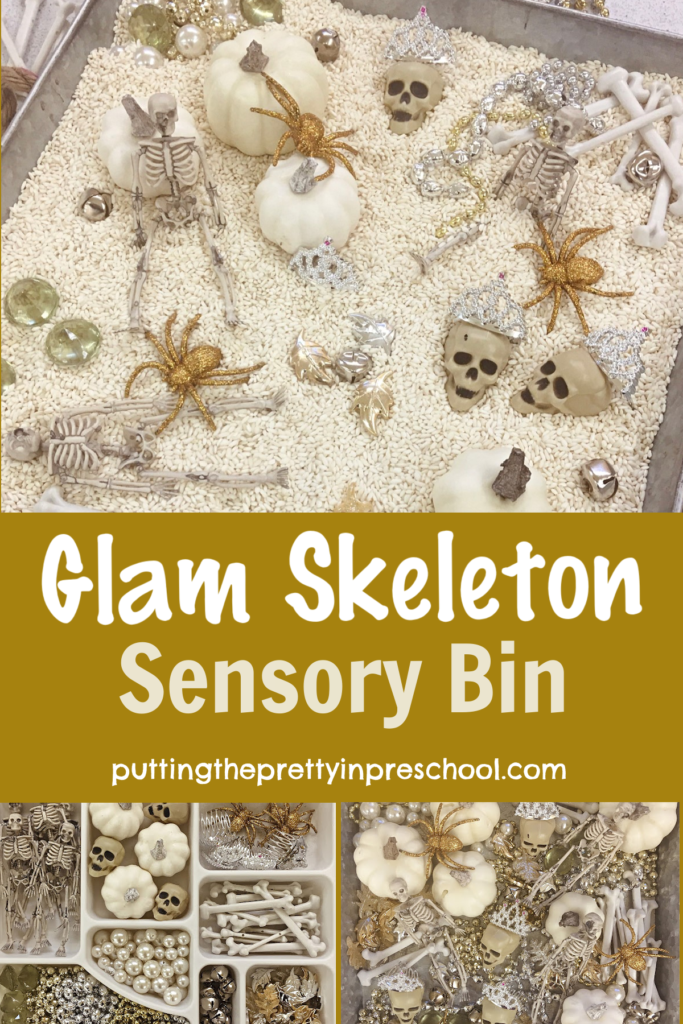 _______
Fall is such a great time to spot seasonal home décor in stores, as it is very plentiful. And one of my favorite things to do is to translate a seasonal trend into an "of the moment" sensory bin. This fall I'm particularly drawn to the beautifully adorned skeletons in wall art, decorations, and tableware. And this theme works well in a glam skeleton sensory bin guaranteed to catch the attention of little learners.
_______
Follow me on Pinterest for more early learning ideas.
_______
Supplies To Collect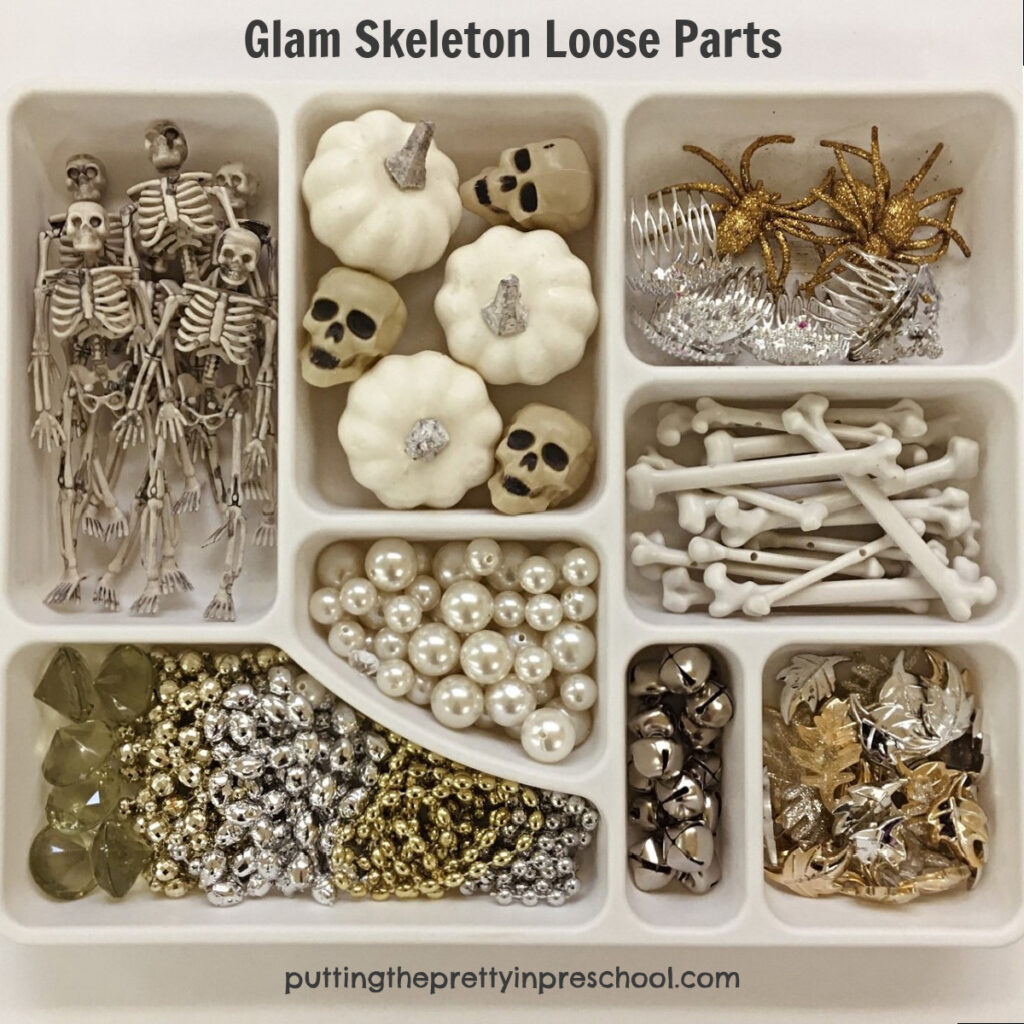 _______
The color scheme for this elegant sensory bin is silver, gold, cream, and white. Loose parts gathered for the bin are:
skeletons
skulls
bones
spider figurines
pearl beads
gem leaves
bead jewelry strands
crown hair combs
mini pumpkins
bells
_______
The Glam Skeleton Sensory Bin
A large square metal serving tray is a good fit for this sensory activity. Brown, white, or gold rice provides a good base. My bin features glutinous rice… I love its super white hue.
To prepare this glamorous sensory invitation, pour a layer of rice into a tub or tray. Then spread gem diamonds and leaves, bead strands and pearl beads, bells, bones, and pumpkins over the rice. Add skeletons. spiders and crown-adorned skulls as a finishing touch.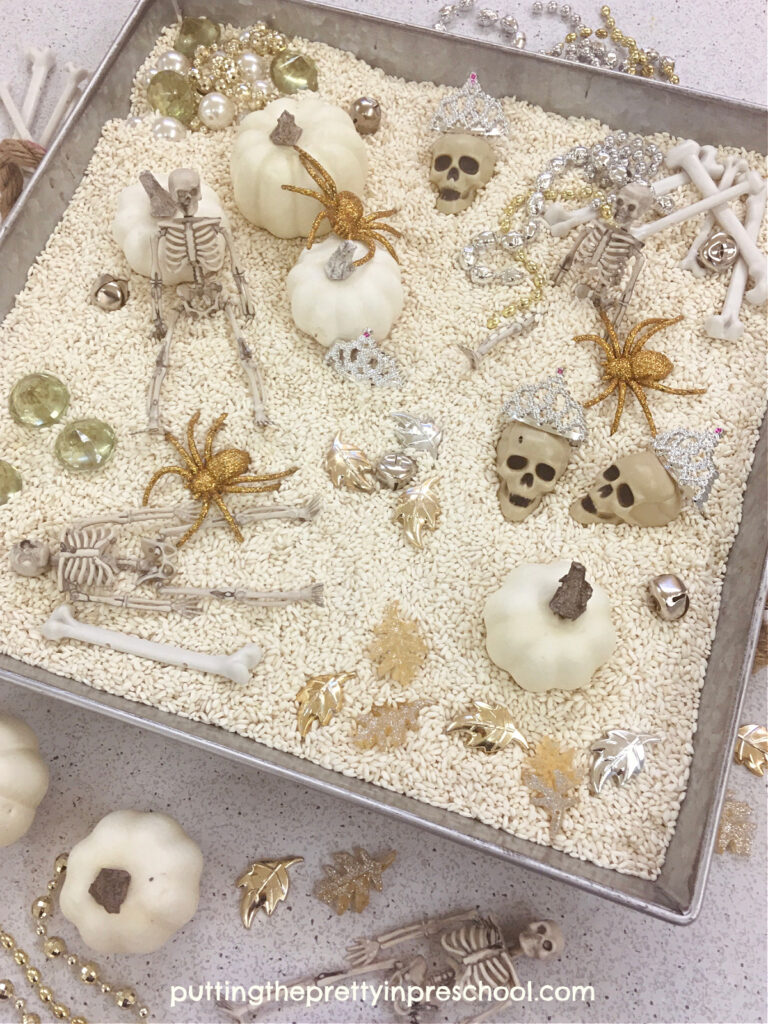 _______
Setting the loose parts in a smaller metal tray without adding rice is a no-fuss alternate way to offer this sensory activity.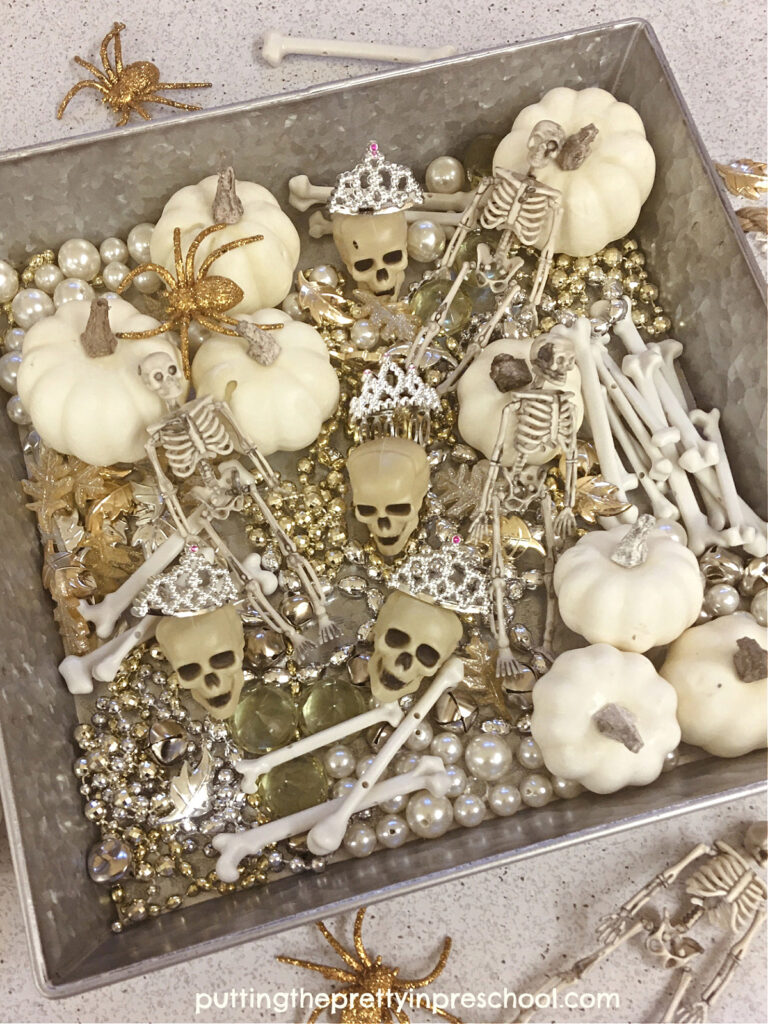 _______
And placing a mirror on a stand at the back of the bin adds a double dose of glam.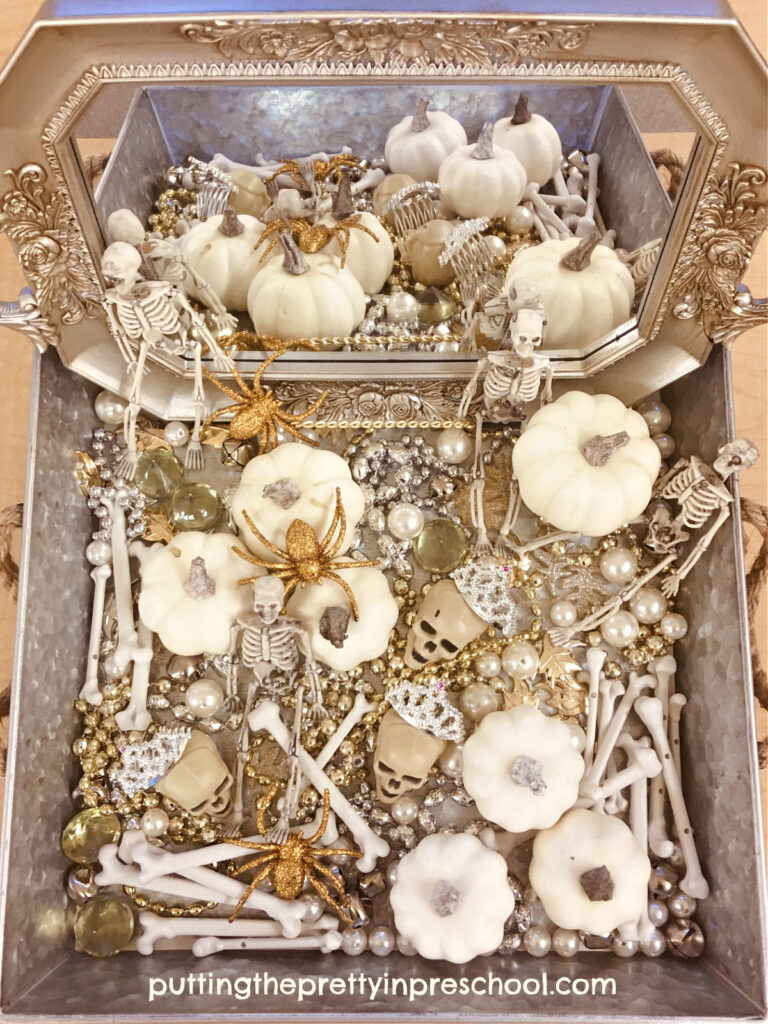 _______
Offering skulls, skeletons, and bones in a sensory bin filled with pretty loose parts is a non-threatening and inviting way for little learners to explore the human skeleton.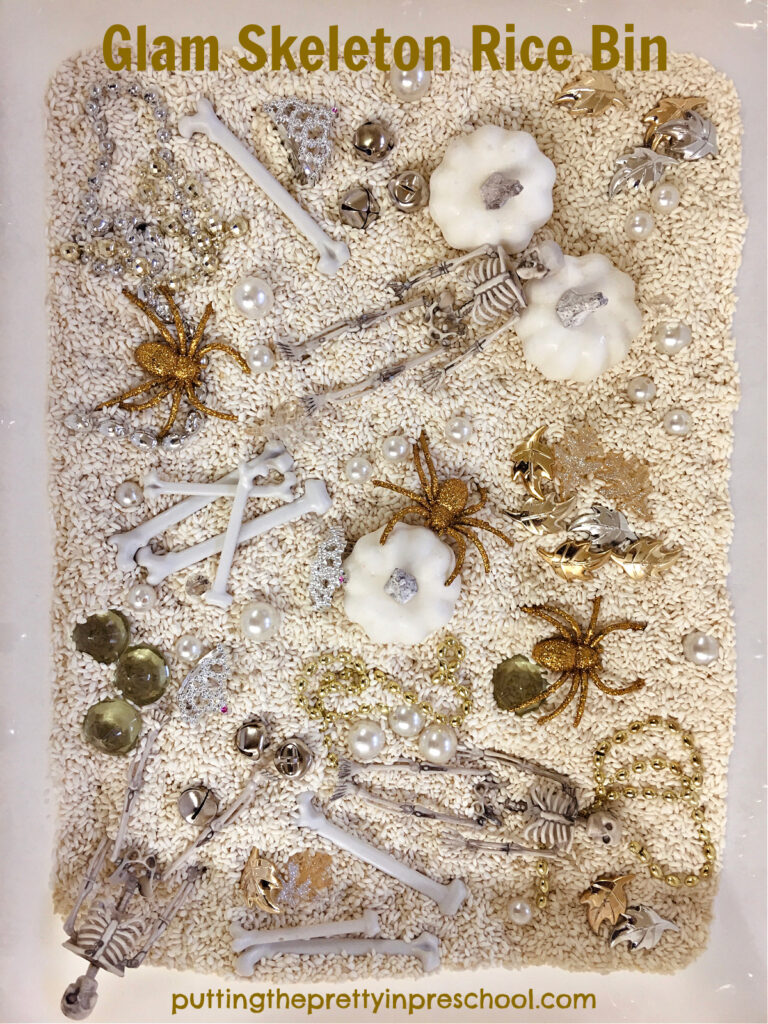 _______
Black Light Skeleton Sensory Bin
Since there are many white or cream-colored pieces in this bin, it's fun to extend sensory learning by observing if any of them light up under a black light. Surprisingly, a few gem leaves glow the most when the bin is placed in a dark room under a black light.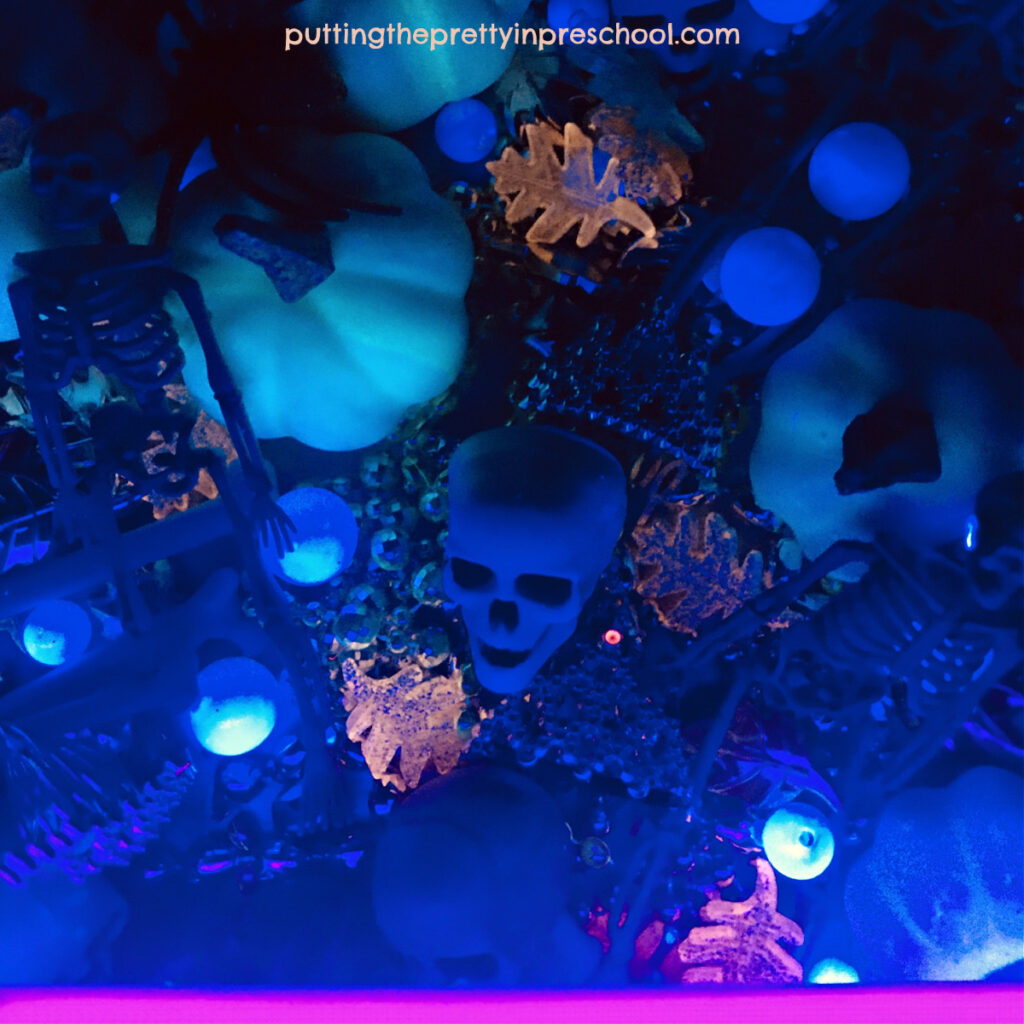 _______
Note: To find out more about what glows under a black light, view my blog post "Glow Art Words Of Affirmation."
_______
Related: Skeleton And Eyeball Waterplay
_______
[Read more…]

about Glam Skeleton Sensory Bin