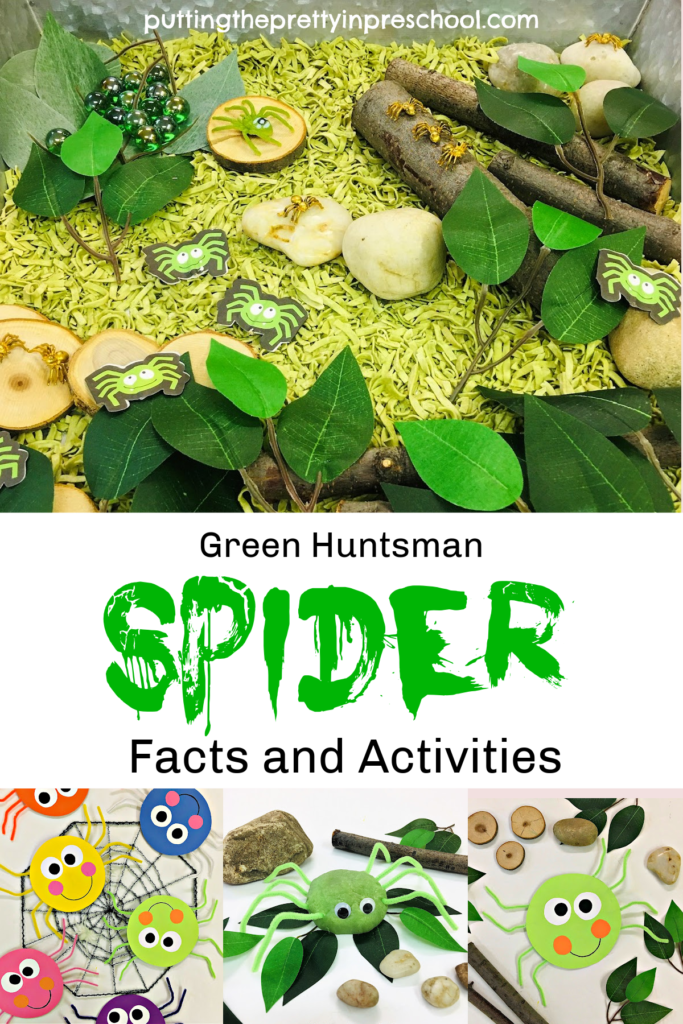 _______
Do all spiders spin webs? And are they all black and brown? Well, the Green Huntsman Spider doesn't fit this typical mold at all. But its unique look and habits are fascinating and can be readily explored by early learners in spider activities involving sensory and art.
_______
10 Green Huntsman Spider Facts
Indigenous to northern and central parts of Europe, green huntsman spiders live in forest edges and damp woodlands.
A clutch of green huntsman spider eggs is protected in a few leaves stitched together.
40 – 50 spiderlings hatch in about four weeks after the eggs are laid.
The tiny spiderlings are yellowish-brown, and turn green in 18 months.
Eight eyes arranged in an oval shape help green huntsman spiders see.
These showy spiders eat small insects and other invertebrates.
To catch their food, they wait for their prey to come by, and then pounce on it!
Predators of this unique spider are geckoes, birds, wasps, flies, and nematode worms.
The green spiders are camouflaged against leaves, so predators and prey cannot see them.
Green huntsman spiders can live up to two years in age.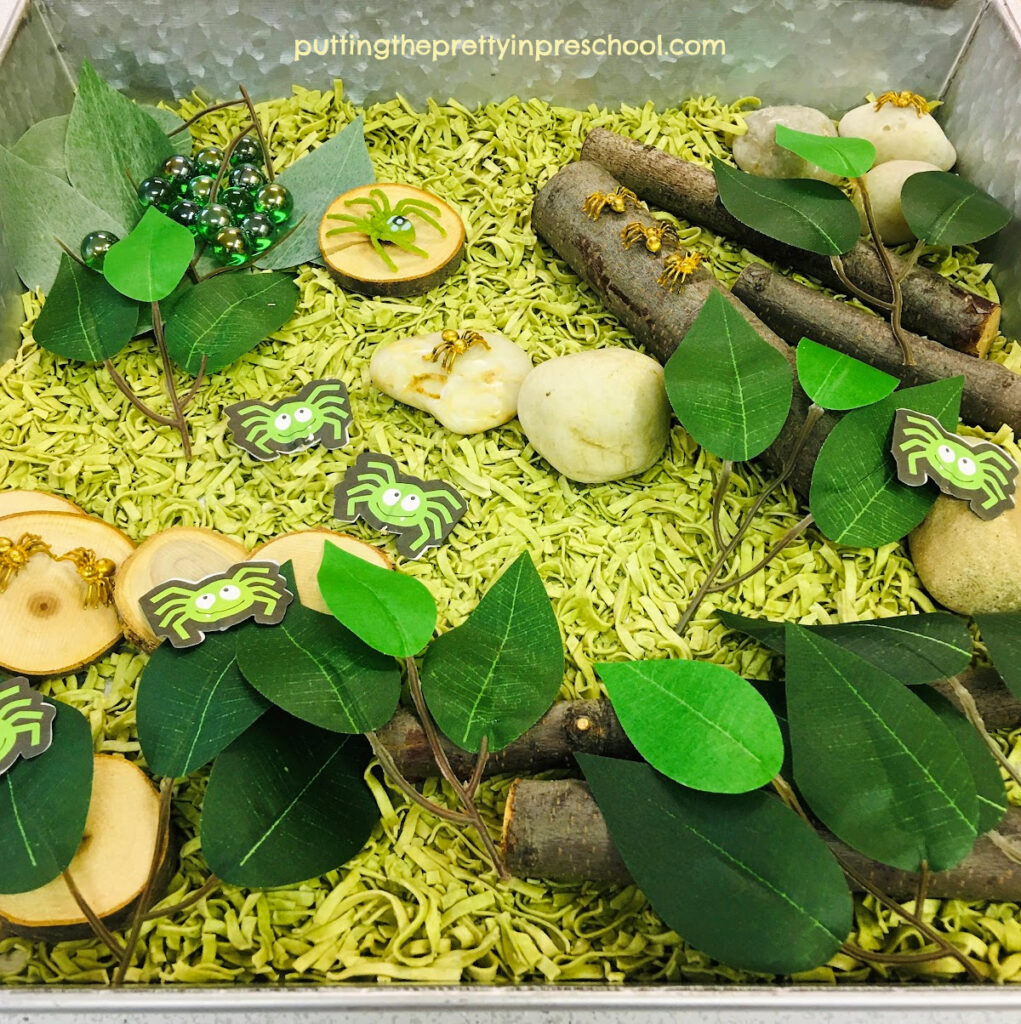 _______
Spider Activities
Green Huntsman Spider Sensory Tray
Gather the following supplies for a spidery sensory tray with no web required.
green spider
green spider cupcake toppers
tiny black spiders
green leaves
small logs
wood slices
rocks
green marbles
spinach noodles
metal tray or plastic tub
gold acrylic paint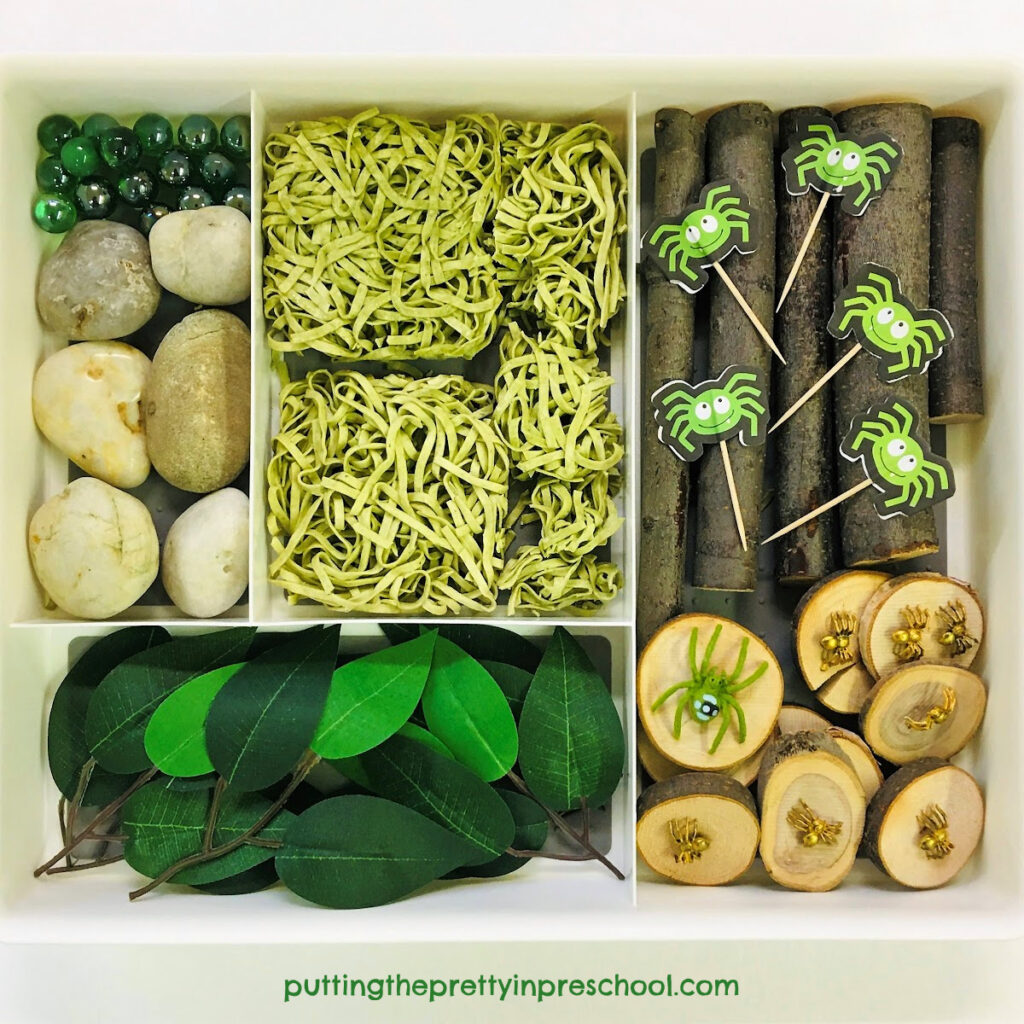 _______
Break up spinach noodles into small pieces and spread out on the bottom of the tray or tub. Add leaves, logs, wood slices, and rocks. Pick a spot to set the marble "eggs." Put in the green spider and/or green spider cupcake toppers. If using cupcake toppers, snap off the toothpicks and make sure there are no sharp edges.
Paint the tiny black spiders with gold acrylic craft paint to represent the spiderlings. The acrylic paint will adhere quickly. When dry, add them to the sensory tray.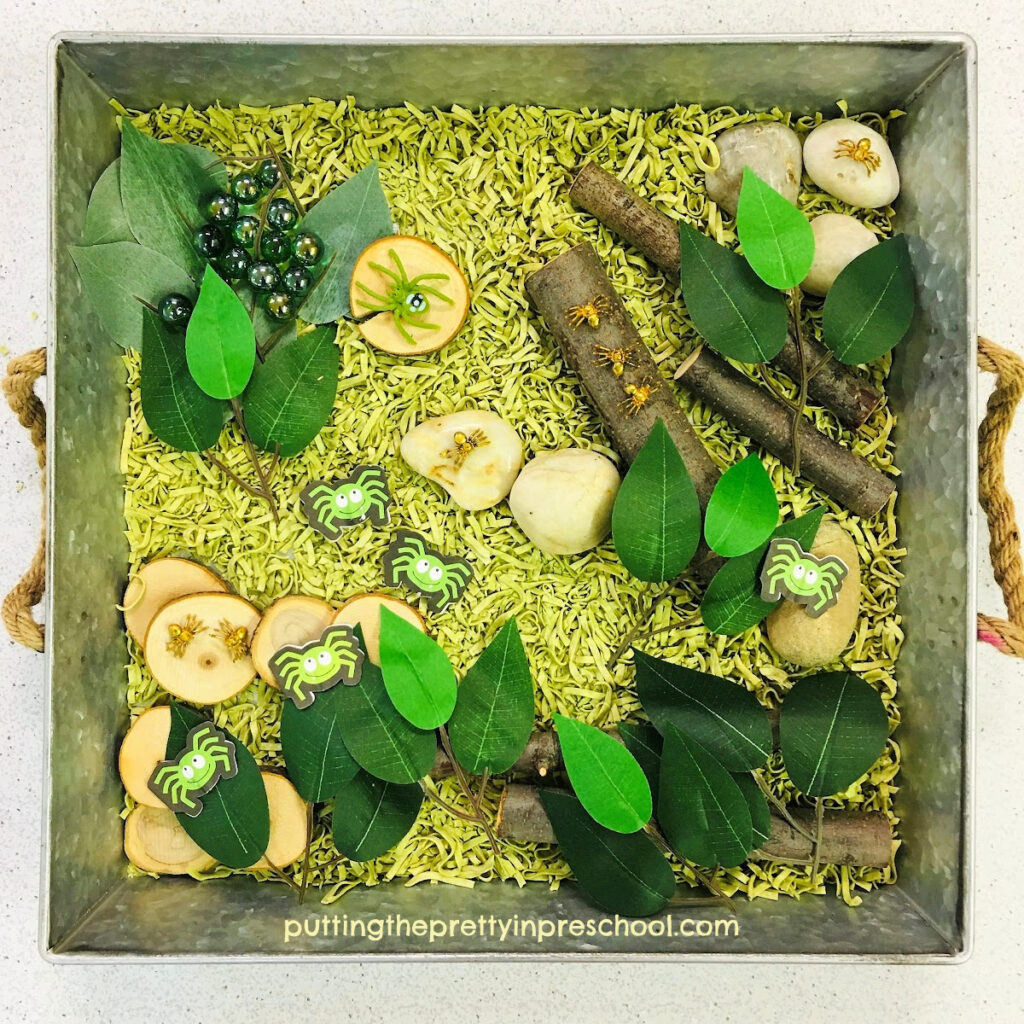 _______
Tip: Split peas or shredded green paper can be used instead of spinach noodles for the base.
_______
Follow me on Pinterest for more early learning ideas.
_______
Playdough Green Huntsman Spider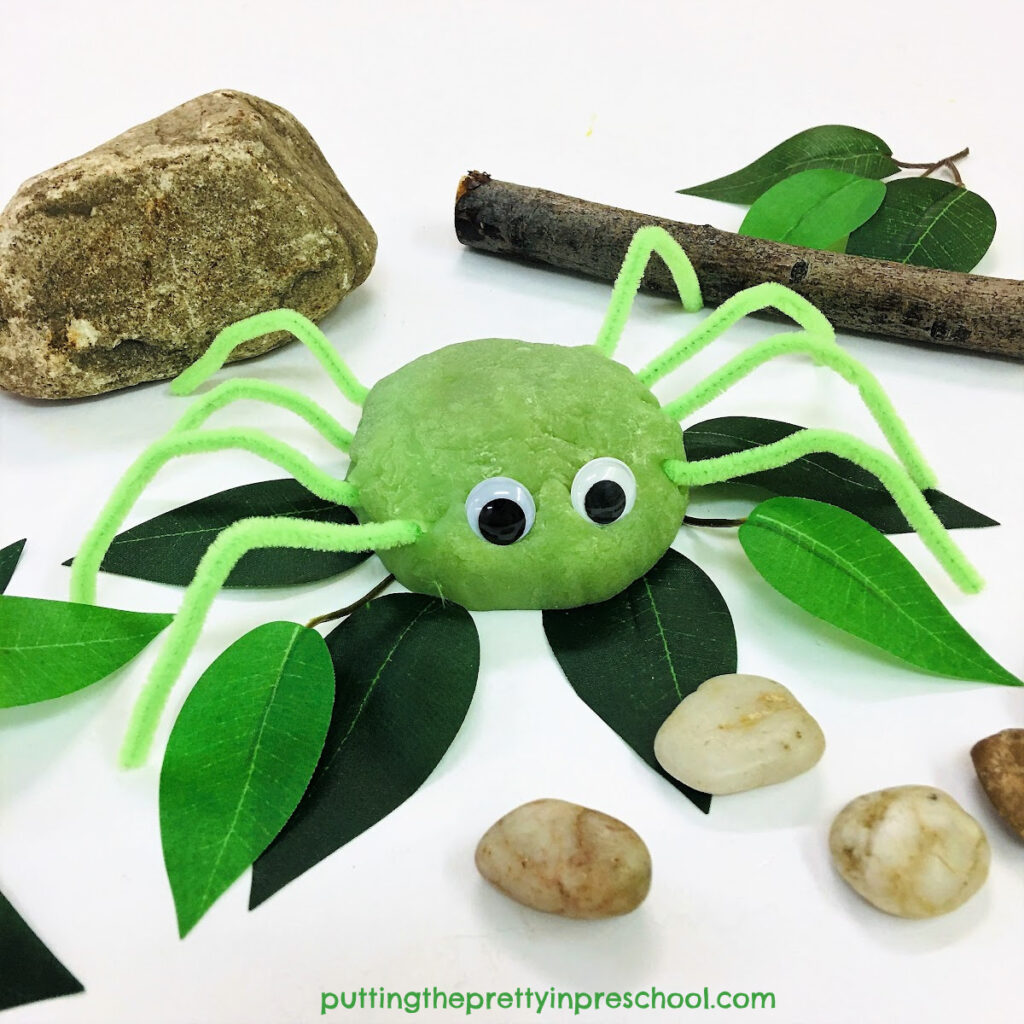 ________
Make a batch of your favorite playdough and color it green. A basic playdough recipe with green food coloring added works well for this activity.
Invite your early learner to mold some dough into a squished circle or oval. Then your little one can add eight googly eyes to the dough.
Cut three green pipe cleaners into thirds. Invite your little learner to add eight pipe cleaner legs to the plump spider.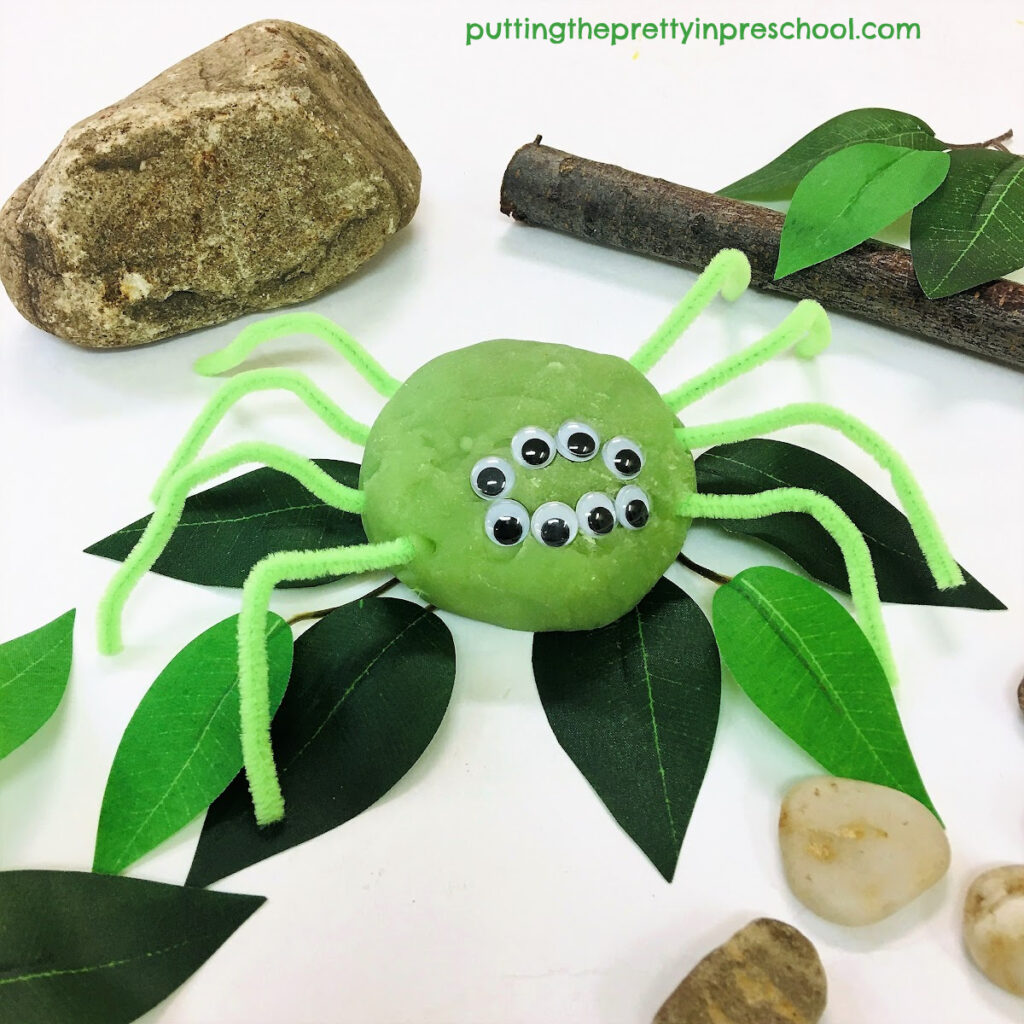 _______
Green Huntsman Spider Craft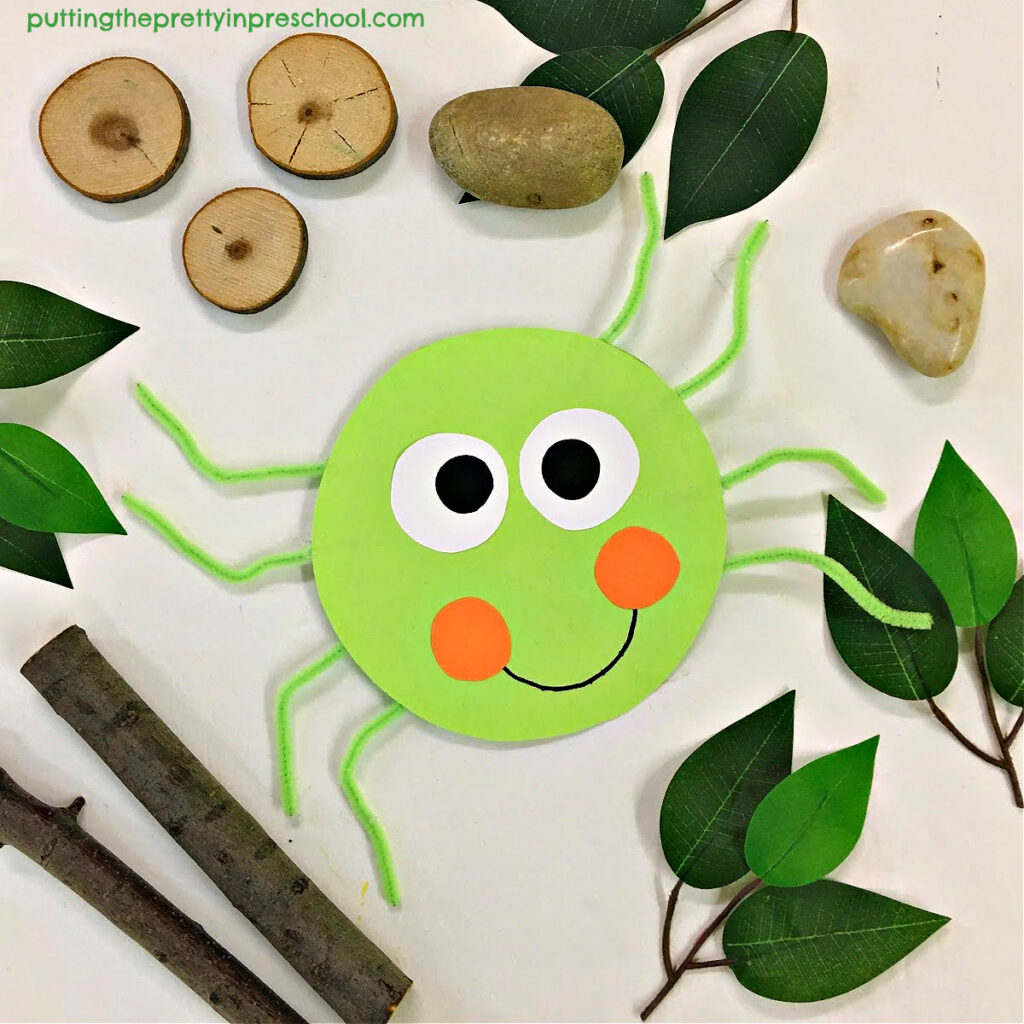 _______
Download this template to make a green paper spider. Printing onto cardstock paper works best, but you can also use regular copy paper.
_______
This printable is for individual or one classroom use only.
_______
Invite your early learner to cut out all the circles. Then have your little one glue the smaller circles to the large green circle to make a cute face. Help your child glue or tape on pipe cleaner legs.
_______
Tip: Cutting pipe cleaners into thirds works well for this spider craft.
_______
Spiders In All Colors
After assembling a green spider, your little learner may have fun creating spiders in other colors. Download the template and use the pieces as a pattern for cutting shapes from cardstock paper shades of choice. Have your early learner cut and assemble the circles into bodies of spiders, and add matching or complementary hued pipe cleaner legs.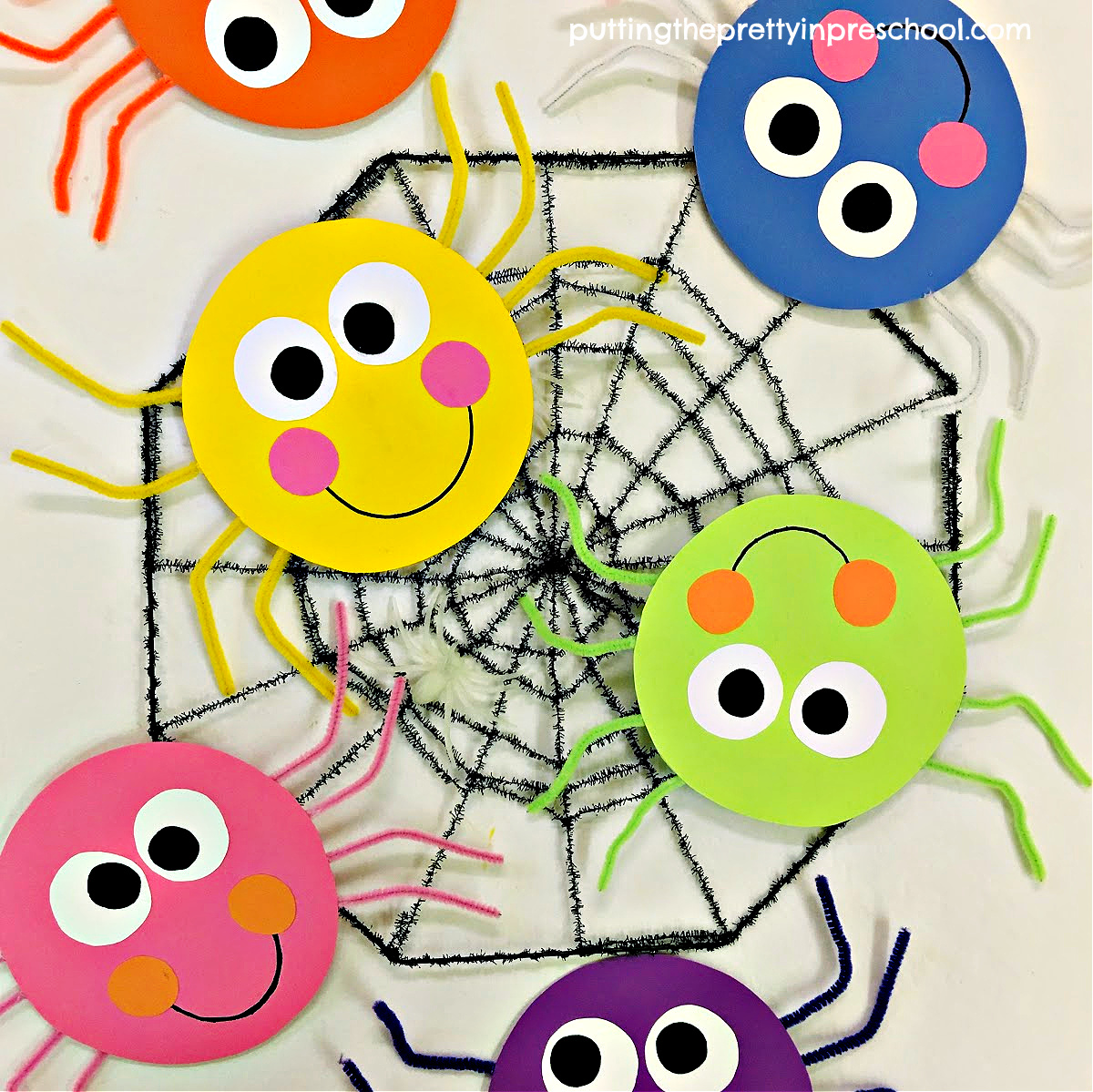 _______
The spiders could be hung from strings to provide colorful room decorations.
_______
And finally, you could invite your little one to craft a black and grey spider. Print the above template in black and white. Use black pipe cleaner legs.
_______
[Read more…]

about Green Huntsman Spider Activities