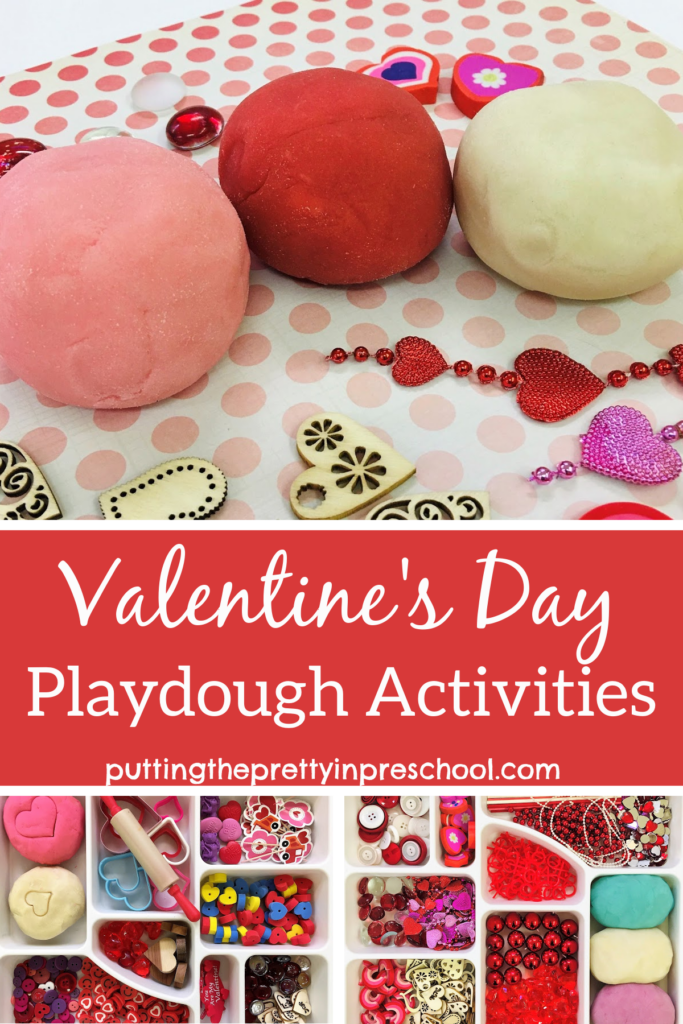 _______
Playdough is a shoo-in for any Valentine's Day theme. There are so many heart loose parts available to use, and who doesn't like the chance to include red and pink colors in their play? In this post, I've included a basic playdough recipe and a jello recipe. The basic recipe includes color variations made with neon food colors. All the recipes are easy to use for introducing Valentine's Day playdough activities to your little learners.
But first, the loose parts!
_______
Valentine's Day Loose Parts Trays
Here are two playdough trays brimming with loose parts. The tray below includes: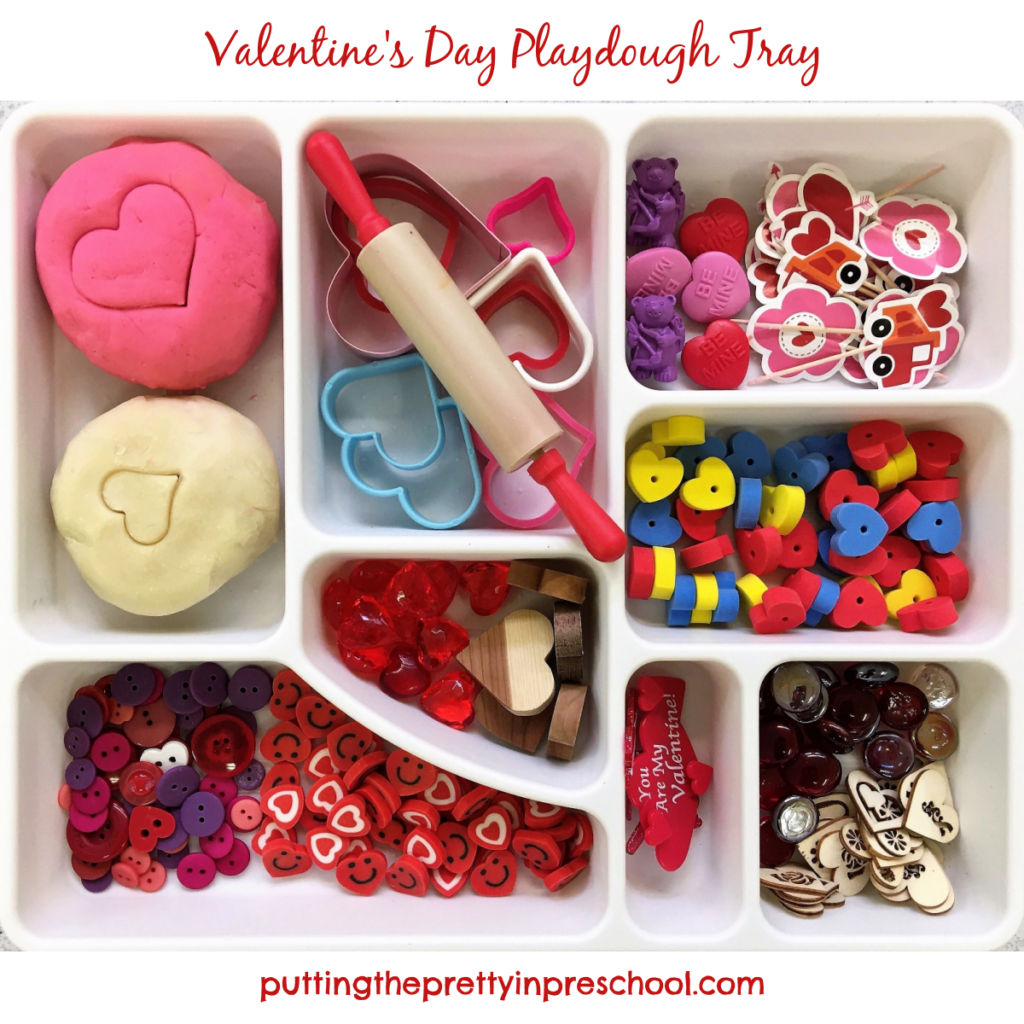 _______
rubber heart game pieces
X and O game pieces
toothpick cupcake toppers
wooden, gem, and foam hearts
buttons
heart erasers
natural colored gems
cookie cutters and rolling pin
_______
This second tray includes: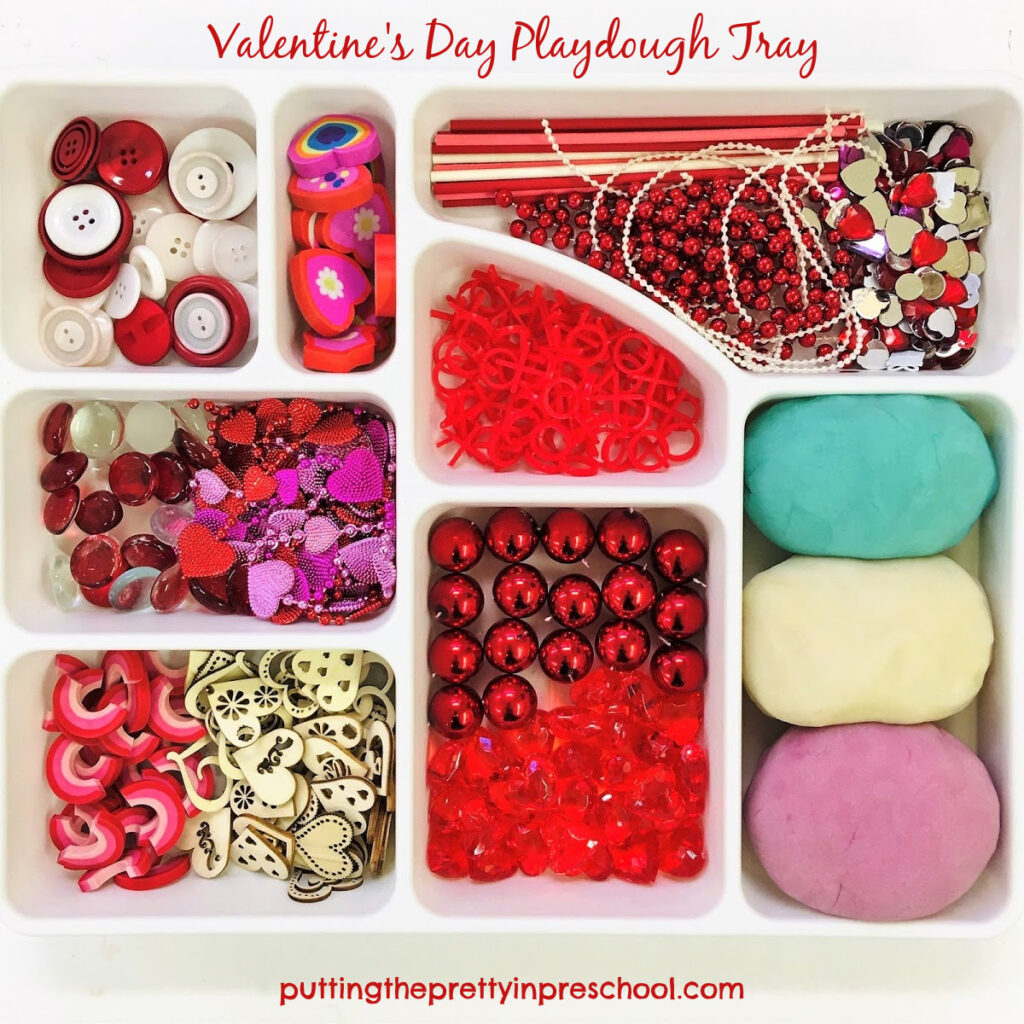 _______
heart bead garland
red and white bead garland
white and red gems
wooden, gem, and eraser hearts
large red beads
buttons
X and O game pieces
lollipop sticks
_______
Basic Playdough Recipe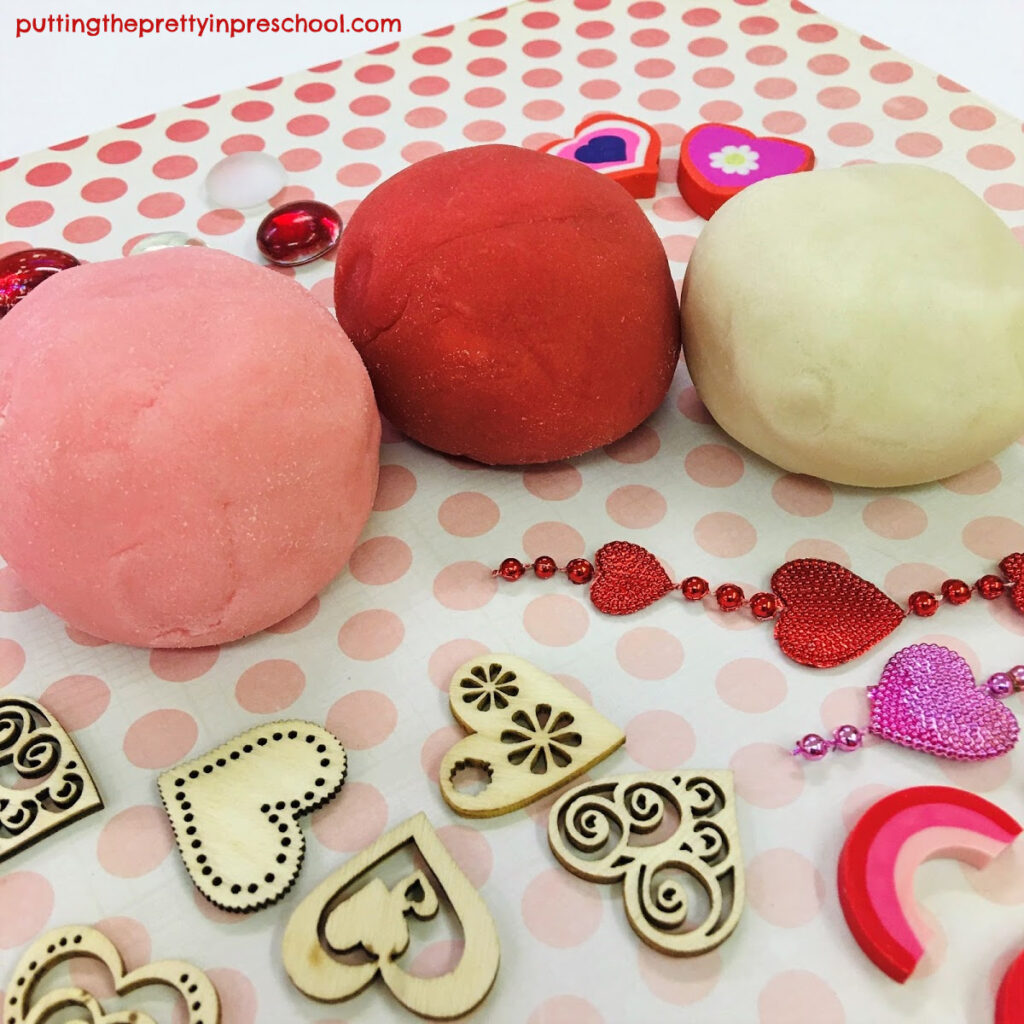 _______
My go-to basic playdough recipe has the following ingredients:
2 cups flour
1 cup salt
4 teaspoons cream of tartar
2 cups water
3 tablespoons oil
Add the first three ingredients to a sturdy pot and mix together.
Stir two tablespoons oil into two cups of water.
Add the water and oil to the dry ingredients and combine.
Heat on the stove on medium heat.
Stirring frequently, cook until the mixture is no longer glossy and the dough forms a ball.
Scoop the dough on to a cutting board.
Knead when cool, adding in one tablespoon more oil.
Store the playdough in a sealed plastic bag.
_______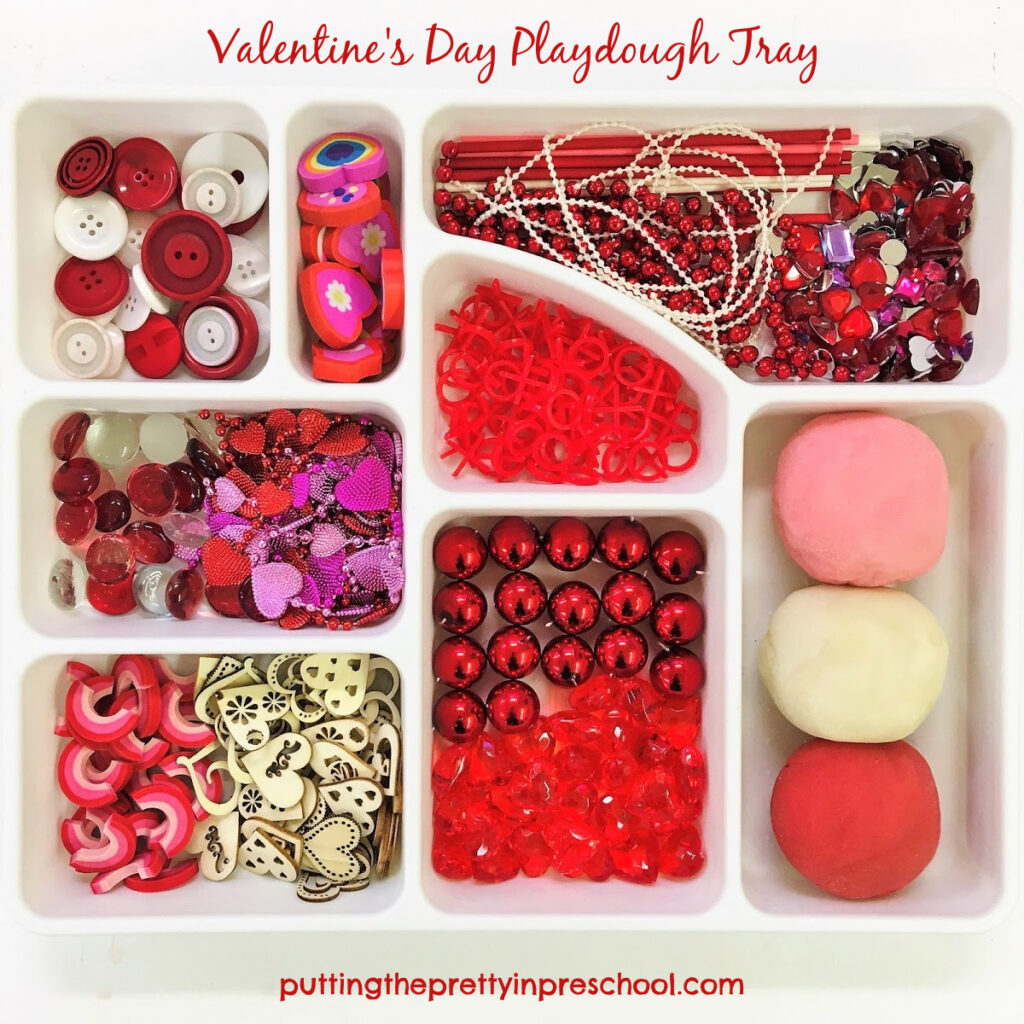 _______
Jello Playdough
To make deep, pinkish-red strawberry playdough, boil the water and stir in two 85 gram packages of strawberry jello powder. Next, mix in two tablespoons of oil. Add the hot colored water mixture to the dry ingredients in a pot as above, and finish making the recipe the same way.
To make the pastel blue playdough, use one 85 gram package of blueberry jello.
_______
Food Coloring Playdough
To make the lilac playdough, stir a few generous squirts of neon purple food coloring into the pot of mixed wet and dry ingredients. Then heat the mixture and finish making the recipe as above.
To make the pastel pink-colored playdough, add a few squirts of neon pink food coloring to the pot. The more food coloring you add, the darker the playdough will get.
Note: These recipes make a batch of playdough for up to five children to use.
_______
Valentine's Day Playdough Invitation
Set out loose parts on a tray with playdough colors of choice. Add rolling pins and cookie cutters if desired, and watch your little charges create.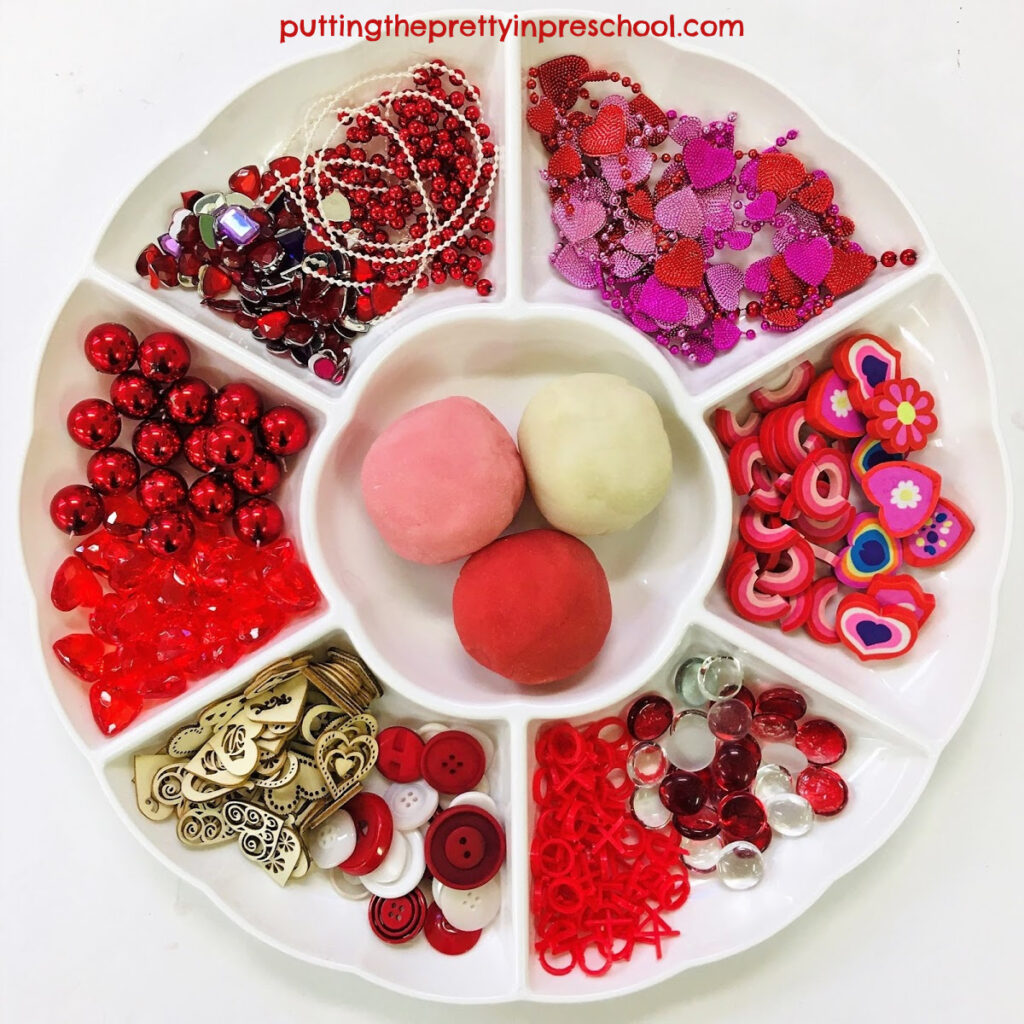 _______
Any questions about the playdough recipes? Leave a comment below!
_______
_______
You may also like:
_______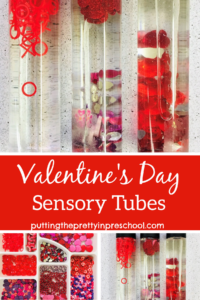 _______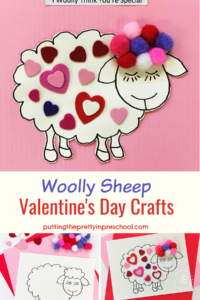 _______
Don't forget to share this post on Pinterest or your favorite social media channel. Sharing is caring!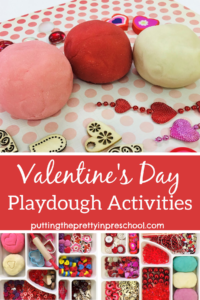 _______
© Annette Kaminsky February 7, 2021
_______
Follow me on social media for more ideas: