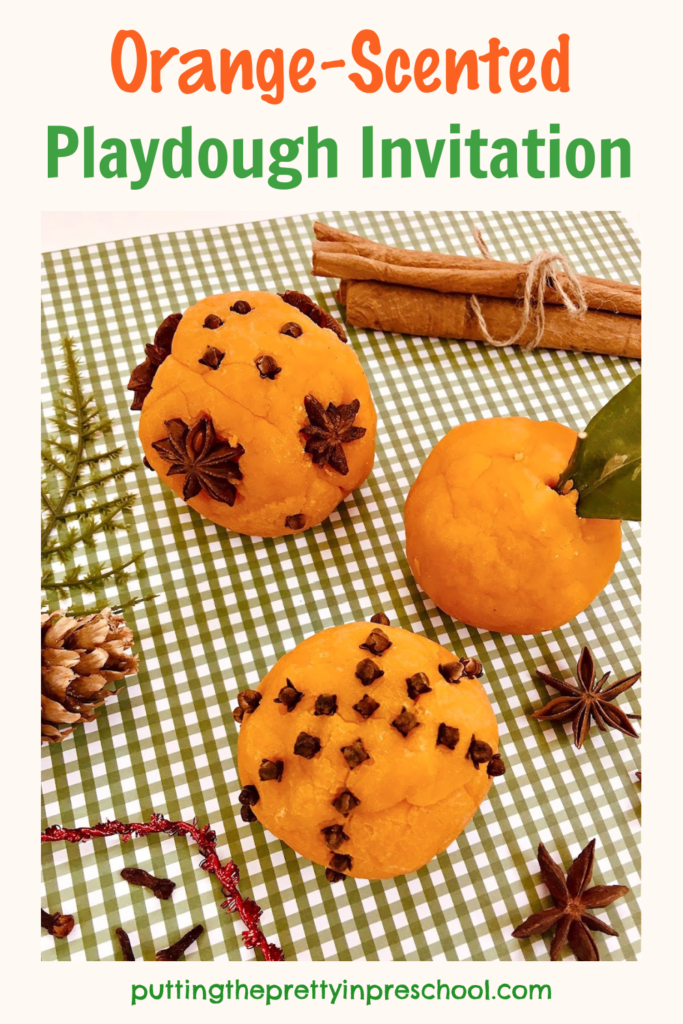 _______
This orange-scented playdough invitation introduces early learners to scents and colors that work with current festivities. The activity is a good fit for Christmas and carries over to Lunar New Year celebrations.
_______
Oranges And Christmas
Oranges have been part of Christmas traditions for many years. Here are some ways they were incorporated into the festive holiday season in times past:
In pioneer days, oranges were rare. As such, they were prized stocking stuffers.
Sliced oranges were used in natural decorations, such as wreaths, garlands, and tree ornaments.
Oranges were made into deliciously scented clove-studded pomanders that were displayed in Christmas décor afterward.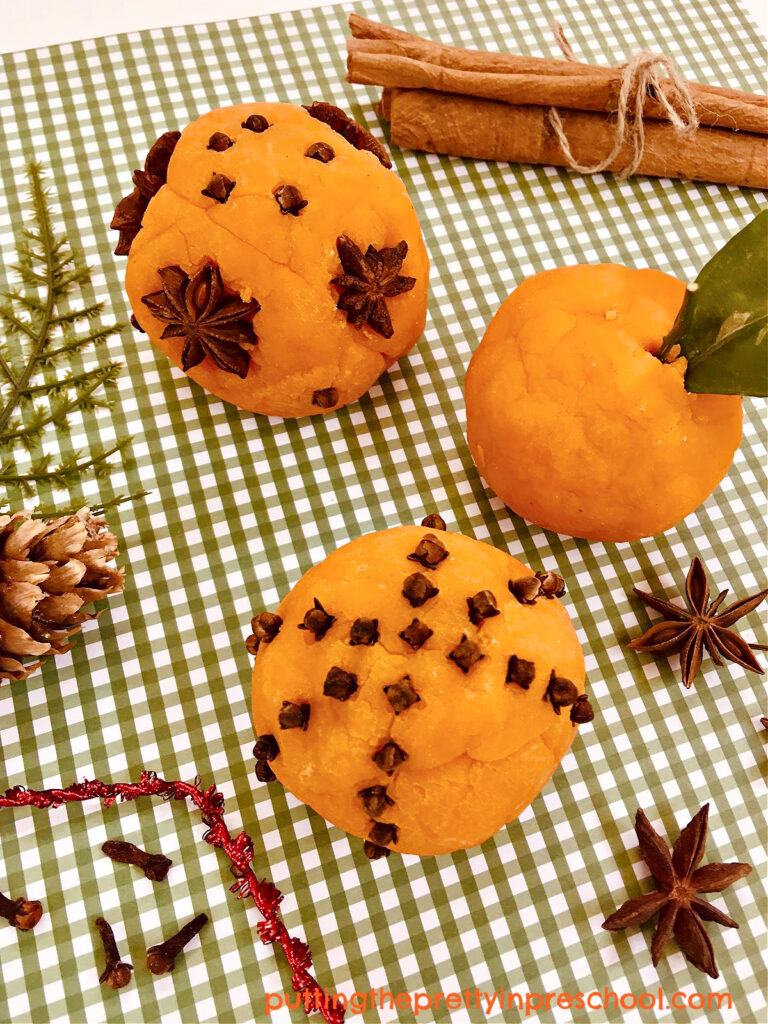 _______
Today, oranges are still popular in Christmas decorating projects. And people are encouraged to eat the nutrient-rich, vitamin C-packed fruit to ward off a cold or flu.
_______
Oranges And The Lunar New Year
Mandarin oranges, preferably with a stem and a few leaves attached, are given as gifts and used in decorating during Lunar New Year celebrations. They symbolize happiness, good luck, wealth, longevity, and fertility.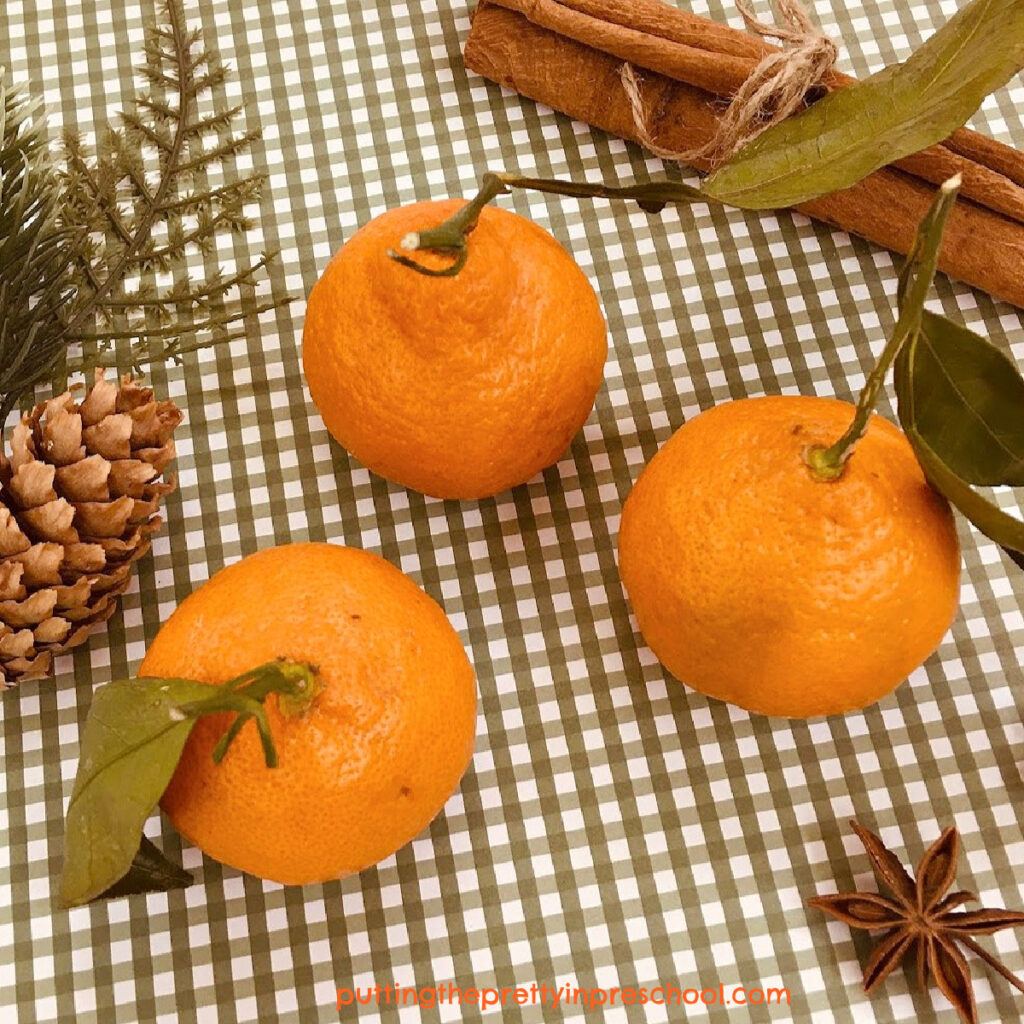 _______
Spices such as star anise, cloves, and cinnamon are native to parts of Asia. And these three spices are also part of Chinese five spice powder, a spice used to season many Asian dishes.
_______
Follow me on Pinterest for more early learning ideas.
_______
Orange-Scented Playdough Recipe
The orange jello in this recipe gives the dough a lovely citrus scent and a bright orange color.
For the playdough, gather the following ingredients:
2 cups flour
1 cup salt
4 teaspoons cream of tartar
2 3 oz / 85-gram packages of orange jello powder
2 cups water
3 tablespoons oil
_______
How To Make Orange-Scented Playdough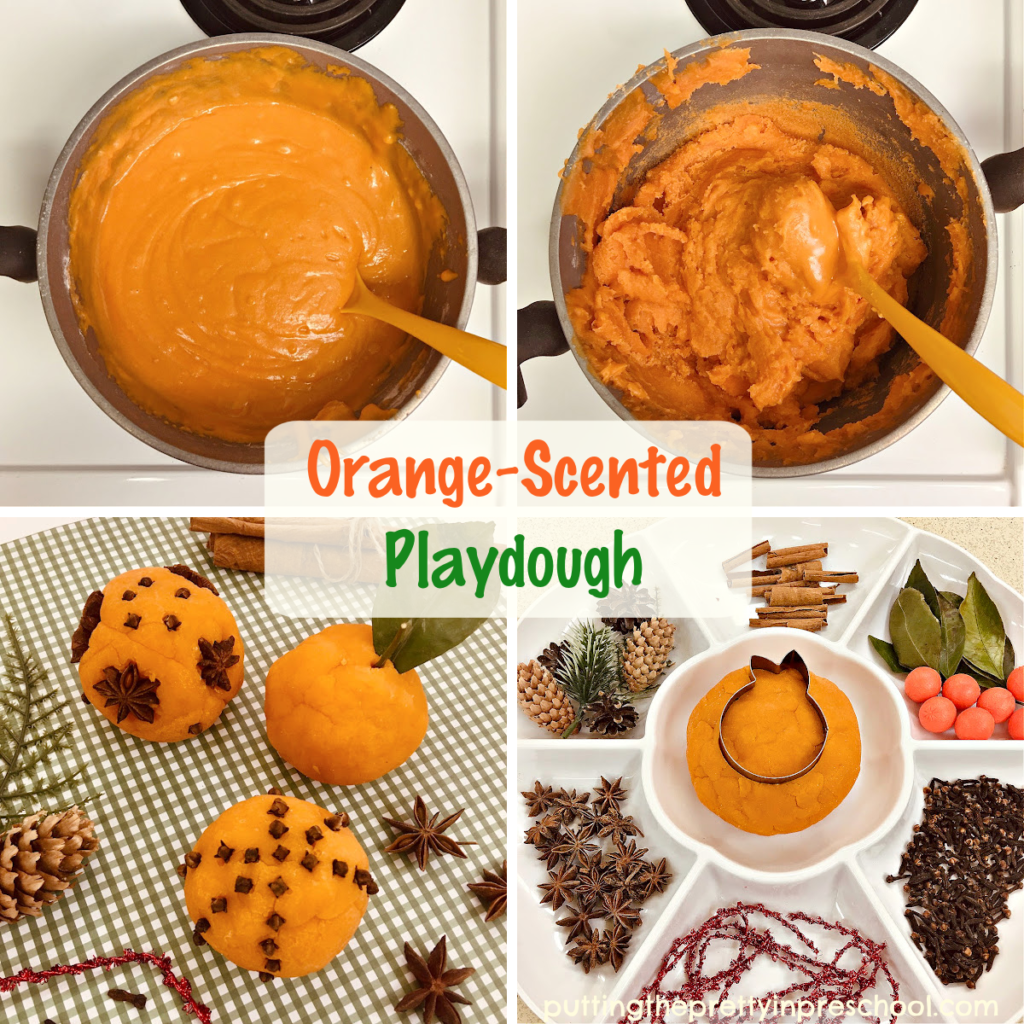 _______
To make this soft, cooked playdough recipe, add the first three ingredients to a sturdy pot and mix them together.
Stir in two 3 oz/85 gram packages of orange jello powder into two cups of boiled water. Then stir in 2 tablespoons oil.
Add the fruity liquid to the dry ingredients and combine.
Heat on the stove on medium heat.
Stirring frequently, cook until the mixture is no longer glossy and the dough forms a ball.
Place the dough on a cutting board.
Knead when cool and add one more tablespoon of oil.
Wrap the playdough in saran wrap and place it in a sealed plastic bag to store it.
_______
The Orange-Scented Playdough Invitation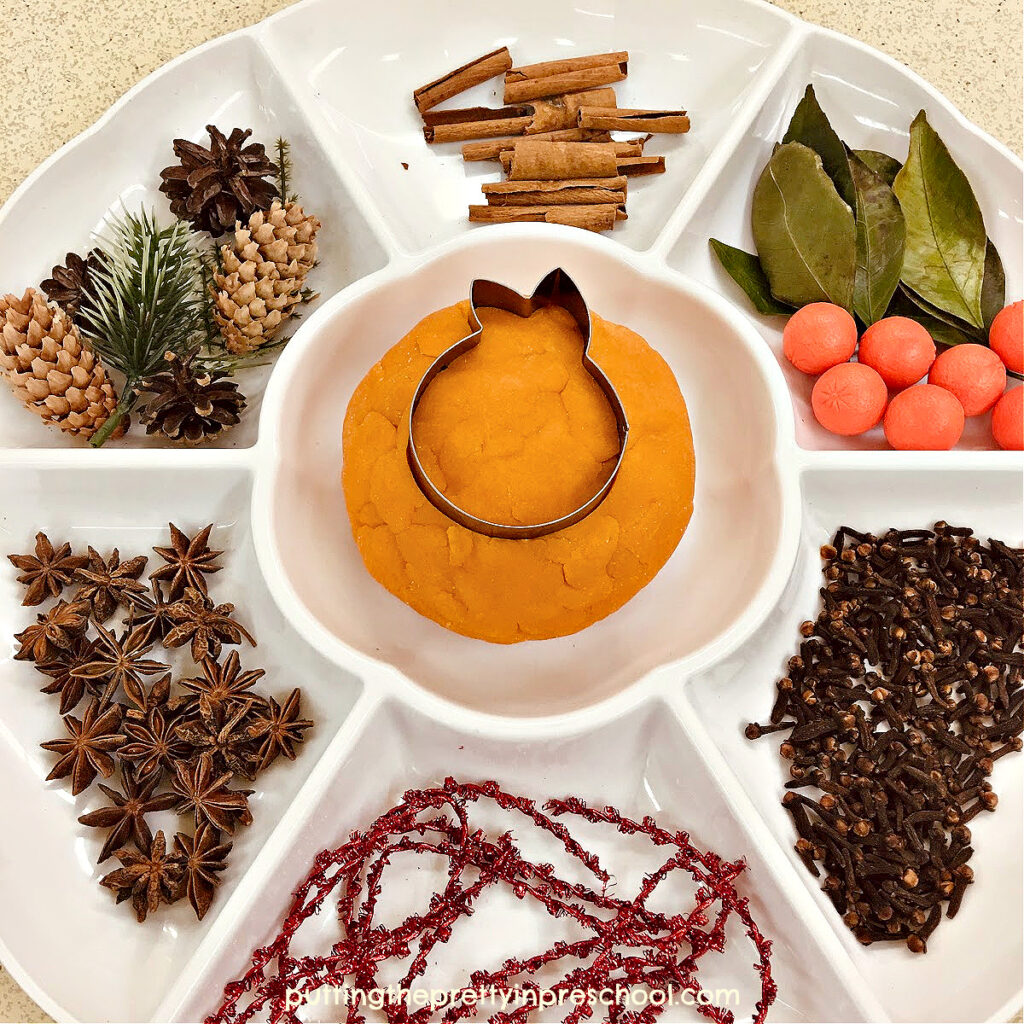 _______
For a traditional vibe, offer the orange playdough on a tray with the following:
cinnamon sticks
star anise pods
whole cloves
ribbon
mandarin orange leaves and stems
tree sprigs
pine cones
The star anise, cinnamon sticks, cloves, and grated orange rind add additional scents for children to experience when using the playdough supplies. They contribute to the cultural vibes of the play invitation.
Tip: Show a few samples of pomanders and Christmas decorations using dried oranges before offering this playdough invitation to inspire creativity. Or display a miniature orange tree and/or oranges with stems and leaves attached for early learners to observe.
_____
Adding Grated Orange Rind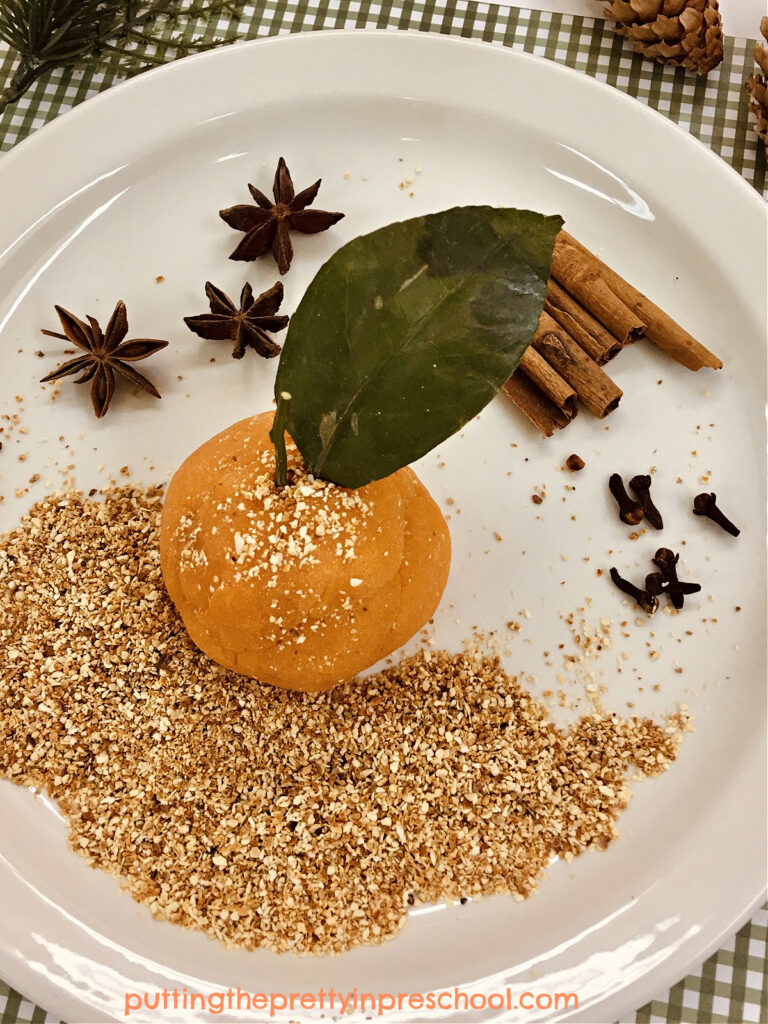 _______
To extend this aromatic playdough experience, sprinkle grated orange rind near each participant's work area. The crumbled, scented rind gives early learners a chance to incorporate a new texture into their creations.
_______
Orange-Scented Playdough Invitation Benefits
This orange-scented playdough invitation has many educational benefits. When using the playdough and accompanying supplies, early learners develop finger strength, important for being able to hold a pencil and use scissors. And eye-hand coordination is enhanced through making playdough creations.
_______
Below are suggestions to extend the learning potential of this playdough experience:
Language Development
Label spices and discuss their colors and shapes:
Highlight that star anise pods look like stars, whole cloves are shaped like nails, and cinnamon sticks look like tiny rolled logs.
Smell and describe the following scents:
the strong, sweet, licorice smell of star anise.
the fragrant, sweet smell of cinnamon sticks.
the strong, powerful smell of whole cloves.
Math Skills
Count cloves and star anise pods.
Count the points on star anise. There are usually six to eight points.
Discuss pairs: In parts of Asia, a pair of oranges is given to newlywed couples as a symbol of luck and fertility.
Creativity
Design oranges and pomanders from playdough and spices.
Incorporate natural materials in playdough designs.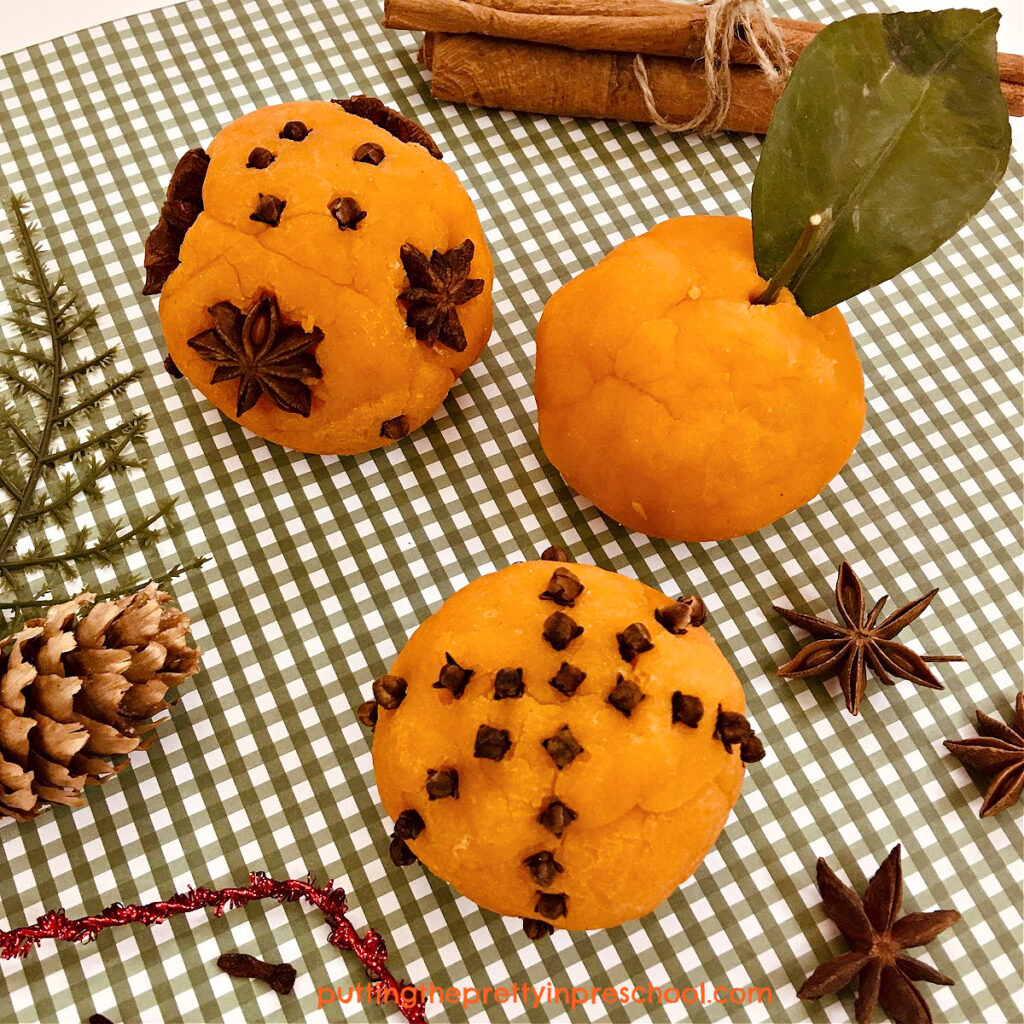 _______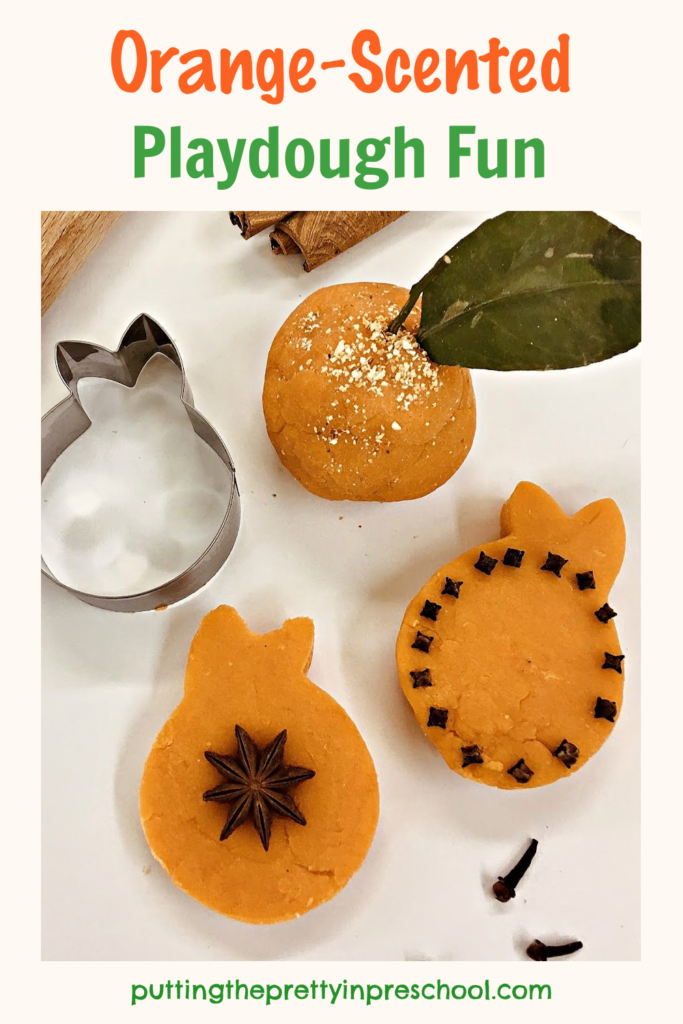 _______
Related:
_______
[Read more…]

about Orange-Scented Playdough Invitation