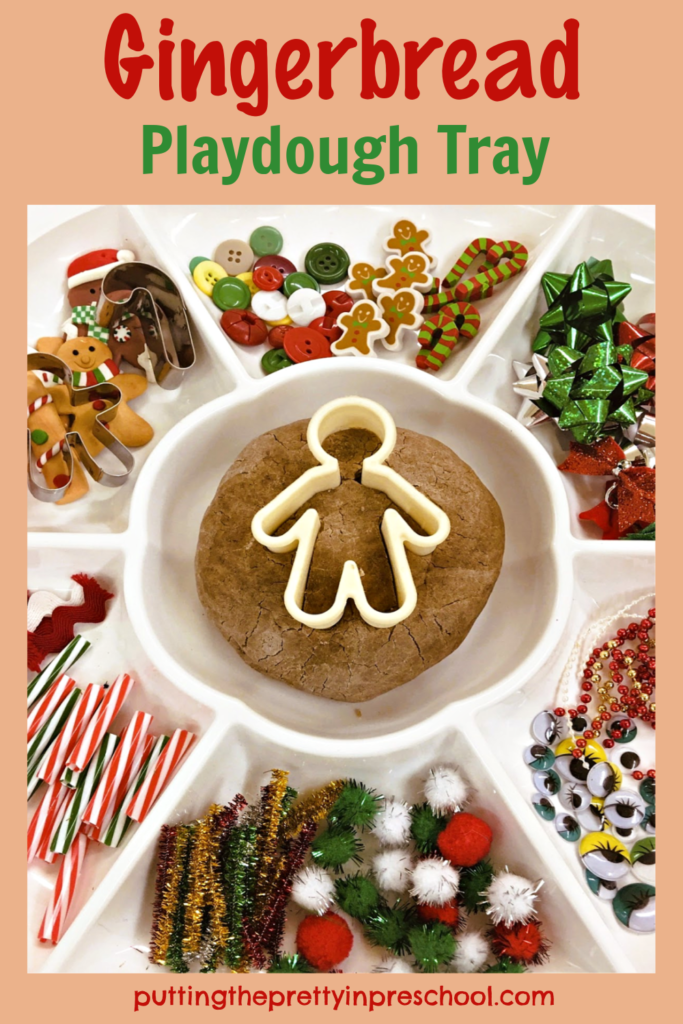 _______
Christmas playdough recipes are all about the smells, and this gingerbread playdough is no exception. The fragrant recipe is easy to make and doesn't require cooking or using boiling water. This makes it perfect for early learners to help make, and they can participate from start to finish.
_______
Follow me on Pinterest for more early learning ideas.
_______
The Playdough Ingredients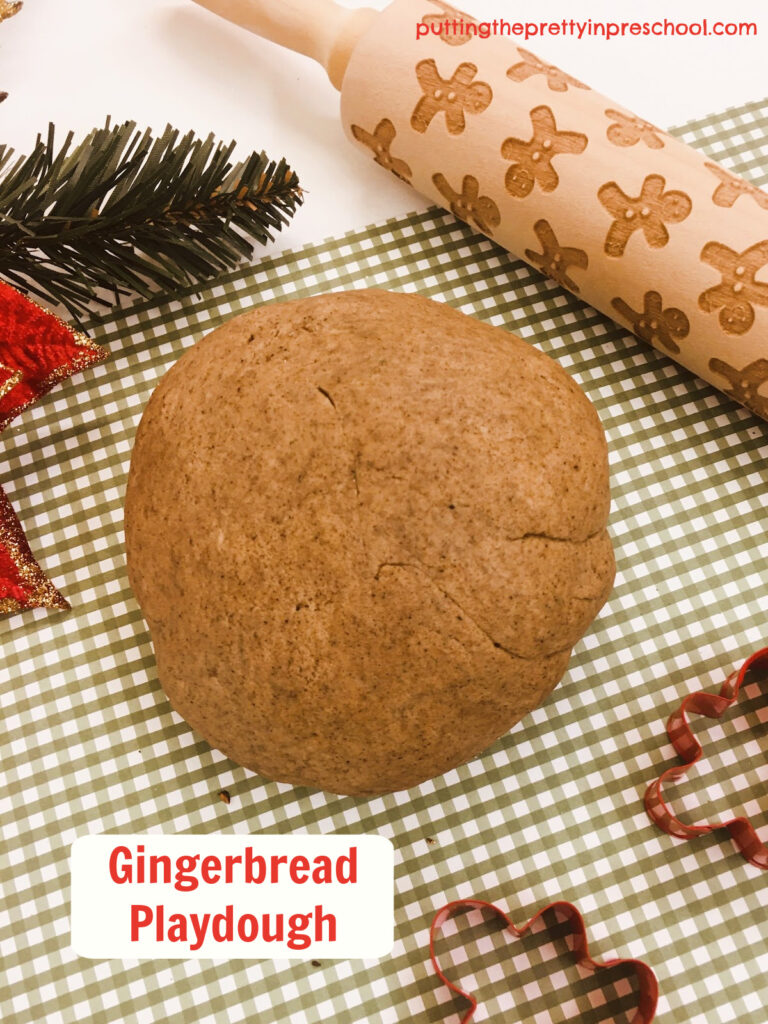 _______
Gather the following for this homemade gingerbread-scented dough:
1 cup flour
½ cup salt
1 ½ teaspoon ground ginger
1 ½ teaspoon ground cinnamon
1 teaspoon ground cloves
1/2 teaspoon nutmeg
1 tablespoon vegetable oil
½ cup water
_______
How To Make Gingerbread Playdough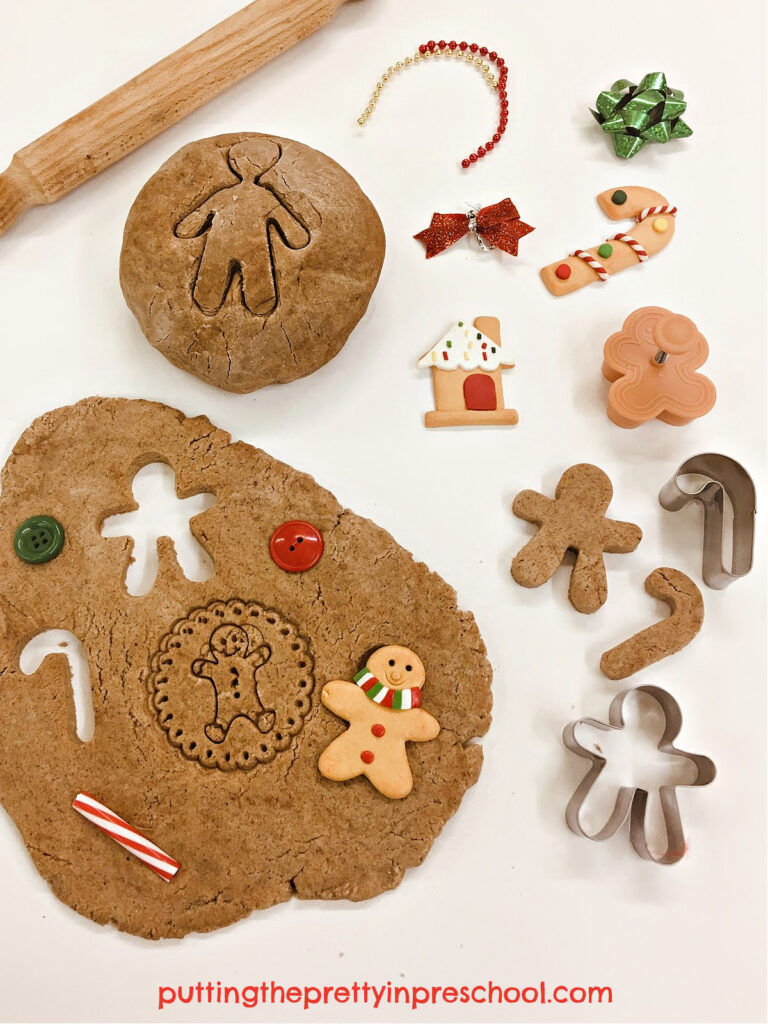 _______
Measure all of the above ingredients in a bowl. Invite early learners to help.
Mix the spicy mixture into a dough, and knead it thoroughly. The kneading helps strengthen little helpers' hand and finger muscles.
Four spices in addition to salt are included in the dough. Allowing your little helpers to smell each one is a rich sensory opportunity.
The spices add color to this all-natural playdough, so no additional color is needed.
Another plus for this homemade playdough is that it can be used in a play invitation as soon as it has been made. It doesn't need cool down time like a cooked playdough or recipe that uses boiling water would.
This recipe can easily be doubled or tripled to be enough for a group of children.
_______
Gingerbread Playdough Invitation
After helping make the playdough, little learners will love using it to mold and decorate gingerbread houses and people. Offer loose parts in a party tray for a spicy playdough invitation.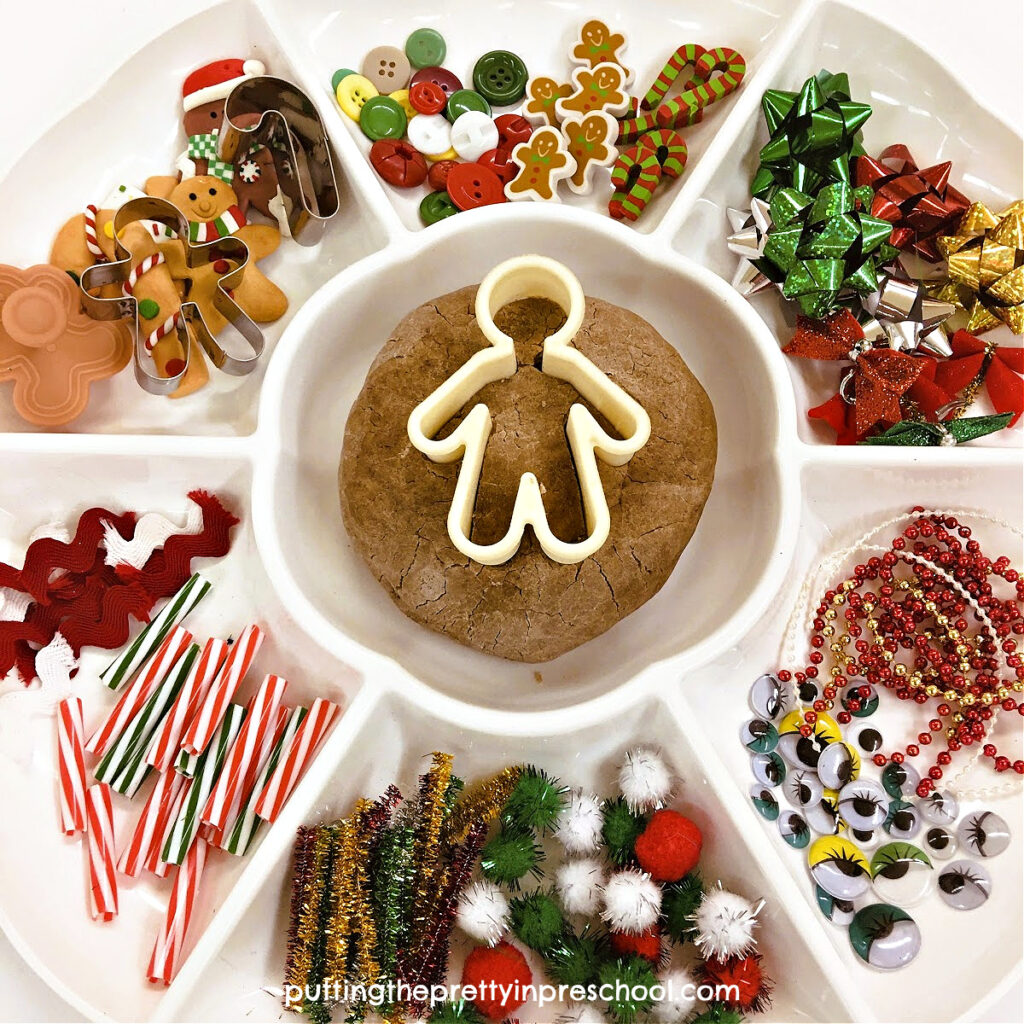 _______
The loose parts in the tray above are:
gingerbread house and people cookie cutters
gingerbread ornaments
cut sparkly pipe cleaners and pompoms
cut rick rack and straws
buttons
candy cane and gingerbread erasers
bows
bead garland
wiggly eyes
_______
In this next tray, gingerbread house shapes, felt gingerbread people, beads, and rubber peppermint lollipops are included in the mix.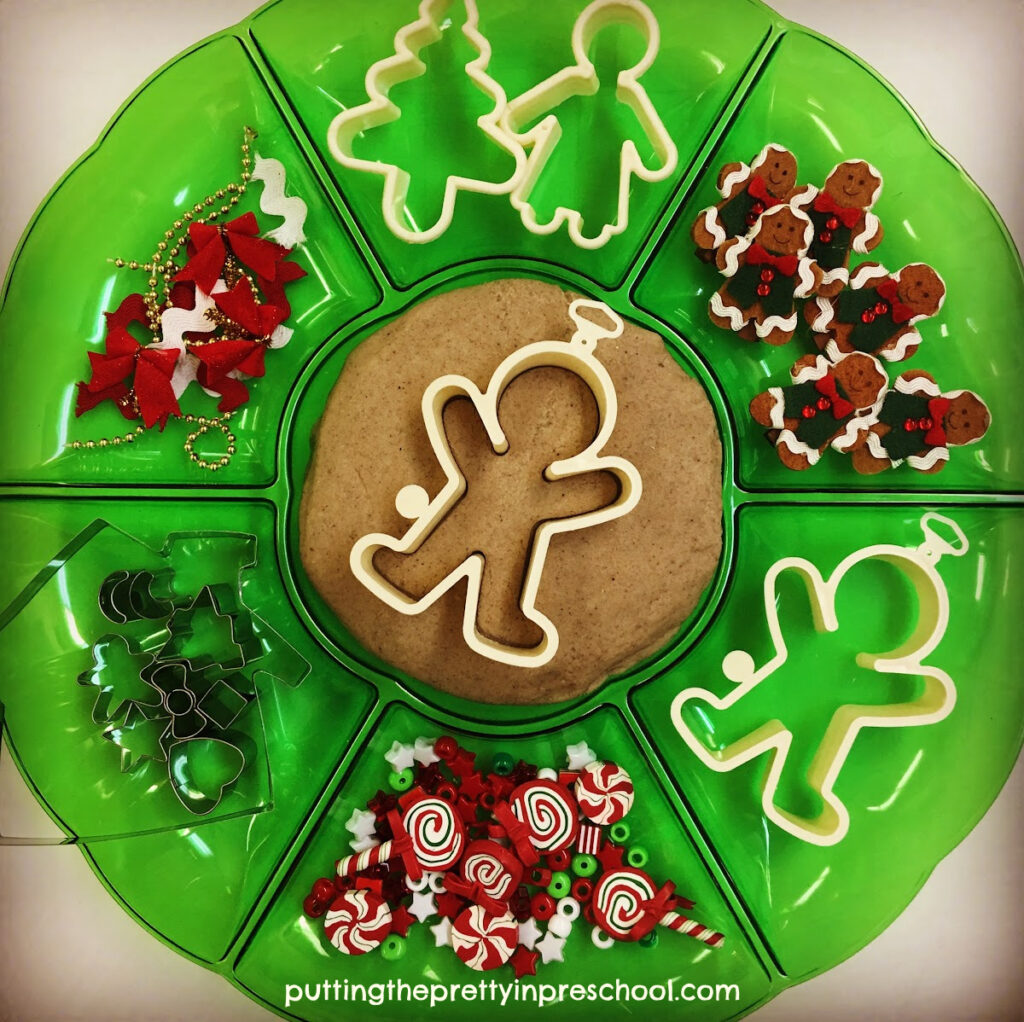 _______
Gingerbread Playdough Invitation Benefits
This heavenly-scented playdough invitation offers many benefits:
Exercising creativity by decorating pretend cookies.
Language development by using playdough cutouts to retell gingerbread stories or develop new ones.
Gaining hand and finger strength by rolling, pressing, and kneading dough, and decorating it with loose parts.
Role-playing working in a pretend bakery and baking cookies in a play oven.
Tip: A small box with a rack placed inside makes an easy DIY oven for pretend play.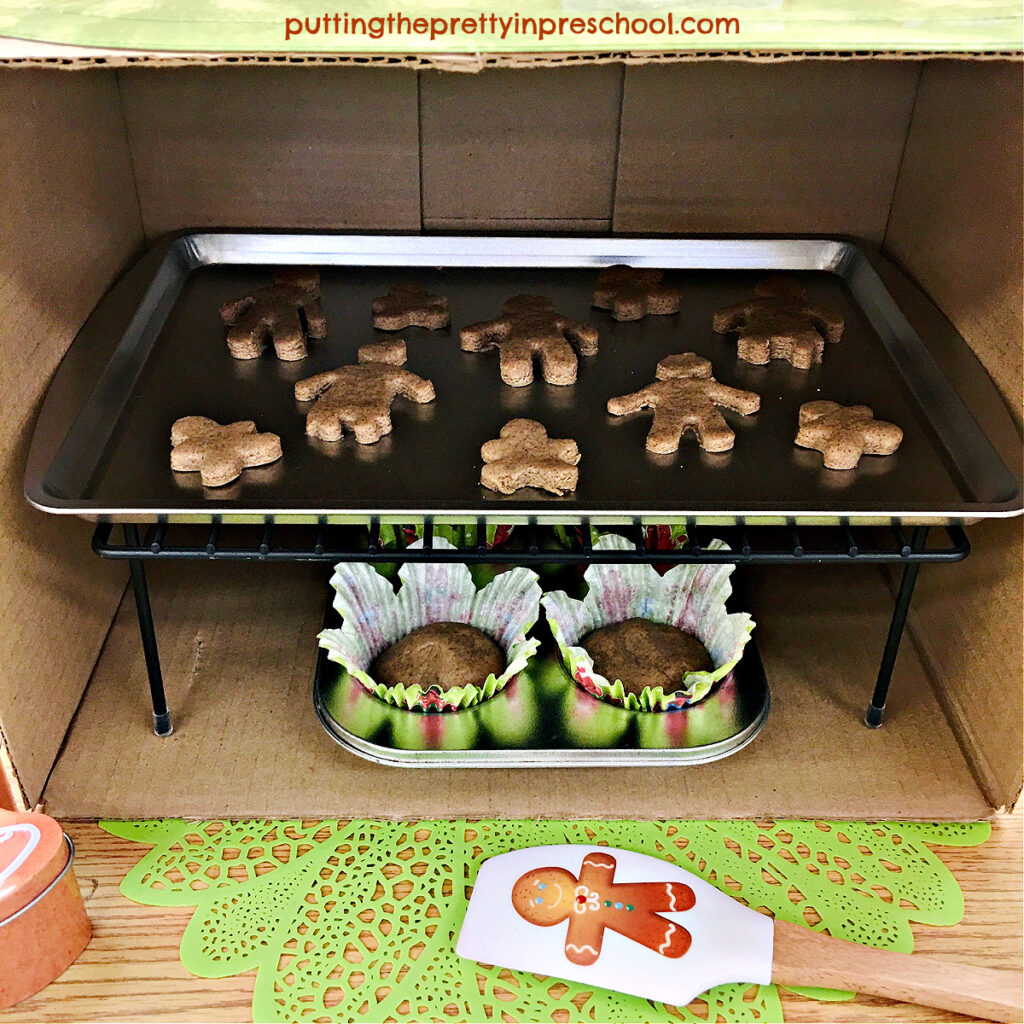 _______
How To Store Gingerbread Playdough
This amazing gingerbread-scented dough is not sticky, rolls out just fine, and works well with cookie cutters.
To store it, wrap it in saran wrap and place it in an airtight container. Doing this will keep it nice and moist. To my delight, the playdough is even easier to work with when you pull it out for additional play.
_______
More Christmas Playdough Recipes:
_______
_______
You may also like:
Plaid-Themed Christmas Rice Bin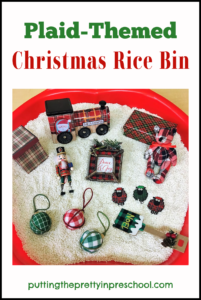 _______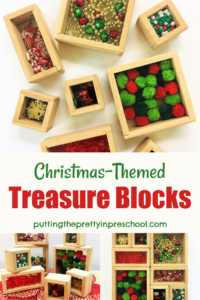 _______
Don't forget to share this post on Pinterest or your favorite social media channel. Sharing is caring!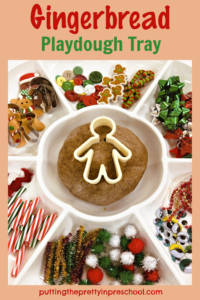 _______
© Annette Kaminsky   December 12, 2022
_______
Follow me on social media for more ideas: