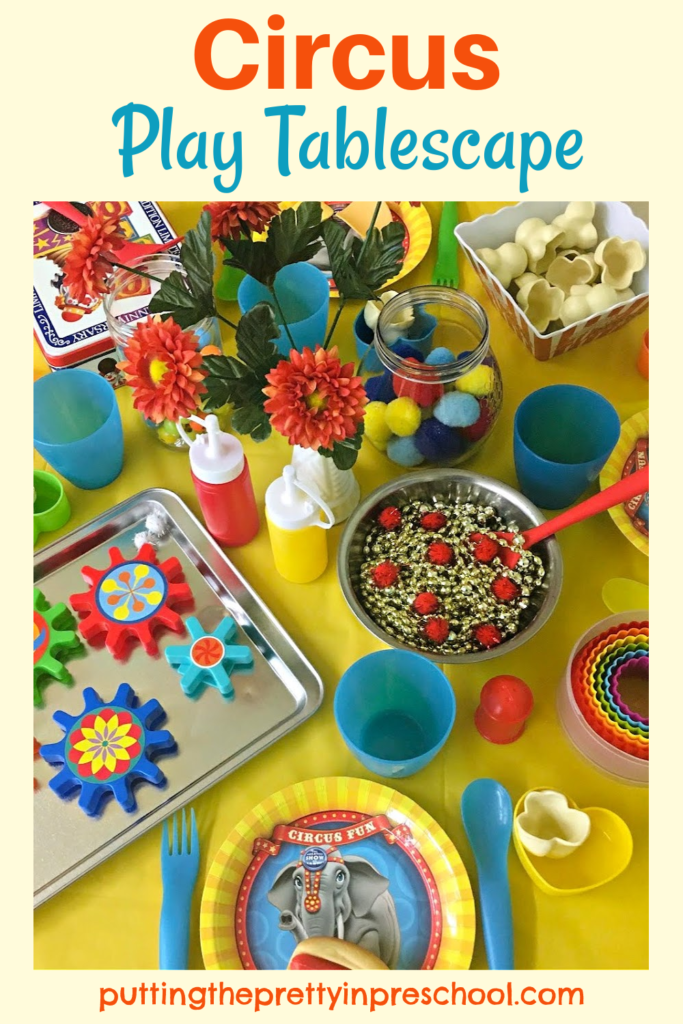 _______
It's all about the food in this circus pretend play tablescape that is sure to be popular with your little learners. And there is plenty of colorful loose parts to spark the imagination.
_______
Circus-Themed Tablescape Supplies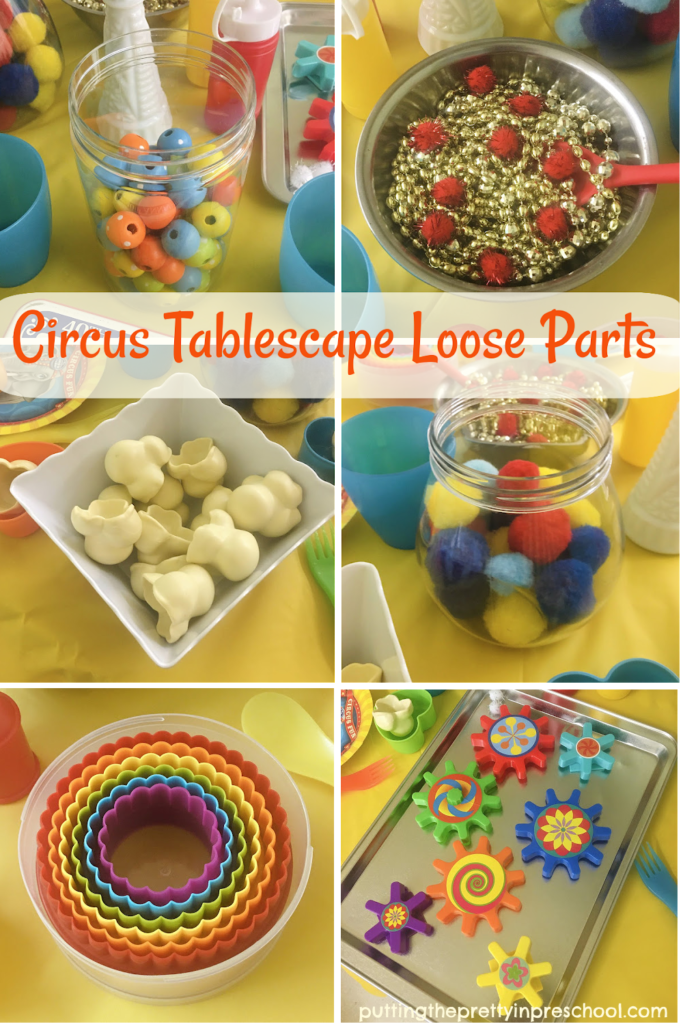 _______
Bright, colorful décor is a good fit for a circus play tablescape. Here are the featured supplies:
popcorn play food set
play food hot dog set
play food chips
cookie pan
metal bowl
clear storage containers
clown-themed cookie tin
heart-shaped mini storage containers
circus-themed party plates
play cutlery, cups, and serving utensils
flowers in a vase
container with blue, red, and yellow pompoms
nesting cookie cutters
magnetic toy spinners
gold bead garland
painted wooden beads
yellow tablecloth
_______
The Circus Pretend Play Tablescape
In any theme, having coordinating accessories in a dramatic play center facilitates interest in the topics introduced, and allows for many learning through play opportunities.
Circus party plates guide the color scheme for this tablescape. The hues of the other supplies chosen coordinate with the plates.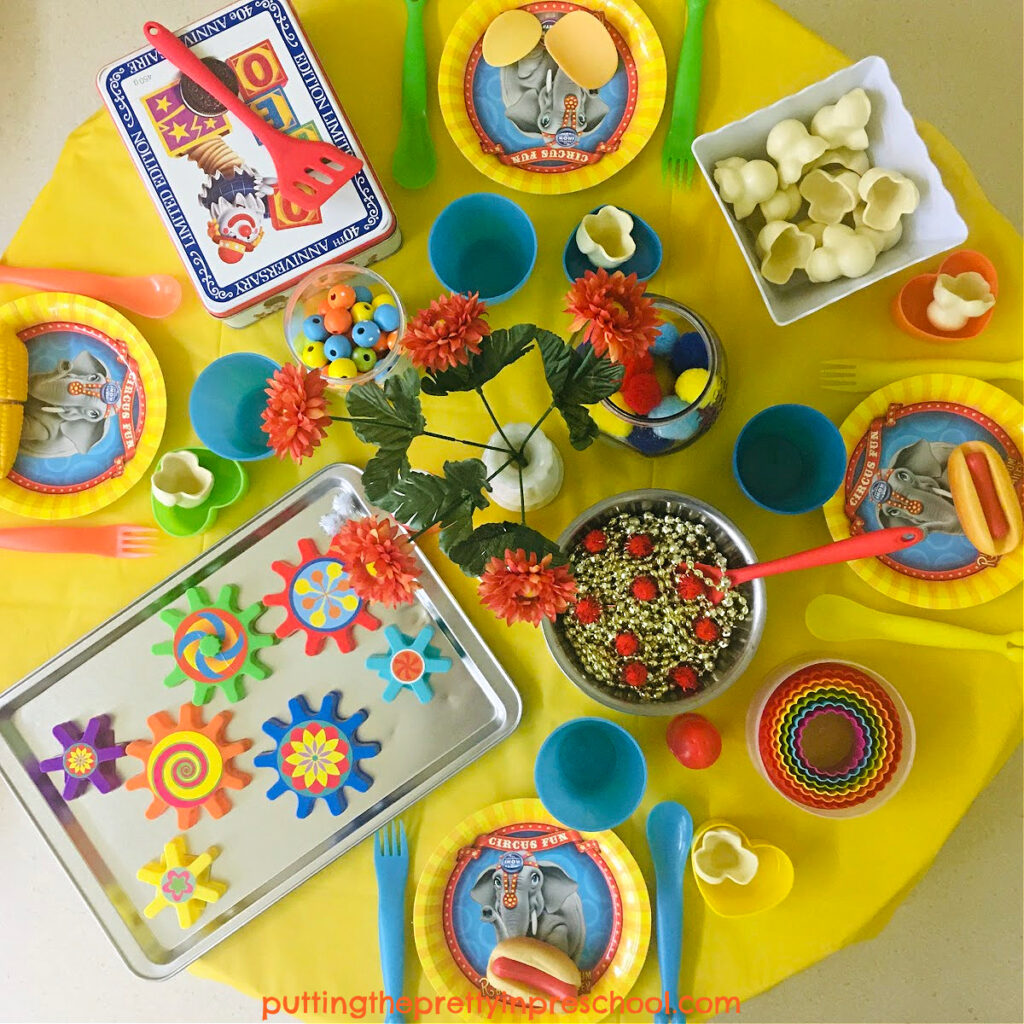 _______
Note: Animals are not used in many circus shows anymore, something I highly support. These plates had been in my circus theme box for many years, so I decided to use them for this reason.
Hot dog and popcorn play sets, as well as chips are some of the play food choices on the table. Bead garland cut into strips makes good pretend spaghetti and red pompoms serve as the meatballs.
Magnetic toy spinners bring a whole lotta color and make great pretend cookies or pancakes.
Other multicolored loose parts are nesting cookie cutters, heart-shaped storage containers, painted wooden beads, and pompoms.
A clown-themed cookie tin, another prop I had saved for a long time, adds an element of fun to the table décor.
A sprig of orange artificial flowers set in a vase rounds out the cheery supplies on the tablescape.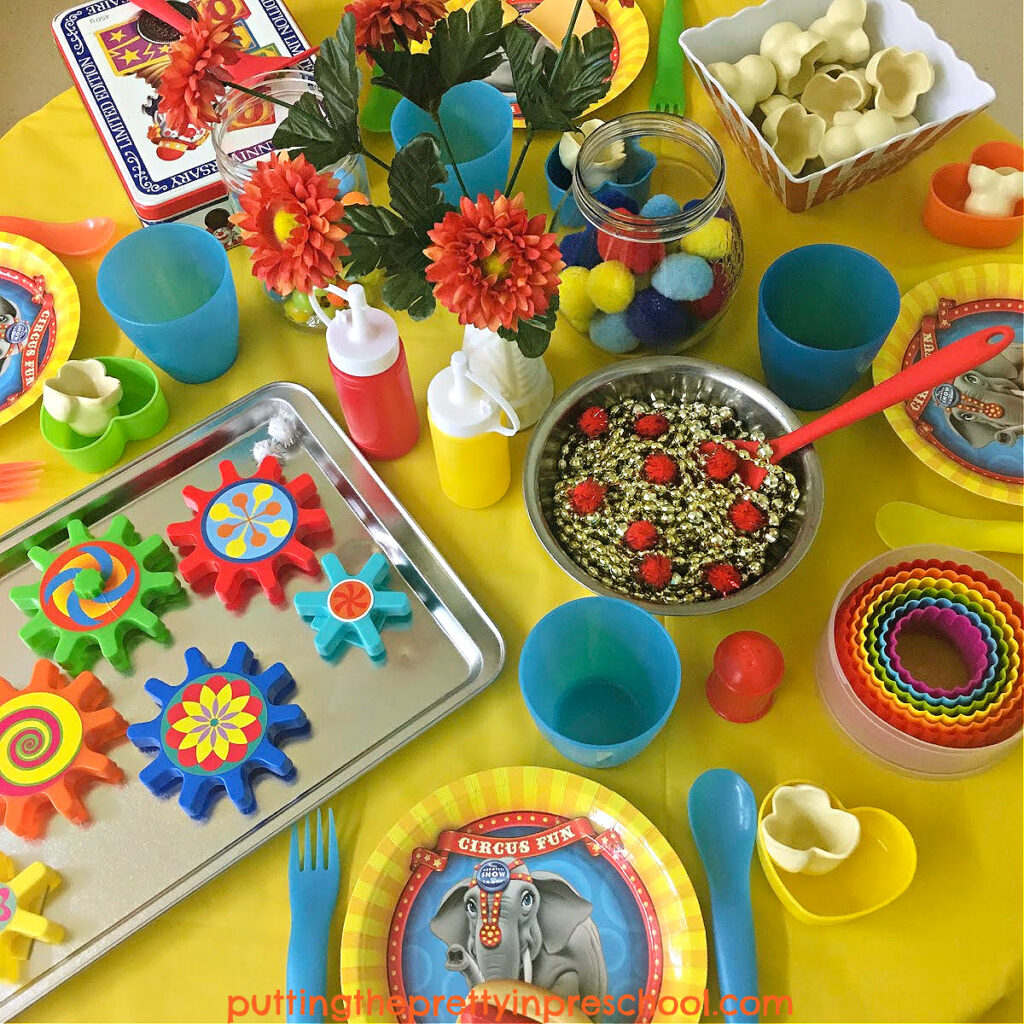 _______
Variations Of This Circus Pretend Play Tablescape
Many of the supplies in this tablescape can be used in a circus food stand, another dramatic play center little learners would absolutely love.
The supplies can be set in appliances and on shelves in a pretend play kitchen center instead of being arranged in a tablescape display.
And … even adding just a few of the circus dramatic play supplies listed would add interest to an activity center and spark new play ideas.
What would you add to this circus pretend play tablescape? Share in a comment below.
_______
Follow me on Pinterest for more early learning ideas.
_______
Related:
Pumpkin Tablescape Pretend Play
_______
[Read more…]

about Circus Pretend Play Tablescape