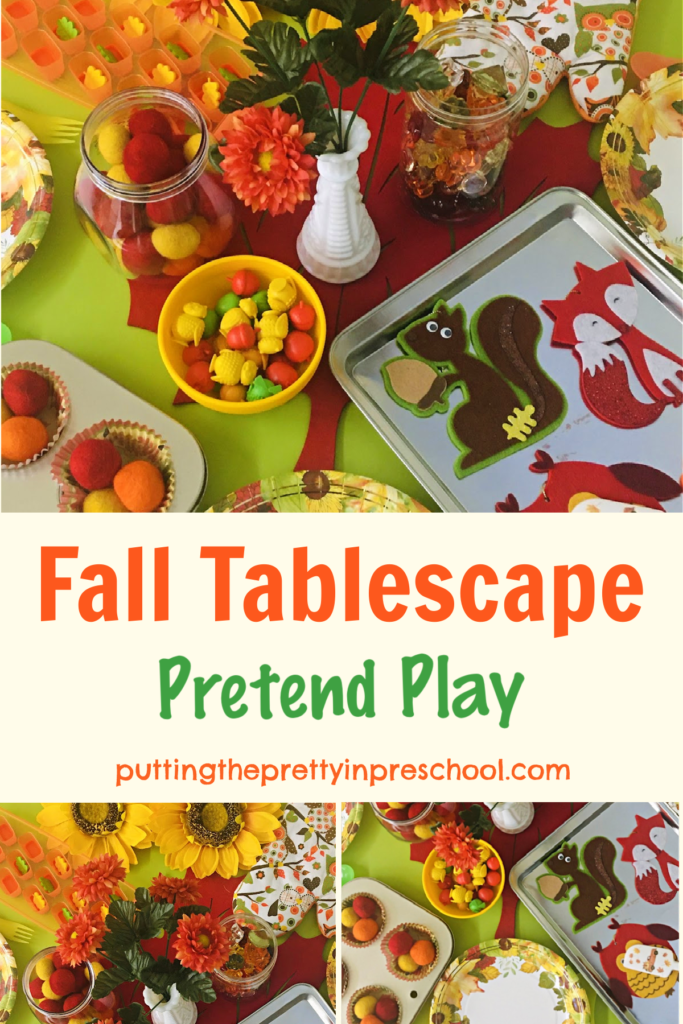 _______
Living in Alberta, Canada, it seems a little late to feature a fall activity post. The leaves have almost completely blown off the trees, by fierce winds that seem determined to knock every last one to the ground. But although fall has nearly left us, we are not ready to leave it behind. So here's one last colorful autumn post…an inviting fall tablescape pretend play center.
_______
Follow me on Pinterest for more early learning ideas.
_______
Supplies Collected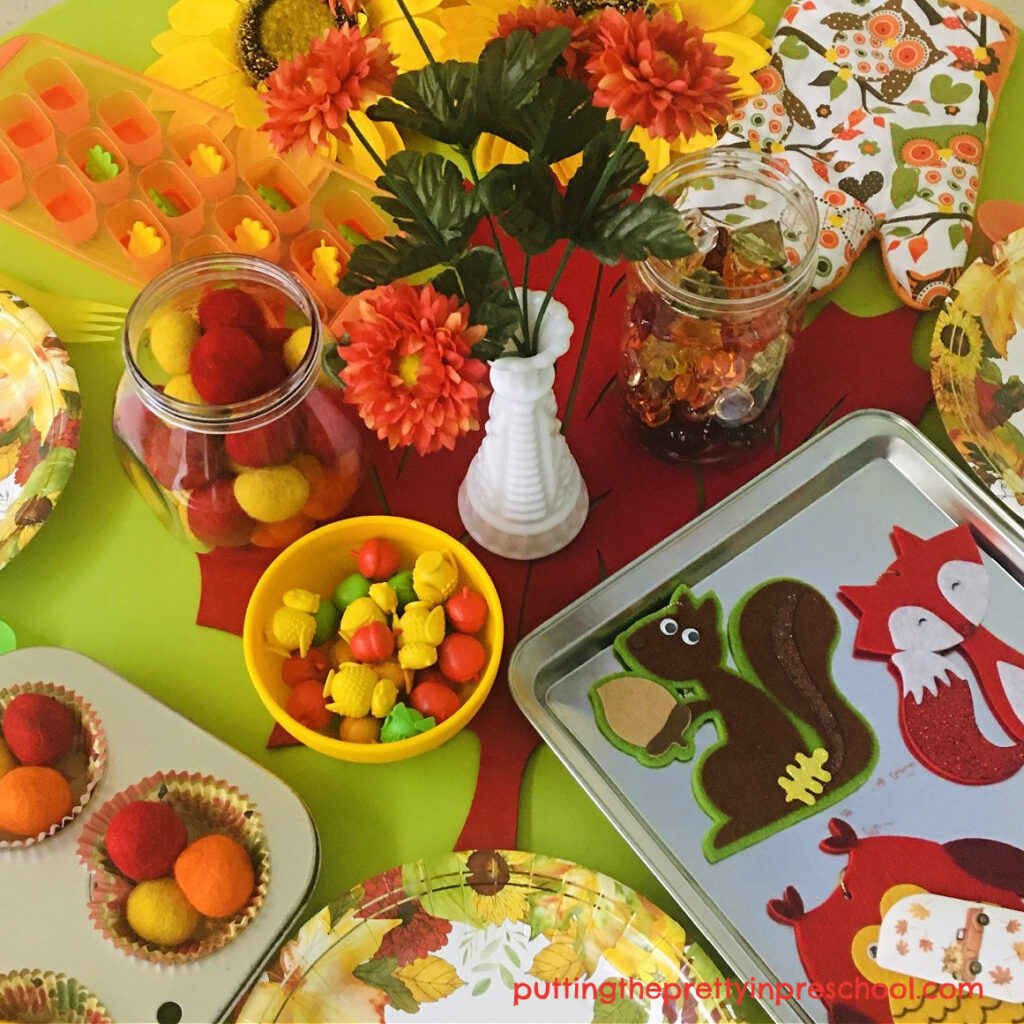 _______
Fall colors, leaves, and animals feature prominently in this list of gathered supplies:
leaf-themed paper plates
green, yellow, and orange forks and spoons
fall cupcake liners
orange ice cube tray
bowl with owl, leaf, acorn, and apple game pieces
jar with yellow, orange and red felt balls
container with leaf, acorn, pumpkin, and diamond gems
felt animal decorations
orange artificial flower sprig
artificial sunflower heads
large felt maple leaf
muffin pan
cookie sheet
potholder and spatula
_______
The Fall Tablescape Pretend Play Setup
The list of supplies seems long, but this play tablescape is quick and easy to set up. I started out by setting out the red maple leaf and vase with flowers. Next, I added the plates and cutlery. Then I added the rest of the supplies.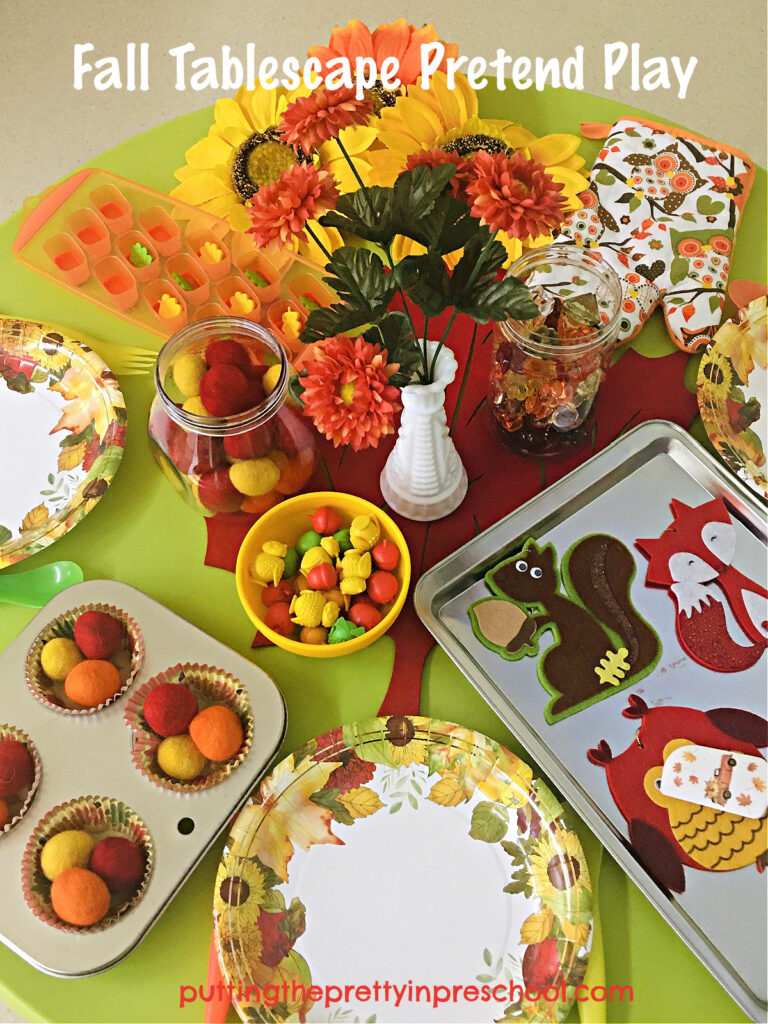 _______
Loose parts such as gems, felt balls, and game pieces allow children to use their imagination. Little learners love incorporating them in pretend play. For instance, wouldn't the felt animal decorations make super fancy cookies?
_______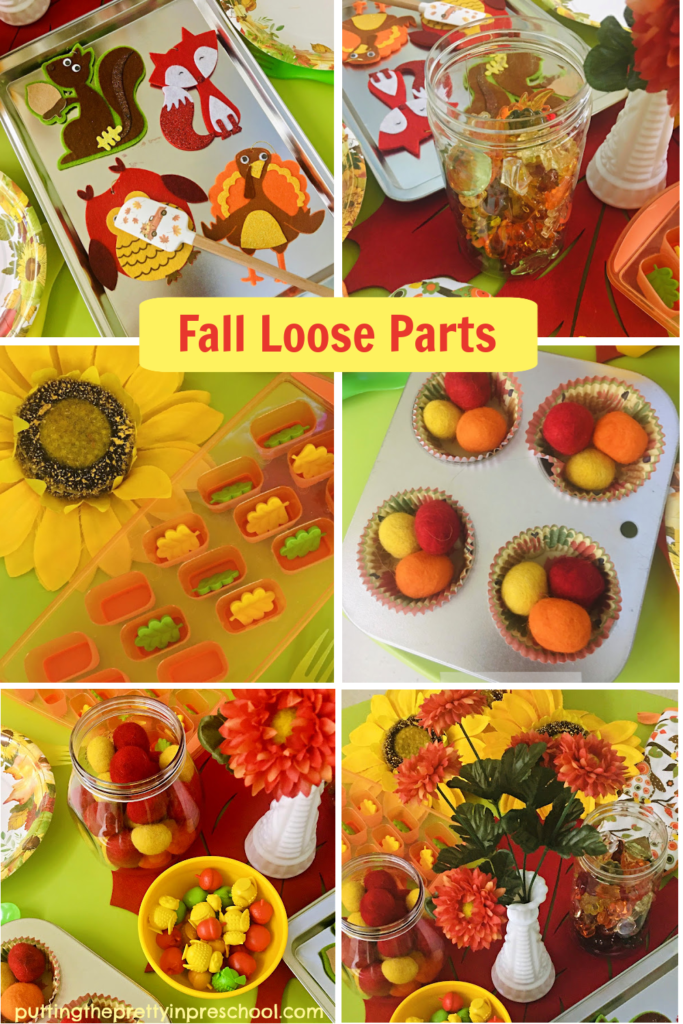 _______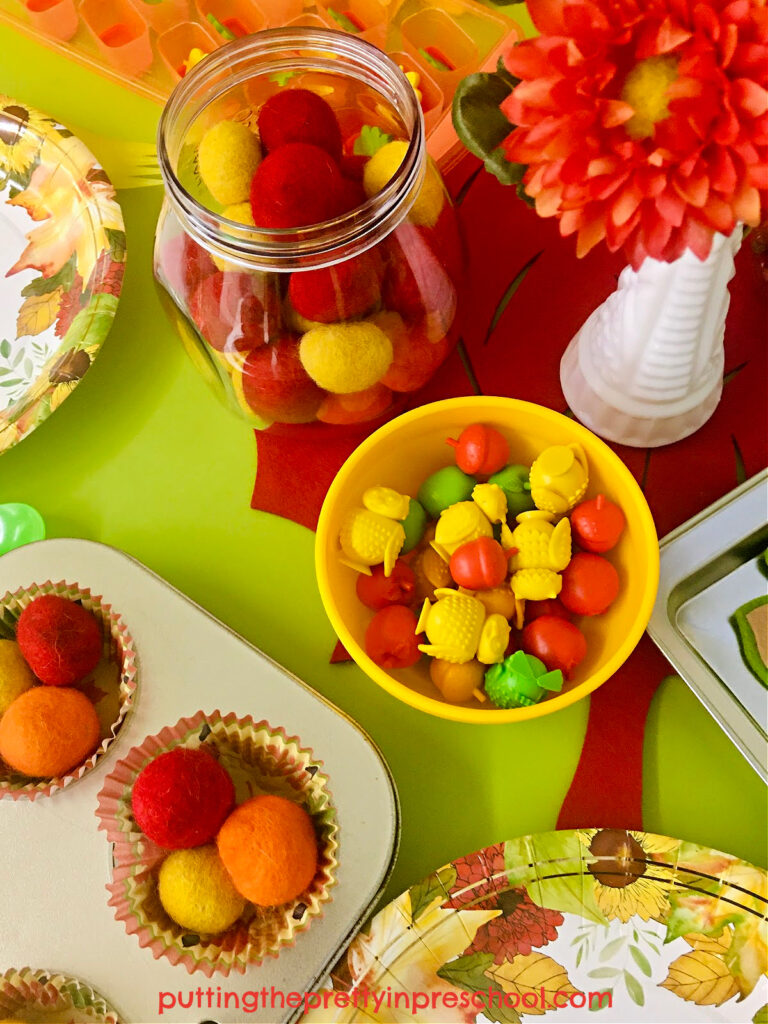 _______
Can you think of anything I've forgotten to set out on the table? It's fall-themed cups! I didn't realize they were missing until after I had taken all the pictures.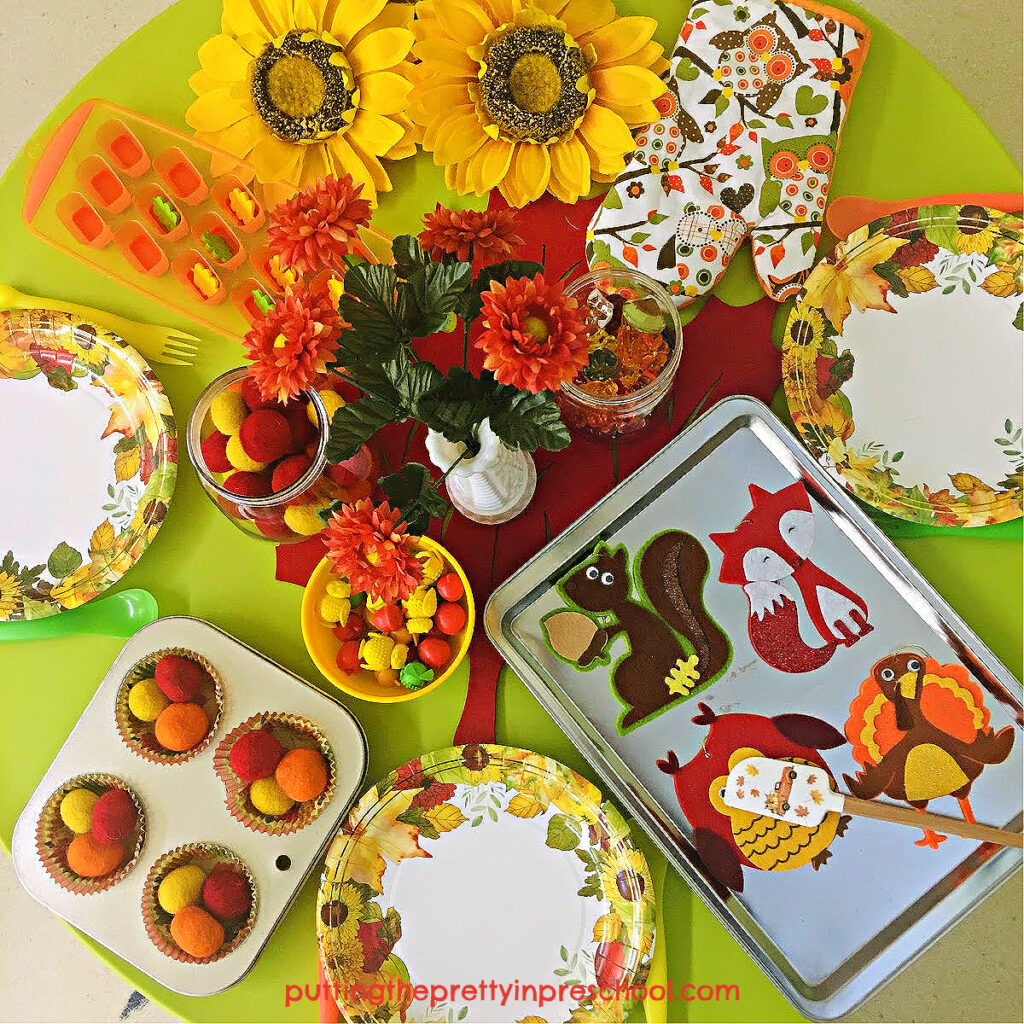 _______
Little learners relish playing with seasonal accessories. And it's especially fun to see their excited response the first day they notice a new play kitchen theme.
_______
View this Fall Play Tablescape as a video.
_______
Related: Kids' Winter Wonderland Tablescape
_______
_______
You may also like:
Scissor Skill Gingerbread Man Craft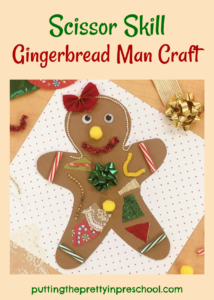 _______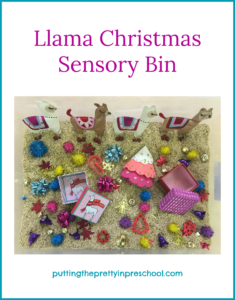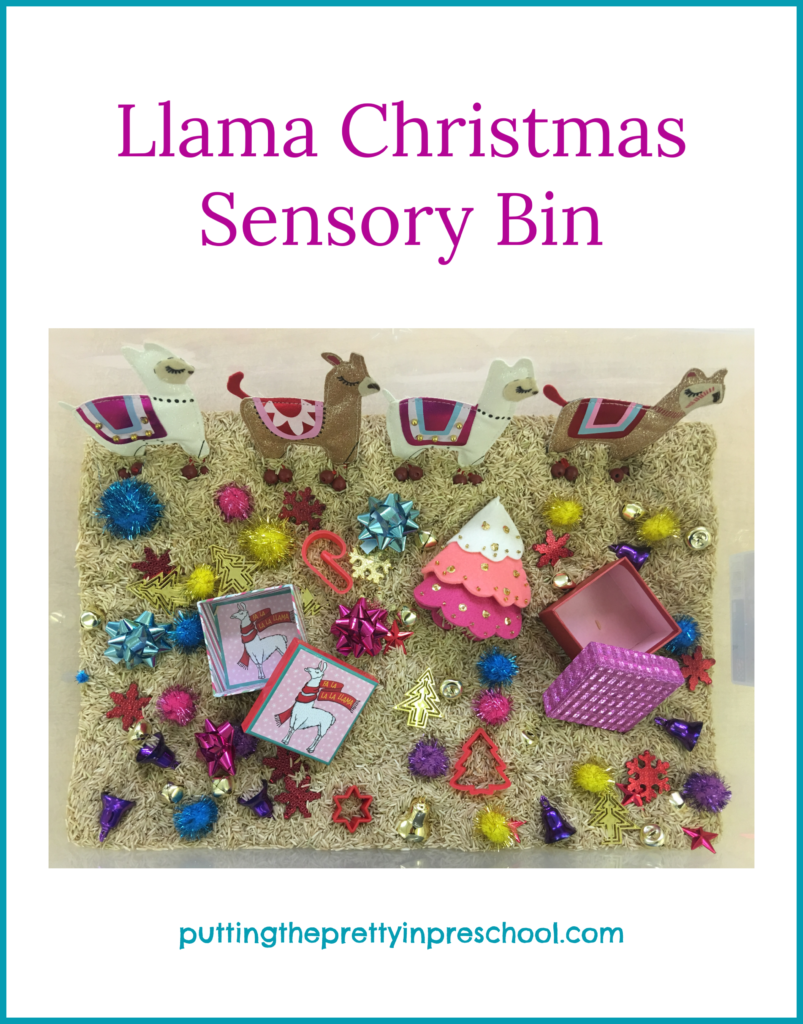 _______
Don't forget to share this post on Pinterest or your favorite social media channel. Sharing is caring!
_______
© Annette Kaminsky October 30. 2022
_______
Follow me on social media for more ideas: