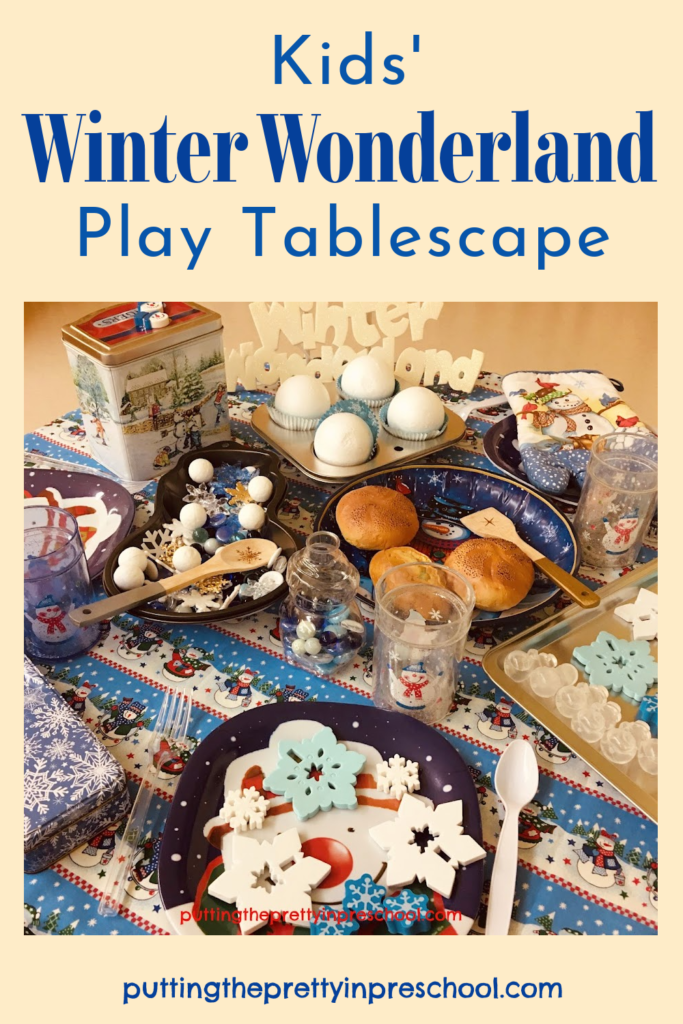 _______
Catching fluttery snowflakes on mittens, building a humungous snowman, and having a splattering snowball fight are all activities little learners gleefully participate in outside. This inviting kids' winter wonderland tablescape takes snowflake, snowmen, and snowball activities indoors for further snow-themed exploration.
_______
Follow me on Pinterest for more early learning ideas.
_______
Kids' Winter Wonderland Tablescape Supplies
_____
For this cozy pretend play setup, I feature snowmen, snowball, and snowflake accessories from the supplies I have available. Craft bits and other loose parts feature prominently in the resulting collection.
Items in the winter tablescape:
snowman-themed tablecloth, dinner plates, cups, baking dish, oven mitts, cookie tin, and bottle
snowflake erasers
foam snowflakes
snowflakes cut from garland
blue and clear gem snowflakes
snowflake serving utensils, cupcake liners, and tin
large and small styrofoam balls
round winter-themed gems
cookie sheet
muffin tin
plastic forks and spoons
play food buns
Winter Wonderland sign
_______
Setting Up The Tablescape
Changing up the decor in our play kitchen is one of my favorite things to do. And little learners always eagerly dive into each new setup.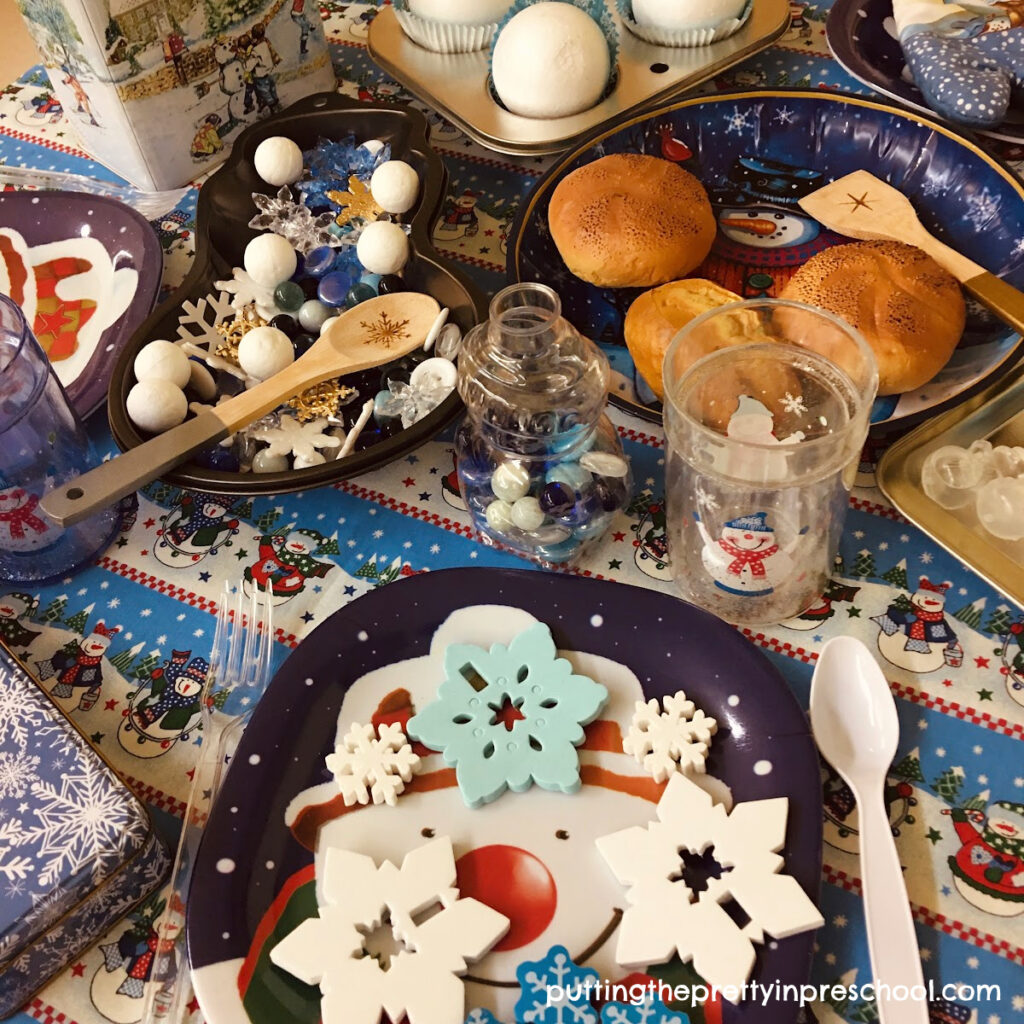 _______
For this kids' winter wonderland tablescape, a fabric snowman-themed tablecloth is a base.
The buns are the only real play food on the table.
A variety of loose parts add a dose of glam, and little learners can imagine them to be any number of foods. For instance, the foam snowflakes make good cookies to bake in the play oven. The large foam craft balls can be reimagined as snowball cookies.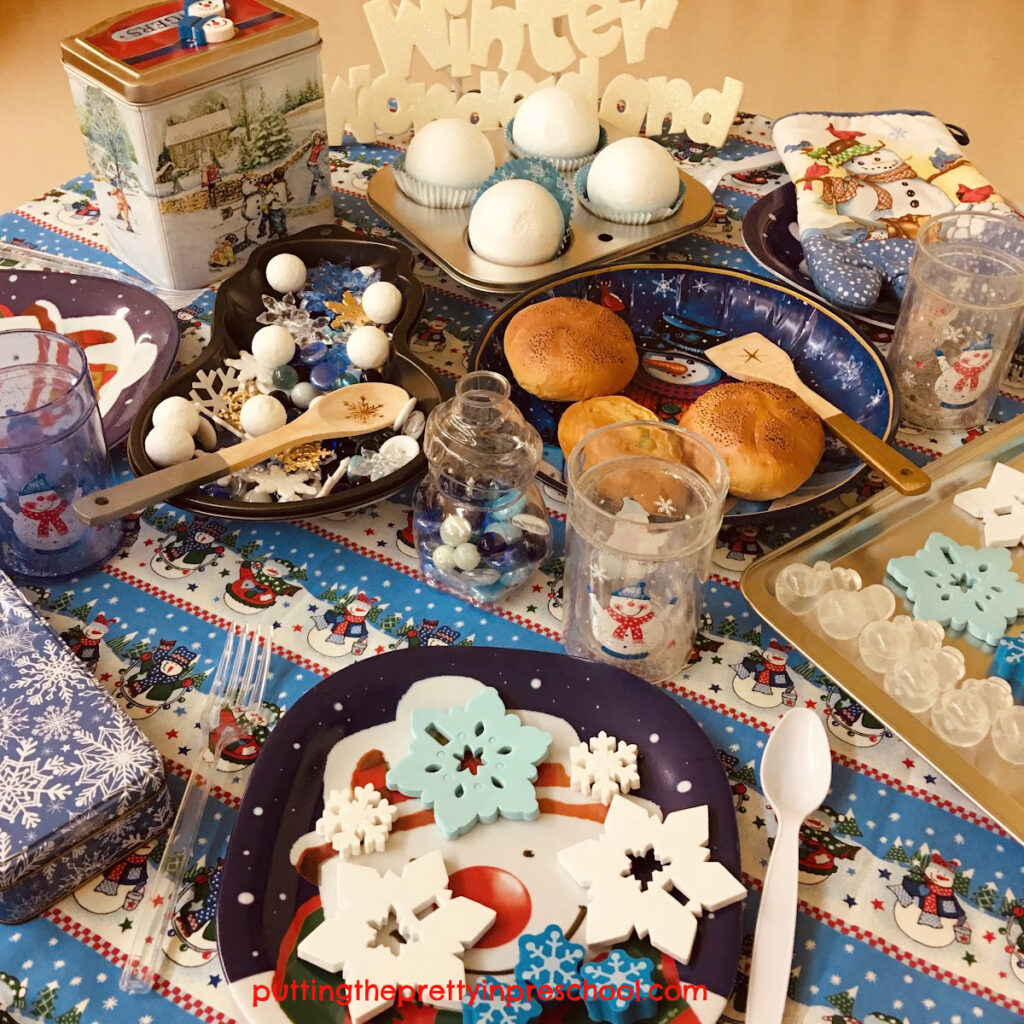 _______
And the smaller loose parts displayed in the snowman baking tin and scattered around the table could be candy.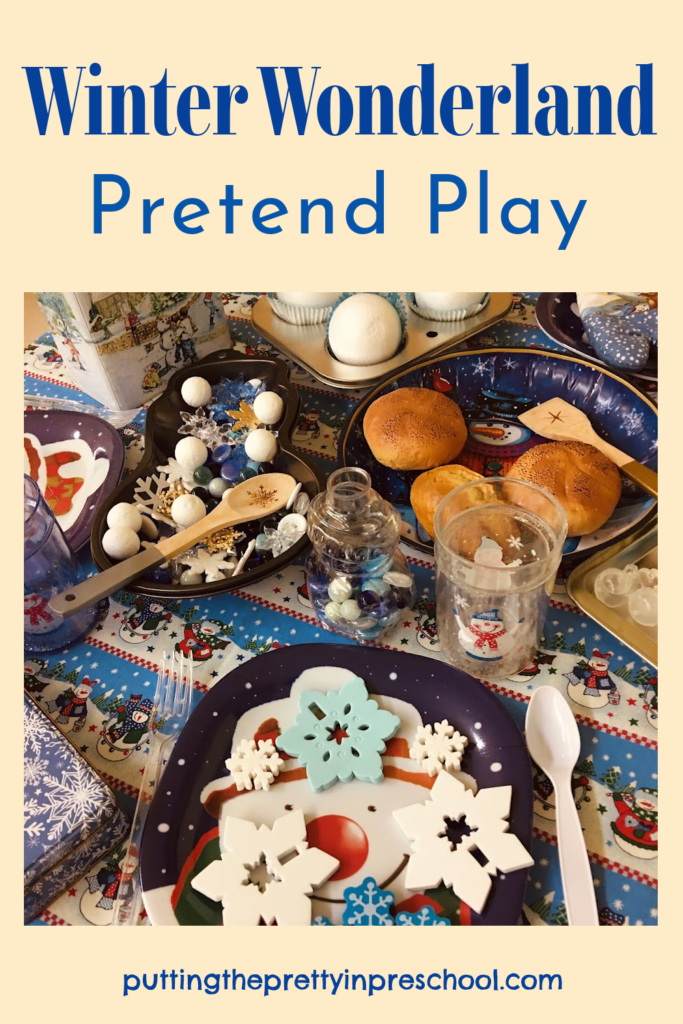 _______
A polar animal theme would work fabulously for winter pretend play too. Here's a super fun penguin-themed tablescape by birdsparty.com.
_______
Related: Chinese New Year Tablescape Play Invitation
_______
_______
You may also like: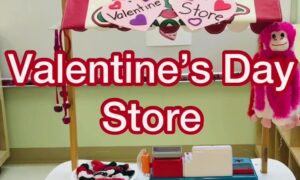 _______
St. Patrick's Day Treasure Blocks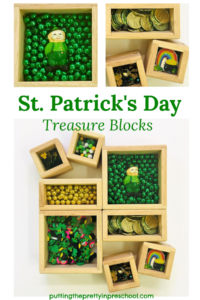 _______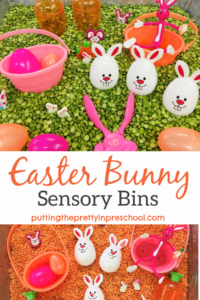 _______
Don't forget to share this post on Pinterest or your favorite social media channel. Sharing is caring!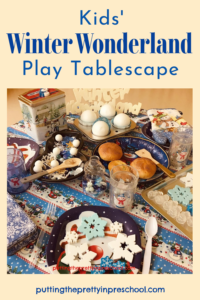 _______
© Annette Kaminsky January 25, 2022
_______
Follow me on social media for more ideas: