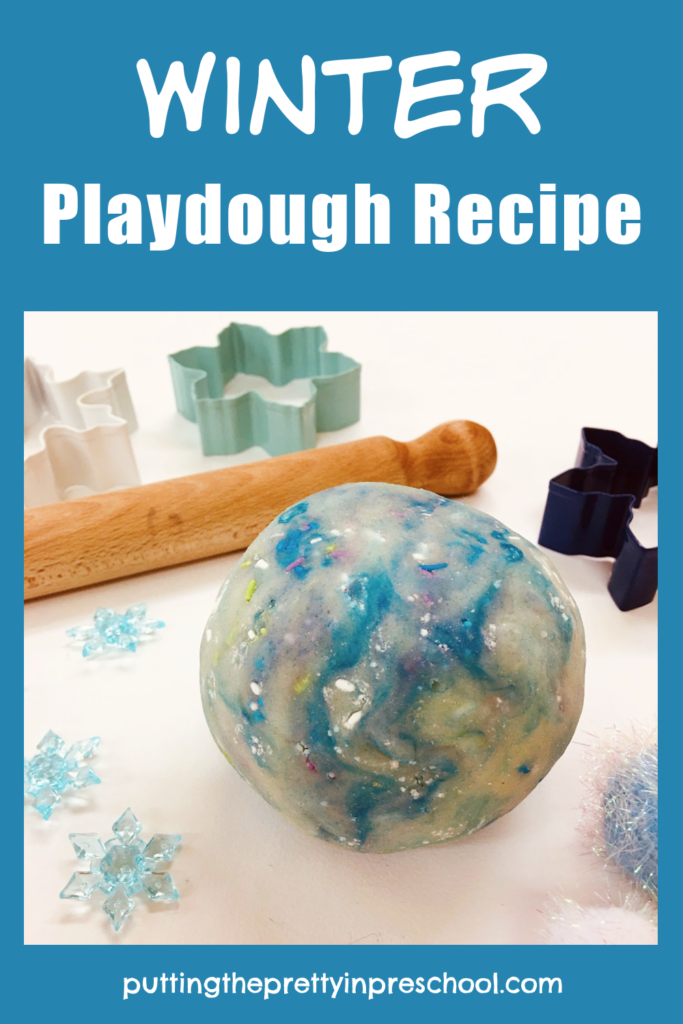 _______
We've been enveloped in a deep freeze the last few weeks, so playing "winter" indoors makes much more sense. We're leaving the real snow outside for now, and engaging with fake snow alternatives. And making and playing with this winter playdough recipe is on our agenda. The recipe is easy to make and is super moldable.
_______
Winter Playdough Recipe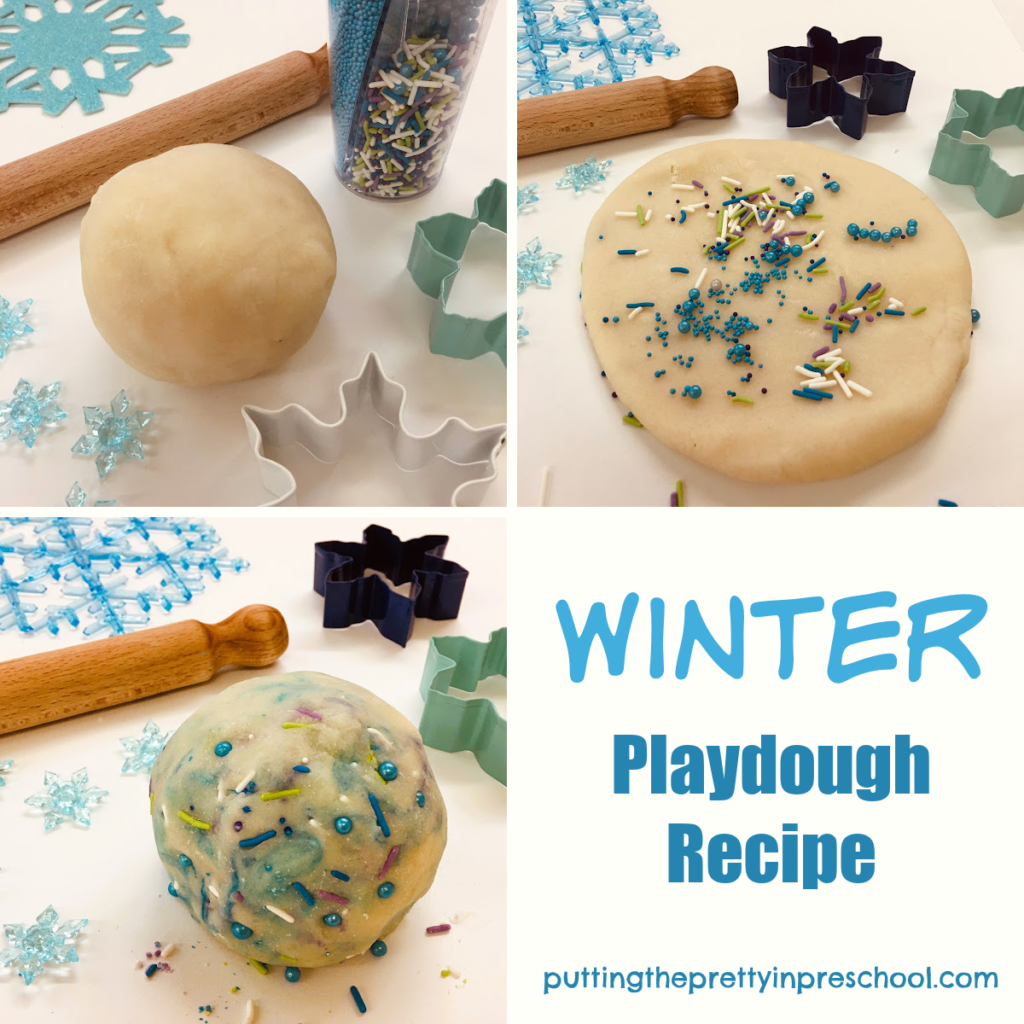 _______
2 cups flour
1 cup salt
4 teaspoons cream of tartar
2 cups water
1 1/2 tablespoons oil
mixed set of edible candy sprinkles
Add the first three ingredients to a sturdy pot and mix them together.
Stir one tablespoon oil into two cups of water.
Add the water and oil to the dry ingredients and combine.
Heat on the stove on medium heat.
Stirring frequently, cook until the mixture is no longer glossy and the dough forms a ball.
Scoop the dough onto a cutting board.
Knead when cool, adding in 1/2 tablespoon more oil.
The edible candy sprinkles can be kneaded in before the playdough is set out for little learners to use. Or children can knead in the sprinkles themselves. They add texture and instant color to the dough.
These sweet decorations come in a variety of shapes. A blog post titled: Sprinkles 101: Know Your Sprinkles by Sarah's Bake Studio provides helpful information about different types.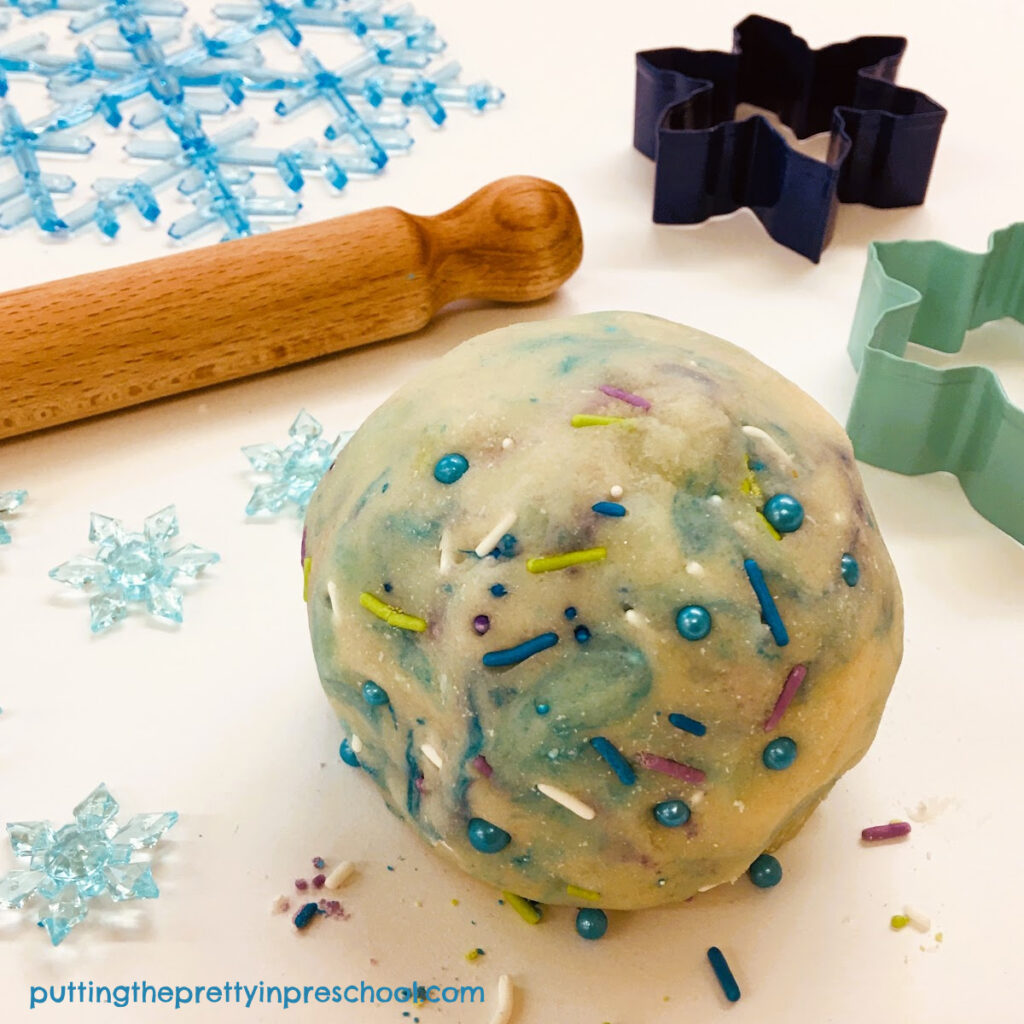 _______
Playdough Activities
Little learners can mold shapes from the dough, and use additional candy sprinkles for ornamentation. For instance, candy pearls make great snowman eyes, noses, and buttons.
Of course, rolling pins, snowflake and snowmen cookie cutters, and loose parts in cool winter hues can be offered with the playdough.
Tips:
Keep a broom and dustpan handy to sweep up escapee sprinkles.
Make sure the candy decorations you choose to use are safe to eat.
Use an edible playdough recipe if your little charges insist on tasting the candy sprinkle playdough.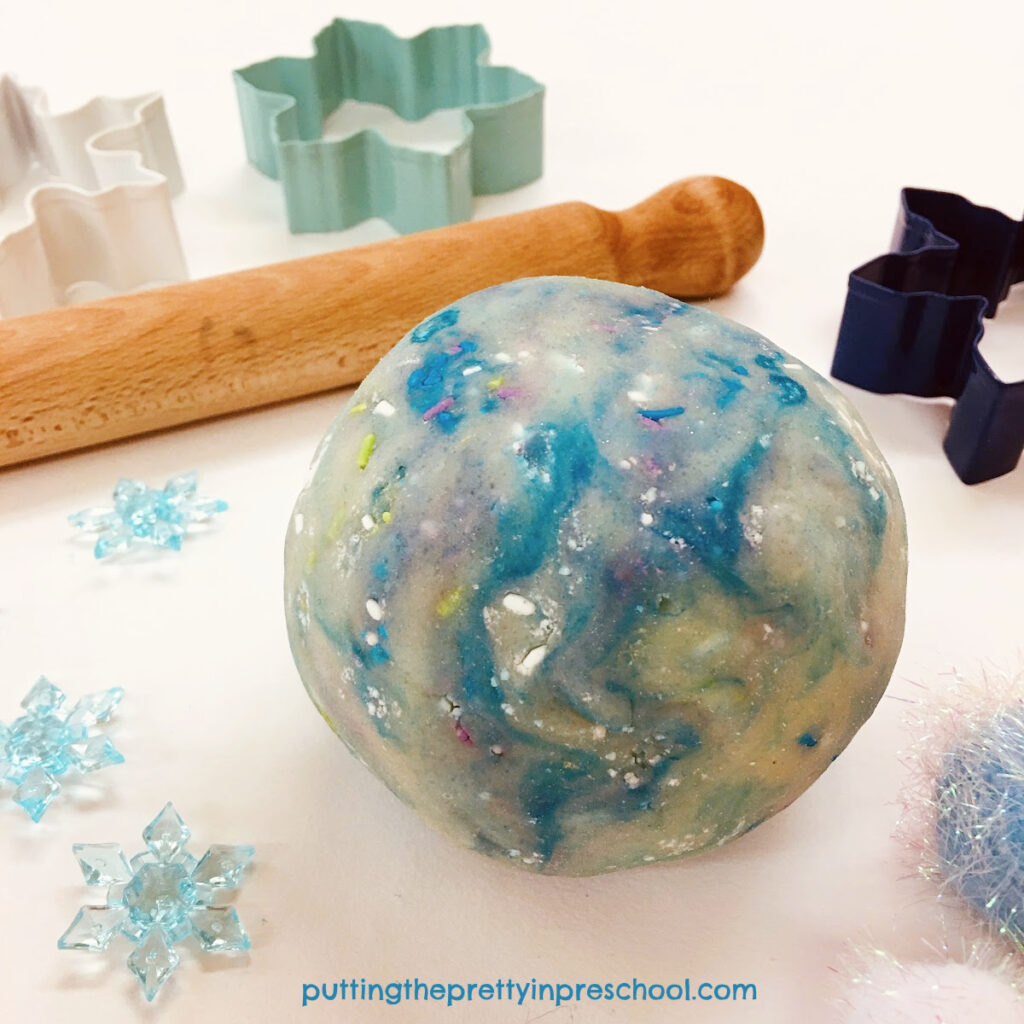 ________
Next week the weather in our area will be much warmer. My preschoolers will be excited to play in real snow outdoors and explore snow and ice in our active world tray. Stay tuned for activity ideas with snow.
_______
Related:
Spray Paint Snowflake Silhouette
Blue Candy Cane Science Experiment
Winter Wreath Paper Plate Craft
Scissor Skill Snow Cutting Activities
Kid's Winter Wonderland Play Tablescape
_______
Related:
_______
_______
You may also like: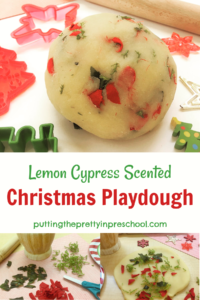 _______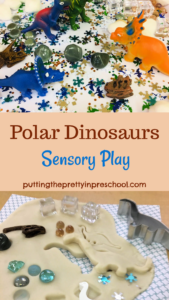 _______
Valentine's Day Gingerbread Cookies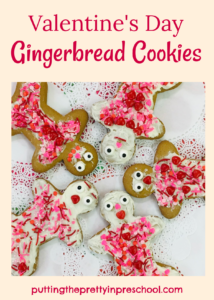 _______
Don't forget to share this post on Pinterest or your favorite social media channel. Sharing is caring!
_______
© Annette Kaminsky January 10, 2022
_______
Follow me on social media for more ideas: