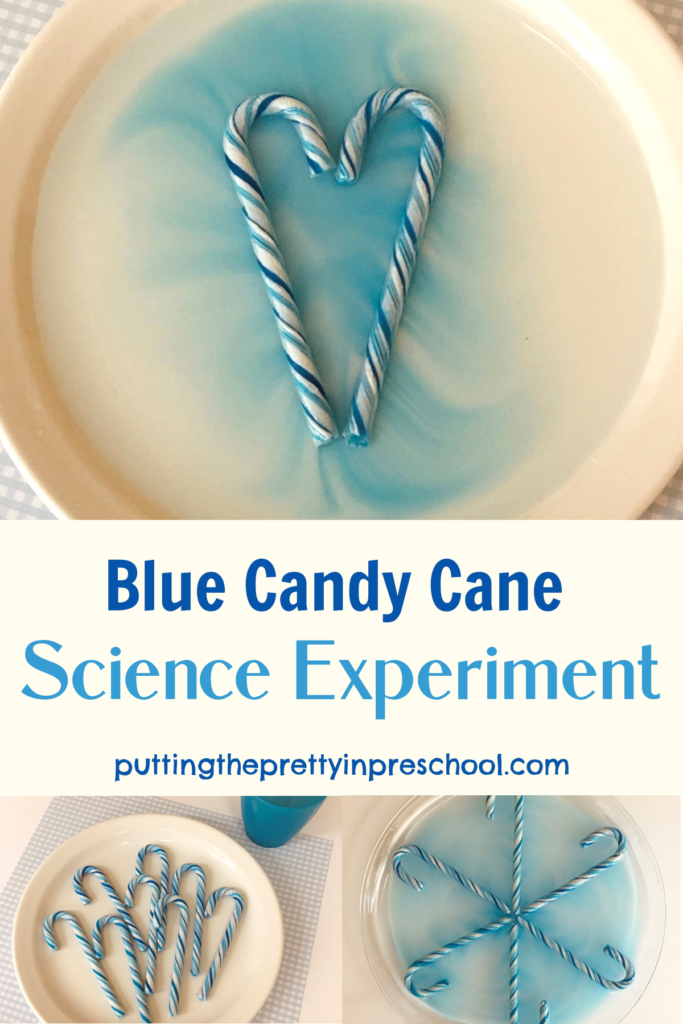 _______
This blue candy cane science experiment is an offshoot of an earlier candy cane science post. I purposely saved blue striped candy canes to use in a few winter-themed variations of the easy-to-perform experiment. And yes…I am permanently hooked on candy cane science!
_______
Supplies To Collect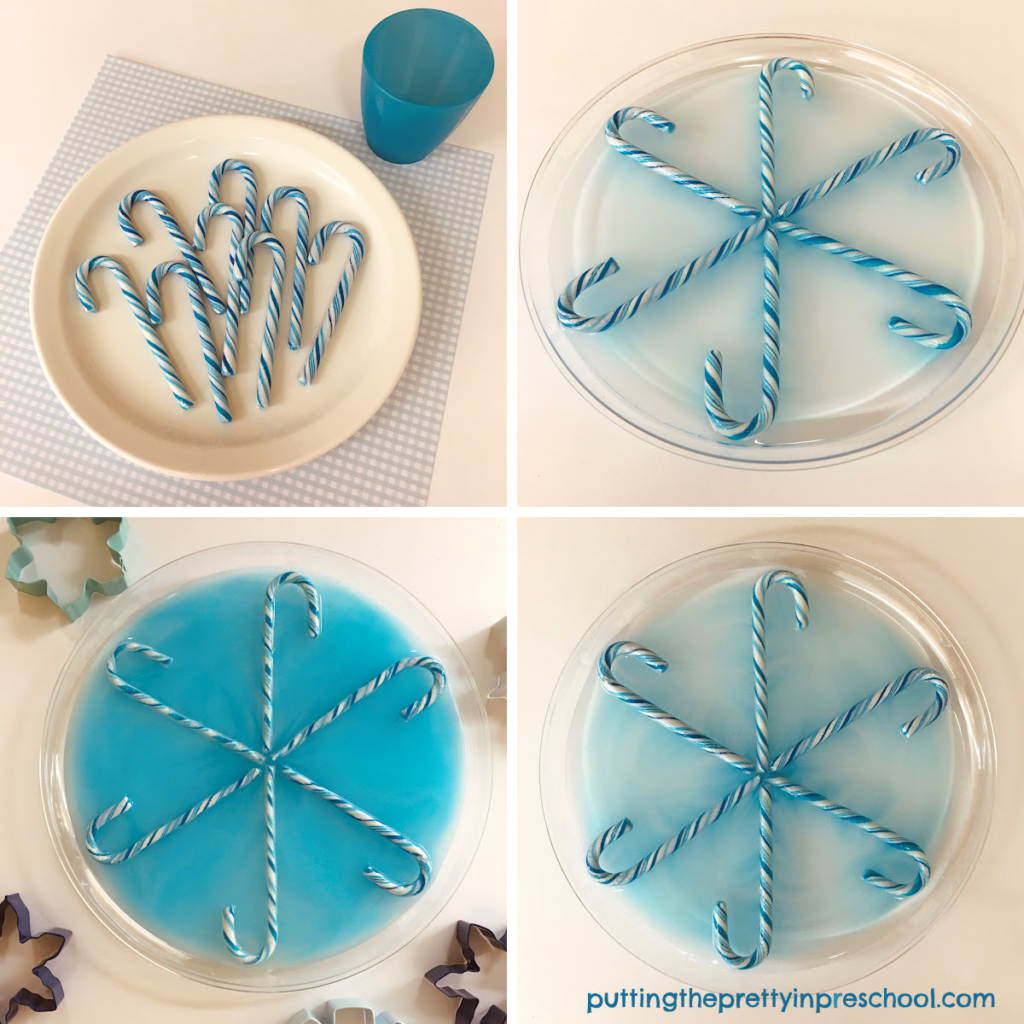 _______
First up is a blue candy cane snowflake version of the experiment. To perform it gather the following three supplies:
six blue and white striped candy canes
large clear, white, or cream-colored plate with a rim
measuring cup (or cup) of warm water
_______
The Candy Cane Snowflake Experiment
Set the candy canes on a large plate in a six-sided snowflake design.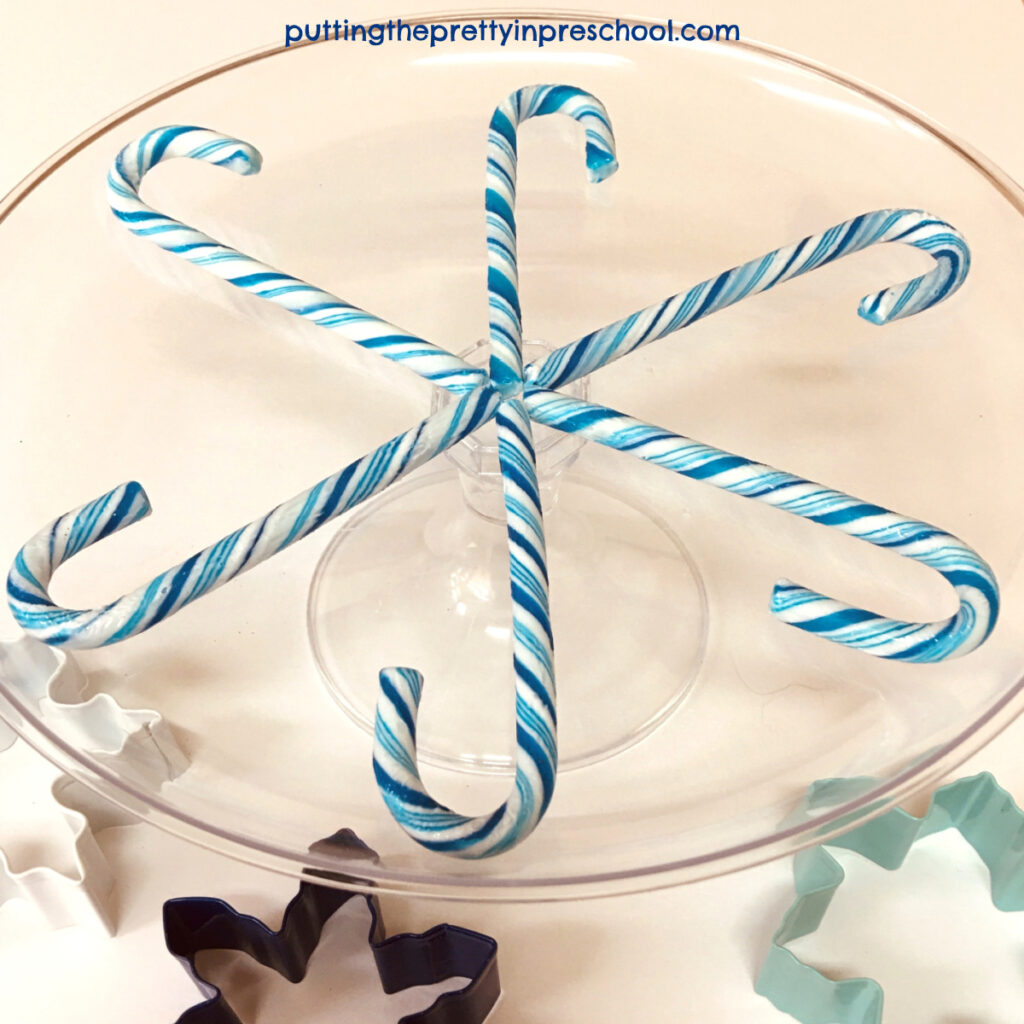 _______
Slowly pour in warm water to partially cover the candy canes.
Invite participants to watch what happens.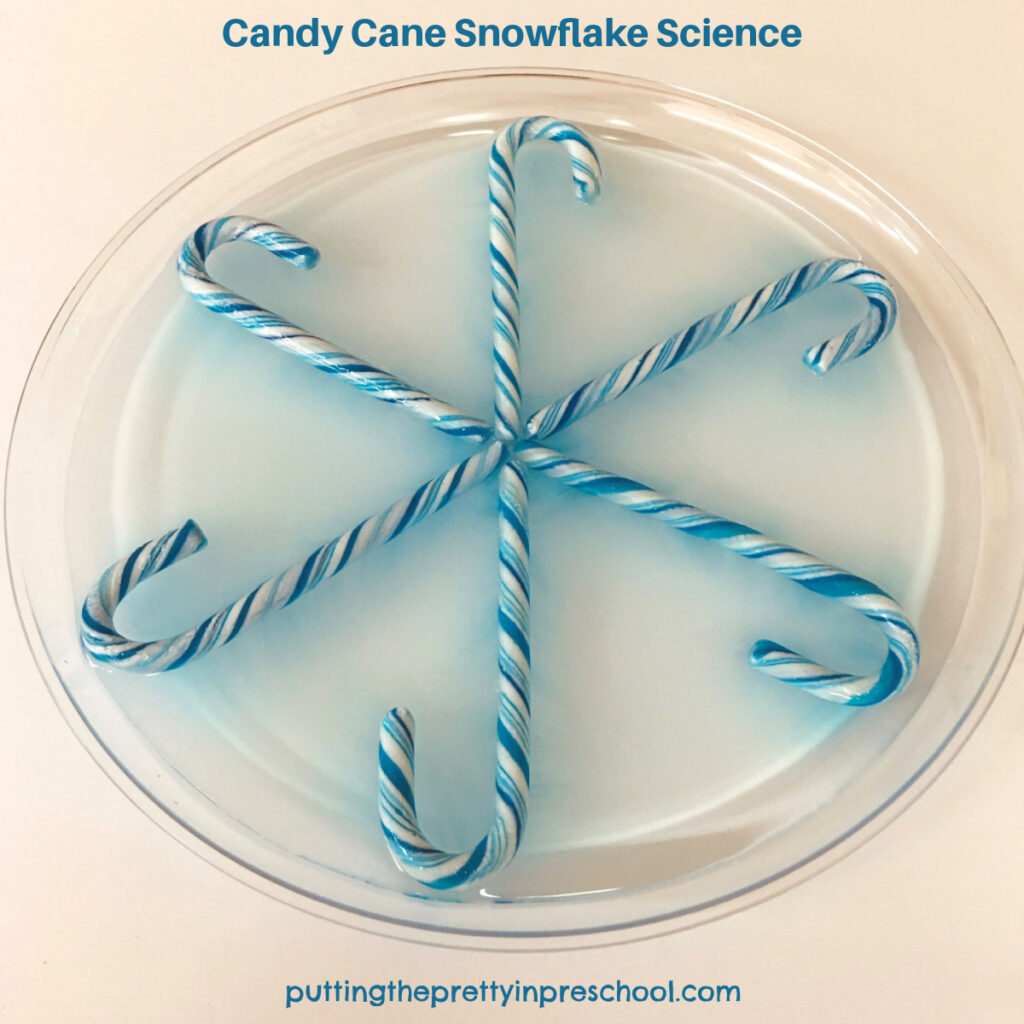 _______
While little learners watch the colors in the water spread during the experiment, slip in a few snowflake facts from the list below.
_______
Ten Fast Facts About Snowflakes
Snowflakes are made of many snow crystals that are stuck together.
The six-sided flakes come in symmetrical, hexagonal shapes.
About 200 ice crystals make up one snowflake.
There are six basic types of snowflakes.
Combinations of these types make 35 recognizable snowflake designs.
A snowflake's shape is determined by the temperature and amount of moisture in the air when it was formed.
Snowflakes range in size, from teeny tiny to penny-sized.
Because they reflect light, snowflakes appear white. But they are actually translucent.
Every second, billions of snowflakes float down to earth.
Snowflakes fall at 3- 4 miles per hour or about 5 – 6.5 km per hour.
_______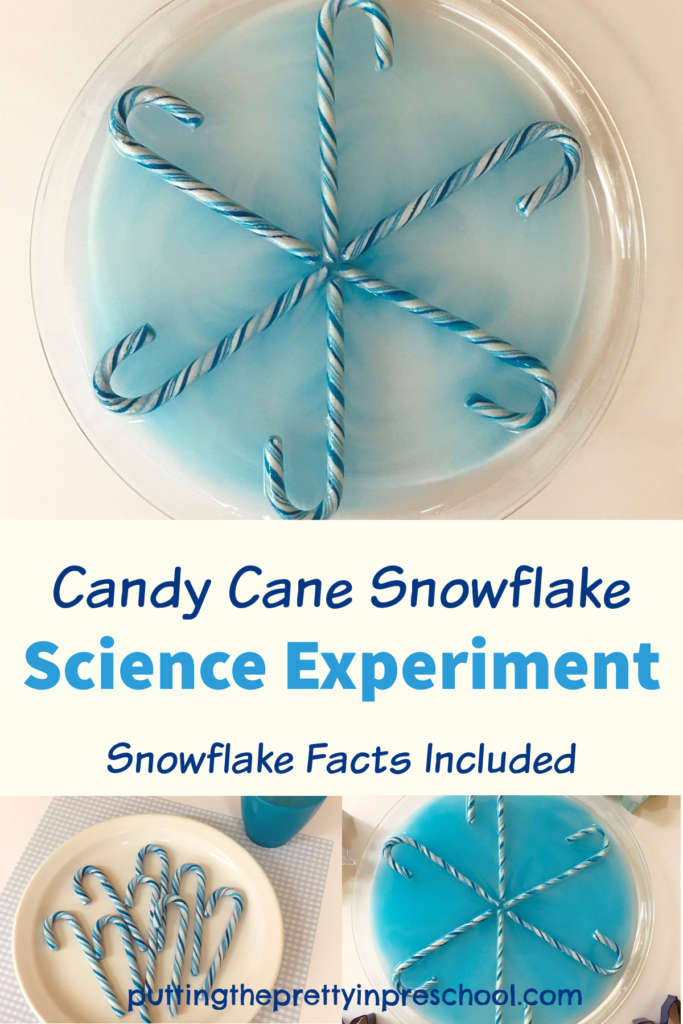 ___________
Early learners may wish to have a little taste of the resulting blue liquid. Unlike the strong mint taste of the Christmas candies, the blue water has a pleasant berry flavor.
Tip: If you have other candy cane colors available rather than blue striped ones, use them in the experiment instead. Snowflakes look beautiful in all colors!
_______
Blue Candy Cane Heart Experiment
For a simpler but equally striking version, form two candy canes into a heart shape on the plate. When water is slowly added, little learners will notice a different color pattern developing.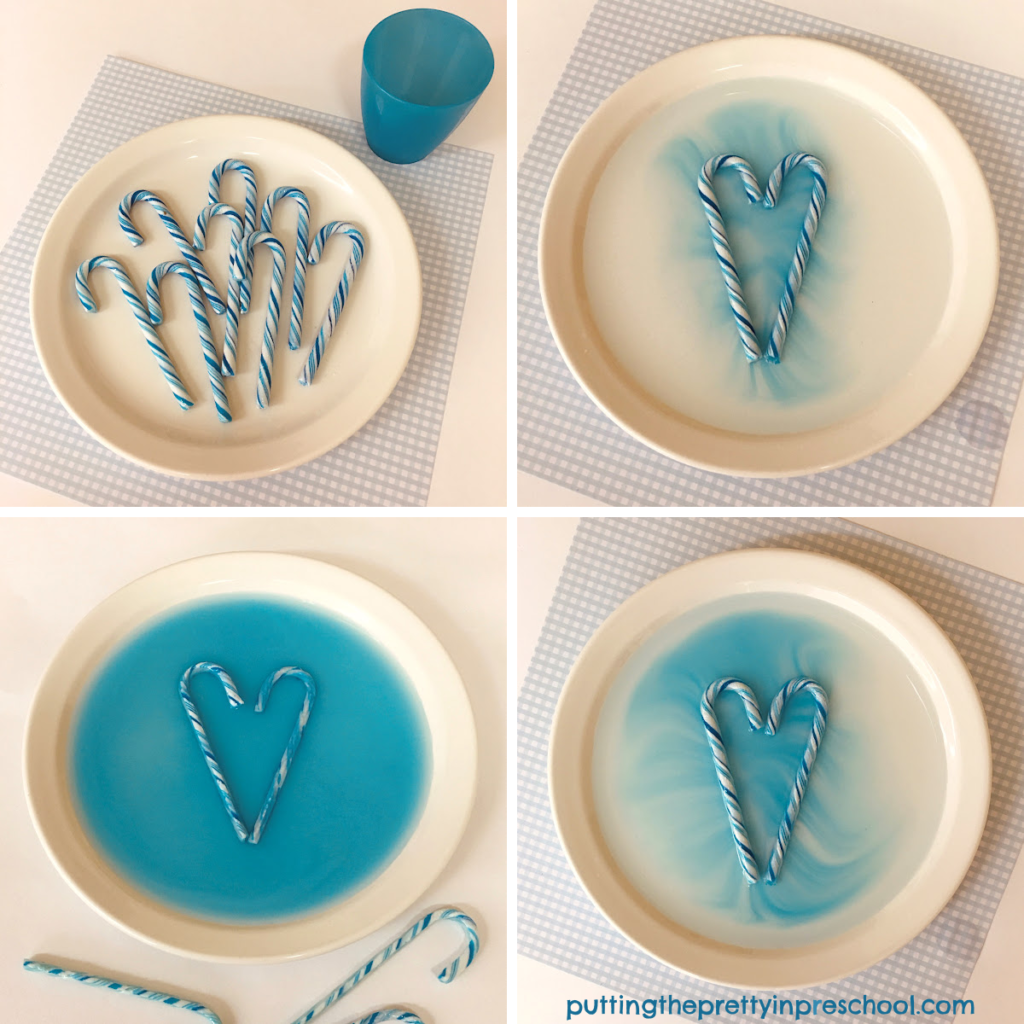 _______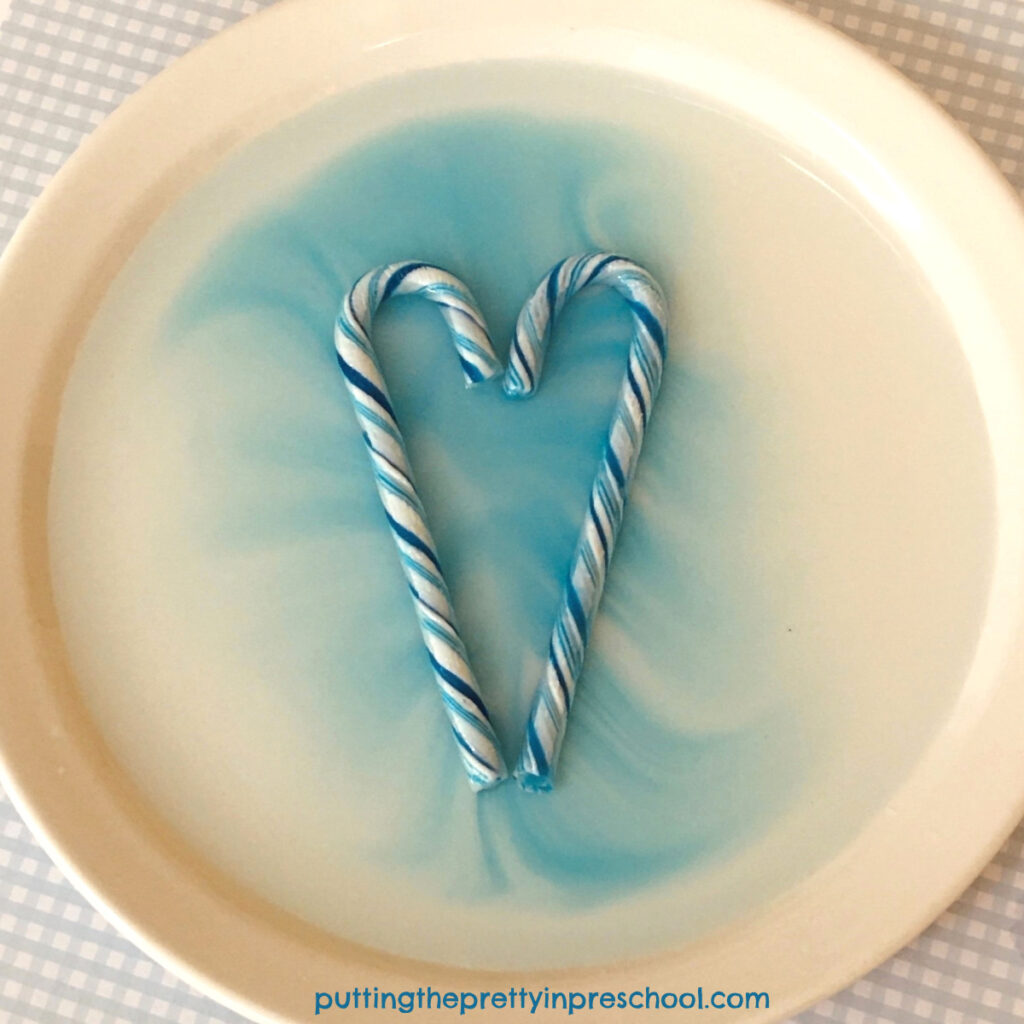 _______
The Science Behind The Color Movement
The candy canes are made of sugar. The water breaks the sugar molecules apart. Then the food colors move through the water away from areas of higher sugar concentration (near the candy) to areas with less sugar. When the sugar concentration is the same in all areas, the colors stop moving.
_______
Blue Candy Cane Sensory Tube
If you have broken candy canes saved that weren't suitable to display or hand out over the holidays, use them in a sensory tube.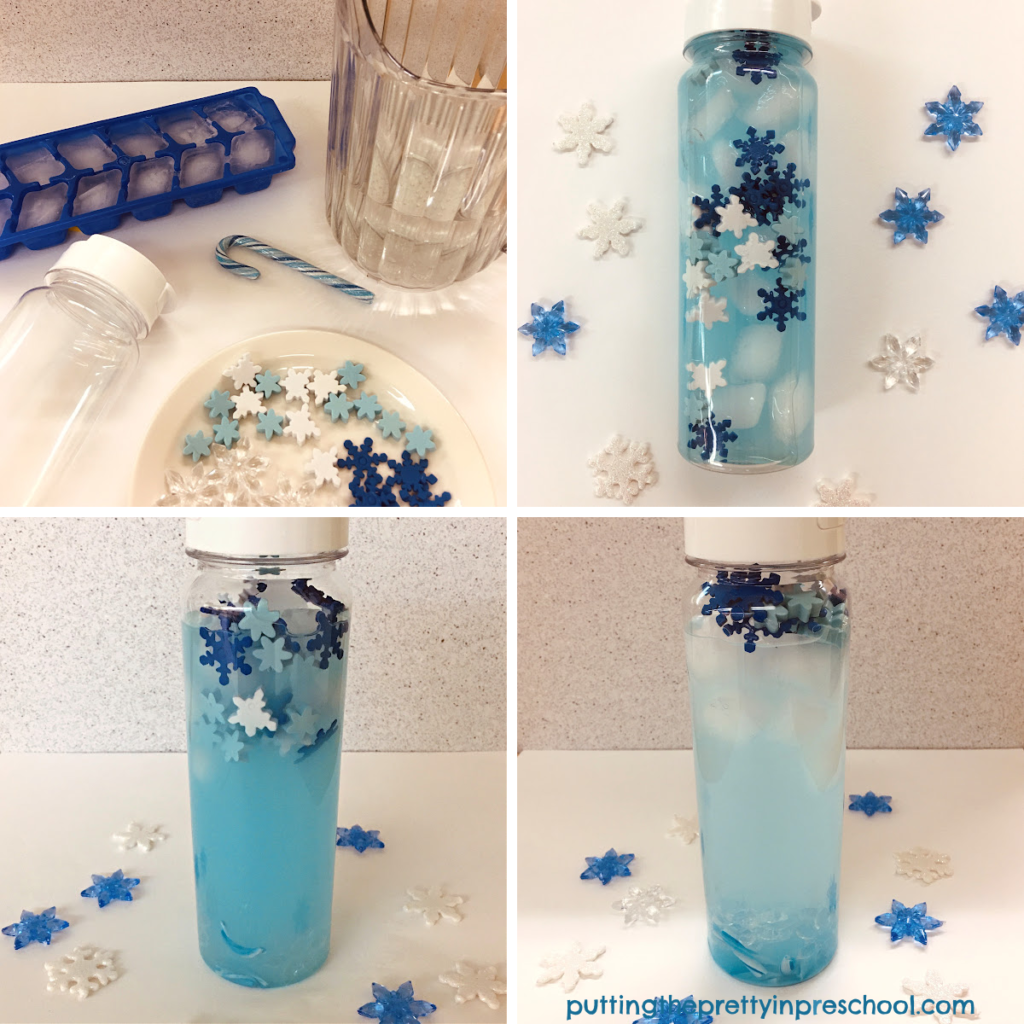 _______
To make the winter-themed tube above, freeze ice cubes and add them to a clear tube with a wide mouth.
Next, sprinkle in blue and white foam and gem snowflakes.
Gently drop in blue-striped candy cane pieces.
Then fill the sensory tube with cool water and tightly screw on the lid.
Invite little learners to play with the tube.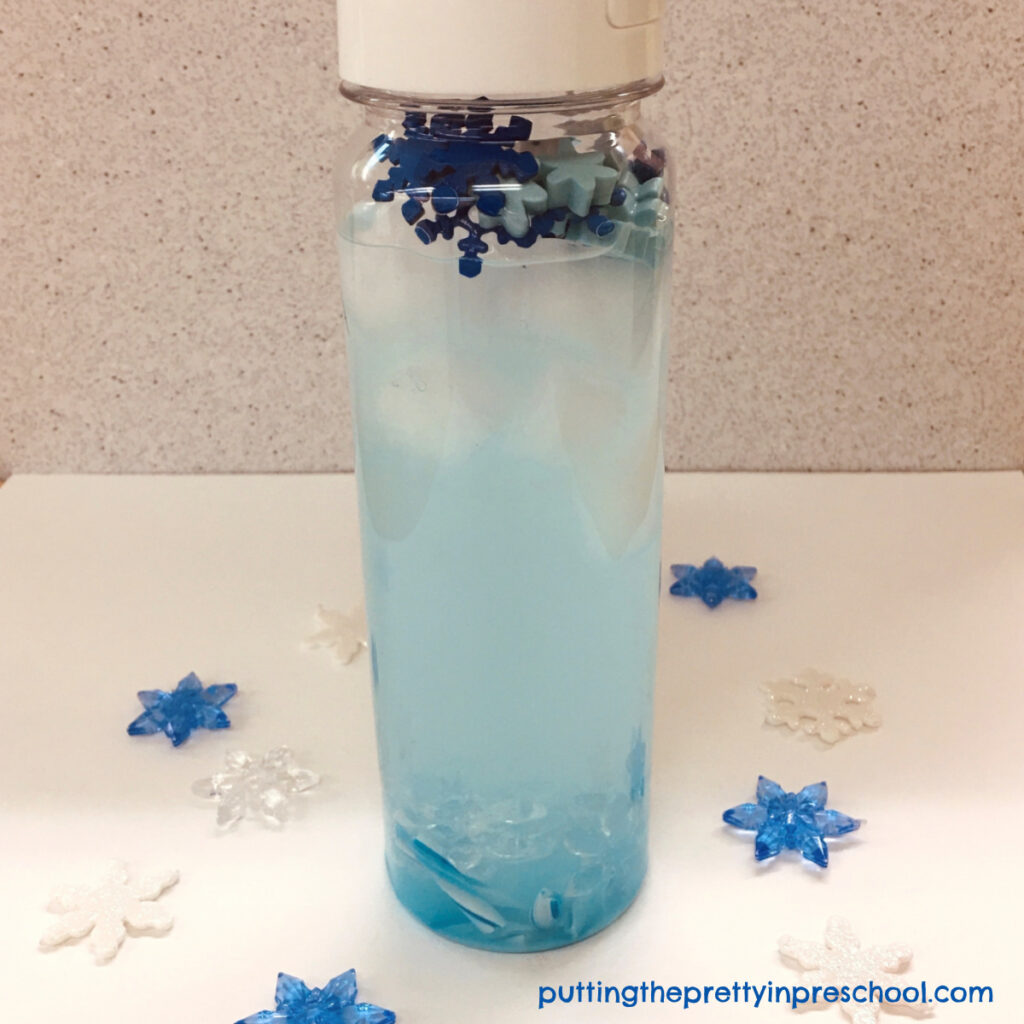 _______
Because the water in the tube is cool, it changes color at a slower pace than in the snowflake and heart versions of the experiment.
Float and sink experimentation happens naturally with this candy cane tube. The snowflake gems and candy cane pieces sink to the bottom and hang out there, while the foam shapes congregate at the top.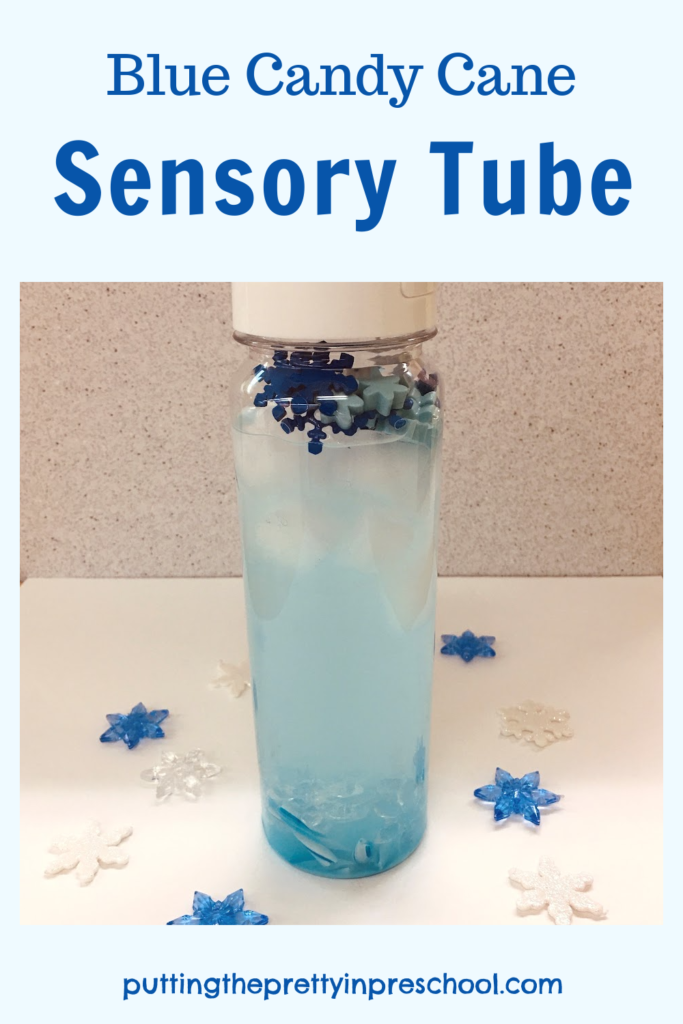 _______
Related: Color Explosion Science Experiment
_______
_______
You may also like: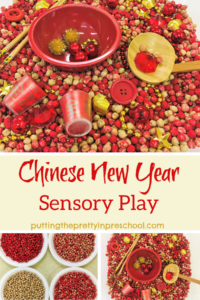 _______
Painting Techniques With Chocolate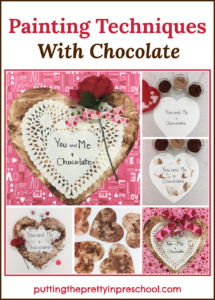 _______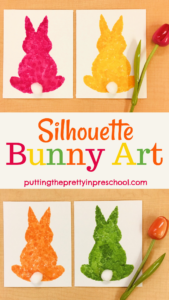 _______
Don't forget to share his post on Pinterest or your favorite social media channel. Sharing is caring!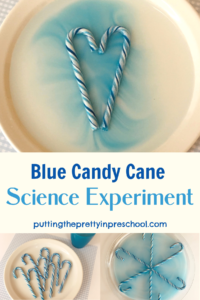 _______
© Annette Kaminsky January 23, 2022
_______
Follow me on social media for more ideas: