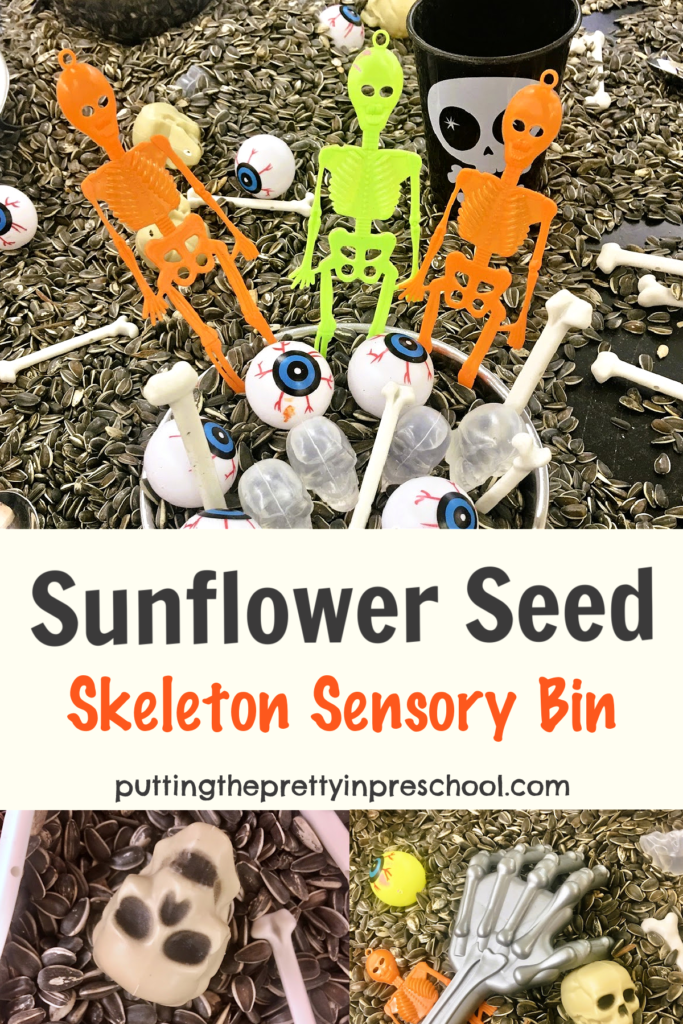 _______
If you need an easy sensory bin idea for a skeleton theme, this skeleton sunflower seed bin is for you. Set it up in minutes, and you'll have a super engaging sensory invitation your little learners will be happy to explore.
_______
Follow me on Pinterest for more early learning ideas.
_______
Supplies To Collect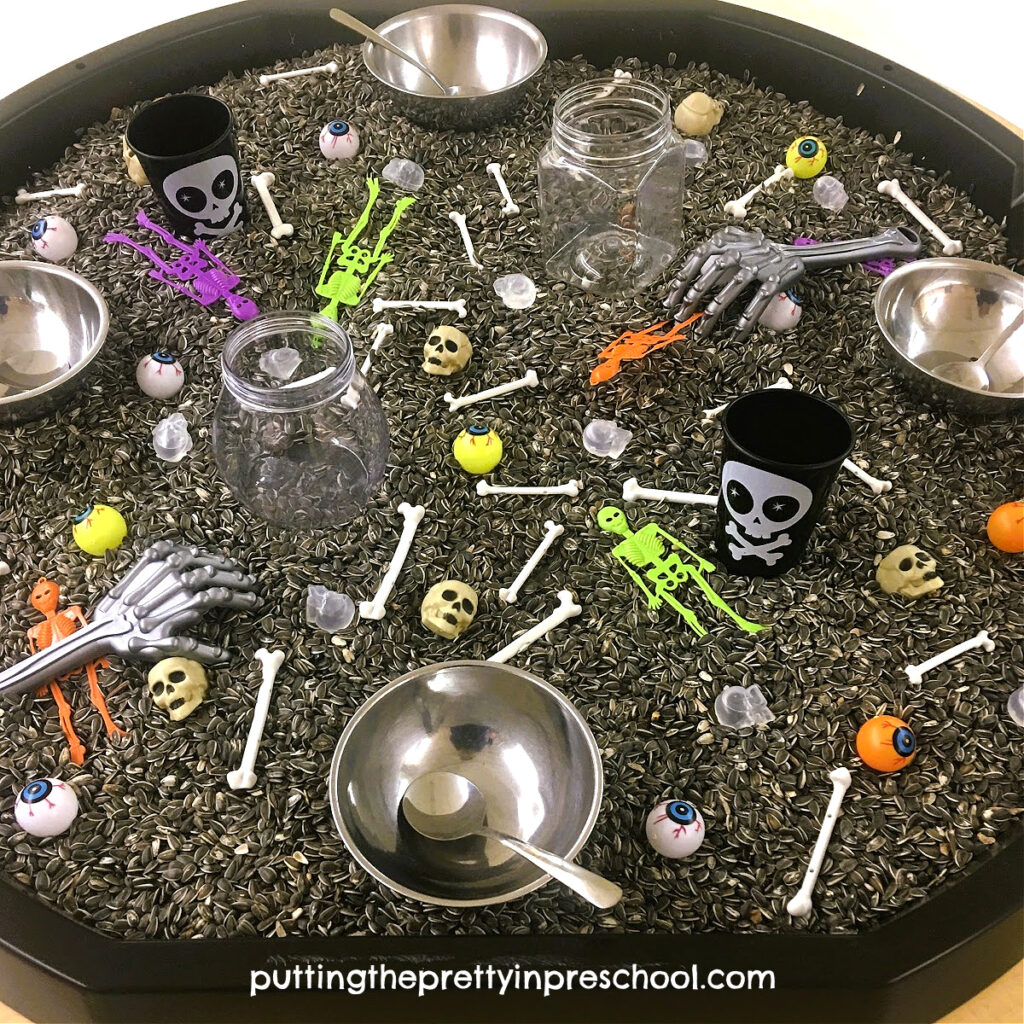 _______
The following supplies are in the sunflower seed sensory bin:
sunflower seeds
skeleton figurines
skeleton arm scoops
toy bones
skull reusable ice cubes
skull treat holders
skull cups
clear non-breakable jars
silver bowls and serving spoons
_______
The Skeleton Sunflower Seed Bin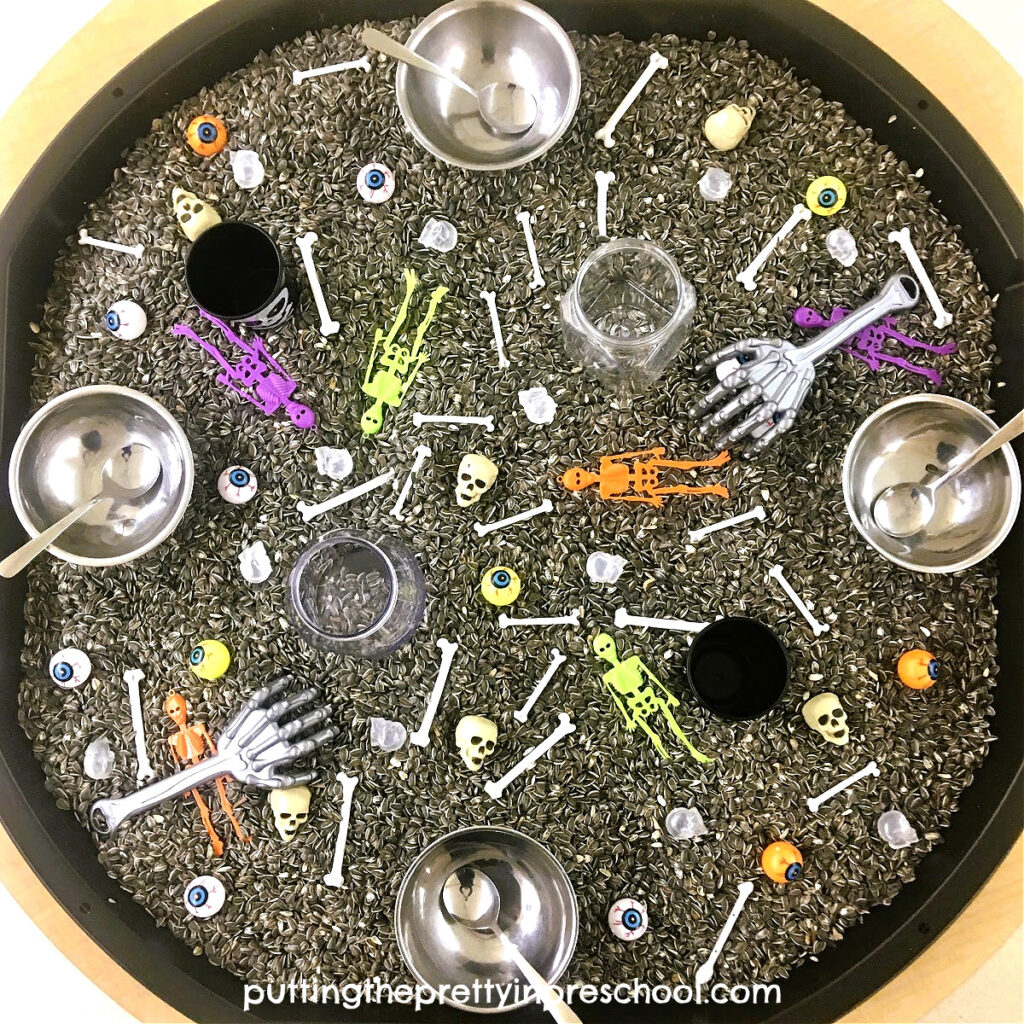 _______
Striped sunflower seeds are the base for this seedy skeleton bin. They are economical to buy and provide a unique sensory experience. In my active world tray, two large bags of seeds work nicely. For a smaller bin such as a bus tub or saucer sled, one large bag would be enough.
The sunflower seeds bring plenty of color, so there is no need to dye anything. This saves a lot of preparation time.
The toy skeletons, skulls, and bones are supplies easily scooped up at dollar and party stores, or the seasonal section of a big box store.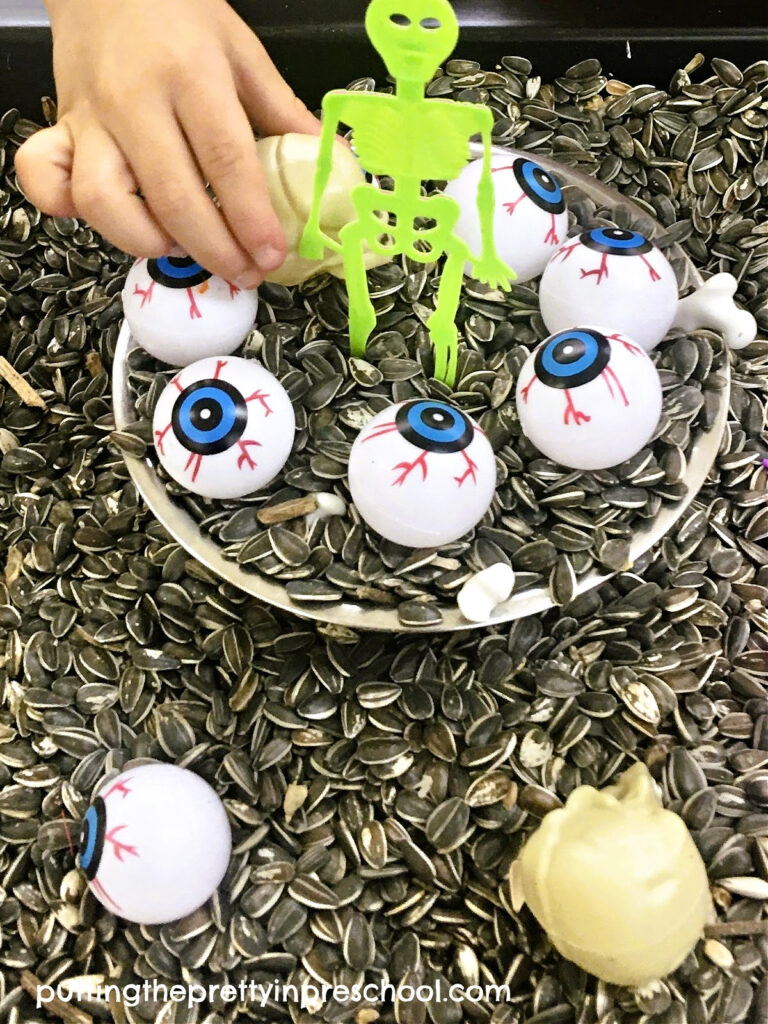 _______
It's always nice to see the excited look of children when they discover a new sensory bin invitation, and their reaction to this bin did not disappoint. There was lots of imaginative and creative play.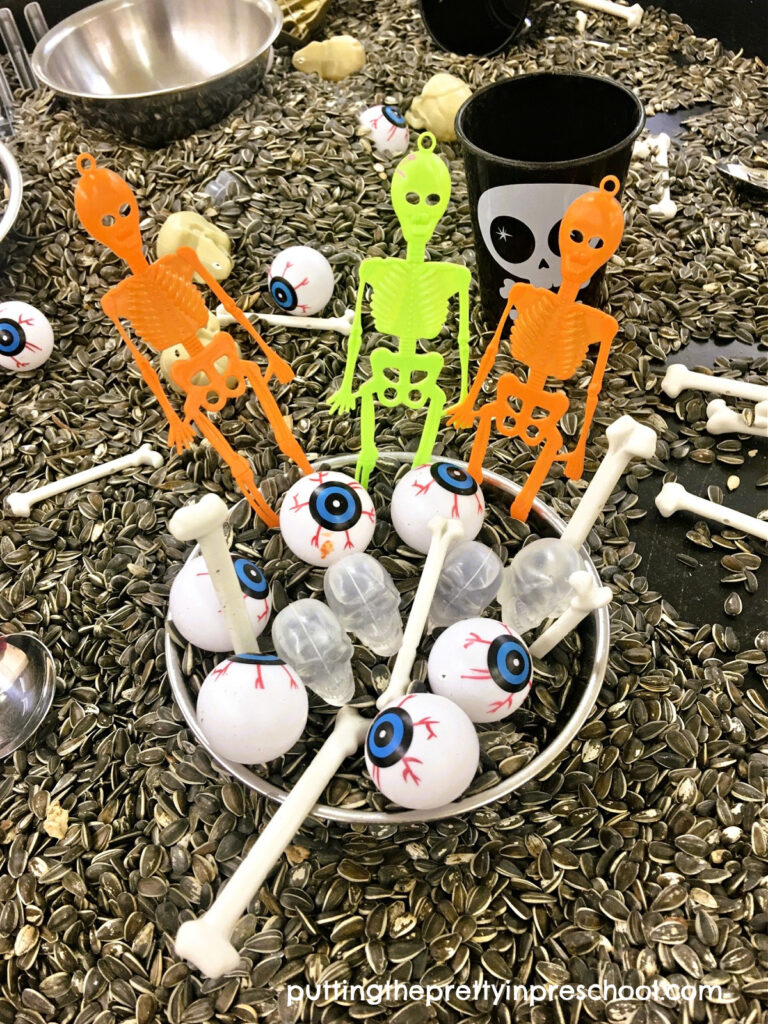 _______
Skeleton Lentil Bin Sensory Play
To keep the interest in skeleton sensory play going, offer the same supplies in a lentil-based bin. The red lentils are another base ingredient that brings its own color to the sensory invitation.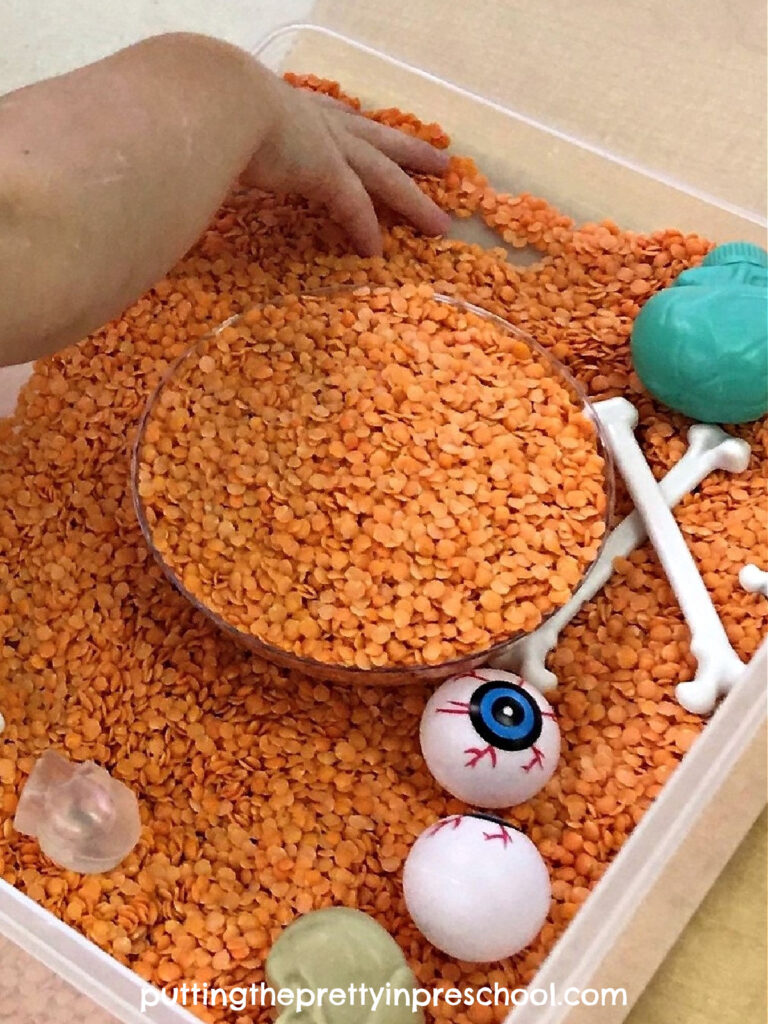 _______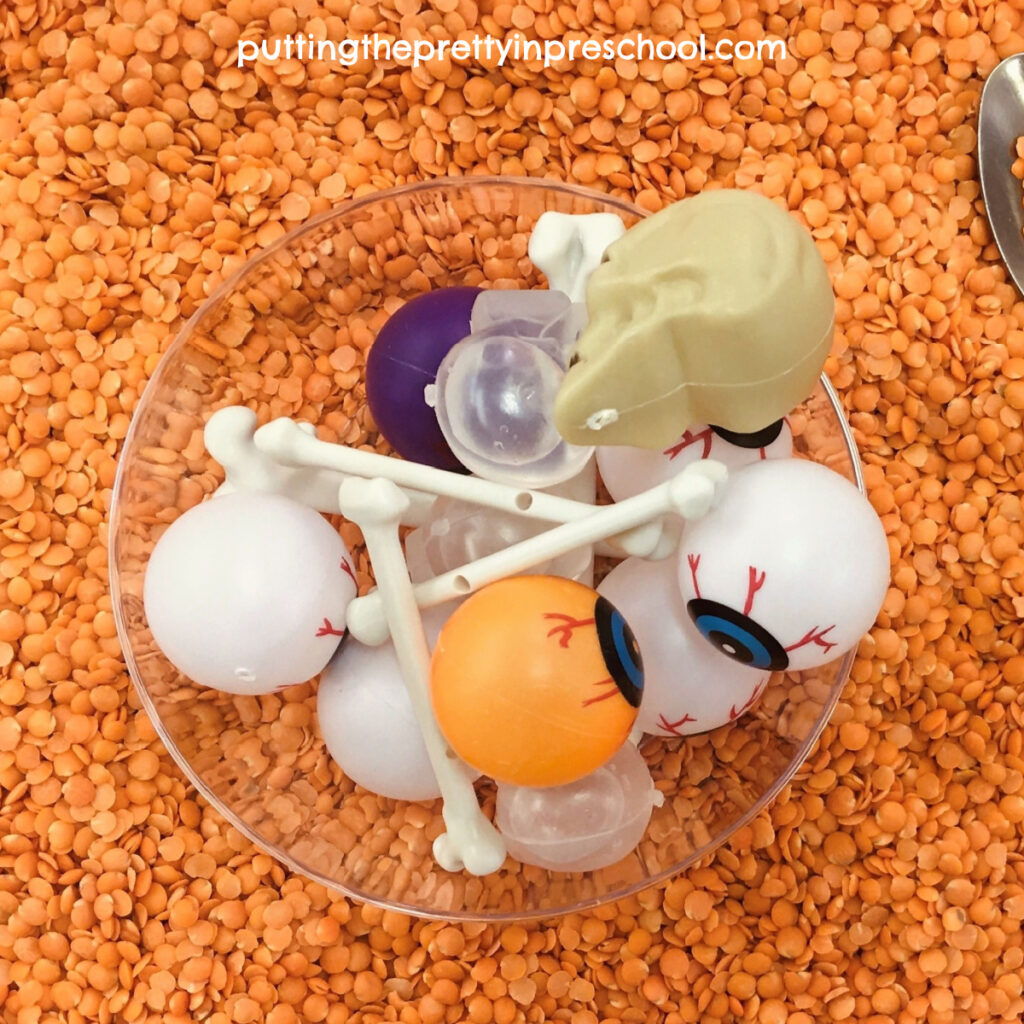 _______
More Sunflower Seed Sensory Play
After children have had plenty of time to explore the skeleton-themed accessories, swap them out for a pumpkin or sunflower and dinosaur-themed bin using the same striped sunflower seeds as a base.
_______
More Skeleton Activities
Skeleton and Eyeball Waterplay
Spaghetti and Eyeball Sensory Bin
_______
[Read more…]

about Skeleton Sunflower Seed Bin