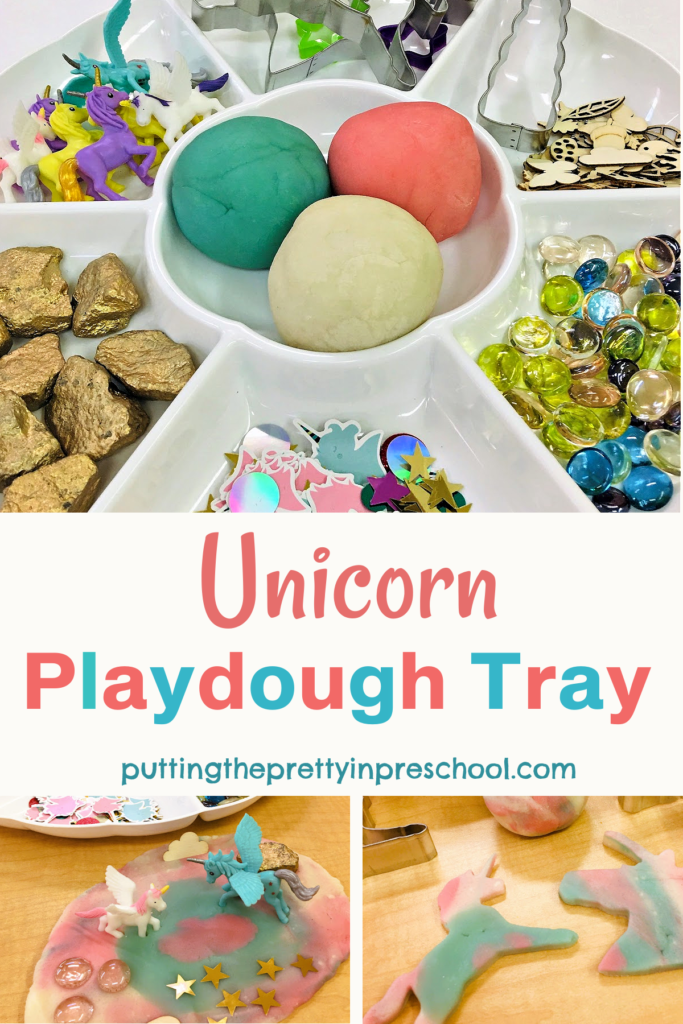 _______
Elegant, majestic unicorns provide endless inspiration for clothing, art, cooking, and early learning activities. The single-horned mythical creatures make an appealing subject for a unicorn playdough tray. This pastel and gold-infused tray will surely add a dose of magic to your child's day!
_______
Follow me on Pinterest for more early learning ideas.
_______
Supplies To Collect
Gather the following supplies for this fantasy playdough tray:
unicorn figurines
star and unicorn cookie cutters
unicorn table confetti
miniature wood forest and princess shapes
pastel round gems
gold rocks
white compartment tray
neutral and pastel playdough
_______
Unicorn Playdough Play Tray
_______
Make a fresh batch of playdough, or use the dough you have on hand. I feature two shades I previously used in a Valentine's Day playdough tray, and my basic, go-to recipe. These recipes are also included in this post.
Place the unicorn-themed loose parts in a compartment tray, positioning the playdough in the center.
Set the playdough invitation on a table along with rolling pins and other modeling tools for children to enjoy. Watch the magical play unfold.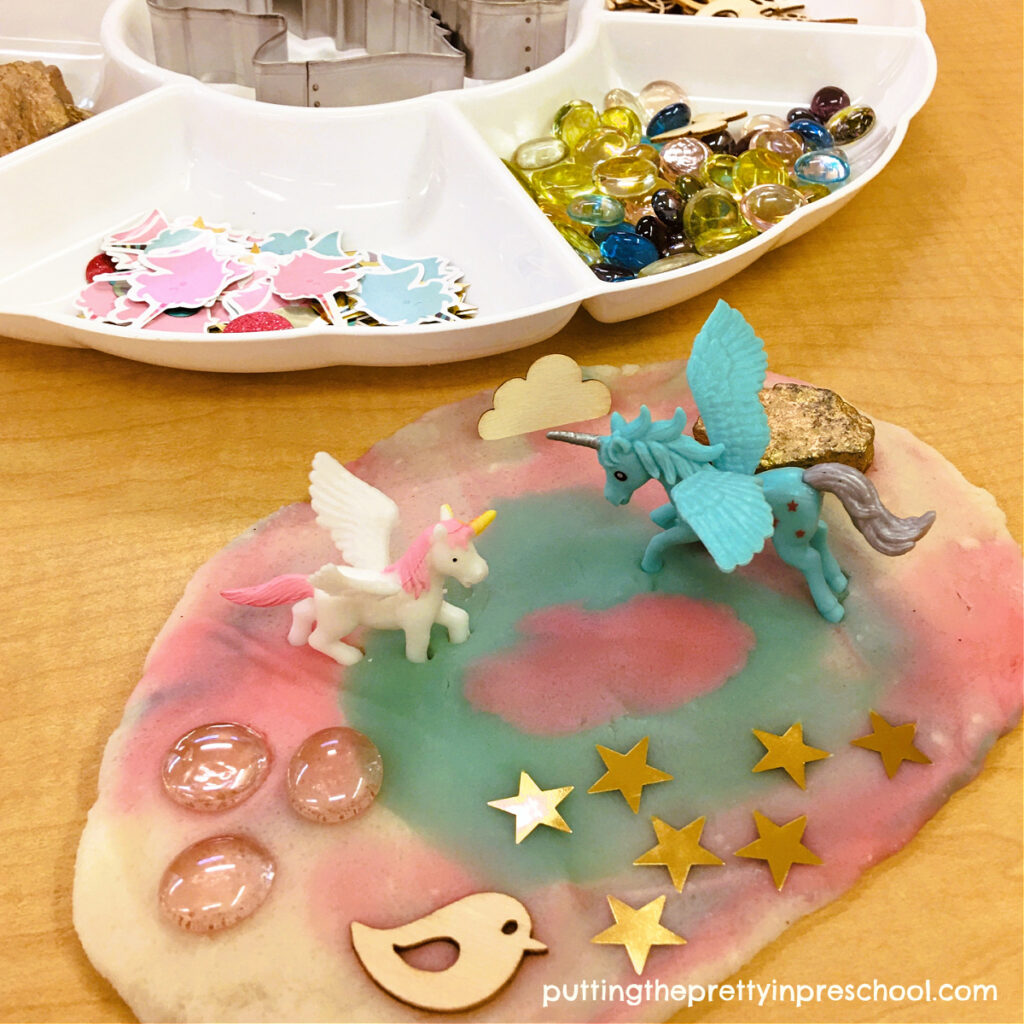 _______
Note: Other loose parts that could be added to this unicorn playdough tray are glitter, a star wand, unicorn hair, flowers, cupcake decorations, pom poms, pipe cleaners, bead garland strips, rainbows, and Easter grass.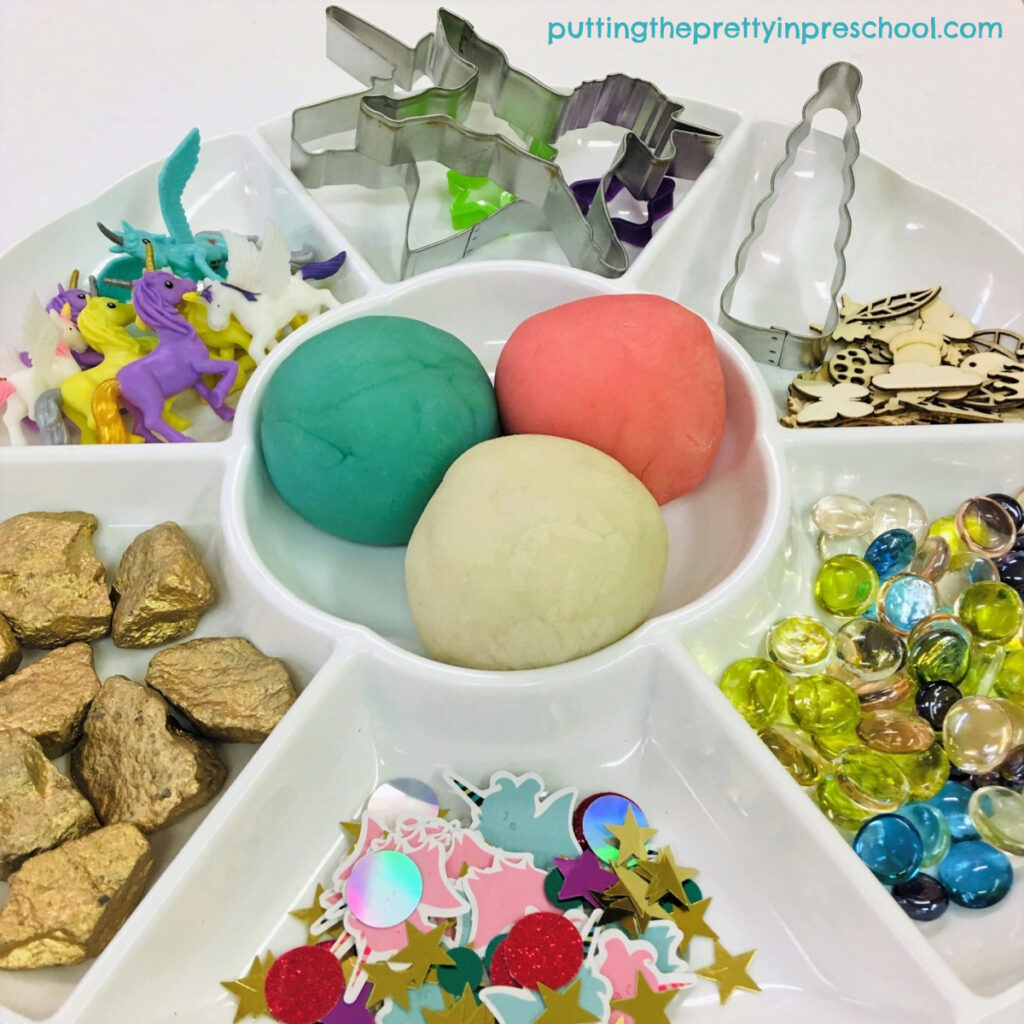 _______
Basic Playdough Recipe
My go-to basic playdough recipe has the following ingredients:
2 cups flour
1 cup salt
4 teaspoons cream of tartar
2 cups water
3 tablespoons oil
Add the first three ingredients to a sturdy pot and mix together.
Stir two tablespoons of oil into two cups of water.
Add the water and oil to the dry ingredients and combine.
Heat the pot on the stove on medium heat.
Stirring frequently, cook until the mixture is no longer glossy and the dough forms a ball.
Scoop the dough onto a cutting board.
Knead when cool, adding one tablespoon more oil.
Store the playdough in a sealed plastic bag.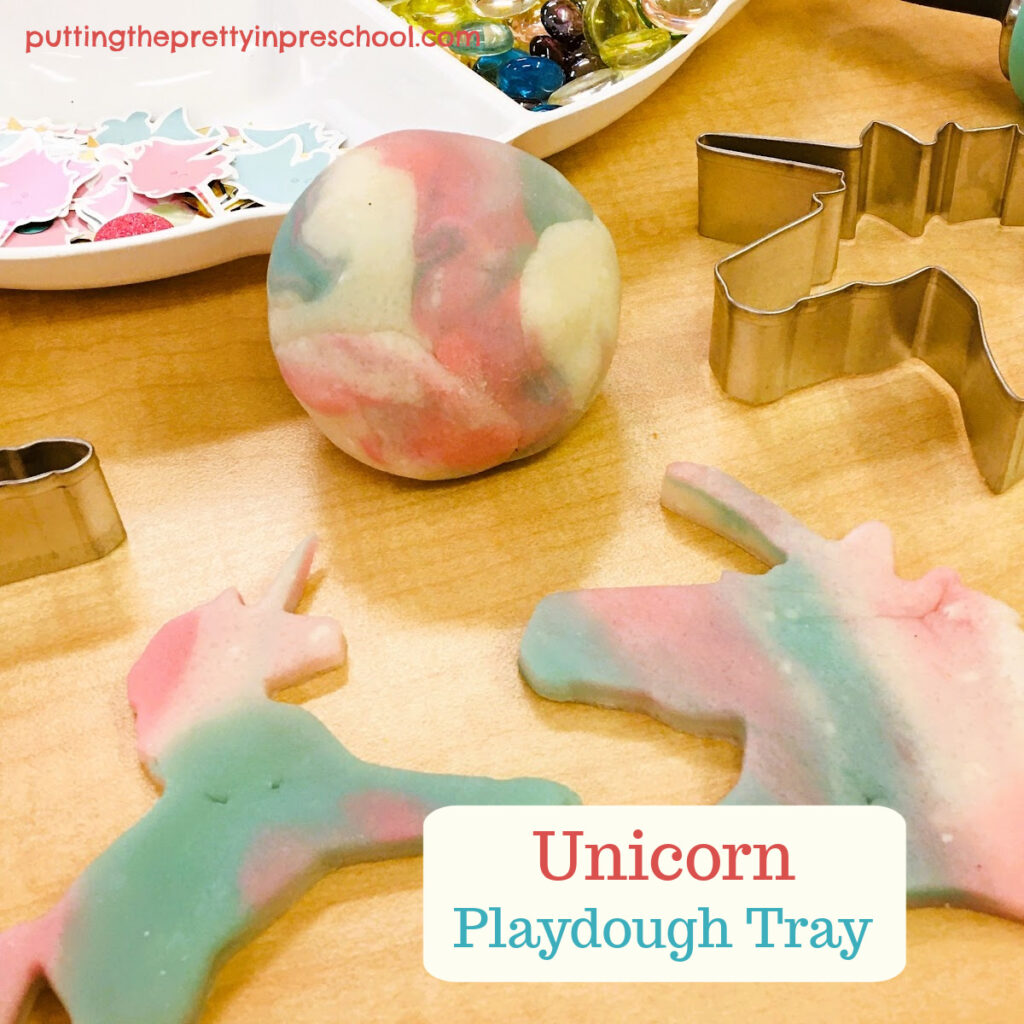 _______
Jello Playdough
To make deep, pinkish-red strawberry playdough, boil the water and stir in two 85 gram packages of strawberry jello powder. Next, mix in two tablespoons of oil. Add the hot-colored water mixture to the dry ingredients in a pot as above, and finish making the recipe the same way.
To make the pastel blue playdough, use one 85 gram package of blueberry jello.
_______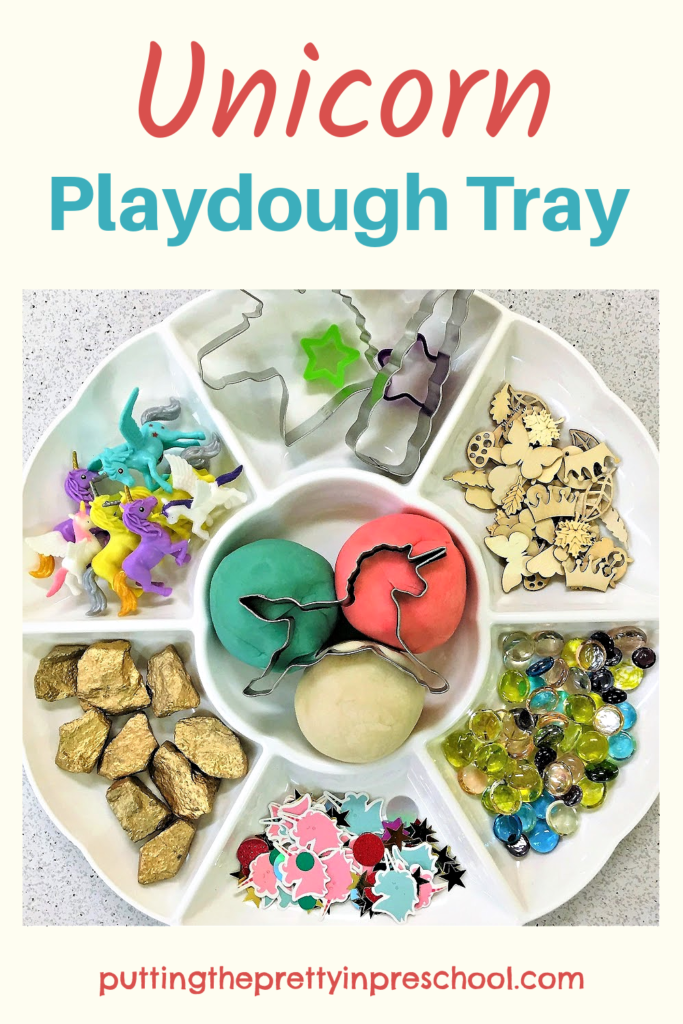 _______
Have something special you would add to this unicorn playdough tray? Share in a comment below.
_______
Related: Unicorn Theme Sensory Play
_______
_______
You may also like: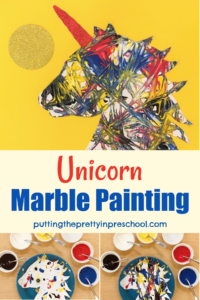 _______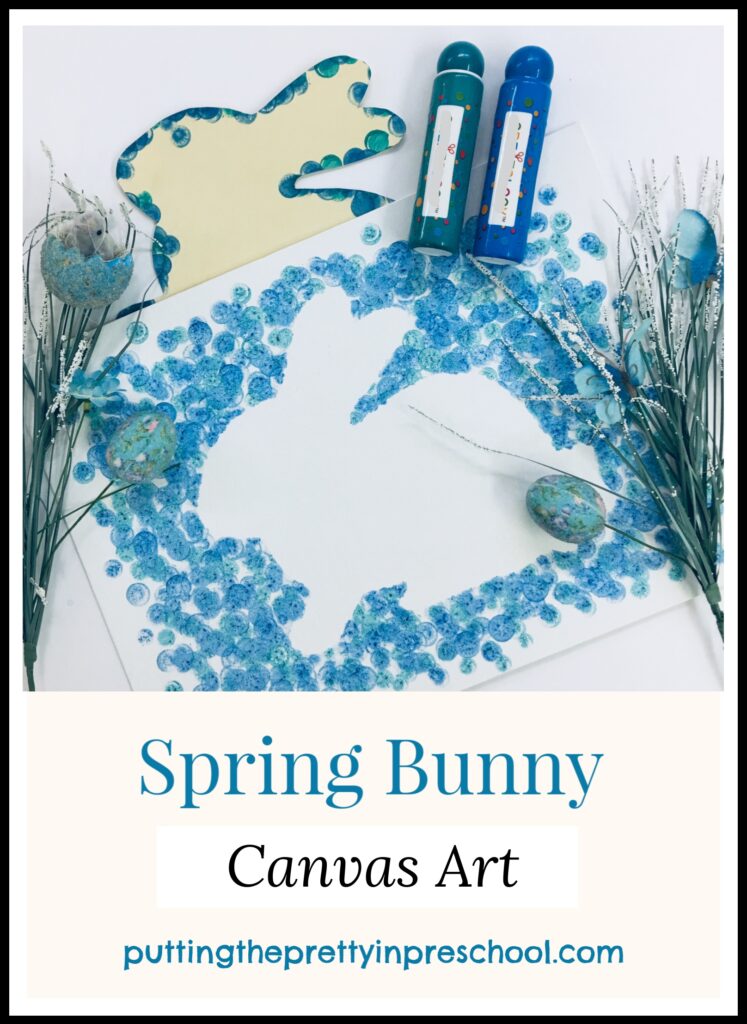 _______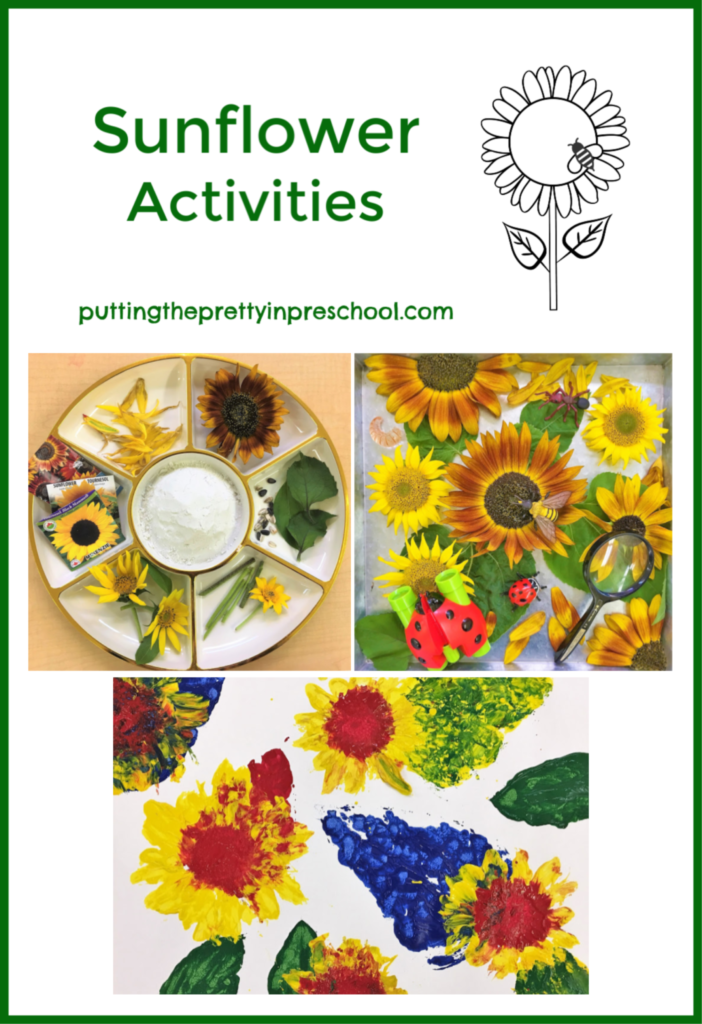 _______
Don't forget to share this post on Pinterest or your favorite social media channel. Sharing is caring!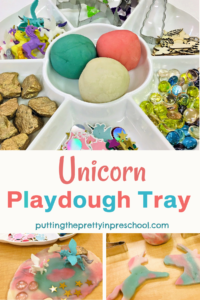 _______
© Annette Kaminsky  April 5, 2022
_______
Follow me on social media for more ideas: