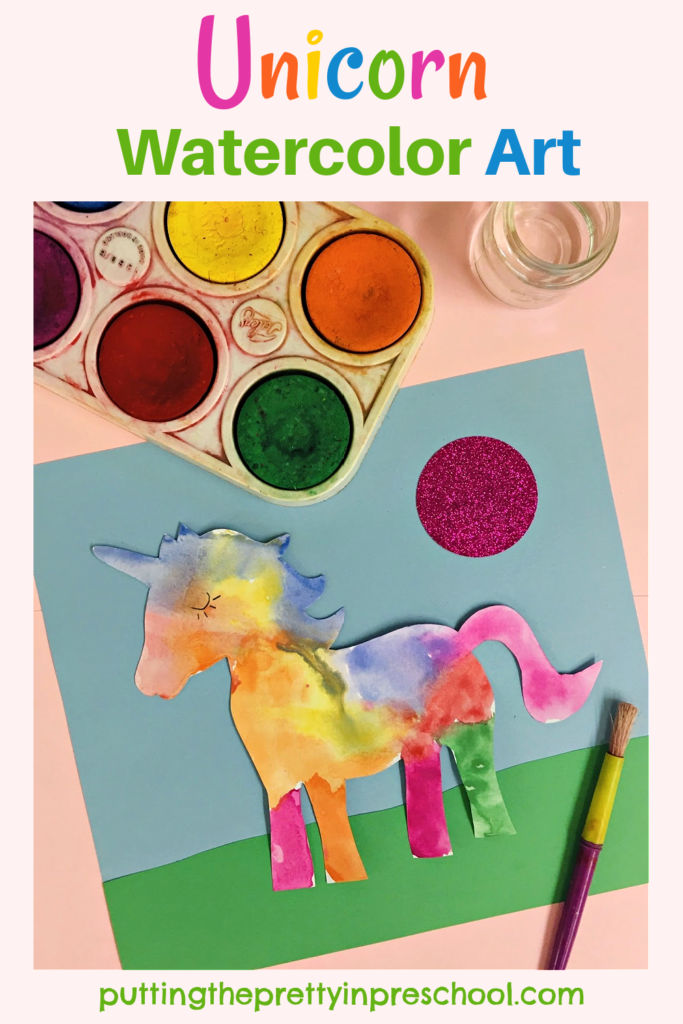 _______
Tempera paint pucks are a great medium for decorating a unicorn template, as they have a whimsical watercolor look. They come in a variety of bright, vibrant hues, and an added bonus is that the paint dries quickly. In this unicorn watercolor art project, painted unicorns are included in a pretty paper craft scene.
_______
Follow me on Pinterest for more early learning ideas.
_______
Supplies To Collect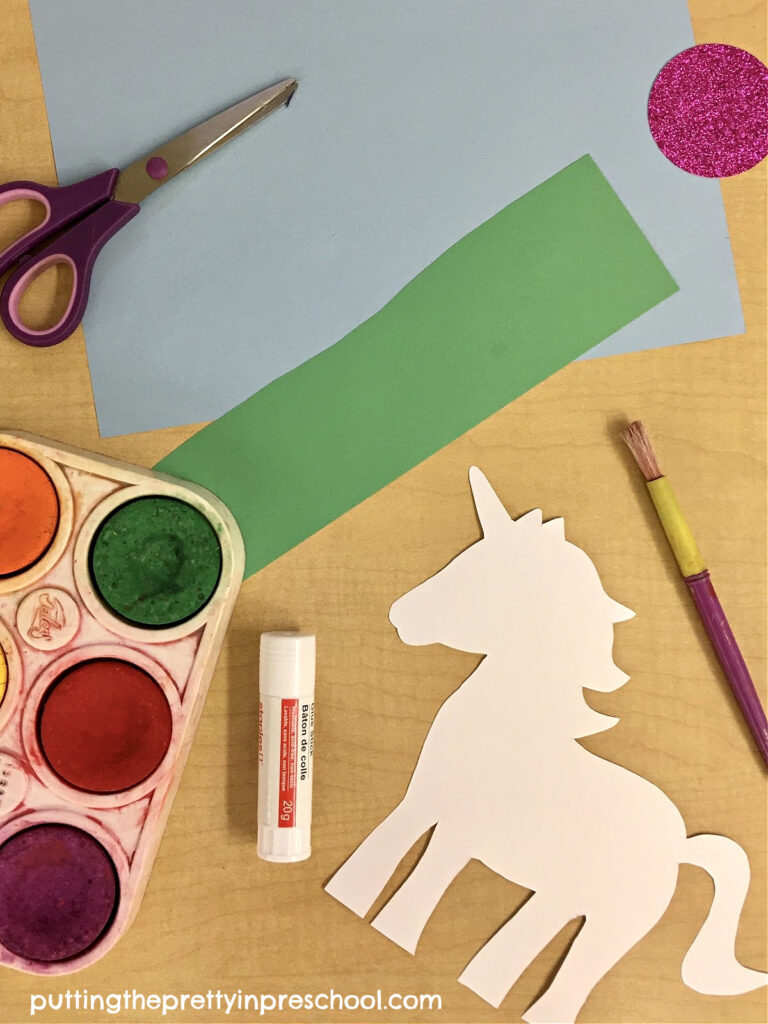 _______
Gather the following supplies to complete the beautiful unicorn scene:
non-toxic tempera paint pucks in a variety of colors
paint cake trays or muffin tins
paintbrushes and pots
8 ½ inch x 11 inch white cardstock paper
8 ½ x 11 inch green and light blue cardstock paper
metallic cardstock
circle paper punch
pencil and scissors
glue stick or glue gun
waterproof tablecloth or newsprint
_______
The Unicorn Watercolor Art Project
To start this stunning mythical-themed art project, first trace and cut out unicorns from white cardstock paper. Download the free template below for the activity, or choose your own design.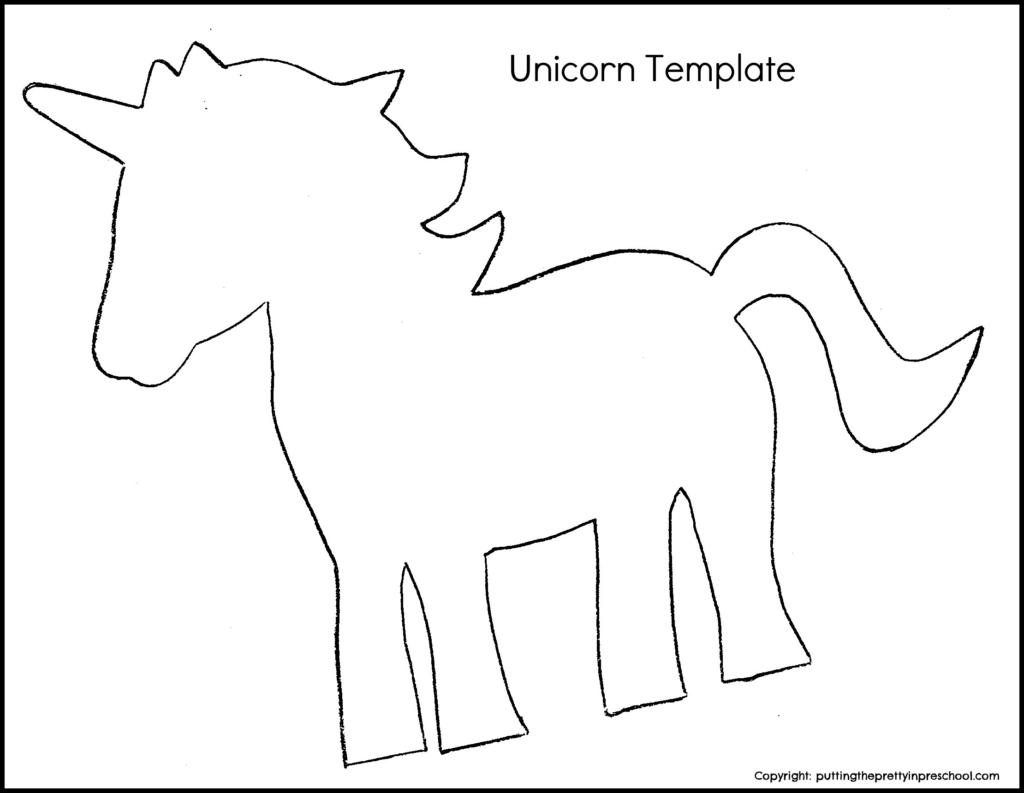 _______
This printable is for individual or one classroom use only.
_______
Next, cover a table with a waterproof tablecloth or newsprint.
Then set up stations with a paper unicorn, paintbrush, paint pot filled with water, and tray with tempera paint pucks in bright hues.
Invite each participant to dip their paintbrush in water and generously wet a paint puck, and then begin painting their unicorn. Between colors, paintbrushes should be rinsed in a pot of water.
Tip: Prewetting tempera pucks with a paintbrush and water makes this activity easier for little learners and helps them get off to a good start.
When completed, set aside the decorated unicorns to dry. This will take under an hour.
If there is time, participants may enjoy more watercolor painting on a rectangular or square piece of cardstock or copy paper.
After everyone has finished, rinse off the paint trays, pat them with a paper towel to remove excess water, and let them dry.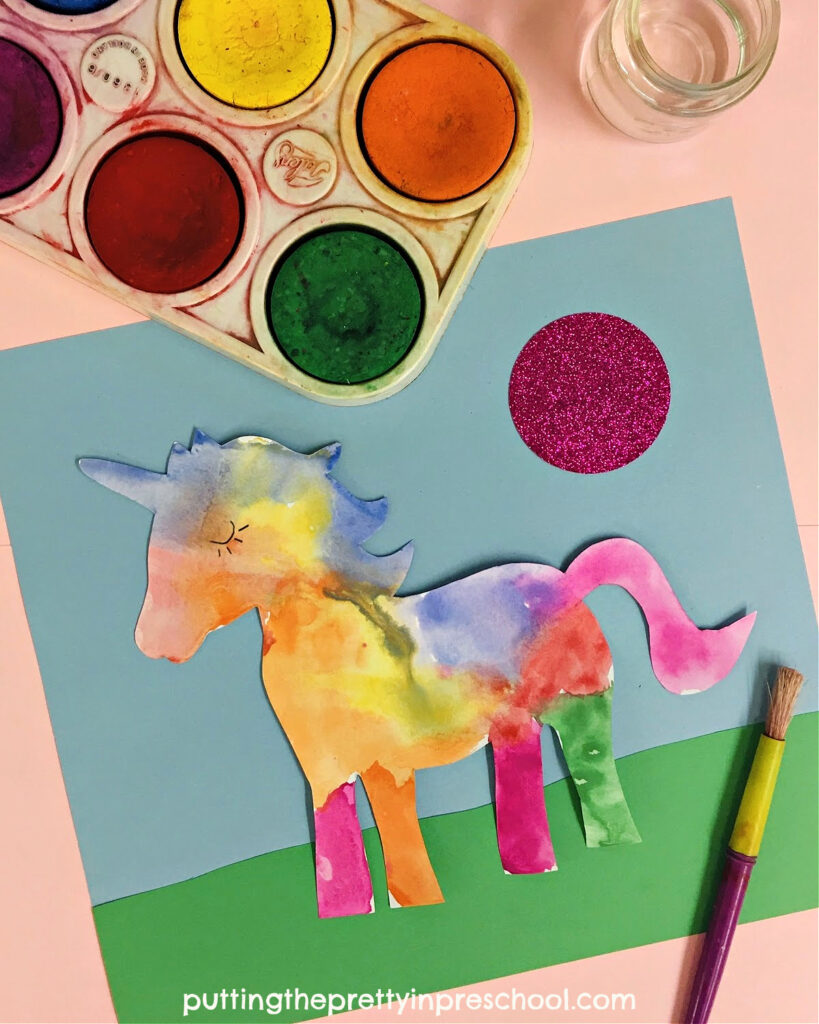 _______
Creating A Unicorn Scene
To create a beautiful unicorn scene for each painted creature, cut a narrow, green strip from fadeless construction paper to represent grass.
Using a glue gun or glue stick. adhere the green strip to the bottom of a piece of light blue construction paper.
Then punch or cut a circular sun from metallic cardstock in a hue that complements the painted unicorn.
Finally, glue a sun and unicorn to the blue and green construction paper background, and pencil in a unicorn eye.
Note: Older children can complete these unicorn scene steps on their own.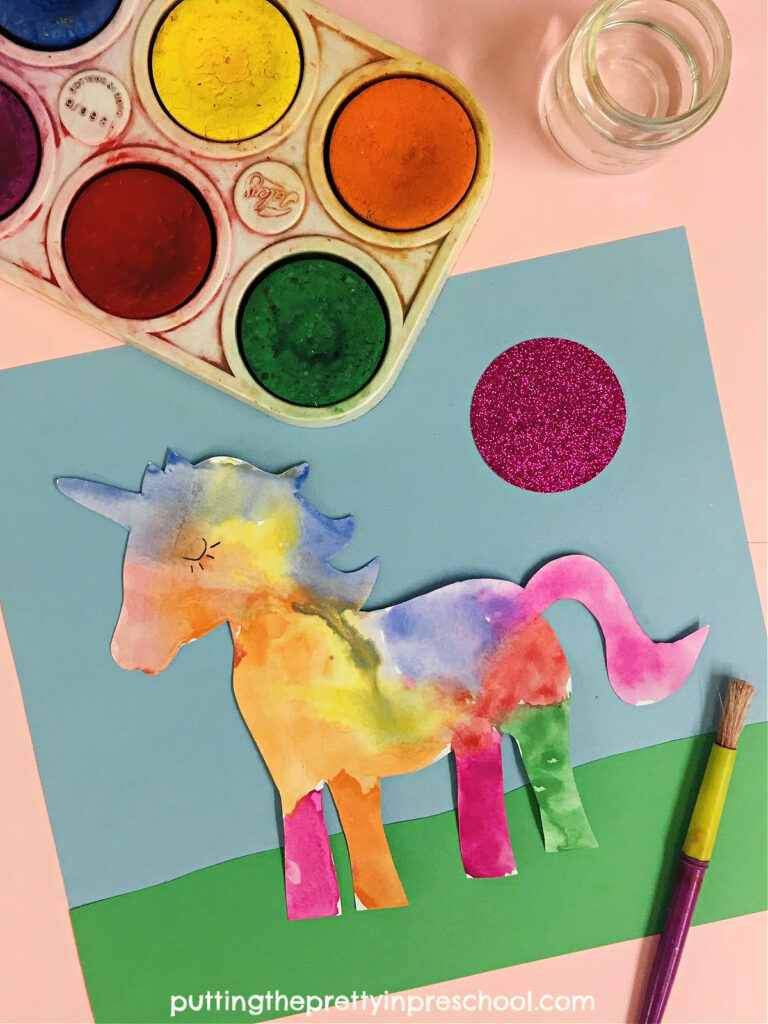 _______
Watercolor-painted cardstock or copy paper would also work nicely as a backdrop for a painted unicorn.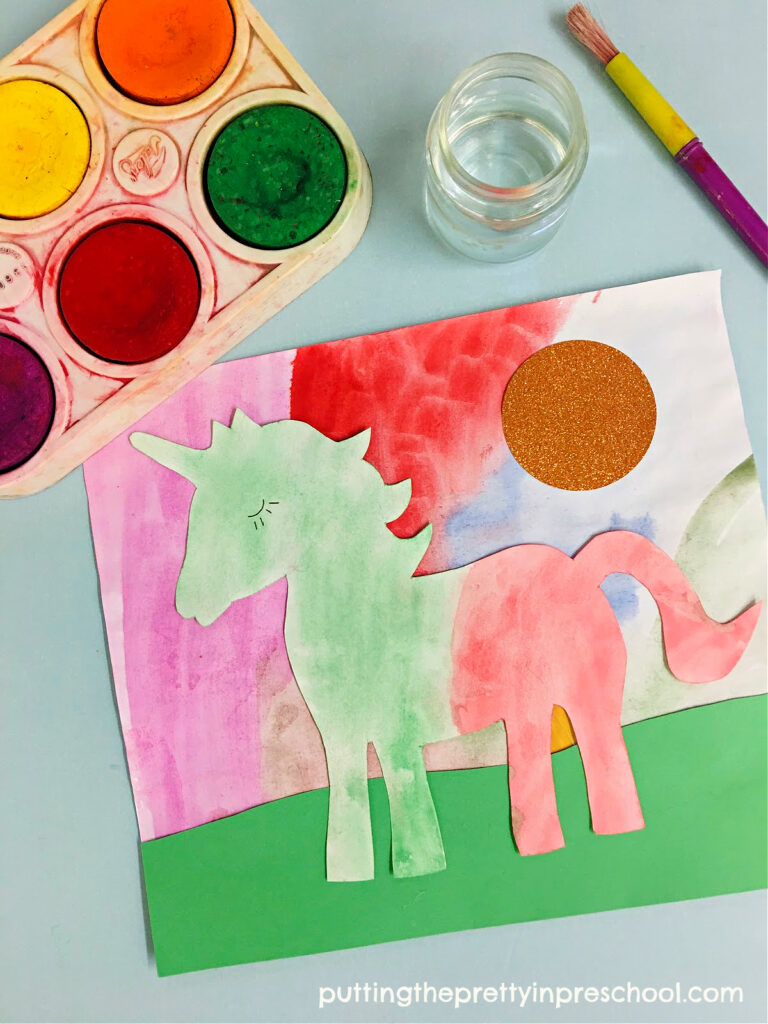 _______
Non-Toxic Paint Pucks
Non-toxic tempera paint pucks are a nice resource to have in your collection of art supplies. Here is a little more information about them:
Tempera paint pucks are watercolor paints in a puck or cake form.
These easy-to-use paints come in many beautiful hues.
Color possibilities are limitless, as the paints can be mixed to make new hues.
The paint cakes sit nicely in art trays or standard muffin tins that stack easily and take very little room when stored.
The non-permanent paints can be used on paper, cardboard, fabric, and wood.
Adding differing amounts of water to the cakes results in different effects and lighter and darker shades.
Crayons and oil pastels work beautifully with the tempera paint pucks.
This art medium requires minimal preparation and clean-up time and is easy to use with a large group or classroom of students.
The tempera pucks and trays are inexpensive to buy and last a long time.
_______
Related:
_______
[Read more…]

about Unicorn Watercolor Art