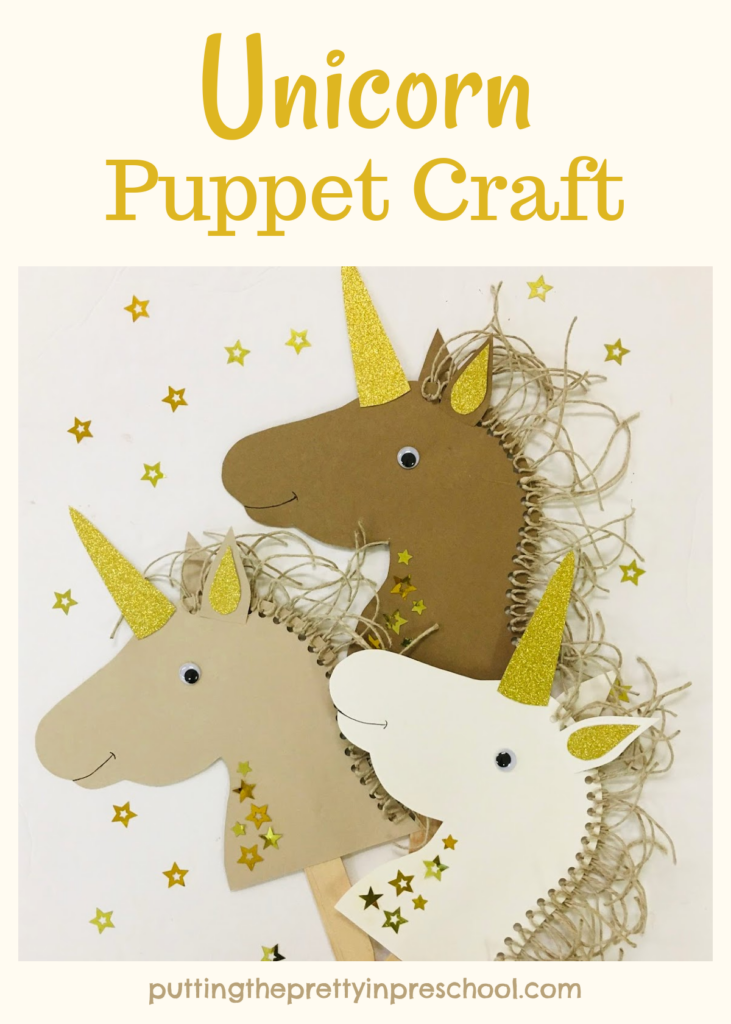 ---
Unicorns are very popular in children's clothing. As time goes on, I see this theme popping up more and more. After swooning over many a piece of clothing my preschoolers have worn, I decided to introduce a full-fledged unicorn theme. This unicorn puppet craft is one of the activities we will do.
The color scheme is neutral with a dose of gold. Over the past year, I collected a little treasure trove of unicorn toys and craft supplies. Most of them are in pink and pastel colors. The natural hues in this project will add variety.
You can have a go at making the craft too! There is a downloadable unicorn pattern further in the post to make it easy.
---
Supplies To Collect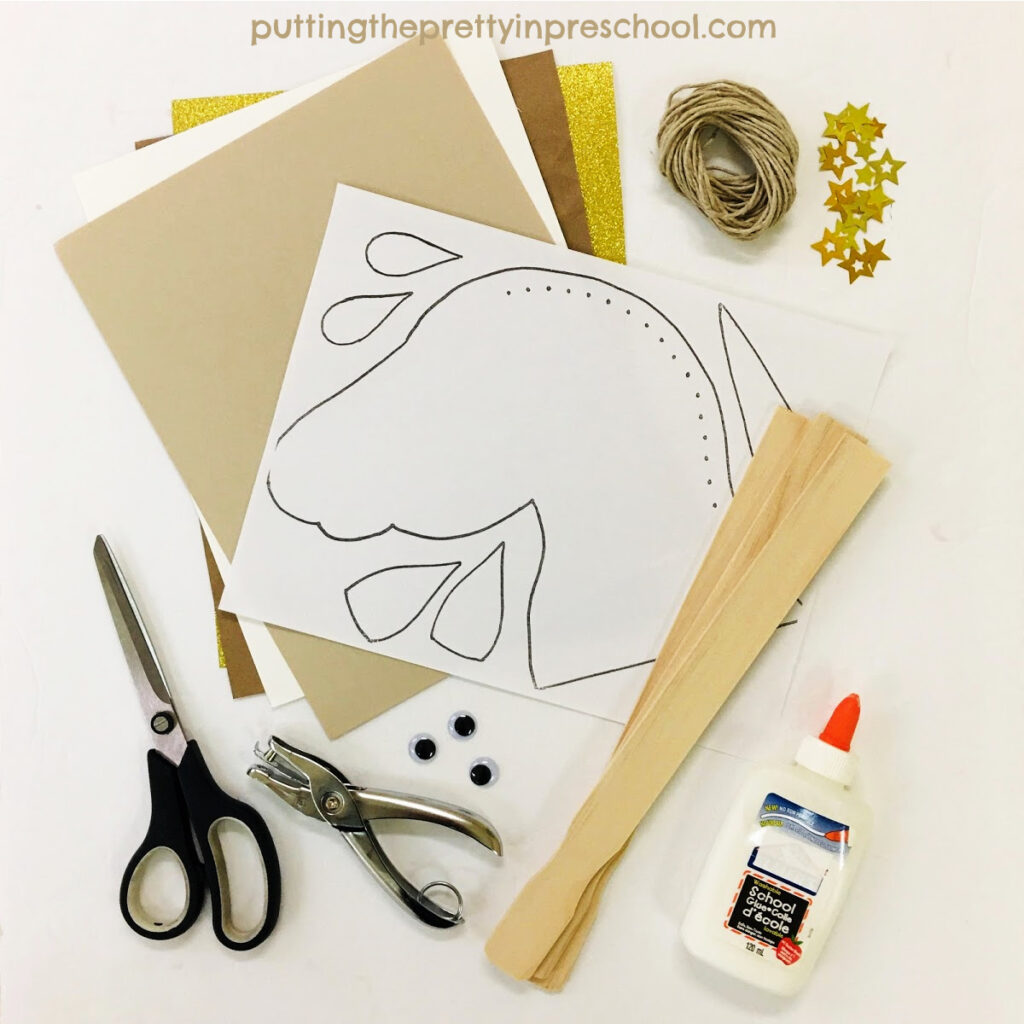 ---
craft, beige, and winter white 8 ½ x 11-inch cardstock paper
gold cardstock paper
twine string
paint mixing stick
wiggly eyes
gold star shaped confetti
scissors
white glue, glues stick, and glue gun
single-hole punch
pencil
black felt pen
unicorn pattern (downloadable below)
---
Follow me on Pinterest for more ideas.
---
Making The Unicorn Puppet Craft
Trace and cut out a unicorn head and ears from cardstock. Feel free to download this pattern: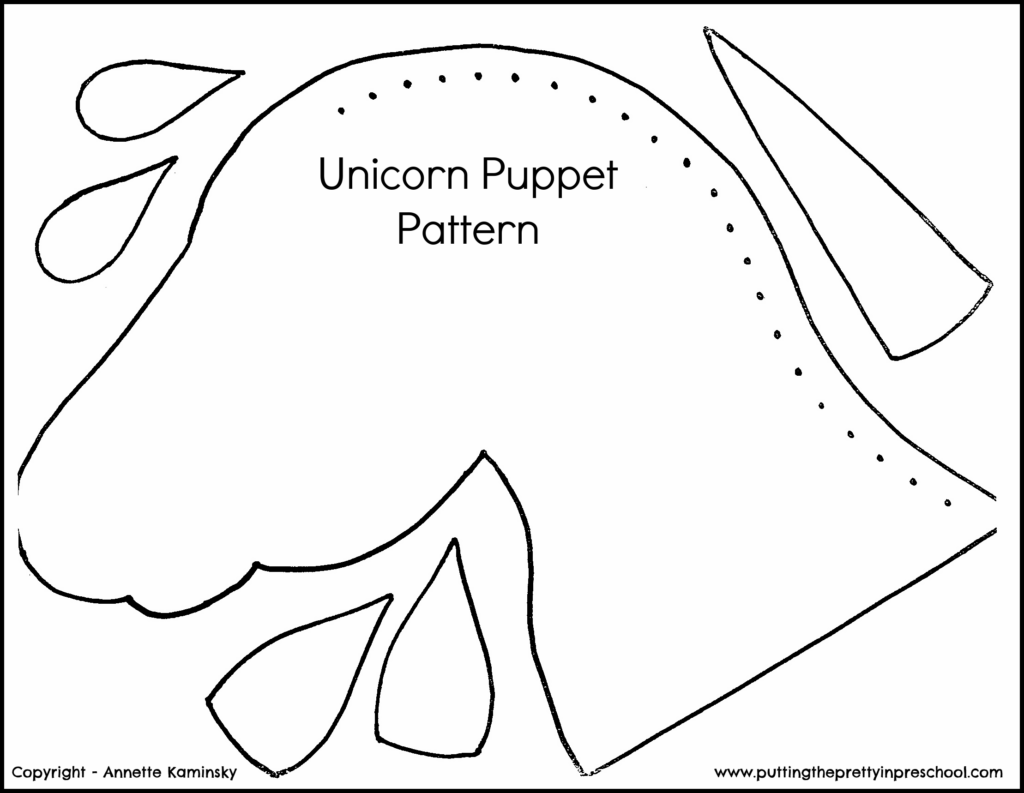 ---
This printable is for personal or one classroom use only.
---
Punch holes along the neck.
Cut a horn and teardrop shape from gold cardstock.
Cut the twine string into 9-inch/23 cm strips.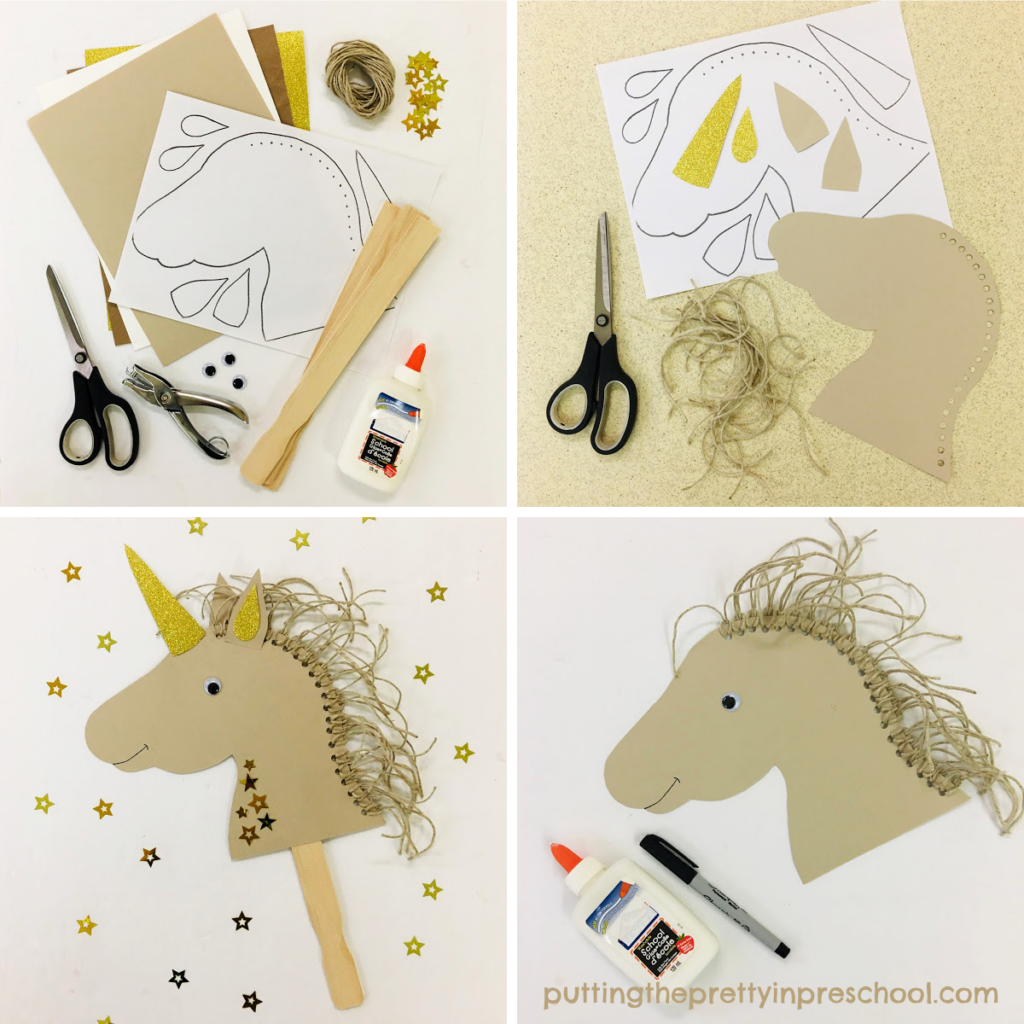 ---
Loop twine pieces through the holes to create a unicorn mane.
Glue on a wiggly eye, golden horn, and ear shapes.
Draw a mouth.
Glue a paint stick handle on the back of the unicorn.
Add a few star confetti shapes for extra pizzazz.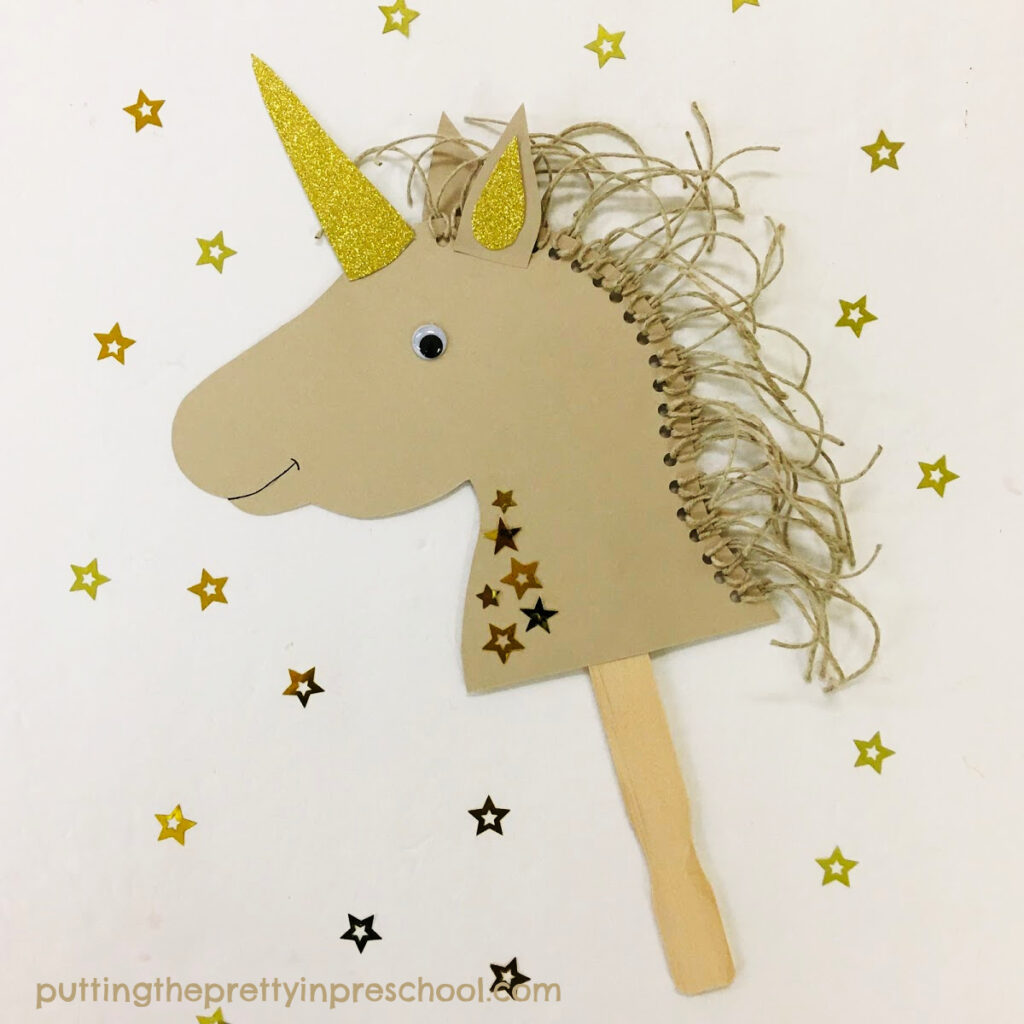 ---
Craft more unicorn puppets in other neutral hues!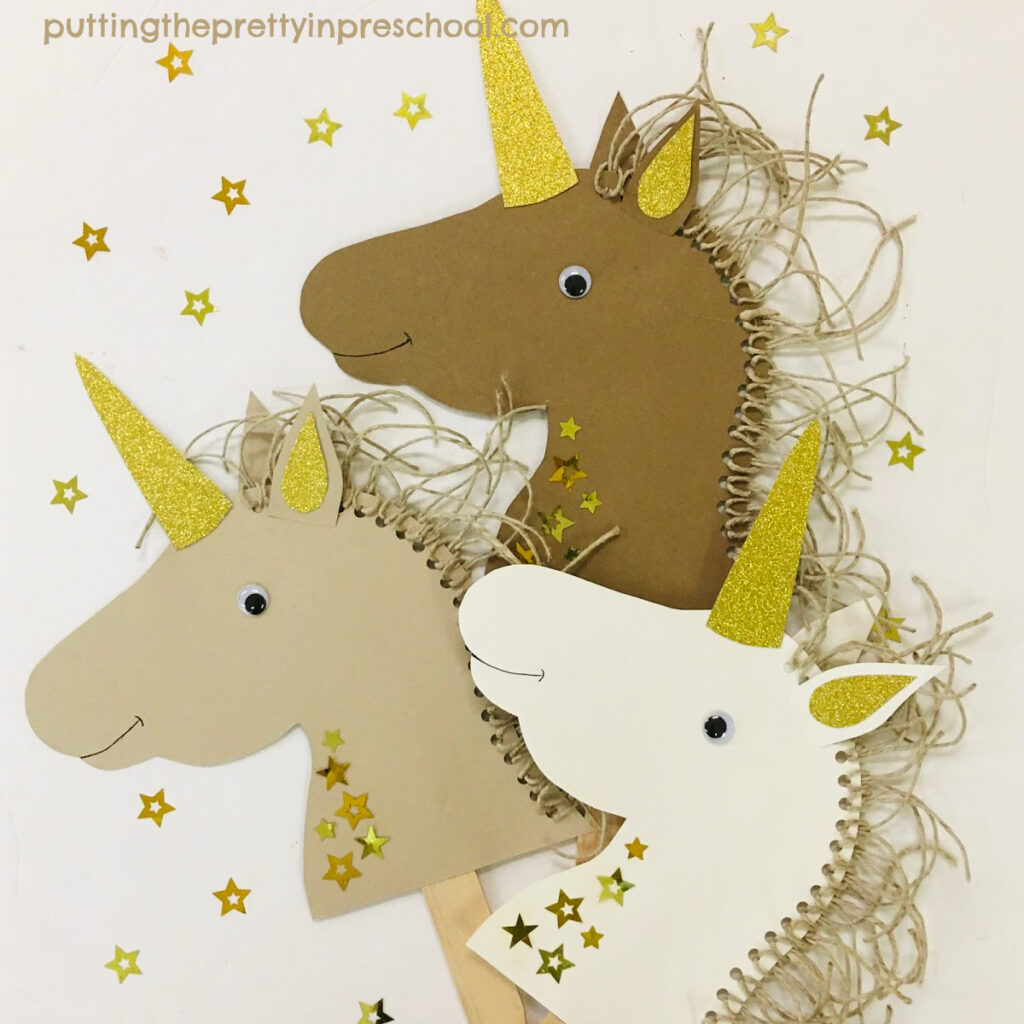 ---
Tip: Check a Dollar Store for the paint sticks. I got my sticks at one, and they are much smoother than any I could have gotten from a hardware store. They didn't require any sanding and came ready to use.
---
Unicorn Puppet Craft Video Tutorial
---
[Read more…]

about Unicorn Puppet Craft