_______
Paint chip color samples with their gorgeous lined-up hues are truly something special. They come in every glorious color scheme you can imagine and make any kind of art activity extra beautiful. In this post, they shine in paint chip watermelon art that lends itself to a variety of fun activities for children.
_______
Not Just Red
The only color of watermelon I experienced as a child is red, but did you know that there are also yellow, orange, pink, and white watermelon varieties? All these hues are featured in this fruity art activity.
_______
Follow me on Pinterest for more early learning ideas.
_______
Supplies To Collect
Gather the following supplies to make paint chip watermelon art:
paint chip samples in hues of red, pink, orange, yellow, and green
black cardstock
hole punch
glue stick
scissors and pencil
_______
Paint Chip Watermelon Art Process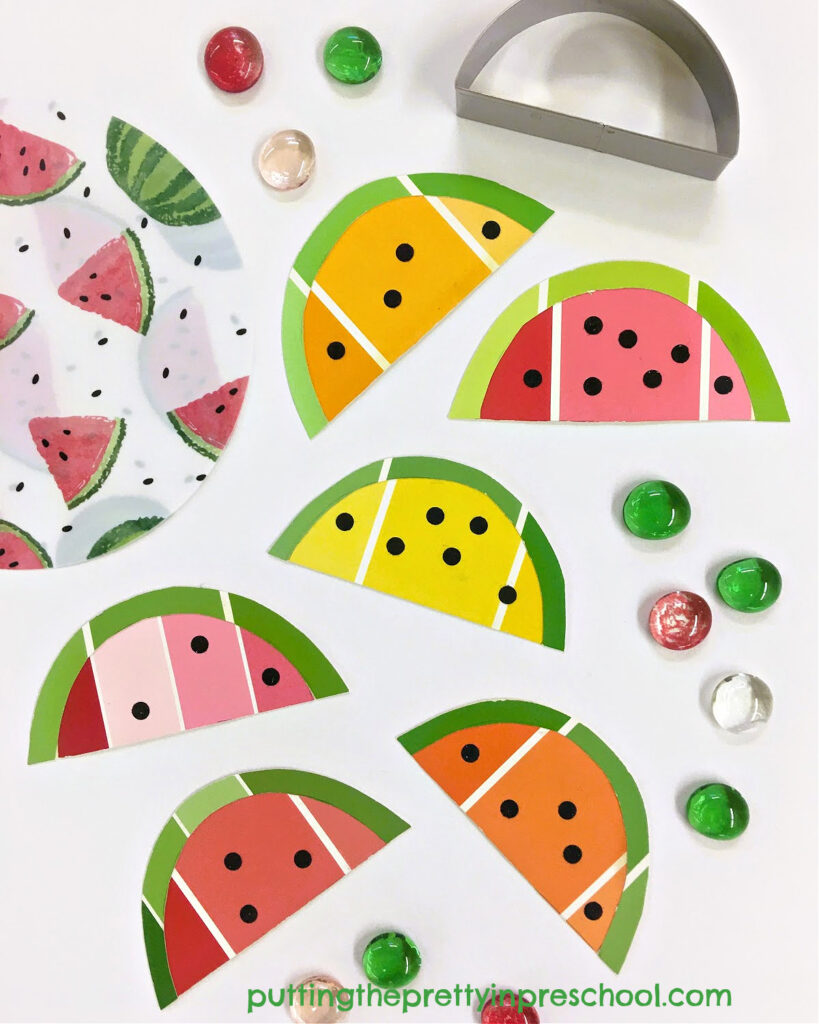 _______
To create this juicy art activity, trace and cut out half-circle shapes from paint chip swatches donated from hardware stores.
Note: Watermelon comes in at least five different hues, so multi-shade paint chip strips in yellow, orange, pink, red, and white all apply.
Next, trace and cut out thin half-circle watermelon rinds from green paint color samples.
Afterward, use a glue stick to affix the green rinds to the curved edge of the half circles to create watermelon slices.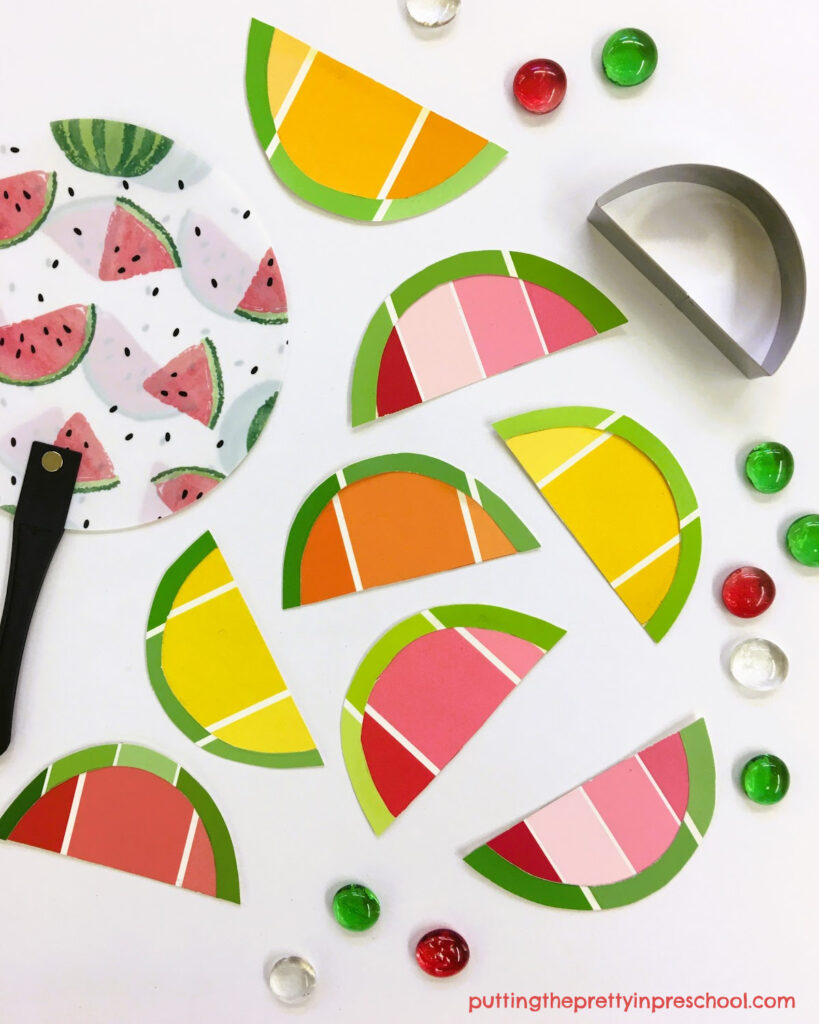 _______
Then punch dots from black construction paper for watermelon seeds, and glue a few onto each watermelon slice.
_______
Paint Chip Watermelon Activities
The created paint chip watermelon slices can be used in several ways with little learners:
Watermelon Slice Collage
Invite little learners to glue watermelon slices to a large sheet of paper for a pretty watermelon collage.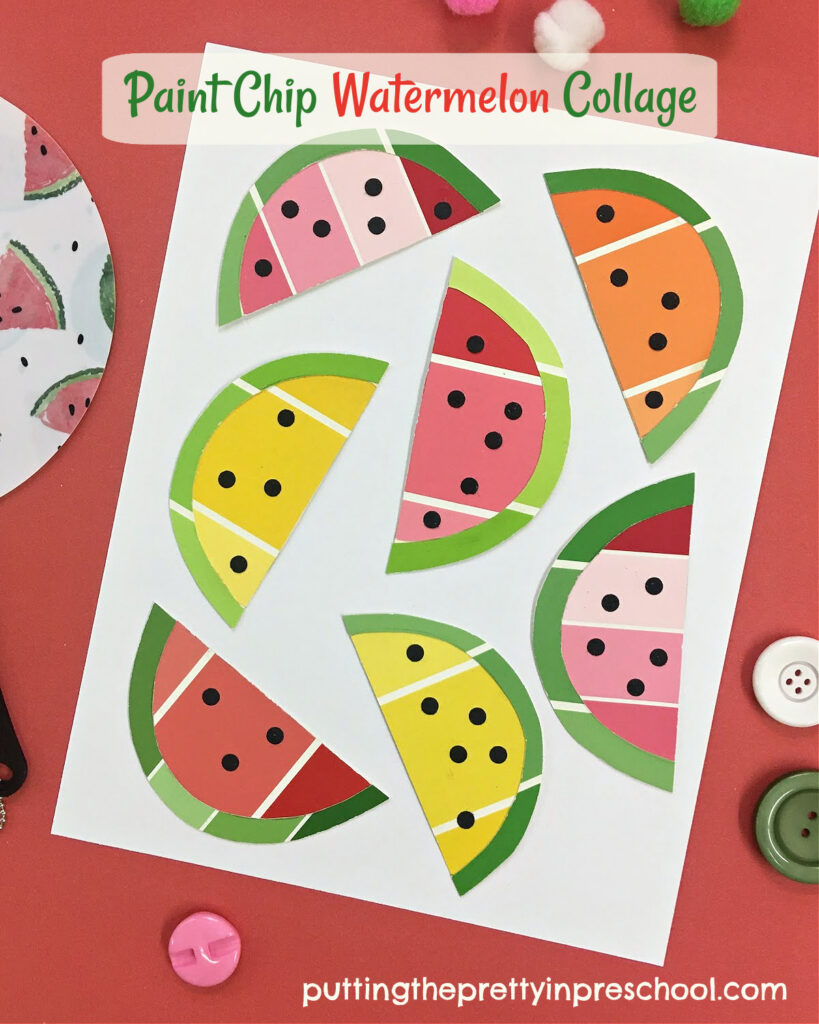 _______
Counting and Color Recognition Activities
Use the juicy slices as props for counting and color-recognition rhymes, songs, and charting activities.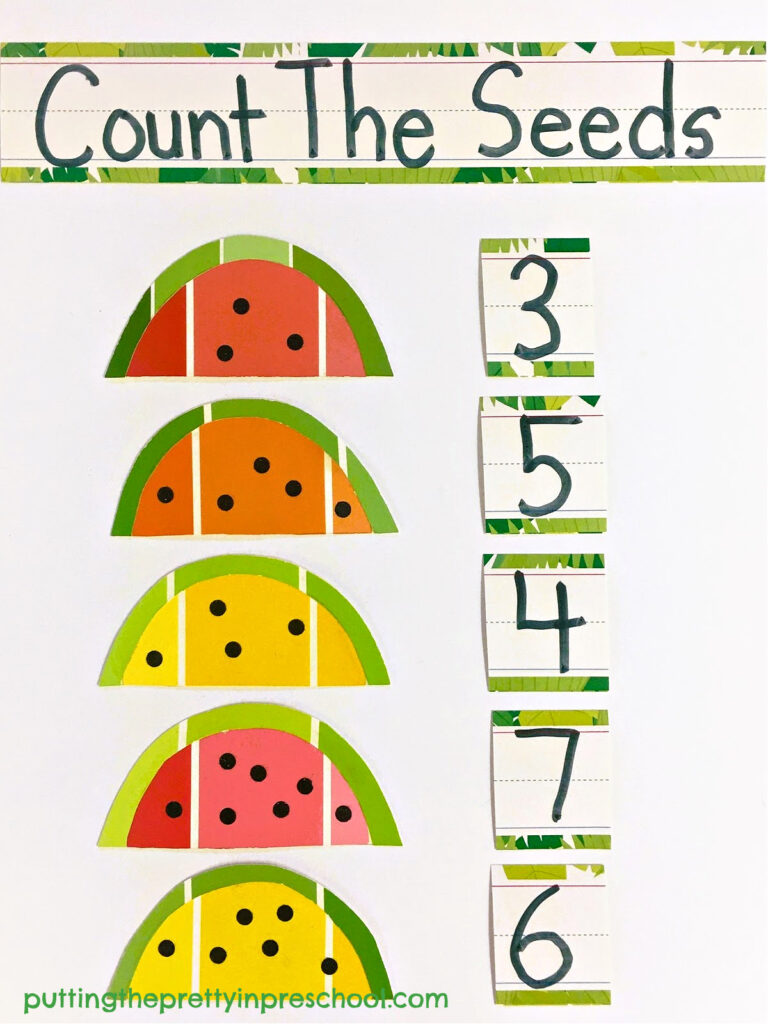 _______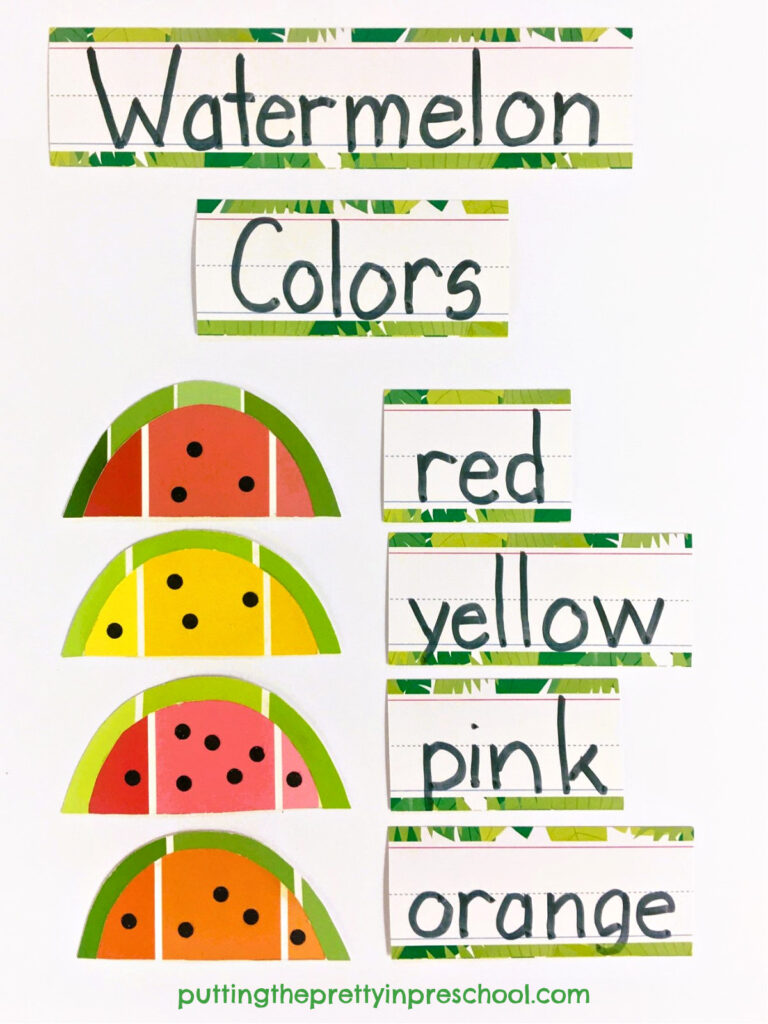 _______
Pretend Play Food
The crafted fruit slices make attractive pretend food for a play kitchen.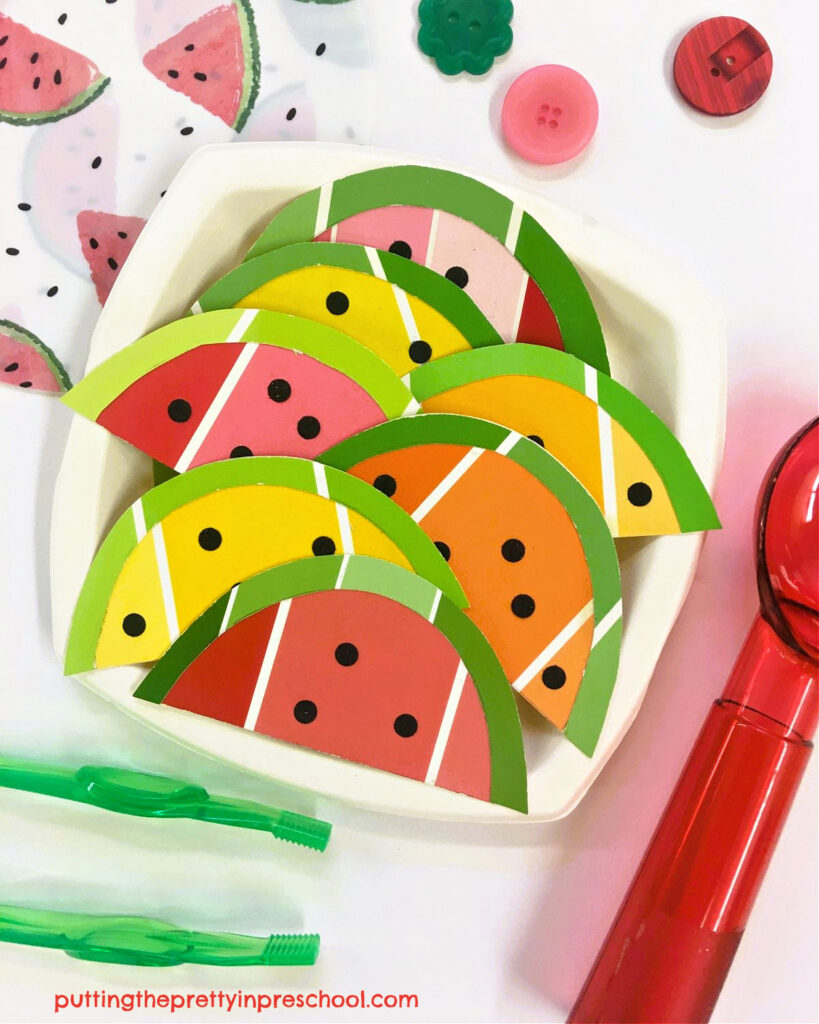 _______
Watermelon Necklace
With a hot glue gun, affix small paper clips to the back top of three watermelon slices. String pony beads and paper watermelon slices onto a 24-inch piece of thin lacing cord and tie it off.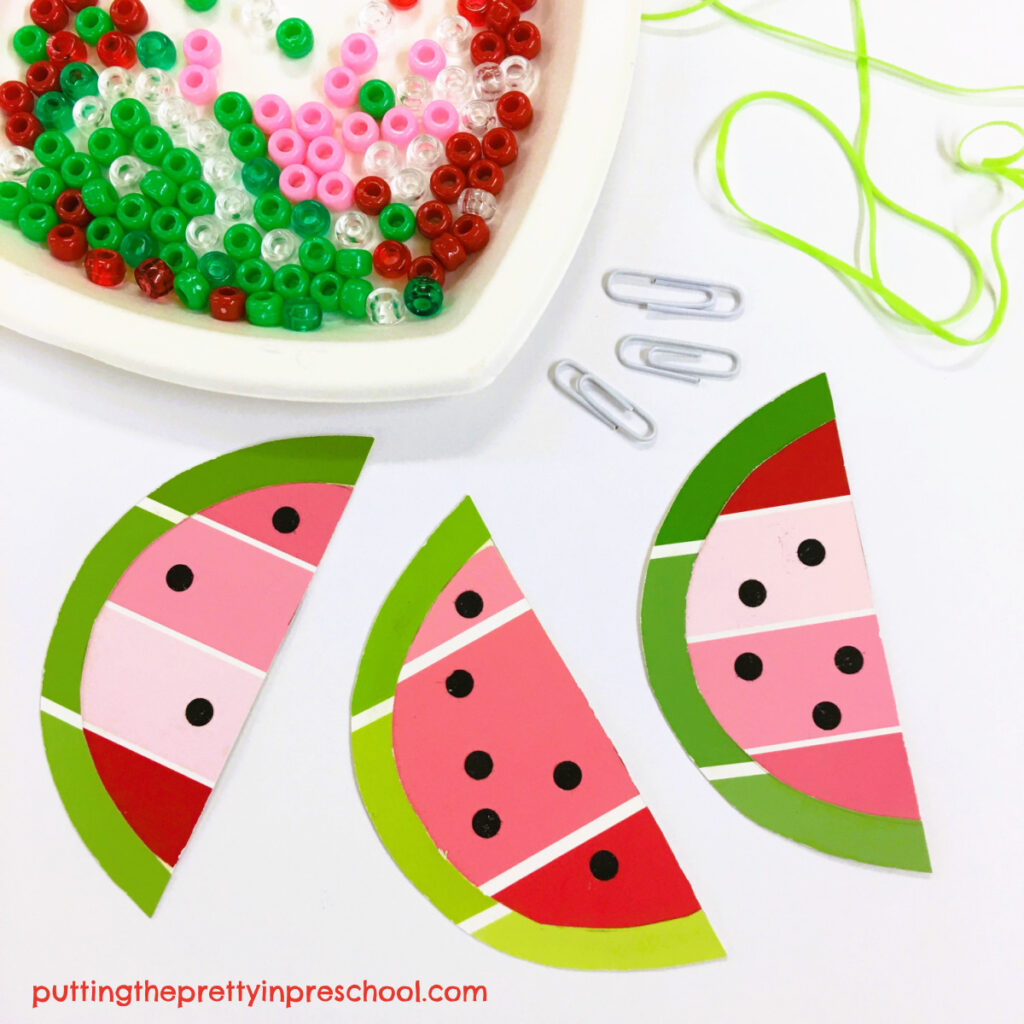 _______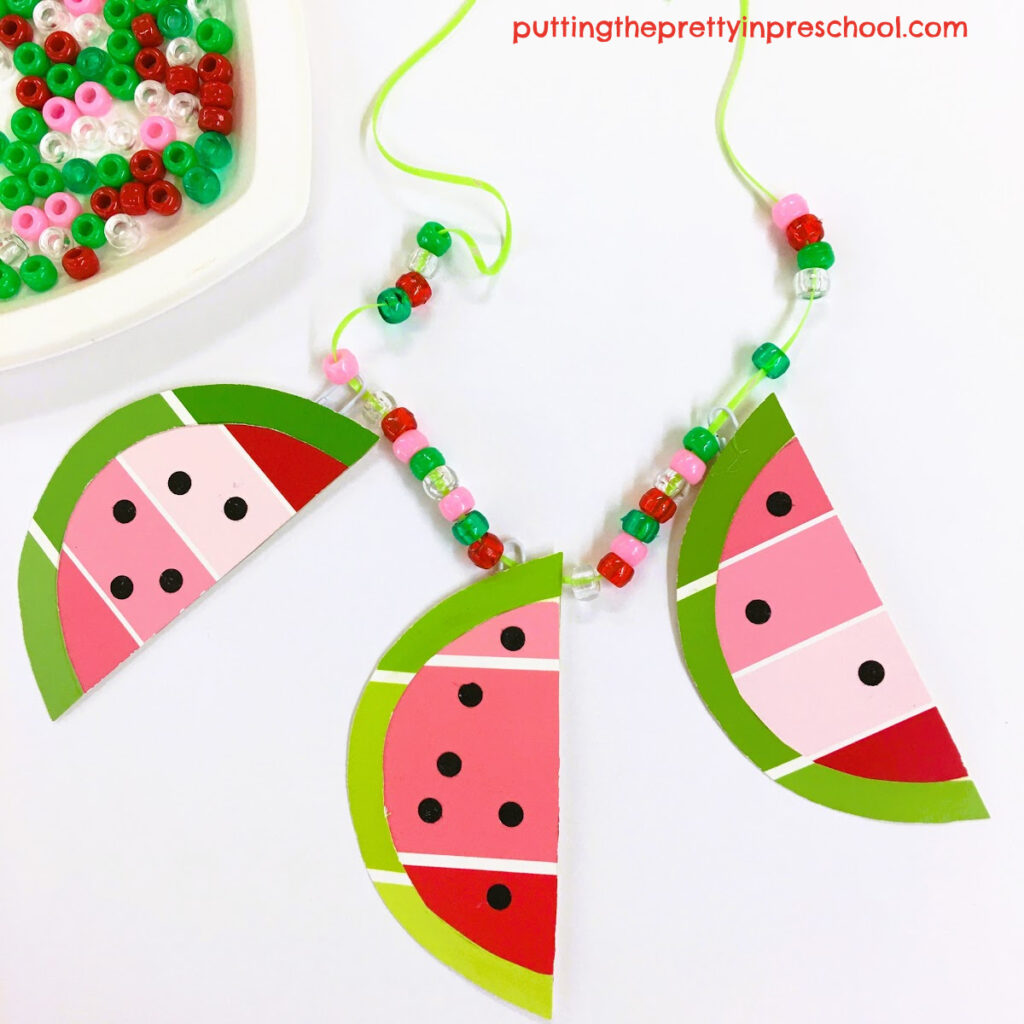 _______
Color Discussions
After little learners can recognize the basic colors, use the paint chip watermelon slices to discuss lighter and darker shades of color.
_______
Paint Chip Fruit Drink Art
It is easy to transition this paint chip watermelon art activity into a fruit drink craft. To do this, cut paper glasses from construction paper colors of choice. Then cut half circles from paint chip swatches in fruity hues. Offer each participant a paper glass, glue stick, and six or seven half-circle fruit wedges to create a lemon, lime, or orange paper drink. Add an additional fruit slice to the top of each glass.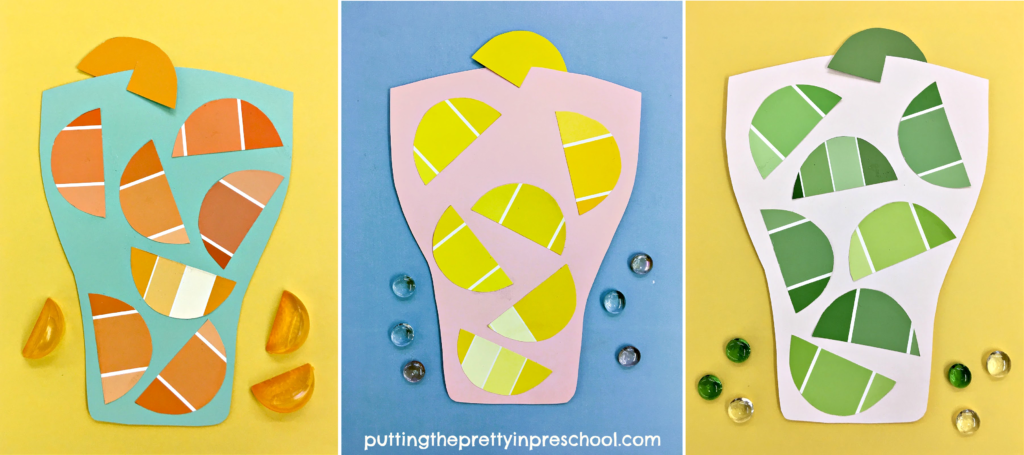 _______
Watermelon Facts
Interested in finding out more about different kinds and colors of watermelon? Check out the post "Here's the Difference Between Pink, Orange, and Yellow Watermelon" by myrecipes.com.
_______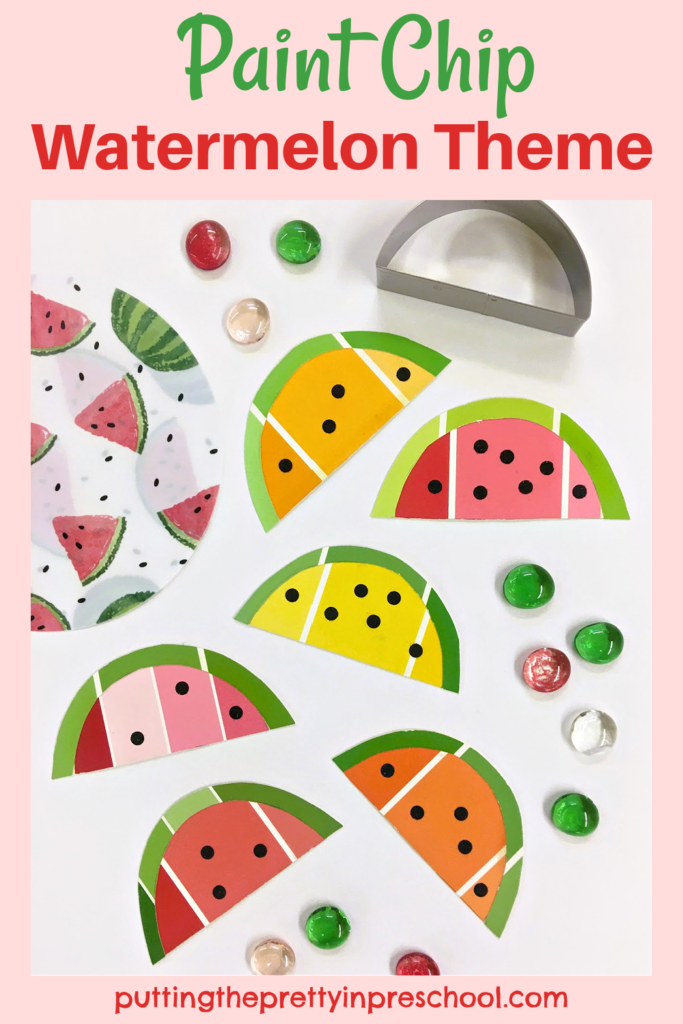 _______
Related:
Watermelon Dramatic Play Center
Watermelon-Inspired Banner Craft
_______
[Read more…]

about Paint Chip Watermelon Art