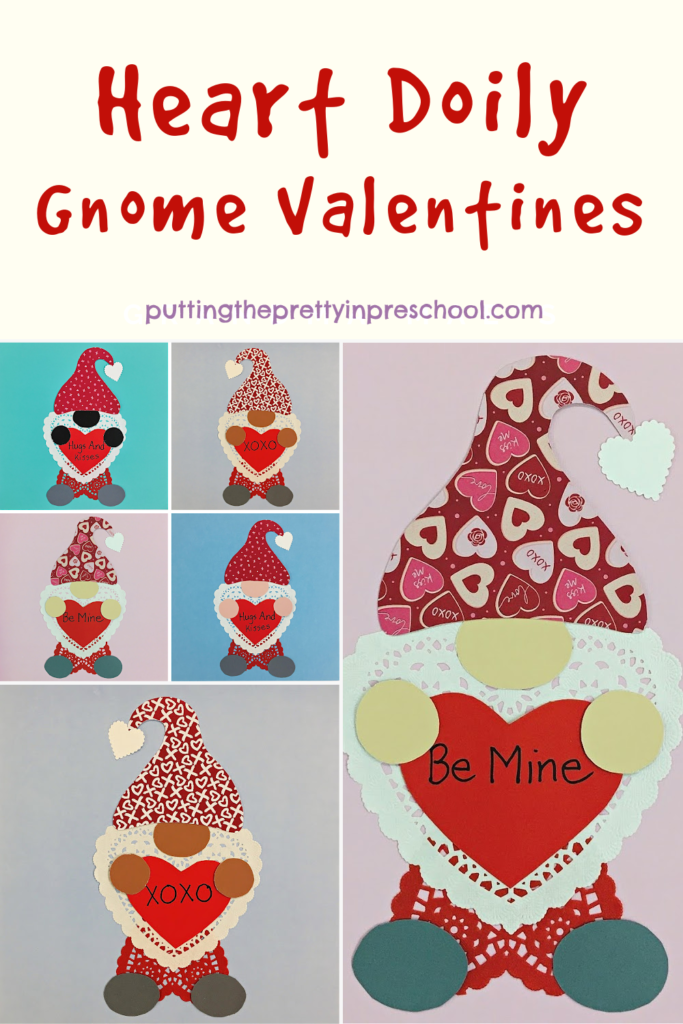 _______
These adorable heart doily gnome valentines will add a major dose of cuteness to your holiday décor. Little learners can review shapes while you work on the project. And wouldn't the valentine crafts look great displayed together on a classroom wall? To make the papercraft super easy, I've included a free printable for downloading below.
_______
Follow me on Pinterest for more early learning ideas.
_______
Supplies To Collect
For the gnome valentines, gather the following supplies:
4-inch red paper heart doilies
6-inch white paper heart doilies
red, white, and grey cardstock
cardstock in different flesh tones
valentine scrapbook paper
8 ½ x 11-inch cardstock or construction paper
heart paper punch
black felt pen
glue stick
_______
Making The Heart Doily Gnome Valentines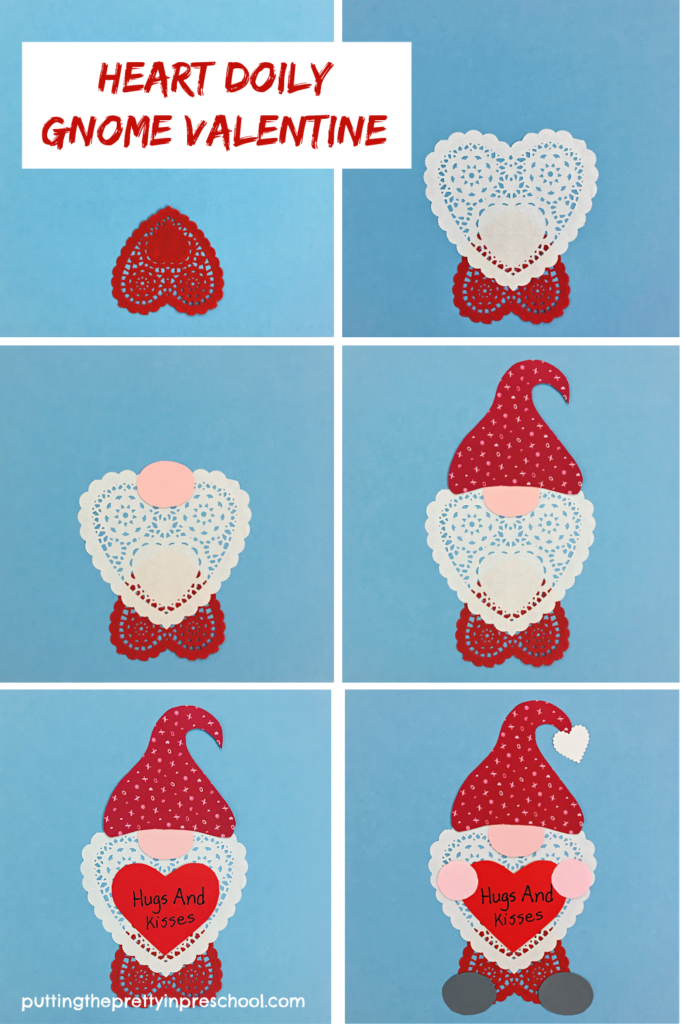 _______
There's a bit of cutting to do in order to set up this valentine gnome craft. The good news is that it can be completely made of paper, keeping the project low cost. If desired, download this free template for the shapes.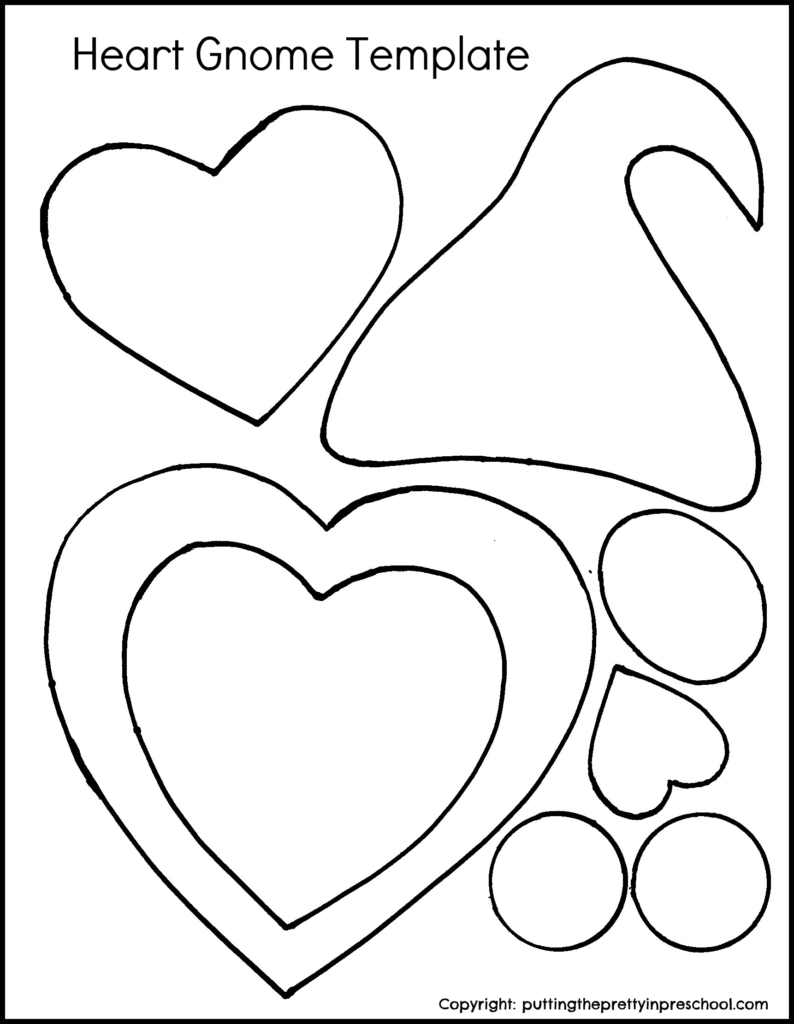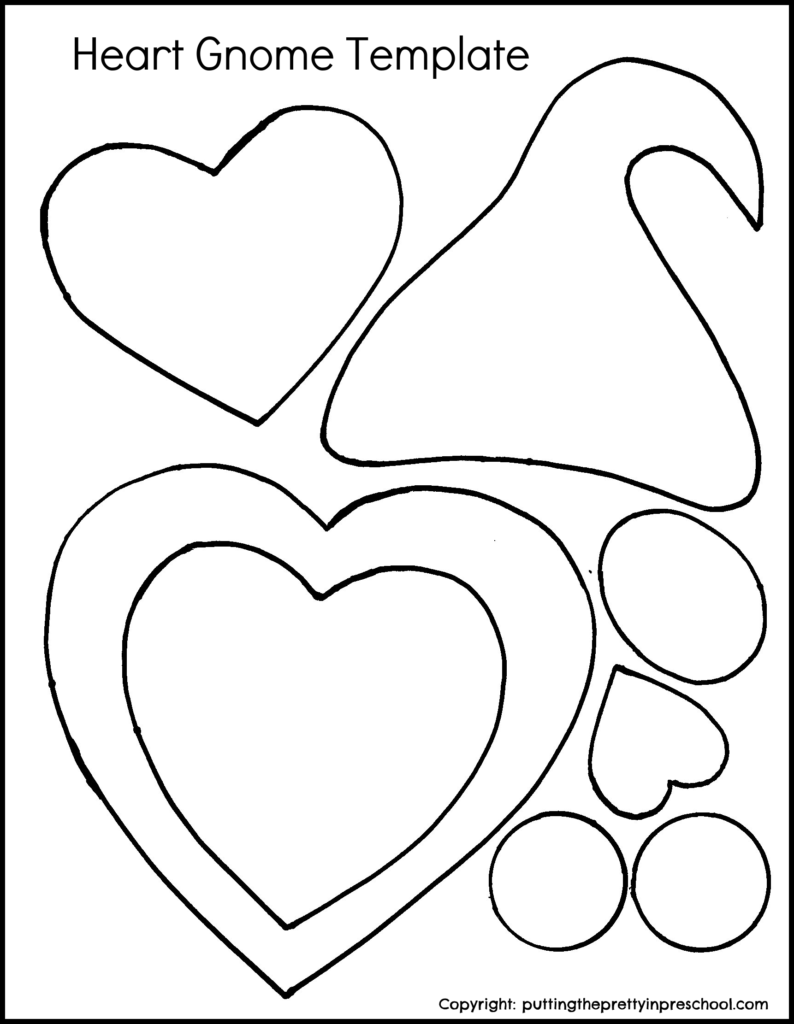 _______
This printable is for individual or one classroom use only.
_______
Tip: Construction paper or cardstock works best for the papercraft.
Cut an oval nose and two circle hands from flesh-colored paper, and punch or cut a small heart "pom pom" from white. Snip a heart valentine (the smallest one on the template) from red paper, and two oval shoes from grey. Finally, cut a curved, pointy hat from the scrapbook paper of choice.
Using a glue stick, adhere the red heart doily upside down near the bottom of an 8 ½ x 11-inch sheet of sturdy paper. This heart will be the lower body of the gnome.
Glue the large white heart right side up halfway over the red lacy one to serve as a beard.
Note: The heart doilies help make for an exquisite craft, but they can easily be substituted with paper ones. Included on the template are two heart shapes that can be used instead.
Center the flesh-colored oval in the middle of the top of the white heart for the nose.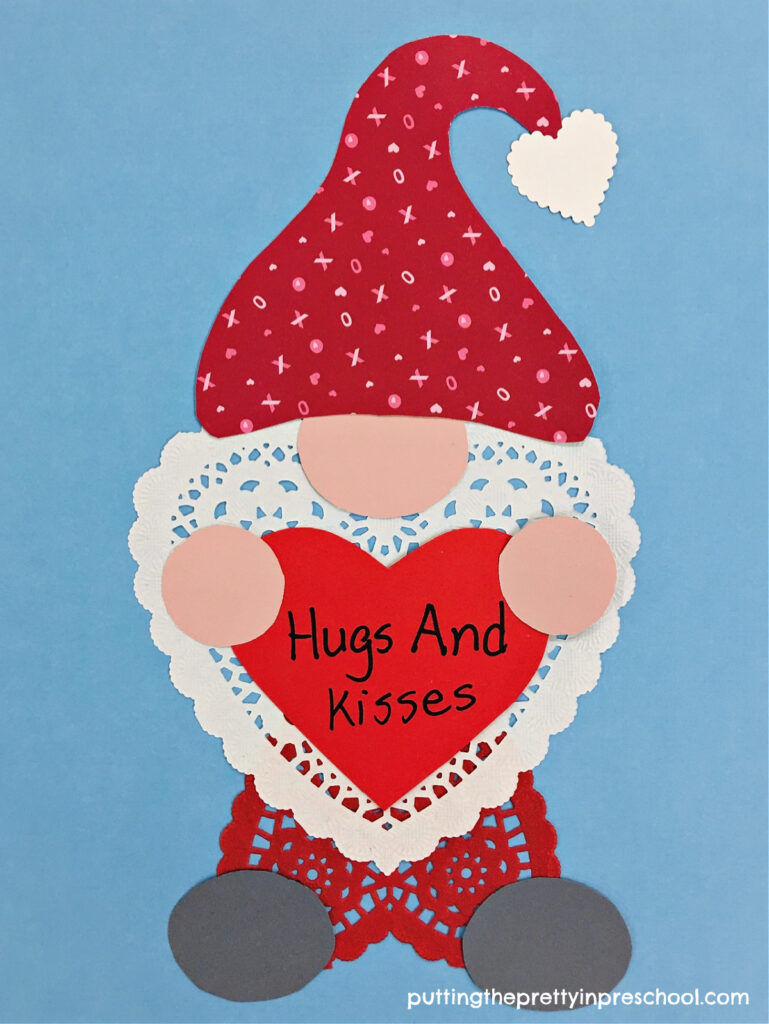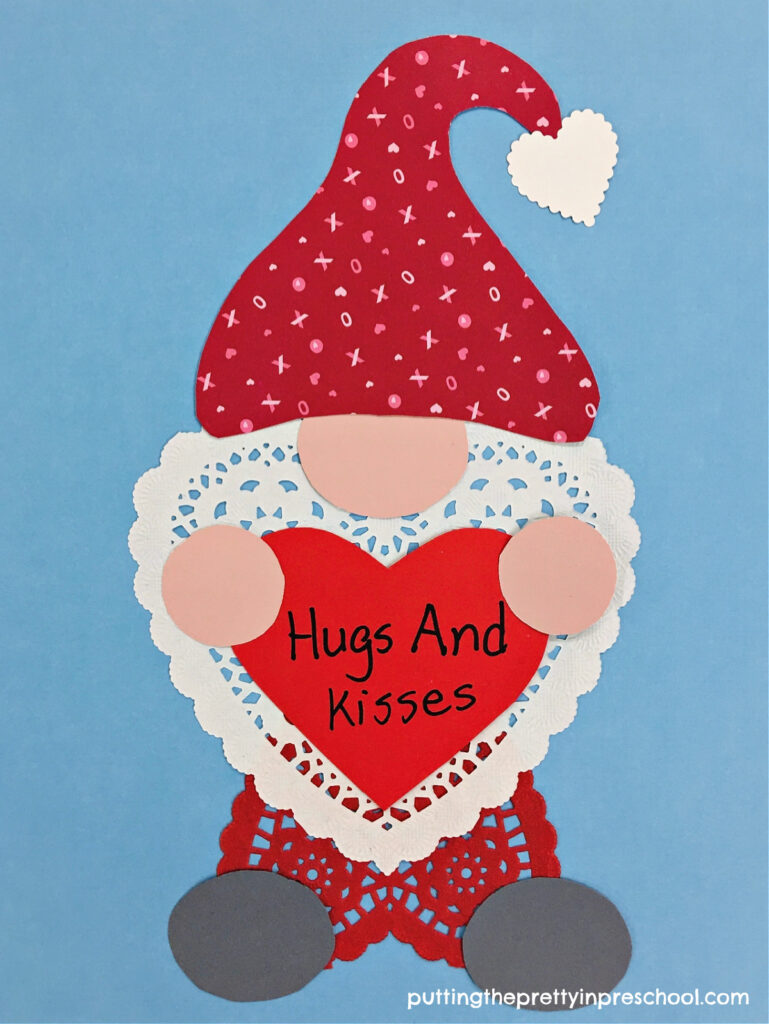 _______
Paste on the scrapbook paper hat.
Write a message on the smaller red heart with a black felt pen. Then glue it to the white one.
Adhere the circles to serve as hands holding the valentine heart, and the white heart to the tip of the curved hat for a pom pom.
Glue the grey ovals on the bottom of the red doily heart to become shoes.
_______
Multicultural Heart Doily Gnome Valentines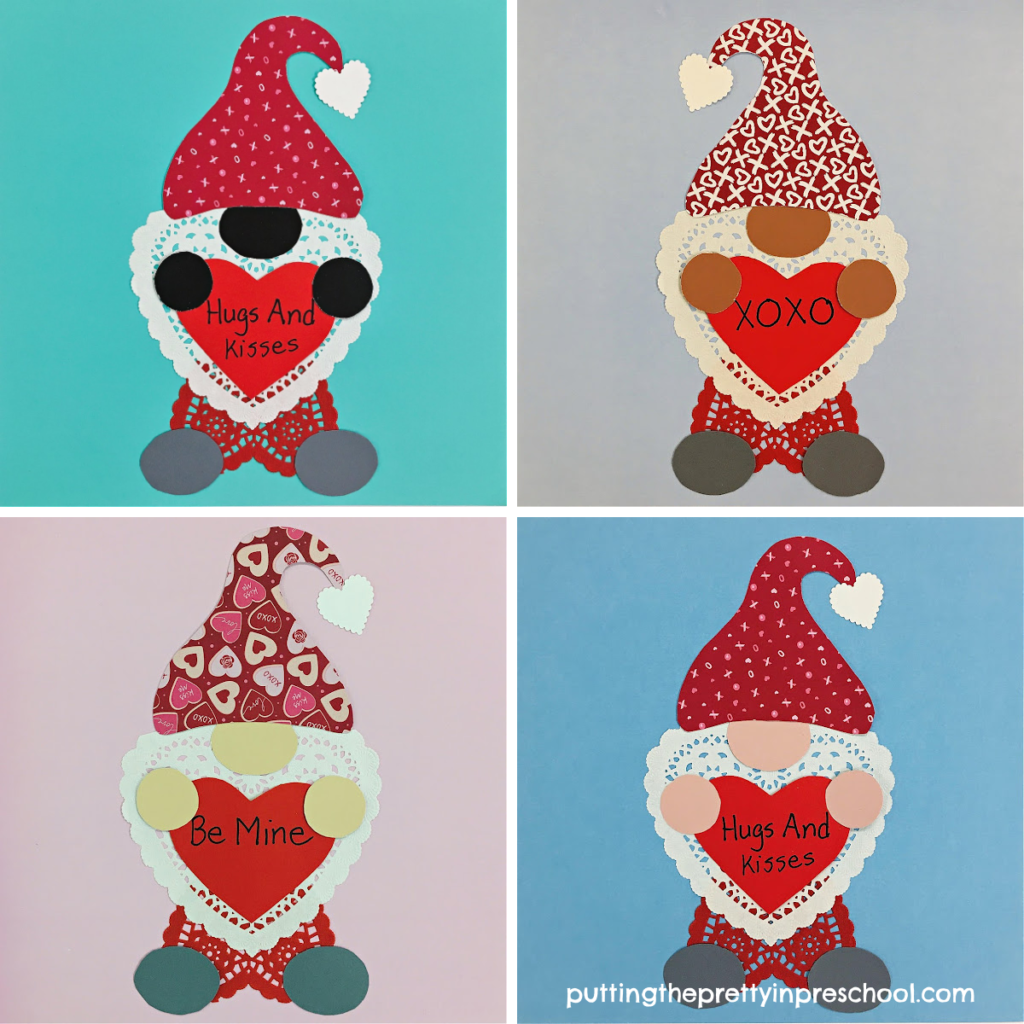 _______
The heart gnomes can be crafted in different flesh tones, making the project multicultural. And while putting together this craft with little learners, heart, circle, and oval shapes can be discussed.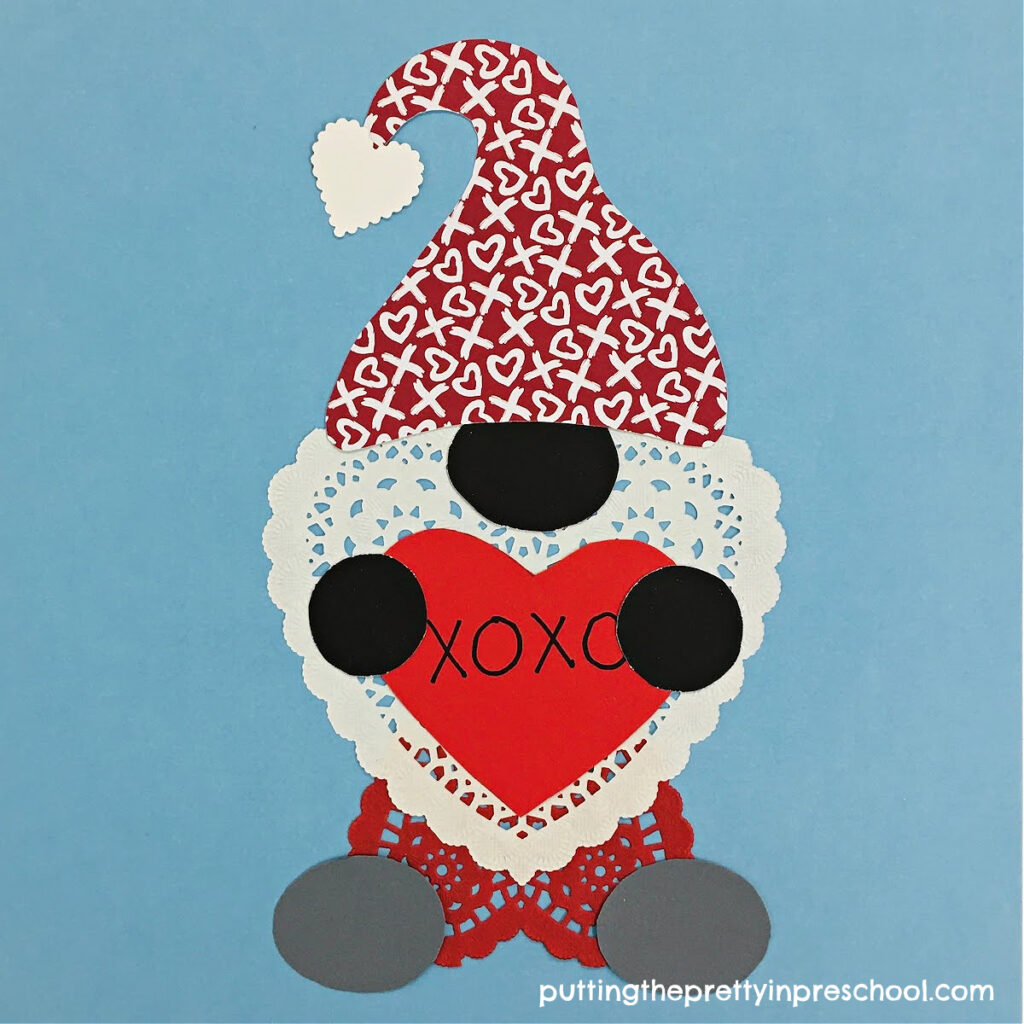 _______
Tip: Paint samples work well for the nose and hands, as they come in so many flesh tones.
_______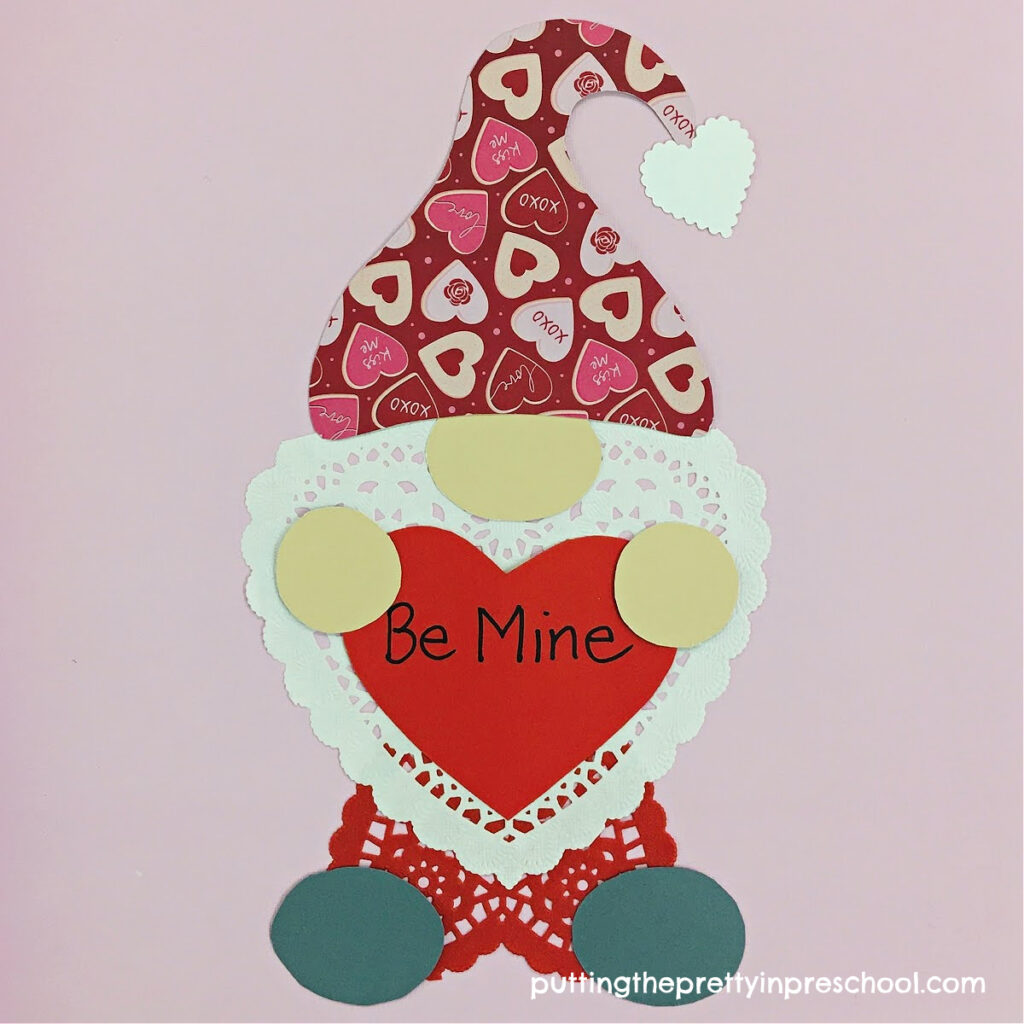 _______
Six Gnome Facts
Gnome ornaments and crafts have been extremely popular in the last few years. If you are interested in finding out a little more about these mythical beings, here are a few facts:
Gnomes are legendary creatures originating in European stories.
They are small men with pointy hats and long, white beards.
These imaginative creatures live in dark, rural places such as forests or underground burrows.
Gnomes are considered to be industrious, kind, and wise.
Guarding the earth and wildlife is important to gnomes.
Garden gnomes originated in Germany in the mid-1800s and are prevalent today.
_______
You are going to love creating these huggable gnomes! Tag me on Instagram with your creations and I'll share them in my stories!
_______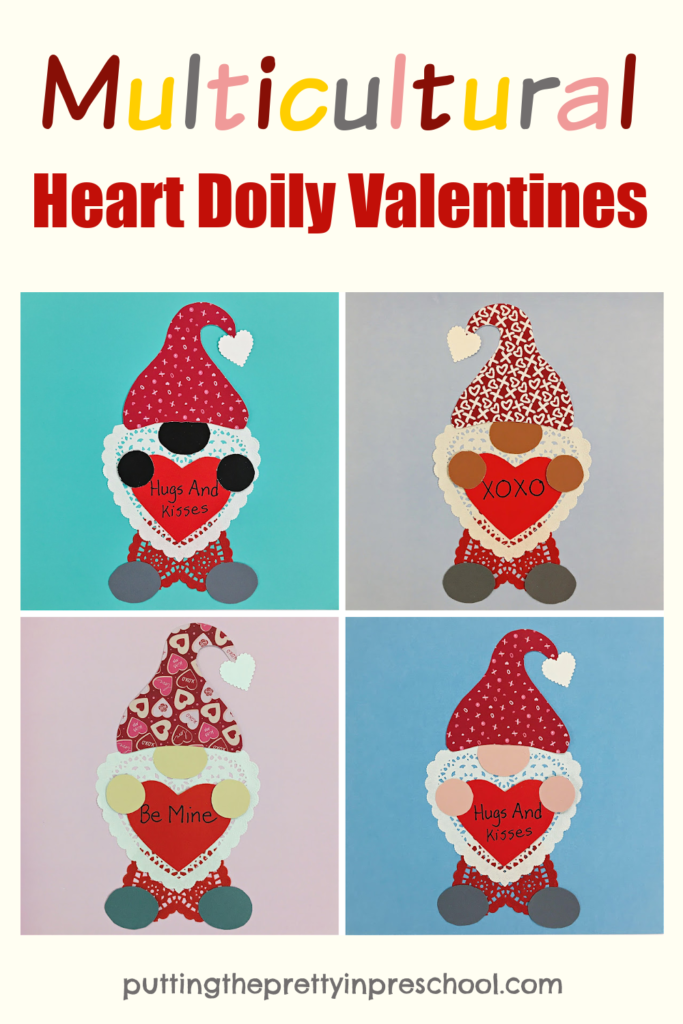 _______
More Valentine's Day Activities:
Valentine's Day Treasure Blocks
Valentine's Day Gingerbread Cookies
Valentine's Day Musical Instruments
Valentine's Day Playdough Activities
_______
_______
You may also like:
Woolly Sheep Valentine's Day Crafts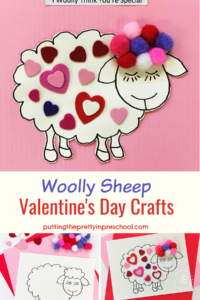 _______
_______
Don't forget to share this post on Pinterest or your favorite social media channel. Sharing is caring!
_______
© Annette Kaminsky February 5, 2022
_______
Follow me on social media for more ideas: