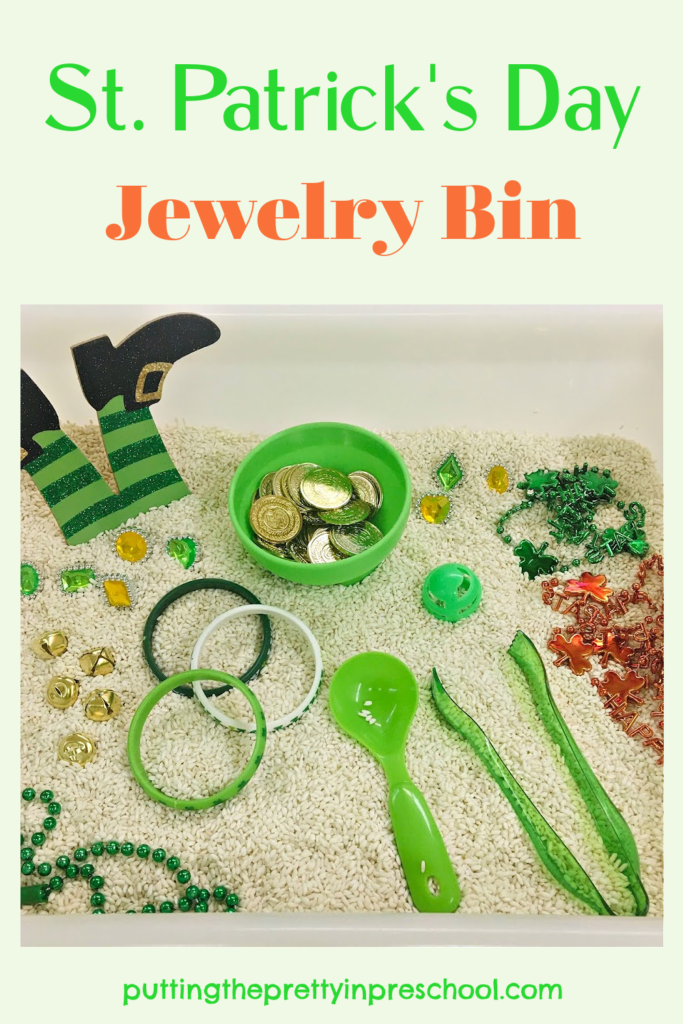 _______
This St. Patrick's jewelry bin lets children explore the bling in an additional way to wearing it on the official celebration date, March 17th each year. It makes a great discussion starter about the world-renowned St. Pat's celebration and the significance of shamrocks and the color green. And it introduces the tricky leprechaun, most entertaining for children!
St. Patrick's Day is a national holiday in Ireland and started out as a religious one. It evolved into a celebration of Irish culture, and people around the world take part in it. One of the biggest ways people do this is by wearing green on March 17, or at festive events that take place near this date. They may wear t-shirts, socks, hats, glasses, and/or jewelry with a green theme. Irish sayings and shamrocks are a huge part of the designs. Touches of orange, gold, and white also make an appearance.
_______
Follow me on Pinterest for more early learning ideas.
_______
Supplies To Collect
For this sensory bin, gather the following economical and easy to find supplies:
white rice
gold coins and bells
green and rust necklaces
yellow and green gem rings
shamrock-themed bracelets
green bowl, spoon, and tongs
leprechaun legs
sensory tub
_______
The St. Patrick's Jewelry Bin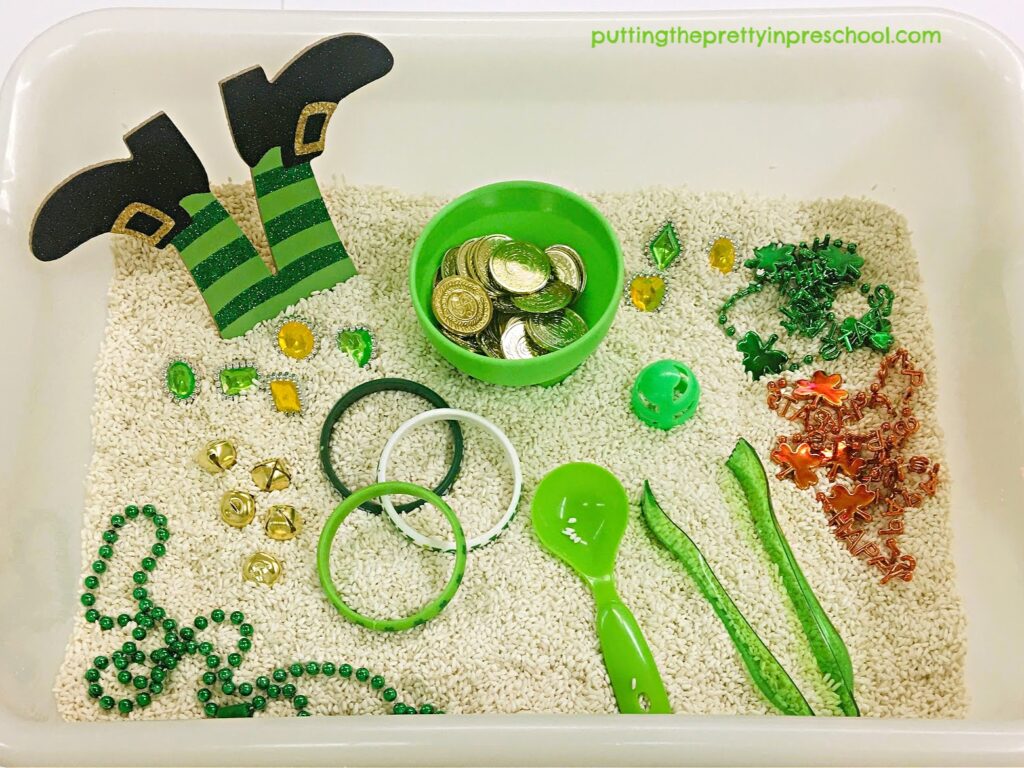 _______
Pick a sensory tub for the activity. A serving tray will work for one or two children. I feature a food and tableware tub here, large enough for a few children to participate together.
Generously spread white rice on the bottom of the tub. The neutral base allows the accessories to "shine."
Next, layer in the loose parts.
Lastly, press in the leprechaun legs.
Note: The leprechaun legs are taken from a St. Patrick's Day wall plaque. A figurine would make a great substitution.
Early learners can explore the colors and textures of the jewelry, and wear it if they like. They will have fun with the gold coins and bells in the bin. And they may decide to find a way to trap the somewhat exposed leprechaun!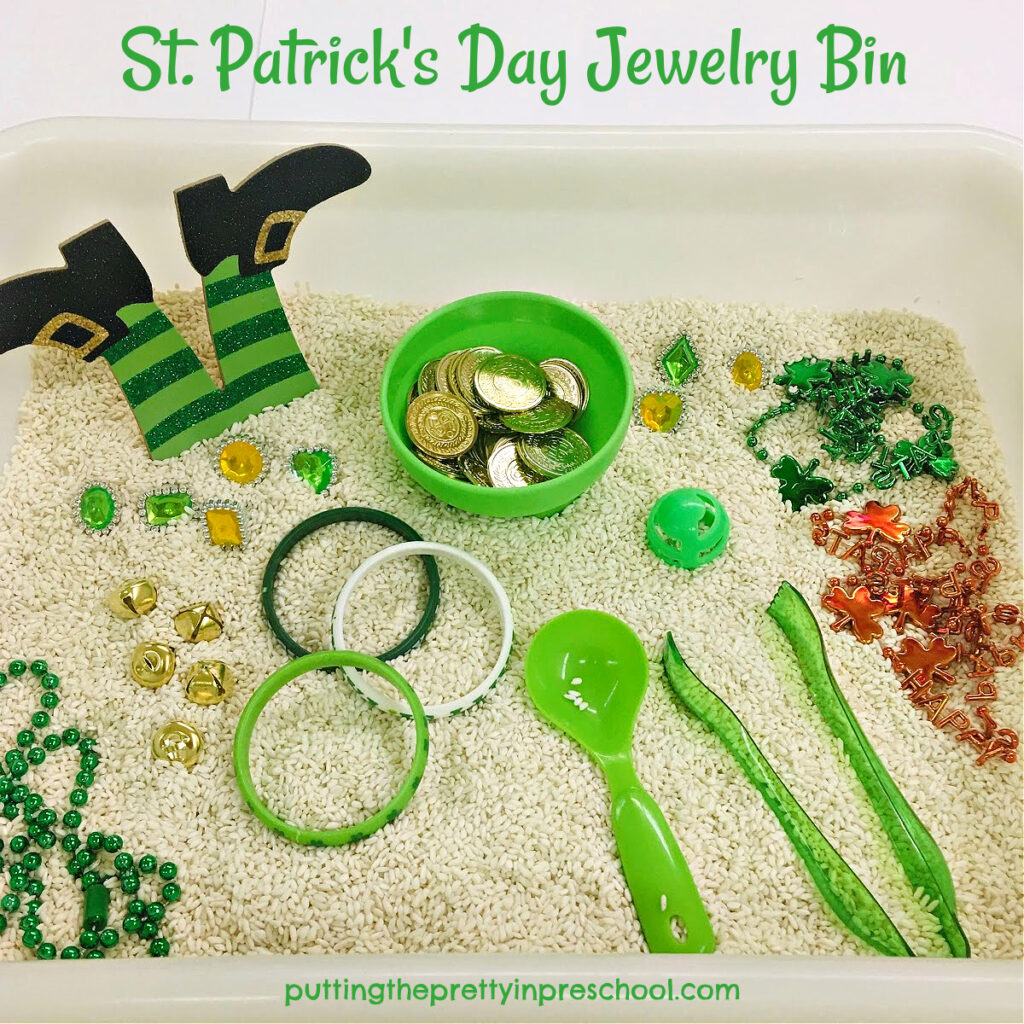 _______
To learn more about St. Patrick's Day, view the blog post "St. Patrick's Day" by National Geographic Kids.
_______
Related: St. Patrick's Day Woodland Bin
_______
_______
You may also like: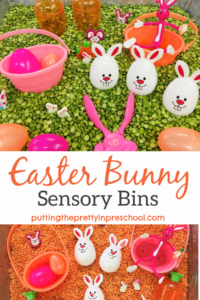 _______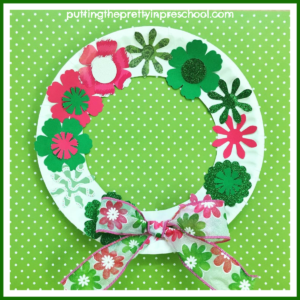 _______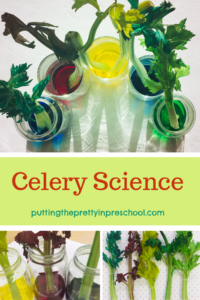 _______
Don't forget to share this post on Pinterest or your favorite social media channel. Sharing is caring!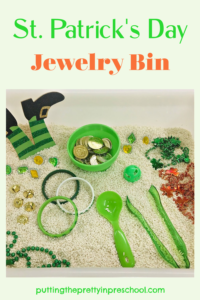 _______
© Annette Kaminsky   March 8, 2022
_______
Follow me on social media for more ideas: