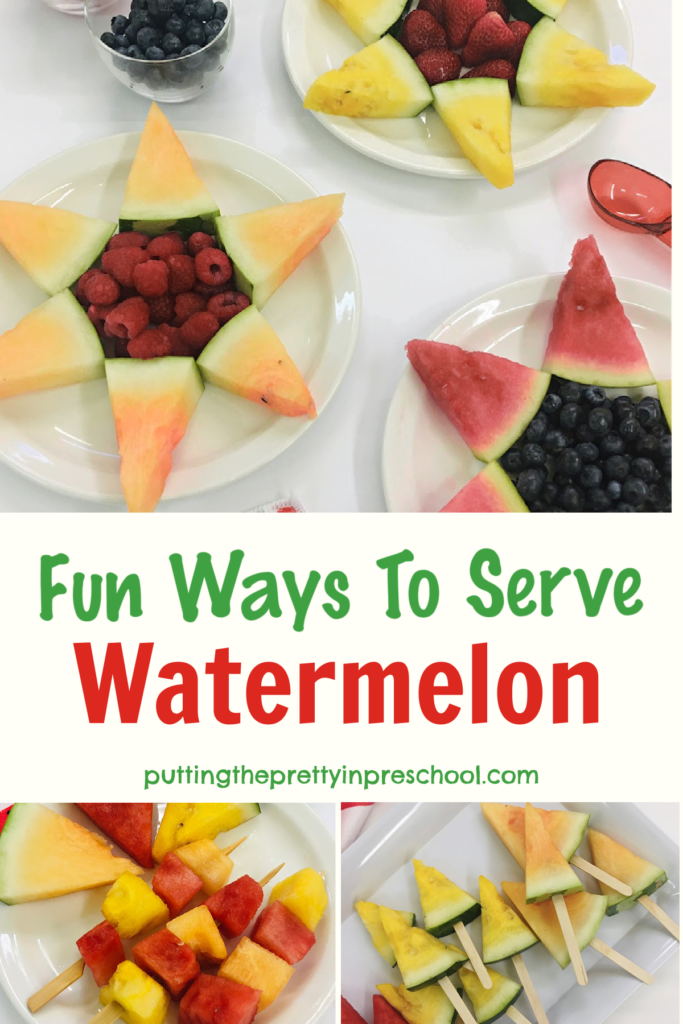 _______
Have you ever heard of orange or yellow watermelon, or white? I decided to locate and taste some of these lesser-known varieties this fall. And with a few different colors at my fingertips, I put together four fun ways to serve watermelon.
_______
Ten Watermelon Facts
Watermelon is a sweet and juicy fruit.
Africa is the country it is believed to have been discovered.
Pink or red-fleshed watermelon is commonly found in stores.
Some watermelons have orange, yellow, or white flesh.
Containing 92% water, this cheery fruit helps people stay hydrated.
The large fruit is high in vitamins A, B, and C, and contains antioxidants.
The seeds of this thirst-quencher are nutritious too.
Watermelon is fat-free and low in calories.
A long growing season and lots of sunshine are needed to garden this fruit.
Watermelon is a popular snack for hot days and picnics.
_______
Four Fun Ways To Serve Watermelon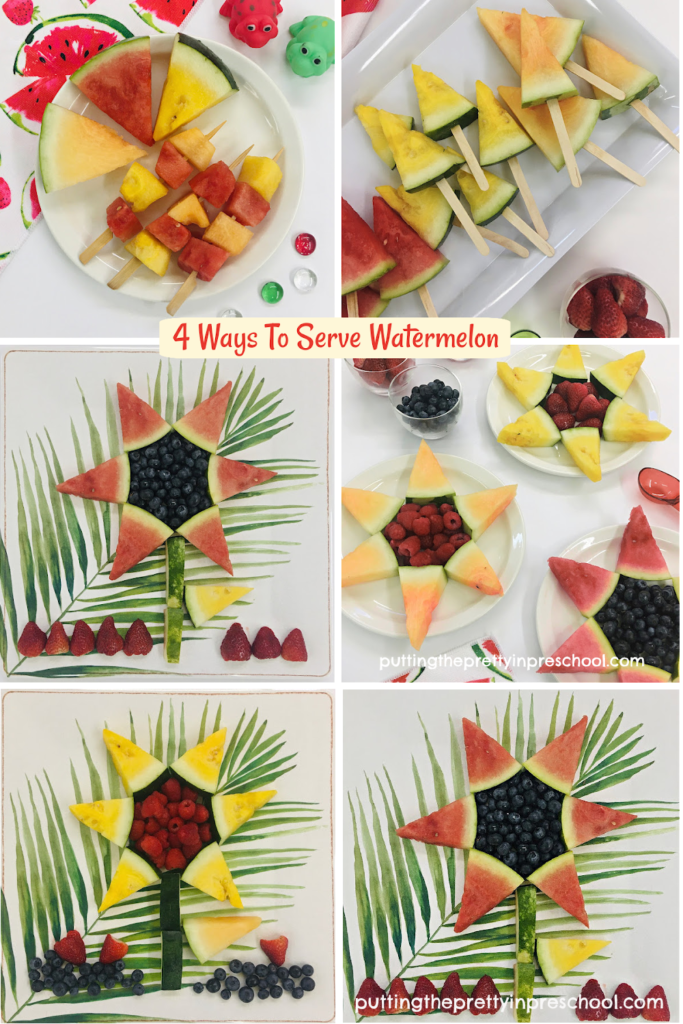 _______
Without any fancy recipes, you can serve watermelon in ways that add creativity and fun to snack and meal times. Including a variety of melon flesh hues will add interest and sensory opportunities, and the different colors are bound to be a conversation piece.
Note: Seedless watermelon varieties are used in this post. Orange, yellow, and red kinds are featured.
Below are four ways to serve watermelon that make snack time more fun.
_______
Watermelon Skewers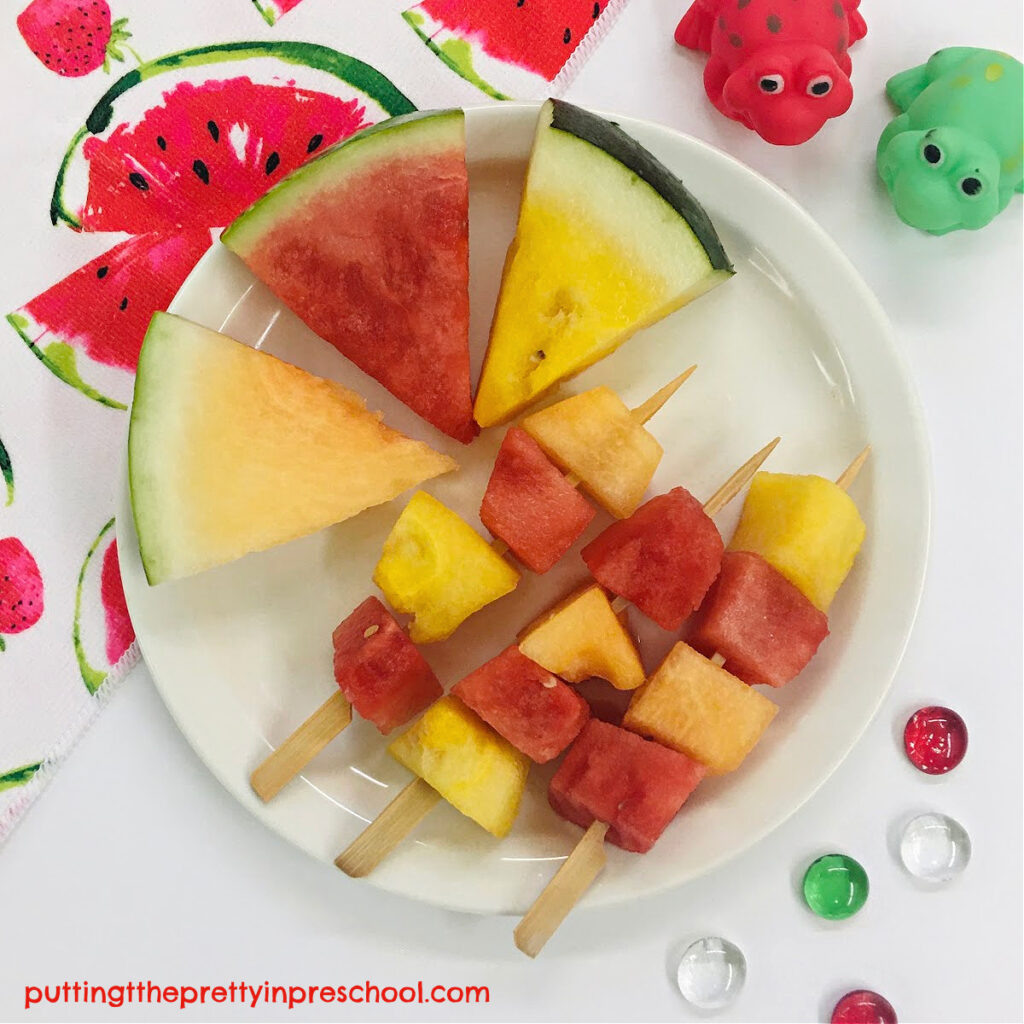 _______
For an easy way to add novelty to a snack, cut different colors of watermelon into bite-sized pieces and thread them onto wooden skewers. The small chunks don't have to be perfectly cubed to work. And although the yellow and orange pieces look like pineapple and cantaloupe, they are actually chunks of orange and yellow watermelon.
While snackers eat the fruit, discuss the color and taste of each kind. I found that my purchased yellow and orange watermelon tasted quite similar to red. And my taste-testers were fine with each color.
_______
Watermelon Popsicles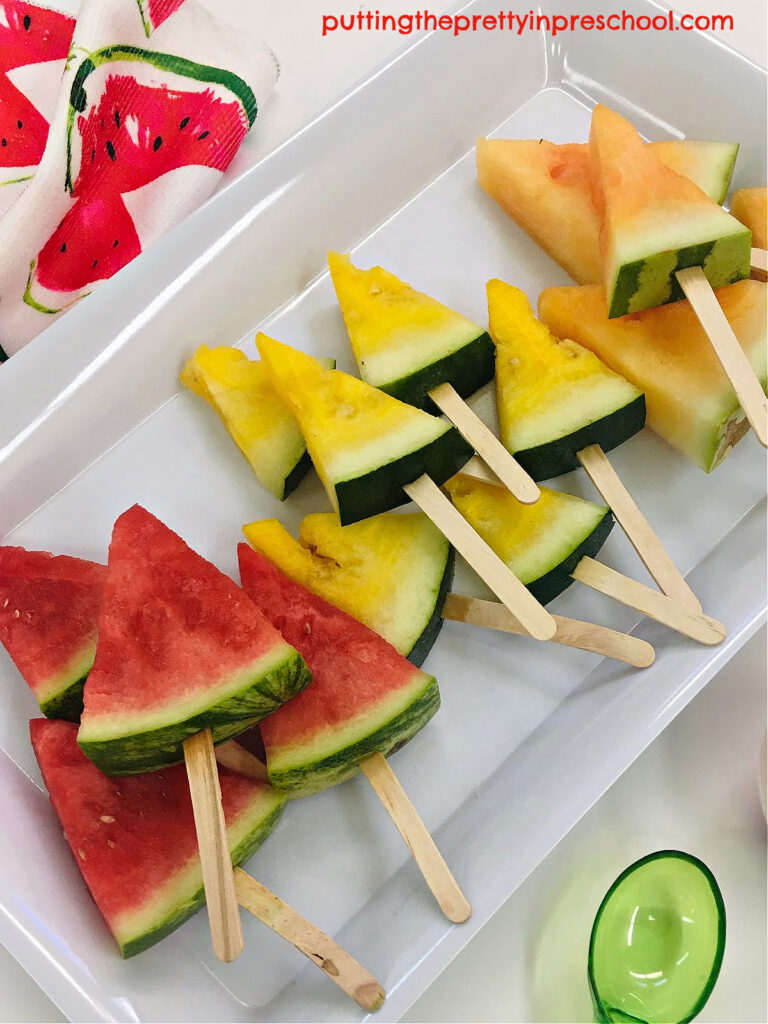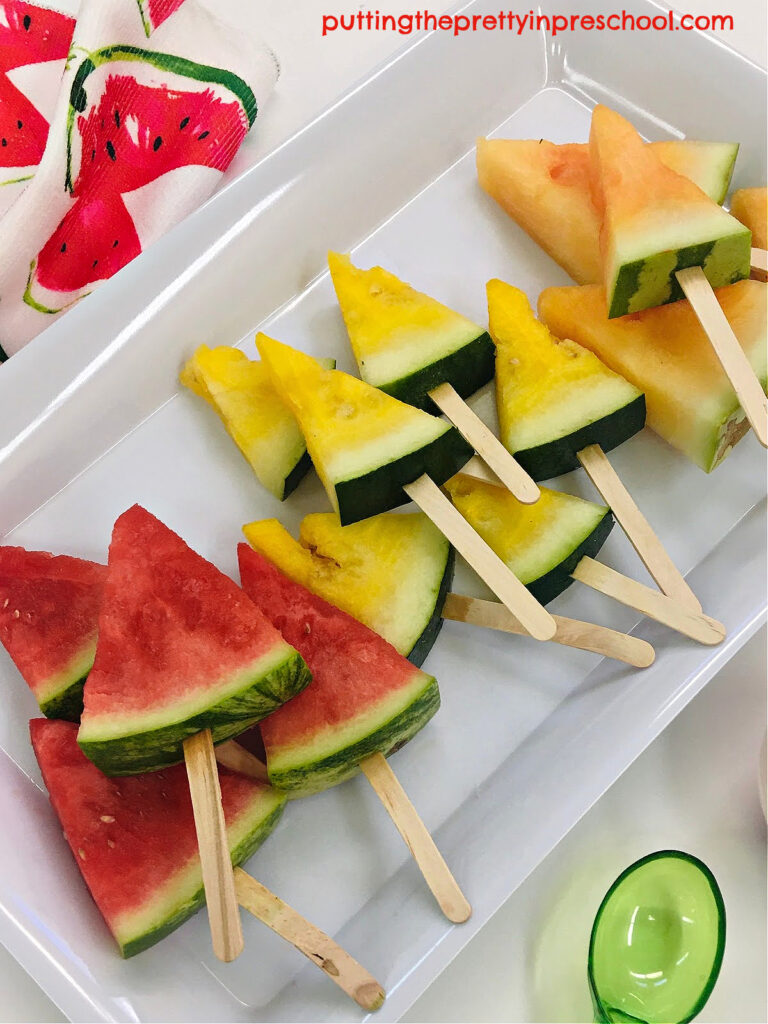 _______
Watermelon is often served in triangular shapes, which works well for popsicles. After cutting the triangles, use a knife to make a slit in the rind of each piece. Next, push in stick handles.
Then freeze the watermelon triangles overnight in a single layer to turn them into popsicles. Or skip the freezing part and serve them immediately.
_______
Watermelon Suns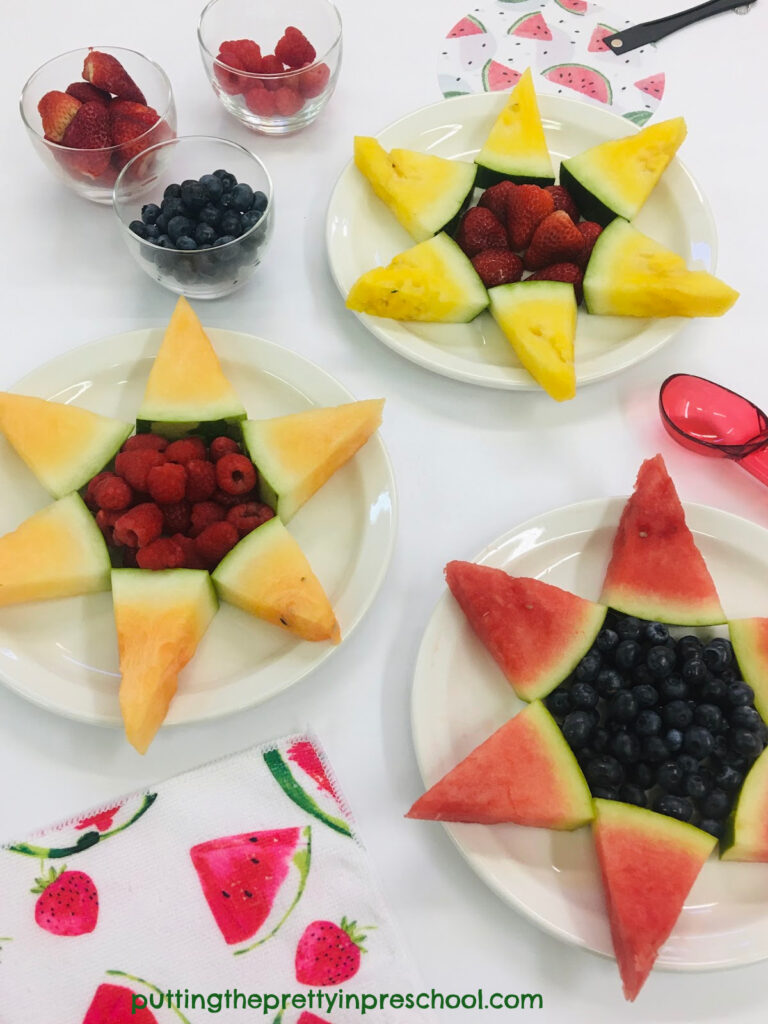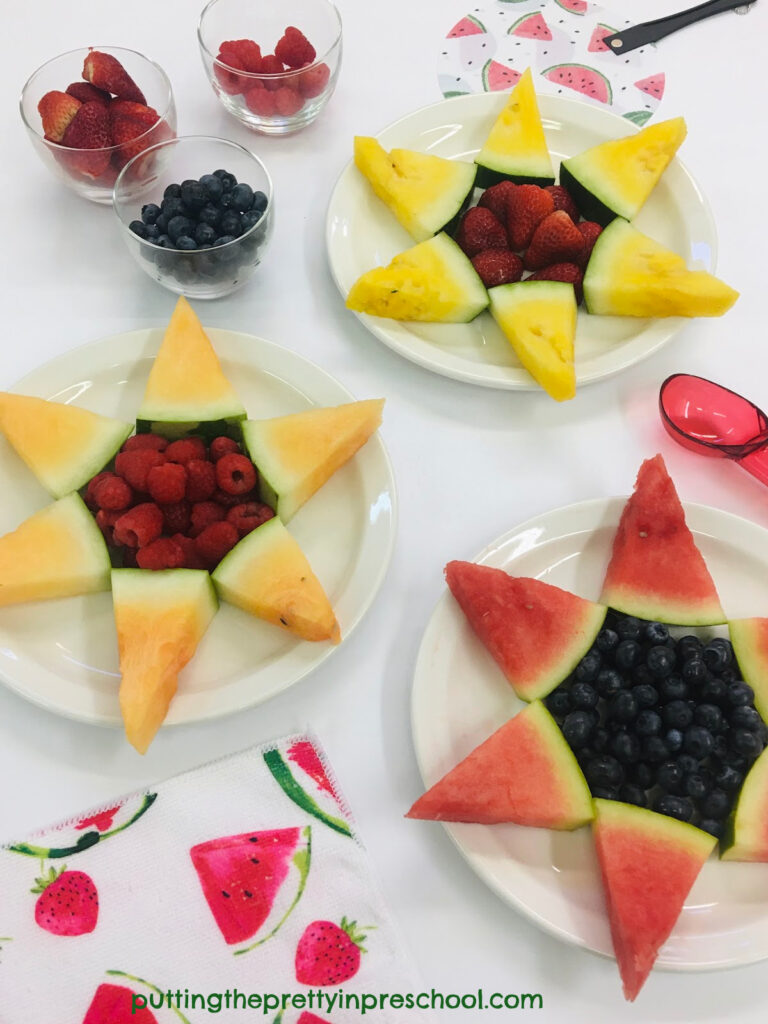 _______
For this eye-appealing watermelon snack version, berries are added to the mix.
To make the juicy suns, first cut the watermelons into triangle shapes.
Next, lay slices of each watermelon color on a dinner plate in a circular design, leaving room in the middle for berries.
Then add blueberries or raspberries to the center of each plate.
_______
Watermelon Sunflowers
Large square serving trays work well for creating watermelon sunflowers.
To create them, start off with the same design as the watermelon suns.
Then add a different colored watermelon leaf, and a stem made with skin-covered rind pieces.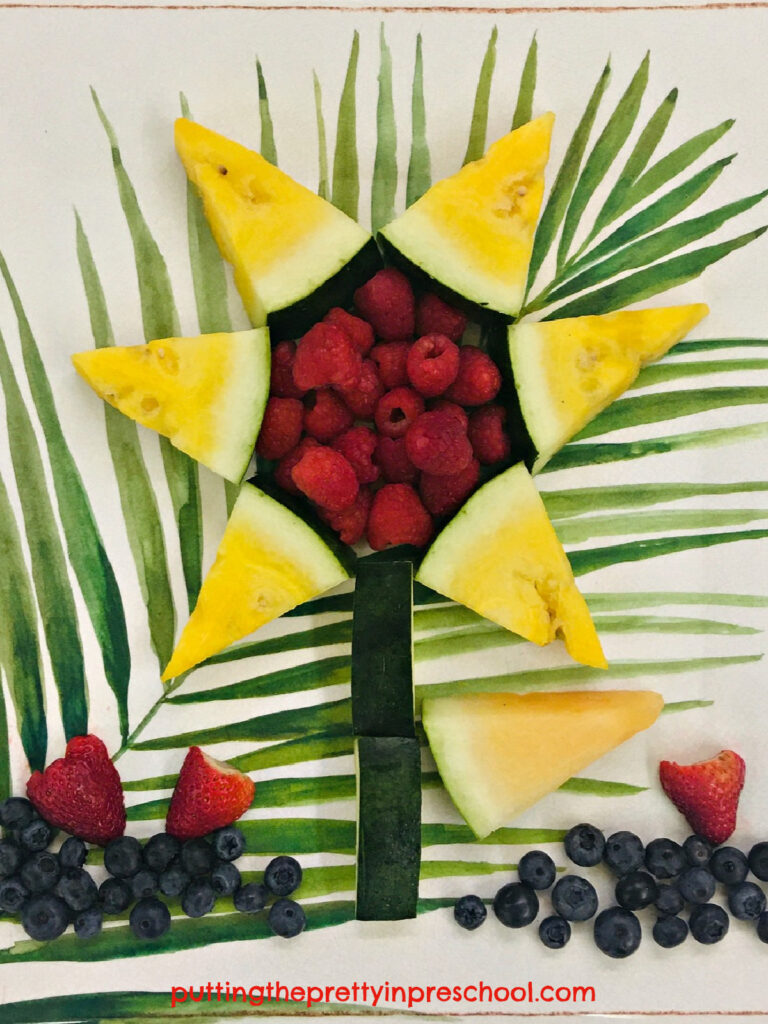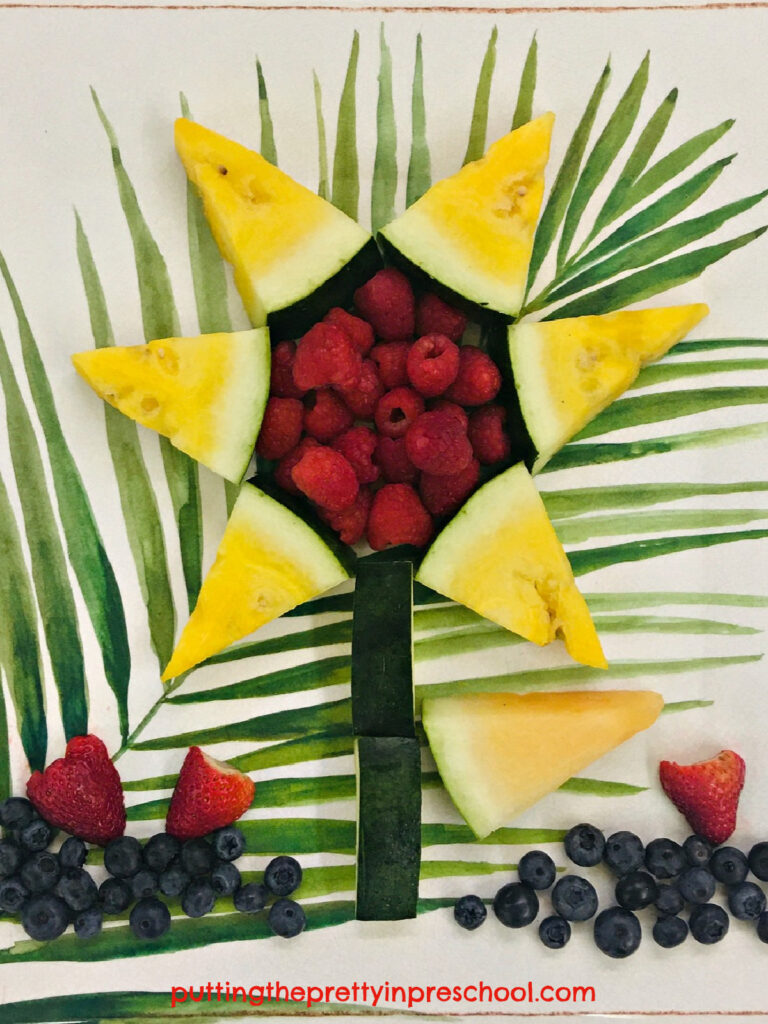 _______
On the tray above, yellow watermelon serves as the sunflower petals. The leaf is a slice of orange watermelon, and raspberries are the "seeds." Blueberries and strawberries complete the tray.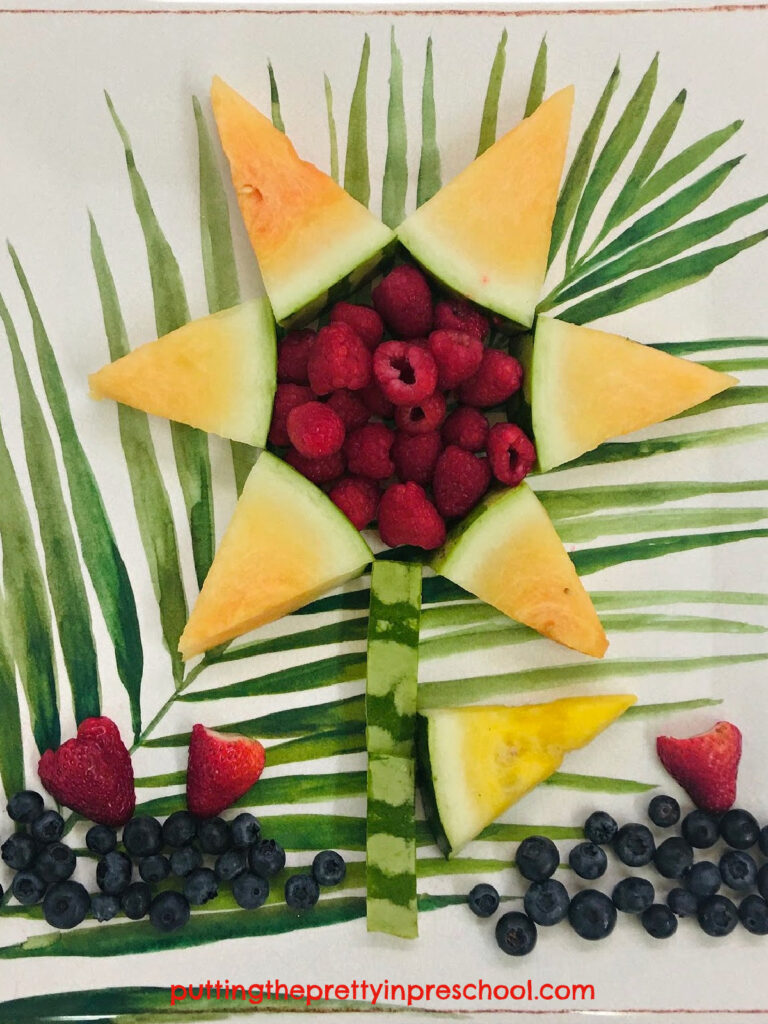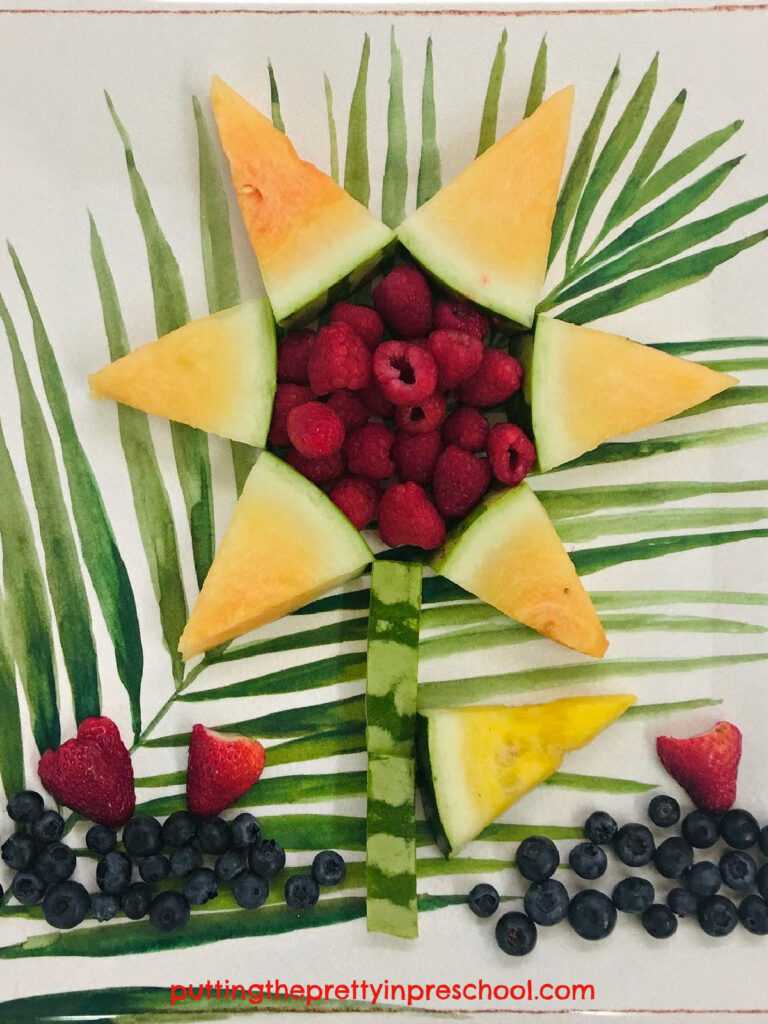 _______
On this second tray, the sunflower has orange petals and a yellow watermelon leaf.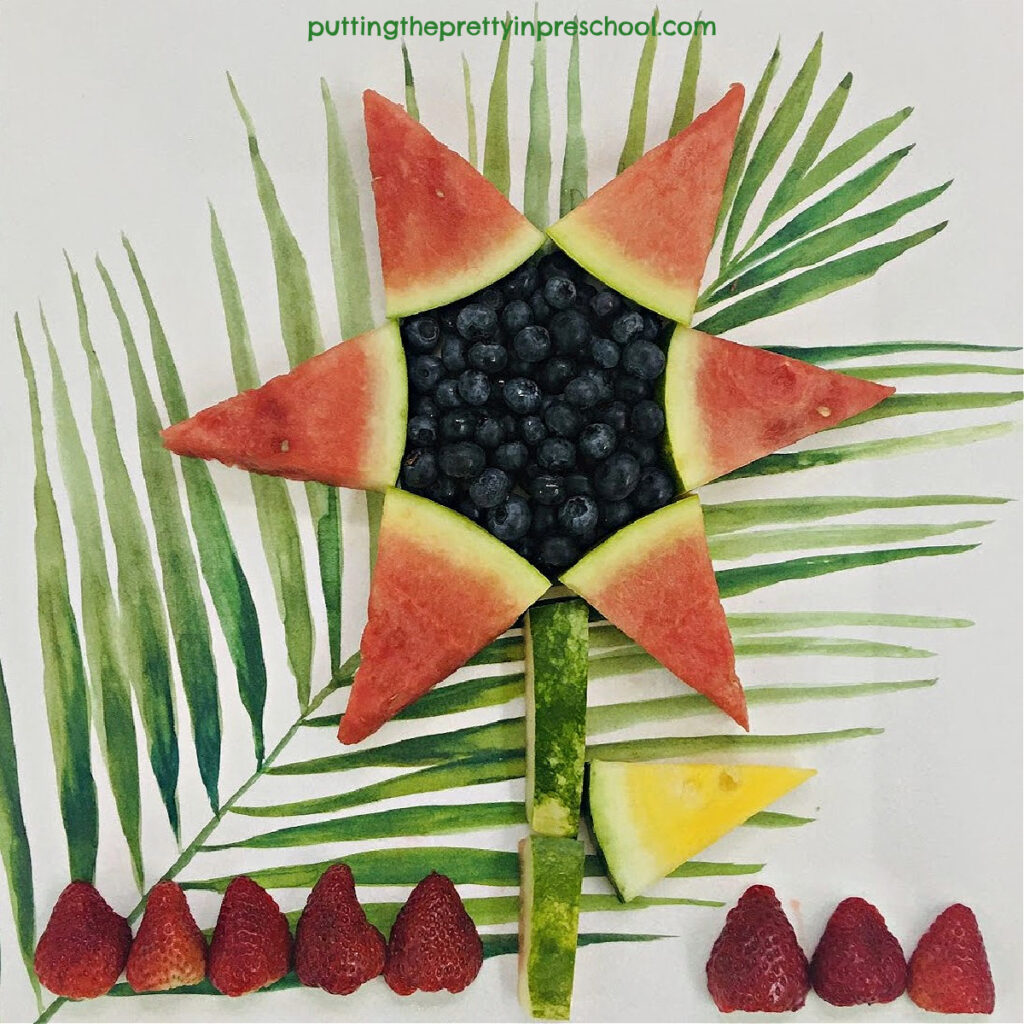 _______
Traditional red watermelon is featured in this third design. The leaf is yellow watermelon. Blueberries are the "seeds."
_______
Purchasing Watermelon Varieties
Red watermelon is easy to spot in grocery stores. Orange, yellow, and white varieties are harder to locate, and will likely be more expensive. I was able to find the yellow watermelon in a tray of precut slices and purchased the orange one whole. Tasting a white watermelon is on my list to do next summer!
_______
Watermelon Recipes
Ready to add more flavor and variety to your watermelon snacks? Check out the recipes in the blog post "45+ Watermelon Recipes" by Country Living.
And how about some watermelon pizza, featured on Mom On Time Out?
_______
Related: Watermelon Playdough Tray
_______
_______
You may also like:
Watermelon Dramatic Play Center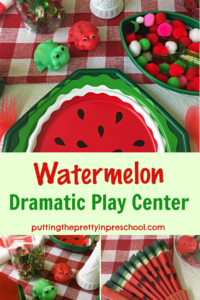 _______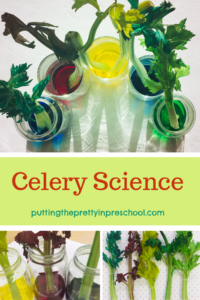 _______
Don't forget to share this post on Pinterest or your favorite social media channel. Sharing is caring!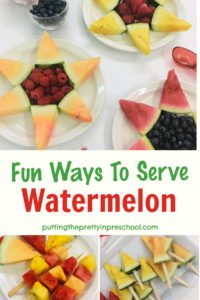 _______
© Annette Kaminsky September 29, 2022
_______
Follow me on social media for more ideas: