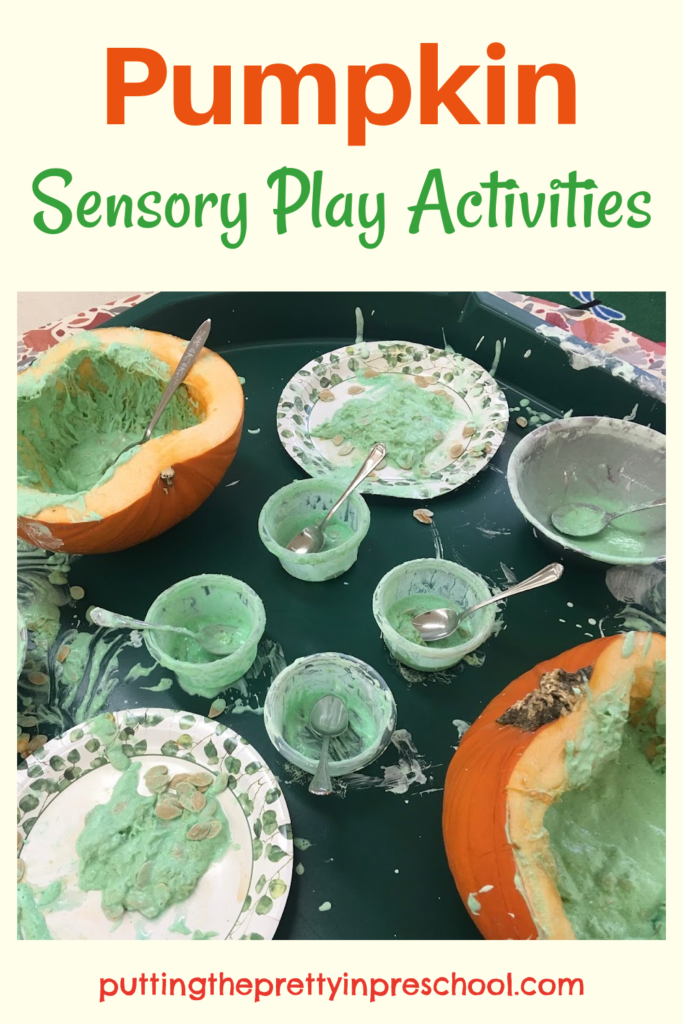 _______
Pumpkin carving is a fun annual activity, and children love to get it on it. After the large fruits are carved or sliced, there are a few effortless, super-engaging pumpkin sensory activities children can do before saying goodbye to the showy gourds.
_______
Pumpkin Cross-Section Exploration
If you happen to have a very lop-sided pumpkin that wasn't chosen for carving, use a sharp knife to carefully cut it from top to bottom into two cross-sections for everyone to view. This provides your little charges a novel way to investigate the inside of a pumpkin, and it is much easier for them to scoop out and feel the fibrous strands and pumpkin seeds this way.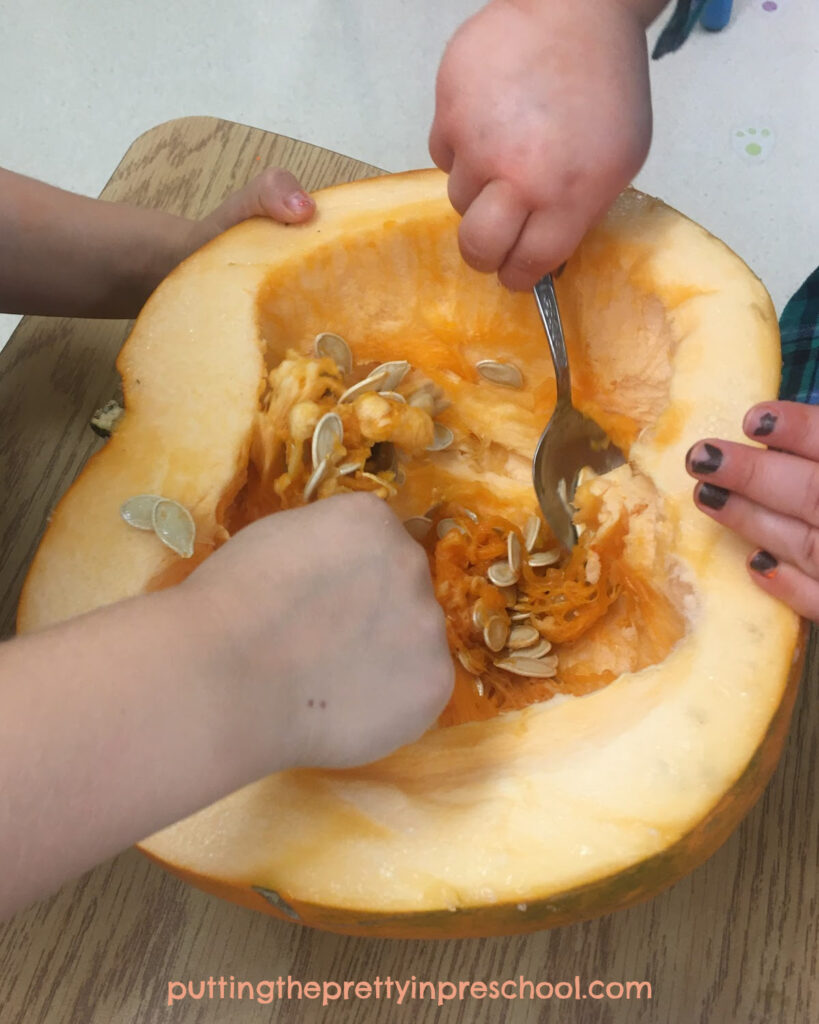 _______
When the fruity exploration is over, store the pumpkin parts and slimy pumpkin seed mixture in the fridge for more sensory play at another time.
_______
Follow me on Pinterest for more early learning ideas.
_______
Pumpkin Sensory Bin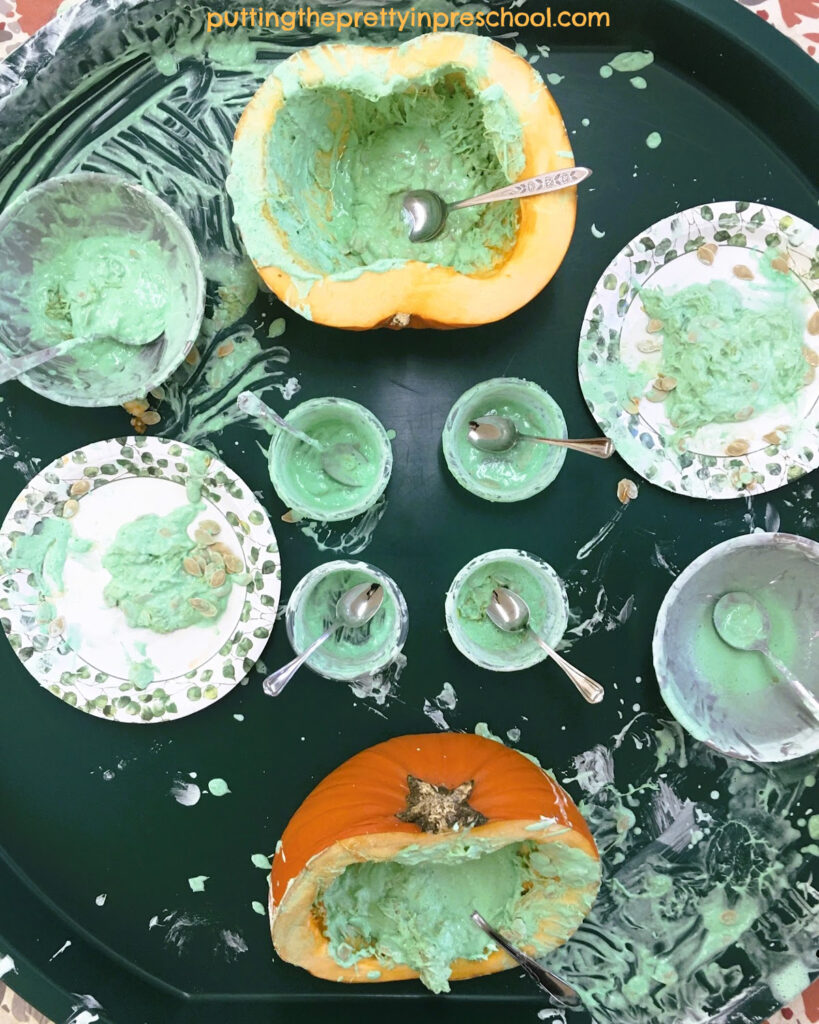 _______
To set up a tantalizing pumpkin sensory bin activity, first place two pumpkin halves into a generous-sized container. A large green active world tray is up to the task and color coordinates with the pumpkin parts perfectly.
Next, set tablespoons, serving bowls, and food storage containers in the bin.
Then add non-breakable or disposable plates with a slimy pumpkin seed and fibrous strand mixture to the sensory play center.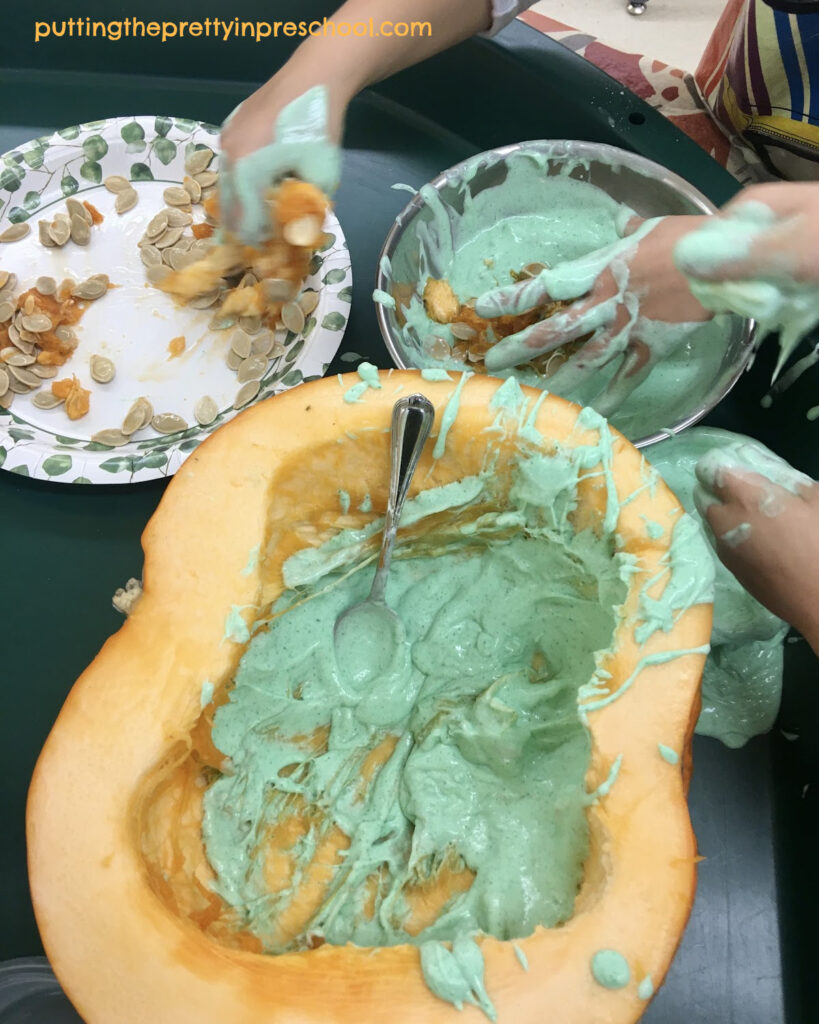 _______
Afterward, make a goopy, cornstarch and hair conditioner mixture for the bin. Green apple playdough thinned with a bit of water works well for the slimy mixture, and you can use older playdough which has been stored in the fridge for it.
An alternative is to mix a cup or two of cornstarch with half the amount of water to get a thick but flowing consistency, and then squirt and blend in about half a bottle of apple-scented hair conditioner to make it slippery and aromatic. Add more cornstarch or water if needed. Squirt in a generous amount of green food coloring to give the mixture a deeper green hue.
_______
Finally, scoop the cornstarch and green apple conditioner mixture into the pumpkin halves and invite your little learners to explore the bin.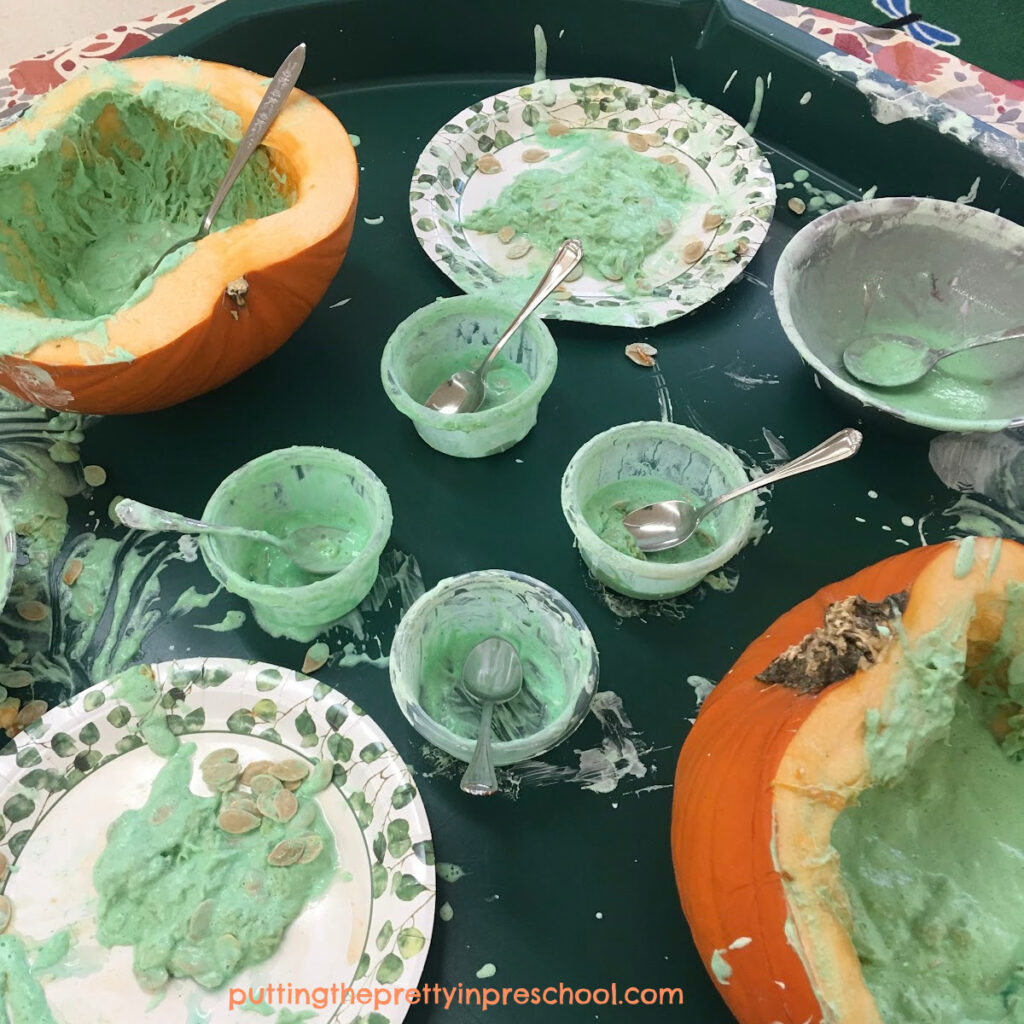 _______
Note: Apples and pumpkins are commonly used together in pies, as their scents and tastes are complementary. The two scents also work nicely together in sensory play.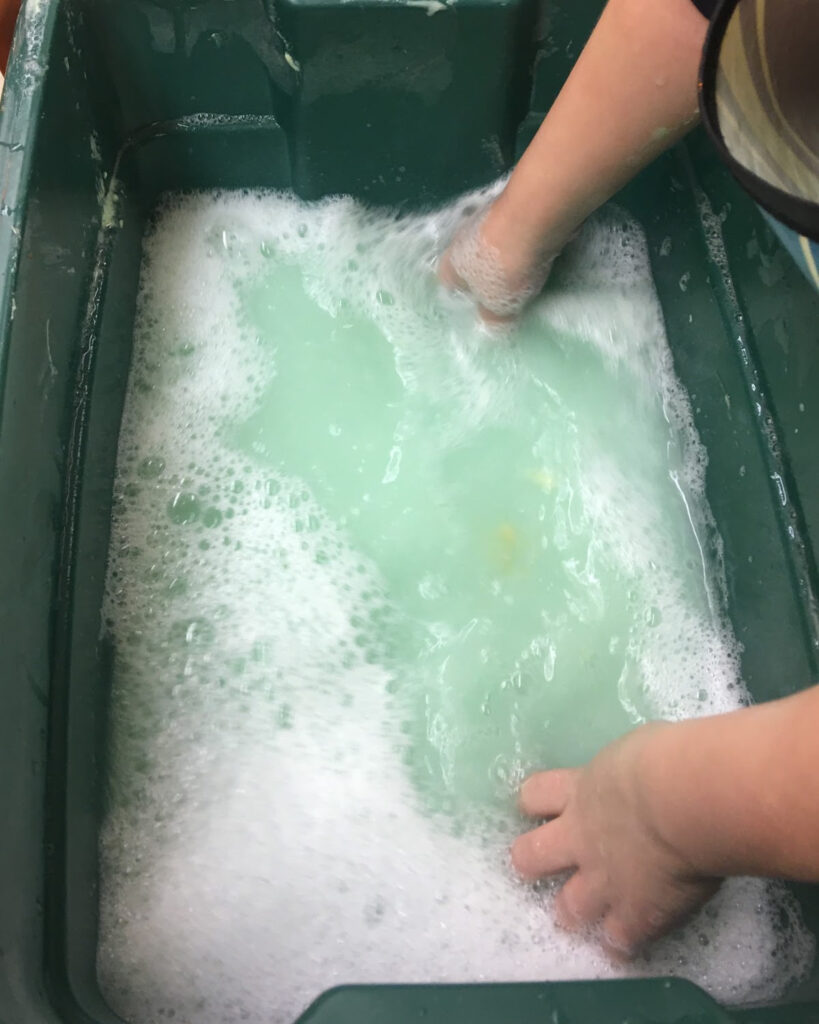 _______
Washing up afterward is part of the fun, as your little charges will love seeing the water turn green.
_______
Green Apple Goop Pumpkin Play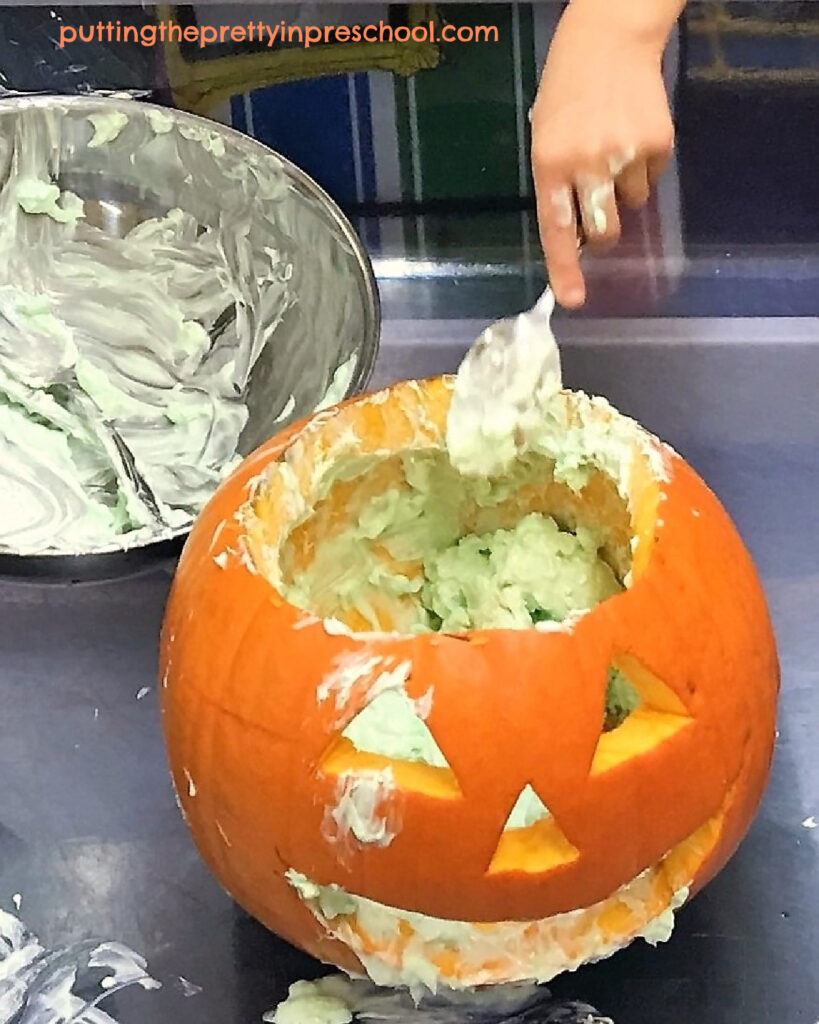 _______
In this tactile autumn activity, green apple playdough, often called cloud dough, is turned into a goopy mixture with the addition of a little water. Just scoop the thinned dough into a serving bowl and set it in a sensory table next to a carved and hollowed-out pumpkin for your little learners to use in hands-on play.
_______
Golf Tee Pumpkin Play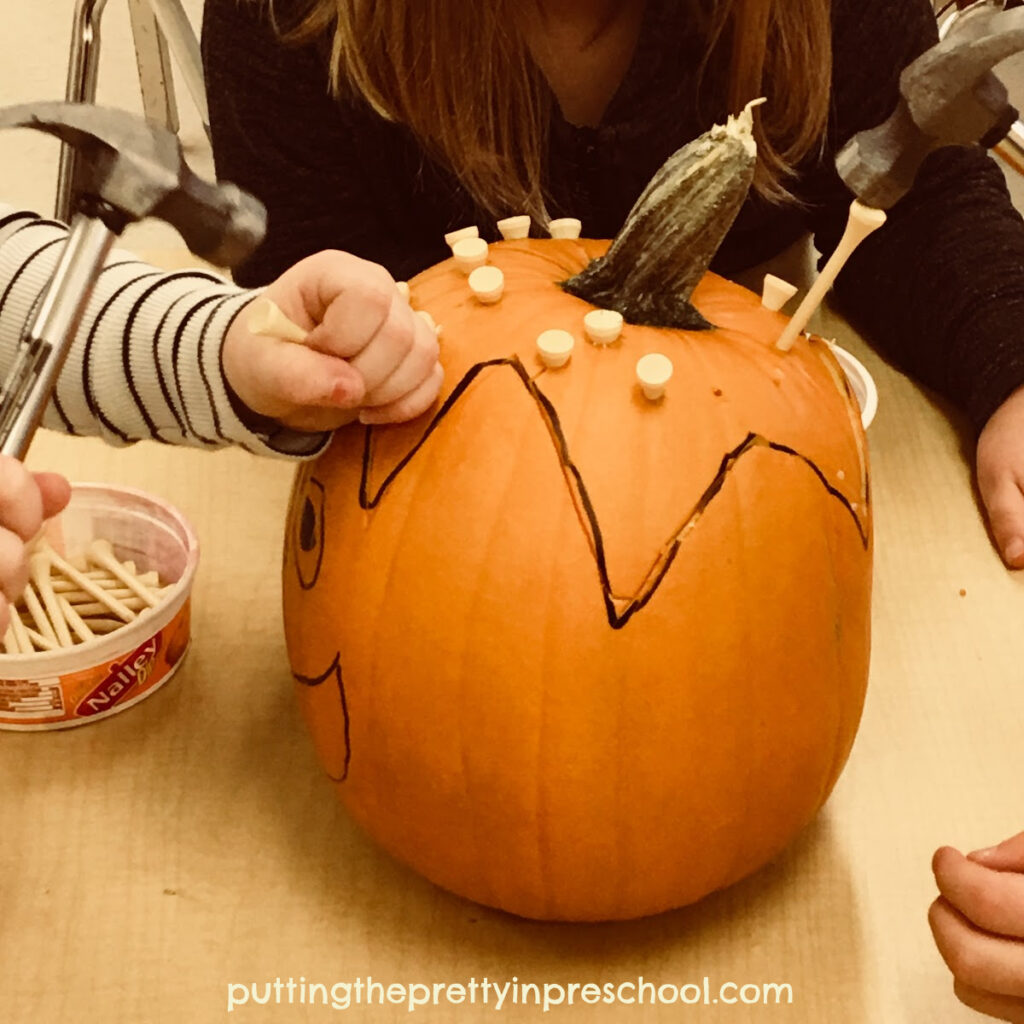 _______
This last pumpkin sensory activity is less messy than the above slimy, goopy versions. Simply set a carved or uncarved pumpkin out on a table along with small, child-sized hammers and a container of golf tees. Invite little learners to use a hammer to gently pound the golf tees into the pumpkin. This is a great activity for practicing eye-hand coordination. Two children can share in this activity at a time, providing an opportunity for cooperative, synergetic play.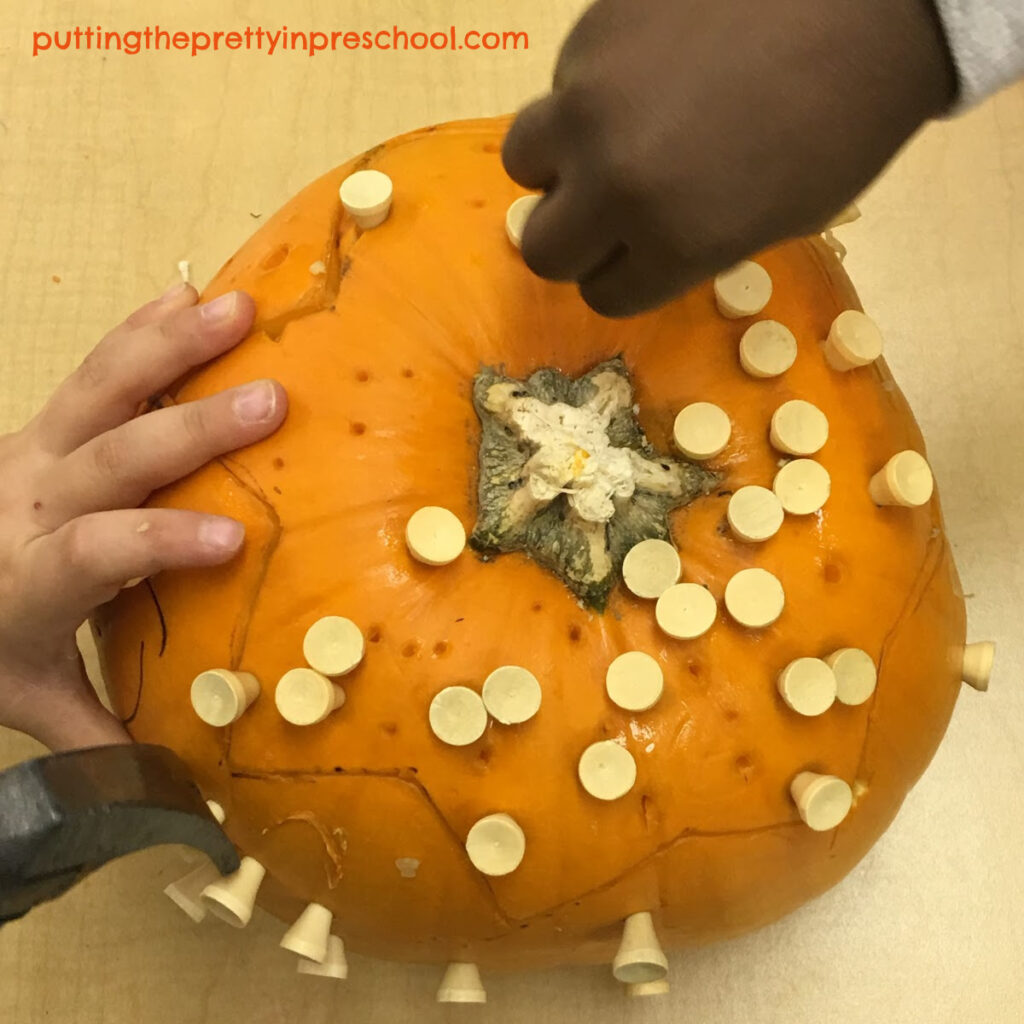 _______
More Pumpkin Activities
Pumpkin Tablescape Pretend Play
_______
[Read more…]

about Pumpkin Sensory Activities