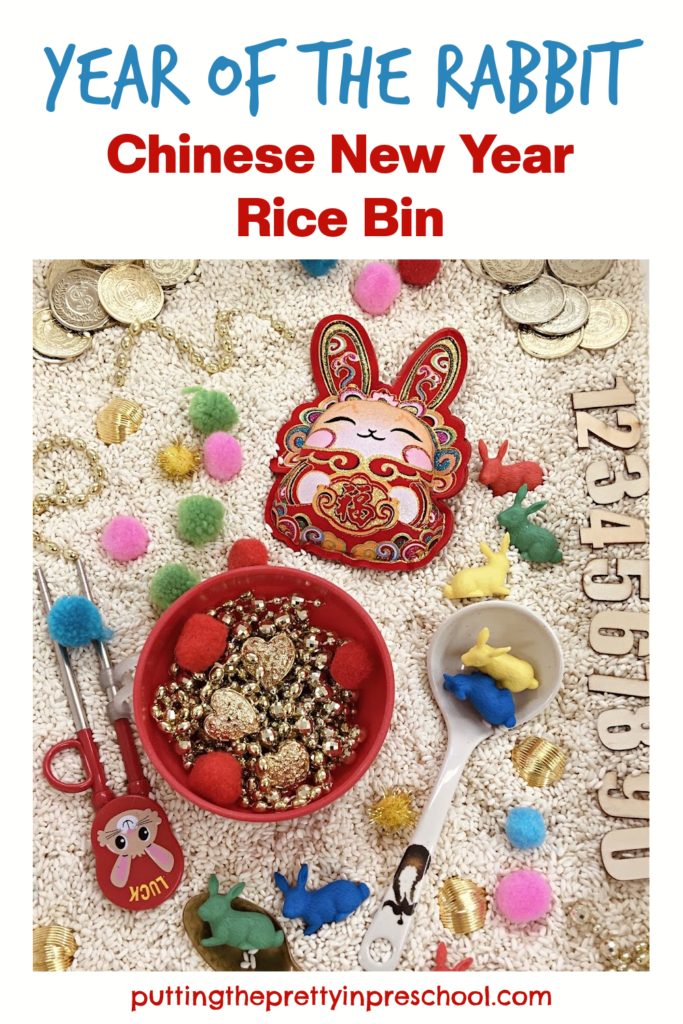 _______
Chinese New Year (also called Lunar New Year) is just around the corner, and it will soon be the Year Of The Rabbit. As has been the tradition in the last few years, I put together a themed sensory bin for the occasion. The colorful Year Of The Rabbit Chinese New Year rice bin is filled with interesting treasures for early learners to explore.
Chinese Lunar Calendar
The Chinese Lunar Calendar is used to determine festivals and wedding dates. The longest and most important festival is Chinese New Year, celebrated each January/February in China, and by millions of people around the world. This year Chinese New Year falls on January 22, 2023.
_______
The Chinese Zodiac
There are 12 animals in the Chinese Zodiac. In a 12-year cycle, each animal corresponds to one year and is believed to represent certain character qualities. The rabbit is the fourth animal in the zodiac and is considered to be
elegant
gentle
alert
kind
patient
mannerly
affectionate
witty
approachable
responsible
peace-loving
talented
self-disciplined
able to set goals and achieve them
People born in the Year Of The Rabbit are believed to constitute these character traits.
_______
Follow me on Pinterest for more early learning ideas.
_______
Chinese New Year Rice Bin Supplies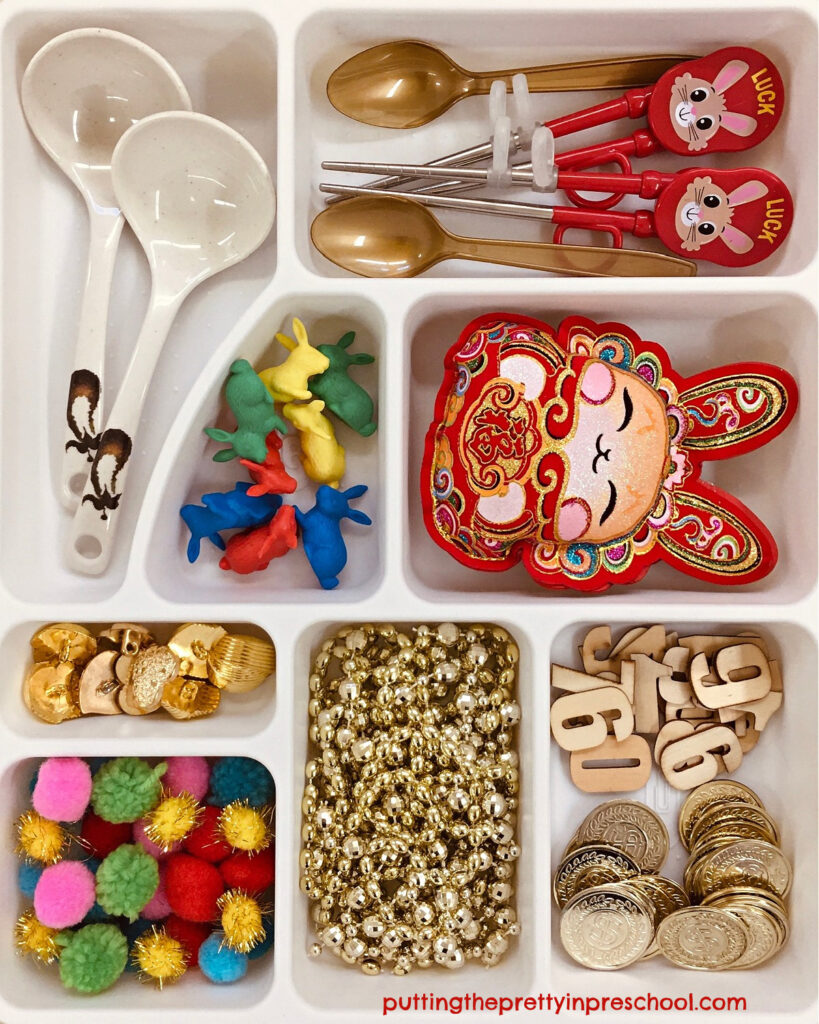 _______
The first thing gathered for this Chinese New Year-themed bin is a rabbit hanging decoration. I took it apart and used one of the stuffed dangling rabbits for the bin. Also in the bin are:
bunny counters
training chopsticks
red bowl
ladles and gold spoons
wooden numbers from 0 to 9
large gold buttons
pompoms
gold play coins
cut gold necklaces
plastic bus bin
white glutinous rice
_______
The Chinese New Year Rice Bin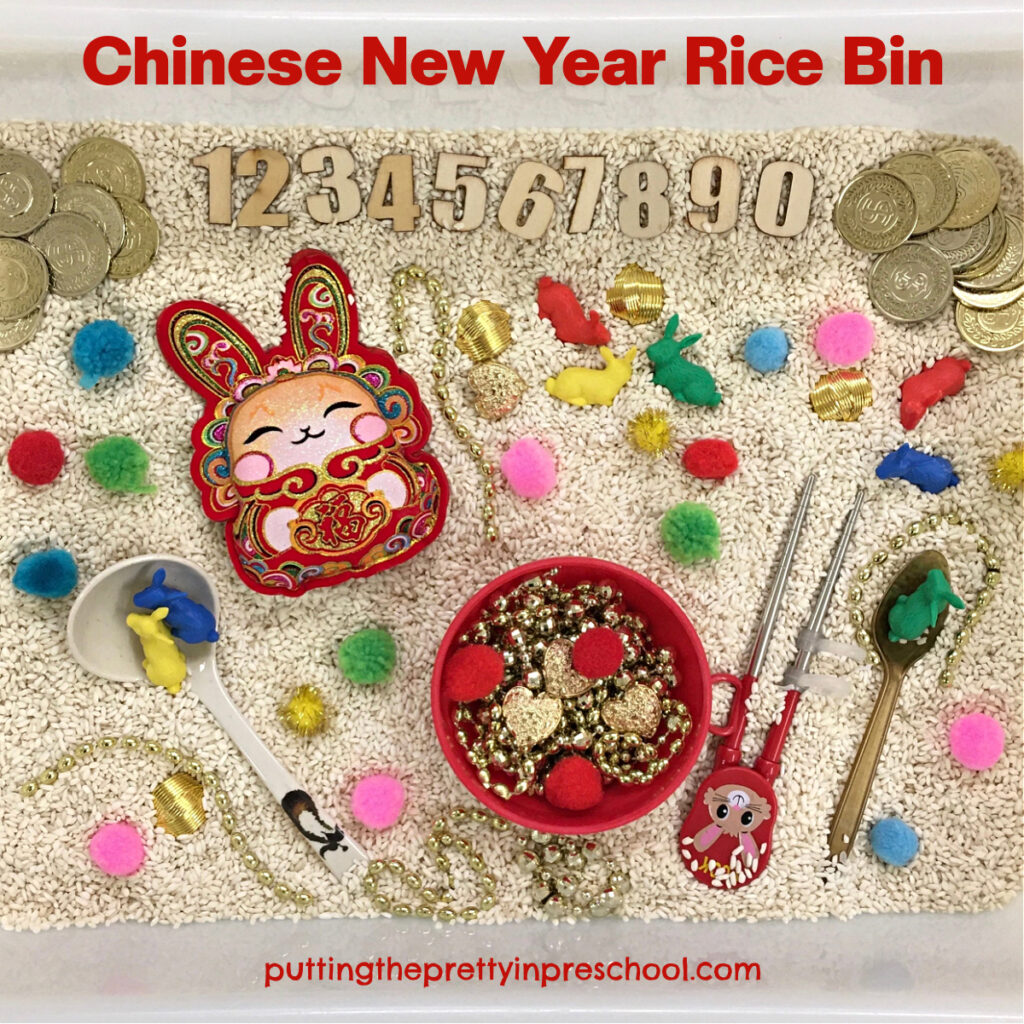 _______
It is handy to have a few different kinds of bins available for sensory activities. For this themed Chinese New Year play invitation, I feature a white bus bin big enough for two or three children to explore at a time.
White glutinous rice is the base for the bin. It is relaxing to play in and showcases the loose parts well.
The feature rabbit is colorful, and pompoms and rabbit counters color coordinate.
Rabbits are soft, with even softer tails. The pompoms are like rabbit tails.
The gold coins are reminders that children and single young adults get red envelopes filled with money or chocolate coins.
Cut gold necklace strips represent long noodles. These symbolize long life and are traditionally served.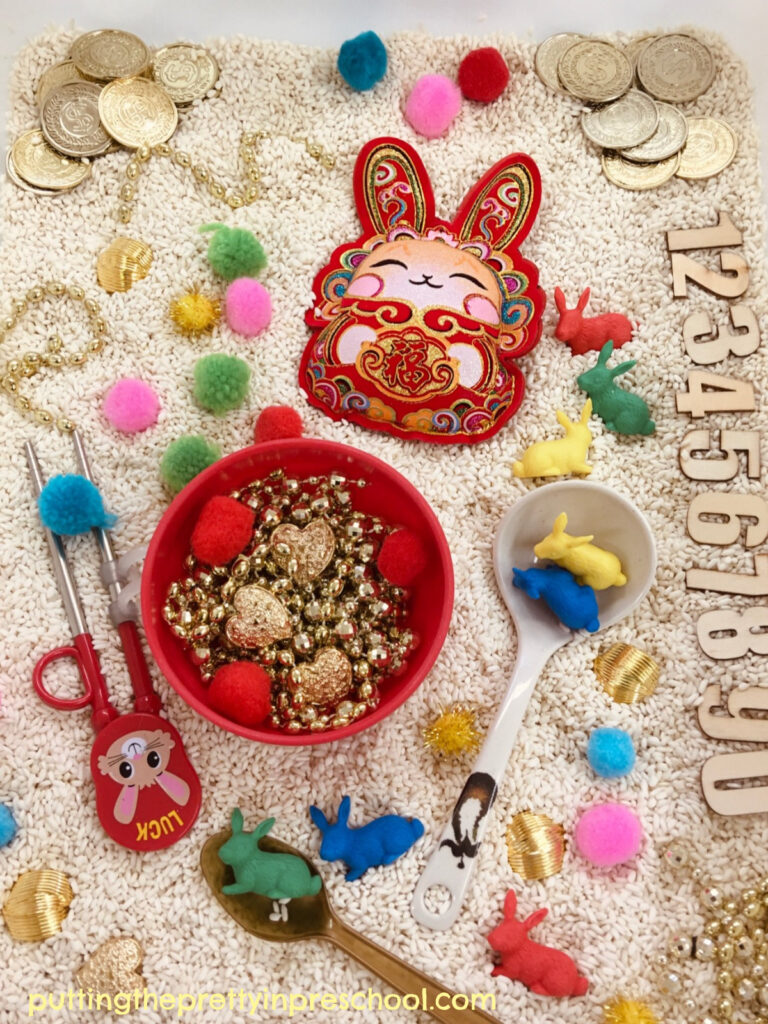 _______
Training chopsticks are included for exercise in transferring noodles, pompoms, and other loose parts.
There is a red bowl and gold buttons. Both red and gold are popular colors in Chinese New Year decorations. Red symbolizes luck and happiness, and gold symbolizes wealth and prosperity.
Rabbits breed easily and can have 4 or more litters per year. There are anywhere from 1 to 14 kits per litter, with an average being six. Each litter spurs on the question: How many baby bunnies did the mother bunny have? That is why there are so many rabbit counters in the bin! The wooden numbers give an opportunity for number recognition when counting rabbits.
_______
This rabbit-themed Chinese New Year rice bin is so fun to assemble. The bright and sparkly stuffed rabbit decoration is definitely the highlight of the bin.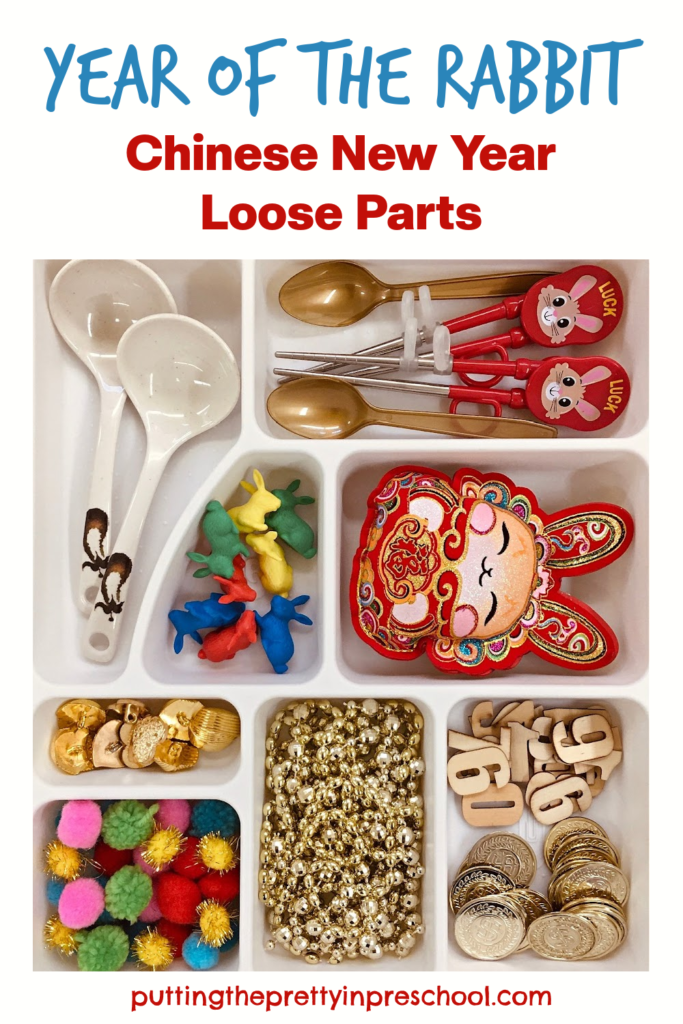 _______
Related:
_______
[Read more…]

about Chinese New Year Rice Bin