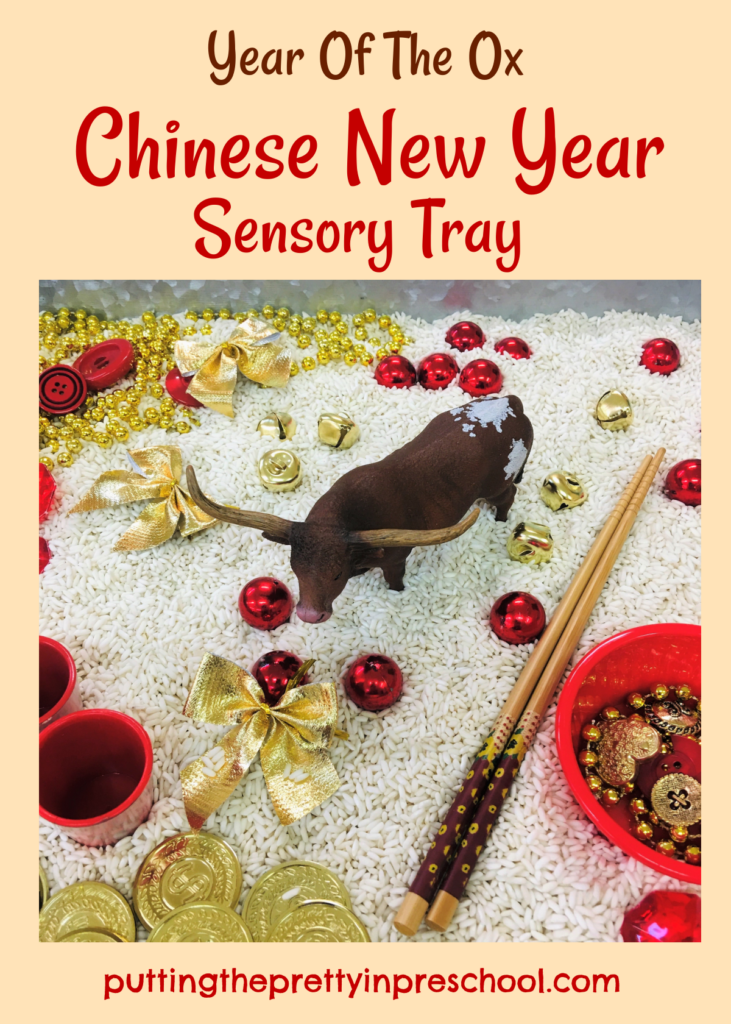 ---
Chinese New Year (also called Lunar New Year) will be celebrated on February 12 in 2021. It is the most important holiday in China and is celebrated by Chinese people and interested others all over the world. The holiday marks the end of the coldest winter days and the beginning of spring. Since it is the year of the ox, why not join in the festivities this February with an ox-themed Chinese New Year sensory tray.
---
Ox Facts
Domesticated oxen are often castrated adult male cows, as this makes them easier to handle.
Ox horns are very long.
Being very strong animals, they can pull heavy loads.
As dependable work animals, oxen transport people and supplies, help with field work, and power machines.
Oxen used to roam in herds in the wild.
---
Character Qualities Of The Ox
The ox is a cherished animal in Chinese culture, as it is hardworking and reliable, and was used in agriculture by peasants to plow fields. Positive character qualities are attributed to the ox. And people born in the year of the ox are considered to be logical, disciplined, diligent, trustworthy, and talented. And who wouldn't want to emulate these qualities!
---
Chinese New Year Sensory Tray
This Chinese New Year sensory tray gives a glimpse into Chinese culture and acknowledges the importance the ox has played in Chinese agriculture and life.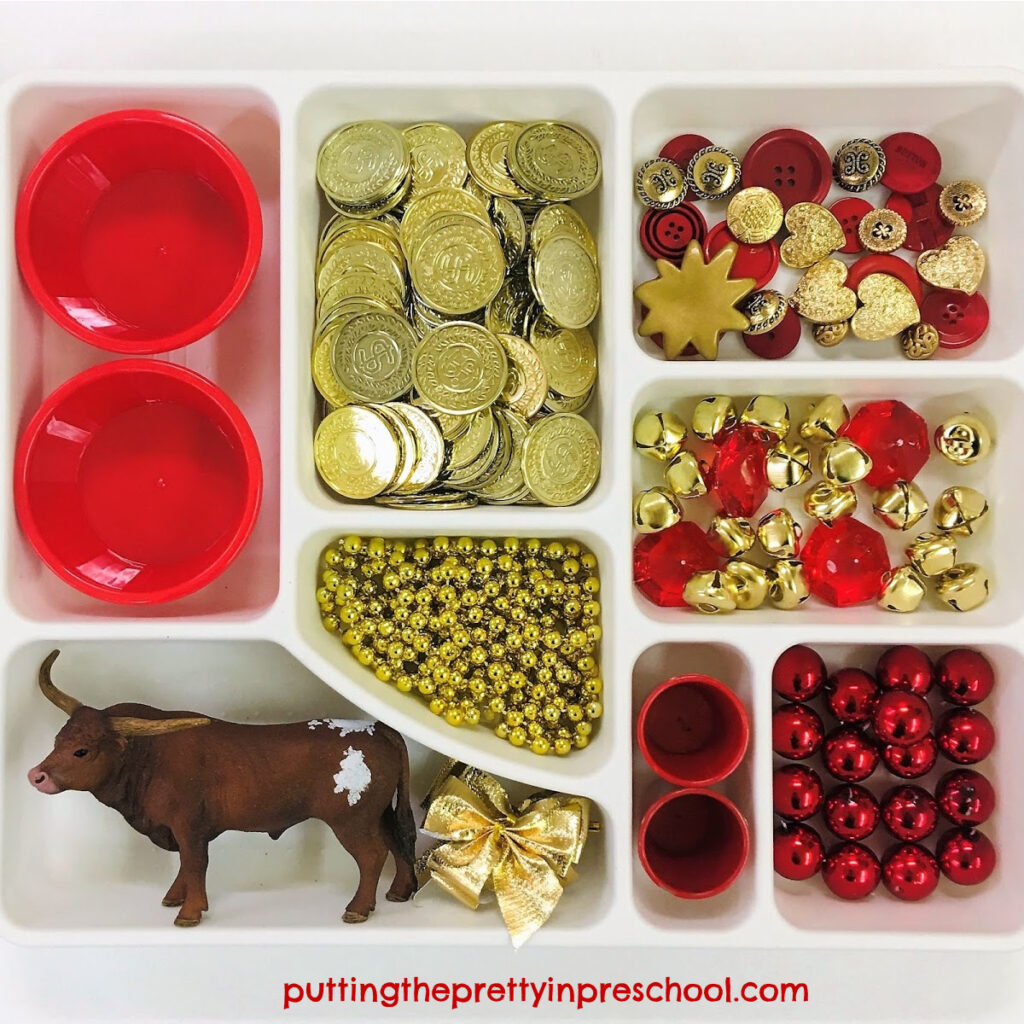 ---
The base for the tray is super white glutinous rice. Loose parts included are:
bull figurine
gold coins (lots of them!)
red beads
red diamond-shaped gems
gold and red buttons
gold bows, bells, and bead garland strips
red bowls
chopsticks
Chinese calligraphy cups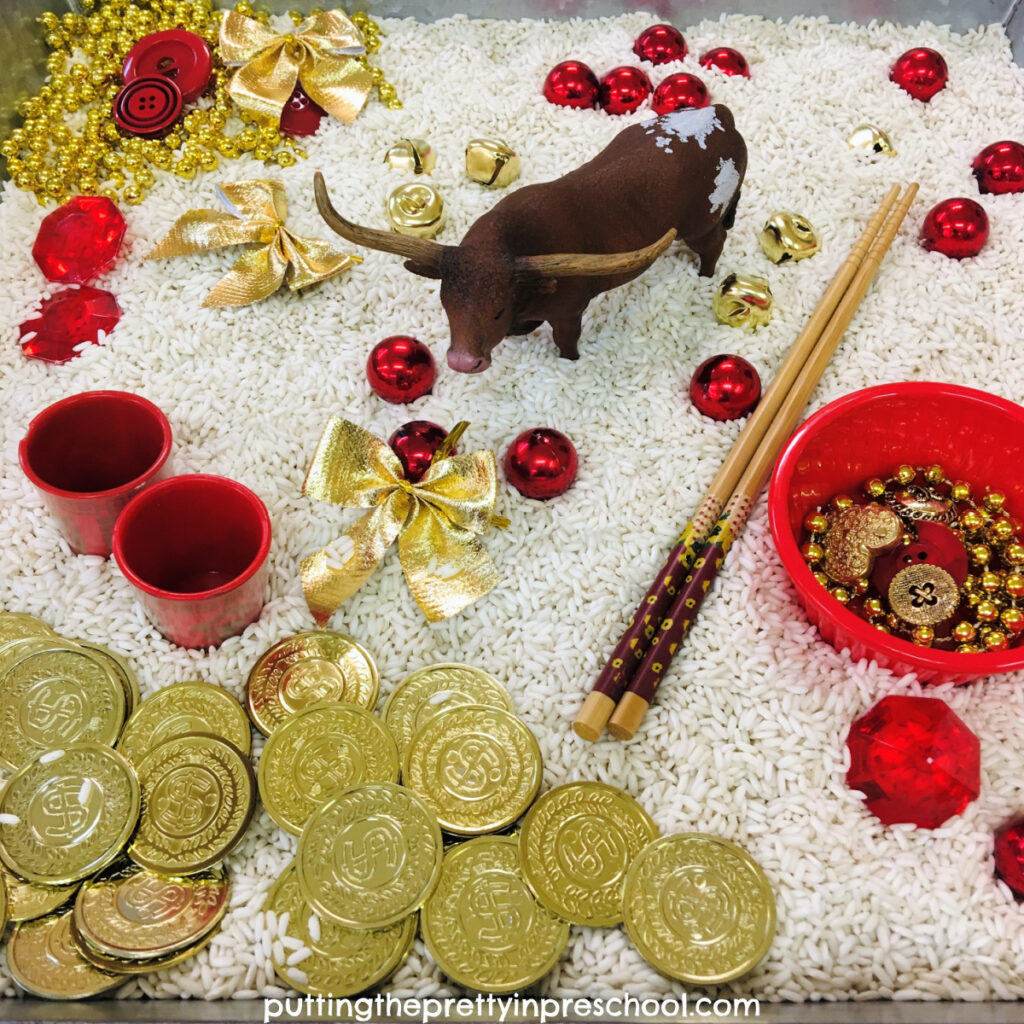 ---
People all over the world celebrate Chinese New Year. This traditional holiday is filled with drama and color, especially welcome in northern, winter white countries like mine!
---
---
You may also like:
Chinese Valentine's Day Activities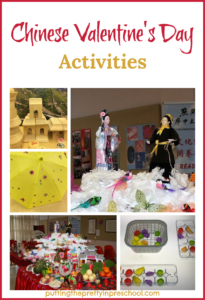 ---
---
Don't forget to share this post on Pinterest or your favorite social media channel. Sharing is caring!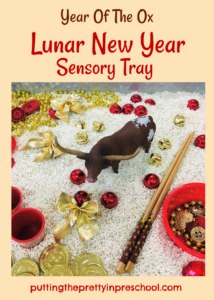 ---
---
© Annette Kaminsky
---
Follow me on social media for more ideas: