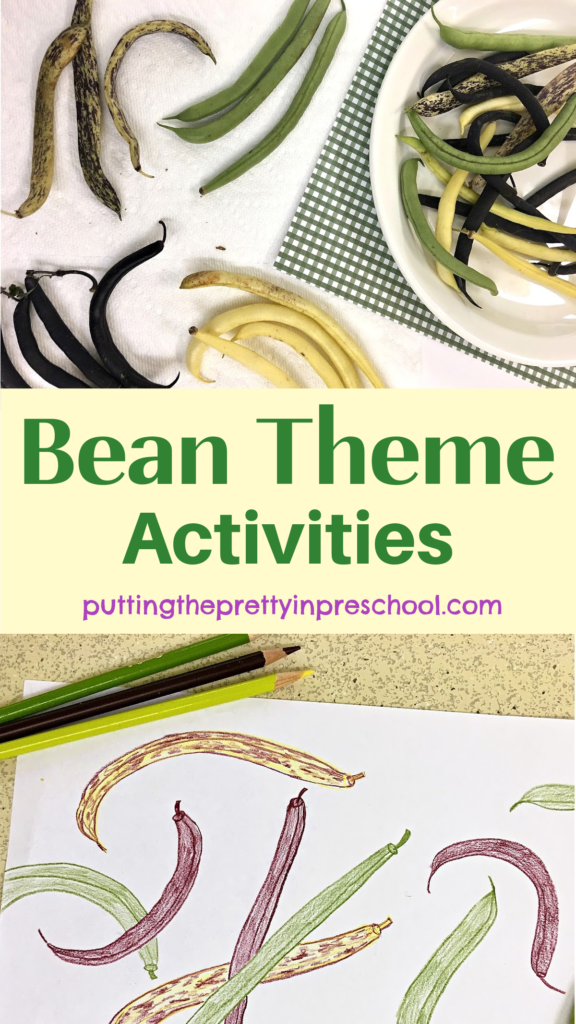 _______
Visiting a farmer's market or garden center is the best way to find varieties of fruits and vegetables we may not see in our local food stores. On a street market stroll last week, I was thrilled to discover a vegetable stall with beans that were not just green. They also came in dark purple, yellow, and streaked varieties. Here are some easy bean theme activities to introduce these novel bean colors to little learners.
_______
Follow me on Pinterest for more early learning ideas.
_______
Color Recognition With Beans
Showcase a few different types of beans in order to introduce color words to young children. For instance, label them green, light yellow, dark purple, or yellow streaked with purple.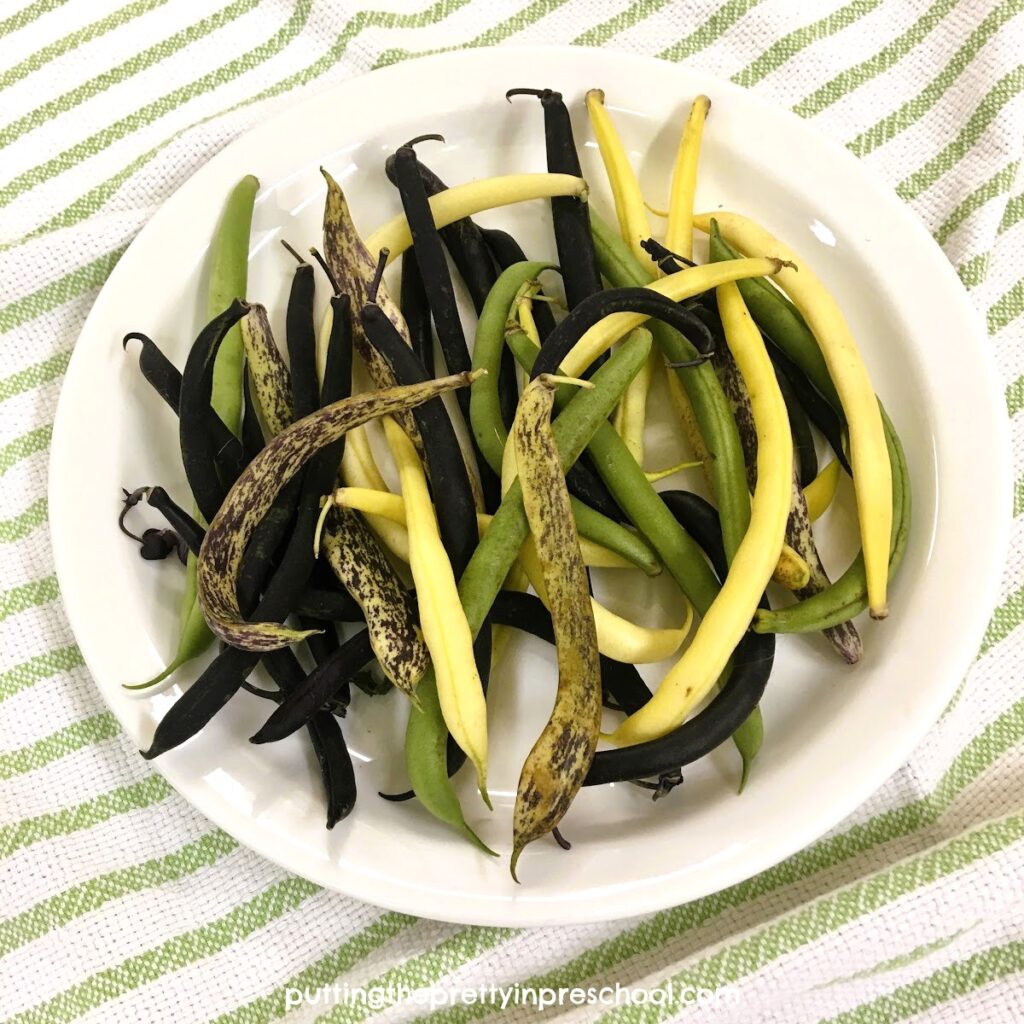 _______
Sorting Beans
Beans in different colors are perfect for math sorting activities. After collecting a few varieties, invite little learners to sort them by color, size, or shape. A suggestion is to leave things open-ended by asking "Which beans are alike?"
_______
Making Patterns With Beans
For more garden math, invite children to make patterns with beans in different colors.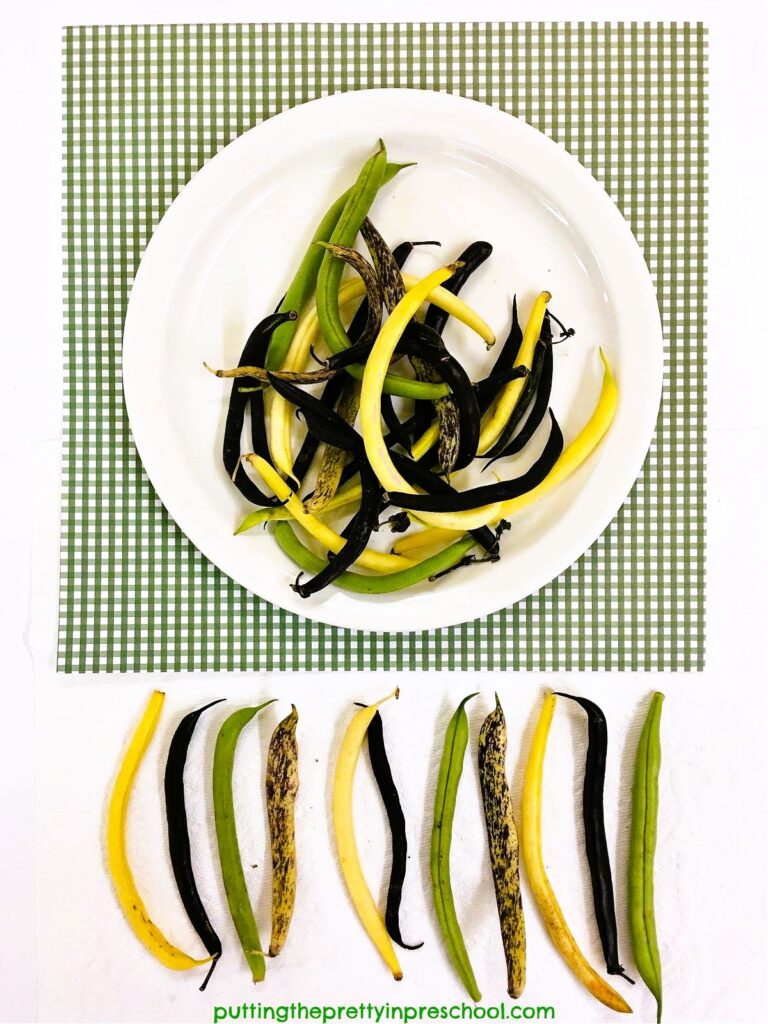 _______
Beans and The Letter C
Some beans are shaped like the letter C. If your supply of beans includes them, ask little learners to find the beans that look like a C. If the beans are different sizes, invite children to sort them from smaller to bigger, or vice versa.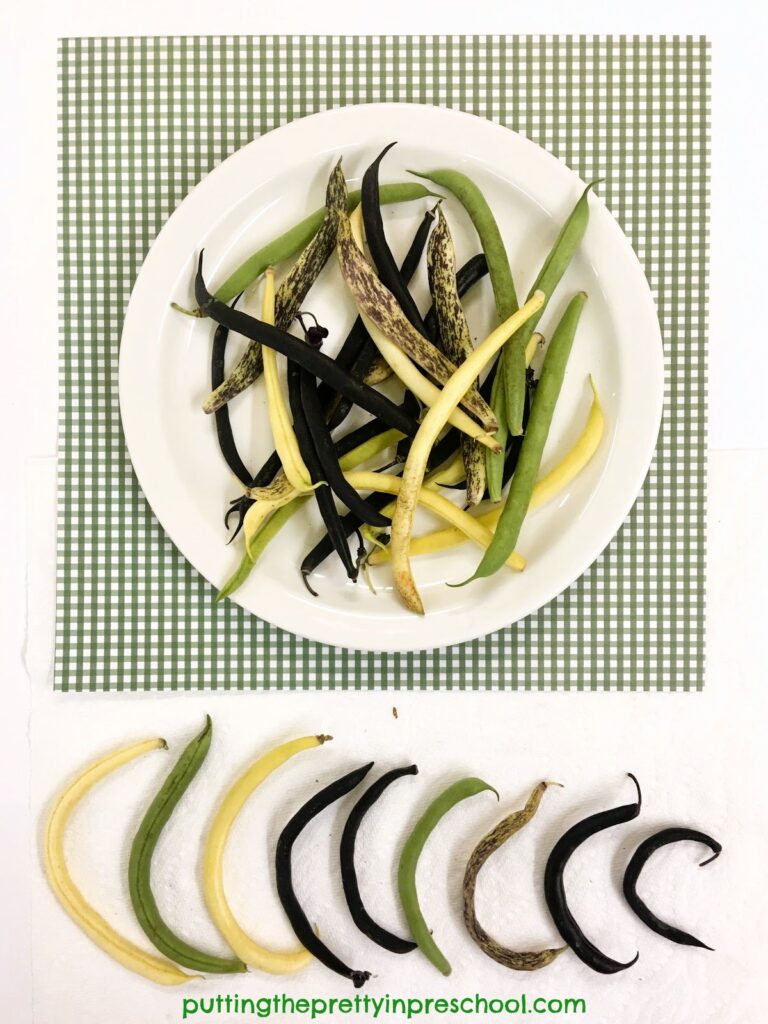 _______
Drawing Beans
Beans have a simple shape, so are perfect for a beginner directed drawing activity. Young children may start off by tracing beans, and then coloring them in. Select crayons or pencil crayons as the medium for the art project.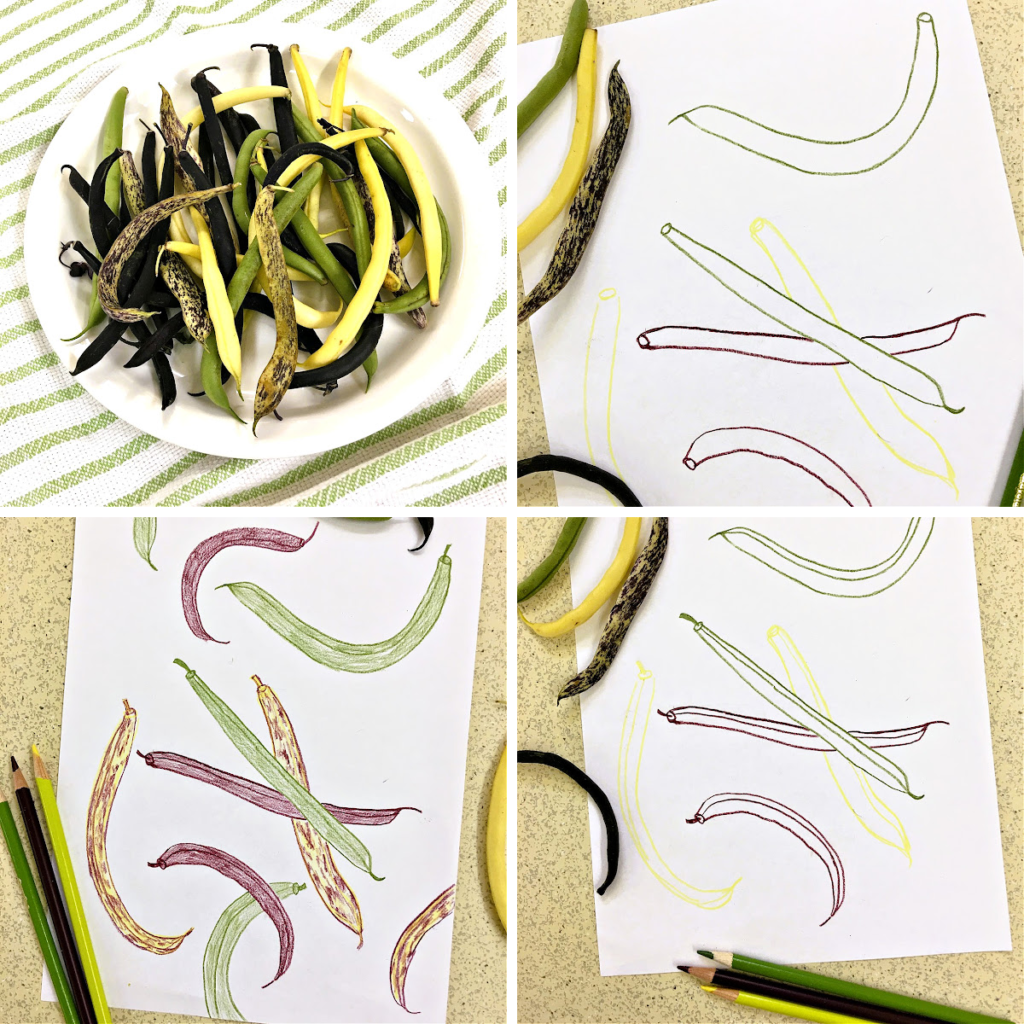 _______
During the drawing process, discuss words to describe beans. For instance, the whole bean is called a bean pod. It is long and thin and has skin on the outside. There is a seam running down one side of the bean. There is a stem on top and a bean tip at the bottom.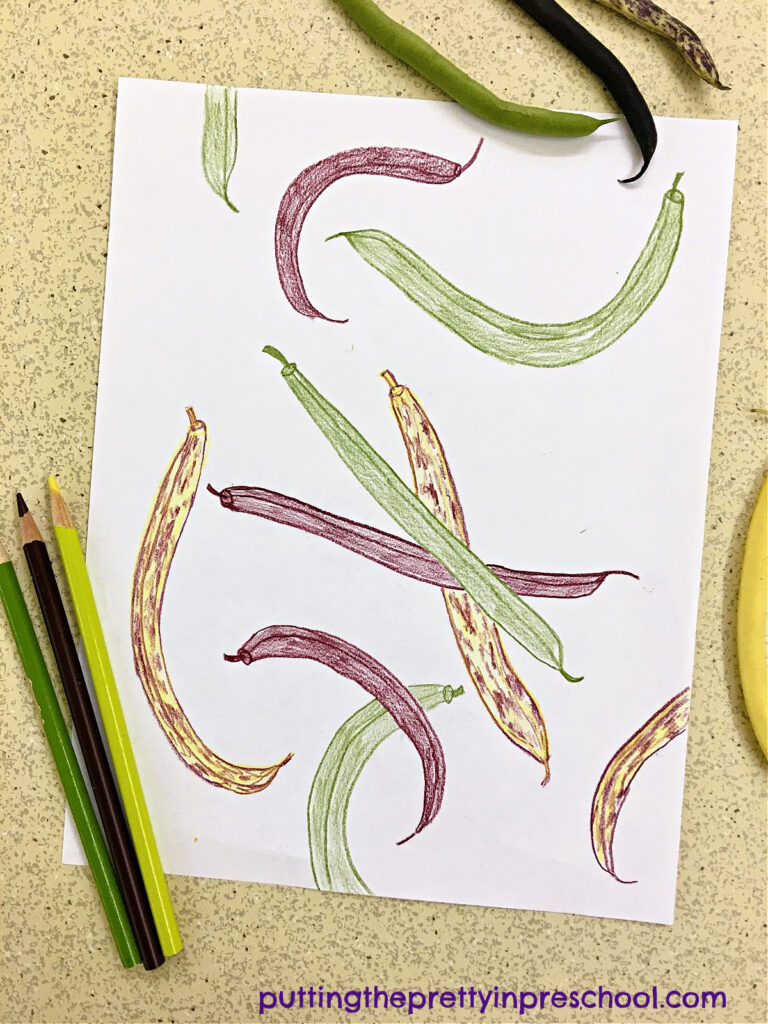 _______
A second activity is to open beans to view the inside of the pods. Check if the inside of a pod is the same color as the outside. Count the seeds in a pod, and have the children draw a split bean with bean seeds.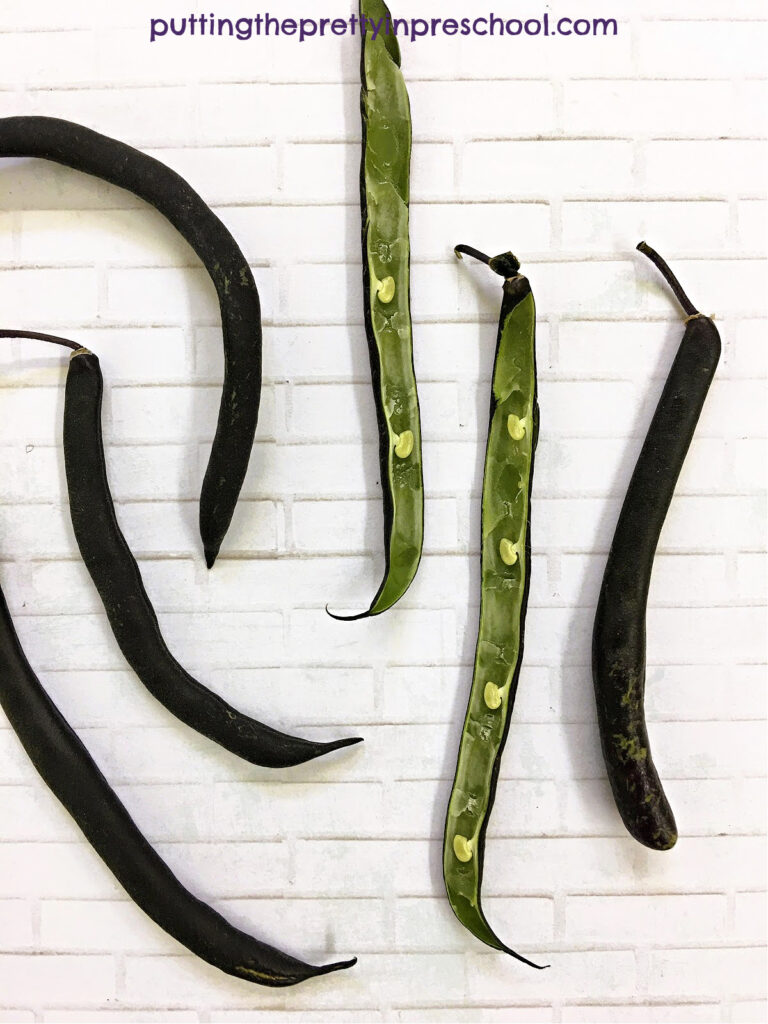 _______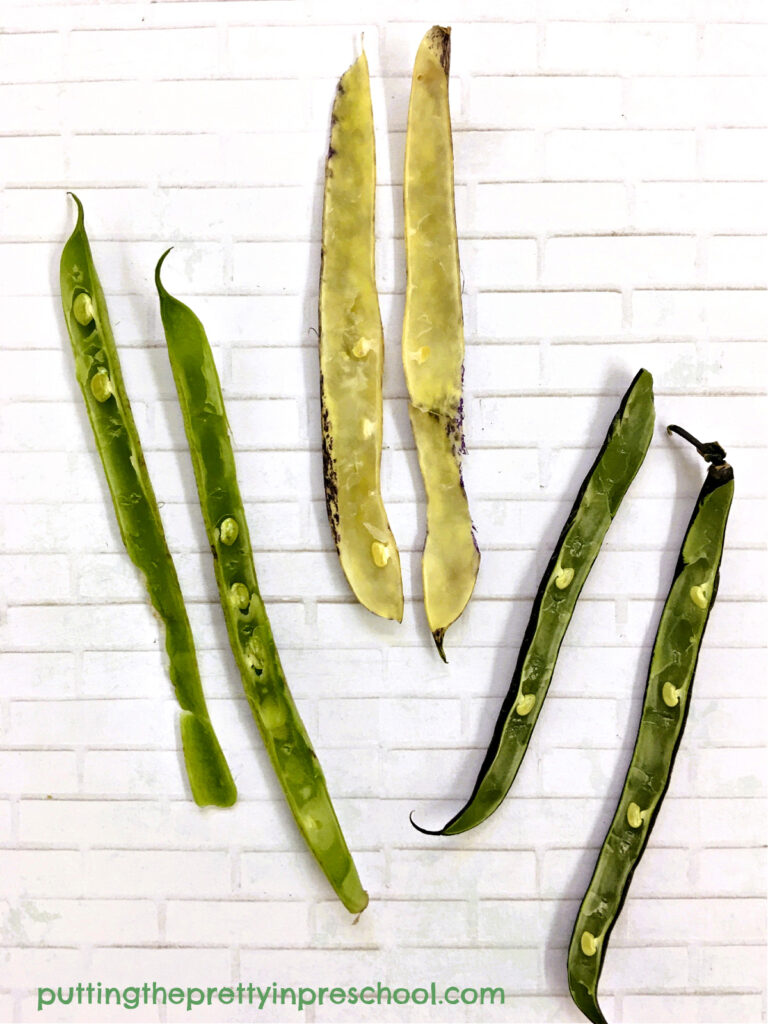 _______
Snacking On Beans
Beans are a super healthy food to eat, as they are low calorie and have lots of fiber. They are a good source of vitamin C, K, folate, and potassium. Invite your little learners to eat them raw or offer them in a cooked side dish for little ones to try.
_______
Bean Science
The dark purple beans actually lose their color after cooking. View purple beans before and after they are cooked for an interesting and easy color-changing science experiment.
The example below shows a handful of steamed deep purple beans. Some have transitioned to all green, while others are purple and green and will turn all green with more cooking.
_______
Uniquely-colored bean varieties are a fun find at a market stall or greenhouse. These hands-on bean theme activities help bring the garden to the table for little learners.
_______
[Read more…]

about Green Bean Theme Activities