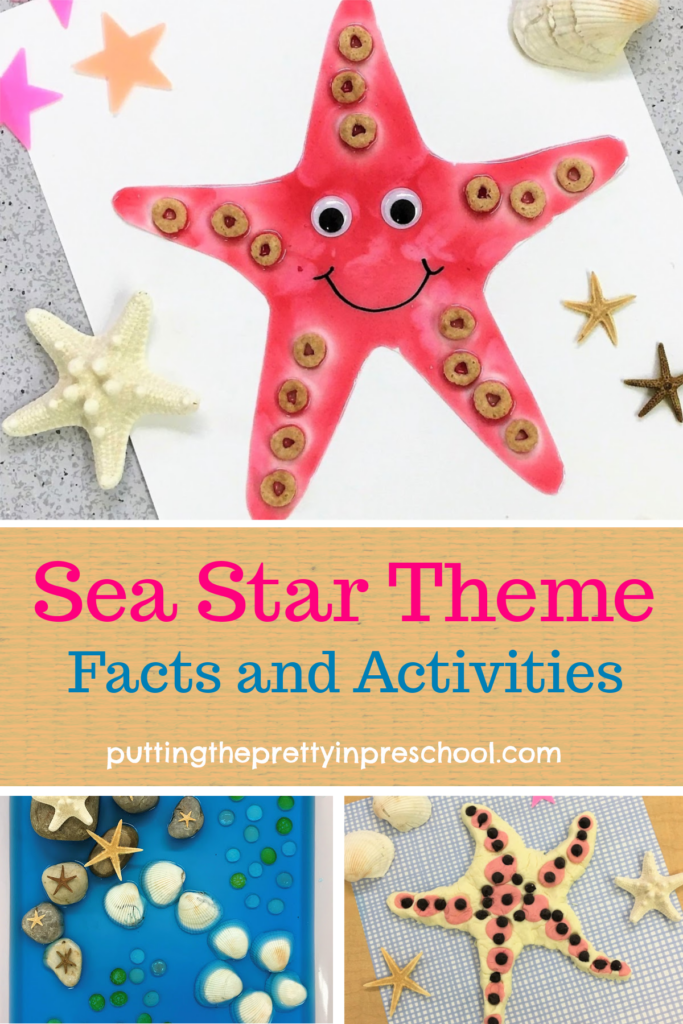 _______
Sea stars have no trouble taking the spotlight along the sea edge or in an aquarium. They are stunning ocean creatures and come in a huge array of colors. And these sea star activities for early learners? They deliver.
_______
Follow me on Pinterest for more activities.
_______
Ten Fast Facts About Sea Stars
Many sea stars live in shallow water; all live on the ocean floor.
Five-armed sea stars are common, but some have 10, 20, or even 40 arms.
Just like octopuses, sea stars can grow back a lost arm.
Sea star eyes are at the end of their arms and look like red spots.
Up to thirty-five years is how long sea stars can live.
Sea water gets pumped through sea star bodies instead of blood.
Hundreds of tube feet on the underside of their bodies help sea stars move, hang on to rocks, and pull away.
Sea stars have soft bellies and tough spiny or leathery skin on their backs.
Clams, oysters, and snails are foods these carnivorous creatures eat.
Their bright colors allow sea stars to blend in with their surroundings, and help scare off attackers.
_______
Sea Star Activities
Sea Star Sensory Tray
Sea stars purchased at a craft store, and seashells, smooth rocks, and gems arranged in blue-hued water make an inviting sensory tray for early learners to explore.
_______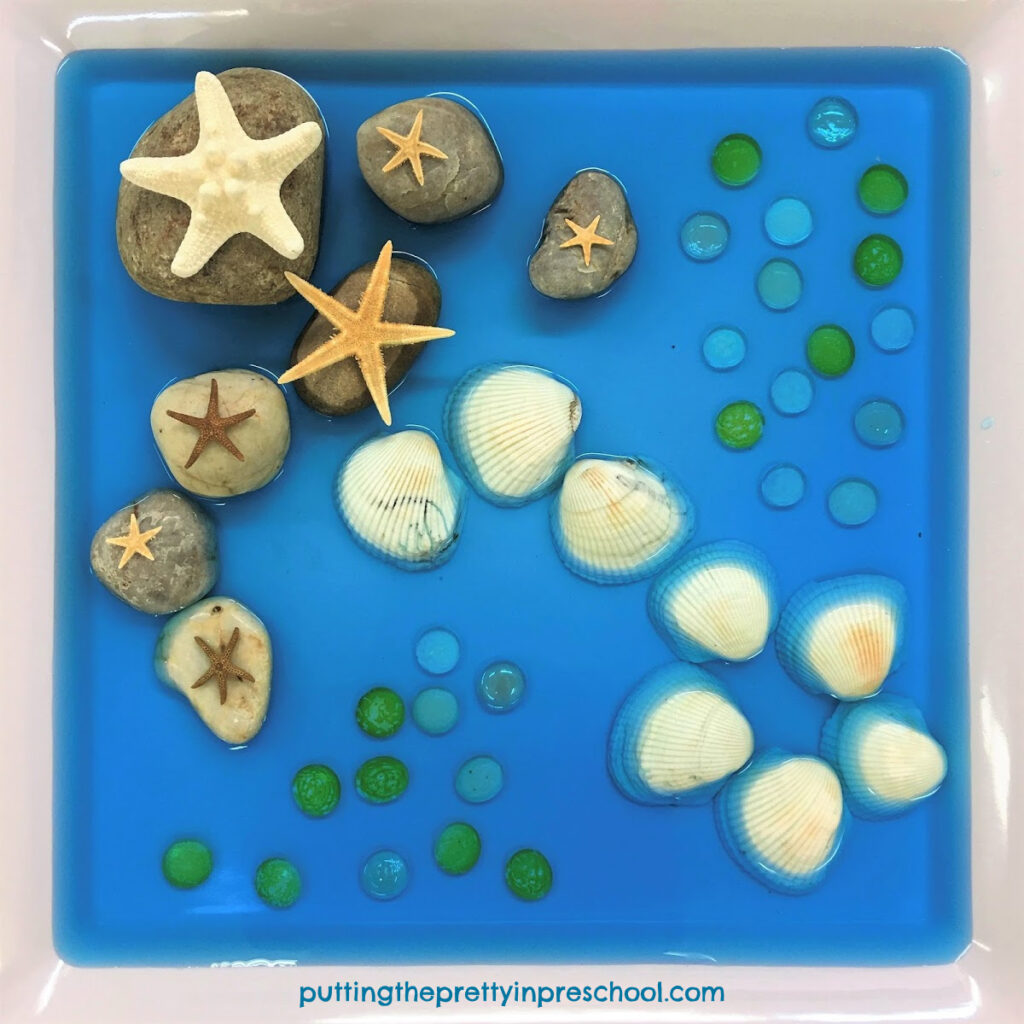 _______
Sea Star Counting
Colorful sea star counters and a ten frame give little learners hands-on counting practice. Download the ten frame here.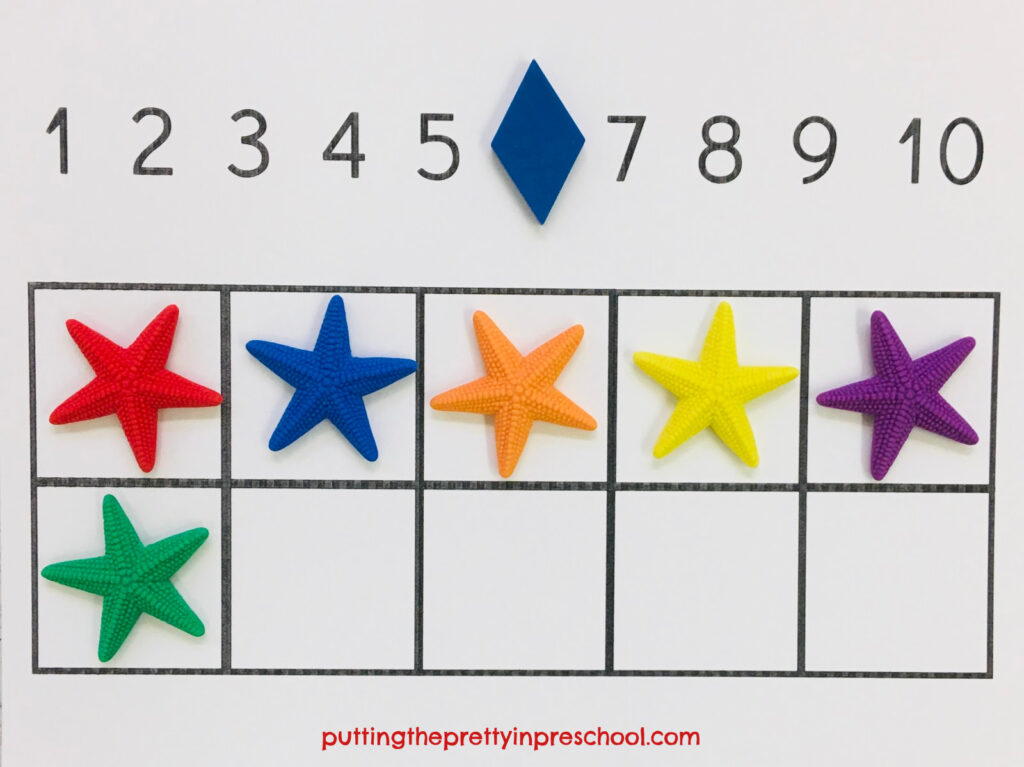 _______
Taste Safe Playdough And Sea Stars
This no-cook, easy-to-make playdough recipe is taste safe. Anyone with a sweet tooth will love it.
You will need:
1 cup store-bought vanilla frosting
1/2 cup cornstarch
1/4 cup icing sugar
yellow and red food coloring
Mix and knead the frosting, cornstarch, and icing sugar in a bowl. This should make a moldable dough. If the playdough is a little sticky, knead in a bit more cornstarch. If the dough is dry, add a spoon or two of frosting.
Divide the dough into a large and small lump. In the smaller lump, knead in a little yellow and red food coloring. Place the playdough pieces on a tray along with sea stars, sea star molds, shells, stars, and chocolate chips. (Read on to find out why chocolate chips are on the tray.) Any ocean-themed loose parts you have handy will work.
Invite your early learner to explore the playdough and loose parts.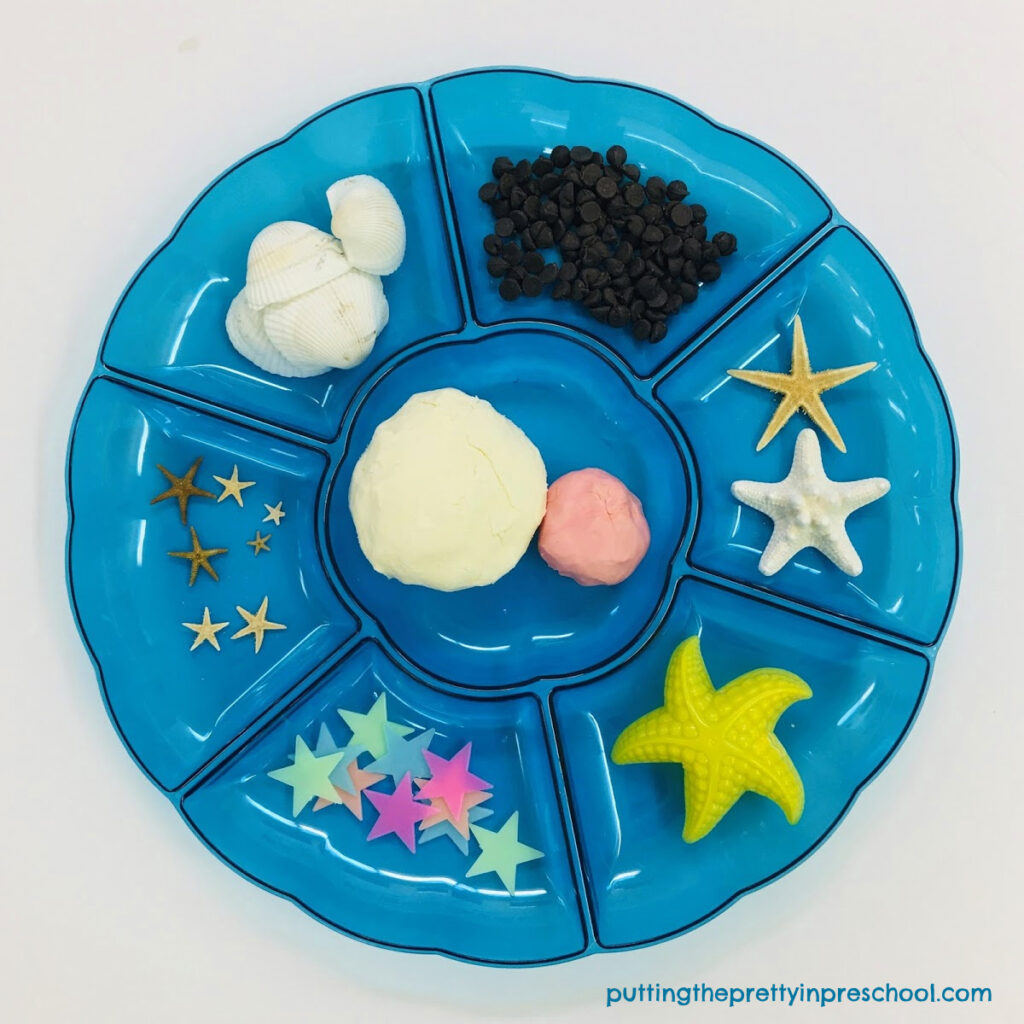 _______
The recipe makes enough playdough for one or two children to use. Multiply the ingredients if more little learners are participating in the activity.
_______
Playdough Chocolate Chip Sea Star
Yes, there are starfish named "chocolate chip sea stars!" These sea stars come in a variety of colors but always have dark brown spots on top. They grow up to 15 inches / 38 centimeters in size and make good pets.
Invite your little learner to mold a five-armed chocolate chip sea star with the vanilla playdough. Then encourage adding little dots of orange-red playdough to the top of the starfish, and pressing in chocolate chips. This will complete the sea star.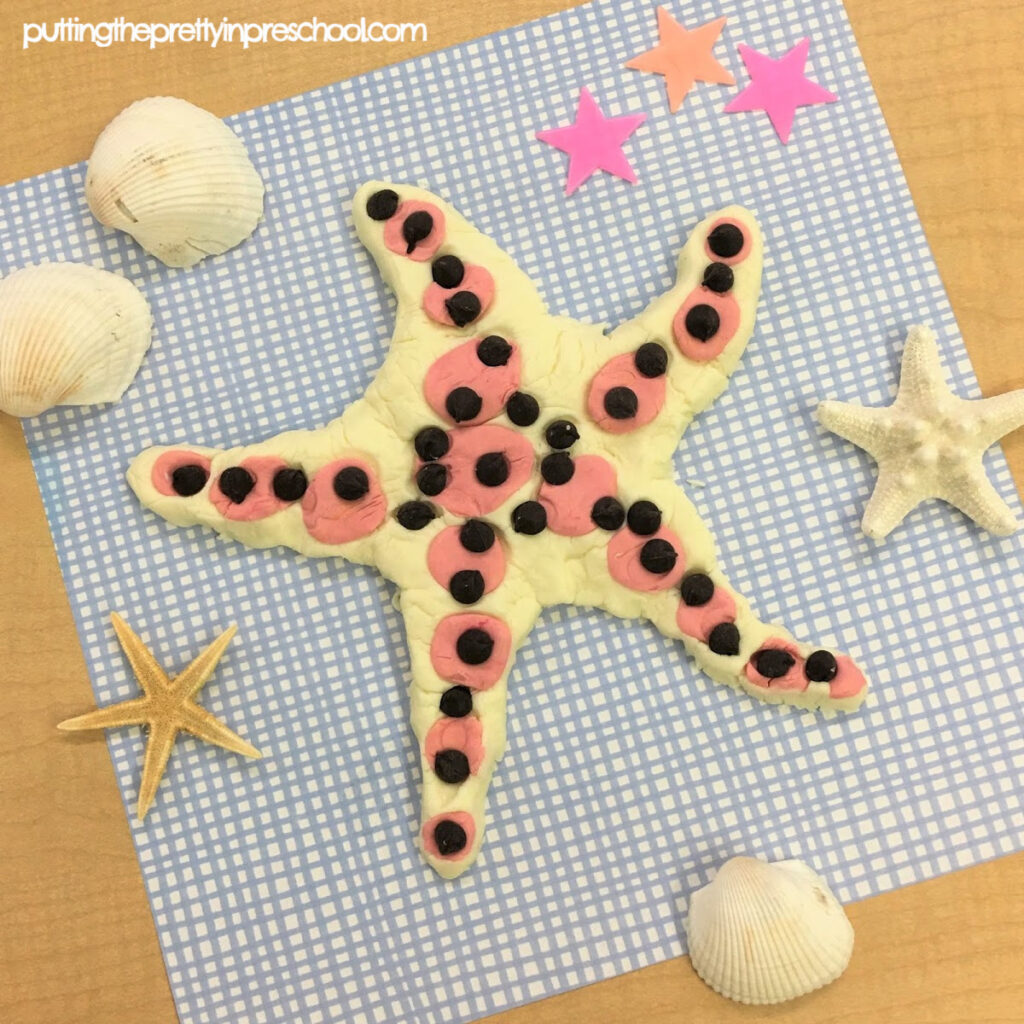 _______
This sea star is featured in the engaging picture book "I See Sea Food: Sea Creatures That Look Like Food" by Jenna Grodzicki.  
_______
Sea Star Art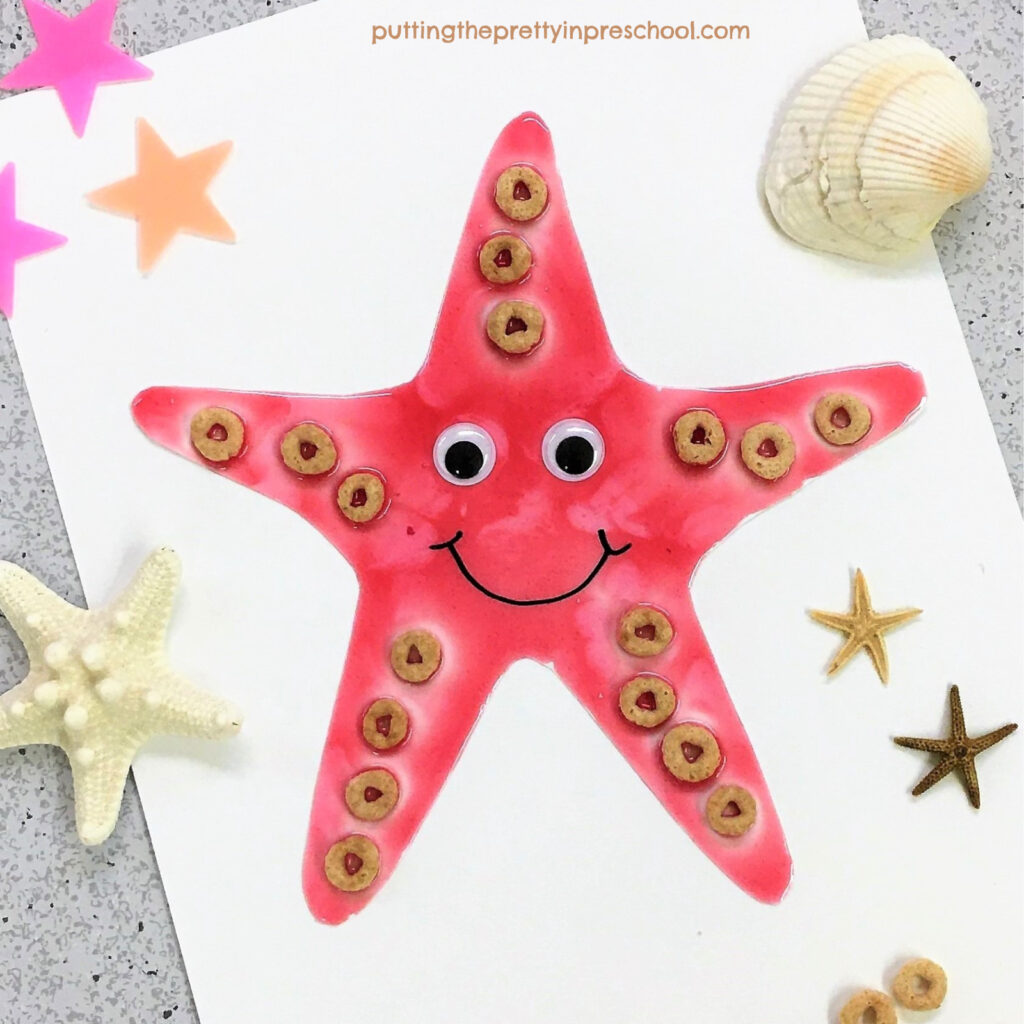 _______
The two-ingredient paint recipe used in this art activity has previously been featured in my Octopus Theme Activities blog post. It works well in sea star art too. This project is inspired by the pink short-spined sea star. Click the link below for a video tutorial.
_______
View a Sea Star Art video tutorial.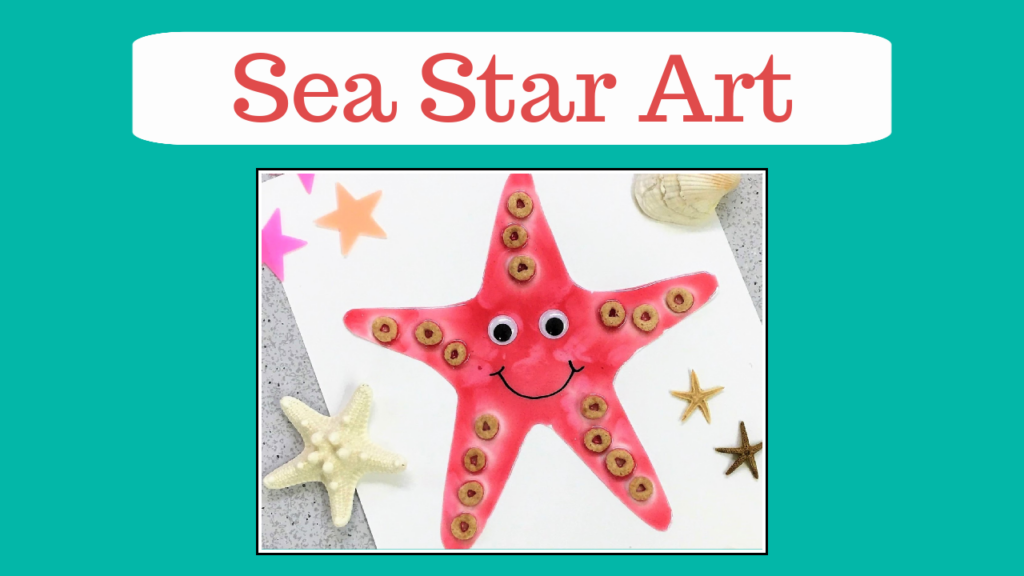 _______
Fun Fact: Pink short-spined sea stars don't mind getting dirty. They can be spotted in sand or mud, or on rocks and coral.
_______
Sea Star Sorting
A purchased package of sea stars provides an opportunity to order these star-shaped creatures from largest to smallest, or vice versa. The gigantic sea star included below is a garage sale find.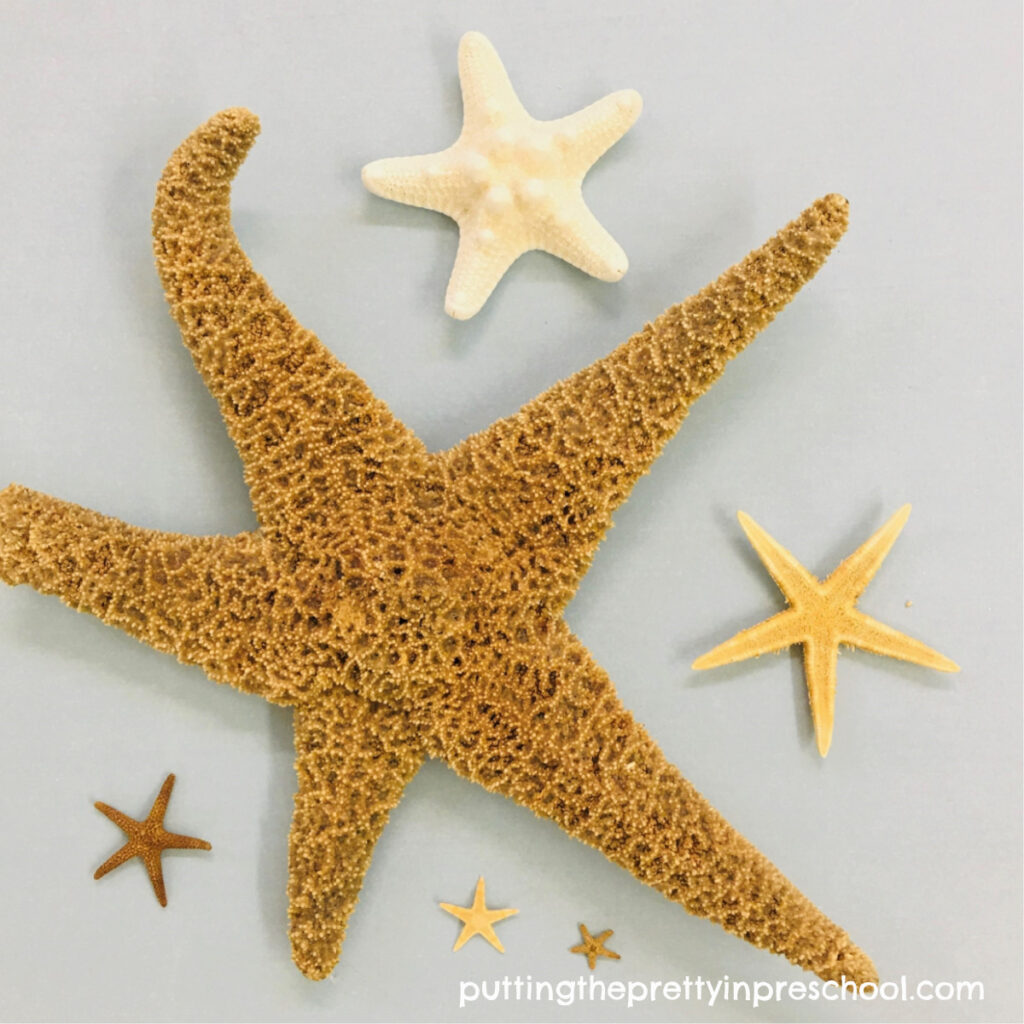 _______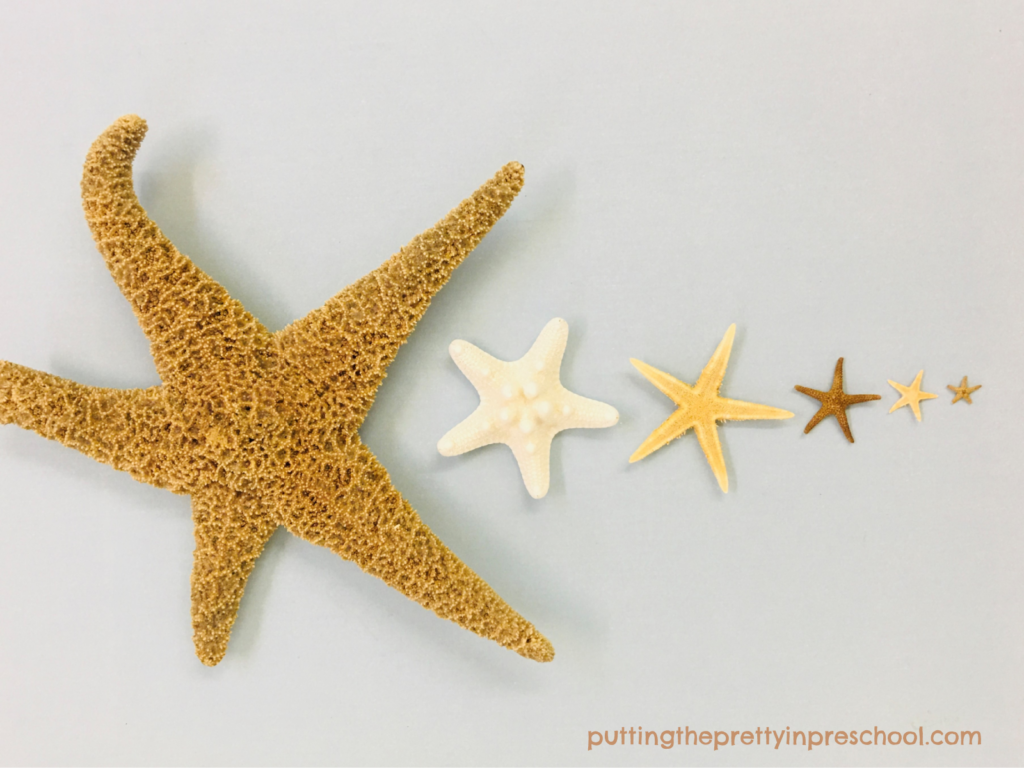 _______
Sea Star Observation
Although it is tempting to pick up sea stars, they should not be touched, poked, moved, or taken out of the water. It is best to observe them in an aquarium or while snorkeling.
_______
If you live near the ocean, there are likely many opportunities to see sea stars up close. But whether you do or don't, the blog post "19 Bizarre And Beautiful Starfish Species" is a good read. It is packed with fascinating sea star facts and photos. Viewing the article is a good follow-up to the hands-on sea star activities featured in my post.
_______
Do you have a favorite sea star? Share in a comment below.
_______
You may also like: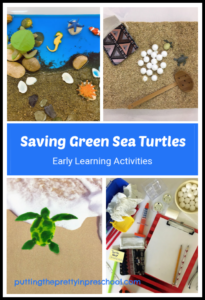 _______
Don't forget to share this post on Pinterest or your favorite social media channel. Sharing is caring!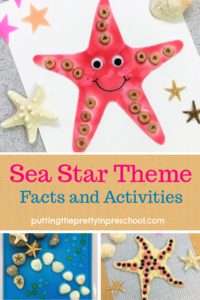 _______
© Annette Kaminsky August 3, 2020
_______
Follow me on social media for more ideas: