Painting striped and spotted sharks is an effective way for young children to incorporate simple design elements into the art process. And tiger and leopard sharks are the perfect subjects to encourage early learners to paint stripes and spots. These sharks are especially interesting because of their unique coloring.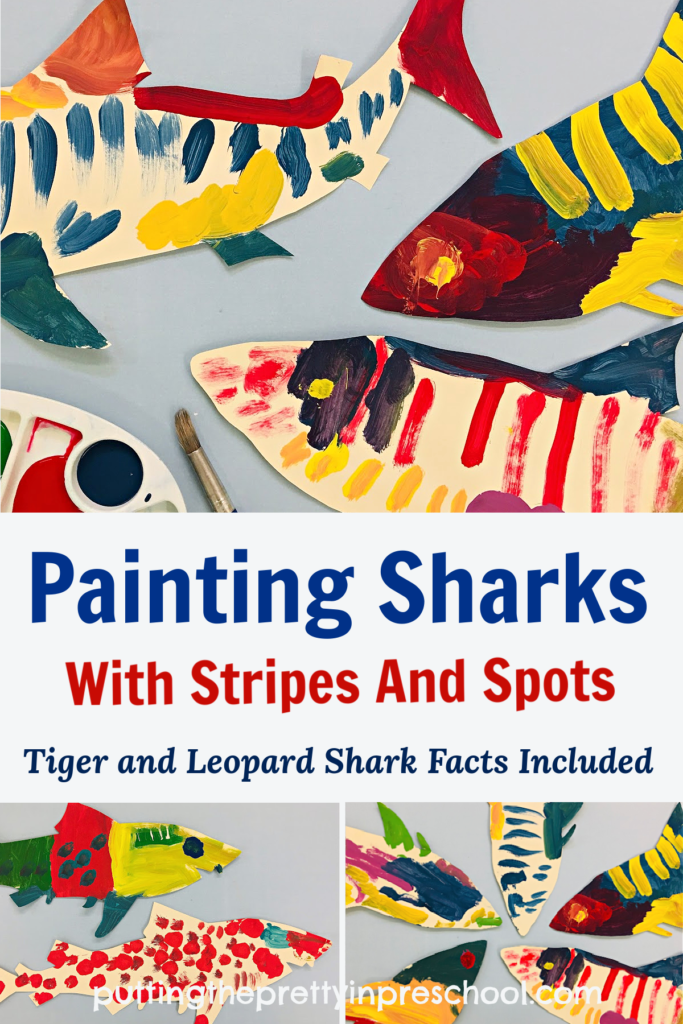 _______
It is common knowledge that early learners just love, love, love to mix colors when painting. They never seem to tire of mixing paints. Oh so quickly, they will swirl paint around to make a mediocre brown or another dull hue, and be left with muddied paints to work with.
As they get a little older, I like to encourage children to try something a little more challenging. I say, "Try this challenge on your first painting. Then on your next ones you can paint any which way you like." This is usually effective. Sometimes little learners choose to make a second or even a third painted piece. Other times they are ready to move on to another activity in the classroom after the first one.
With these shark painting activities, children are challenged to keep colors somewhat separate and add stripes and spots to their paintings.
_______
Painting Striped Tiger Sharks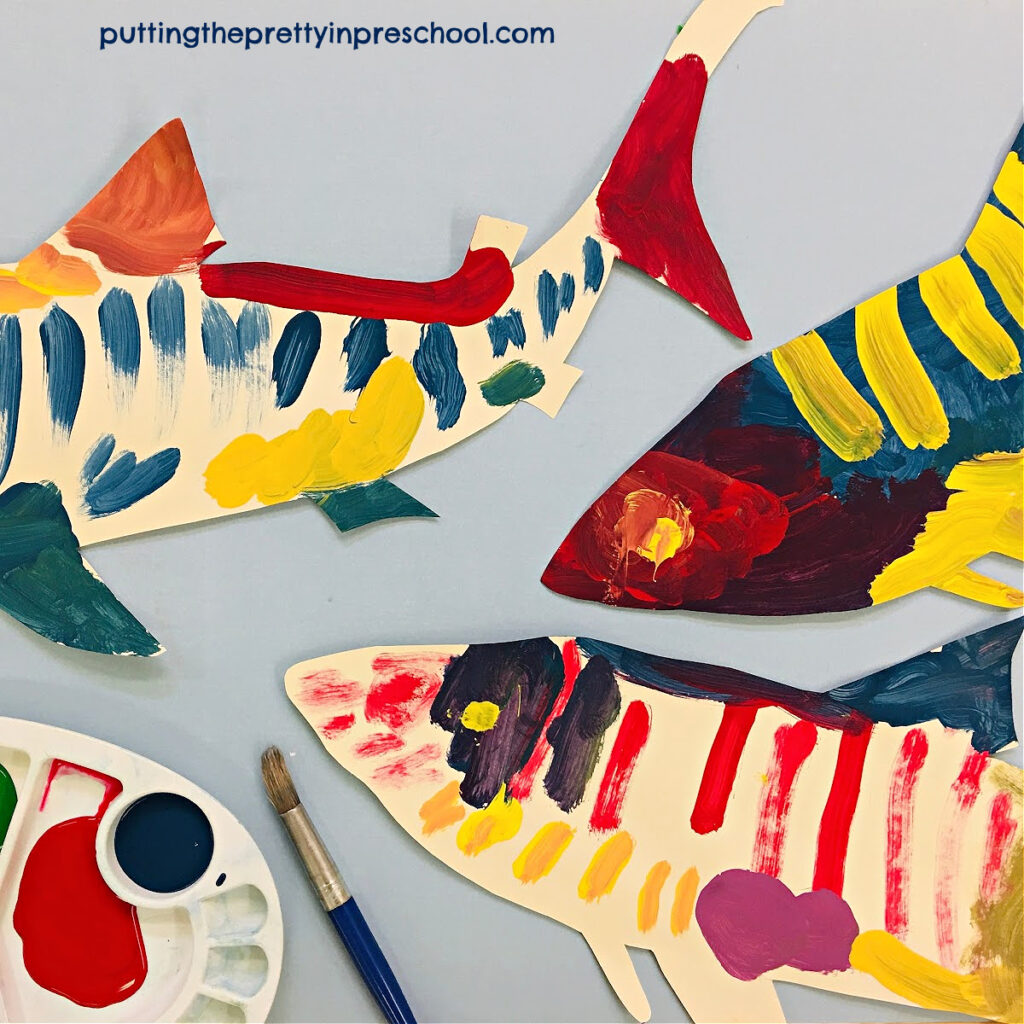 _______
To prepare for the art activity, draw and cut large tiger sharks from 12 x 18-inch paper. Manila or construction paper works well.
Then set out tempera paint colors of choice. The paint palette can feature a variety of colors, or monochromatic ones, such as black, gray, and white.
Next, add a paintbrush and paper towel section to each participant's station.
To introduce the painting activity, read a picture book featuring different kinds of sharks.
Next, focus on tiger sharks. Show pictures of them from books and/or online sources, and share interesting facts. The information further on in this post may be helpful.
Invite early learners to decorate their sharks, making sure to add some stripes to them. Encourage them to dab excess paint on a paper towel when switching paint colors.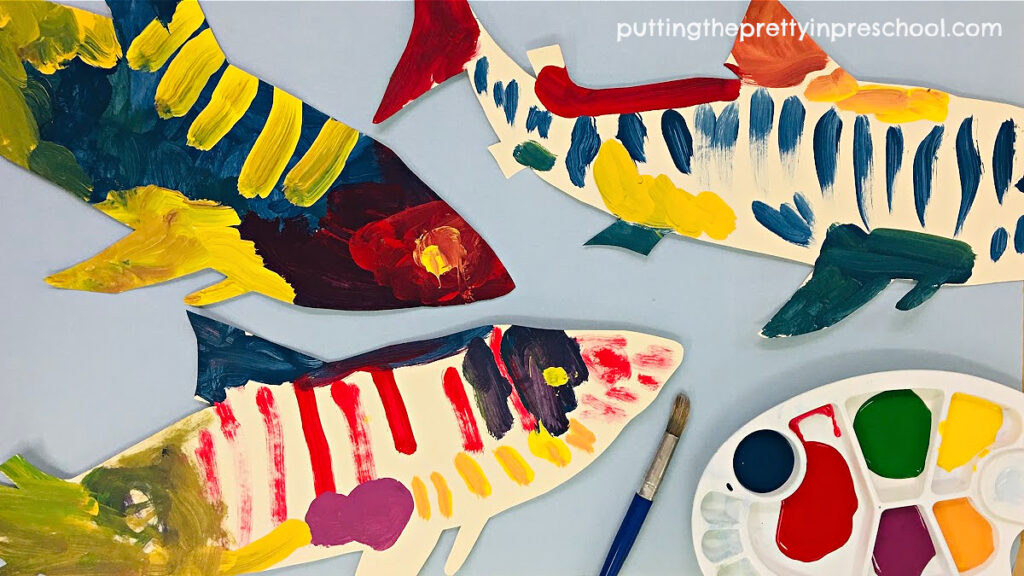 _______
10 Tiger Shark Facts
Tiger sharks are the fourth largest shark. Only the whale shark, basking shark, and great white shark are bigger.
These striking sharks have spots and vertical lines on the sides of their bodies, similar to the stripes on land tigers. The markings fade over time.
Their striped grey coloring camouflages the sneaky sharks in the water.
Preferring warmer waters, the large sharks live near coasts in tropical and subtropical areas around the world.
Tiger sharks have excellent eyesight and hearing and are slow-moving swimmers.
Not fussy about prey, the nocturnal hunters will eat almost anything whole, even garbage!
The food they commonly eat is invertebrates, other fish, dolphins, sea turtles, and seals.
Their broad jaws and strong, sharp, serrated teeth help them cut through their prey.
The orca whale is the only predator of tiger sharks.
Being very curious, these sharks will come close to humans and occasionally bite them.
Shark babies, called pups, hatch from individual eggs inside the mother's body and are born live. There is an average of 30 – 35 pups per litter.
_______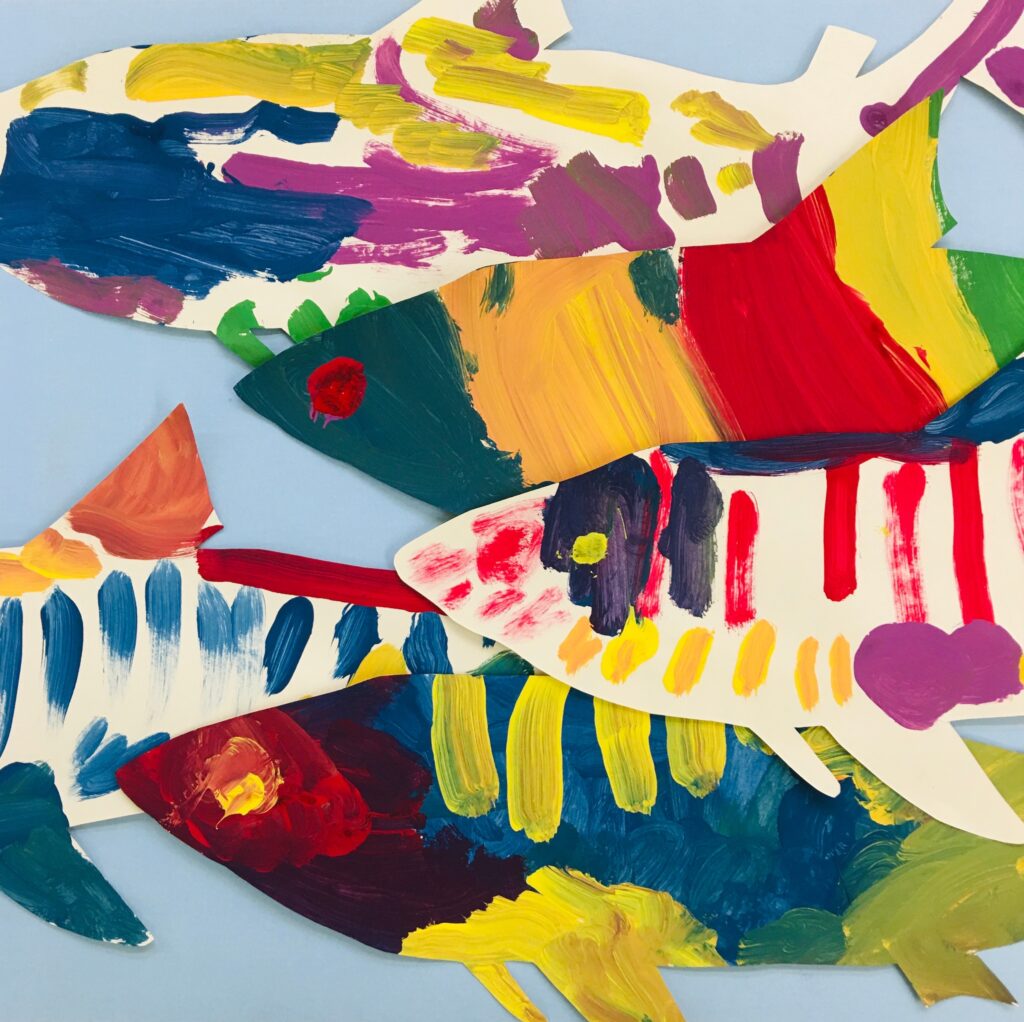 _______
Painting Spotted Leopard Sharks
With this second painting activity, draw and cut out leopard sharks from oversized sheets of sturdy paper.
Introduce little learners to the spotted sharks by showing pictures of them and sharing facts. Interesting leopard facts are listed below.
Invite participants to paint their sharks, adding spots to them.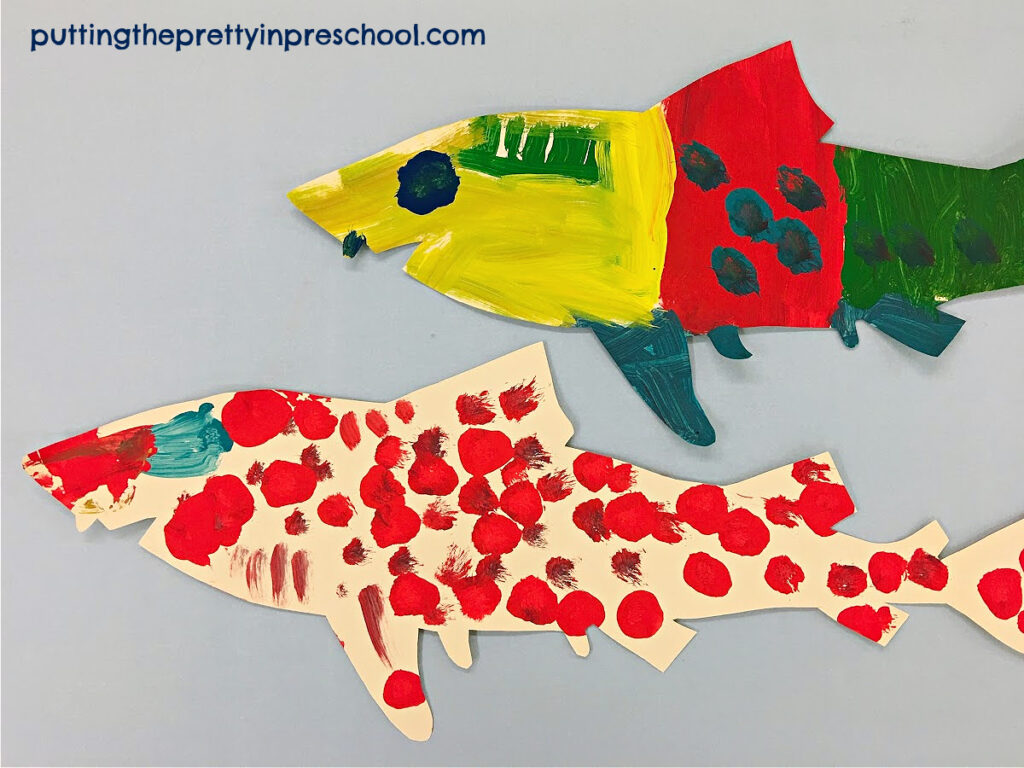 _______
10 Leopard Shark Facts
Leopard sharks are smaller than tiger sharks, but also live near the shore.
The sharks live year-round in the Pacific Ocean from Oregon to the Gulf Of California.
The dark spots on their backs have a likeness to those of real leopards.
The narrow-headed mid-sized sharks have three pointed teeth that are good for smashing food.
The spotted sharks hunt on the bottom of the ocean at night.
Favorite prey is crabs, fish eggs, shrimp, clams, octopus, and fish. The sharks sometimes eat other small sharks.
Leopard sharks are active, strong swimmers, but will sink when not moving.
Being shy and skittish, they often hide before humans can spot them.
Like tiger sharks, leopard shark pups are born live after hatching from egg capsules in the mother's uterus.
Loss of habitat is the biggest threat to leopard sharks.
_______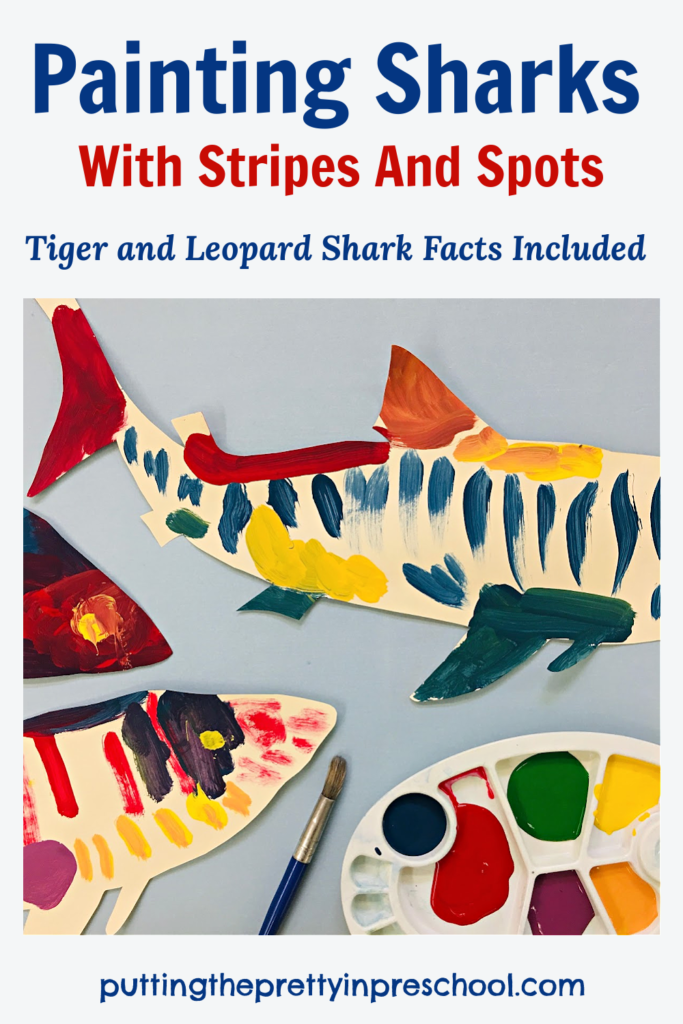 _______
Follow me on Pinterest for more early learning ideas.
_______
More Ways To Create With Spots
In addition to brush-painted spots, eye-catching spots can be added to an art piece by:
fingerpainting
using dot markers
adhering circle stickers
gluing on paper circles
_______
Artist Yayoi Kusama
A famous artist who often uses circles/spots in her art is Yayoi Kusama. Her "obliteration room" collaborative projects are especially amazing!
_______
Related: Watermelon-Inspired Banner Craft
_______
[Read more…]

about Painting Striped And Spotted Sharks