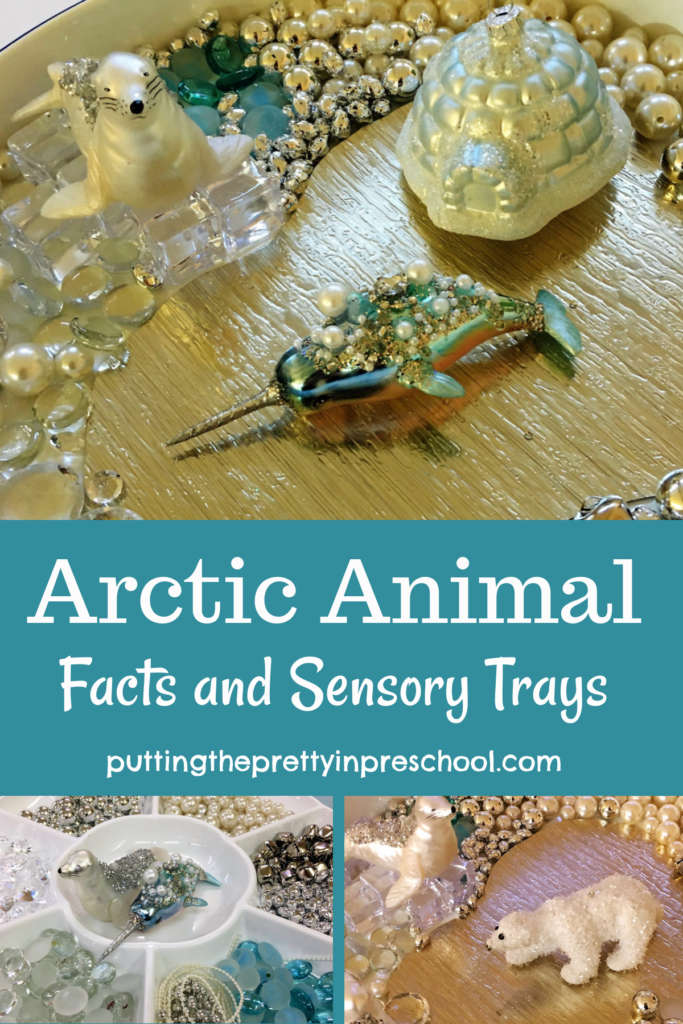 _______
These Arctic animal sensory trays are inspired by a set of polar decorations spotted at a local hardware store. I saw them before Christmas and restrained myself from buying them. It was tough! I didn't think of them again until just into the New Year, but then I just had to have them. Thankfully, one hardware store in the chain still had a full selection and I was able to buy the decorations for winter displays and sensory play.
_______
Polar Animal Sensory Tray Loose Parts
A large round tray, silver plastic table mat for water or ice, and the following loose parts work well with arctic animal figurines: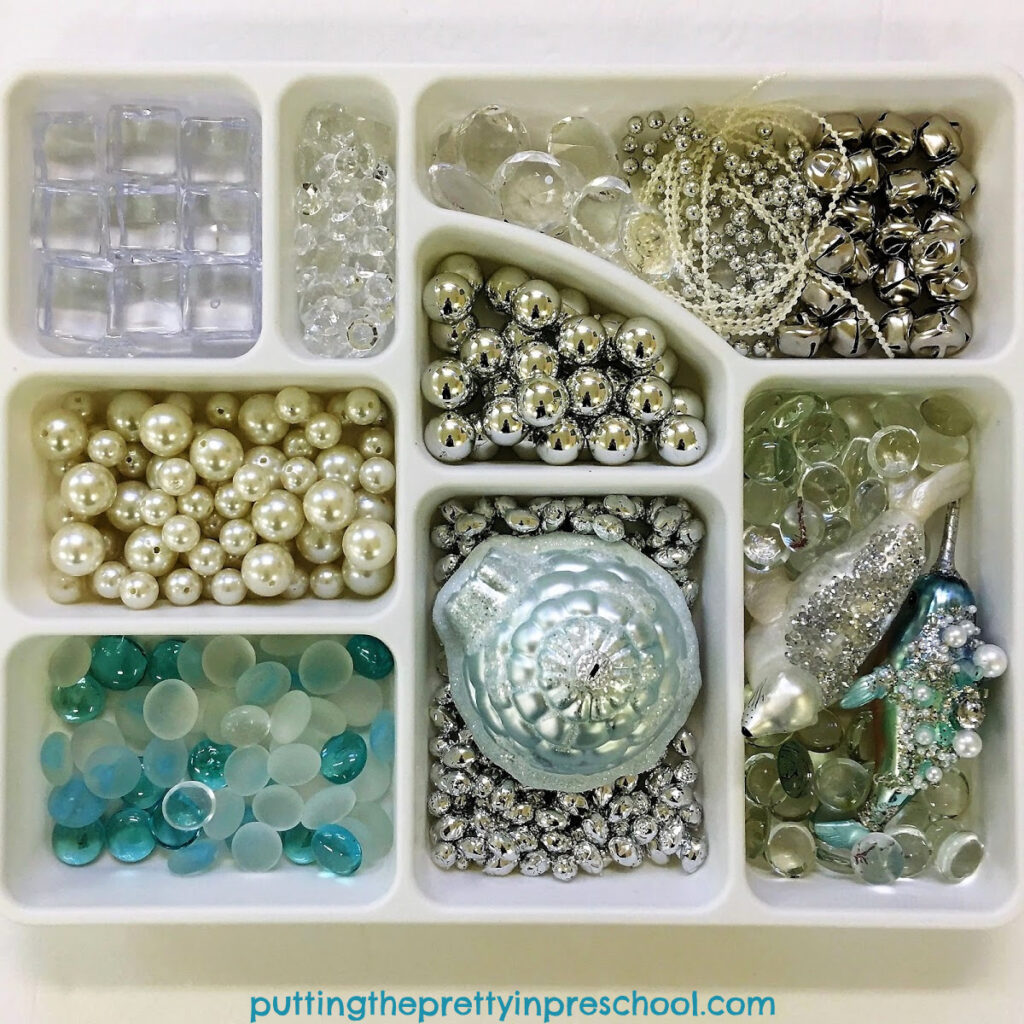 _______
pearl bead garland
large pearl beads
clear gems in various sizes
ice cube gems
silver bells
silver beads and bead garland
blue gems
_______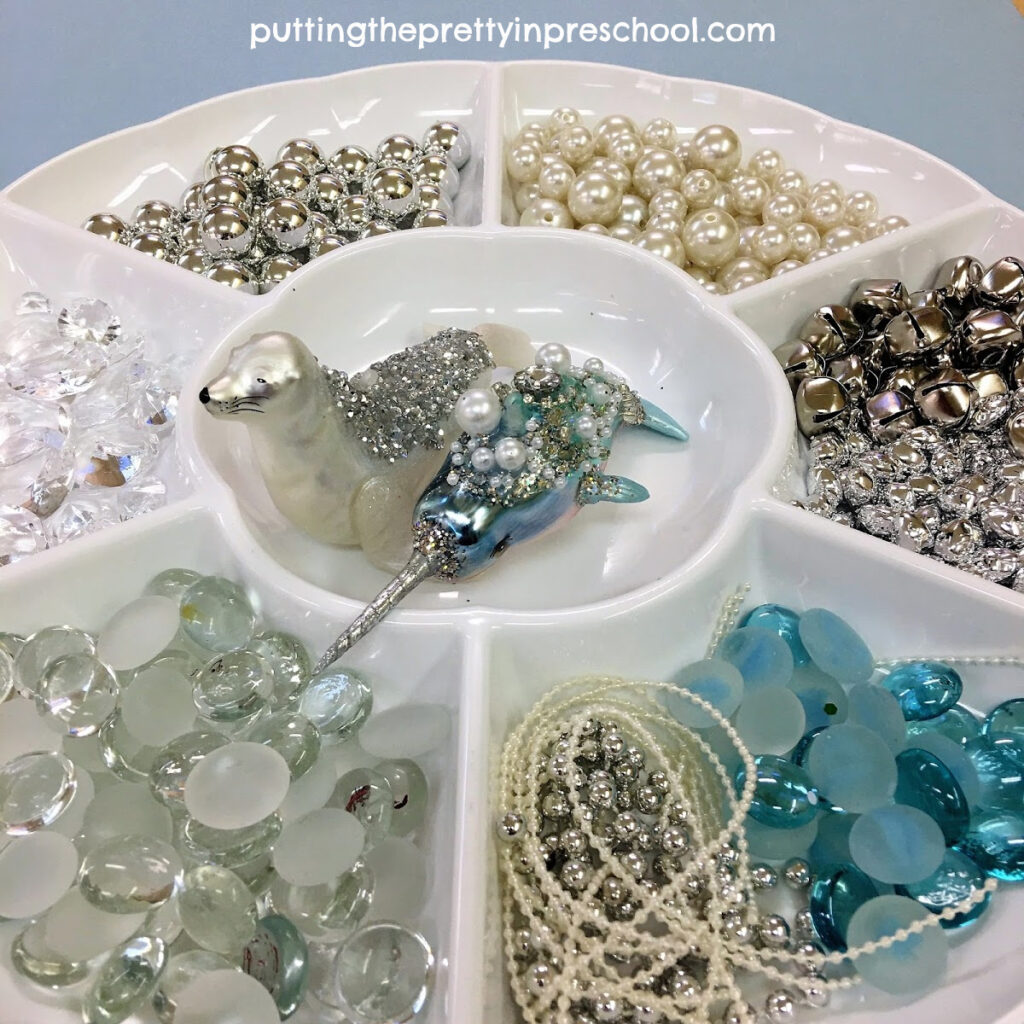 _______
Arctic Animal Sensory Trays
The polar decorations featured in these trays are breakable, so should be handled carefully. After discussing and exploring figurines such as these with your early learners, replace them with unbreakable Arctic animal and igloo toys for further learning and play.
_______
The first two sensory trays showcase seals and narwhals. Here are some facts about these aquatic polar creatures:
Narwhals are small whales nicknamed sea unicorns. Males have a tooth that grows through their lip to form a spiraling ivory tusk. The tusks grow throughout the whales' lives. Narwhals live in groups in the cold icy waters of the Arctic. They have been overhunted for their sought-after tusks so are hard to spot.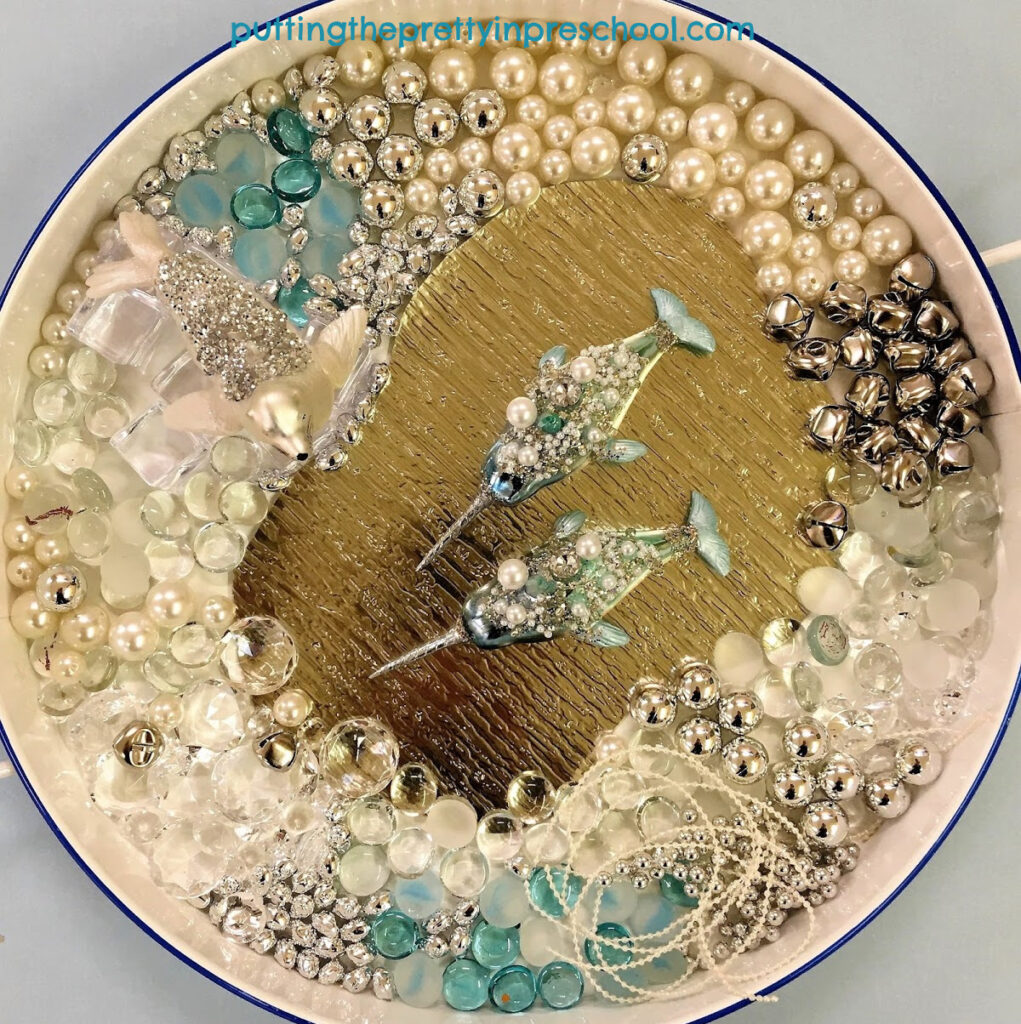 _______
Six kinds of seals live in the Arctic. The seals spend much of their time in the frigid waters on or under the ice. When the ocean freezes each year, they chew breathing holes through the ice with their teeth. They come up for air every few minutes, trying to avoid predators in the process.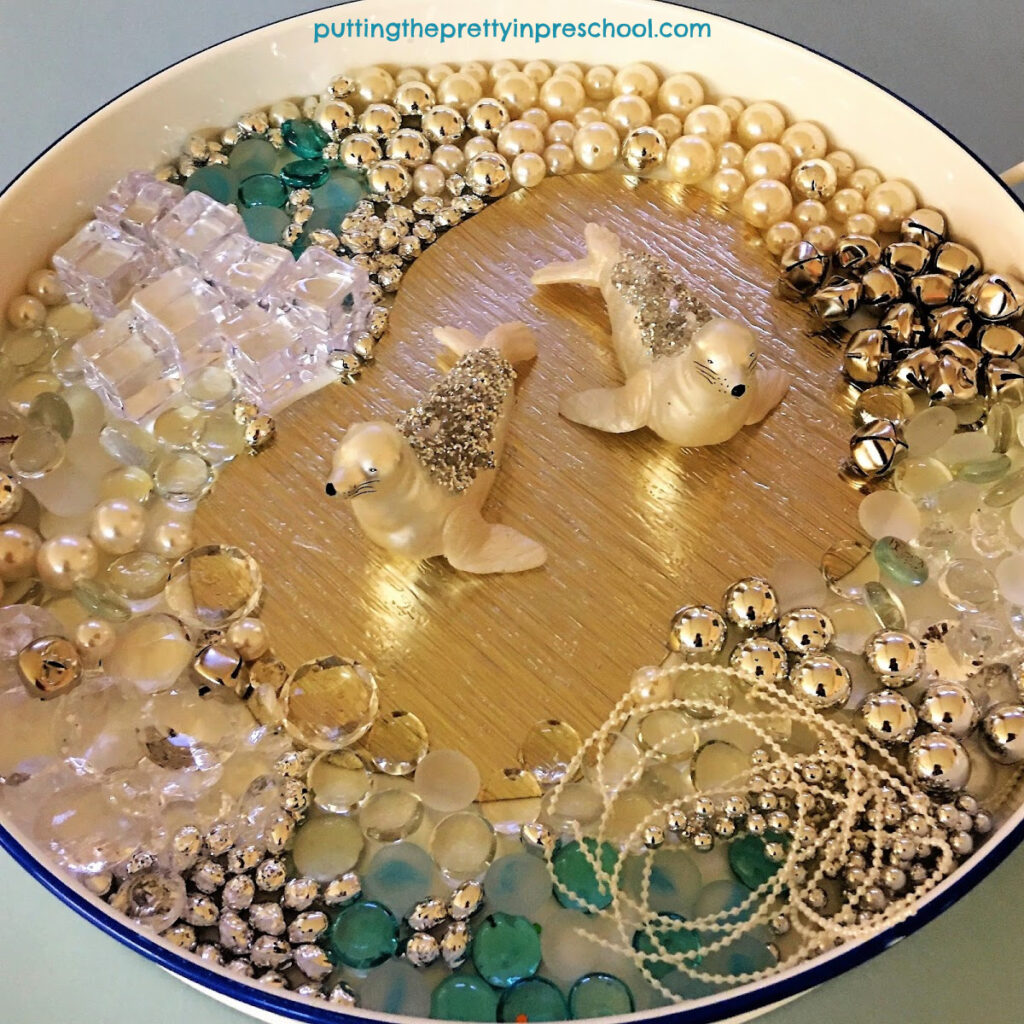 _______
This next tray features a polar bear, seal, and narwhal.
Polar bears are large, creamy white bears that weigh up to 1100 pounds. They have black noses and eyes and can walk and swim long distances. Polar bears live on ice floes, rocky shores, and islands in the Arctic. Their tiny bear cubs are born in December in dens on land or ice. The cubs live with their mothers for about two years.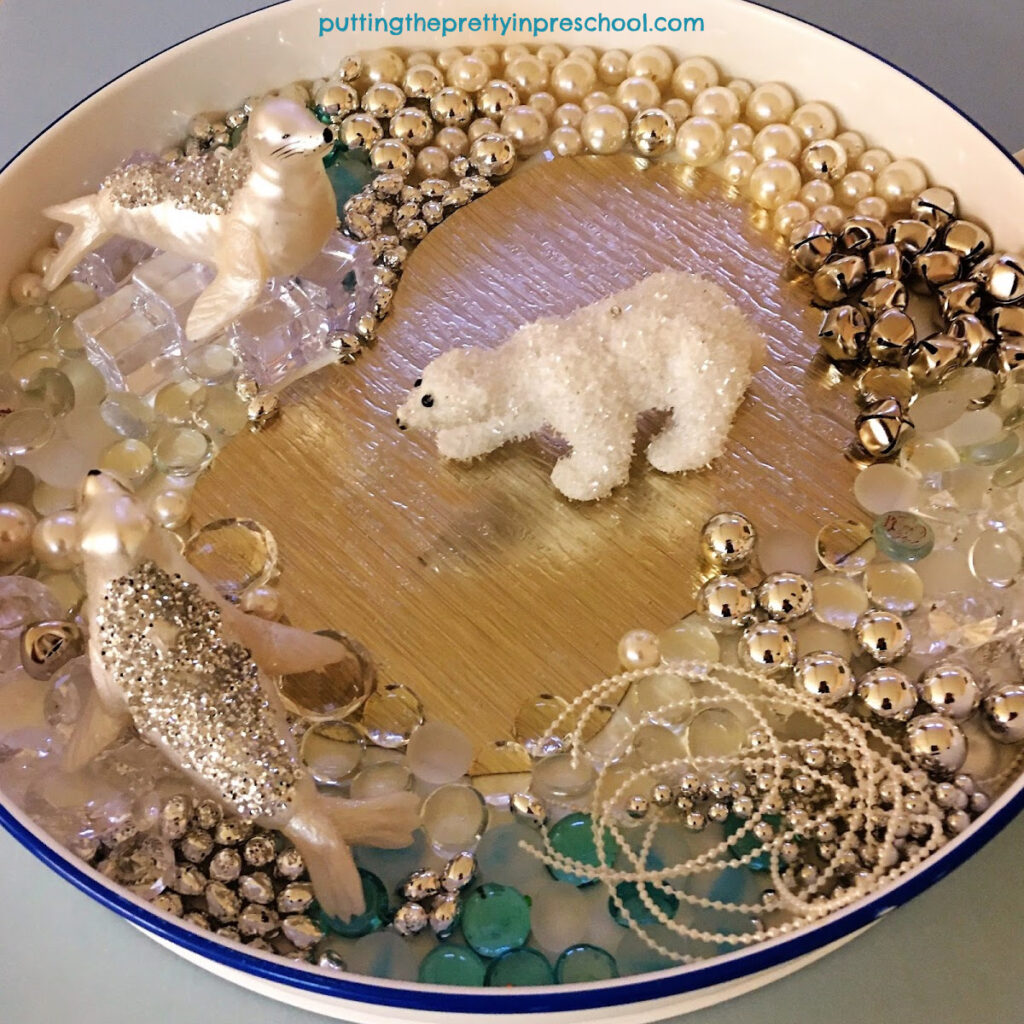 _______
Below is a narwhal, seal, and igloo sensory tray.
Igloos are dome-shaped snow houses that can be large or small. They are made with slanted rectangular blocks of packed snow cut by skilled carvers. In times past, igloos were used as a winter home or temporary hunting shelter. The igloos were super strong and able to withstand fierce winds and polar bear attacks. The snow homes were heated with oil lamps and could get pretty toasty. Furs lined sleeping areas and covered doorways.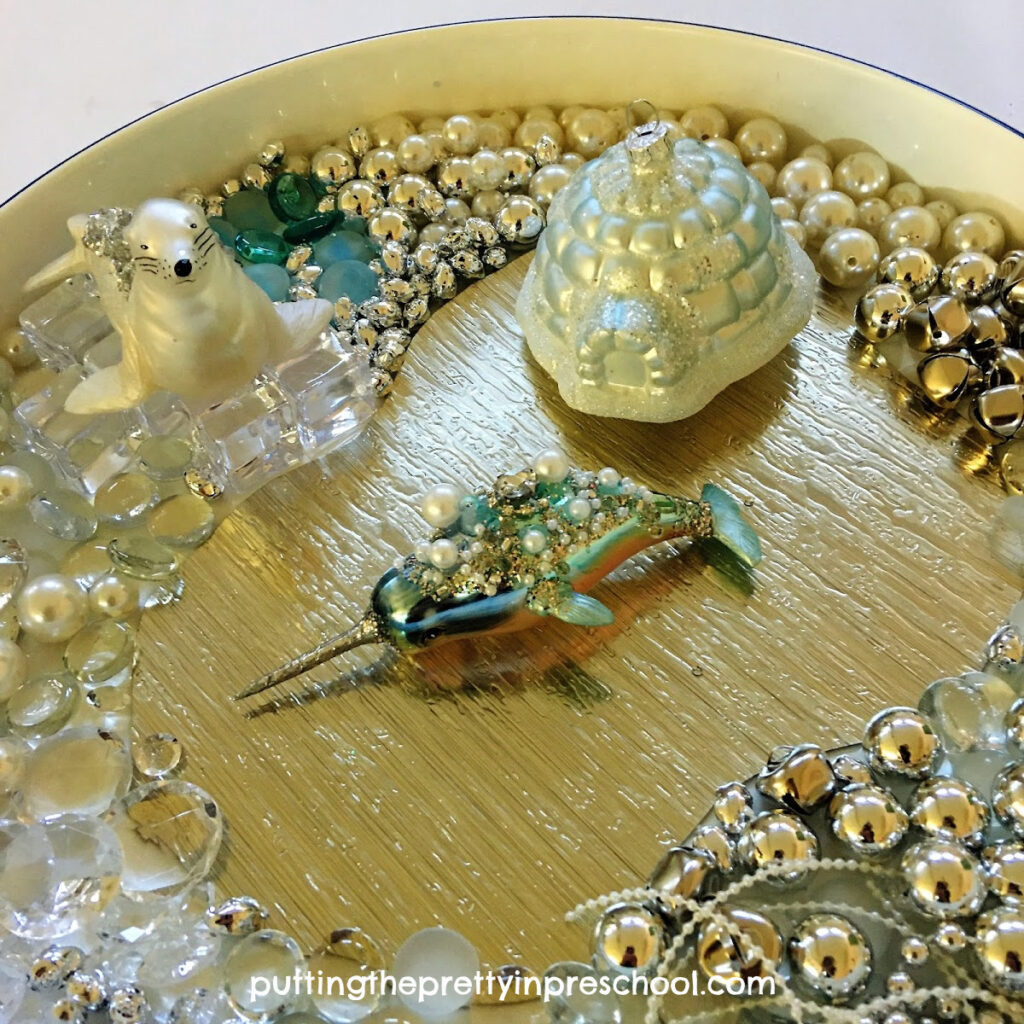 _______
The penguin below adds a cuteness factor. Penguins live in the Antarctic on the opposite side of the world but are also polar animals.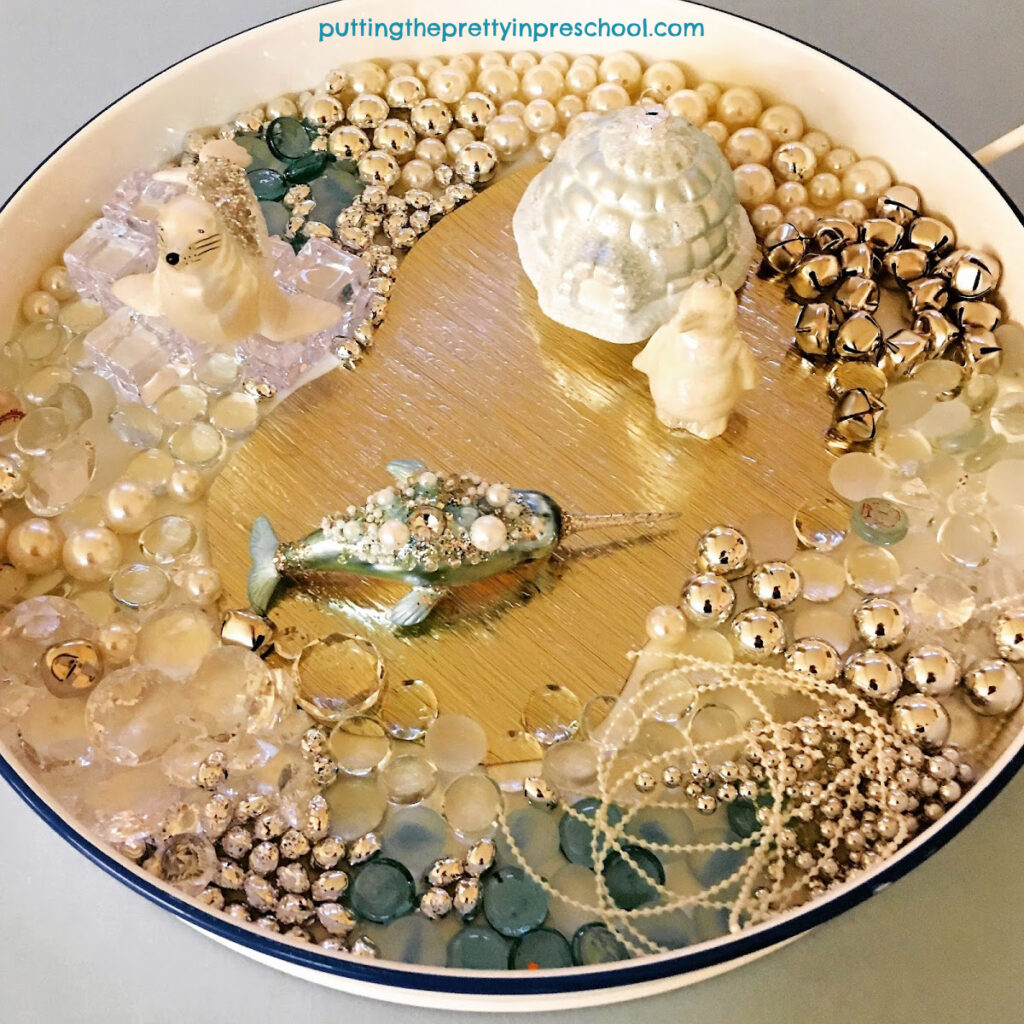 _______
Although we've had a mild winter in Alberta this year, the past two weeks have been super cold…the kind of cold we can't wait to end. But the creatures featured in these arctic animal sensory trays are built to not only survive but thrive in extremely cold weather conditions.
_______
_______
You may also like:
_______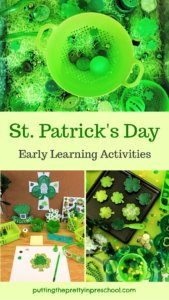 _______
Don't forget to share this post on Pinterest or your favorite social media channel. Sharing is caring!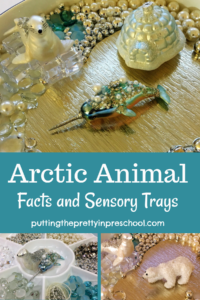 _______
© Annette Kaminsky February 25, 2021
_______
Follow me on social media for more ideas: