The octopus is a fascinating creature with no shortage of unique characteristics. It makes a cheery topic for art projects. And after learning a few surprising facts, your family may even choose one for a pet!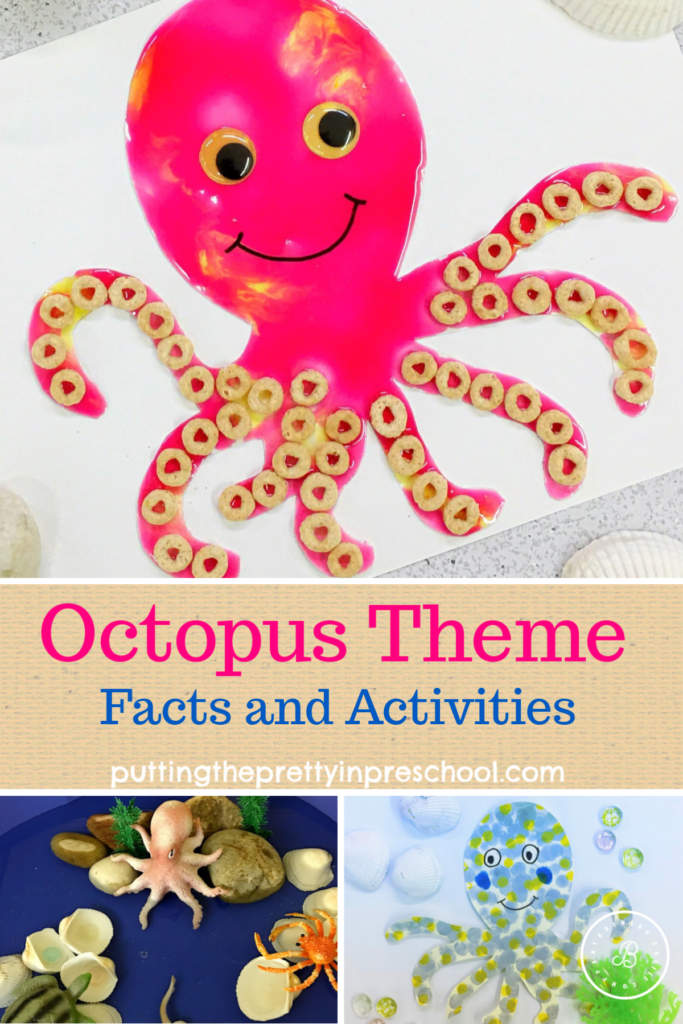 ---
Follow me on Pinterest for more activities.
---
Ten Fast Octopus Facts
Octopuses have 8 long arms with hundreds of tiny suction cups on them called suckers. Octopuses can feel, smell, and grab food and objects with them. They grow back an arm if they lose one.
Octopuses are very smart. They can solve simple puzzles and mazes. They take things apart. They have good memories.
Many octopuses prefer living on the ocean floor in deep waters. A few live in shallow waters.
---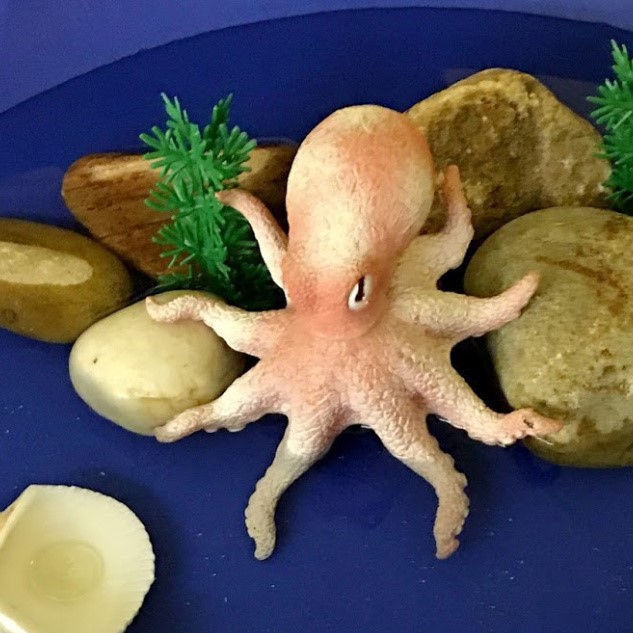 ---
Octopuses live alone in dens they make or in shells they squeeze into and pull over themselves. They have no bones in their bodies, so they can fit into small spots.
Two large bulging eyes help octopuses see very well.
Having blue blood helps octopuses keep warm in colder water.
Crawling is the easiest way for octopuses to get around. Their hearts stop beating when they swim, which is much more tiring. They can also crawl on land.
Most octopuses are shy and solitary. An exception is the California two-spot octopus, which is not as afraid of people.
---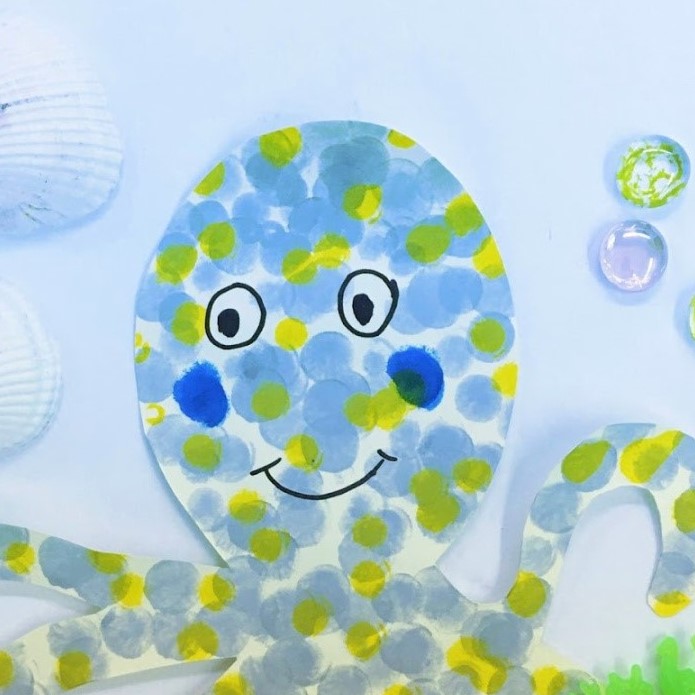 ---
Camouflage is their specialty. Octopuses can change color and texture quickly so they look like the plants and rocks around them. They also use color to stand out or communicate with other octopuses. Some hues they can transform into are grey, brown, pink, blue, or green.
Octopuses squirt out a blackish, poisonous ink at animals that want to eat them. The ink makes the water dark and irritates the predators' eyes. It also hurts their sense of smell and taste.
---
California Two-Spot Octopus
Because of its striking eyespots underneath its real eyes, the California two-spot octopus is a standout. In a neutral surrounding, this octopus can look greyish with yellow spots. The false eyes range from lighter to darker shades of blue.
The California two-spot lives in shallow waters, so many people have seen one. This crustacean is friendlier than other octopuses and can make a good pet.
Click here for pictures and an informative article about this well-known octopus.
---
California Two-Spot Octopus Art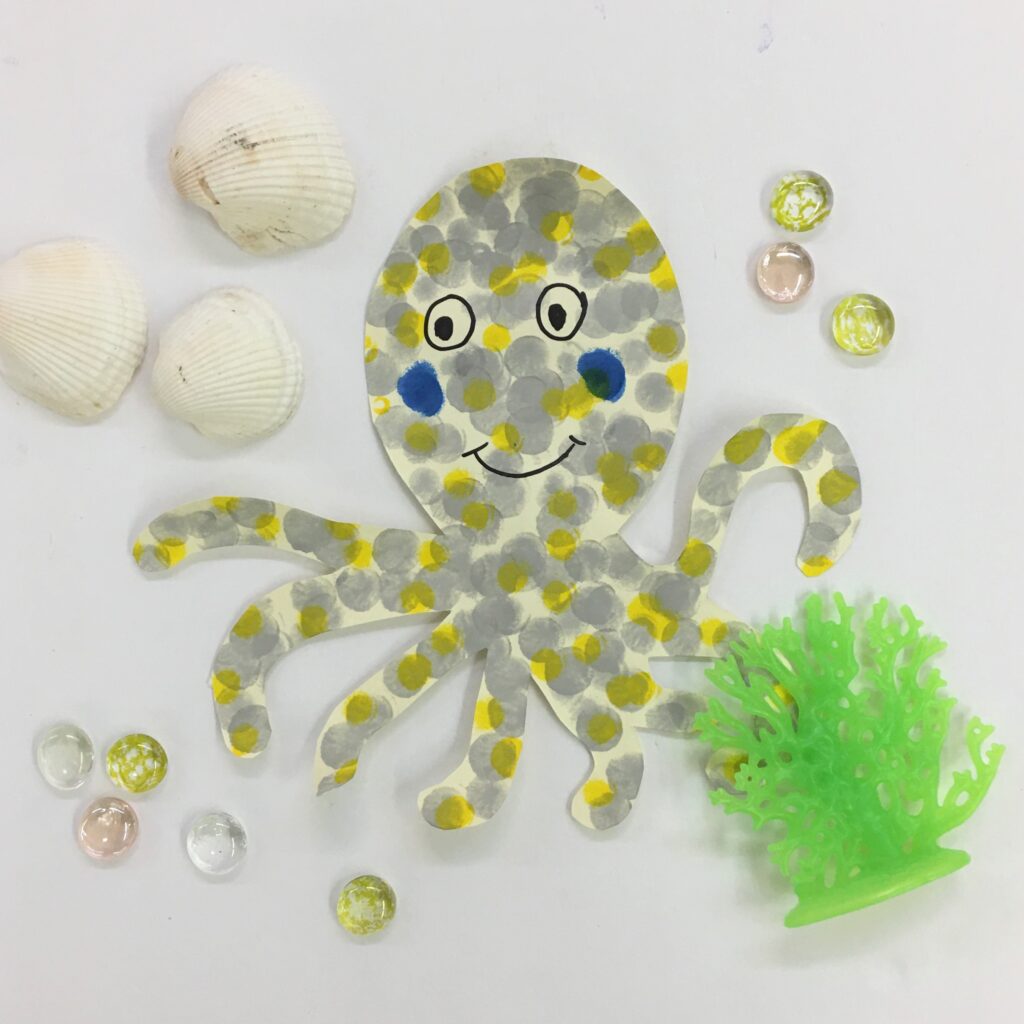 ---
You will need:
cardstock paper octopus
yellow, blue, and metallic grey dot paint dabbers
black permanent felt pen
Invite your early learner to draw eyes and a smile on the octopus with the felt pen. Ask your little one to decorate the octopus to look like the California two-spot using dot paint dabbers.
---
Textured Octopus Craft
This painted, shiny pink and yellow octopus has neutral Toasted O's suction cups.
---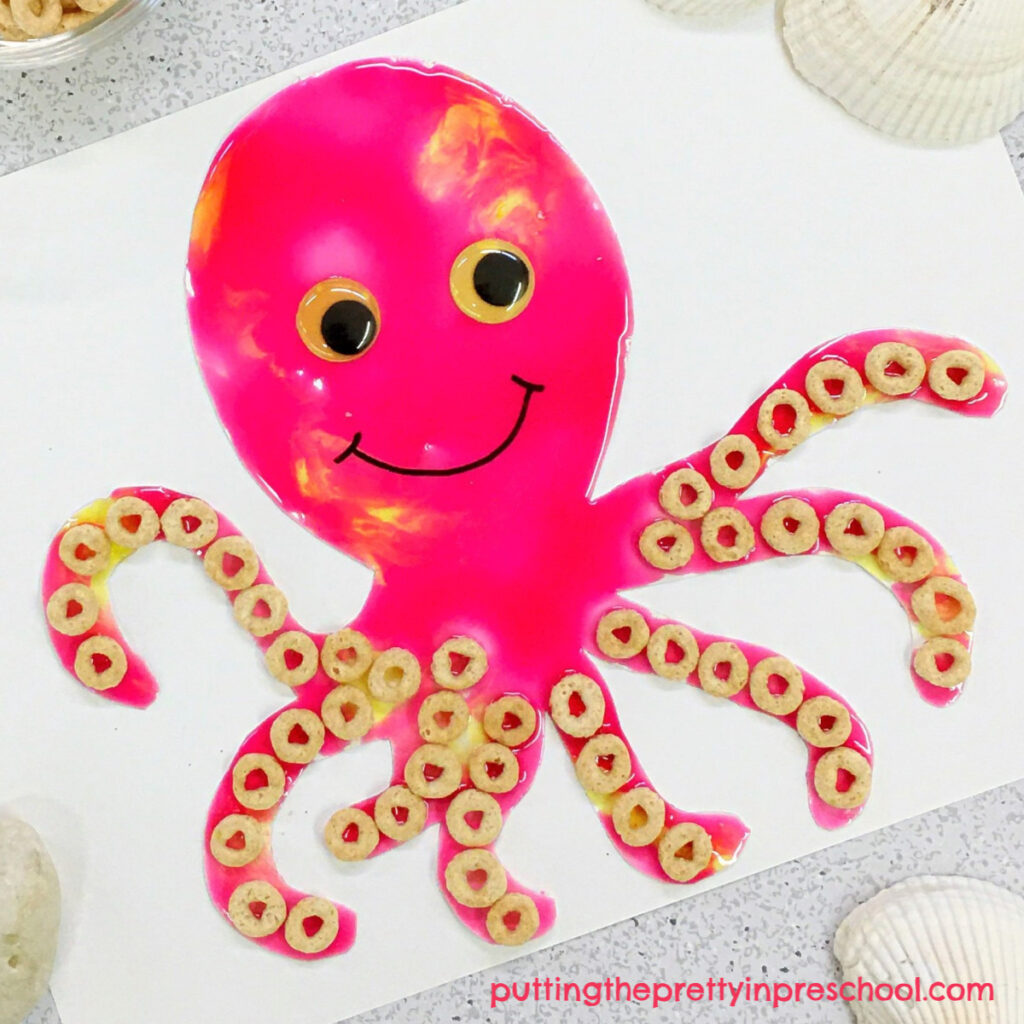 ---
Your early learner can decorate a similar one with an easy to make, taste safe paint using kitchen supplies.
You will need:
white corn syrup
food coloring
Toasted O's cereal
baby food jars
paintbrushes
spoons
cardstock paper octopus
black permanent felt pen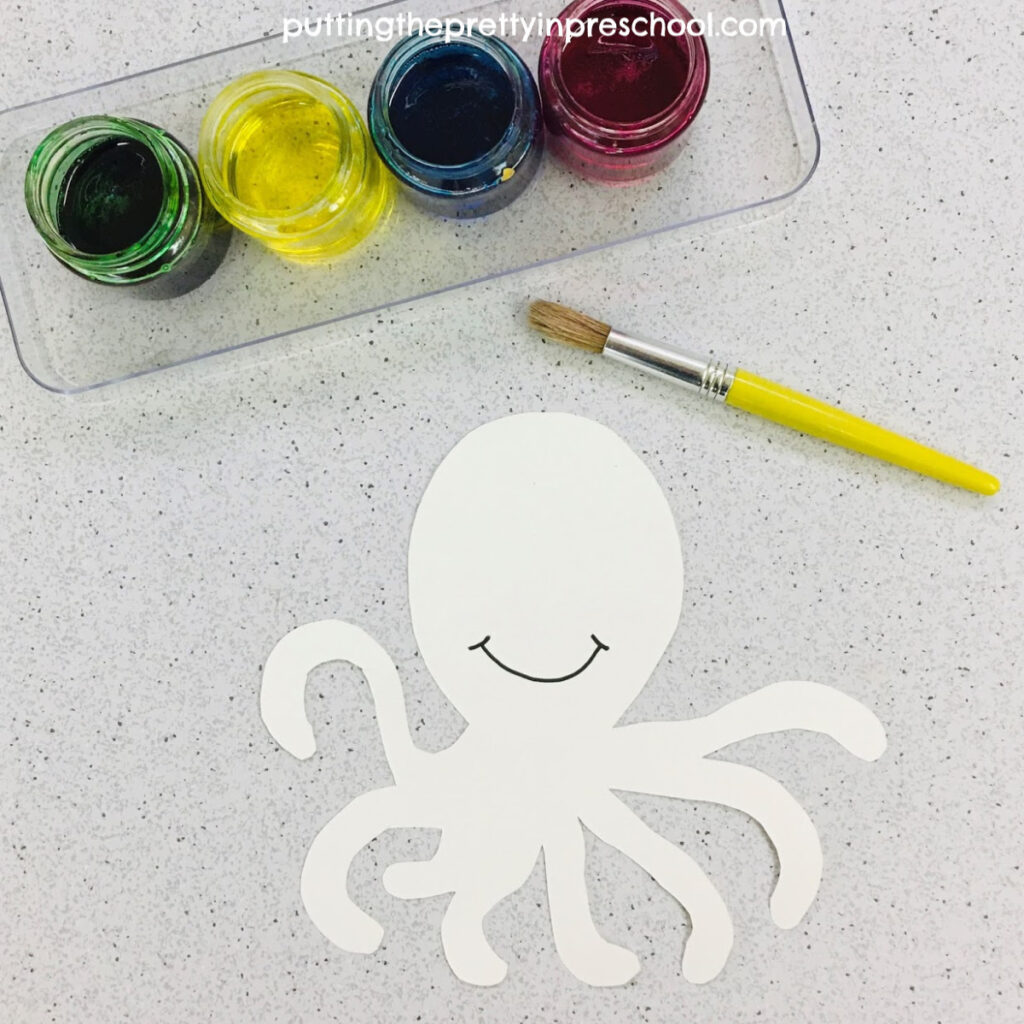 ---
Cut out an octopus pattern and ask your early learner to draw on a smile with the felt pen.
Help your early learner mix a squirt or two of food coloring into a little white corn syrup poured into baby food jars.
Invite your little one to paint the octopus.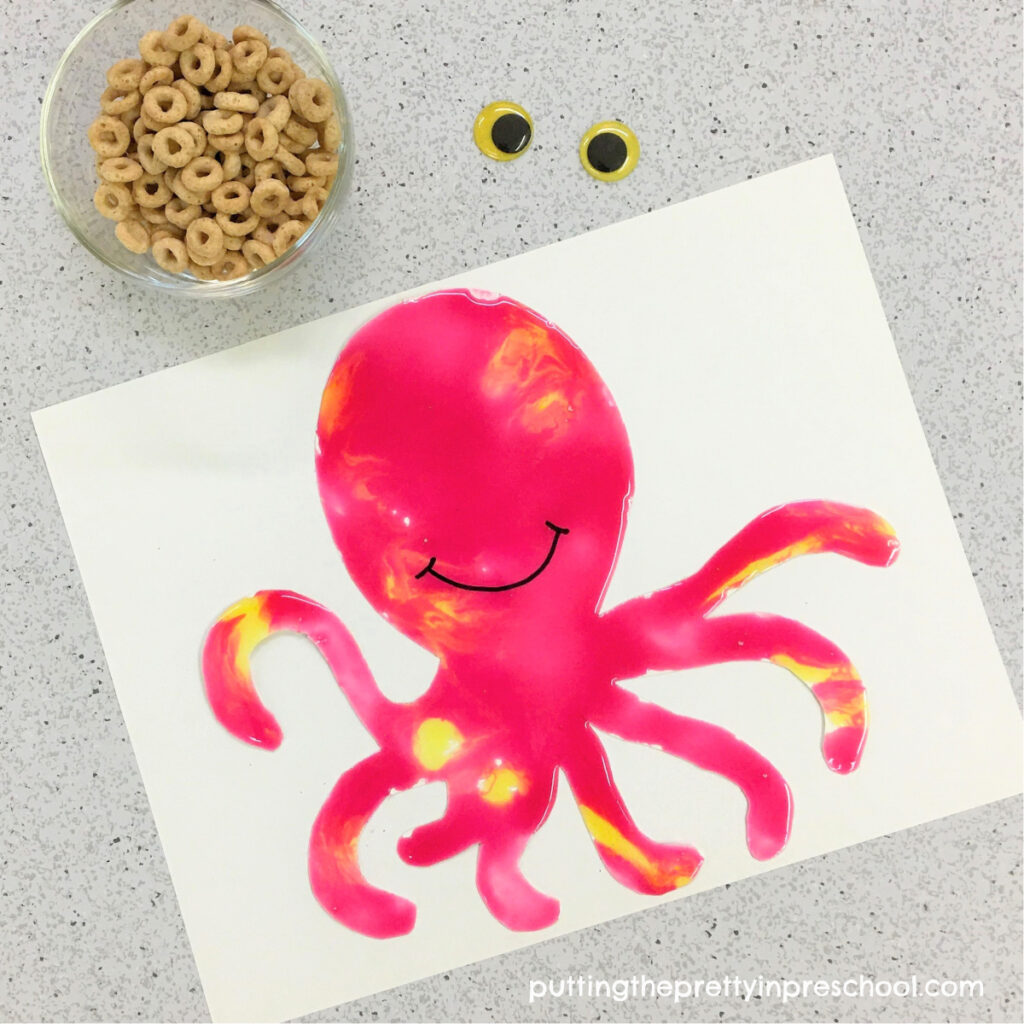 ---
Afterward, your early learner can push craft eyes and Toasted O's suction cups into the tacky paint to complete the project.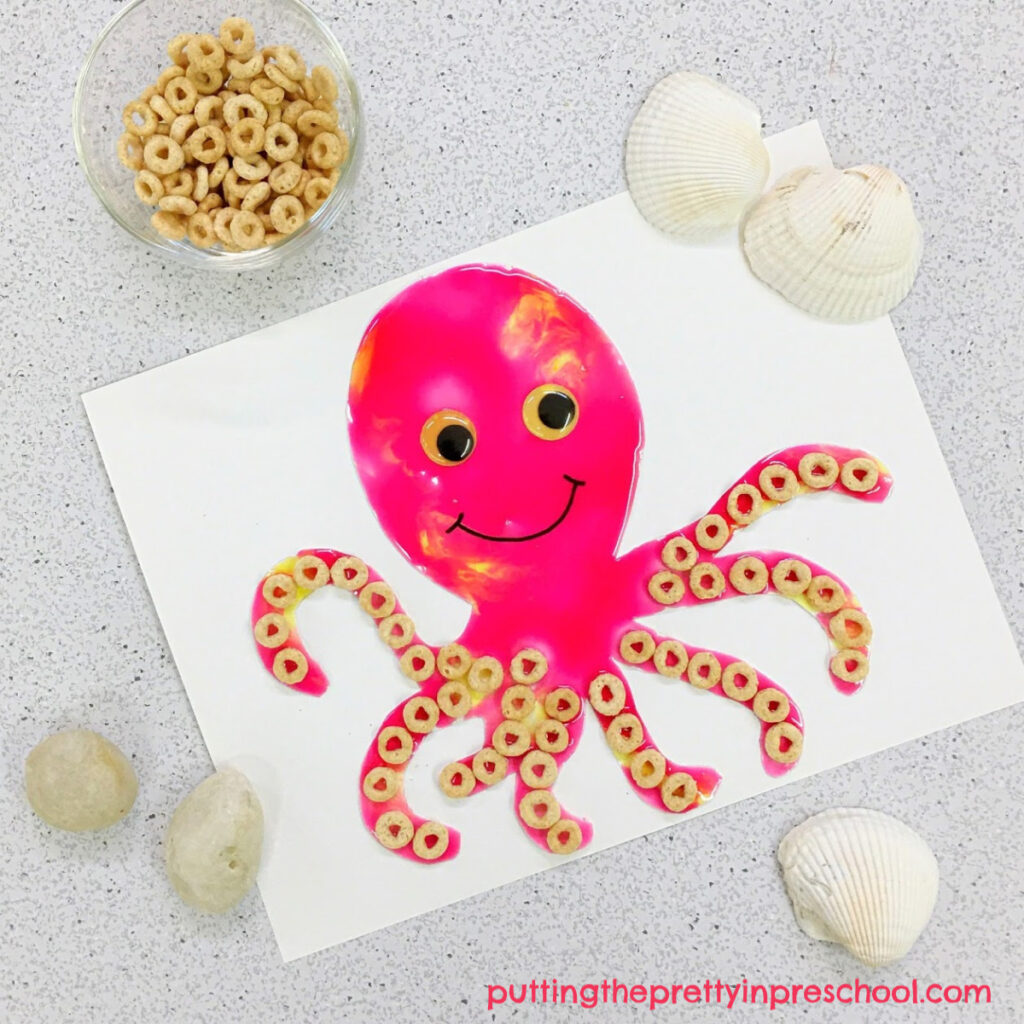 ---
View a video tutorial for the Octopus Craft.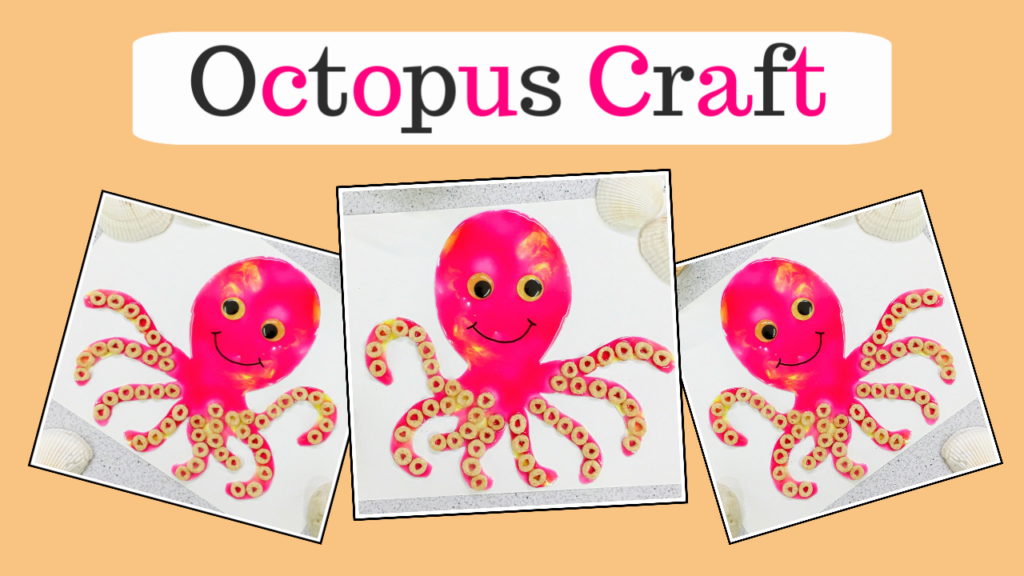 ---
[Read more…]

about 0ctopus Theme Activities