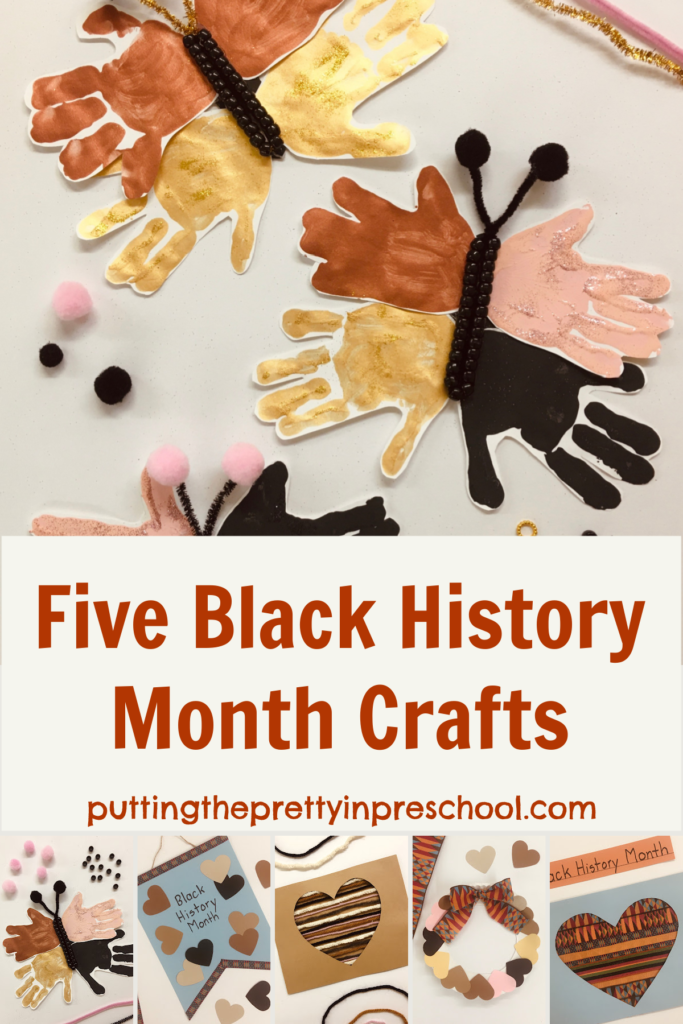 _______
Black History Month, a time set aside to remember notable black people and their achievements, is just around the corner. It is celebrated in the United States and Canada during the month of February. Here are five Black History Month crafts to help children engage in the celebration.
_______
Follow me on Pinterest for more early learning ideas.
_______
Celebrate Diversity Butterflies
To make these striking butterflies that represent celebrating diversity, gather the following supplies:
metallic gold and bronze tempera paint
pink, black, and white paint
light pink, black, bronze, and gold glitter
black pipe cleaners and pony beads
white cardstock paper
black cardstock paper
pie tins or disposable plates
white glue
glue gun
_______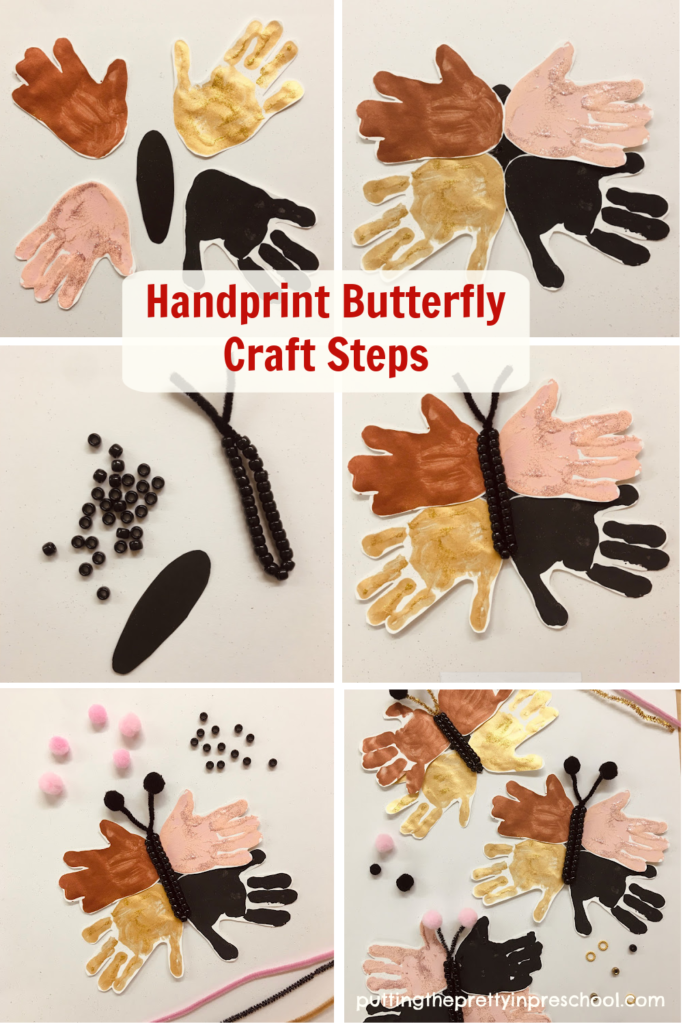 _______
Making The Handprint Butterflies
To start off, pour skin-toned tempera paints into pie tins or disposable plates. You may want to add a little white to the black paint to soften its hue.
Have participants dip a hand in a paint color and press it onto white cardstock paper. I use metallic gold and bronze for two of the skin tone shades. Regular tempera paints in these hues would work fine too.
If you have the shades available, sprinkle a similar color glitter onto each handprint.
After the handprints dry and extra glitter is shaken off, cut around the edges.
Next, cut long narrow ovals from black cardstock paper to represent butterfly abdomens.
Bend black pipe cleaners in half and have participants string black beads onto them, leaving a little section open for the butterfly antennae. Twist the pipe cleaners just above the beads to make sure they stay on.
Assembling The Butterflies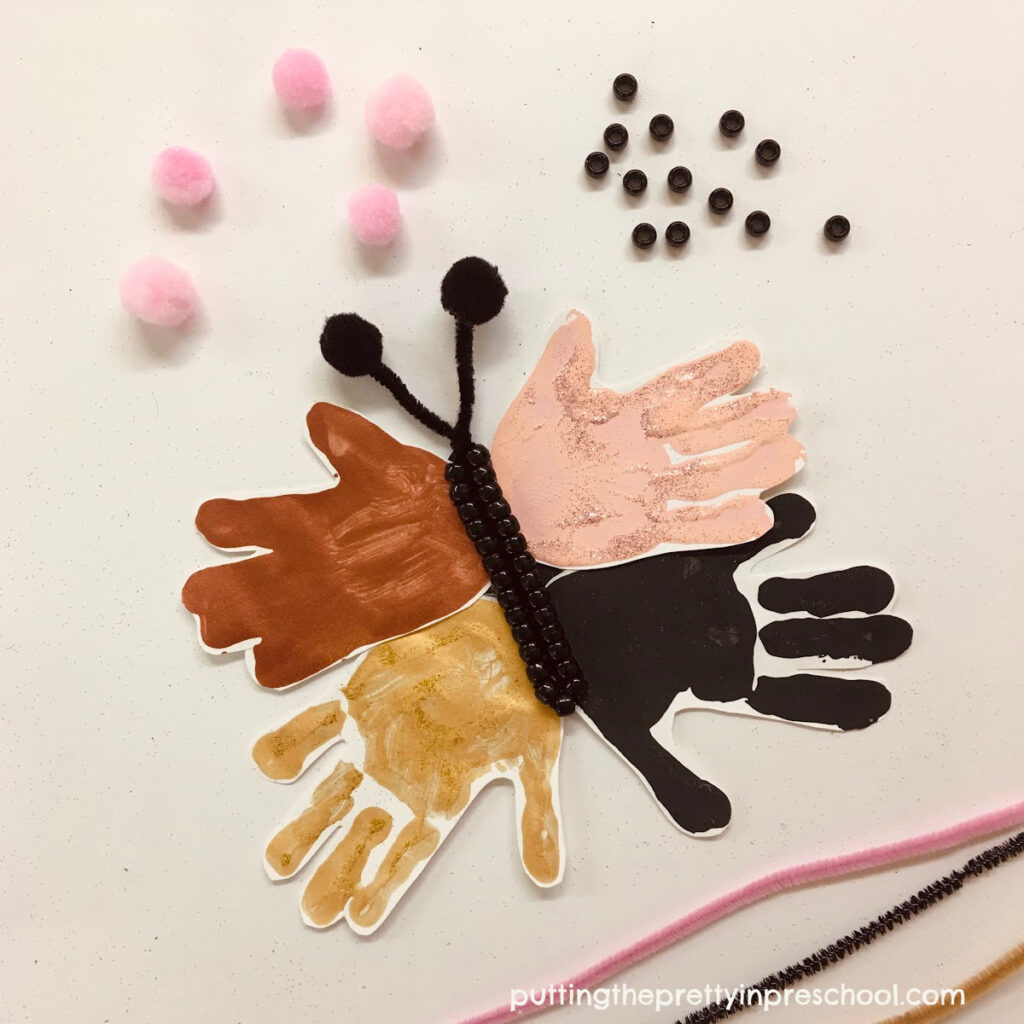 _______
Using white glue or a hot glue gun, add black or pink pompoms to the antennae.
Then use white glue or a hot glue gun to affix four handprint "wings" onto each abdomen. The butterflies can be designed in different kinds of color combinations.
Next, glue the beaded pipe cleaners to the butterfly abdomens. Now the "celebrate diversity" butterflies are ready to be displayed!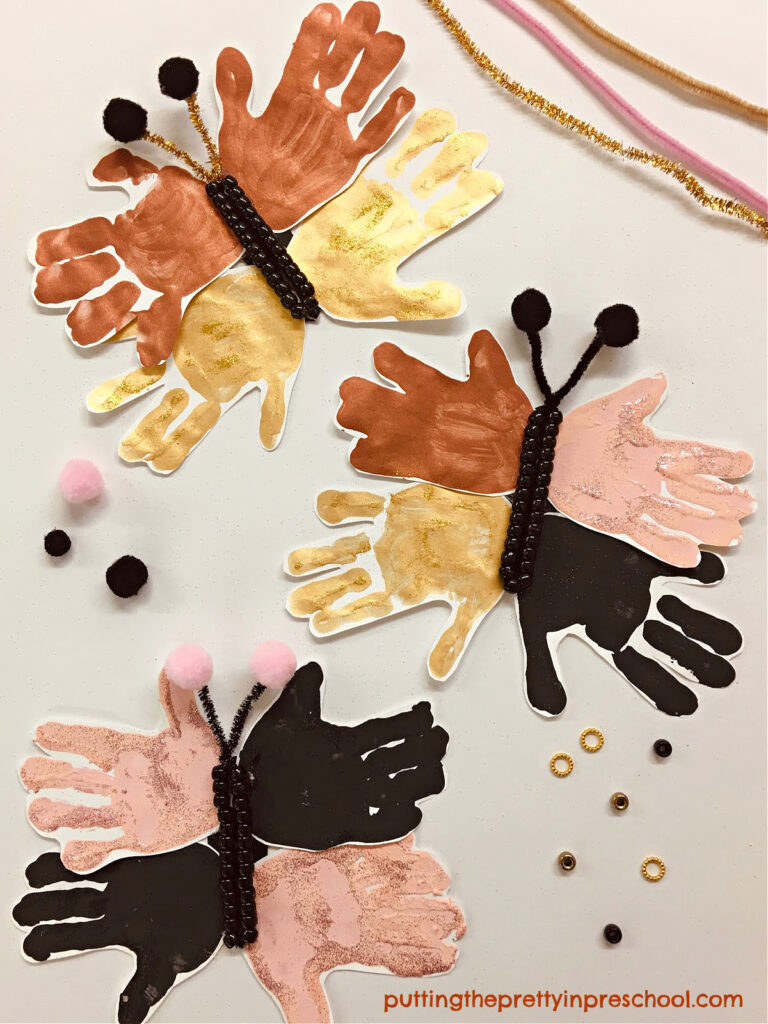 _______
Celebrate Diversity Yarn Heart
Different shades of skin-toned yarn represent diversity in this textured yarn heart craft.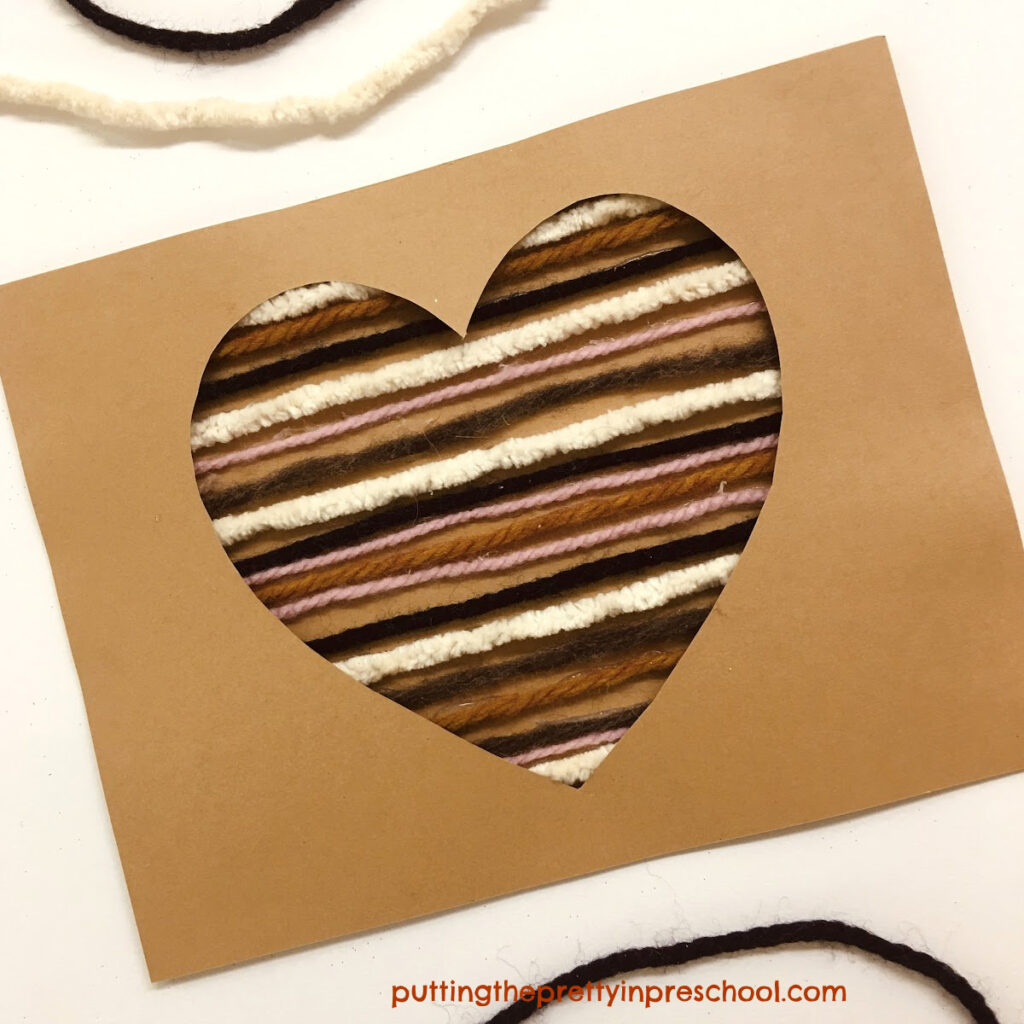 _______
Supplies to Collect
yarn in a variety of thicknesses and skin tones
8 ½ x 11-inch golden-brown cardstock paper
white glue or hot glue gun
double-sided tape
ruler
scissors
heart template
_______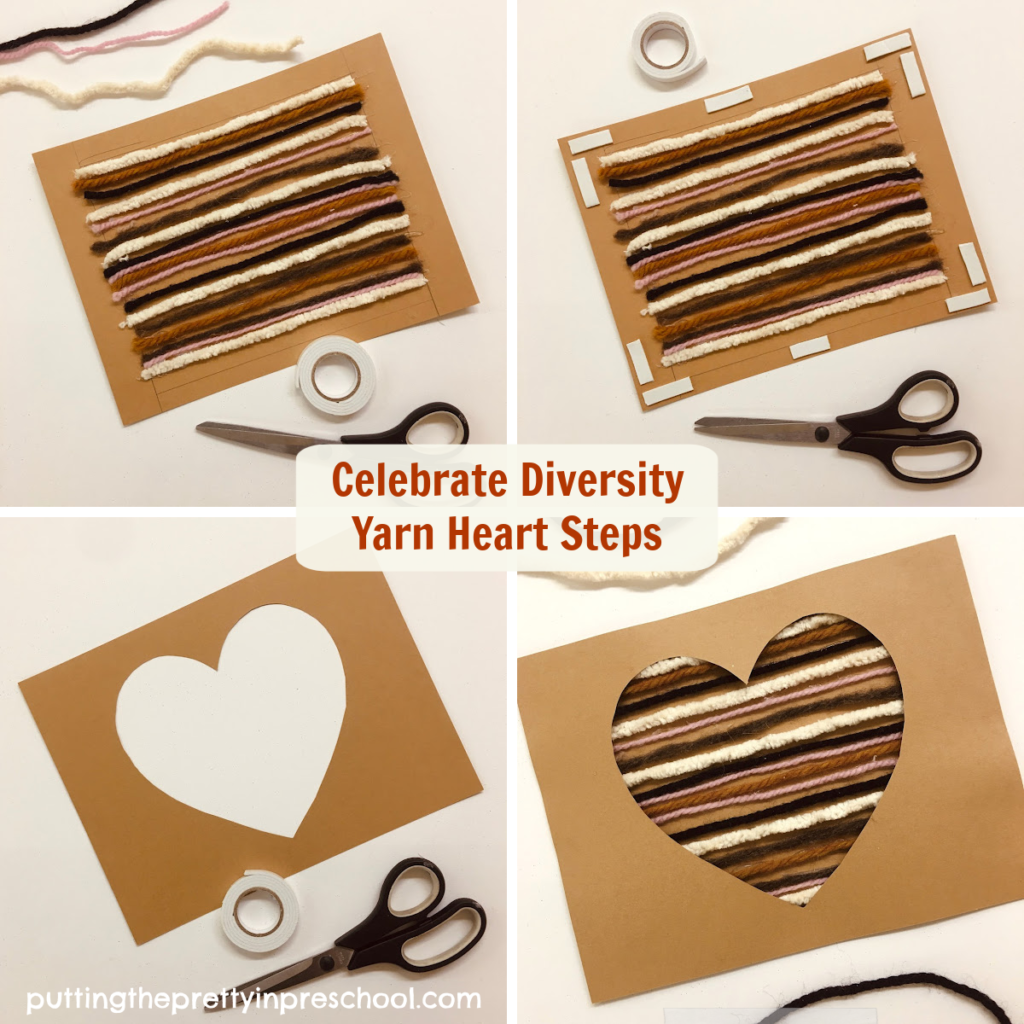 _______
To make this gorgeous yarn heart craft, start by cutting skin-toned yarn into 7 ½ inch strips. Using different thicknesses of yarn adds variety to the craft.
Next, glue the strips of yarn in rows onto a sheet of 8 ½ x 11-inch cardstock using white glue or a glue gun. Leave a small border around the edge of the paper.
Then add pieces of double-sided tape around the edges of the paper.
Afterward, cut a large heart in the center of a second piece of cardstock.
Finally, gently position the cardstock paper with the heart cut out on top of the yarn-covered piece, making sure the double-sided tape adheres to it.
_______
This kindness heart wreath with cardstock skin-toned hearts and a geometric bow communicates that all lives matter and that everyone should be treated with kindness.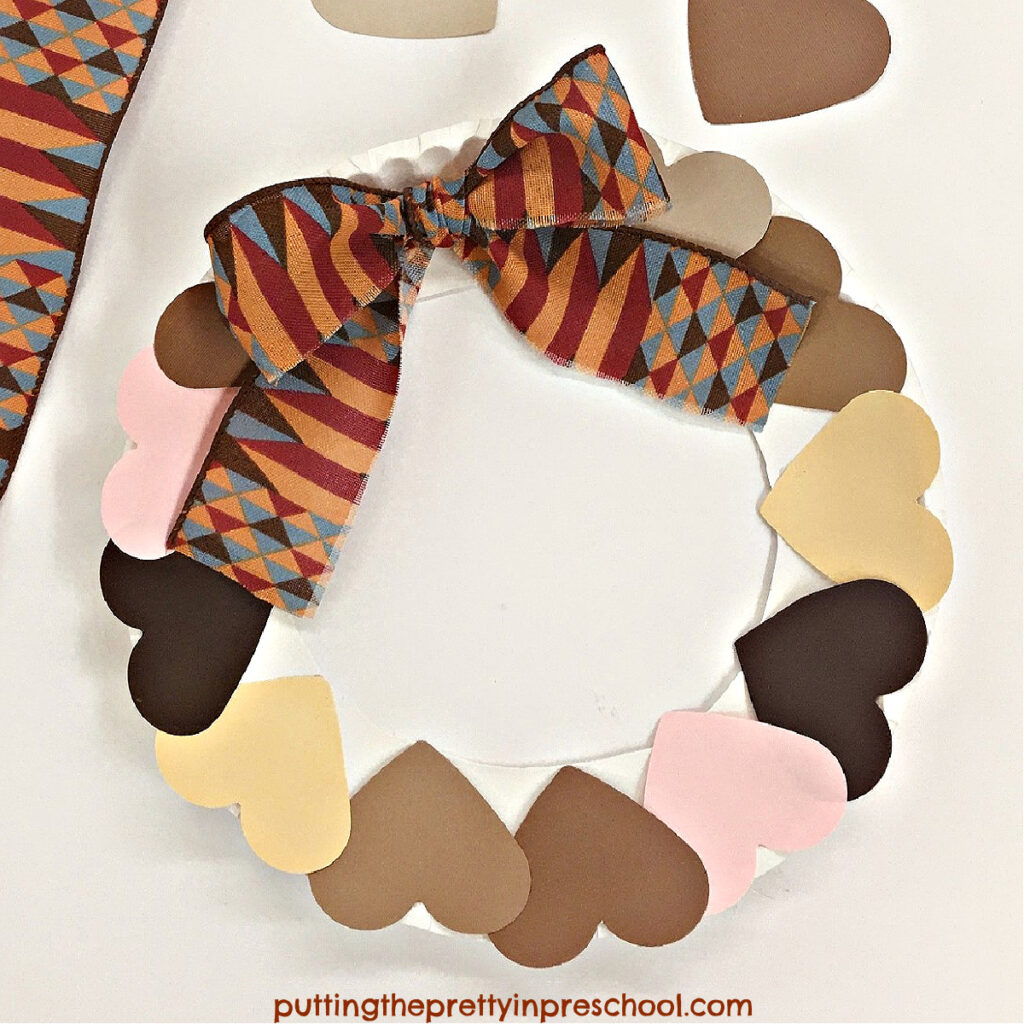 _______
In this craft, skin-toned hearts are used to decorate an attractive, geometric ribbon-edged banner honoring Black History Month.
_______
This heart craft takes full advantage of vibrant, geometrically patterned ribbon, and looks striking on display.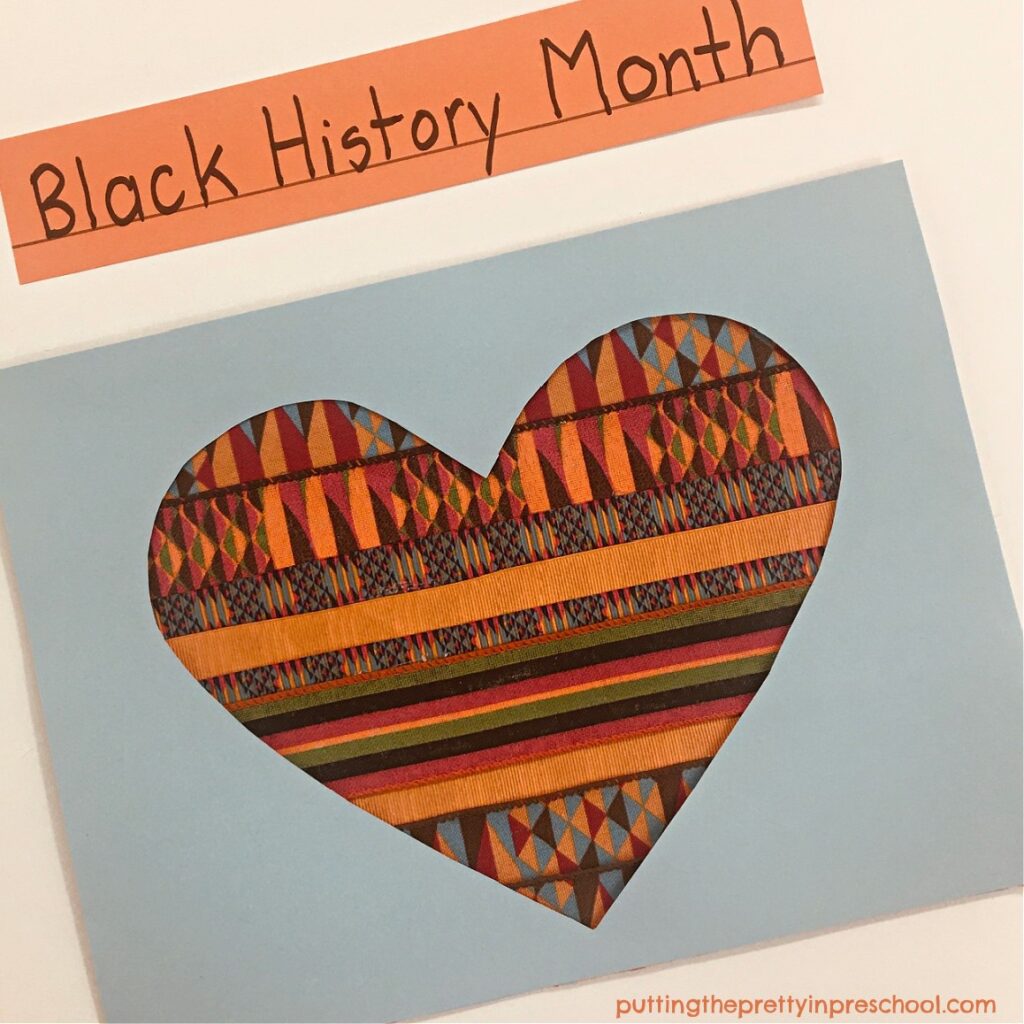 _______
Which one of these five Black History Month crafts will you try? Let me know in a comment below.
_______
[Read more…]

about Five Black History Month Crafts