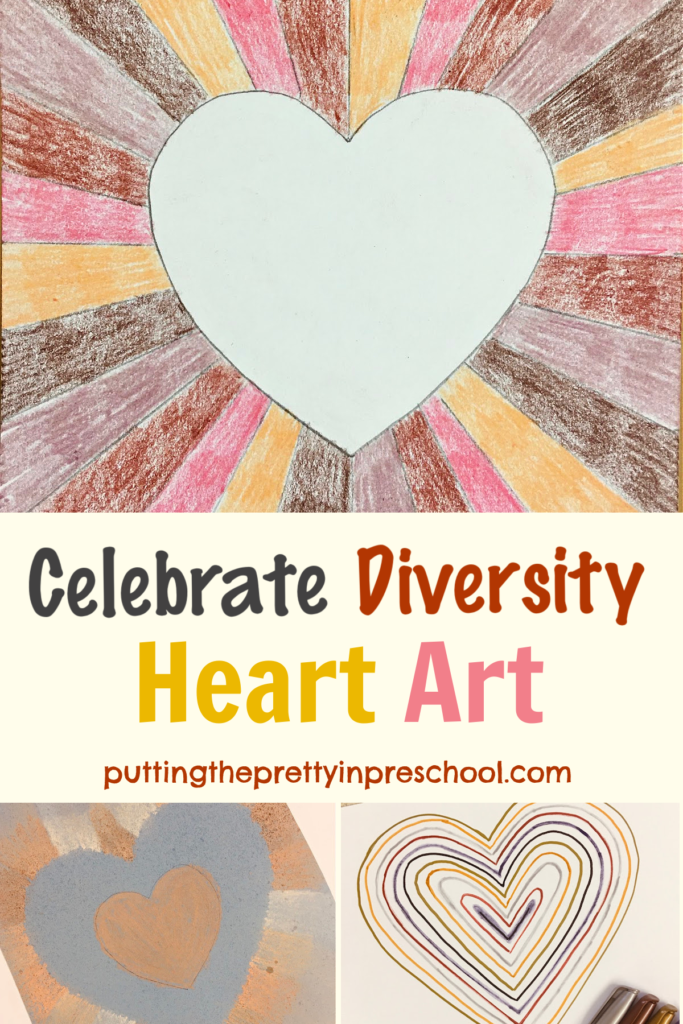 _______
With so many skin-tone art supplies available to explore, it is easy to provide art activities that celebrate diversity. In this post, I feature three "Celebrate Diversity" heart art projects: one with chalk, another with pencil crayons, and a third with metallic markers. These are all low-prep, low or no-mess art projects everyone can do. To help out, there is a free heart template to download.
_______
Follow me on Pinterest for more early learning ideas.
_______
Skin Tone Sunburst Heart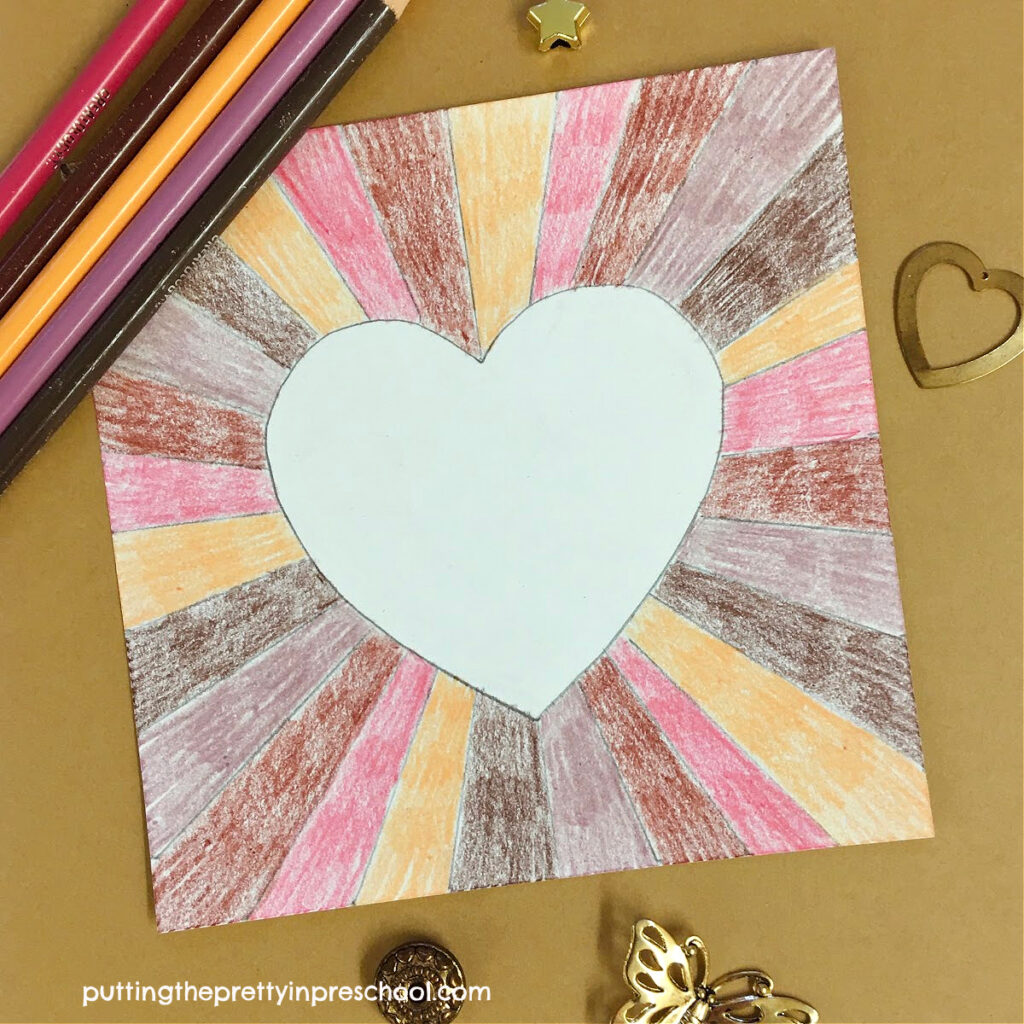 _______
Only a few inexpensive supplies are needed for this mini art project:
set of skin tone pencil crayons
ruler
white cardstock paper
heart template
_______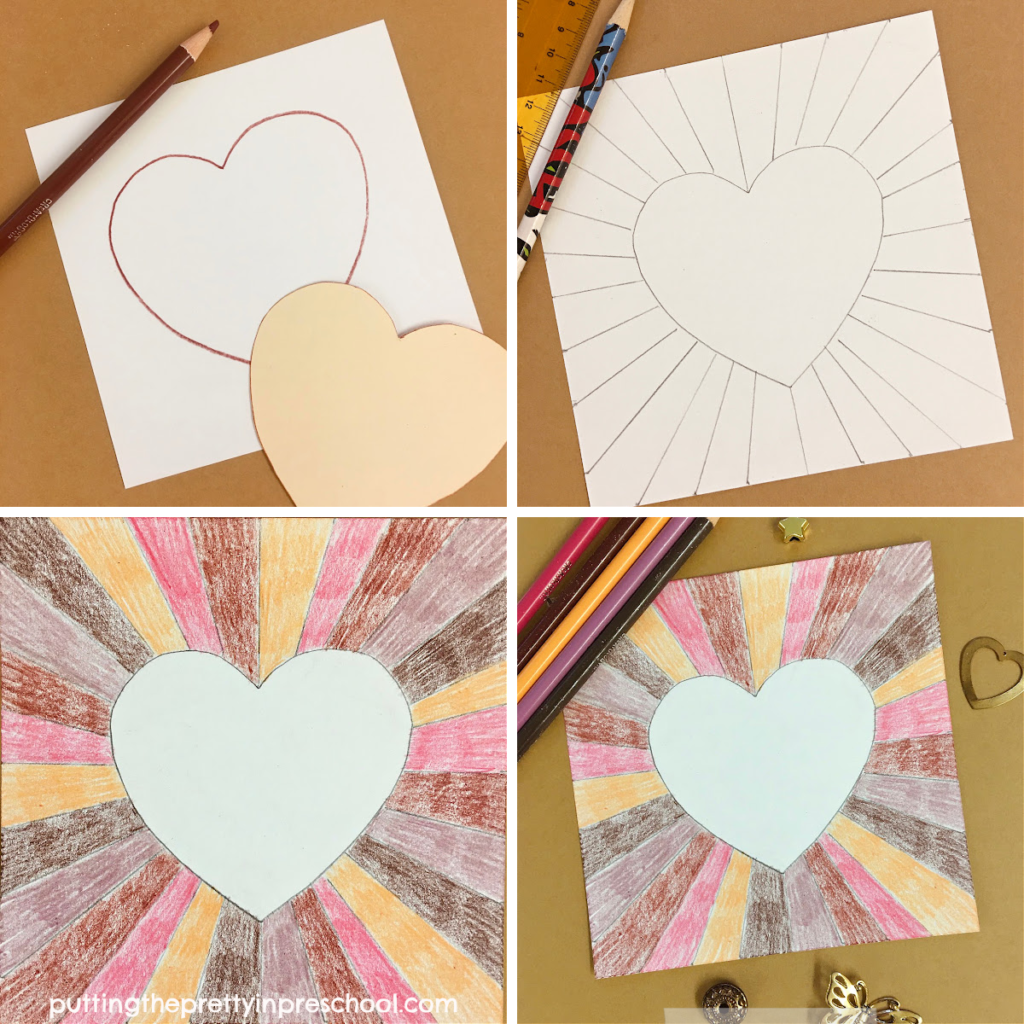 _______
To start off, cut white cardstock paper into 5-inch or 6-inch squares. With this size of paper, the whole project can be done without having to sharpen the pencil crayons.
Next, use a pencil or pencil crayon to trace around a small heart template in the middle of the square. Feel free to download the template further on in the post for the art project.
Then add lines that extend from the heart to the edge of the paper in a sunburst design.
Tips from a blog post by ARTBAR were helpful in making the sunburst lines that protrude invisibly through the heart from one side of the paper to the opposite one. The technique took me a few tries to get right but the effort is worth it.
Afterward, use pencil crayons in skin-tone hues to color inside the lines.
You may want to trace around the small heart template once again at the end to make sure the heart is defined and stands out.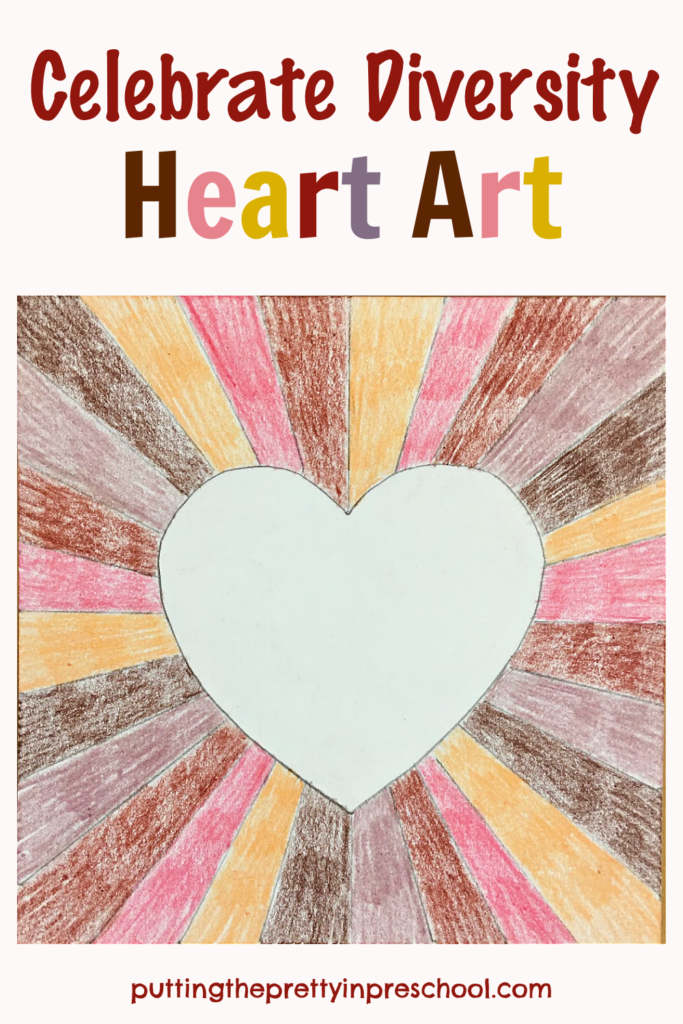 _______
Skin Tone Chalk Heart Art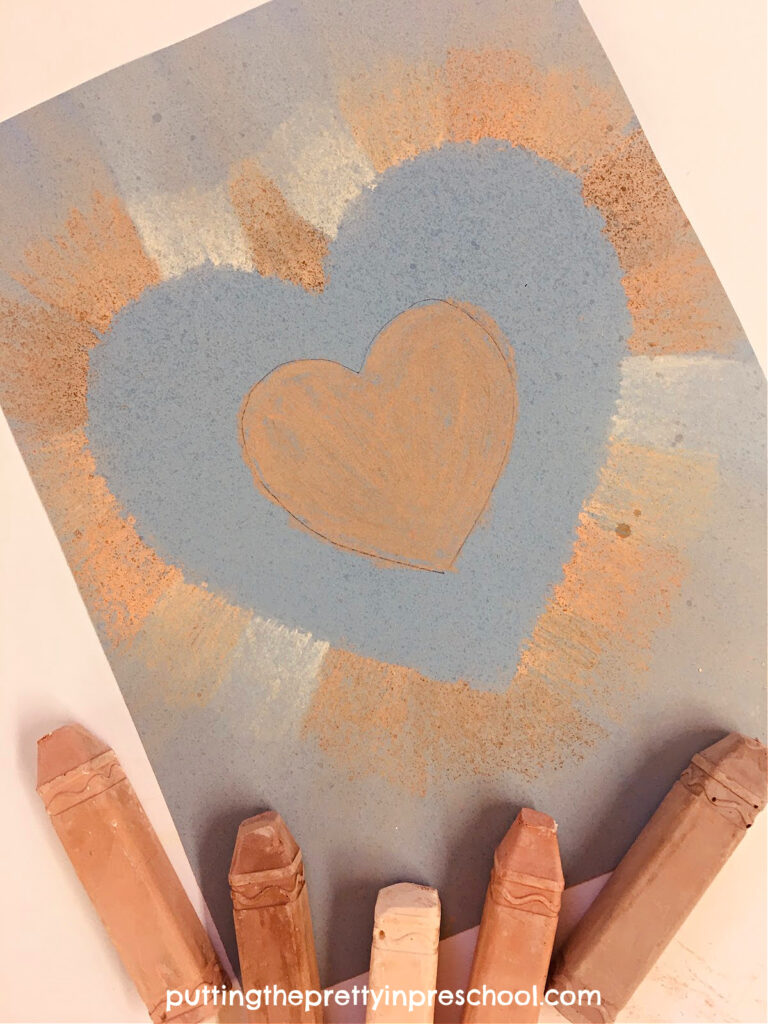 _______
For this second art project, gather the following supplies:
8 ½ x 11-inch light blue fadeless construction paper
large and small heart template
skin tone sidewalk chalk
painter's tape
table cover
First, select a heart tracer that is a little smaller than the construction paper.
Lay the heart on the construction paper and tack it down gently with a piece of painter's tape.
Next, use sidewalk chalk in various skin tones to color in the area around the heart.
Note: An alternative is to trace the heart first and remove the template before using the chalk sticks.
Afterward, gently smudge the chalk lines in an outward fashion.
If desired, trace a smaller heart in the center of the larger one using one of the chalk hues and color it in.
_______
A variation of this art activity is to dip the chalk sticks in water before decorating the paper.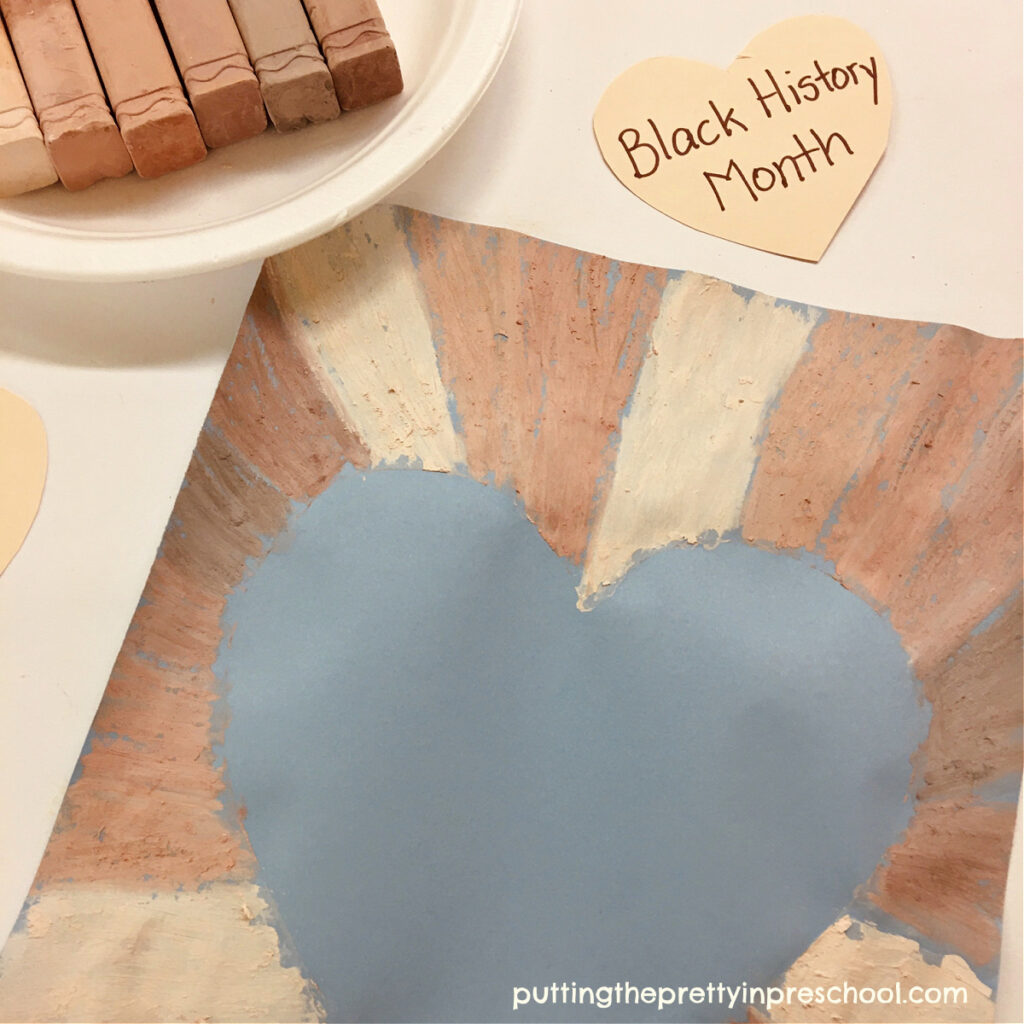 _______
For both chalk activities, it is advisable to lay down newsprint or an old tablecloth first to protect the work surface and make clean-up easier.
_______
Metallic Marker Concentric Hearts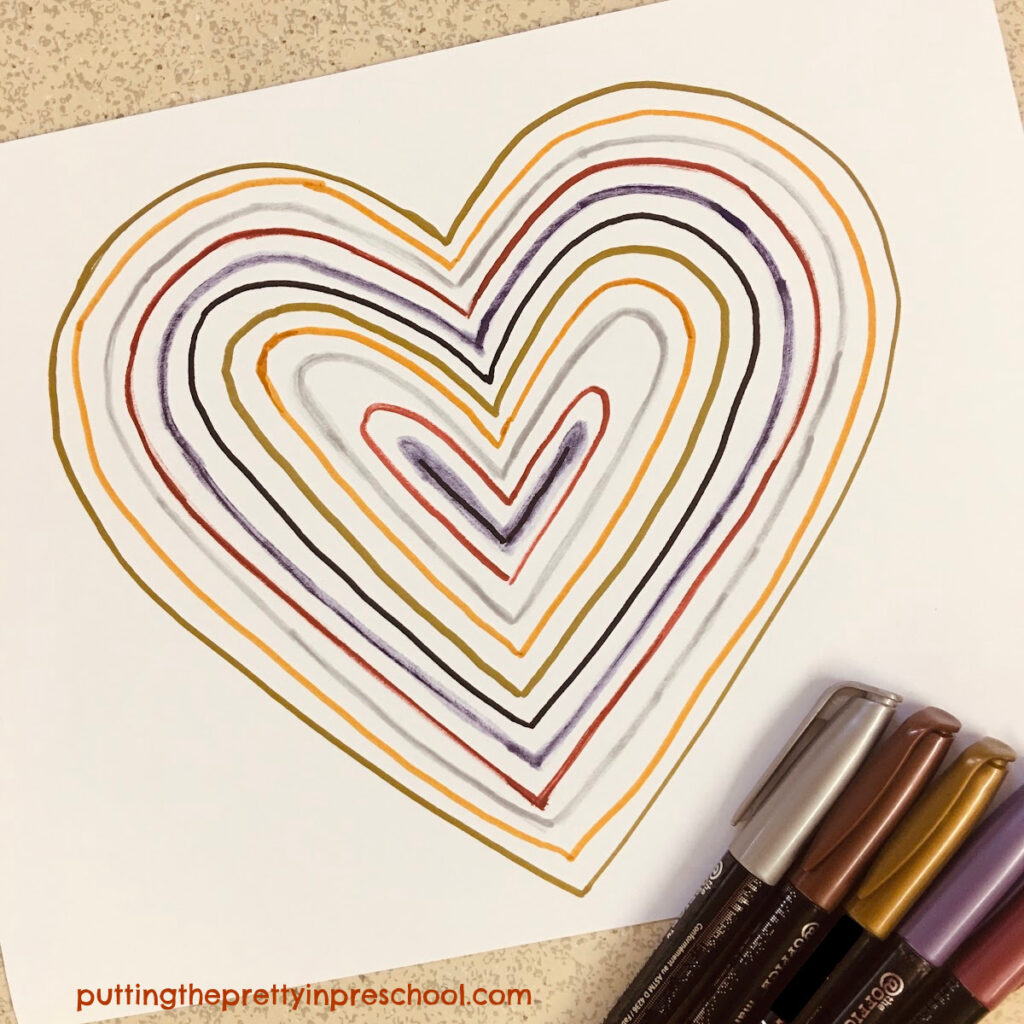 _______
Supplies to gather:
8 ½ inch x 11-inch white cardstock paper
metallic markers in skin tones
heart template
scissors
For this third project, start by tracing the large heart template, and then draw smaller hearts inside it with metallic skin tone markers.
If you do not have metallic markers in all the hues, substitute regular ones. I use a regular marker for the black hue.
Note: For little learners, you can offer non-toxic washable markers in skin tones instead of the permanent metallic markers featured in this art activity.
Downloadable Heart Template
Here is a free heart template to download for the art projects featured in this post: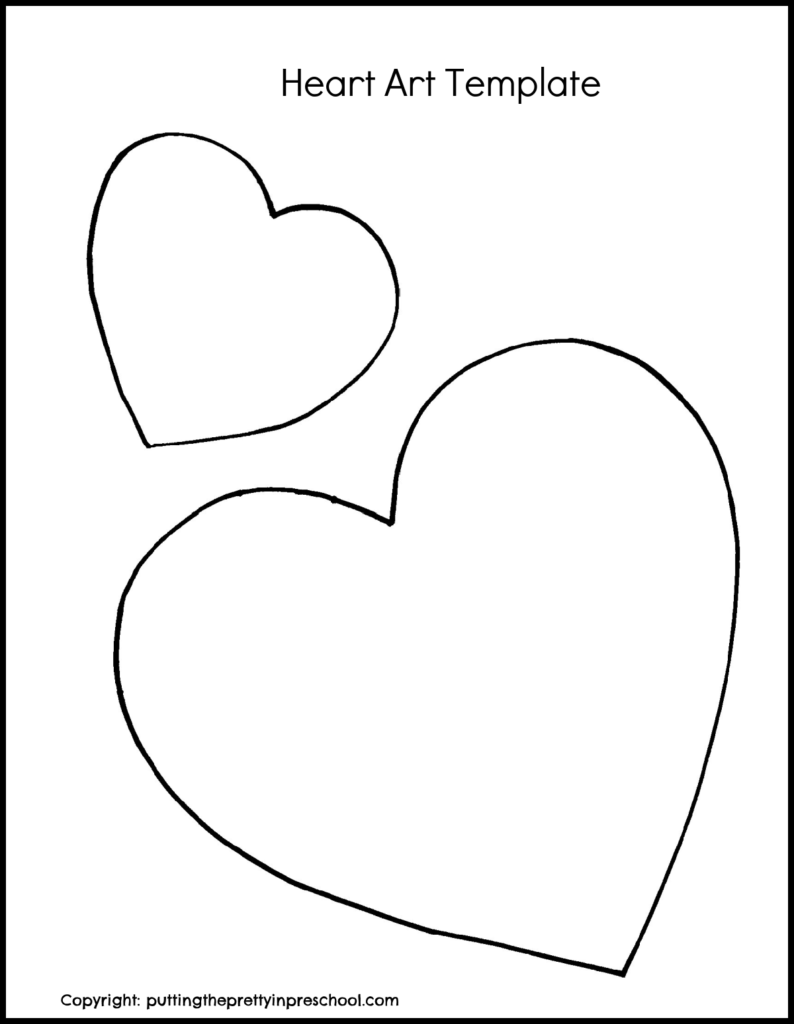 _______
This printable is for individual or one classroom use only.
_______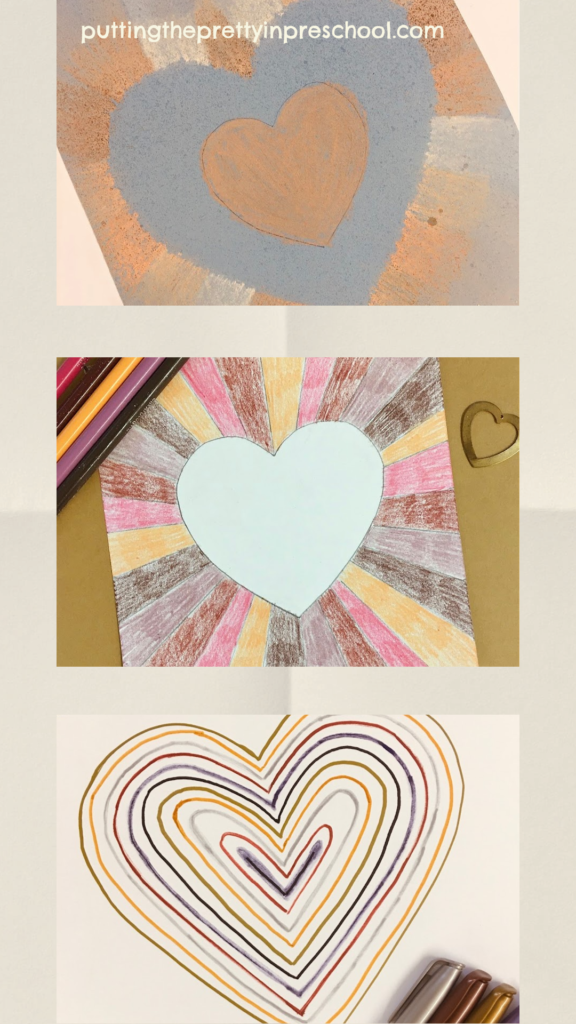 _______
These three heart art projects give participants a chance to celebrate diversity by experimenting with different art media. They are a good fit for Black History Month, a Valentine's Day theme, or a special time set aside to celebrate diversity.
Do you have questions about any of these art projects? Leave a comment below.
_______
Related:
Three Black History Month Crafts
_______
[Read more…]

about Celebrate Diversity Heart Art