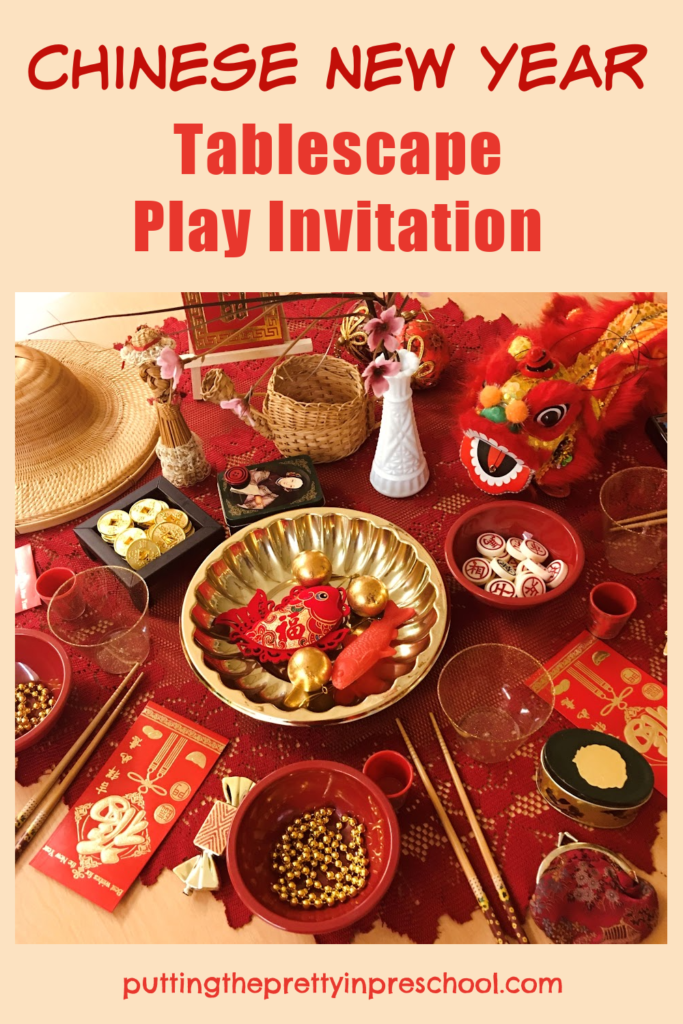 _______
This Chinese New Year tablescape play invitation features Asian artifacts and decorations. Little learners will love exploring the unique items on the table, learning about Asian culture along the way.
Chinese New Year, also called the Lunar New Year or Spring Festival, is an important celebration held in late January or early February in China. Many other East Asian countries, as well as Chinese people around the world, celebrate the holiday too.
_______
Follow me on Pinterest for more ideas.
_______
Chinese New Year Tablescape Supplies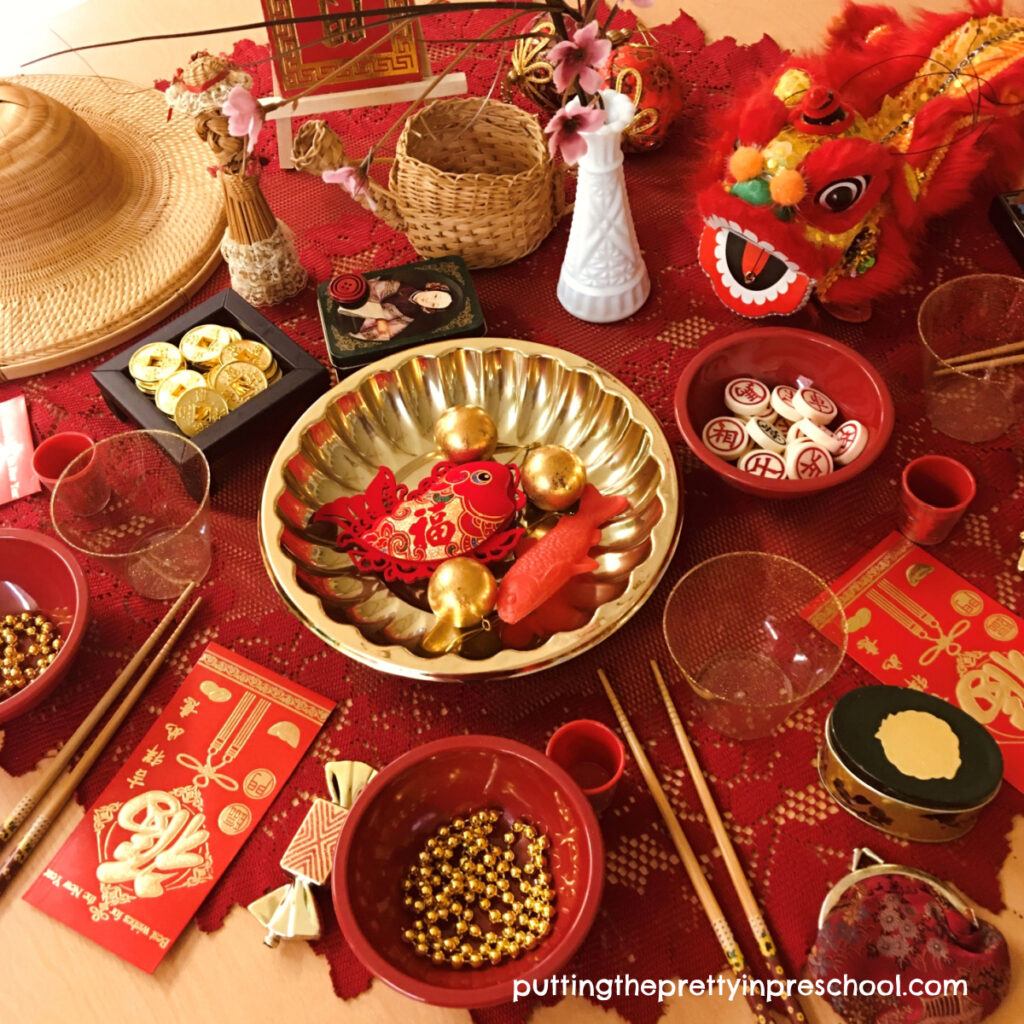 _______
Here are the Asian-themed supplies featured in the tablescape:
wicker decorations and hat
gold serving bowl
chopsticks
red bowls
gold glitter cups
tiny cups with calligraphy
candy decorations
fish ornament
play food fish
gold garland "noodles"
game chip "play food"
tin ornament candies
coin purse
money envelopes
small tins
vase with artificial cherry blossom branch
gold coins
lion string puppet
fabric ornaments with tassels
plaque with Chinese calligraphy
red tablecloth
_______
Tablescape Play Invitation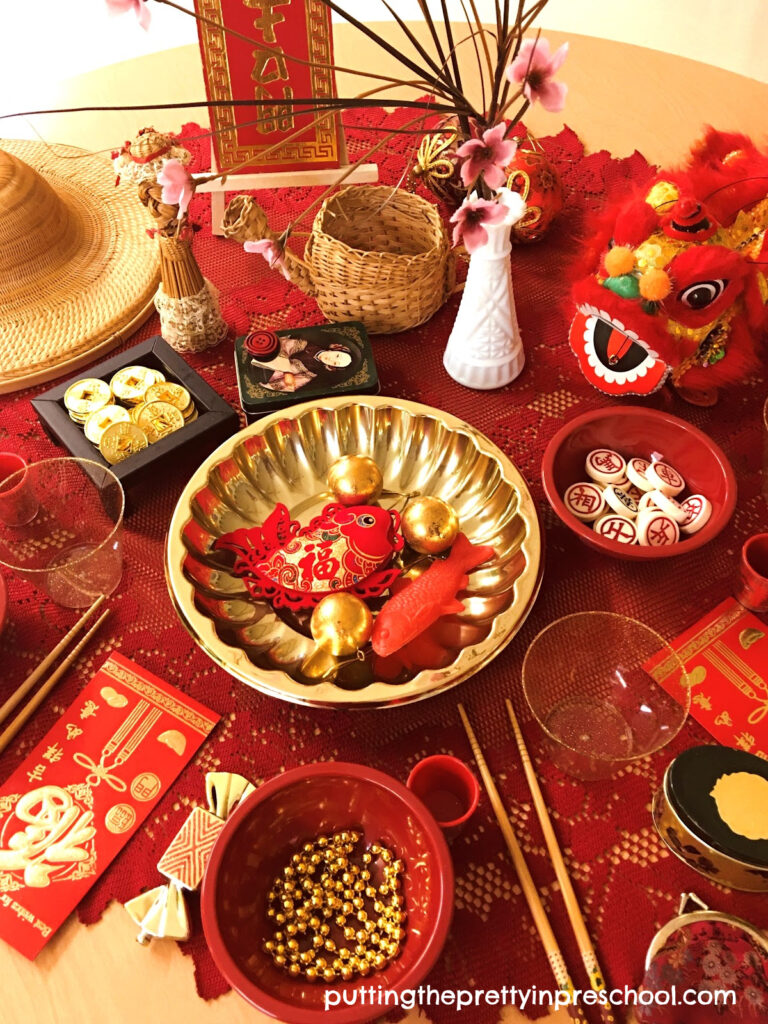 _______
In setting up the dinner table play invitation, I use artifacts collected long ago, supplies available in stores around Chinese New Year, and red and gold loose parts.
Bowls and chopsticks are important pieces, as they are commonly found in Asian tableware. Fish is a traditional New Year's dish and is equated with an increase in prosperity. The gold garland strips represent longevity noodles: long, uncut noodles that symbolize a long life. A coin purse and money envelopes are ready for coins to be added. And a lion string puppet is poised for the lion dance.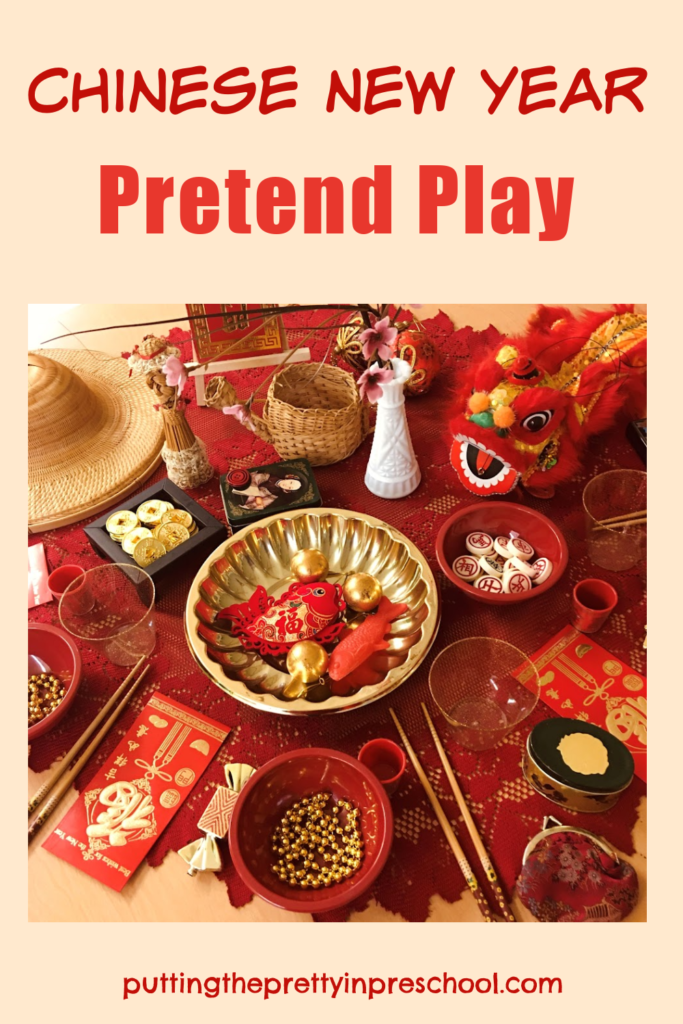 _______
More Chinese New Year Play Inspiration
This tablescape play invitation is bound to engage little learners. For more Chinese New Year play ideas or to host a vibrant party, view the blog post "How To Throw A Stellar Lunar New Year Party" by So Fort Worth It. The post showcases a host of decorating and activity ideas that can be adapted for little learners.
_______
Related:
Chinese New Year Money Tree Activities
Chinese New Year (Year Of The Rabbit) Rice Bin
_______
[Read more…]

about Chinese New Year Tablescape Play