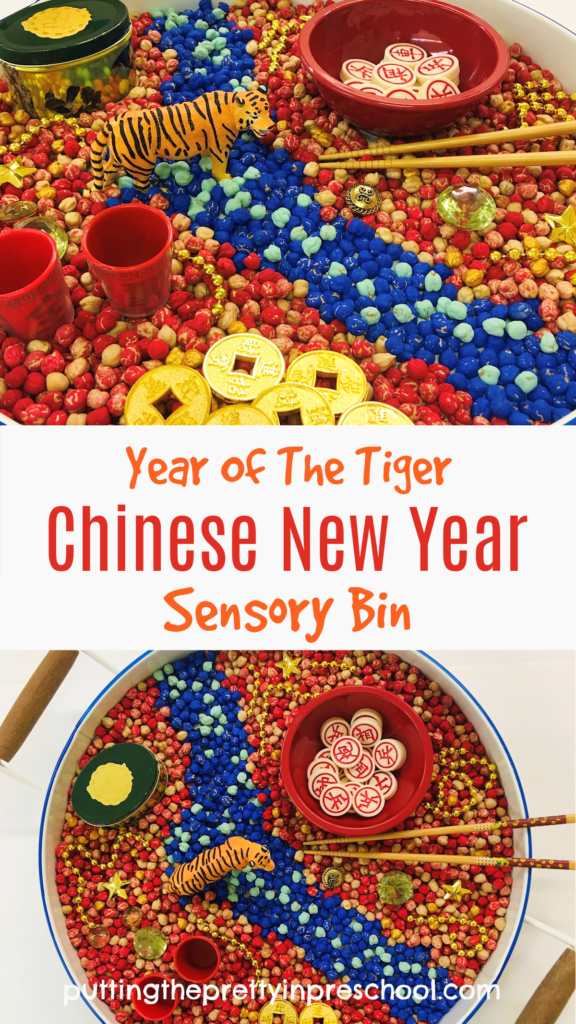 _______
Chinese New Year begins is on February 1, 2022, and it will be the Year Of The Tiger. And so the feature creature in this year's Chinese New Year chickpea bin is a tiger! The no-fuss bin is easy to put together and has a pop of blue in addition to the traditional red and gold hues.
The tiger is the third animal in the Chinese zodiac, and the 2022 big cat is a water tiger. Qualities associated with the water tiger are being sociable, easy-going, goal-oriented, hardworking, brave, smart, musical, artistic, and low maintenance.
_______
Follow me on Pinterest for more early learning ideas.
_______
Chinese New Year Chickpea Bin Supplies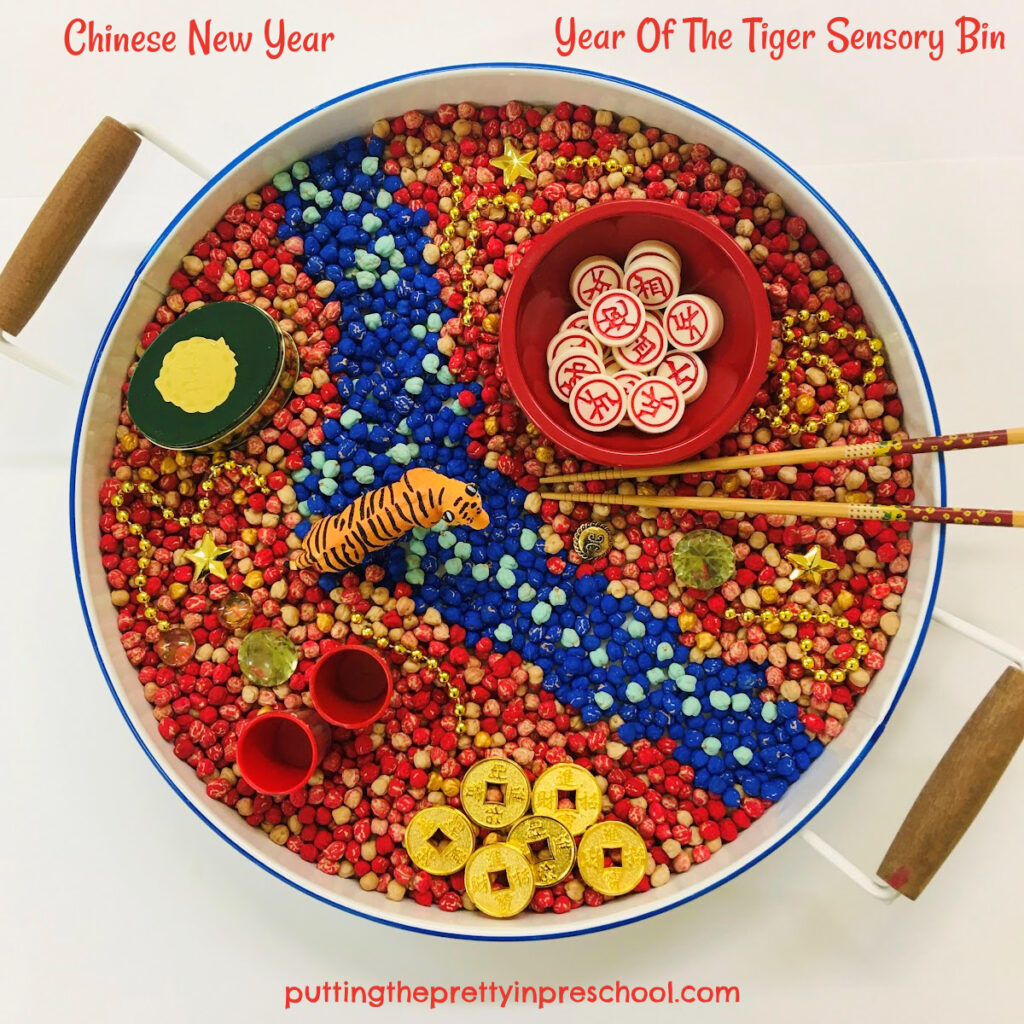 _______
The chosen bin is a round white metal tray with a blue rim.
The base ingredient is dyed dried chickpeas. Aside from chickpeas, the items in the bin are:
tiger figurine
red bowl and chopsticks
tiny red cups
metal tin
gold garland strands
acrylic diamond gems
gold buttons and metal stars
calligraphy game pieces
gold play coins
_______
Year Of The Tiger Chickpea Bin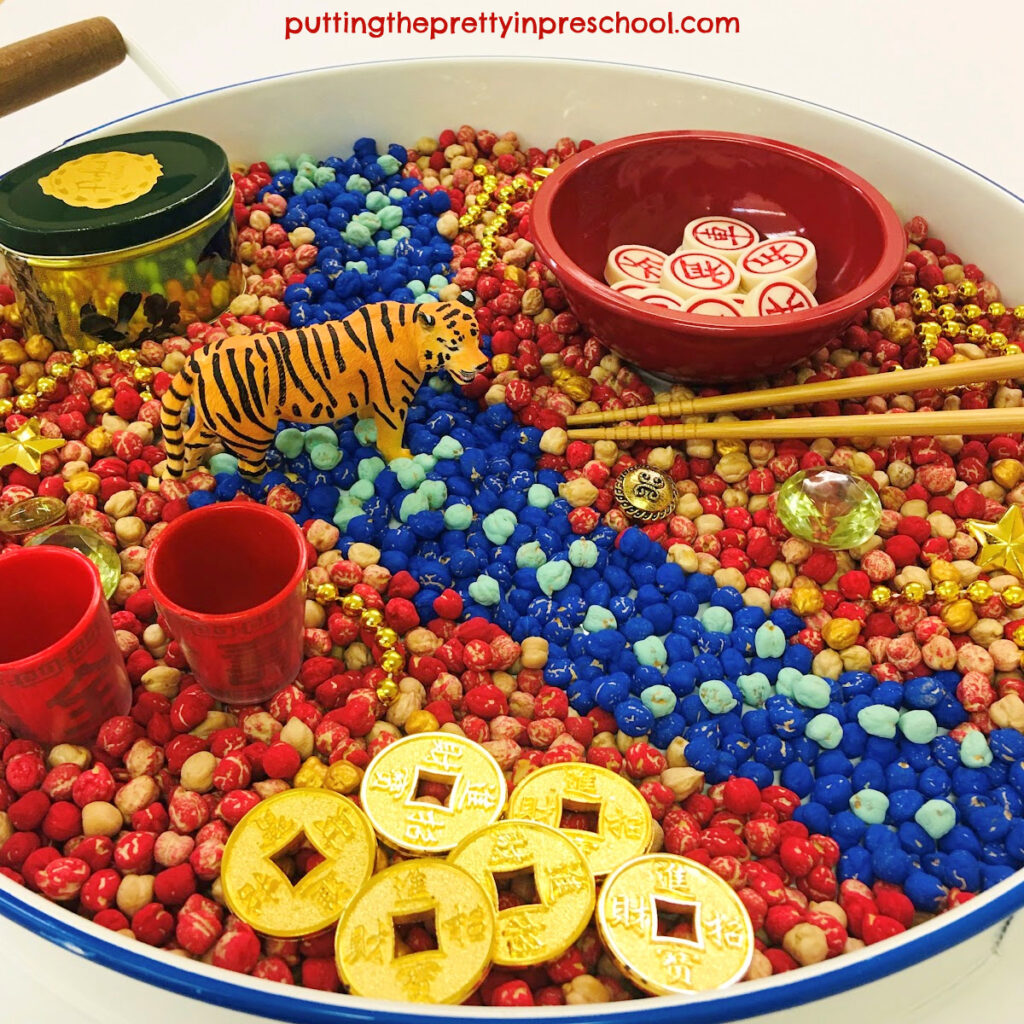 _______
The majority of chickpeas are dyed in varying amounts of red acrylic craft paint. Some are transformed into turquoise and blue. Instructions to easily dye these chunky legumes are in my post "Chinese New Year Sensory Play."
The blue chickpeas are formed into a winding river running through the center of the bin, and the red-infused chickpeas are generously sprinkled around it.
The tiger is positioned on the river.
The rest of the loose parts are spread around the bin.
Little learners are bound to enjoy playing with the tiger. The flashy cat will stand out on the river but be camouflaged in the red-toned chickpeas.
_______
To further their interest in this stunning animal, here are some facts to share with your little charges.
_______
Ten Tiger Facts
Tigers are big cats. Siberian tigers are the largest big cats in the world.
These solitary animals have red-orange or brown-orange coats with black stripes. Their underbellies are white or cream-colored.
Tigers are semiaquatic. Unlike domestic cats, they like water and can swim well. In hot, dry seasons they soak in water to cool off.
The long hind legs of tigers help them jump high and long.
These powerful animals have sharp claws and teeth, great smell, and excellent night vision.
Tigers are carnivorous and can travel hundreds of miles in search of food.
These nocturnal animals are top predators and keep the populations of prey under control.
Tigers are considered endangered. Globally, there are about 4000 tigers left in the wild, and a greater number in zoos.
In China, the Amur tiger, also called the Siberian tiger, lives in a few spots in the northeast.
The South China tiger is now extinct in the wild.
_______
Related:
Year Of The Pig Sensory Bin  (Chinese New Year 2019)
Year Of The Rat Noodle Bin (Chinese New Year 2020)
Year Of The Ox Sensory Tray  (Chinese New Year 2021)
Year Of The Rabbit Sensory Bin (Chinese New Year 2023)
_______
[Read more…]

about Chinese New Year Chickpea Bin