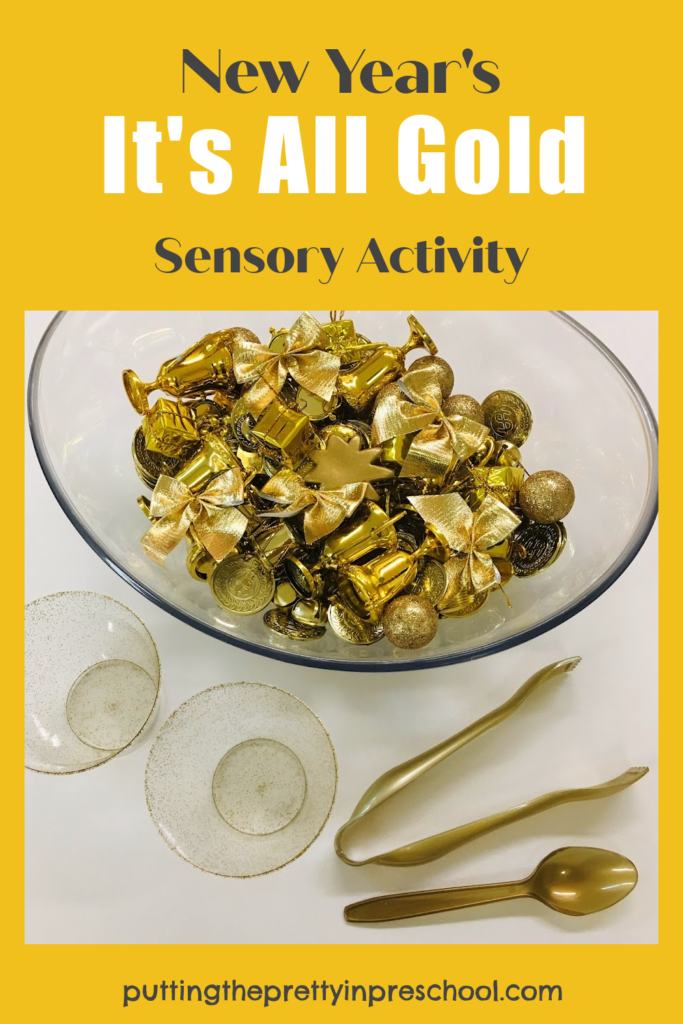 _______
This New Year's all gold sensory activity is filled with … you guessed it…all gold loose parts! It's one I've been wanting to put together for a while and finally did. Whether the loose parts are organized in a bin or tray, this activity is one your little learners will love to take part in.
_______.
Gold And New Year's
Glittery, metallic gold is a popular color for New Year's celebrations. And it usually plays a big part in Christmas festivities too.
Gold is considered a symbol of wealth. But in addition to monetary wealth, the rich color also represents a wealth of experience, knowledge, and love. And who doesn't wish for all these things, especially at the beginning of a new year?
Follow me on Pinterest for more New Year's ideas.
_______
Supplies To Collect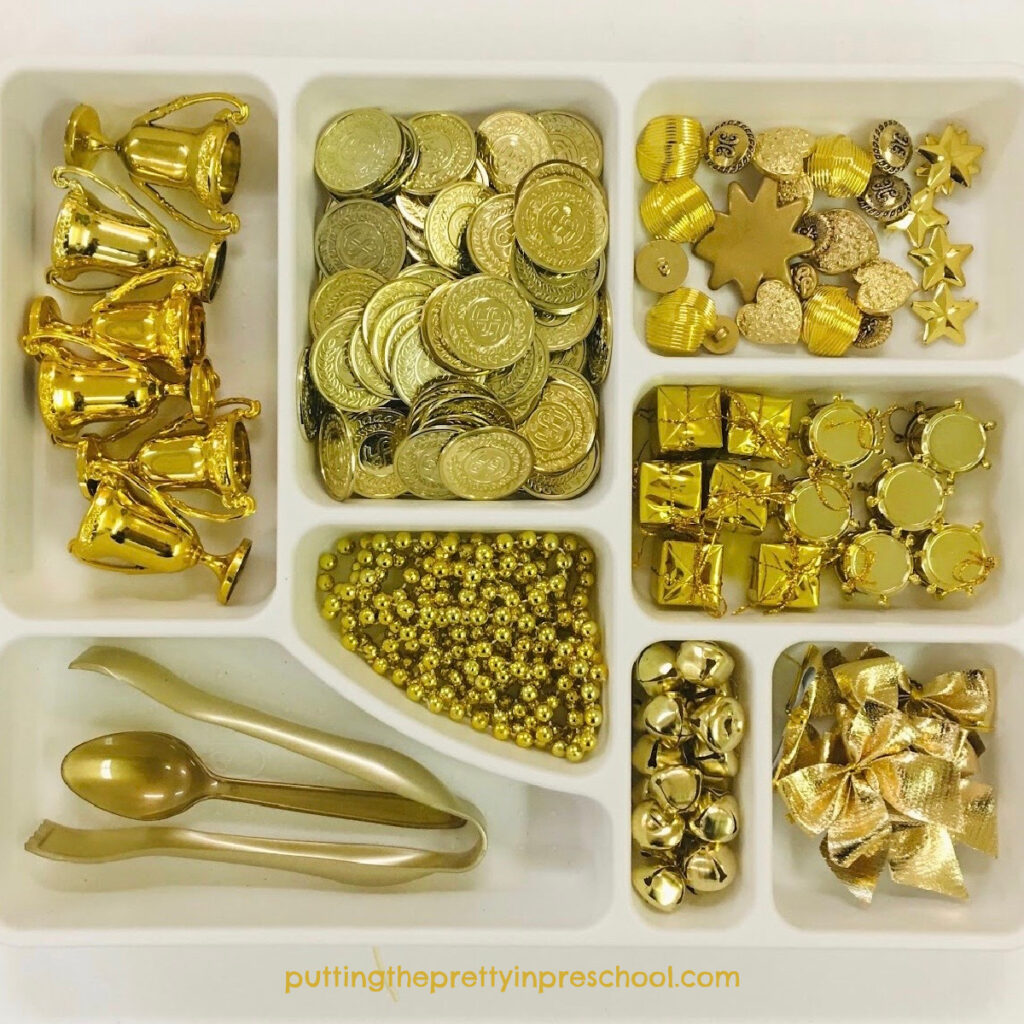 _______
Gather the following supplies in metallic gold:
tiny trophies
small present and drum decorations
play coins
assorted buttons
miniature ornaments
bows
jingle bells
strands cut from beaded necklaces
tongs
spoons
cups
It's easy to find these items during the holiday season. And I'm sure you will be able to think of even more things to add.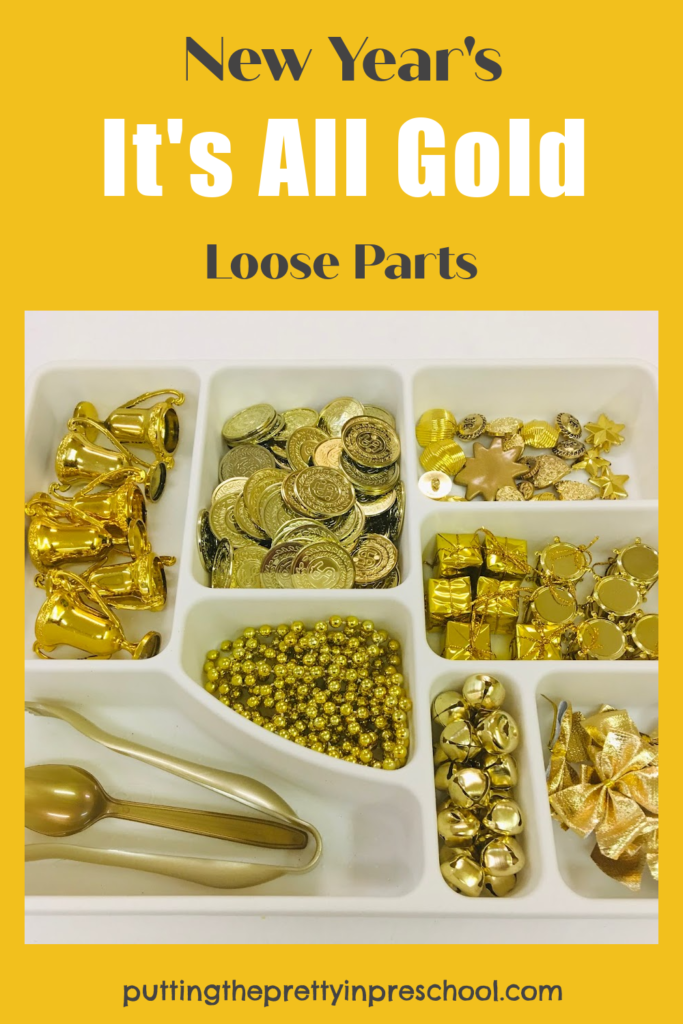 _______
"All Gold" Sensory Bin
A large clear plastic salad bowl makes a good bin for this sensory setup. But a plastic square or rectangular container works fine too.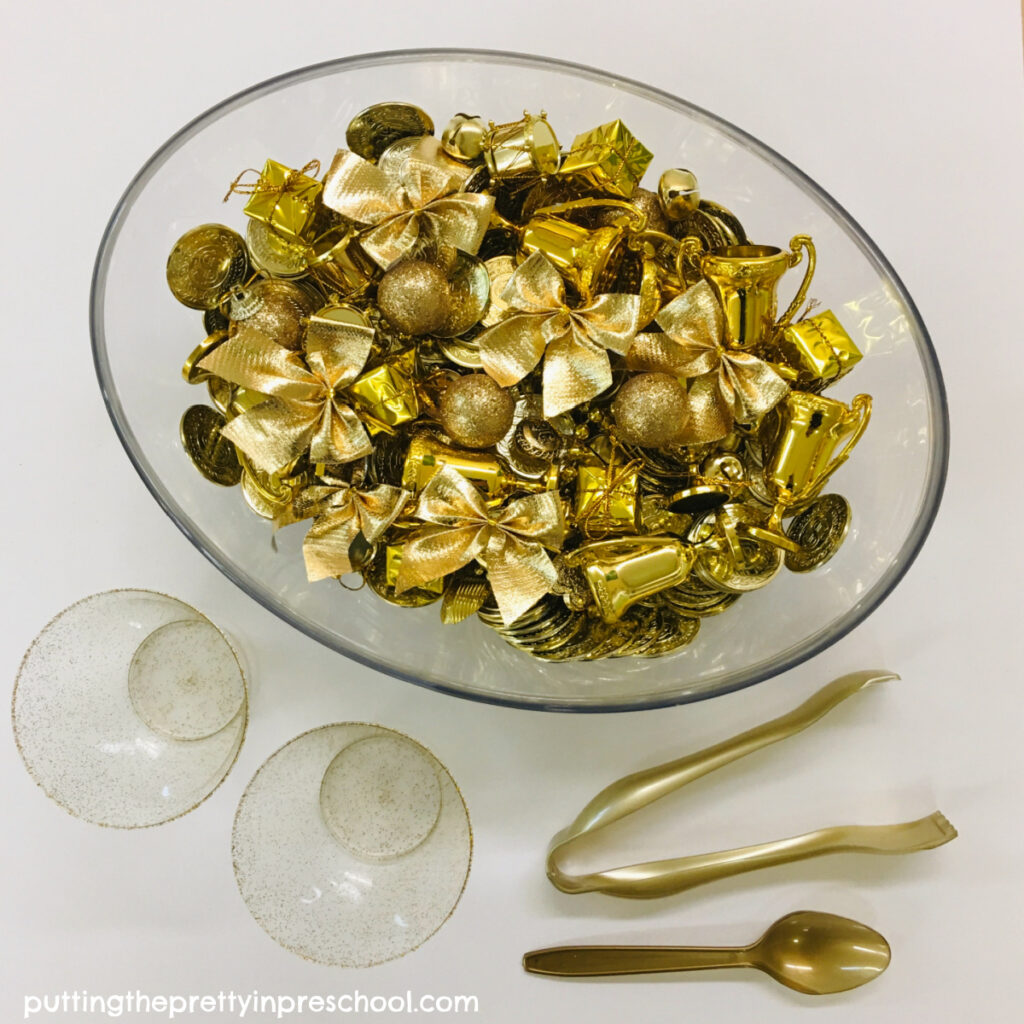 _______
No base ingredient is needed for this eye-appealing activity. Just throw a mix of metallic gold loose parts in your container of choice. Then set it out on a table with golden cups, tongs, and spoons for your little learners to explore.
_______
All Gold Sensory Tray
If you only have a small supply of golden items, why not use a serving tray. Your little charges will be happy to dive in and investigate the shiny "treasures" in the tray.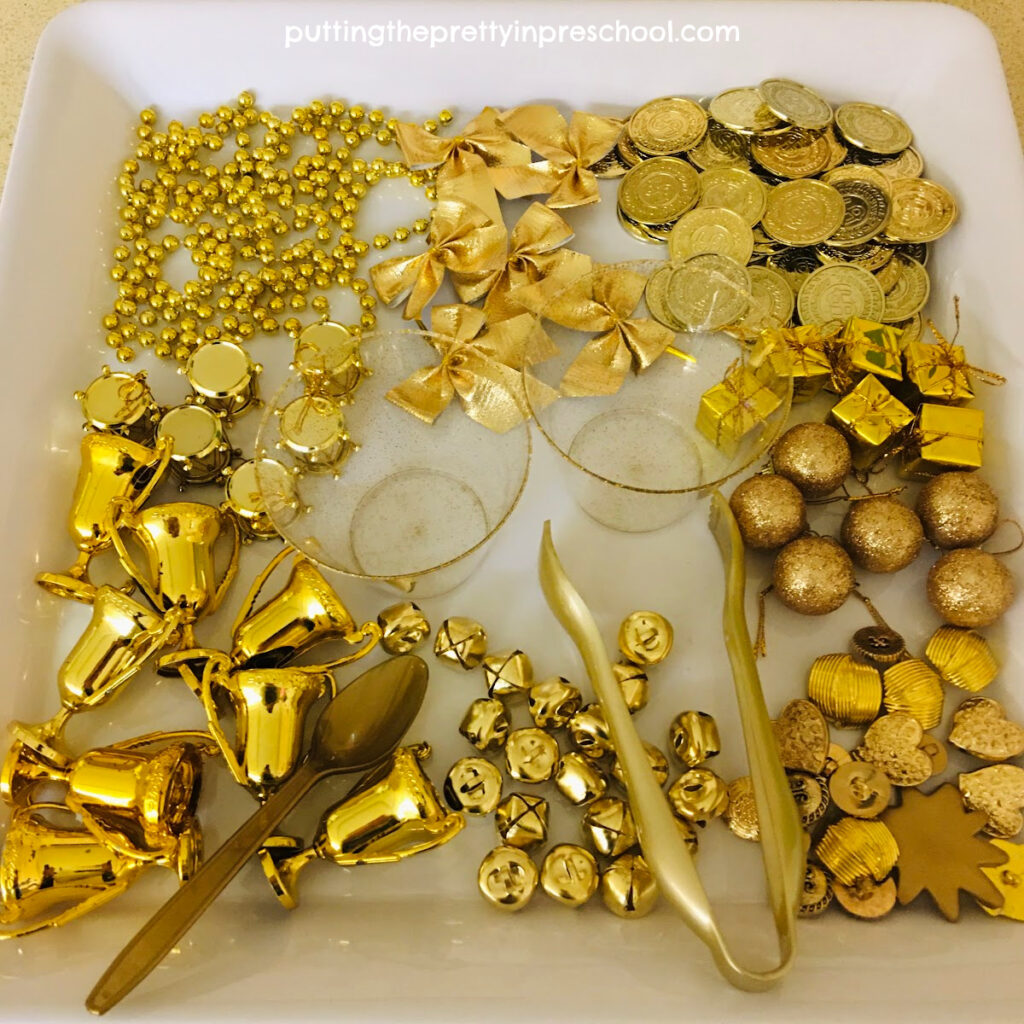 _______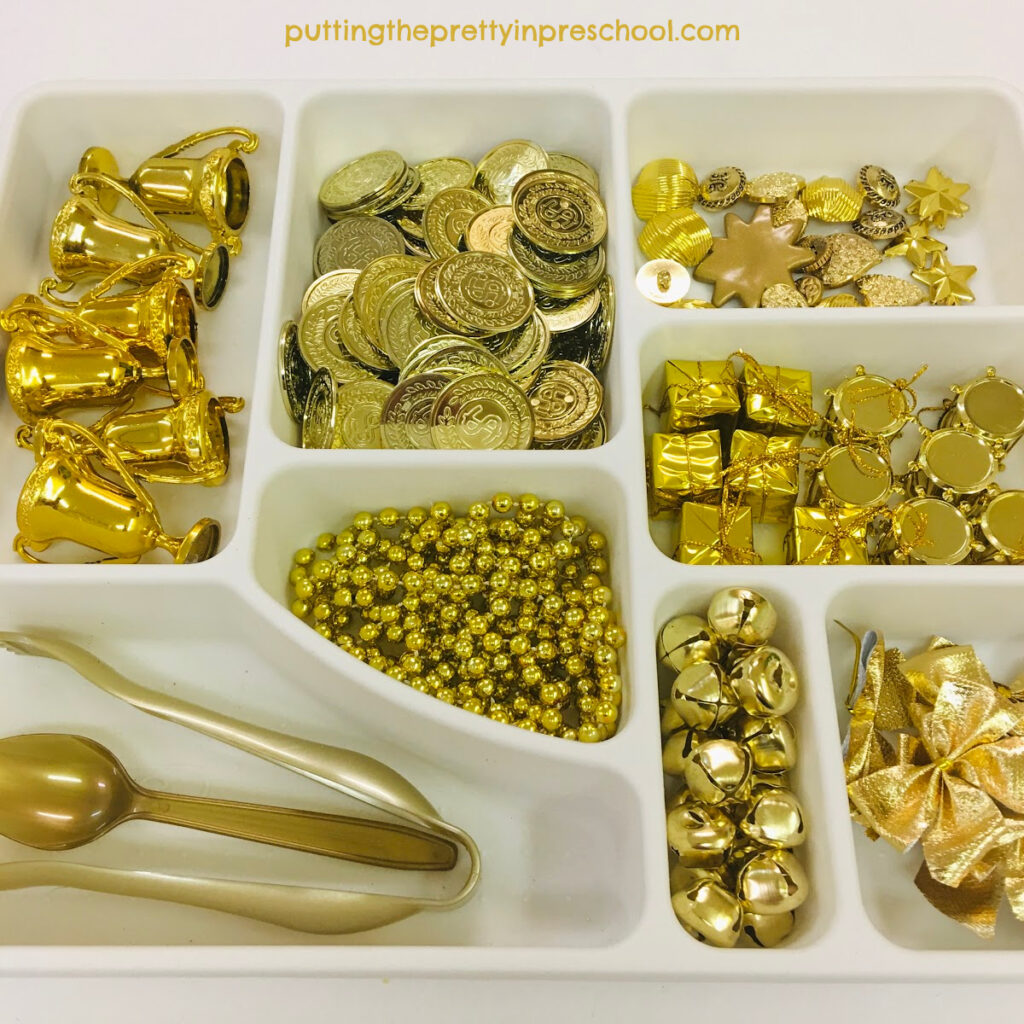 _______
Aside from being associated with New Year's events, gold is an alluring color all in itself. And this is my primary reason for putting together this glamourous play invitation.
_______
What would you add to this sensory activity? Share in a comment below.
_______
_______
Related: New Year's Sensory Tray
_______
You may also like: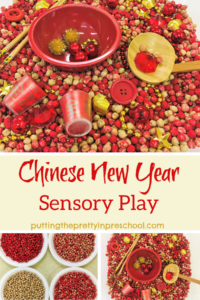 _______
Valentine's Day Gingerbread Cookies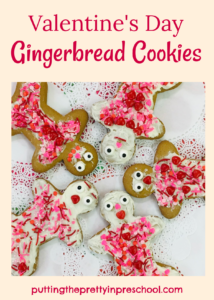 _______
Don't forget to share this post on Pinterest or your favorite social media channel. Sharing is caring!
_______
© Annette Kaminsky December 30, 2021
_______
Follow me on social media for more ideas: