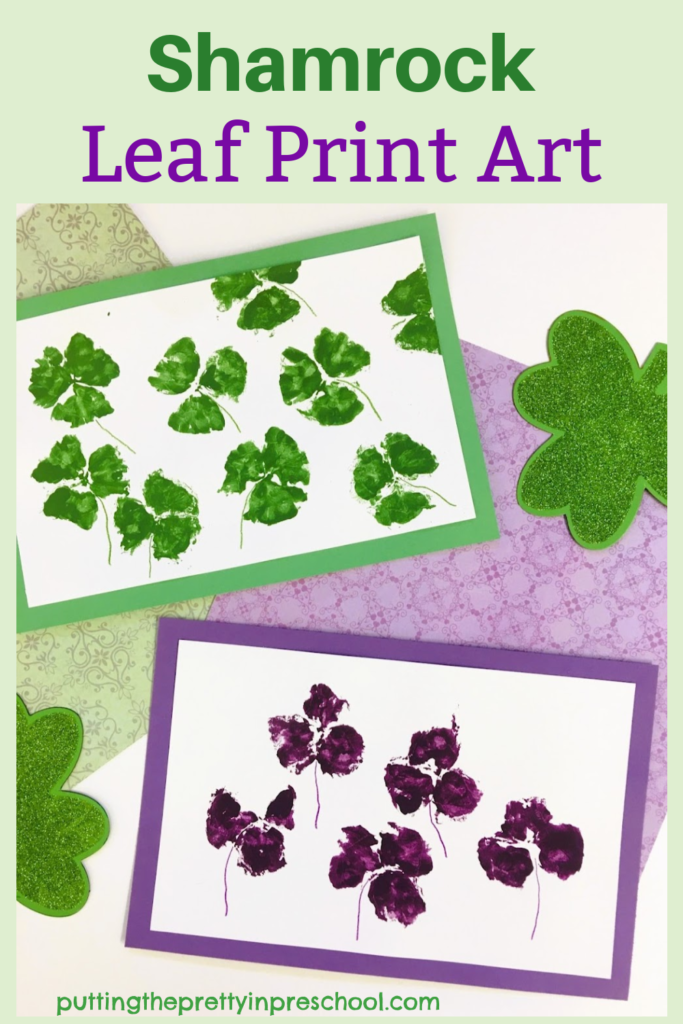 _______
Shamrock leaf print art is an activity I've wanted to try for a few years now, and this spring I carved out time for it. The art project is easy and enjoyable to do, and I am sure you will like it too.
A good time to try this leaf print art activity is around St. Patrick's Day, as shamrock plants are plentiful in stores then. The compound leaves on the plant look like the shamrock symbol that the country of Ireland is known for. Irish people think shamrocks represent good luck, and they are prominent in clothing, decorations, and tableware during St. Patrick's Day celebrations.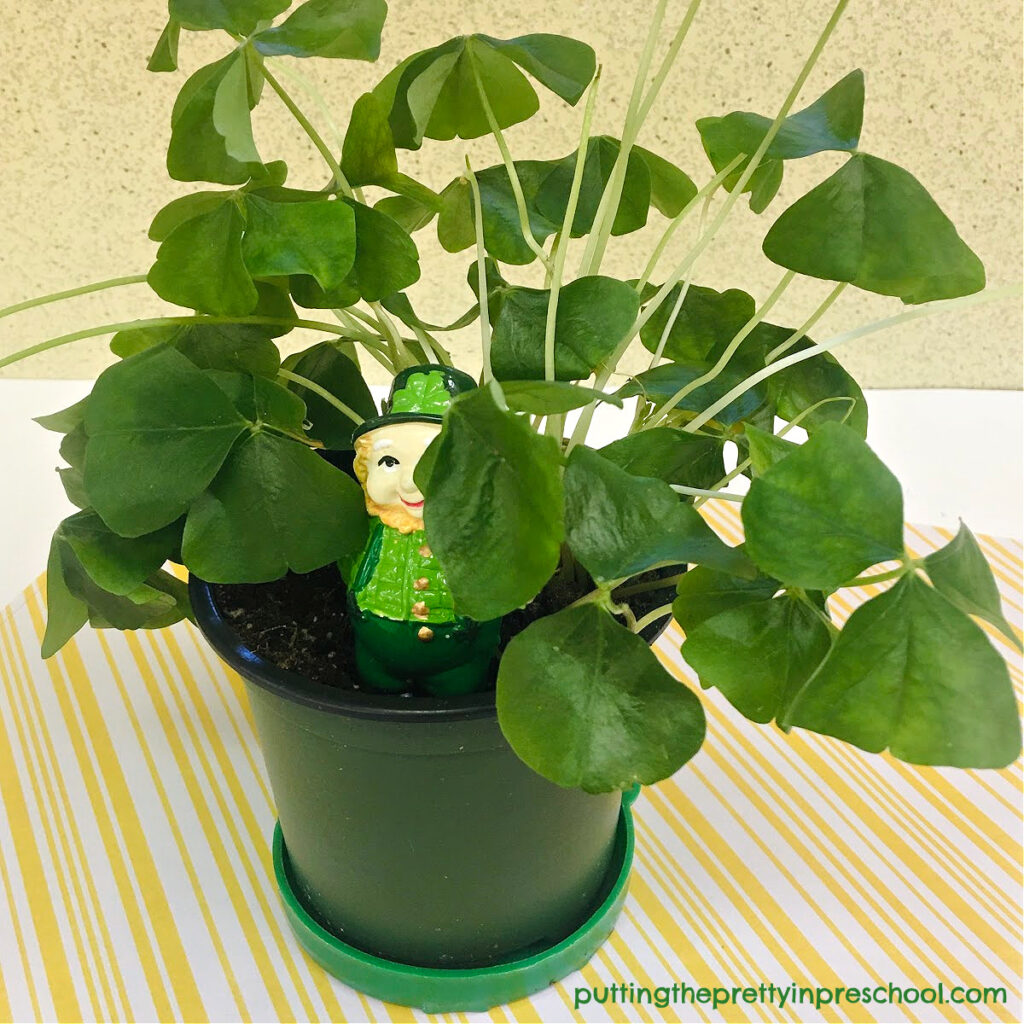 _______
The shamrock plant I found is called Oxalis Regnellii, which comes from Africa and some parts of the Americas. It has delicate leaves with three triangle-shaped leaflets. The leaves fold up neatly on overcast days and anytime it is dark, and open up when they are exposed to sunlight. The tiny, white, long-stemmed flowers have five petals.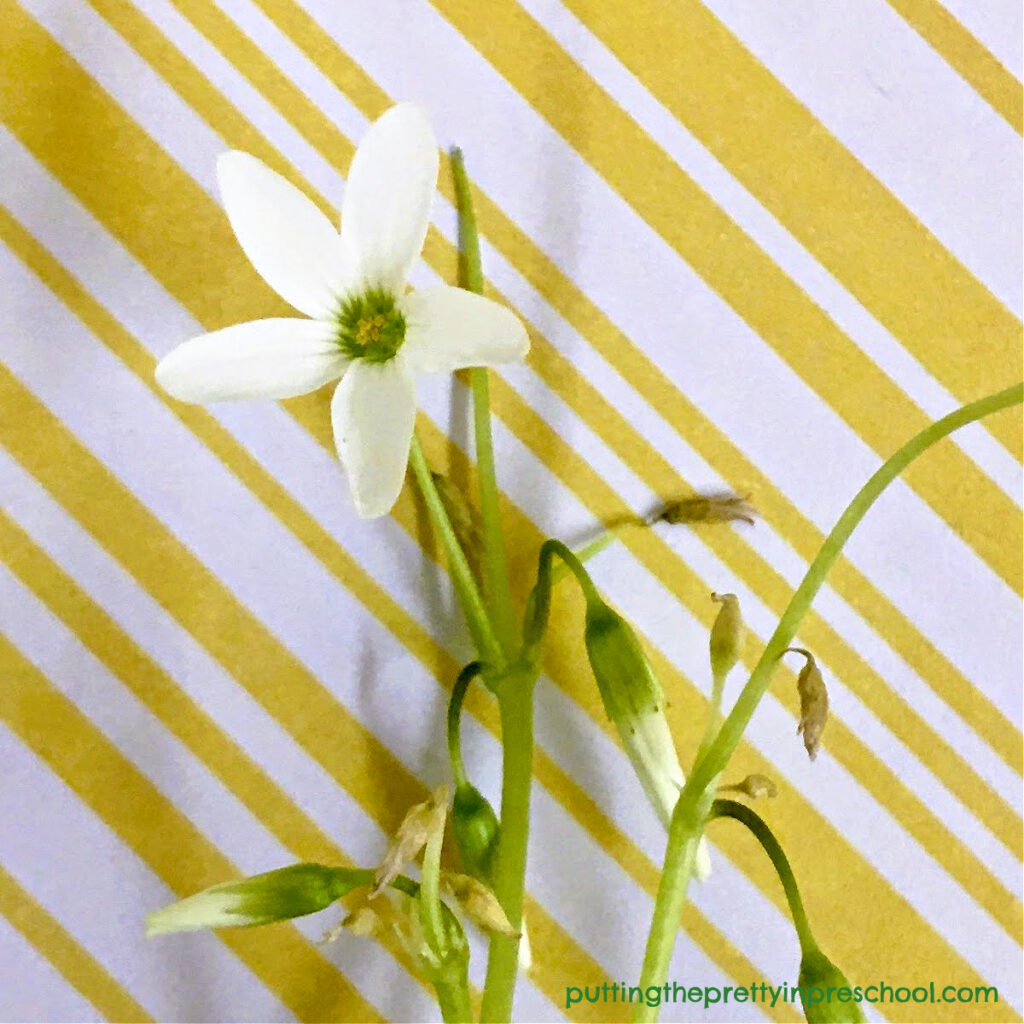 _______
Follow me on Pinterest for more early learning ideas.
_______
Supplies To Collect
Gather the following supplies for this nature-based art project:
shamrock plant
green and purple acrylic or tempera paint
paint pots
paintbrushes
purple and green pencil crayons
all-purpose art paper
green and purple construction paper
newspaper or manila paper
magnifying glasses
_______
Making The Shamrock Leaf Print Art
Before using the shamrock leaves for printmaking, give participants a chance to study the plant. Offer magnifying glasses to view the leaves and dainty flowers with yellow stamens. Set the plant out in a sunny place and then put it in a dark area to see how its leaves fold down and spread out depending on how much sunlight the plant is getting.
To prepare the art activity, snip a few leaves off the plant to use for making paint prints.
_______
Next, lay down newspaper sheets or a large piece of manilla paper for participants to work on.
Then add an art station with a sheet of all-purpose art paper, leaf sprig, paintbrush, and green acrylic paint for each participant. My paper size is an 11-inch x 14-inch inch sheet cut in half, creating a 7-inch x 11-inch piece to work on.
Note: Non-toxic tempera paint is a good choice for young children taking part in the activity.
Afterward, invite participants to brush the tops of the leaflets on their sprig thoroughly with green paint, flip the leaf over, and carefully press the painted sides down on the paper. Have them gently rub their fingers over the leaflets and pat the edges down to transfer as much paint to the paper as possible.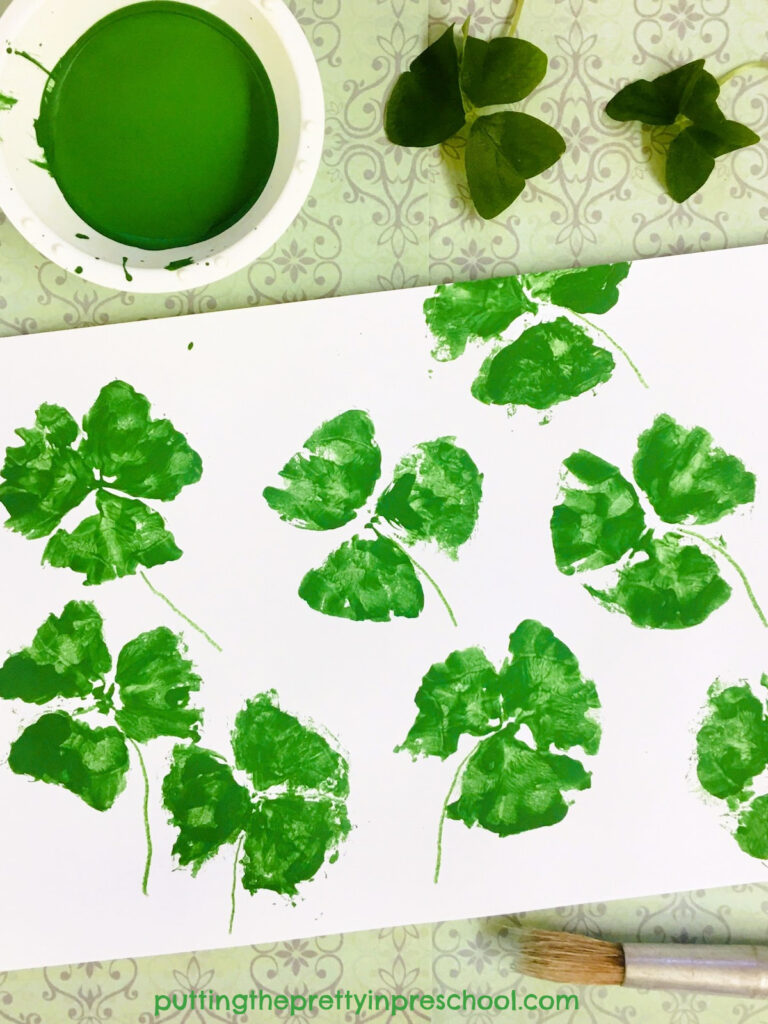 _______
Then ask everyone to slowly lift their leaf off the paper canvas and repaint it to make more leaf prints. The shamrock leaves are delicate, but when handled gently they can be used a few times. If someone's leaf tears, offer a new sprig to use.
When the paint prints are dry, ask participants to use a pencil crayon to add stems to the leaves.
As a finishing touch, mount each shamrock leaf print art project on a similar-colored construction paper background.
_______
Making Purple Shamrock Leaf Print Art
A purple shamrock, called Oxalis Triangularis, has similarly shaped leaves and flowers as the Oxalis Regnallii. This purple shamrock showcases deep purple, dark-edged leaves that respond to darkness and light in the same way.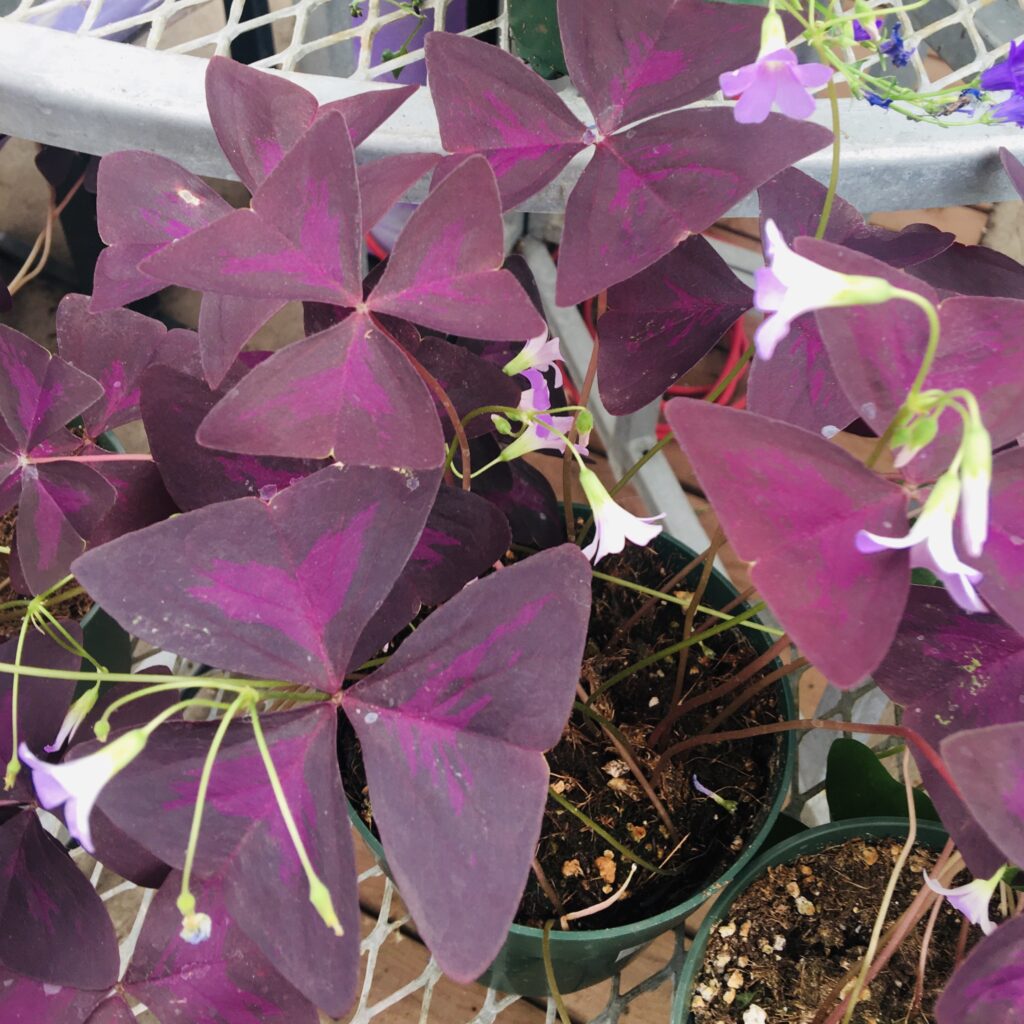 _______
With purple acrylic or tempera paint, let participants create shamrock prints just as they were made in green.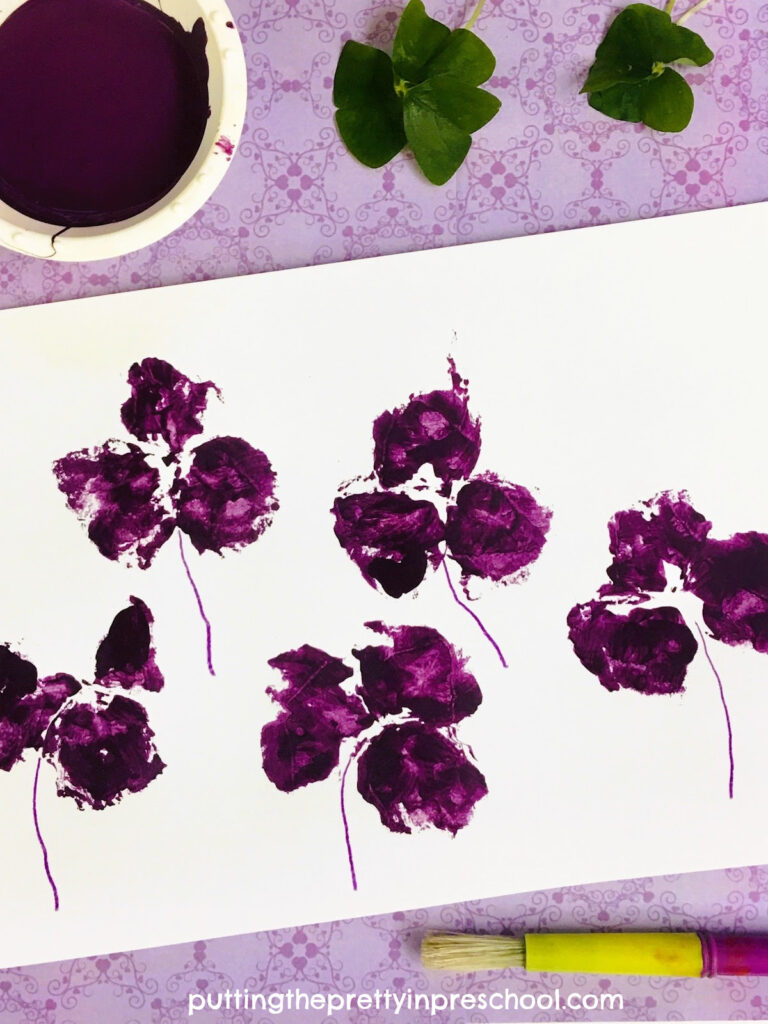 _______
If there are any leaves left on the plant after the printmaking activity is done, add them to a playdough activity. Or have someone without pets take the plant home to care for.
Note: All Oxalis plants are toxic to dogs, cats, and grazing animals such as horses and must be kept out of their reach. These plants are slightly toxic to humans. Make sure to supervise all shamrock leaf activities closely so that no one ingests the leaves.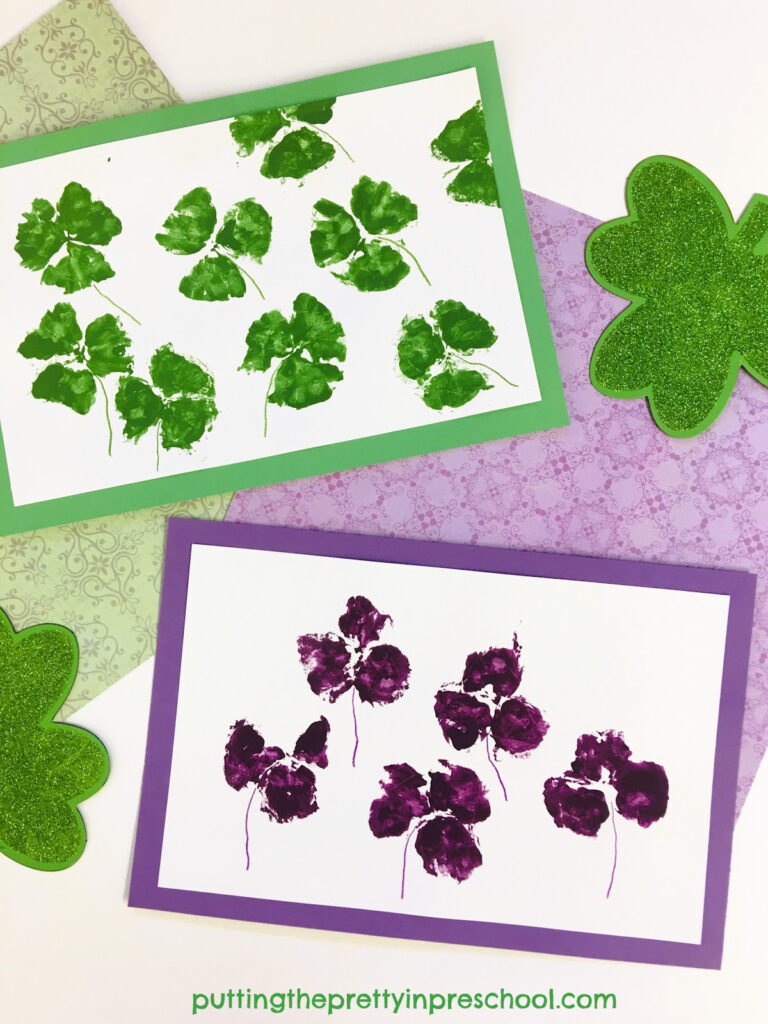 _______
Related:
Horse Chestnut Leaf Art Activities
_______
[Read more…]

about Shamrock Leaf Print Art