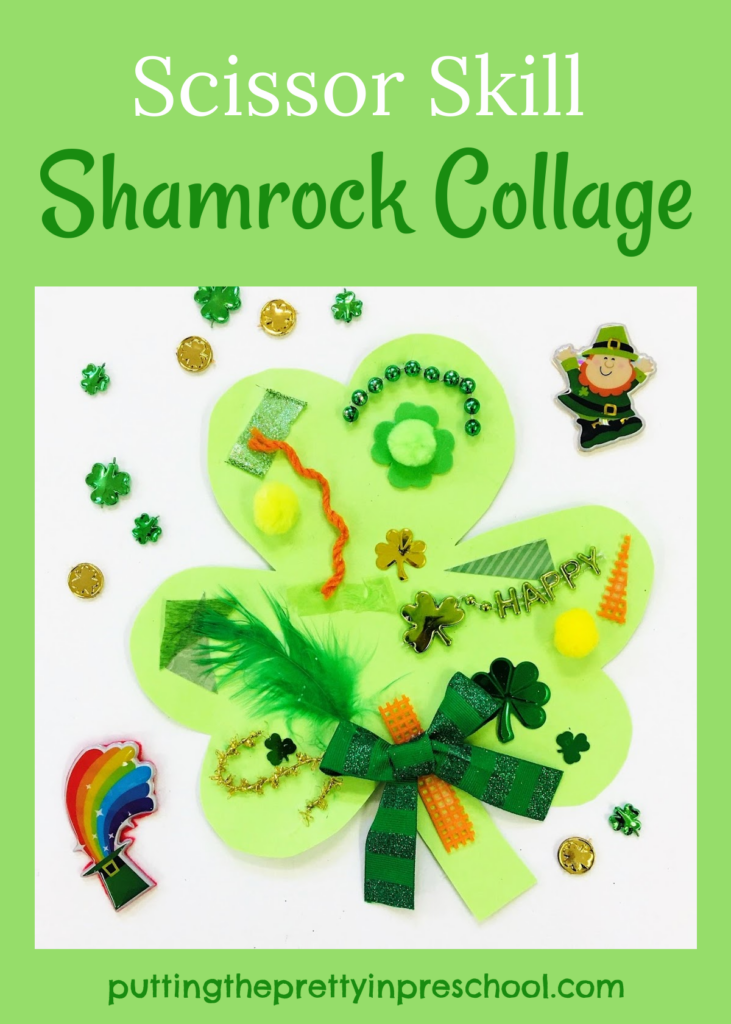 _______
Ireland is called "The Emerald Isle", after emerald gems. This is because the landscape has many shades of green. Inspired by the luscious land, this shamrock collage craft is full of green textures and shades. There are tidbits of yellow and orange sprinkled in too.
A shamrock is a young sprig of clover. Each leaf has three heart-shaped leaflets. The shamrock is an emblem of Ireland and is a huge part of St. Patrick's Day celebrations. It is also incorporated into everyday Irish life, seen on buildings, monuments, dishware, jewelry, fabric, stamps, and logos.
_______
Follow me on Pinterest for more ideas.
_______
Supplies To Collect
For this activity, collect craft supplies in orange, yellow, gold, and many shades of green. Feathers, pompoms, pipe cleaners, crepe paper, tissue paper, bead garland strips, straws, and yarn are good choices. Shamrock confetti and foam shamrocks could be added to the mix.
You will also need:
green construction paper
tray
scissors
white glue
glue paddle
shamrock template (downloadable below)
_______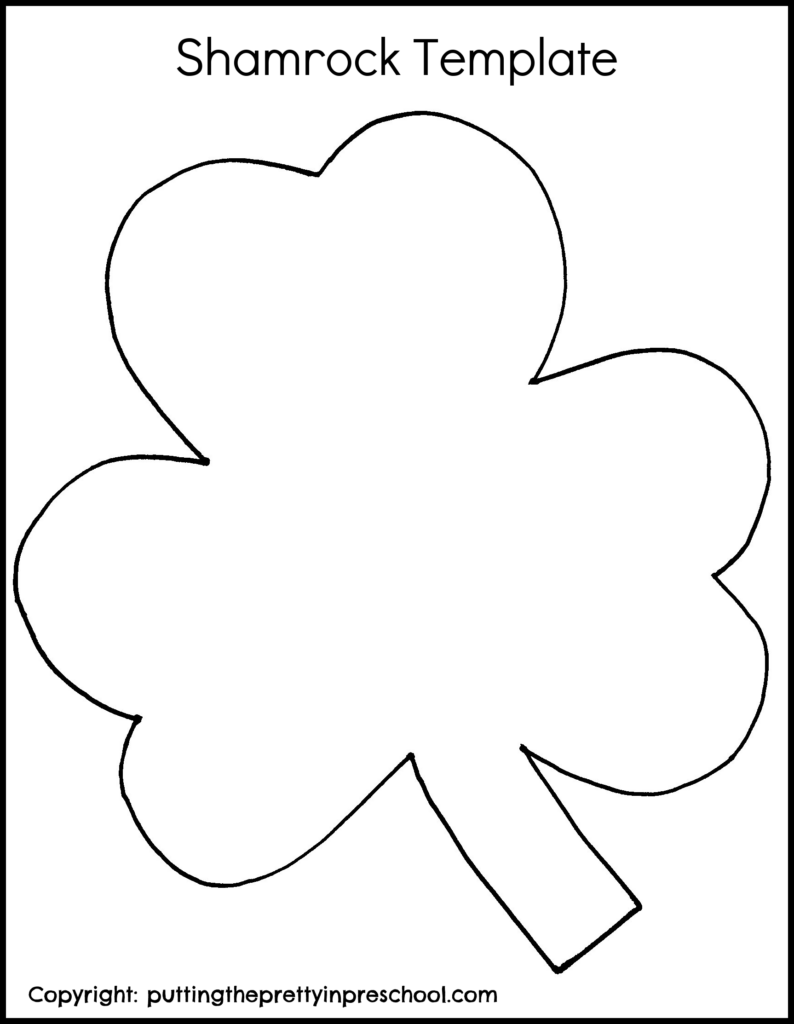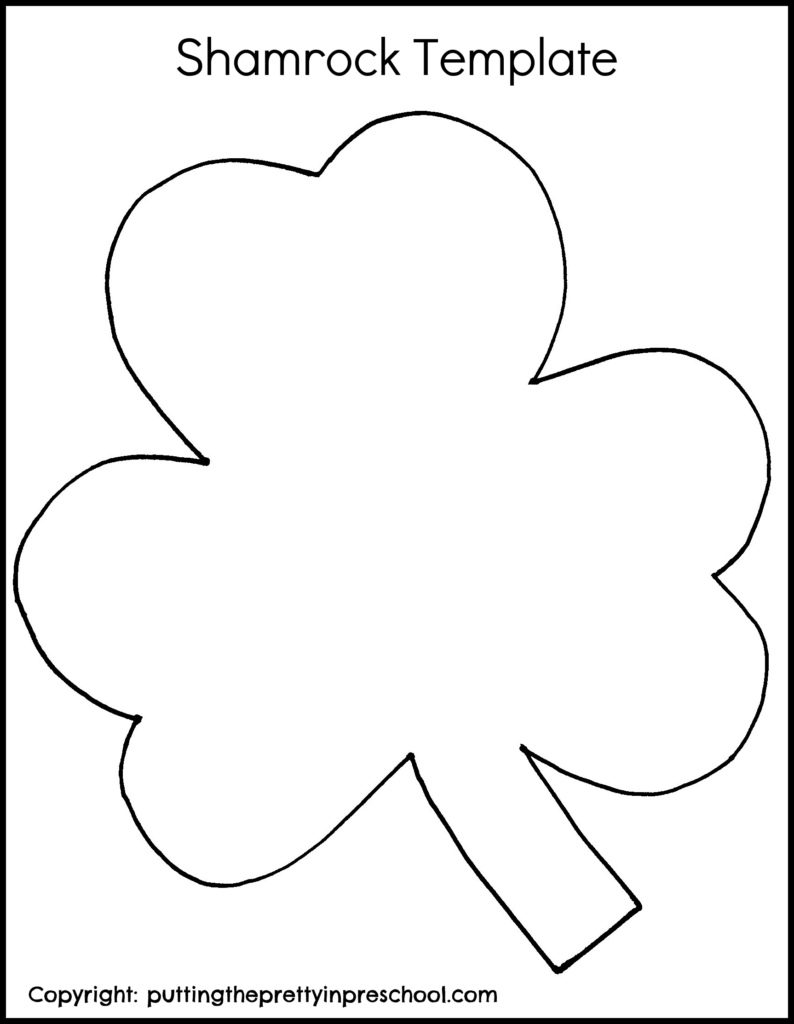 _______
This printable is for personal or one classroom use only.
_______
Making The Shamrock Collage Craft
Set out a tray of craft supplies, and let your little learner cut them smaller.
Invite your little one to glue the cut shapes to the paper shamrock.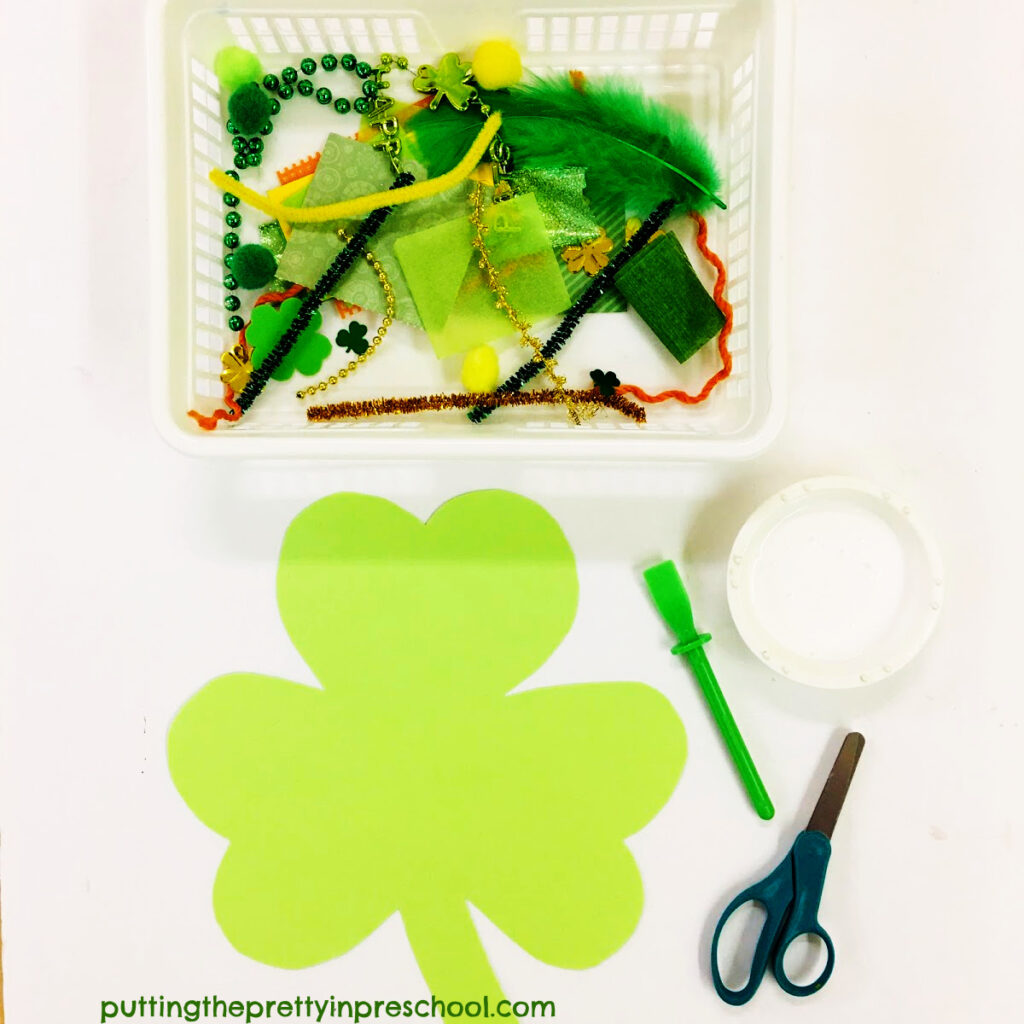 _______
Let the craft dry.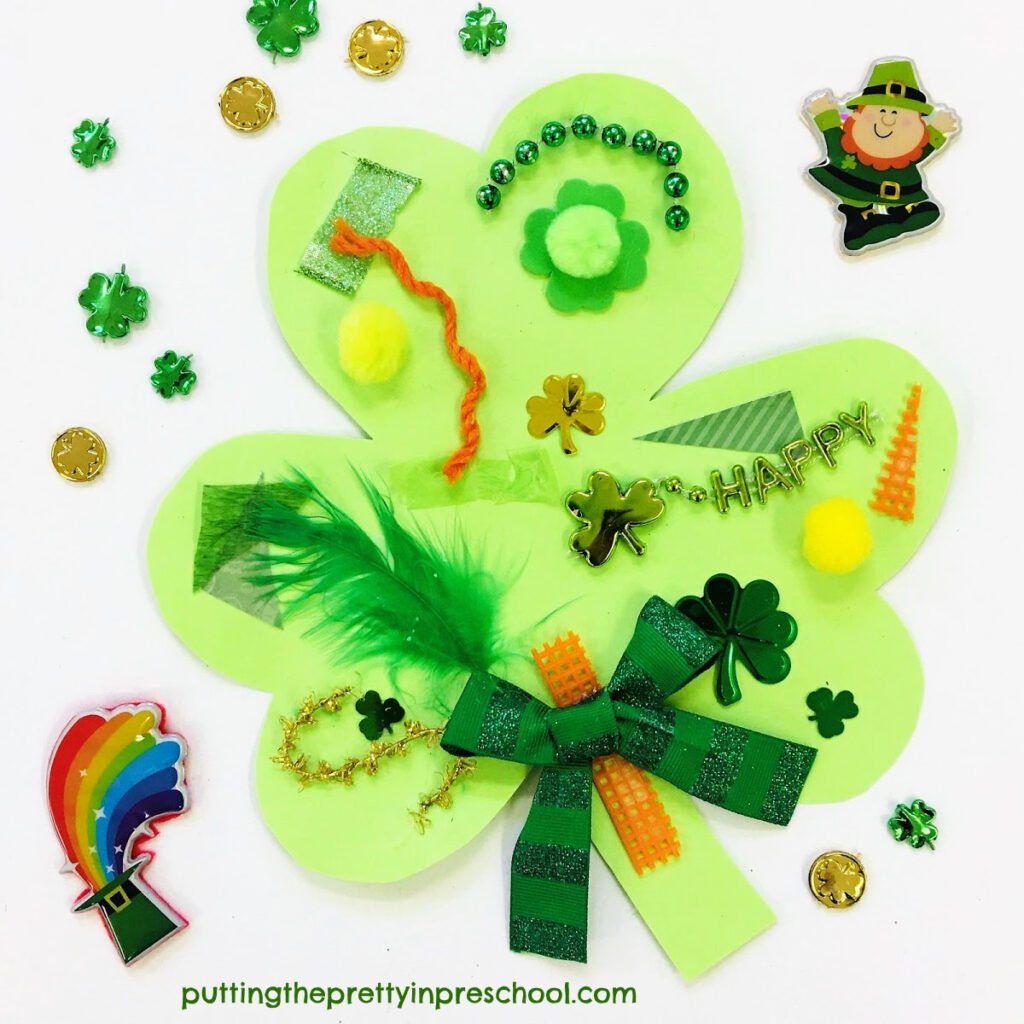 _______
Cutting textured collage supplies gives your early learner next-level scissor skill practice. And the resulting collage pieces make the craft project waaaaay more interesting than if all the supplies were precut.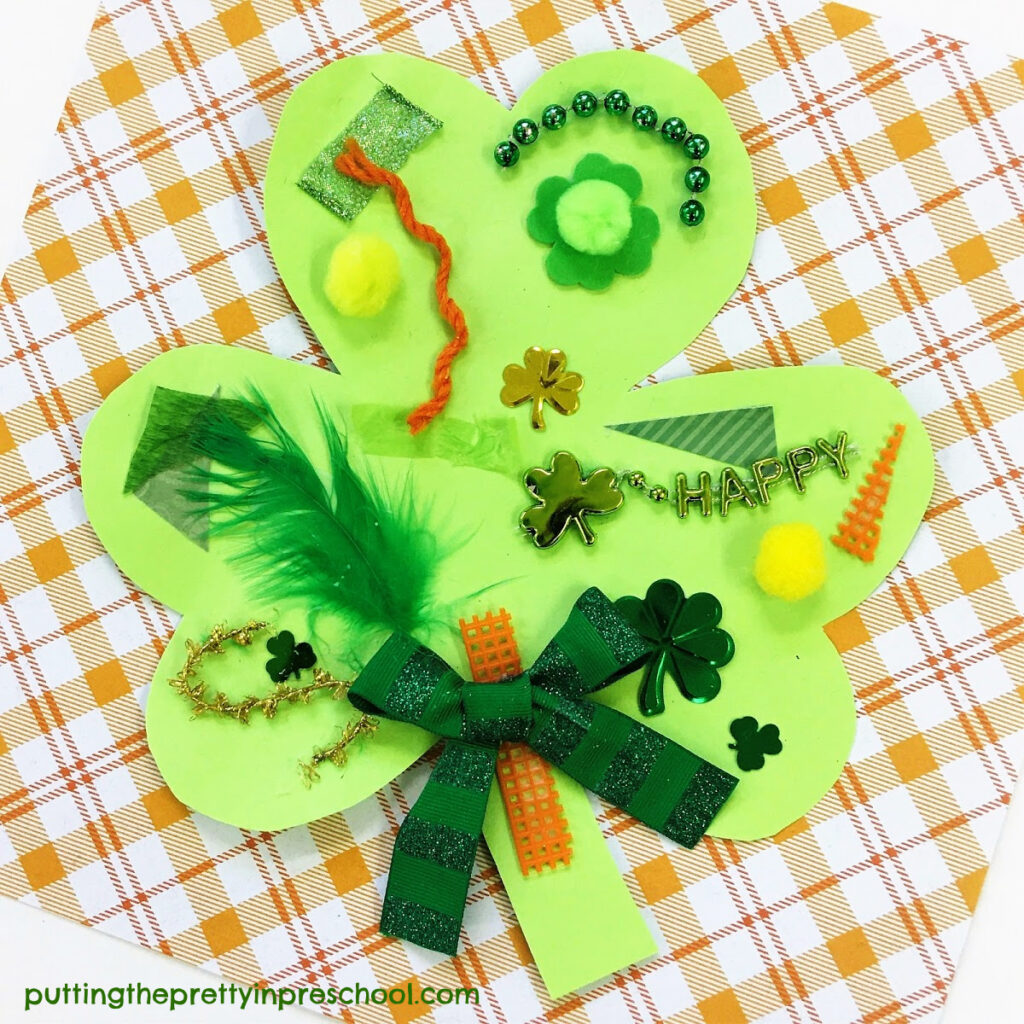 _______
Click here for scissor skill tips.
_______
More St. Patrick's Day Activities
St. Patrick's Day Painted Shamrock
Crayon Resist Watercolor Shamrock
St. Patrick's Day Woodland Sensory Bin
St. Patrick's Day Treasure Blocks
St. Patrick's Day Light Table Tray
Shamrock Dissolving Candy Experiment
_______
St. Patrick's Day Tablescape
_______
You may also like: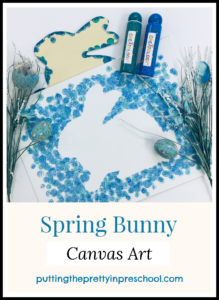 _______
_______
Don't forget to share this post on Pinterest or your favorite social media channel. Sharing is caring!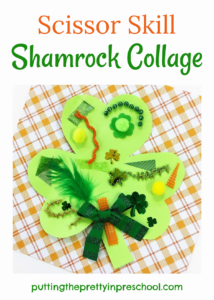 _______
© Annette Kaminsky March 13, 2021
_______
Follow me on social media for more ideas: