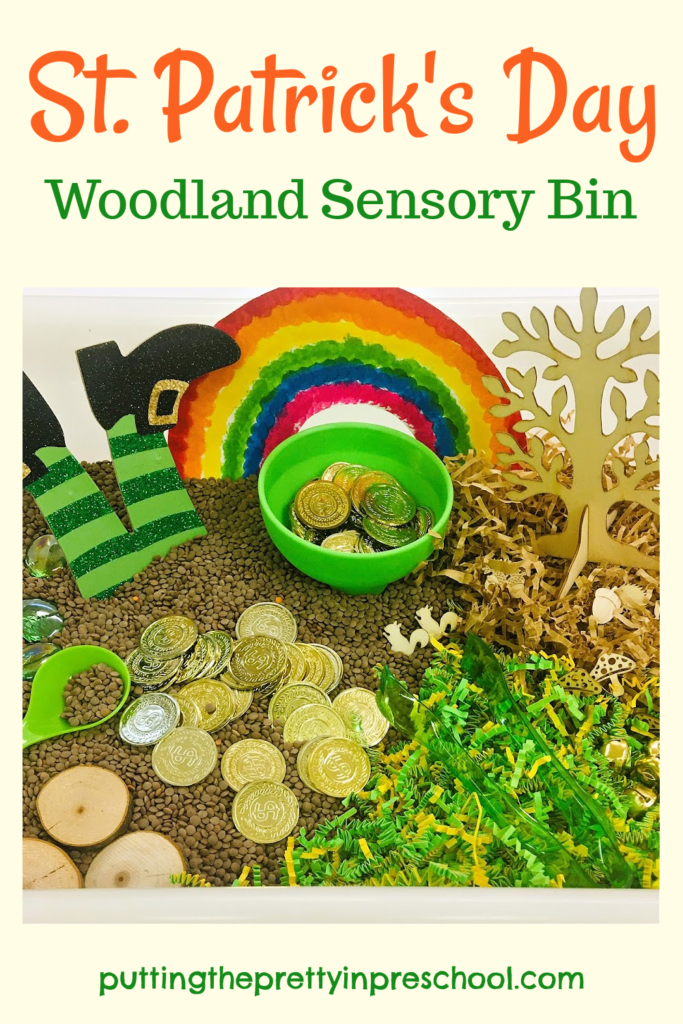 _______
It's as much fun setting up a sensory bin as watching young children eagerly explore one. And this St. Patrick's Day woodland bin is no exception! The bin is one of my favorites created so far.
Leprechauns are mythical creatures thought to live in remote, woodland areas. They make shoes and enjoy playing music. The little tricksters especially love gold and hide their treasure in pots in the woods or at the end of the rainbow.
_______
Follow me on Pinterest for more early learning ideas.
_______
Supplies To Collect
A few, easy to find items can be gathered for this bin. Included are:
brown lentils
gold play coins
green acrylic gems
wood slices
yellow and green crinkle paper
kraft crinkle paper
wooden tree and tiny forest creatures
green pot, tongs and spoon
gold bells
leprechaun leg decoration
white cardstock
dot markers
scissors
sensory tub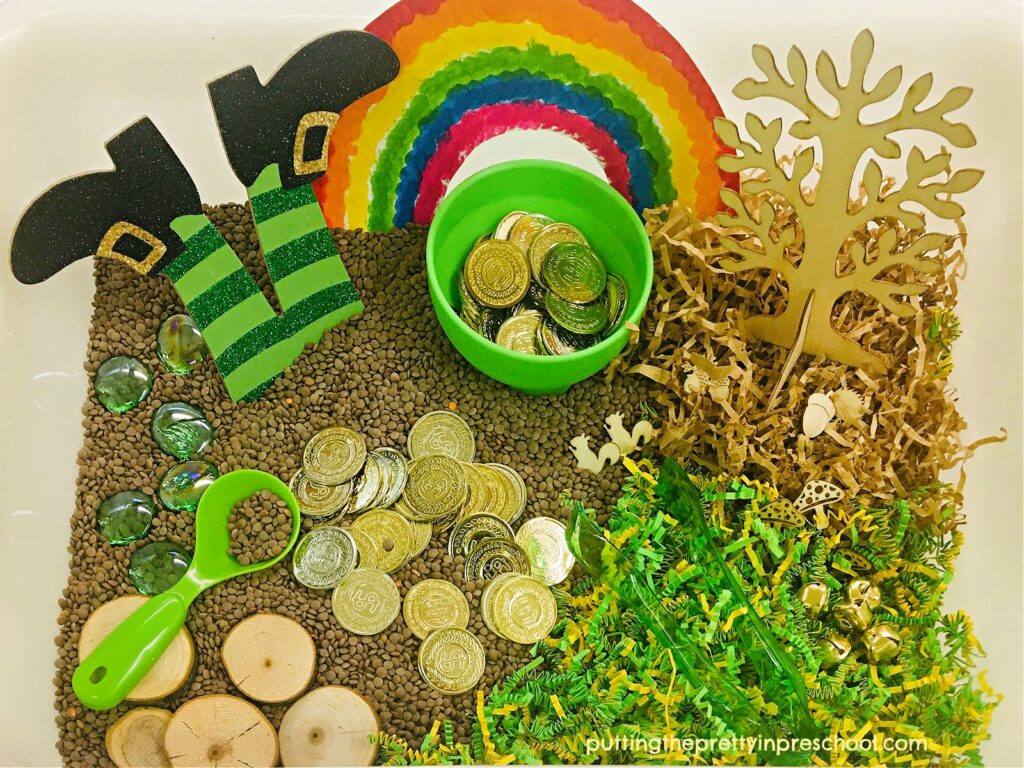 _______
_______
The St. Patrick's Day Woodland Bin
First, cut a rainbow shape from a piece of white cardstock. Use dot markers to create a bright, colorful rainbow.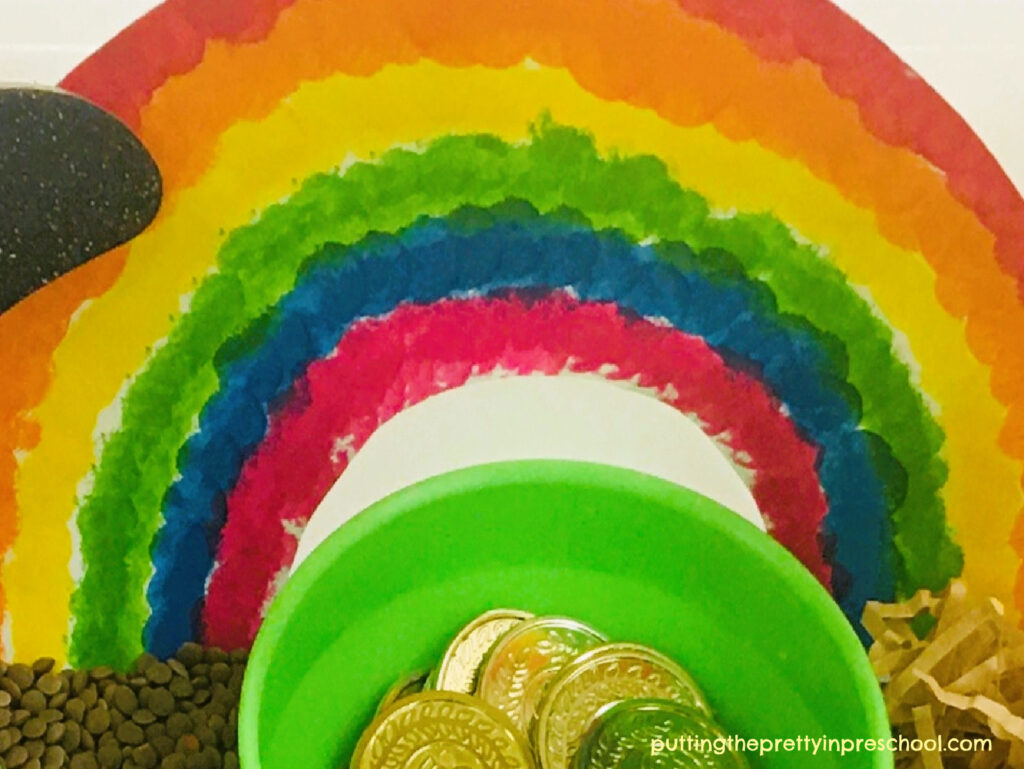 _______
Next, bunch up Kraft crinkle paper and add it to one section of the sensory bin of choice. In this post, I feature a white food and tableware storage tub.
Add the yellow and green crinkle paper to another part of the bin.
Tip: Crinkle paper is an economical filler, and can be used again in another sensory activity.
Then pour in a layer of brown lentils to generously cover the rest of the bottom of the bin.
Add the wooden tree and forest creatures.
Then sprinkle in gold coins and bells, wood slices, and green gems.
Drop in the pot, spoon, and tongs.
Finally, set in the leprechaun legs and paper rainbow.
Now the St. Patrick's Day woodland bin is ready for your little learners to explore!
_______
Note:
Most of the supplies in this bin come from Dollar stores, so are economical finds. They get repurposed for other sensory bins, so are worth the investment.
The wooden leprechaun legs were taken from a wall plaque. Colored cardstock legs would make an excellent substitution.
_______
Related: St. Patrick's Day Treasure Blocks
_______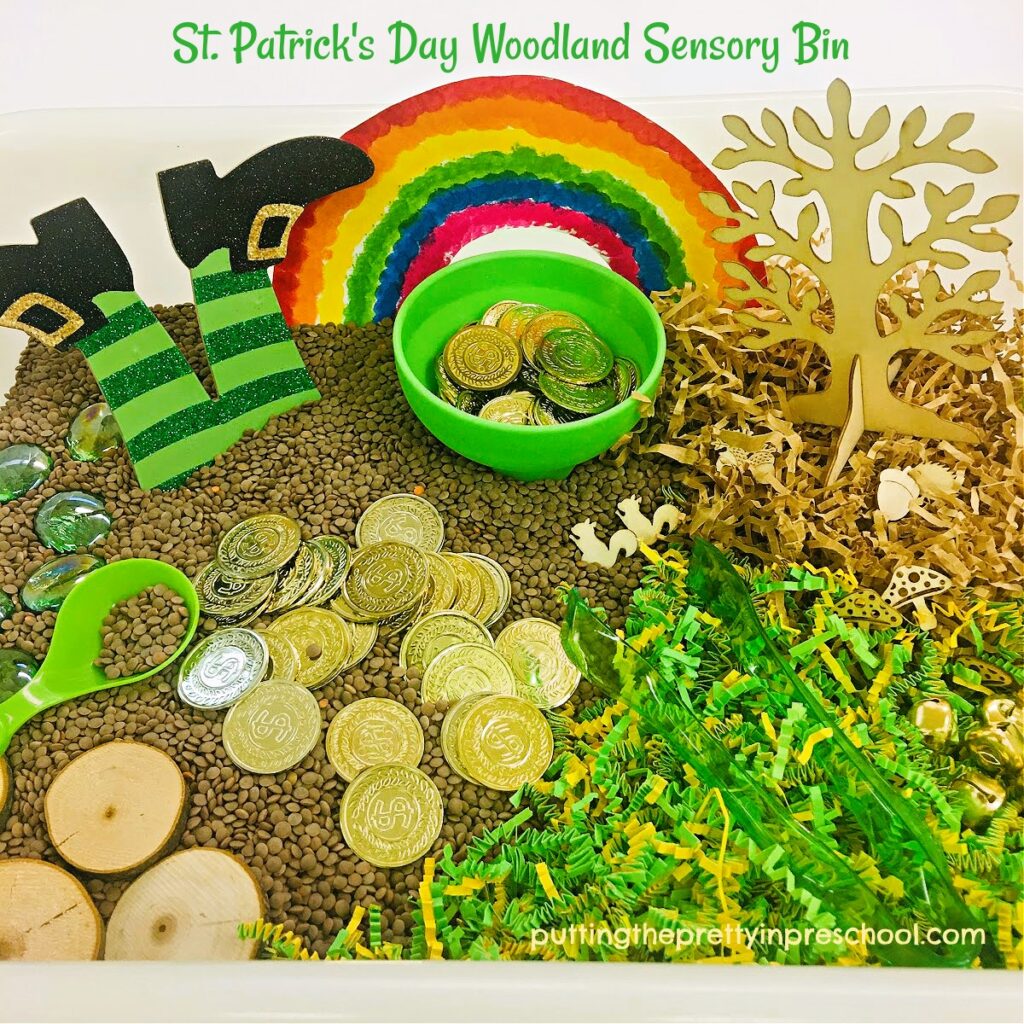 _______
_______
You may also like: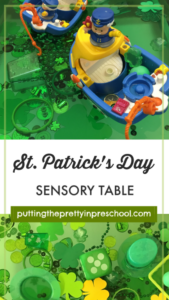 _______
Dinosaur And Sweet Potato Vine Activities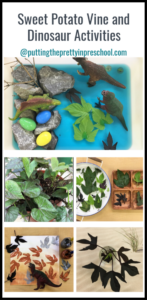 _______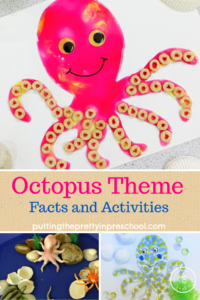 _______
Don't forget to share this post on Pinterest or your favorite social media channel. Sharing is caring!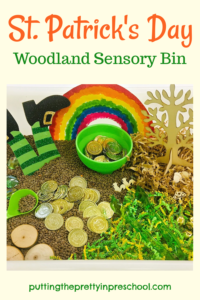 _______
© Annette Kaminsky March 6. 2022
_______
.
Follow me on social media for more ideas: