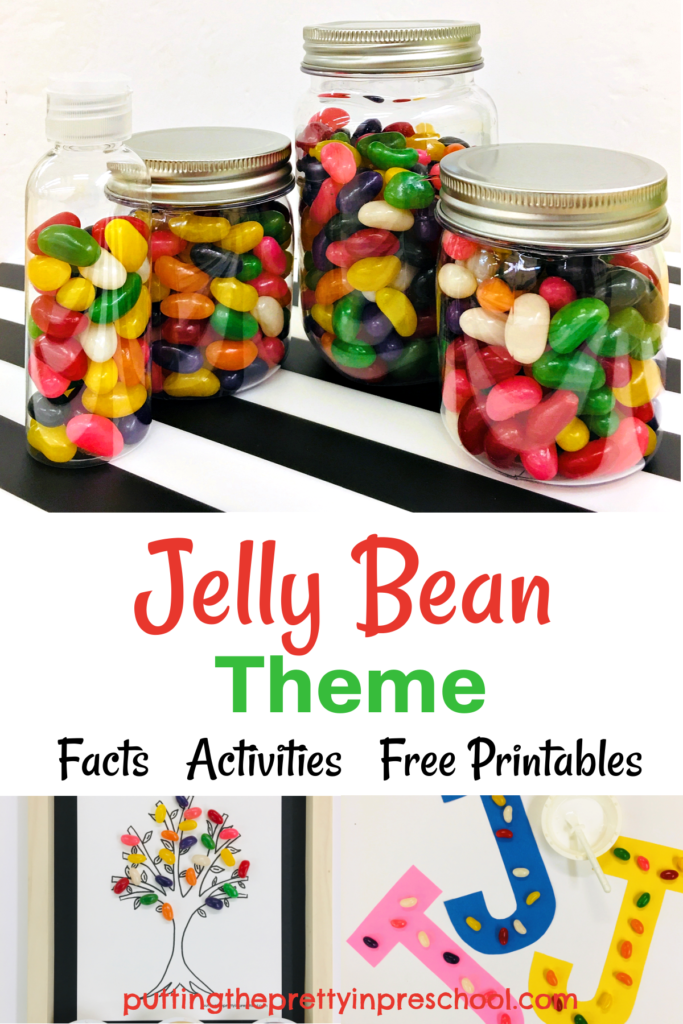 _______
A few weeks ago, I set out to make an Easter display that would work for a wall art tree. I thought of incorporating the "Jelly Bean Prayer," and wondered if there was such a thing as a jelly bean tree. To my delight, an online search revealed a variety of references to "jelly bean tree," and provided inspiration for other activities. So in addition to changing up the display, I came up with this fun and tasty Jelly Bean Theme. The post includes free printables and a few facts about the colorful candy.
_____
10 Jelly Bean Facts
Jelly beans are bite-sized candies with hard, crunchy shells and soft, chewy centers.
These sweet candies are associated with Easter in Canada and the United States.
Part of the appeal is their egg shape and tiny size. This makes them terrific Easter egg fillers.
There are eight basic colors and flavors, which often have a fruity taste.
Over time, jelly beans were created in many different color schemes, often matching seasonal celebrations.
Jelly beans became popular in the 1960s.
The most common order for eating the candies is: red, purple, green, yellow, and black.
Jelly beans are used as an art medium, and there are mosaic art pieces made with them.
President Ronald Reagan liked them a lot, so artist Peter Rocha made a jelly bean portrait of the president.
There is a National Jelly Bean Day (in the US) on April 22.
_______
Follow me on Pinterest for more early learning ideas.
_______
Jelly Bean Theme Activities
There are a number of easy, educational jellybean activities to do at home or school.
Tasting Jelly Beans
Give participants jelly beans in the colors red, purple, green, yellow, and black. Chart the order each child eats the jellybeans.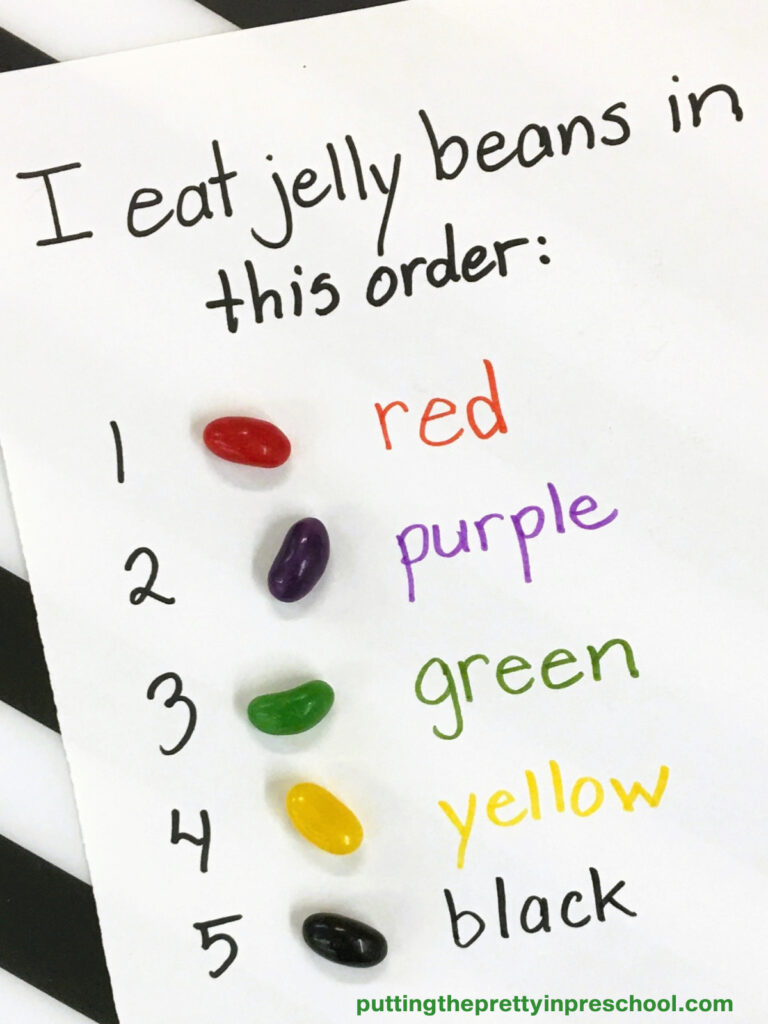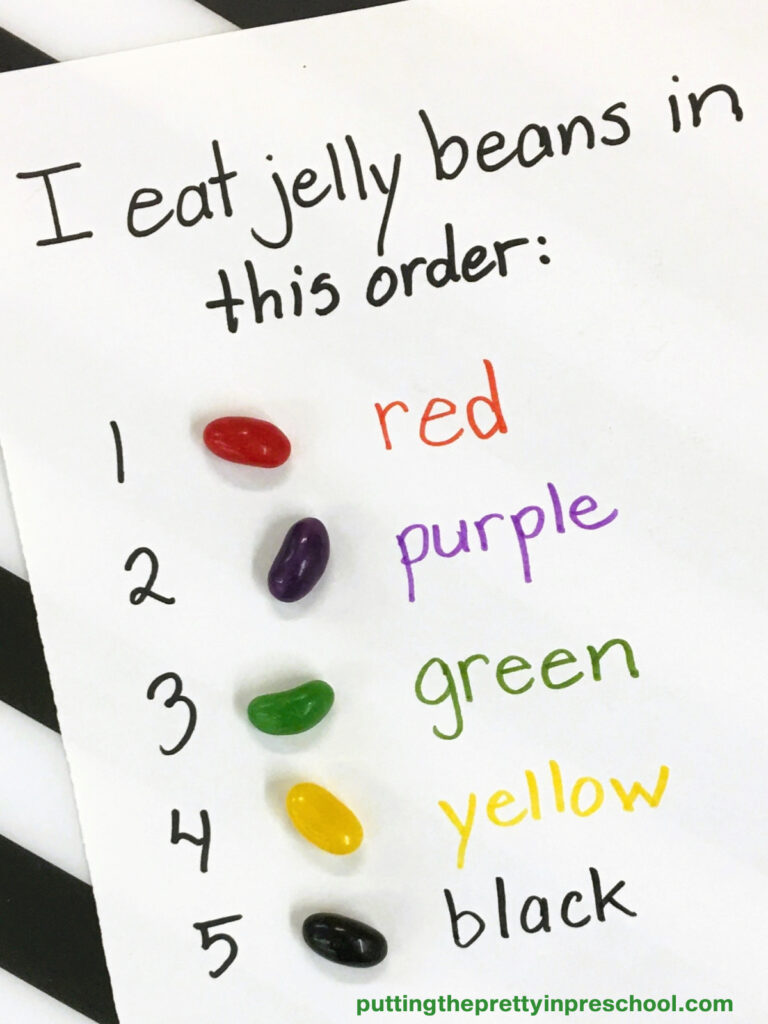 _______
Incorporate language and math sequencing by describing color and taste, and using words such as first, next, and last.
_______
Jelly Bean Sorting
Invite children to sort jelly beans by color. This flower-shaped paint palette is perfect for individual color sorting.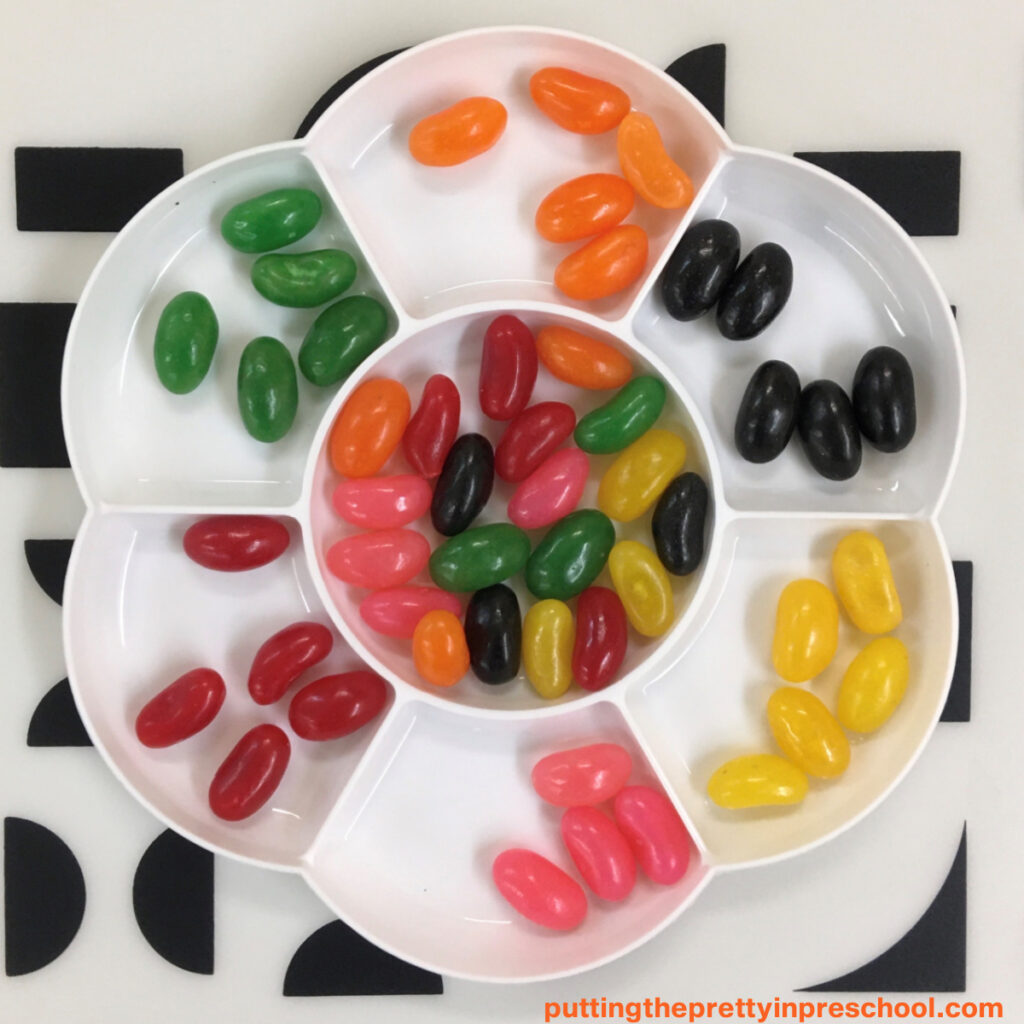 _______
Candies On Display
Jelly beans look attractive stored in mason jars. The filled jars could be part of a tablescape display or food table.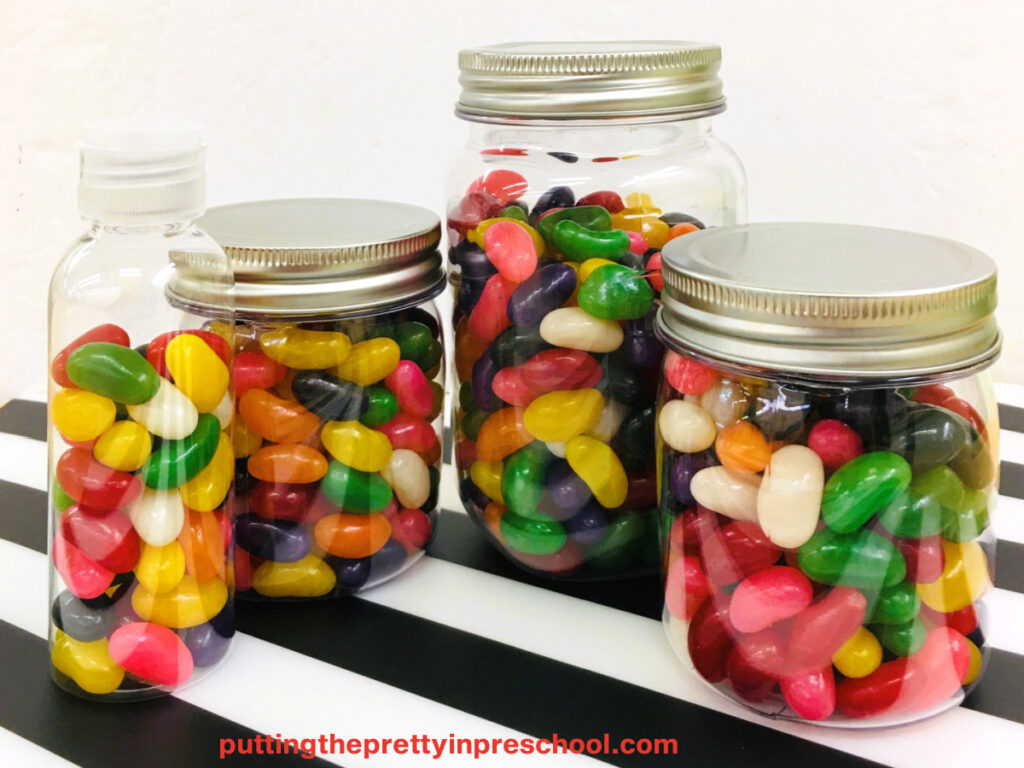 _______
How Many Jelly Beans Are In The Jar?
Fill a jar with jelly beans, and have participants guess the number of candies in the jar. Then count the jellybeans together. For early learners, a baby food jar or small bottle would be a good size to use.
_______
Cupcake Liner Easter Party Favors
Add pipe cleaner handles to sturdy Easter-themed cupcake liners. Fill the liners with Easter-colored jelly beans and hand them out as Easter basket party favors. Or fill plastic Easter eggs with jelly beans.
_______
Jelly Bean Prayer Wall Display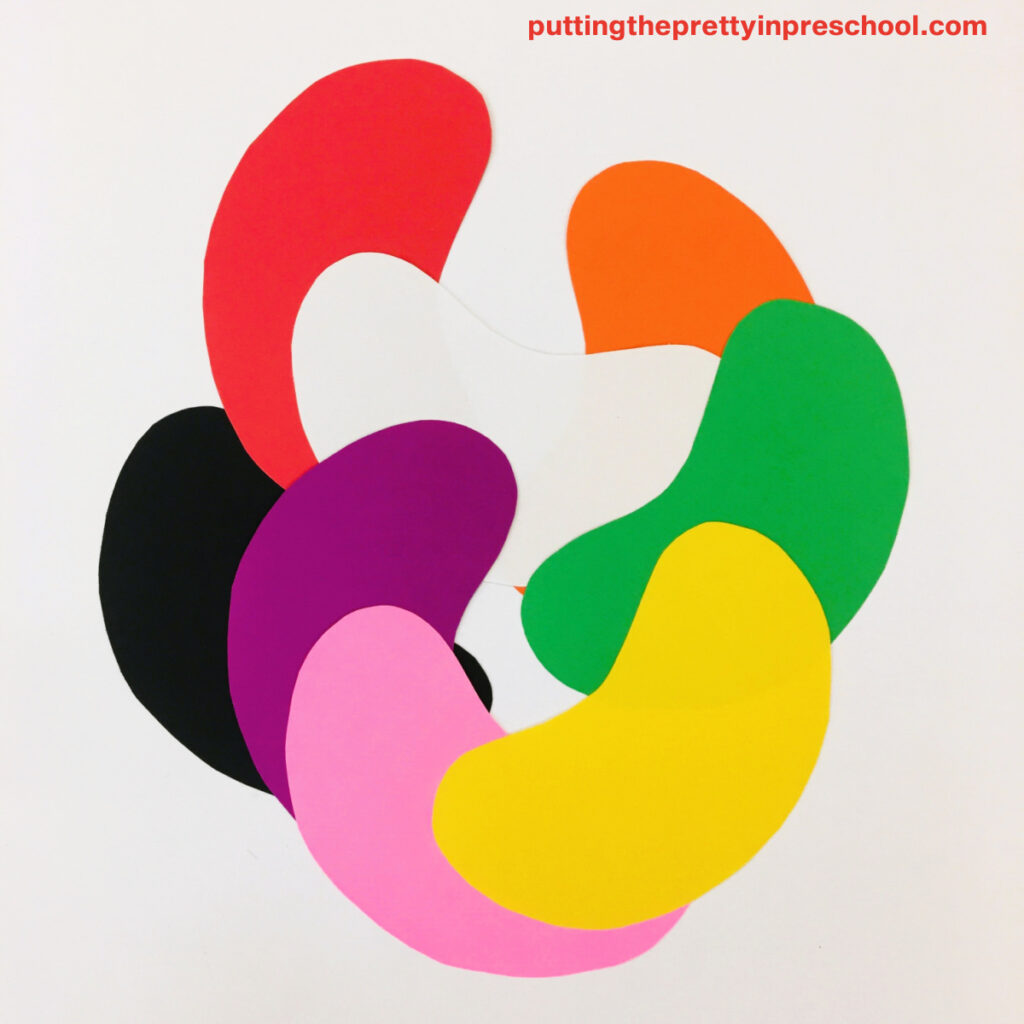 _______
Download this free template for a Jelly Bean Prayer tree display. I used it to cut out large jelly beans from different colors of cardstock paper. Then I wrote a line of the prayer on each one and added them to a tree theme wall display.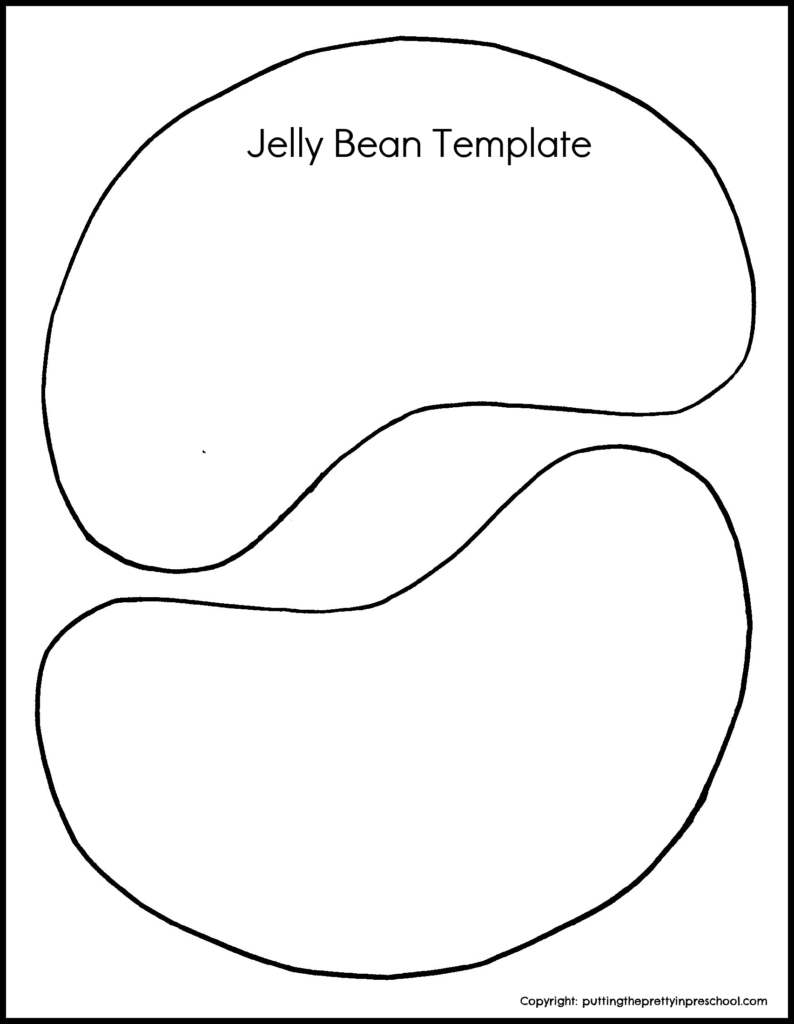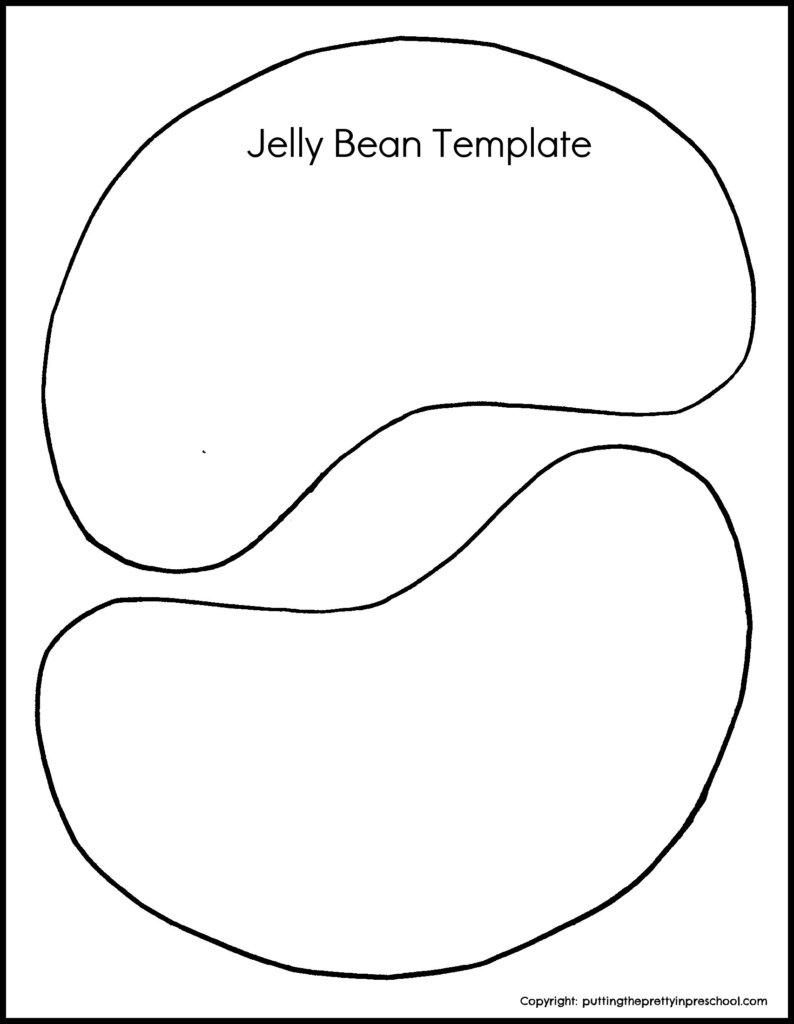 _______
This printable is for individual or one classroom use only.
_______
Jelly Bean Art
Use this same printable for children to paint or color and cut out gigantic paper jelly beans.
Or have children dictate or write a page for a jelly bean storybook, and then decorate the background.
_______
J Is For Jelly Bean Craft
Invite children to glue jelly beans onto a paper letter J. How fun!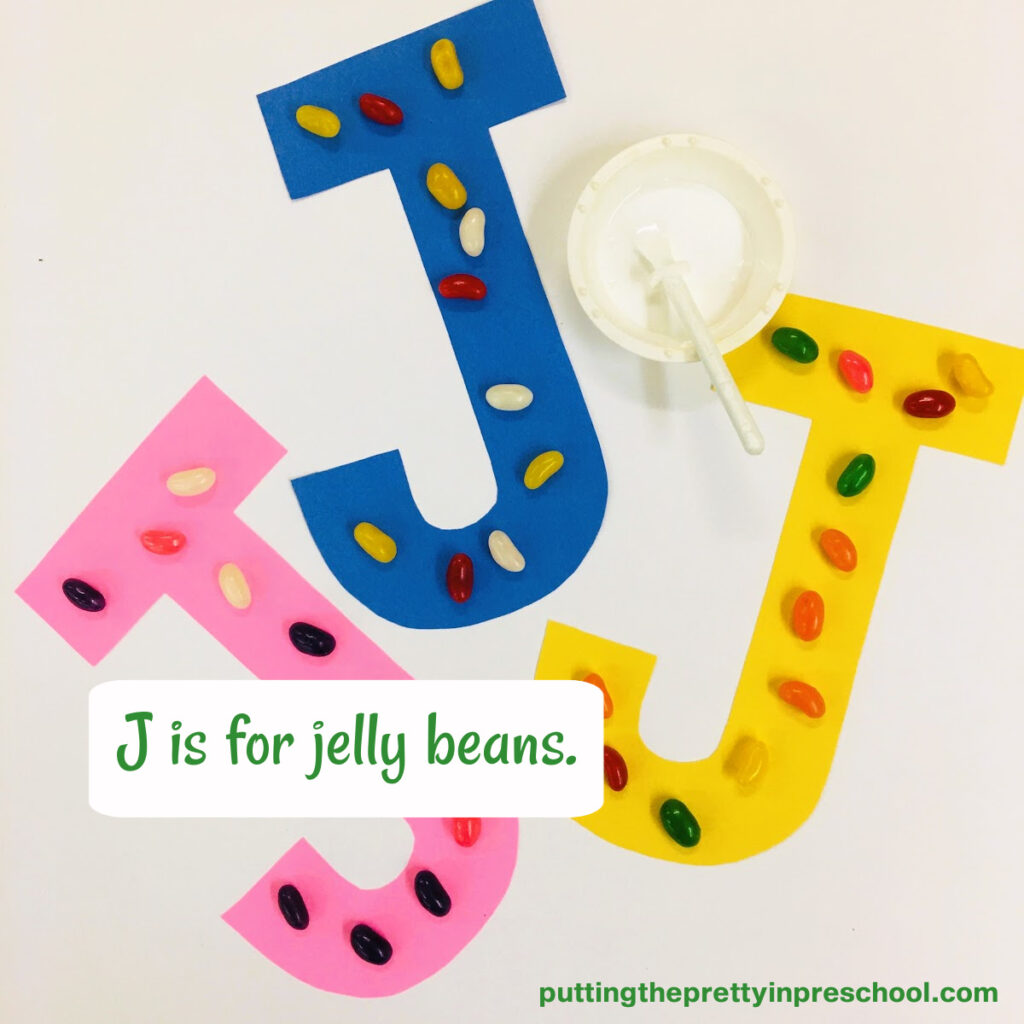 _______
Jelly Bean Tree Craft
Print copies of this tree template on white cardstock paper. Set them on an art table along with white glue and jelly beans. Invite children to glue jelly beans on the tree.
This could also be a transient art activity offered in a tray.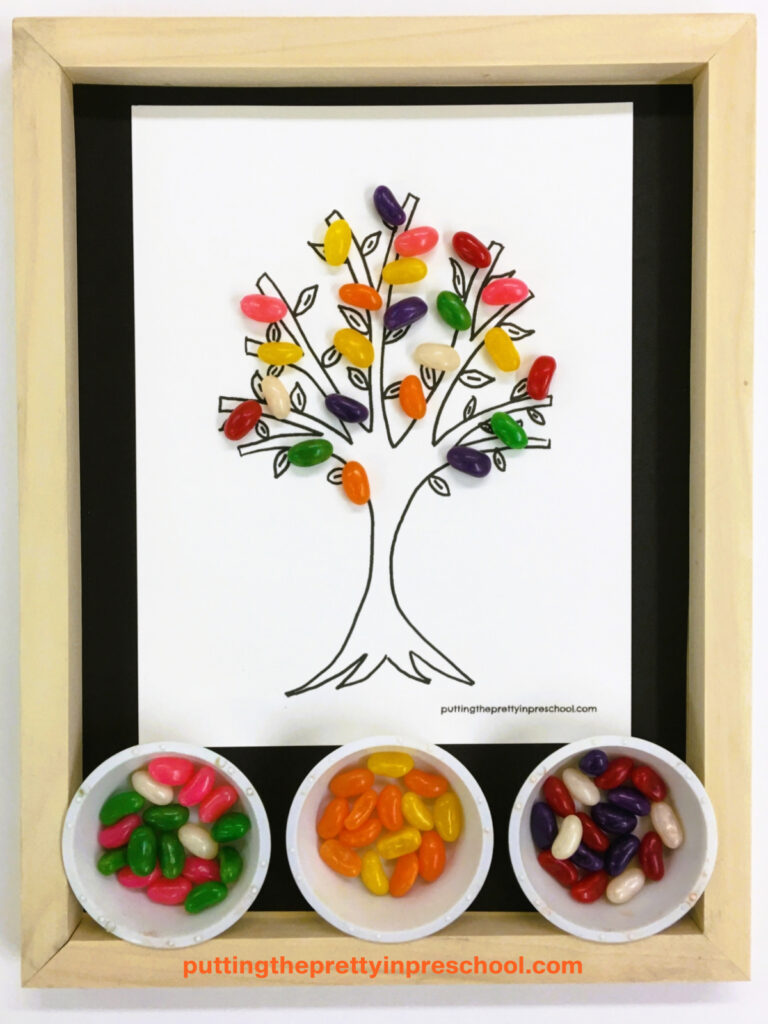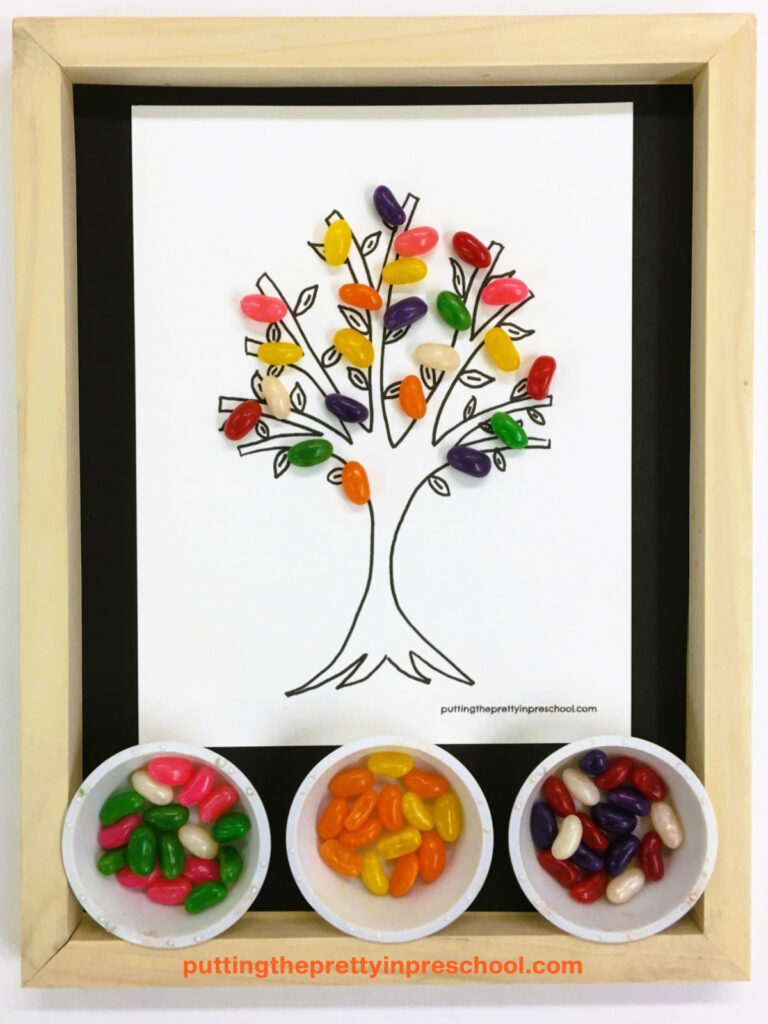 _______
Jelly Bean Artists
There are artists who work with jelly beans as a medium, or as a subject in their art. Who knew?
Peter Rocha and Kristen Cummings are two notable jelly bean artists. Their creations can be viewed on the Jelly Belly Company's "The Jelly Belly Bean Art Gallery" web page. Their candy art can also be viewed on my Pinterest Board Jelly Bean Kids Activities/Jelly Bean Artists.
_______
Storybooks Incorporating Jelly Beans
The flavorful candies make an entertaining subject for storybooks. Here are a few books incorporating jelly beans:
Arthur's Jelly Beans by Marc Brown
Arthur and his friends participate in a "Spring Fling" party, which includes a jelly bean hunt of course!
Jellybean Mouse by Philip Roy
Happy the mouse isn't excited to go on a laundromat errand but discovers a jellybean machine once there. The day's adventure becomes just the excitement the spunky mouse is seeking.
The Jellybeans And The Big Dance by Laura Numeroff and Nate Evans
A group of girls with different interests meet at a dance studio, and slowly become friends. They eventually discover that just as jellybeans come in different flavors but go well together, they get along great. They decide to call themselves "The Jellybeans."
There are three more books in this friendship and team-building series:
The Jellybeans and the Big Book Bonanza
The Jellybeans and the Big Camp Kickoff
The Jellybeans and the Big Art Adventure
Jelly Bean Tree by Toni Yuli
This story isn't about jelly beans, but the main character, a giraffe, is called Jelly Bean. It's reason enough to include the colorfully illustrated, endearing story in the theme.
_______
[Read more…]

about Jelly Bean Theme