This ladybug sensory tray is filled with flowers. It is a great example of how an easy-to-set-up activity can provide so much enjoyment to children, and also have educational outcomes.
_______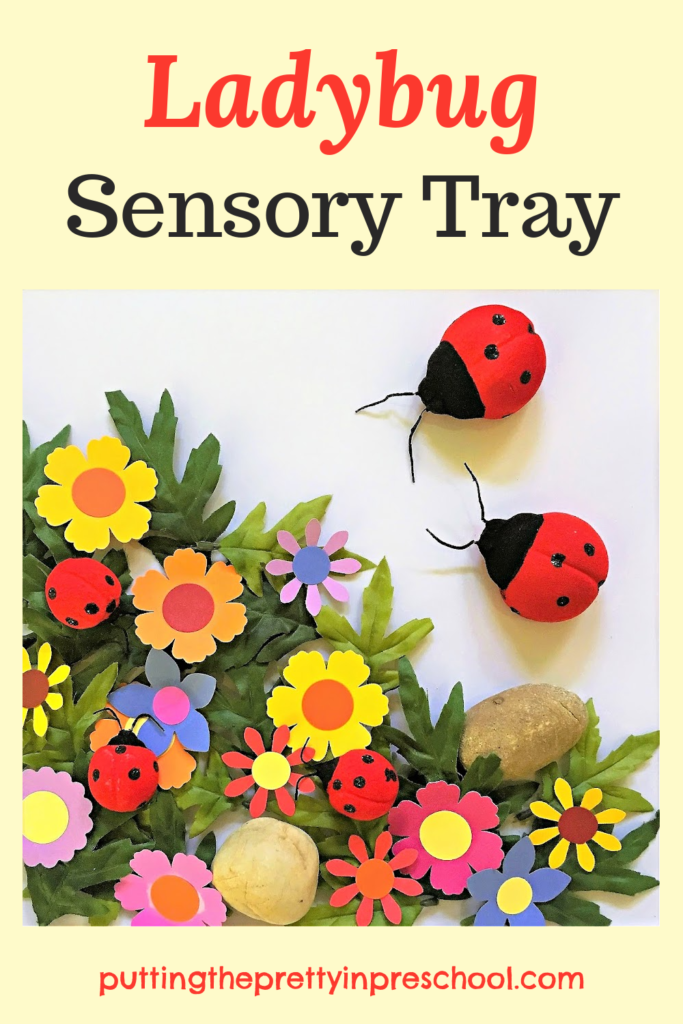 _______
Ladybugs And Flowers
Did you know that ladybugs (also known as lady beetles or ladybird beetles) and flowers go hand in hand? This is because the spotted, well-loved bugs are attracted to the nectar (a source of protein,) and pollen (a carbohydrate energy source) in flowers.
And as they travel from flower to flower, ladybugs transport pollen, fertilizing blooms as they go.
Some flower varieties ladybugs especially love are:
marigolds
nasturtium
cosmos
yarrow
sunflowers
zinnias
sweet alyssum
scented geraniums
Ladybugs are also helpful in a flower patch because their main food source is tiny, green, pesky aphids. These pests suck nutrient-rich juices from plant parts and multiply quickly.
An adult ladybug can munch on up to fifty aphids a day. They eat other bugs as well as flower pollen and nectar to supplement their diet.
_______
Follow me on Pinterest for more early learning ideas.
_______
The Ladybug Sensory Tray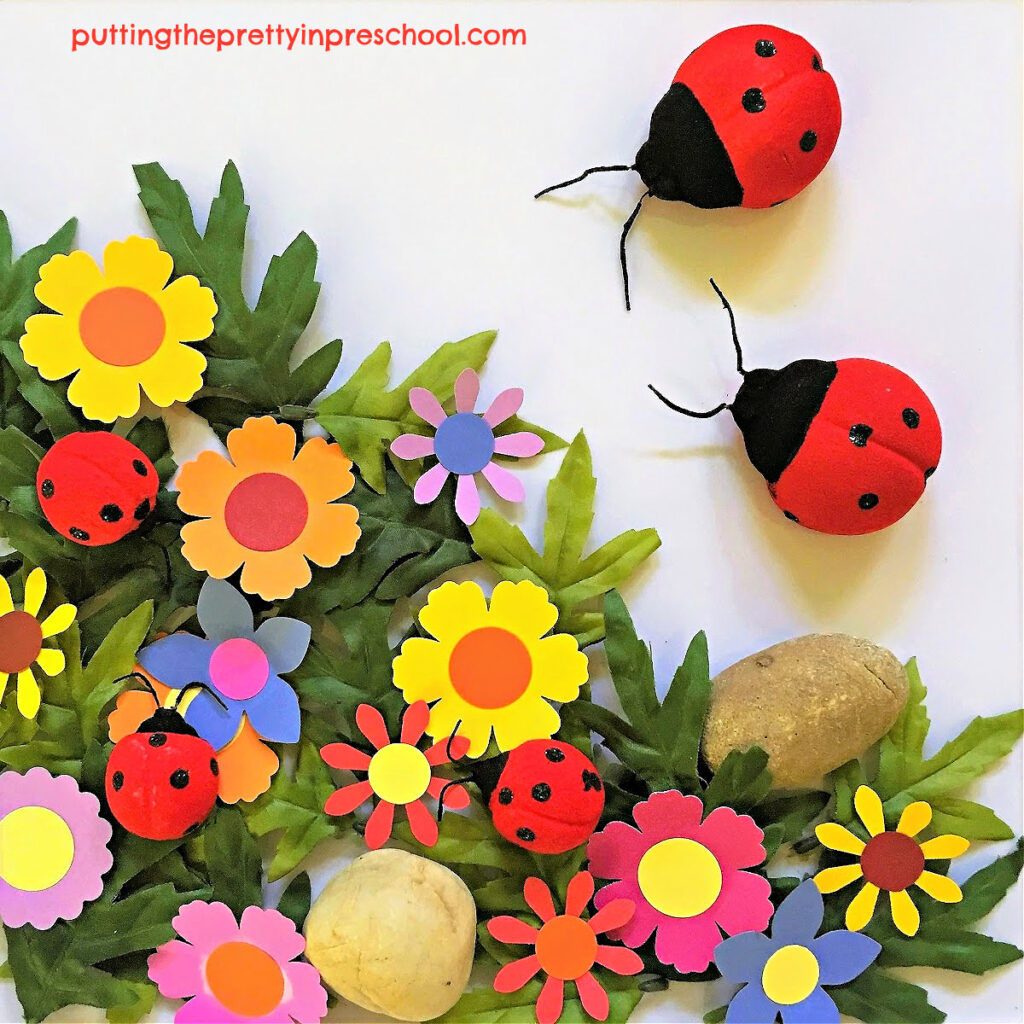 _______
This tray is effortless to set up, and your little learners will be eager to explore it.
For the base, I feature a large, square serving tray. It's easy for little ones to reach in and reorganize the pieces.
Craft punched paper flowers are arranged in the tray, along with artificial plant leaves and a few smooth rocks.
As my ladybug figurines are buried in a large bin, I use craft foam ladybugs in two different sizes. The light, oversized bugs add interest to the tray.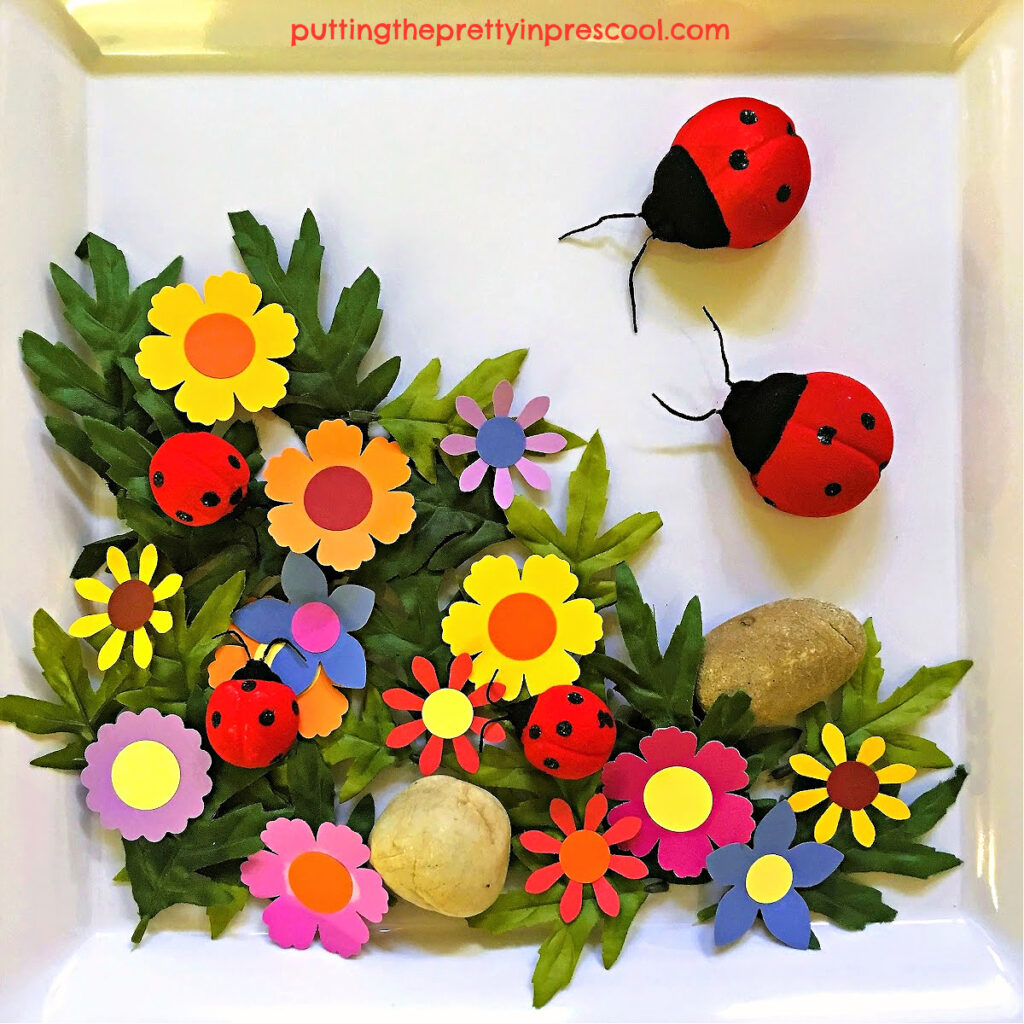 _______
If flowers are plentiful in your area, you can add real ones to your bin. The tray below features a few kinds of sunflowers.
For an alternative to ladybug figurines, painted rock bugs are an inexpensive choice.
_______
Do you love ladybugs or need some around to combat aphids? Why not plant flowers that they are attracted to in your flower patch or container garden.
_______
Related: Ladybug Wand Craft
_______
[Read more…]

about Ladybug Sensory Tray