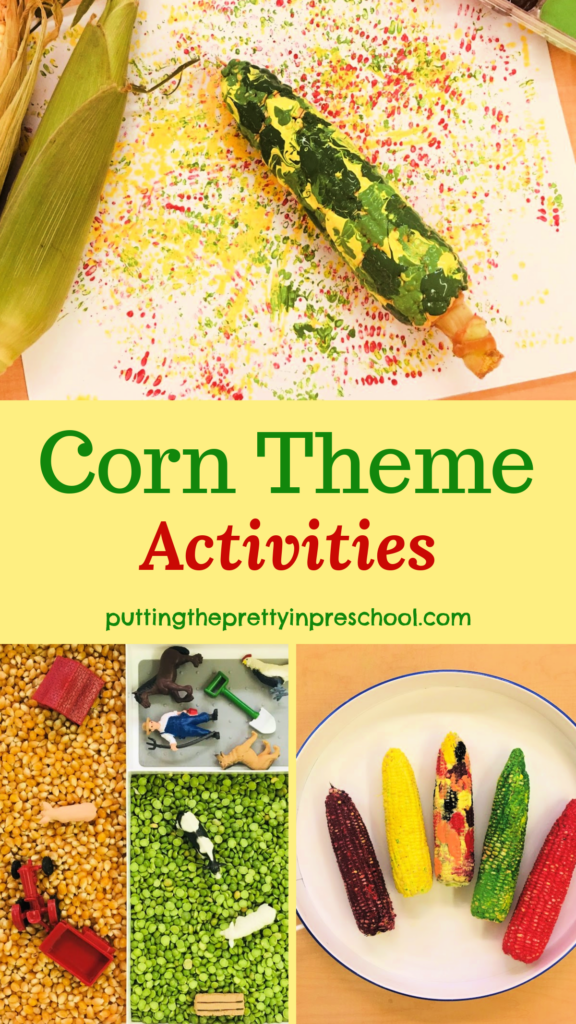 _______
Corn is a symbol of autumn and a garden plant with so many uses. We love it in foods, but it is also found in products such as oil, glue, hand soaps, cosmetics, and varnish. And corn cobs in an array of hues are showstoppers in fall décor. The versatile vegetable can be enjoyed by children in the corn theme activities below.
Corn Maze Visit
A corn maze visit is a farm-infused adventure everyone should have. Aside from the obvious nature challenge of finding one's way through a giant corn maze, the experience offers so much more.
At my 2019 visit to a local site called the Edmonton Corn Maze, I saw children and adults embracing wholesome activities everywhere I turned. The outdoor venue offers: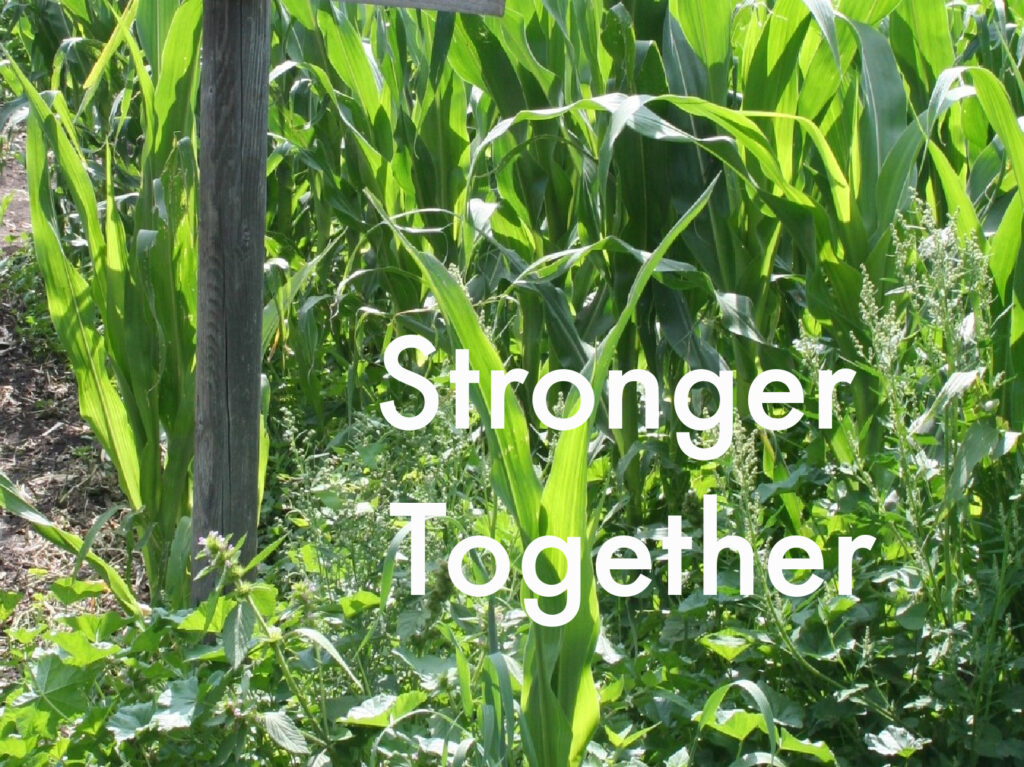 _______
a corn maze with a pattern that can be viewed from up in the air. The 2020 theme is "Stronger Together."
large motor opportunities such as hay bales to climb, wagons to pull, huge inflatable pillows to bounce on, and pedal carts to ride.
farm animals to admire up close. The "Goat Gang" pen was my favorite.
learning opportunities such as stations with facts about corn and farm animals, information panels about ecobuffers, and "Cornumdrum" questions to solve.
panels with "Funny Farmer" jokes.
play areas with small mazes and board games.
a toy-filled, sizable corn bin for young children to immerse themselves in.
a "U Pick" Sunflower Patch.
photo opportunities.
picnic areas.
_______
Corn Theme Activities
Follow up a trip to a corn maze or vegetable department in a grocery store by offering early learners hands-on activities with corn. Here are some options:
Corn Cob Exploration
Give little ones a chance to explore corn cobs. Talk about the parts of the cob: the soft silks, lime green husk, golden kernels, and shank. Allow them to remove the silks and husk from a cob of corn.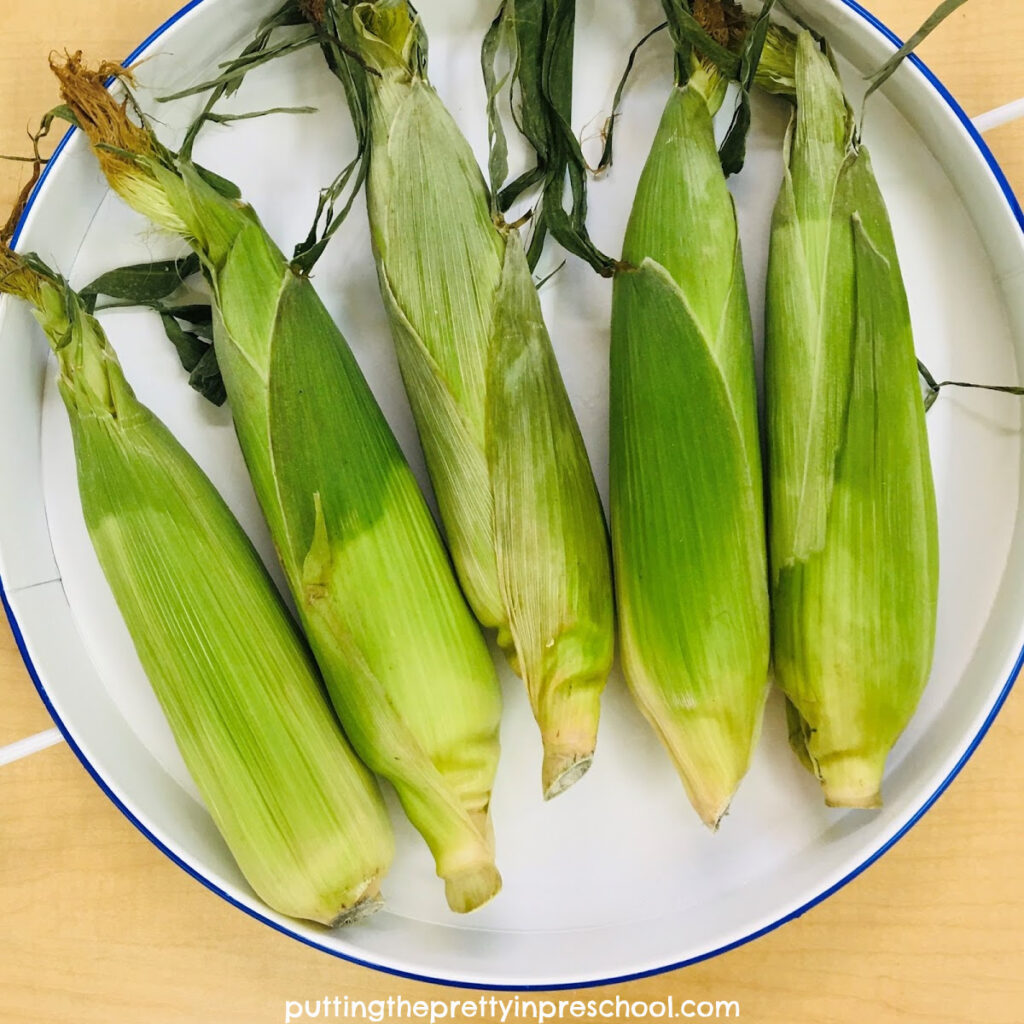 _______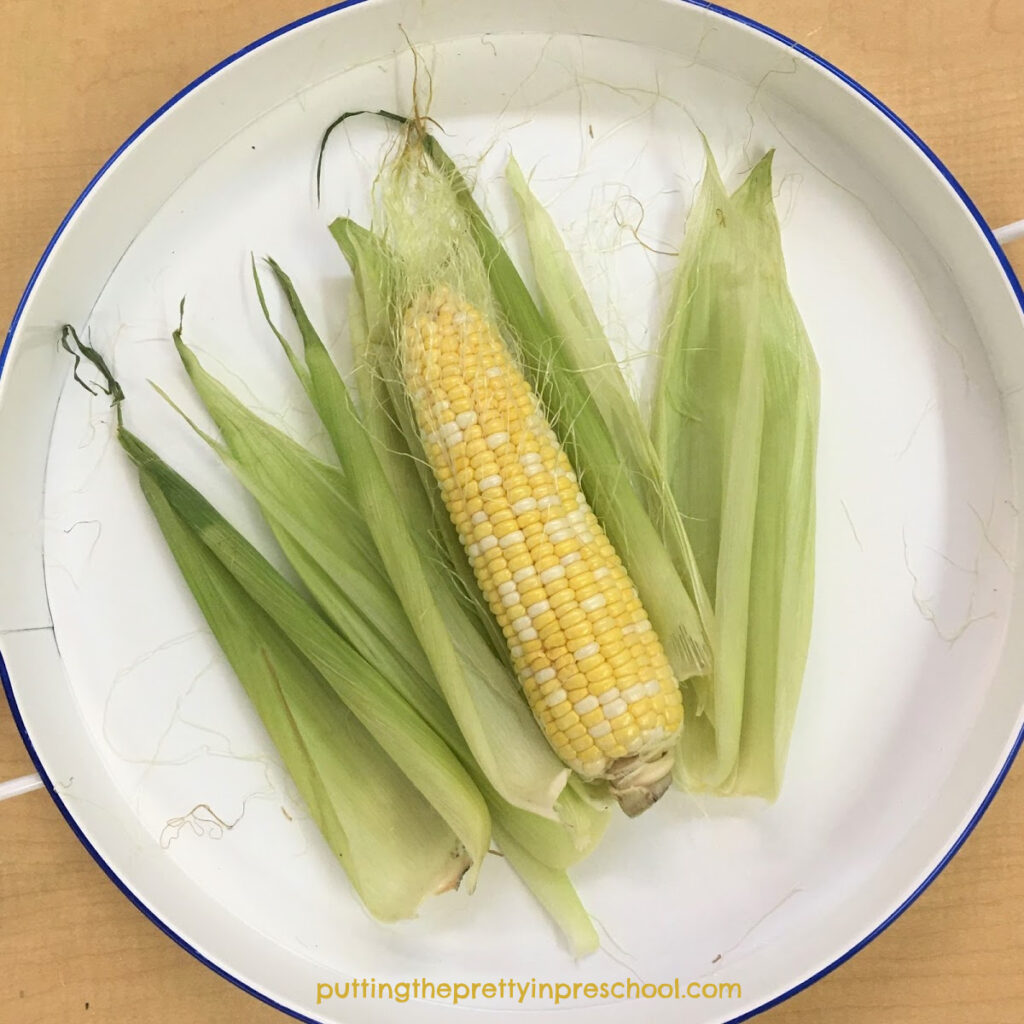 _______
Corn-Based Sensory Tray
Offer early learners a corn kernel and split pea-based sensory tray. Safari Toob farm animals, farmer, tractor and wagon, carrots, and sunflowers are the perfect size for this tray.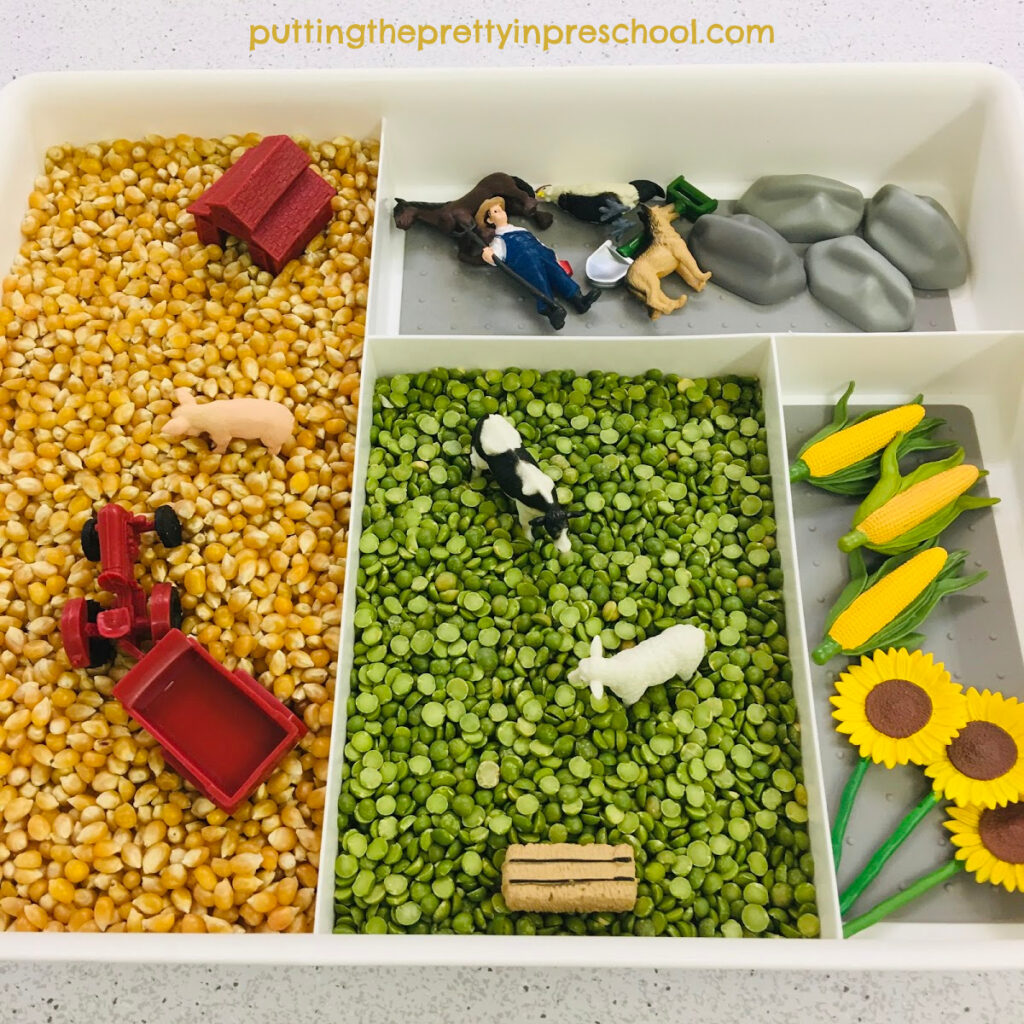 _______
Corn And Pig Sensory Tube
Set out a farm-themed sensory tube. This one is a clear plastic water bottle filled with pig figurines, gems, and corn cobs and kernels. You'll find the pigs are super good at hiding!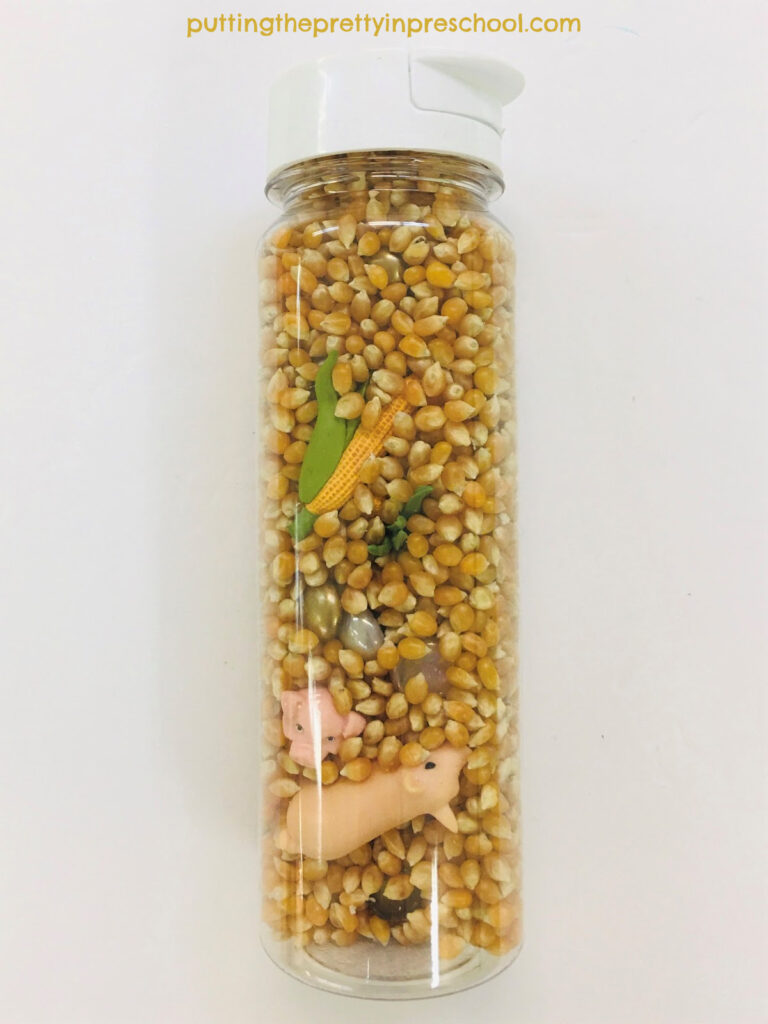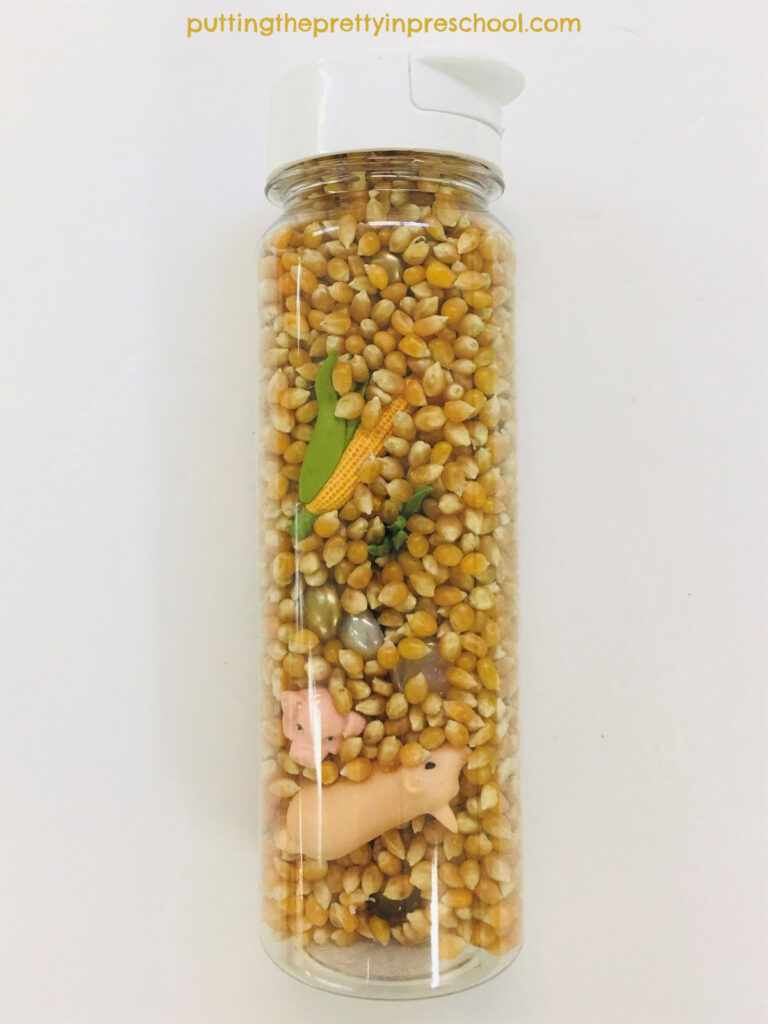 _______
Corn Cob Paintings
Offer corn cobs in three unique painting experiences.
Activity Number One
Invite little ones to drip paint on a large piece of paper placed in a rectangular box, and then drop in a corn cob. Ask them to tilt the box gently from side to side. The cob will move the paint around.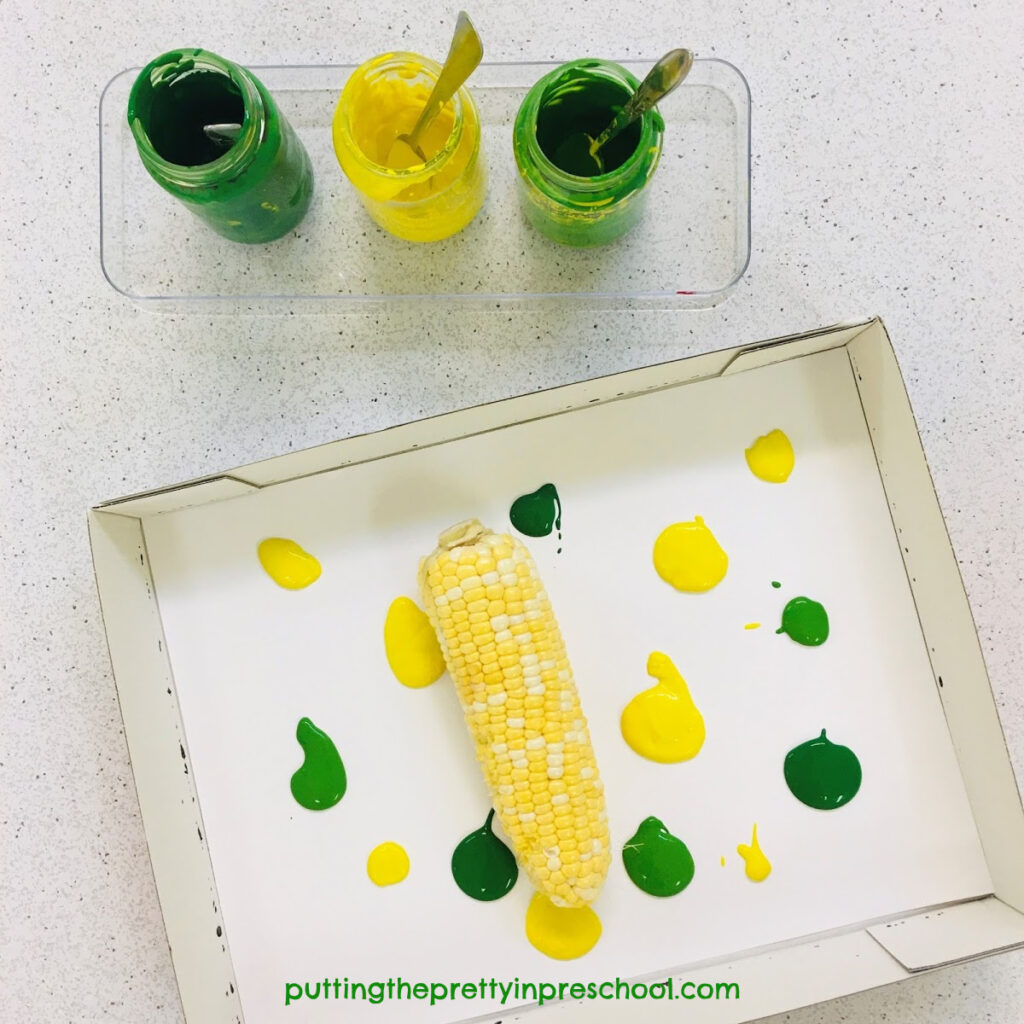 _______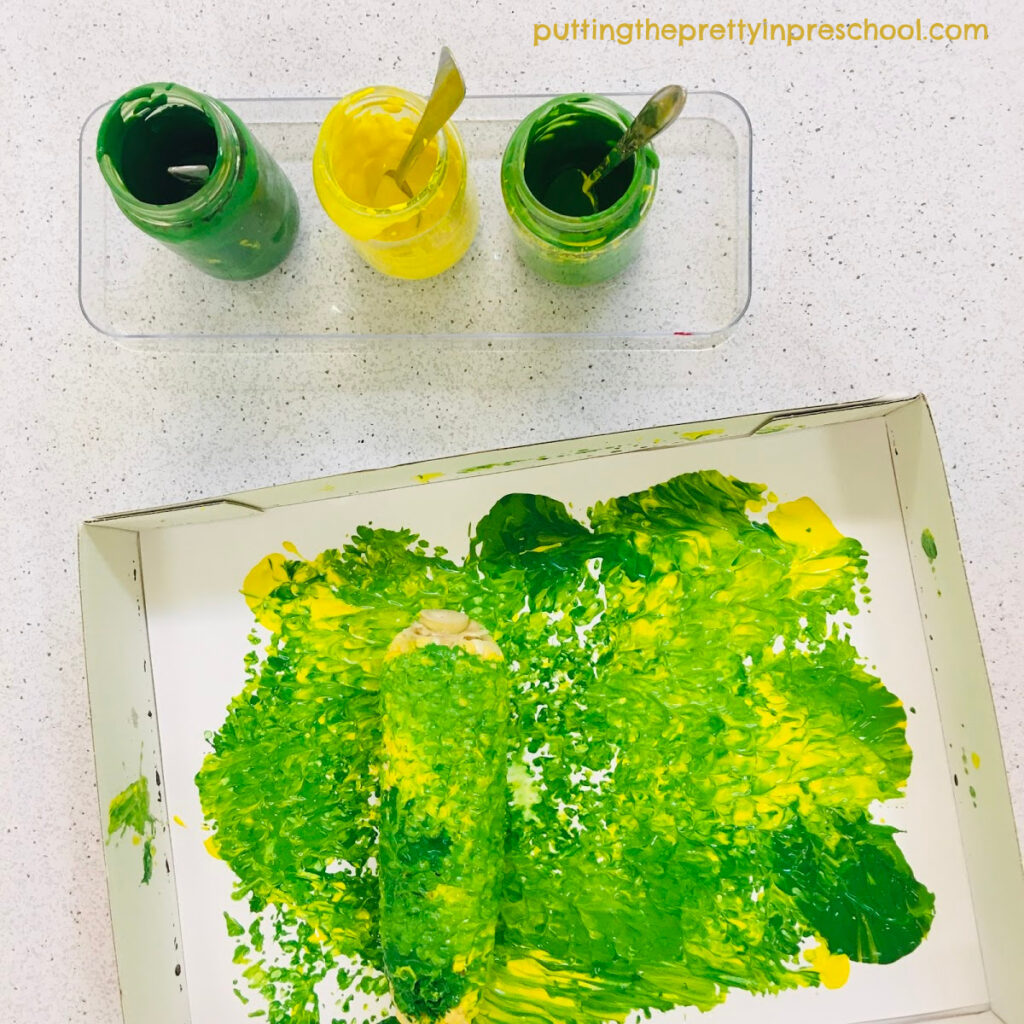 _______
Activity Number Two
Another technique is to ask children to paint the corn cob with one or more colors of tempera paint, and lay the cob in a box lined with sturdy paper. Invite them to tip the box from side to side so the cob "paints the paper."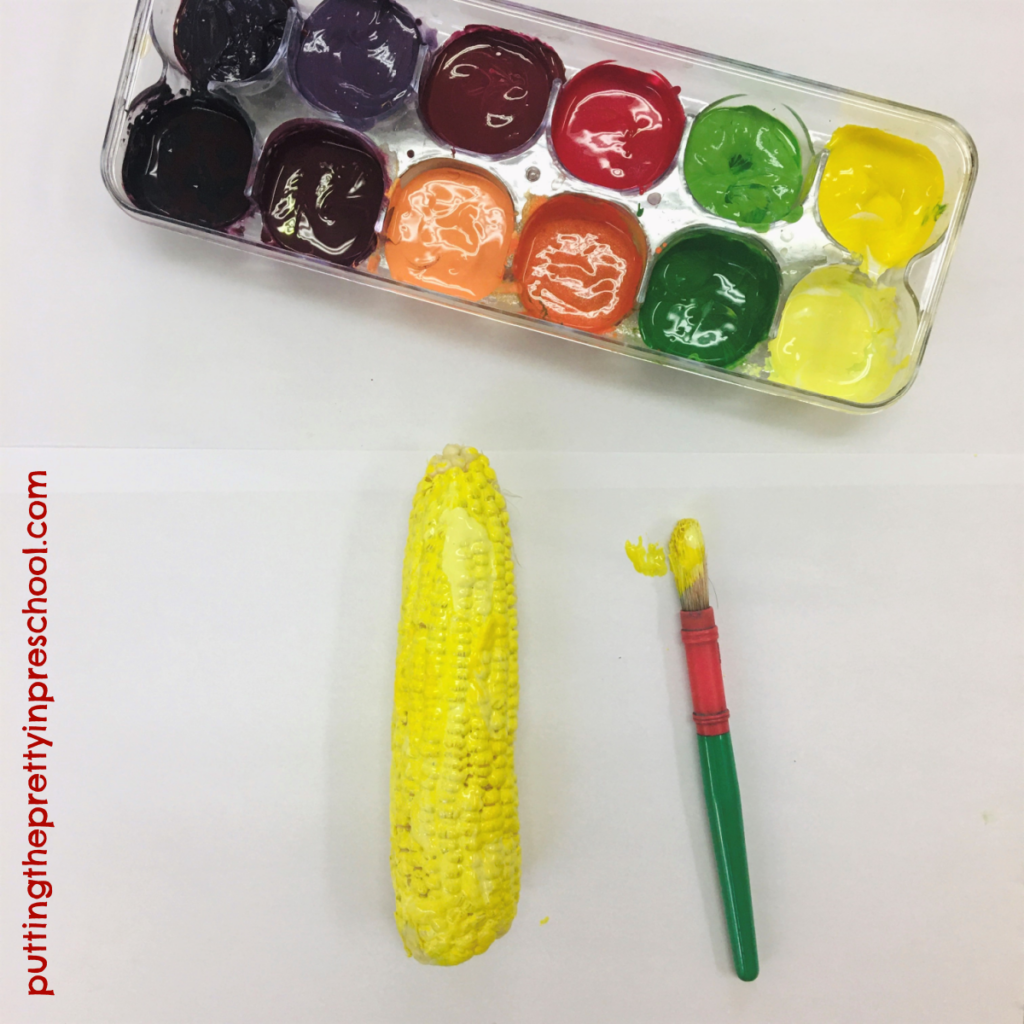 _______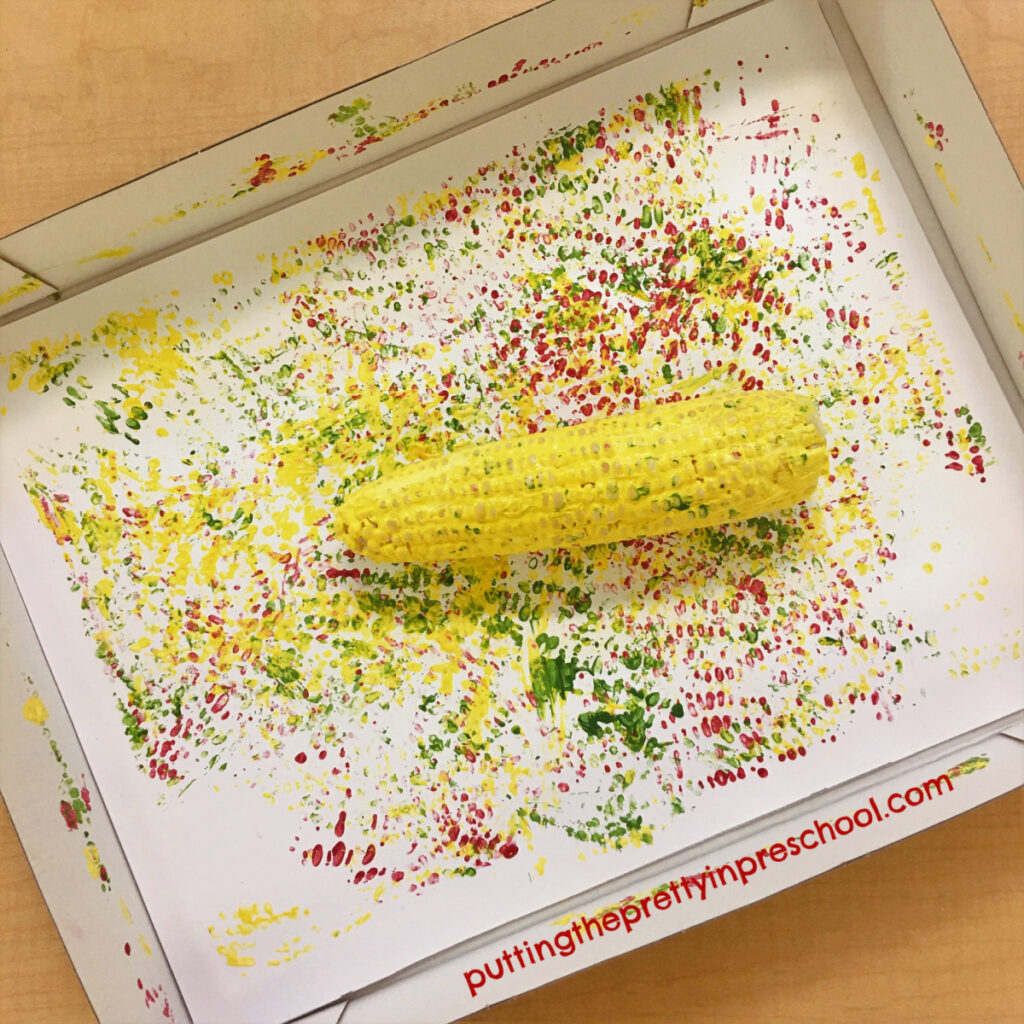 _______
The pictures below feature Indian corn-inspired painting.
_______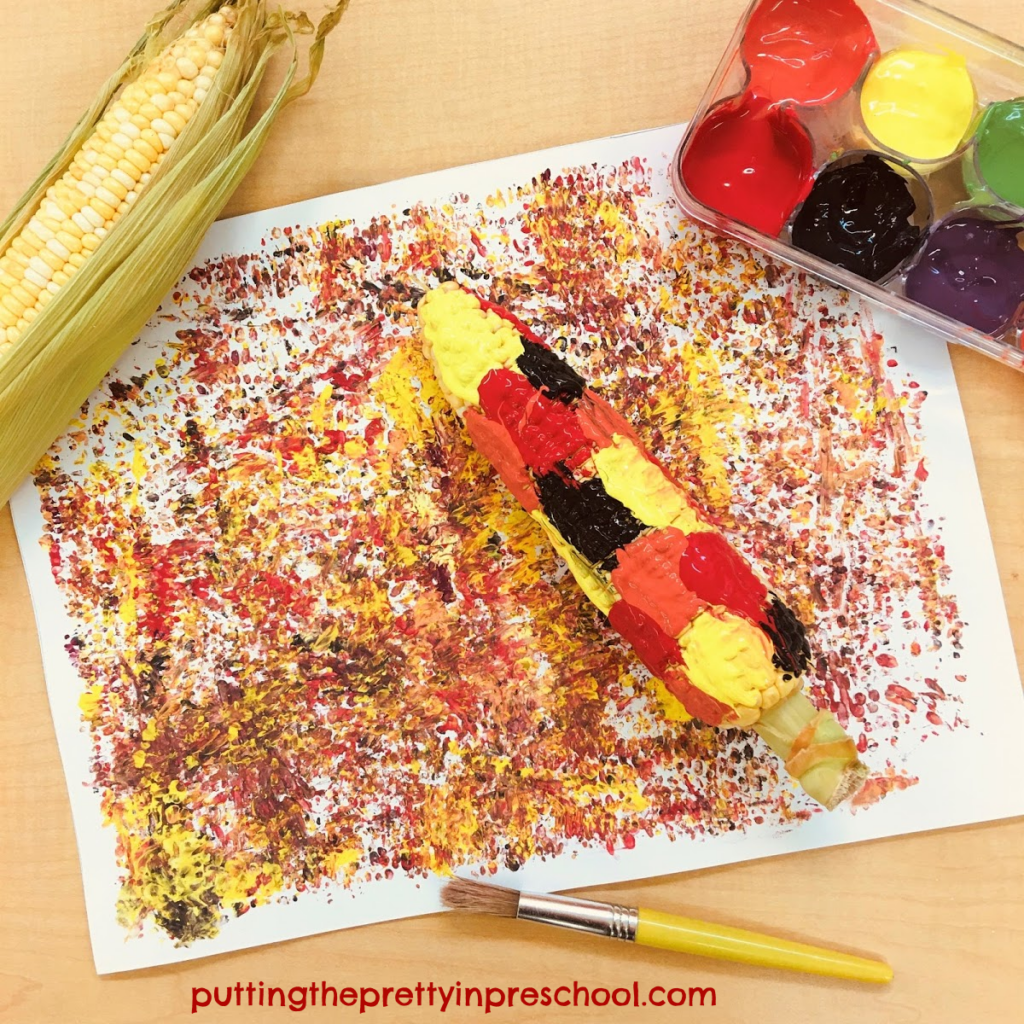 _______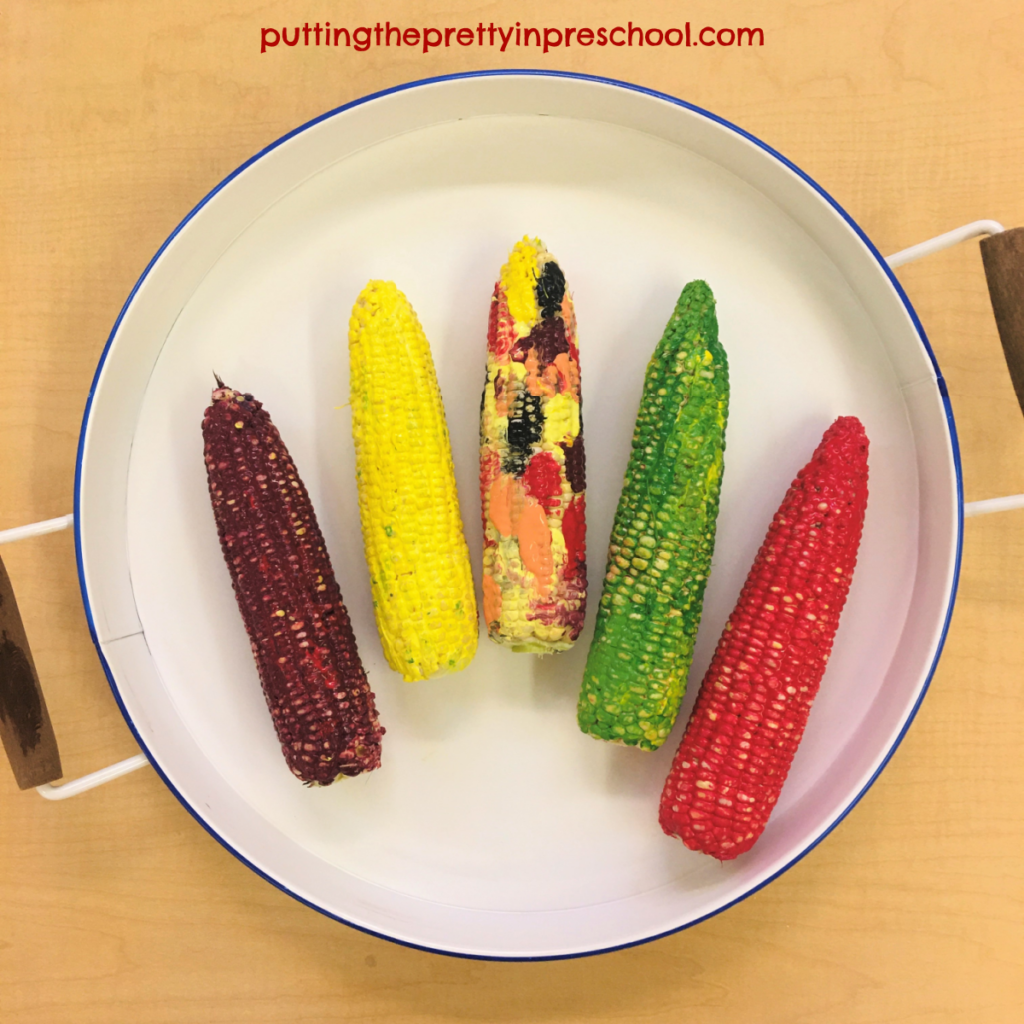 _______
Activity Number Three
A third way is to slice a cob in half with a sharp knife. Invite early learners to dip the halves in different colors of paint and press them on paper to make corn cob prints. The corn can be washed or wiped down with a napkin between colors.
_______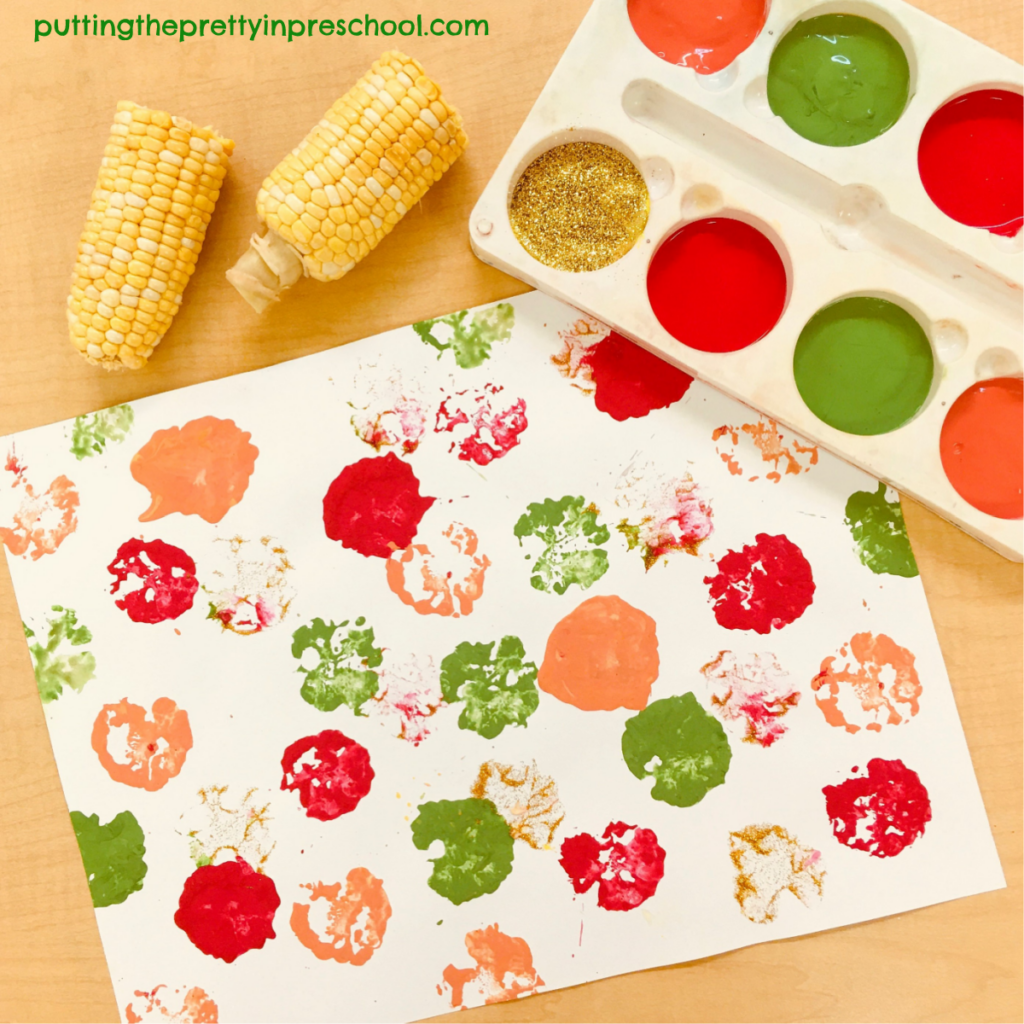 _______
Now back to what most people do with corn…eat it! If you are looking for inspiration for cooking with corn, check out the post "40 Fresh Corn Recipes" on The Food Network. You are bound to find new ways for your family to savor it.
Related:
Beet Science and Sensory Activities
_______
_______
You may also like: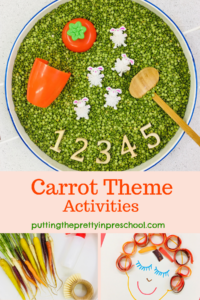 _______
_______
Don't forget to share this post on Pinterest or your favorite social media channel, Sharing is caring!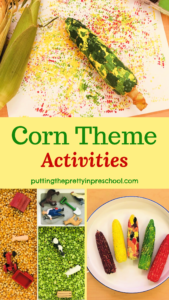 _______
© Annette Kaminsky September 6, 2020
_______
Follow me on social media for more ideas: